Introduction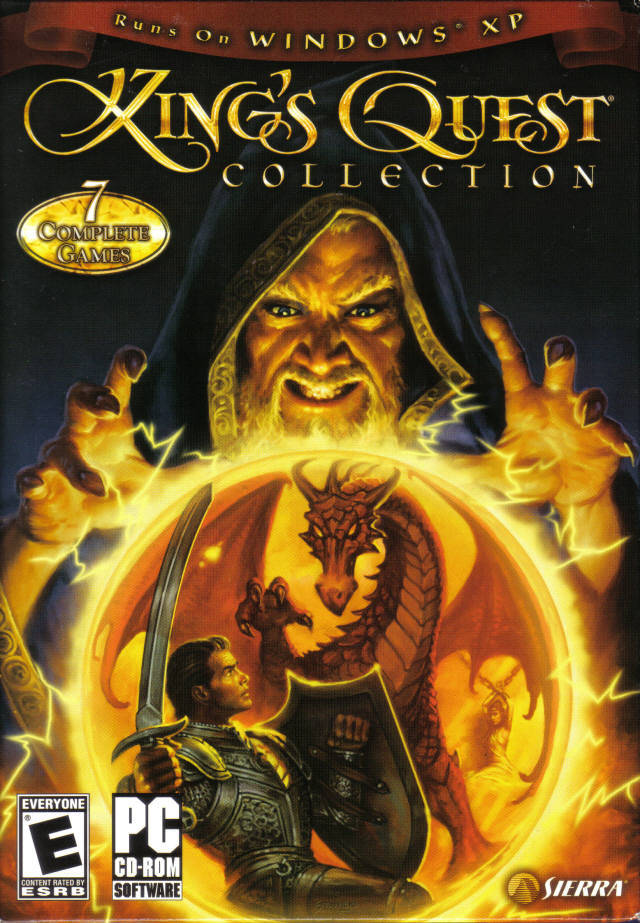 King's Quest, one of the premiere adventure game series created by Sierra, along with Police Quest and Space Quest. All the games of these various Quest lines are quite well known for being ludicrously difficult at times and full of all sorts of ways to die, or even worse, just render your game totally unwinnable unless you have a save from before the event in question happened. I have been a long time fan of the games in the King's Quest line, though I didn't personally get started into them until KQ5.
Released in 2006, the King's Quest collection features KQ1 (1990 remake edition) through KQ7, leaving out the rather horrifically bad Mask of Eternia or whatever the hell KQ8 was called. I am planning to play through all of these games, in order, over the next... however long this ends up taking. My experiences with 2-4 are very limited, and it's been a while since I played 1, or 5-7, but as a former adventure game pro (and with a decent memory for horrible video game puzzles), I am confident that I can get through all of these with no huge difficulty. I'm planning on including some death reels for each game as I complete them as well, alongside whatever mishaps the adventures might hold on the way.
As a note, my free time tends to fluctuate a bit these days, so there may not always be a steady stream of updates. I usually have at least one day a week where I have nothing at all to do (tomorrow being that day for me this week), however, and in those instances I'm going to try to build up a backlog of videos so I can keep things running smoothly. With that said, let's move on to the first game in the line, shall we? I'll put the table of contents in general beneath a small introduction to the first game on the hit list.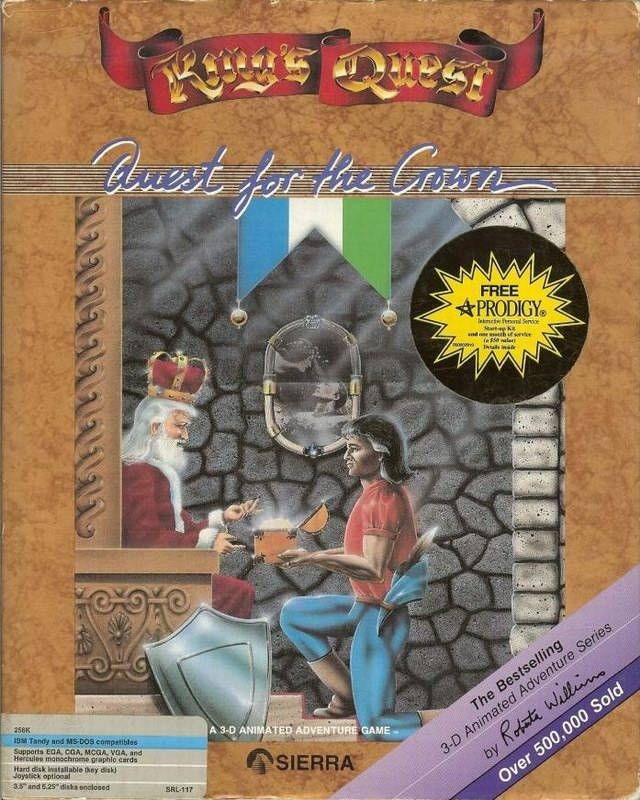 King's Quest 1: Quest for the Crown, serves as our introduction to one of, if not the, main protagonist of the King's Quest series: Graham. Sir Graham to be exact, at this point. He has been tasked with the lofty task of retrieving the three lost treasures of Daventry, his home kingdom, with the promised reward (aside from making life in the kingdom better for everyone, of course) of becoming the next in line for the crown. The quest will be full of many dangers, but with some quick thinking and quick reflexes, it shouldn't be impossible. (Just close to it, if you have no idea what you're doing.)
Table of Contents
King's Quest 1 - Quest for the Crown
Part 1 - Quest for the Magic Mirror
Part 2 - Picking up a bunch of junk
Part 3 - Graham Crackers and Goat's Milk
Part 4: That fucking Gnome and that fucking Beanstalk
Part 5: Trainwreck edition, also a Magic Chest
Part 6: Preparation for the Magic Shield Quest
Part 7: Long Live the King
King's Quest 2 - Romancing the Throne
Part 1: Stealing stuff in a new land
Part 2: Door of Destiny
Part 3: Featuring a special guest star
Part 4: Blatant Advertising. Also, death.
Part 5: Behind door number three.
Part 6: Two endings for the price of one
King's Quest 3 - To Heir is Human
Part 1: Do your chores... or else!
Part 2: Getting stoned and collecting random shit
Part 3: Spellcrafting 101
Part 4: Double Check your Ingredients before you cast
Part 5: Cat Man
Part 6: Plot Dump, and finishing up in Llewdor
Part 7: A Pirate's Life is Not for Me
Part 8: Epic Battle of Epic.
Part 9: Ending
King's Quest 4 - The Perils of Rosella
Part One: Introduction and Exploration:
Viddler
YouTube:
Part One
Part Two
Part Three
Part Four
Part Two: The Unicorn, The Hen, and lots of Death:
Viddler
YouTube:
Part One
Part Two
Part Three
Part Three: Haunted Mansion:
Viddler
Youtube:
Part One
Part Two
Part Four: Metal Gear Rosella:
Viddler
YouTube:
Part One
Part Two
Part Three
King's Quest 5 - Absence Makes the Heart go Yonder
Part One: Introduction and Initial Exploration:
Viddler
YouTube:
Part One
Part Two
Part Three
Part Four
Part Five
Part Two: The Bandits of the Desert:
Blip.TV
YouTube:
Part One
Part Two
Part Three: The Witch in the Forest:
Viddler
YouTube:
Part One
Part Two
Part Three
Part Four: The Icy Mountains:
Blip.TV
Viddler
YouTube:
Part One
Part Two
Part Five: On the Road to Mordak's place:
Viddler
YouTube:
Part One
Part Two
Part Six: Mordak's Castle:
Viddler
YouTube:
Part One
Part Two
Part Three
Part Four
King's Quest 6: Heir Today, Gone Tomorrow
Part One: Setting the Stage for Adventure:
Blip.tv
YouTube:
Part One
Part Two
Part Three
Part Four
Part Two: Opening up the Rest of the Game:
Blip.TV
YouTube:
Part One
Part Two
Part Three
Part Three: Exploring the Isles:
Blip.tv
YouTube:
Part One
Part Two
Part Three
Part Four: NYEEEAH:
Blip.tv
YouTube:
Part One
Part Two
Part Three
Part Five: The Isle of the Sacred
Copy Protection
Mountain:
Blip.Tv
YouTube:
Part One
Part Two
Part Three
Part Four
Part Six: The Beasts of the Isles -
Blip.TV
YouTube:
Part One
Part Two
Part Three
Part Four
Part Seven: Wee! Wee! Wee!:
Blip.TV
YouTube:
Part One
Part Two
Part Three
Part Eight: Alexander is not Stealthy:
Blip.TV
YouTube:
Part One
Part Two
Part Three
Part Four
Part Nine: Making Magic:
Blip.TV
YouTube:
Part One
Part Two
Part Three
Part Ten: Badassery runs in the family:
Blip.TV
YouTube:
Part One
Part Two
Part Three
Part Eleven: (Artifical) Suspense!:
Blip.TV
YouTube:
Part One
Part Two
Part Twelve: The Finale:
Blip.TV
YouTube:
Part One
Part Two
Part Three
King's Quest 7: The Princeless Bride
King's Quest 7: Introduction
Part One - Desert Shenanigans:
Blip.TV
YouTube:
Part One
Part Two
Part Three
Part Two: Trainwreck Clusterfuck - Blip.TV:
Part One
Part Two
Part Three
YouTube:
Part One
Part Two
Part Three
Part Four
Part Five
Alternate Chapter One
Part Three: Exploring Chapter Two:
Part One
Part Two
Part Three
Part Four: Return to "human" form:
Part One
Part Two
Part Three
Part Four
Part Five: Awkward Chapter Transition:
Part One
Part Two
Part Six: Talking Animal Land:
Part One
Part Two
Part Three
Part Seven: I can't reach it!:
Part One
Part Two
Part Three
Part Four
Part Five
Part Eight: Ooga Booga Land:
Part One
Part Two
Part Three
Part Nine: Confusion:
Part One
Part Two
Part Three
Part Ten: Closing Chapter Four:
Part One
Part Two
Part Three
Part Eleven: Traveling the World:
Part One
Part Two
Part Three
Part Twelve: Sunshine and Lollipops:
Part One
Part Two
Part Three
Part Thirteen: Climax and Resolution:
Part One
Part Two
Part Three
Part Four

Death and Utter Failure during actual Gameplay Tally

Munched by Moat Monsters (KQ1)
Turned into a cookie (KQ1)
Lost a goat (not really a unwinnable screw up, but still pretty big) (KQ1)
Fell off the beanstalk (KQ1)
Fell out of Cloudland (KQ1)
Fell off the cave path from Cloudland (KQ1)
Beat up by a Rat. Some knight. (KQ1)
Drowned. (KQ2)
Robbed by Dwarf. (KQ2)
What Large Teeth you have, Grandma. (KQ2)
Bitten by a snake. (KQ2)
Obligatory falling death. (KQ2)
Bitten by Dracula. (KQ2)
STAIRS (KQ2)
Drowned in a purple/pink ocean (KQ2)
Eaten by lion (KQ2)
Stoned by Medusa (KQ3)
Cliffdiving off Manannan's path (KQ3)
Magical Backlash: Gwydion's All Eyes (KQ3)
Magical Backfire: Parade = Rained On (KQ3)
Asshole Cat (KQ3)
Magical Backfire: Teleported out of existence (KQ3)
Brew of Storms, Churn it up! ...fuck, I'm on a boat. (KQ3)
SHARK'D (KQ3)
Excellent Mountain Climbing. (KQ3)
Taking after Graham and falling off Cloudland. (KQ3)
Burned by dragon. (KQ3)
Burned by Dragon with Rosella getting burned as well. (KQ3)
Cliff Diving with Wonky Perspective. (KQ4)
Eaten by a Bulldog (KQ4)
Made into Stew by Ogress (KQ4)
Woke the Ogre (KQ4)
Murdered by Trees (KQ4)
Cooked by Witches (KQ4)
Caught by Cave Troll (KQ4)
Fell into invisible Chasm (KQ4)
Creature from the Black Lagoon Cameo (KQ4)
Sank into the Swamp (KQ4)
Bit by a Cobra (KQ4)
Haunted Stairs (KQ4)
Evil Stairs (KQ4)
Married to Edgar (KQ4)
Evil Mountain Path(KQ4)
"Forgot" the Fruit (KQ4)
Bit by yet another snake (KQ5)
Drowned in a tiny river (KQ5)
BEAR (KQ5)
Scorpion Sting (KQ5)
Killed for being A SPY (KQ5)
Tried to walk into main bandit tent (KQ5)
Woke the Sleeping Bandit (KQ5)
Trapped in the Temple (KQ5)
Trapped in a bottle (KQ5)
Turned into a Frog (KQ5)
Fell in a hole (KQ5)
Killed by inn of random thugs (KQ5)
Graham's too fat for the branch (KQ5)
Unstable Rock Ledge (KQ5)
Eaten by Wolves (KQ5)
Caught by the Yeti (KQ5)
Missed an important item for finishing the game, can't go back for it. (KQ5)
Leaky Boat (KQ5)
Washed Away by Waterfall (KQ5)
Sea Monster ate the boat (KQ5)
Committed Suicide to kill Cedric (KQ5)
Fried by Mordak's Statues (KQ5)
Hugged by Dink (KQ5)
Messed with the Organ (KQ5)
Caught Twice (KQ5)
Talked to Mananannan (KQ5)
Walked into Mordak's bedroom while he was awake (KQ5)
Jumped into the ocean at the suggestion of a child (KQ6)
Murdered by Gnomes (KQ6)
Jumped in a boiling pond (KQ6)
Poked a Black Widow (KQ6)
Shot by a Statue (KQ6)
Hugged by Ivy (KQ6)
Fell off the Mountain (KQ6)
Ate some delicious Nightshade (KQ6)
Darted by Trap Room (KQ6)
Tricked into falling down a pit (KQ6)
Crushed by falling ceiling (KQ6)
Murdered by Minotaur (KQ6)
Burned by Druids (KQ6)
Turned into a Beast (KQ6)
Stabbed in the throat (KQ6)
Jumped in the River Styx (KQ6)
Ate by a Gate (KQ6)
Touched Death (KQ6)
Scorpion to the Face (KQ7)
Drowned by trying to pick up an item from an offering bowl (KQ7)
Crashed a Cart (KQ7)
Jumped in a pit (KQ7)
Eaten by a giant lizard (KQ7)
Looked a gift shovel in the mouth (KQ7)
Giant Spiderwebs are dangerous (KQ7)
Fell into a grave (KQ7)
Attacked by a Plant Man (KQ7)
Scared to death by a lady in black (KQ7)
Death-In-A-Box (KQ7)
Attacked by douchebag children (KQ7)
Eaten by talking plants (KQ7)
Disturbed the Gargoyle (KQ7)
Didn't hide from Melicia (KQ7)
Total Failure Count So Far:
104