Introduction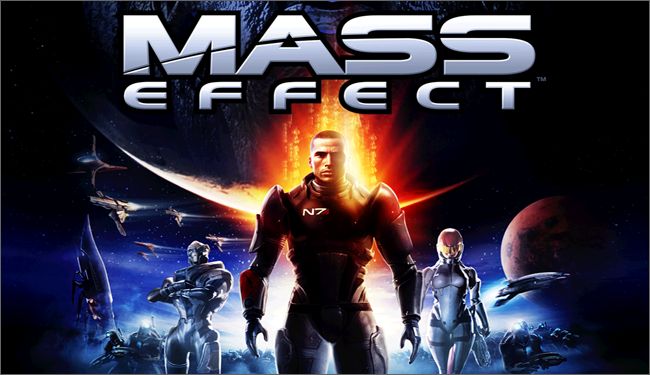 When you hear the term 'RPG', you probably think of a game developed in Japan that has a linear story, non-interactive dialog, and lots of menus. The American style of RPG does things differently. They place a big focus on shooting bad guys in the face and making decisions. The Mass Effect series is a prime example of the American style RPG, even if the company that made it happens to technically be Canadian.
Our playthrough will mostly normal, with a female character being a jerk at every opportunity. Certain things will... not be normal.
SPOILER POLICY:
Don't talk about stuff that hasn't been covered by the LP yet. However, feel free to discuss the backstory of the game. For example, you can talk about the genophage if you want, even if we haven't encountered any Krogans yet. Just don't get into any details that are revealed by the game's plot.
Feel free to point out things we've missed. There are plenty of interesting conversation branches and whatnot that you're going to miss over the course of a single playthrough.
Mass Effect 2 spoilers can only be posted if they are in musical format.
DON'T POST CREEPY FANART POLICY:
Don't post creepy fanart.
Videos
Mass Effect 01 - Abominashep (skip opening fmv)
YouTube
Mass Effect 02 - Combat Saunter
YouTube
Mass Effect 03 - Angry Points
YouTube
Mass Effect 04 - Leaving Tutorial Planet
YouTube
Mass Effect 05 - The Citadel
YouTube
Mass Effect 05 Bonus
YouTube
Mass Effect 06 - The Council
YouTube
Mass Effect 07 - Wrex and Garrus
YouTube
Mass Effect 08 - Backstory Galactica
YouTube
Mass Effect 09 - Spectre Shephard
YouTube
Mass Effect 10 - Frosty Reception
YouTube
Mass Effect 11 - Shooting through the red tape
YouTube
Mass Effect 12 - Dead Men Go To Jail
YouTube
Mass Effect 13 - Planet Hell
YouTube
Mass Effect 14 - Boss Fight Delight
YouTube
Mass Effect 15 - Unpunchable
YouTube
Mass Effect 16 - Chit Chat
YouTube
Mass Effect 17 - Major Kyle
YouTube
Mass Effect 18 - Enemies Everywhere!
YouTube
Mass Effect 18 Bonus - GO GO GO
YouTube
Mass Effect 19 - Cause and Effect
YouTube
Mass Effect 20 - Social Skills
YouTube
Mass Effect 21 - The Space 80's
YouTube
Mass Effect 22 - Monkey Planet
YouTube
Mass Effect 23 - Slay Ride
YouTube
Mass Effect 24 - Tower of what?
YouTube
Mass Effect 25 - USER ALERT
YouTube
Mass Effect 26 - Conversation Forest
YouTube
Mass Effect 27 - The Plot Labs
YouTube
Mass Effect 28 - Wherein Duke Wilkinshire aquires a new motored car
YouTube
Mass Effect 29 - Bugger it
YouTube
Mass Effect 29 Bonus
YouTube
Mass Effect 30 - (n^-1)^-1
YouTube
Mass Effect 31 - Straight to the Moon
YouTube
Mass Effect 32 - Moonbase Alpha
YouTube
Mass Effect 33 - Space Kvatch
YouTube
Mass Effect 34 - Space Sewers
YouTube
Mass Effect 35 - Pimp My Hump
YouTube
Mass Effect 36 - The Audio is Horrible
YouTube
Mass Effect 37 - Process of Elimination
YouTube
Mass Effect 37 Bonus
YouTube
Mass Effect 38 - Wood Zombies
YouTube
Mass Effect 39 - Death by Skype
YouTube
Mass Effect 39 Bonus
YouTube
Mass Effect 40 - Rule of Three
YouTube
Mass Effect 41 - Girl Squad
YouTube
Mass Effect 42 - Post-Modern History
YouTube
Mass Effect 43 - The Impressive Moonbase
YouTube
Mass Effect 44 - Talented Indigenous Mercenaries
YouTube
Mass Effect 45 - The Suggestions of Physics
YouTube
Mass Effect 46 - I'm Leaving You (In a Minefield)
YouTube
Mass Effect 47 - Human Female Award
YouTube
Mass Effect 48 - Counterterrorism
YouTube
Mass Effect 49 - Mission of Murder
YouTube
Mass Effect 50 - Greetings From Britland
YouTube
Mass Effect 51 - Tora Ziyal
YouTube
Mass Effect 52 - Wanderfest '83
YouTube
Mass Effect 53 - Krogan Explosion
YouTube
Mass Effect 54 - Big Decision
YouTube
Mass Effect 55 - I Changed My Mind
YouTube
Mass Effect 56 - Questing on the side
YouTube
Intermission: Octodad
YouTube
Mass Effect 57 - Once in a Blue Moon
YouTube
Mass Effect 58 - Faulty Power Supply Effect
YouTube
Mass Effect 59 - Near the Reaper
YouTube
Mass Effect 60 - The End...?
YouTube