Introduction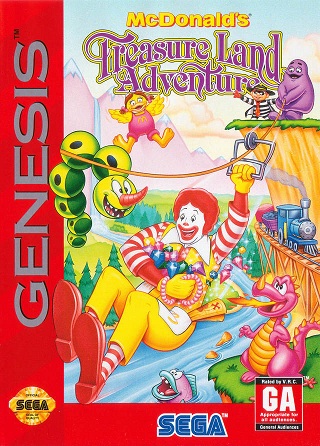 McDonald's™ Treasure Land Adventure
is a platformer for the Sega Genesis created by Treasure. I'm not entirely sure on the history of this game, but I do know that it is the first game I ever actually completed as a child. So I decided to go back and revisit it one day, and holy shit it's a
good McDonald's™ licensed game
. So I decided to pick it up and cover it for you, since it's Supersized™ fun.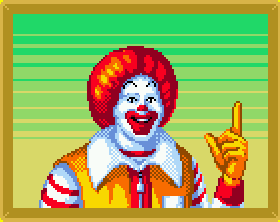 This clown is Ronald McDonald™! He's the main character of this game. If you aren't aware of who he is,
get out of my thread
he's the mascot for the McDonald's™
Obesity Surplus Foundation
fast food chain. I'm pretty sure he is supposed to make your kids want to eat there, but from my experience most kids
fucking hate clowns
.
He also shoots magic burger dust™ from his hands apparently!
This thread is going to be a double let's play as it turns out. Zackcat™ is playing through McDonald's™ for the Sega GameGear™ and we're all on board for that as well.
Hope you guys enjoy.
Episode 1
with WeirdBIAS (Bacon) and WrathofBlade

Episode 2
with Bioten (Buttons) and Zackcat

Episode 3
with Zackcat and WeirdBIAS aka Bacon

Episode 4
with Bioten (Buttons) and WrathofBlade

Episode 5
With WeirdBIAS (Aka Bacon) and WrathofBlade

Episode 6
With WeirdBIAS (aka Bacon) and Bioten (aka Buttons)

Episode 7
With
Bruce Willis
Weird Bias (AKA Bacon) and
Ben Affleck
Bioten (Aka Buttons)

Finale
with WeirdBias (AKA Bacon) and Zackcat

Side LP by Zackcat™ (Updated Wednesdays)
McDonald's™ Gamegear™ Land™ Adventure™