Introduction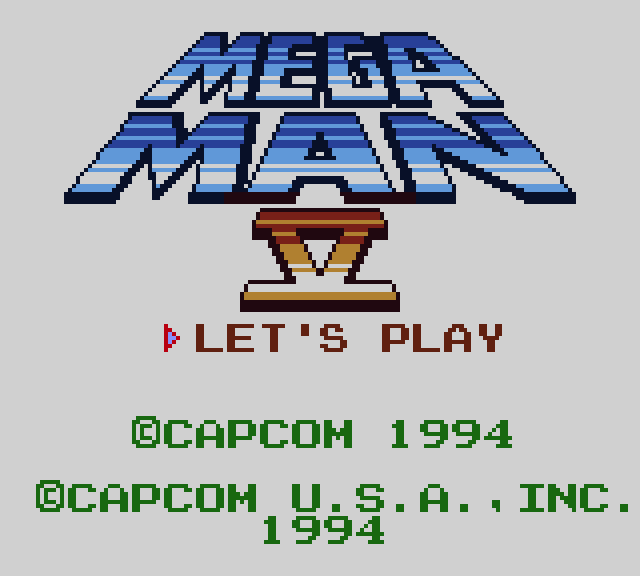 MMI
MMII
MMIII
MMIV
The final entry in the Game Boy series is determined to go out with the biggest bang possible, and I think it does an absolutely fantastic job at that. Presentation-wise, it is with no doubt in my mind the most impressive 8-bit title, small screen notwithstanding. Graphics, soundtrack, everything is new and shiny and makes the ancient Mega Man sprite look seriously outdated in comparison. Though our protagonist still got a few significant upgrades - hyped up by the box art itself, even, and you can see it well in the title screen for the introduction video. As you are going to see, I am not entirely fond of every level design decision, but these are mostly minor complaints. Overall, MMV is more than a worthy goodbye to Minakuchi's efforts in the development department: it is one of the very few games in the Mega Man series that stand up on their own as truly great games, not just "more of the same but a little more polished maybe".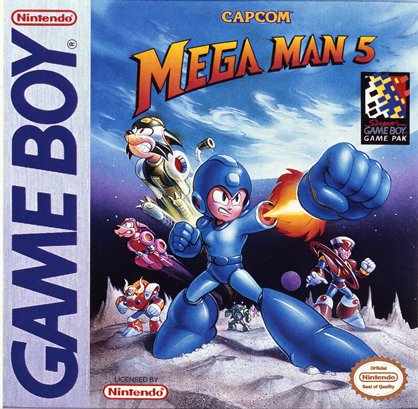 FIST
As this game is one of the first to get Super Game Boy support, I can finally let the game colour itself! Though I will still dabble into gaudifying stuff a little and make the title cards have the Stardroids' official colours. It's gonna be fabulous.
Videos
Music
Big thanks to
Bean
once more for uploading all the tracks! Everything here is new, so enjoy it to the fullest - some of these are seriously good.
Prologue, Part 1 - Peace Again
Terra's Theme
Prologue, Part 2 - Crisis of the Stardroids
Title Theme
Dr. Light's Lab 1 - Instructions
Stage Select
Boss Battle
Neptune
Venus
Mars
Mercury
Pluto
Jupiter
Uranus
Saturn
Take Flight
Space Rush Stage
Wily Star
Sunstar Battle
Ending