Part 3
The Tanker Chapter, Part 3
---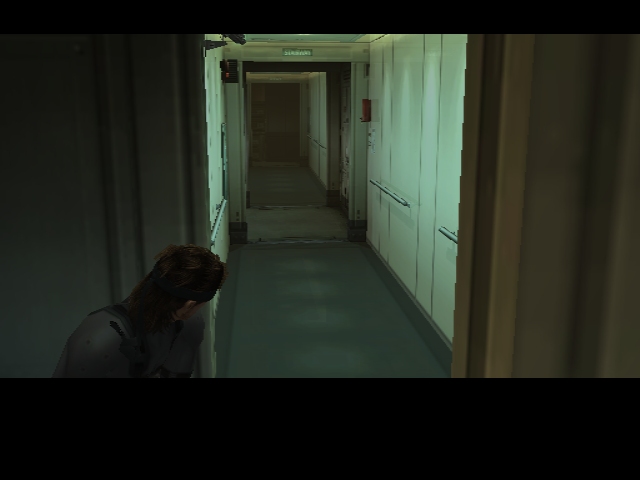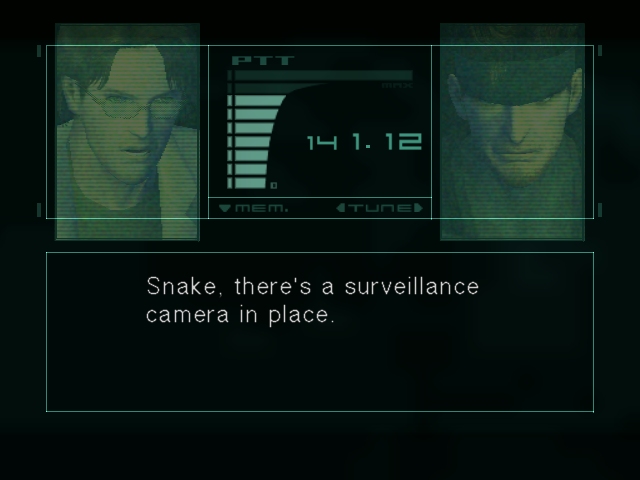 Snake is a highly trained professional killer/secret agent/mullet grower, and some twat is telling him how to avoid security cameras.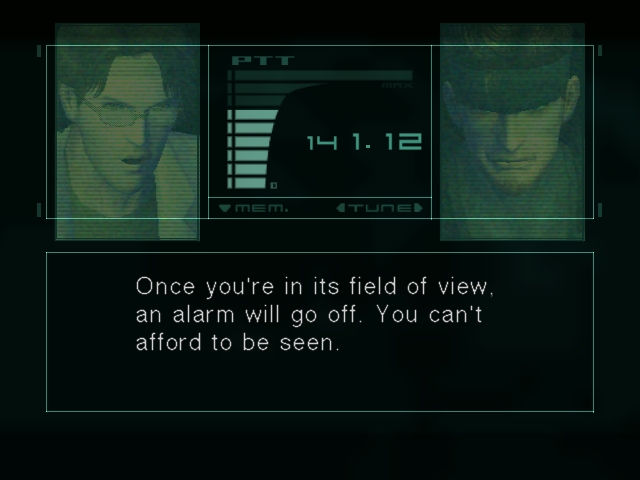 OH, REALLY?! ARE YOU SERIOUS? HAY THANKS OTACOCK I DUNNO WHAT ID DO WITHOUT YOU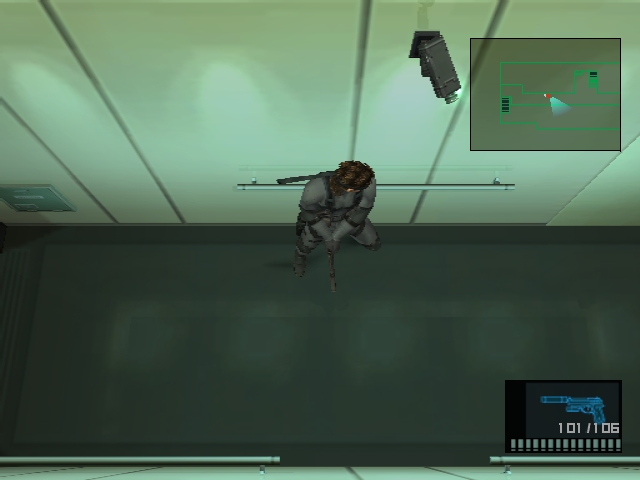 Sneaky sneaky. Is it just me, or has Snake's suit changed colors? It was dark blue before, now it looks grey.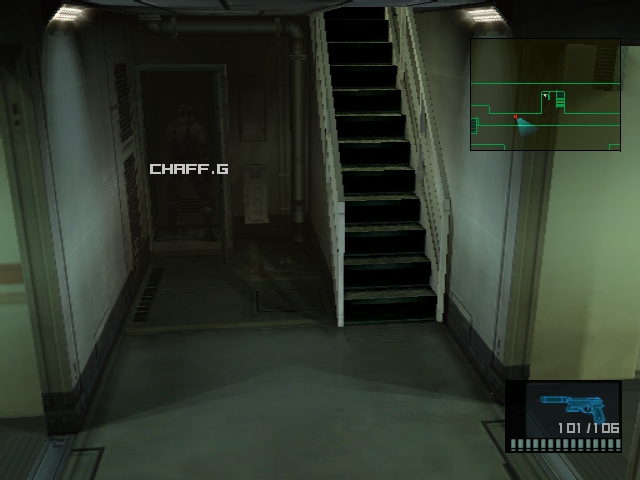 Damn, my grenades are starting to chaff.
...
Oh wow. I won't do that again, I swear.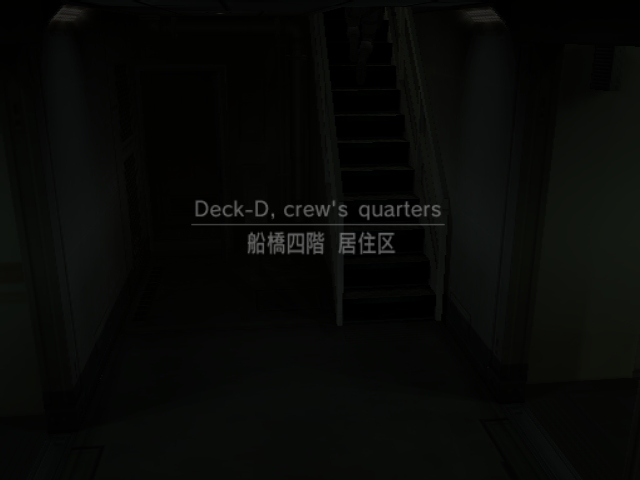 Progress!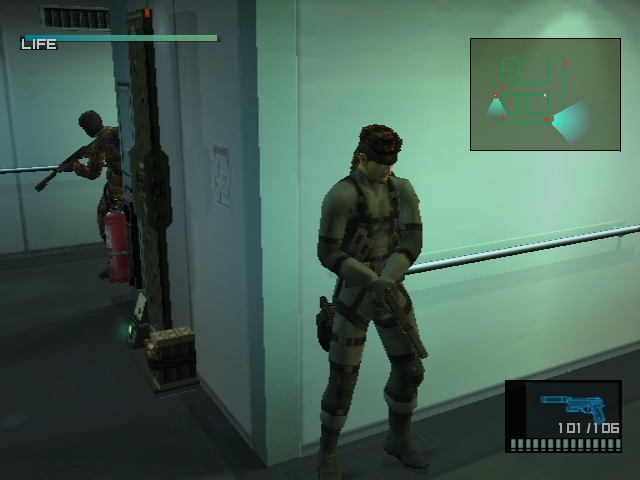 What's that beeping thing?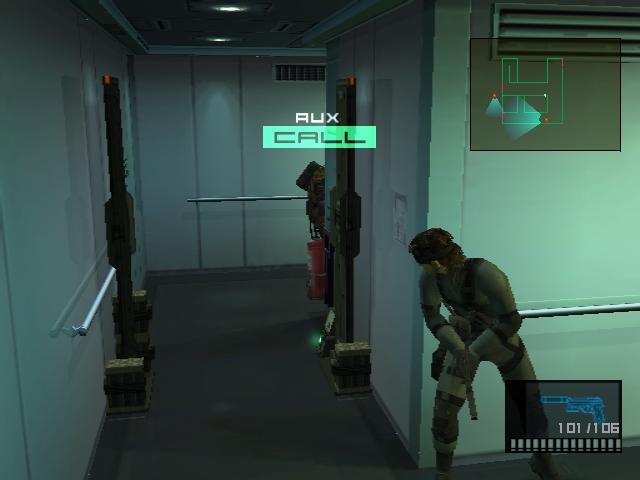 Otacock, er, Con tells me it's Semtex. AKA, C4. Why the terrorists would rig the place to blow, THEN place laser trip wires for some dope to stumble in to is beyond me. But hey, this is Metal Gear. Fucking robots roar n' shit.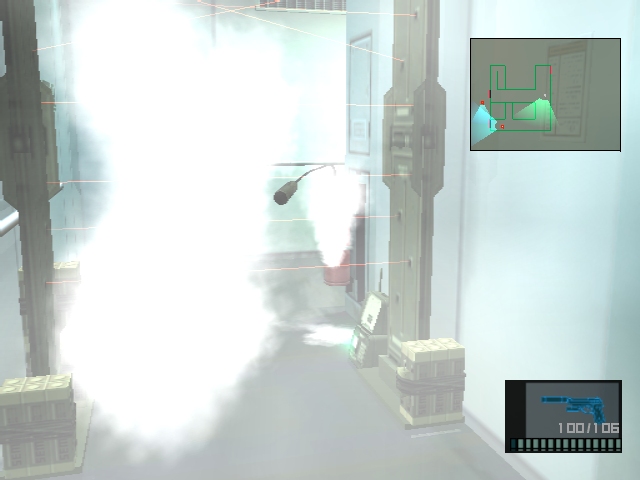 Shooting the fire extinguisher reveals the lasers. You can crawl under them. Or, y'know, go AROUND.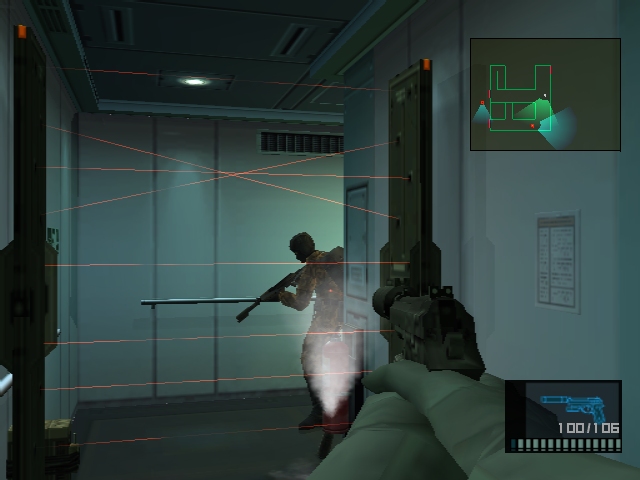 I decided to put this guy to sleep so he wouldn't bother me.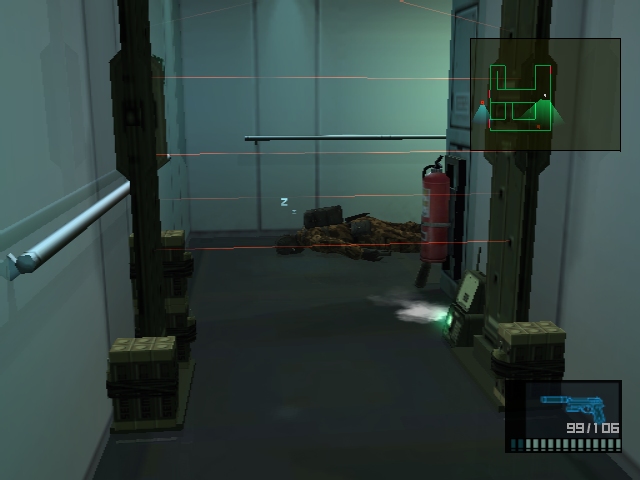 Let's hope he doesn't have a nightmare and start thrashing around.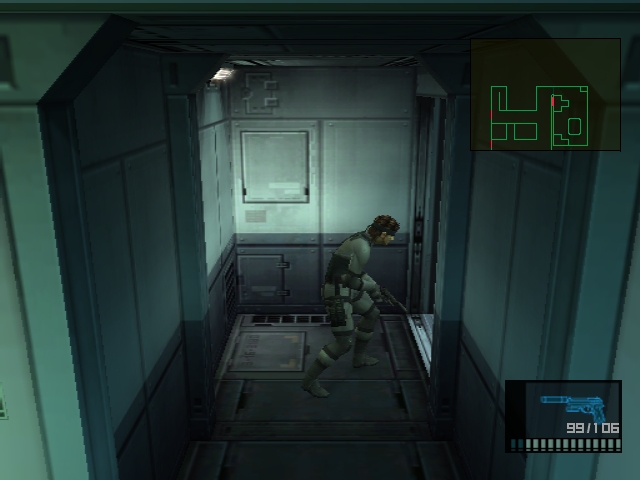 This room has stuff in it! I like stuff!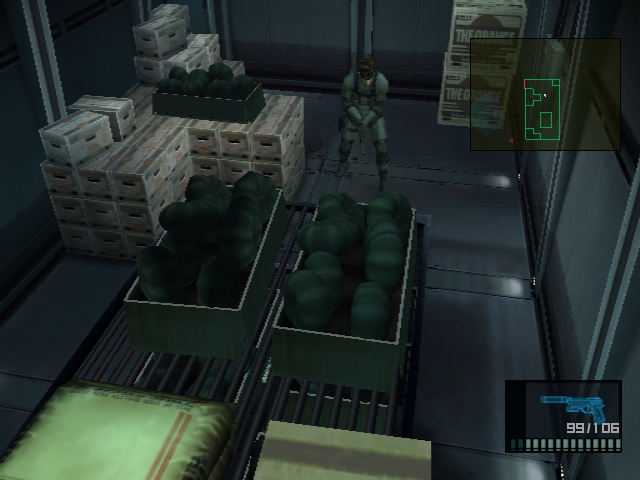 The Orange? What the hell kind of packing company name is that?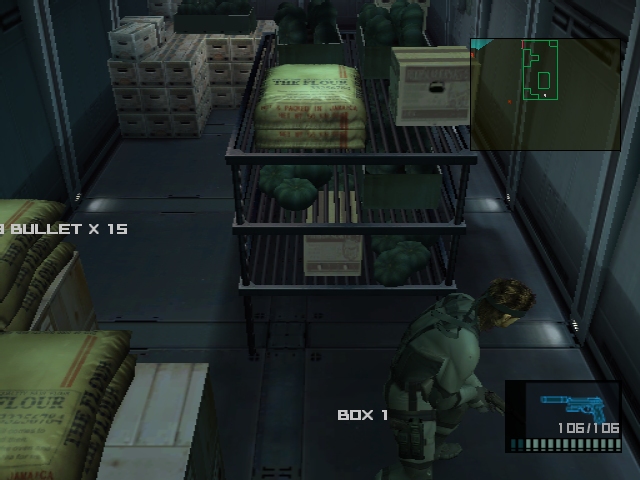 Ammo and Snake's beloved cardboard box. Let's put it to some use.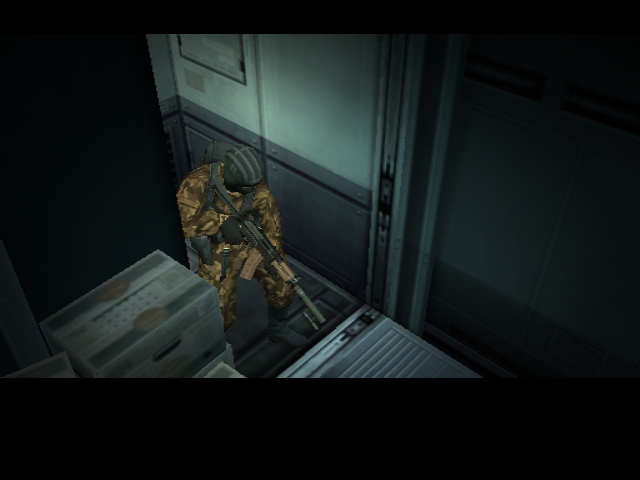 A guard walks in...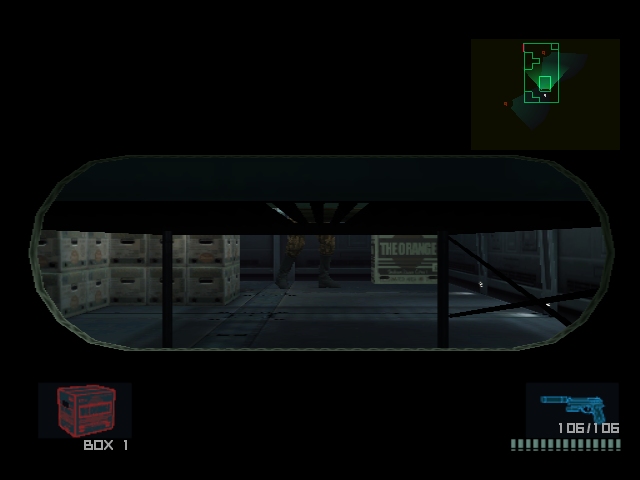 And falls asleep, making my box skills useless.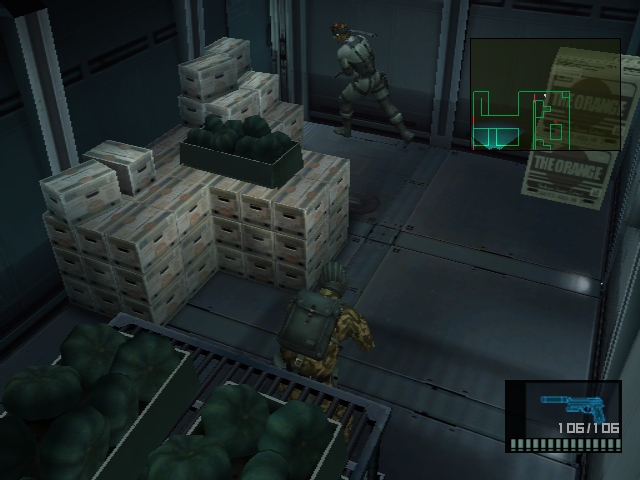 While he's feeling asleep I just run past him.
A SURVEILLANCE CAMERA?! ON A MILITARY OPERATED VESSAL?! WHAT THE FUCK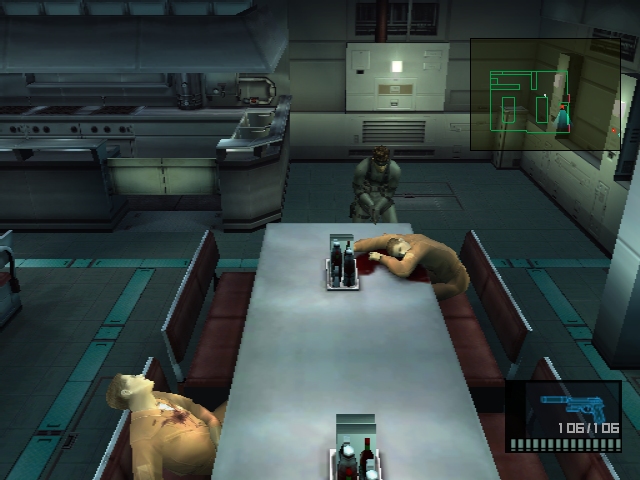 Somebody cut their throats while they ate...condiments. Also, why does it look like Snake is wanking to these grisly images?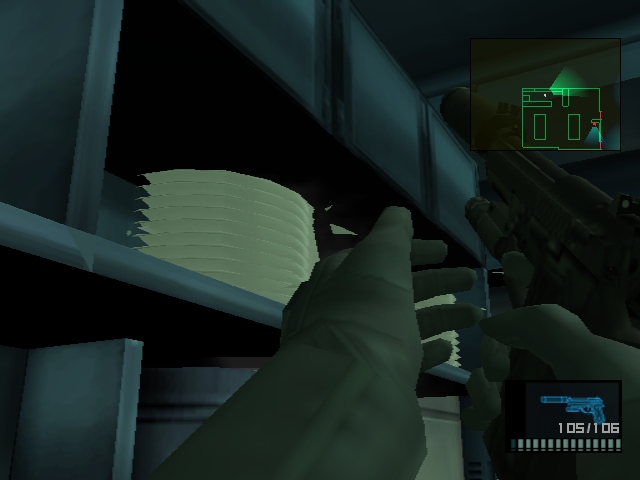 SOLID SNAKE HATE PLATES. SMASH.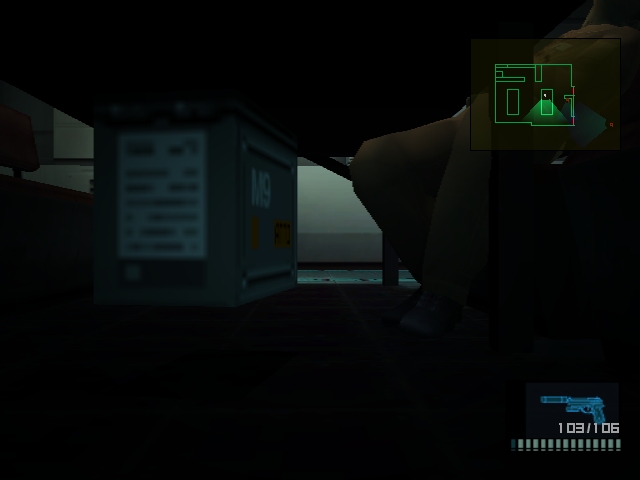 There's more ammo underneath the table closest to the camera. There's some USP ammo under the other one, but we don't have that weapon yet.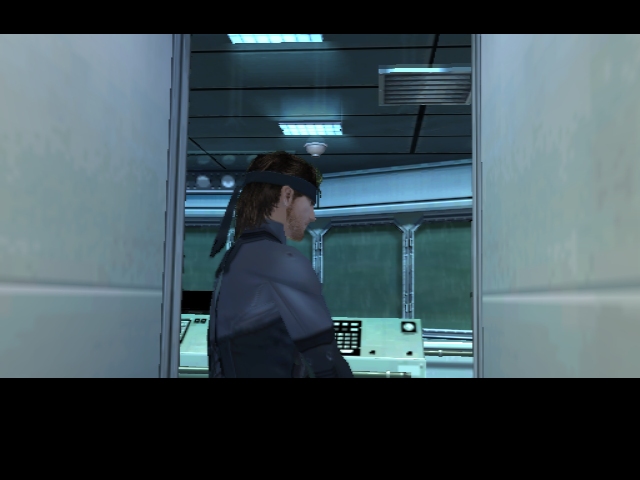 Snake heads up to the control room...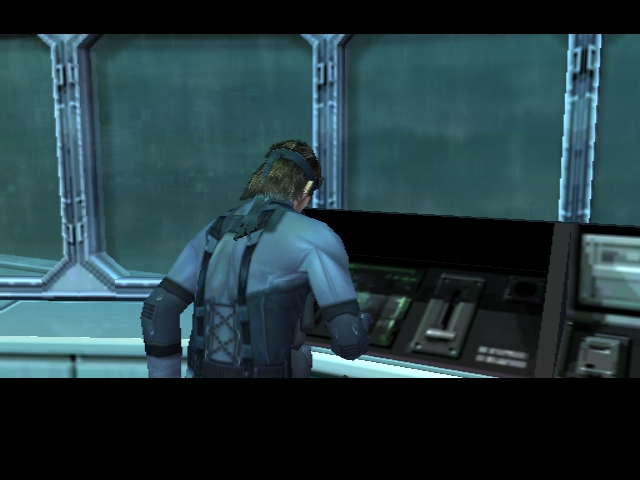 And downloads some Starsailor onto his mp3 player. Oh, and checks the ship's destination coordinates.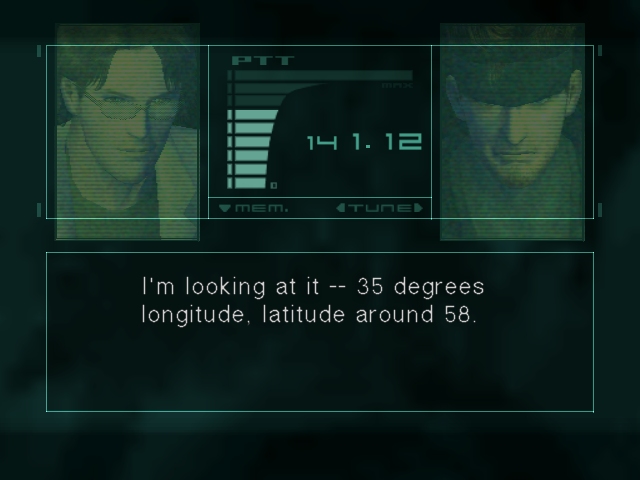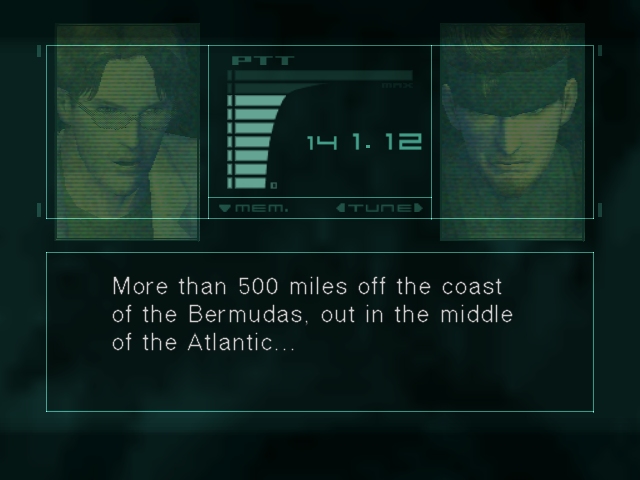 Combat testing location, maybe?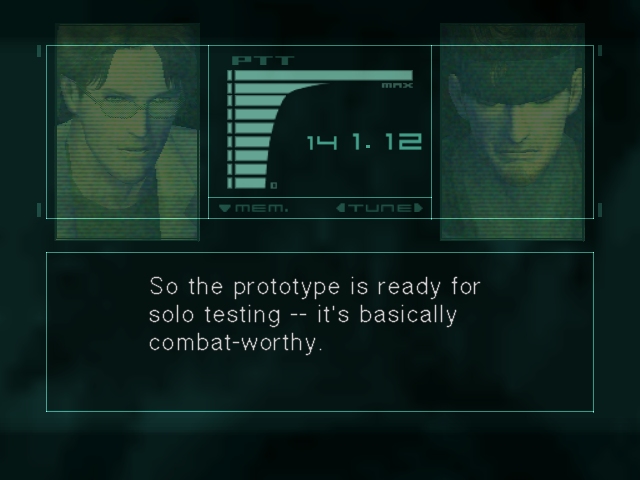 Suddenly, Snake hears something outside...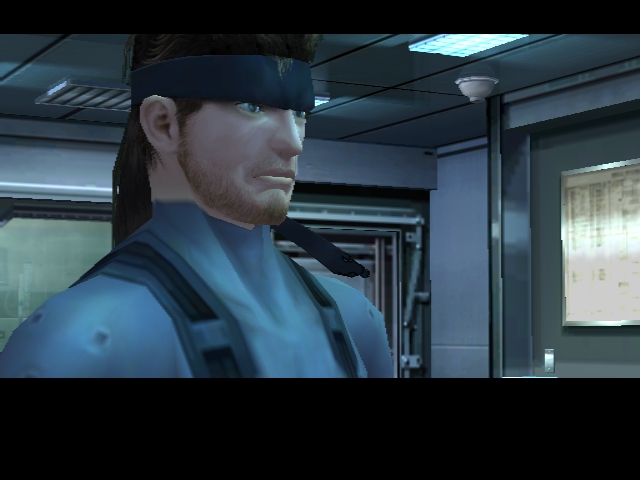 He's totally got a

look.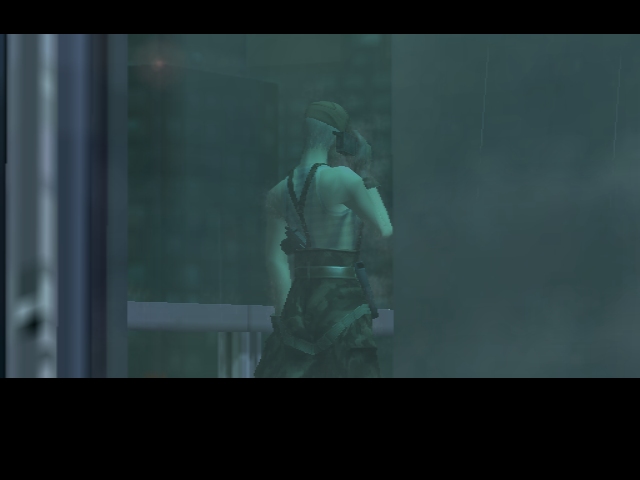 Oh boy.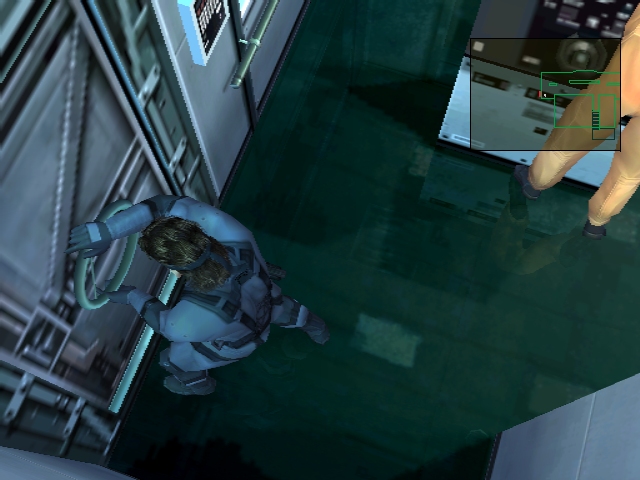 Let's go check it out.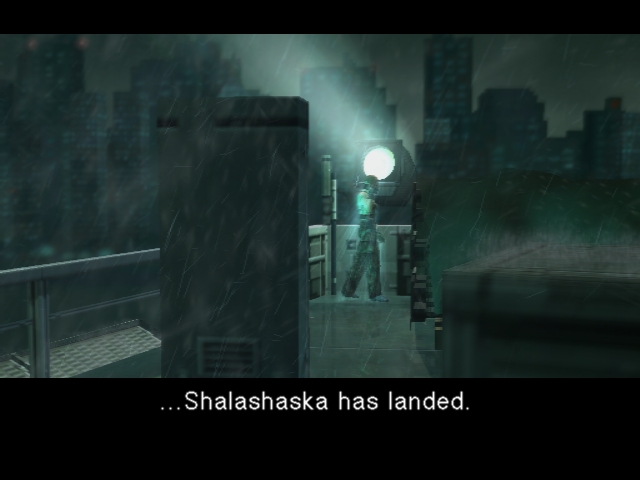 M. Night Shyamalan is here?! Oh, nevermind. By the way, am I the only person who really enjoyed Lady in the Water?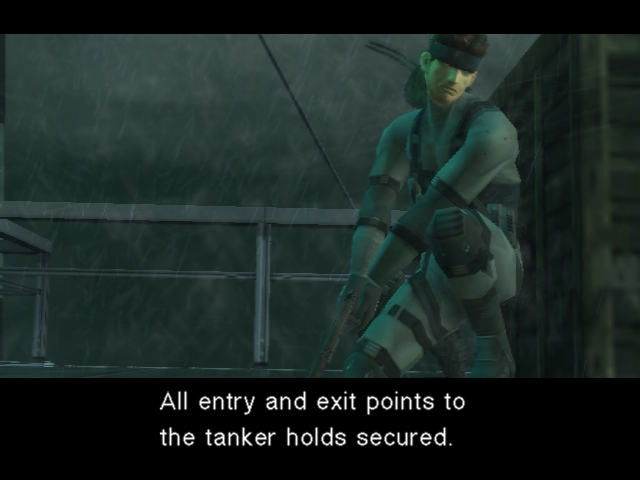 I guess the Marines below deck don't know what's going on.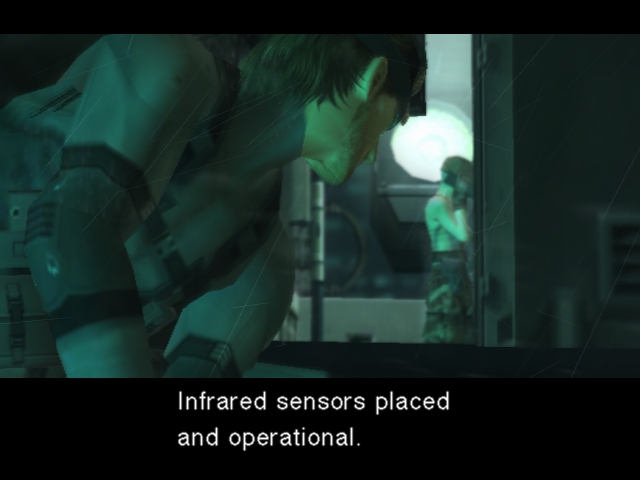 "Hopefully those dumbasses you hired won't stumble into them. Seriously, I saw one of them walk into a bar the other day."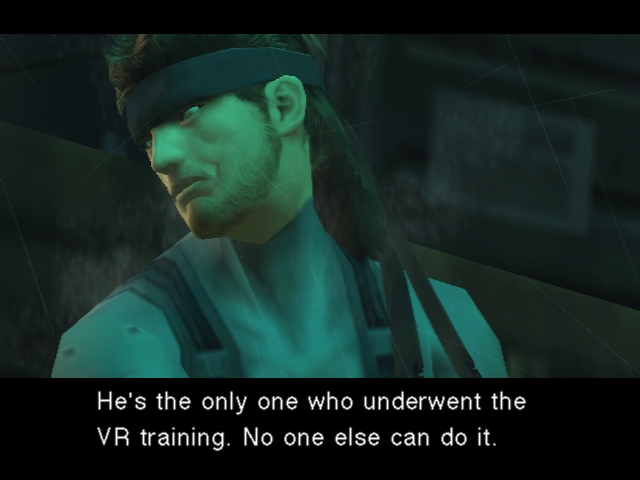 They are refering to Ocelot, in case you're curious.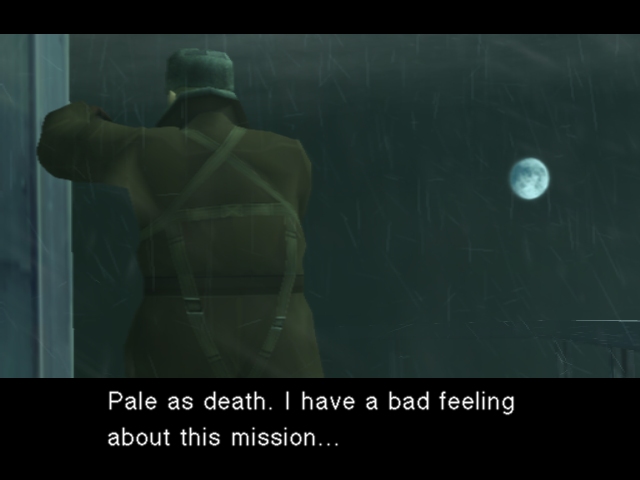 Sergei is worried about his daughter. She wants to stay, but he'll have none of that. She also got knocked up, so he's probably concerned about that.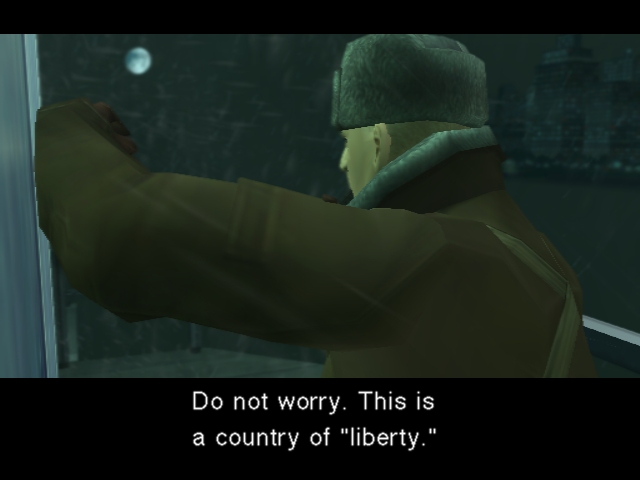 I SEE WHAT YOU DID THERE KOJIMA! YOU HEARTLESS FREEDOM HATING SONUVABITCH!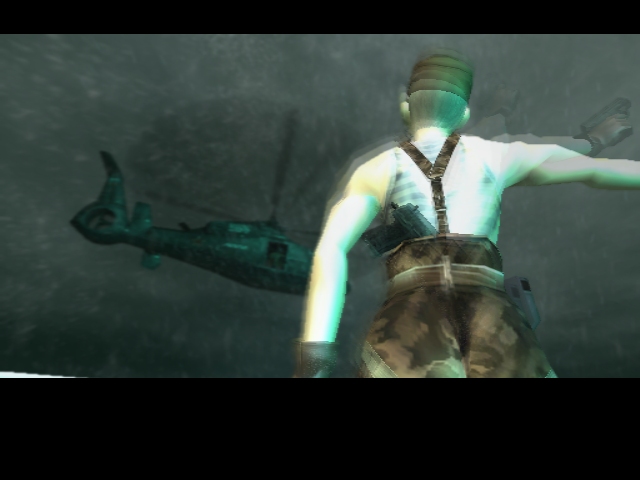 She waves off the chopper coming to pick her up. Looks like Momma wants to kill some more Yankees. Bitch.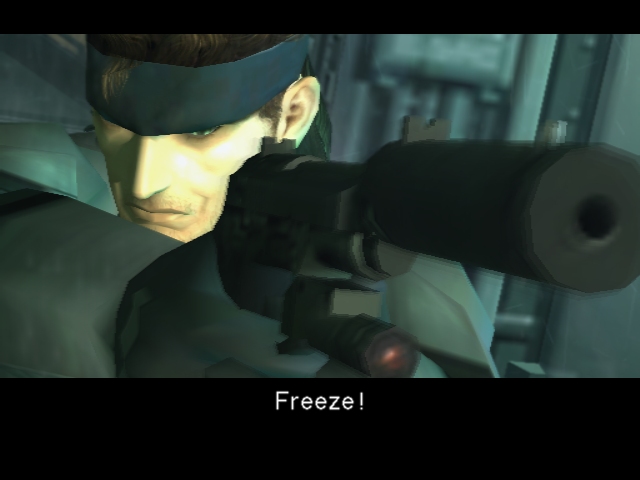 Shoot the bitch! Shoot her!
Hey, she's kinda cute. In a Sarah Connor Rambette sort of way.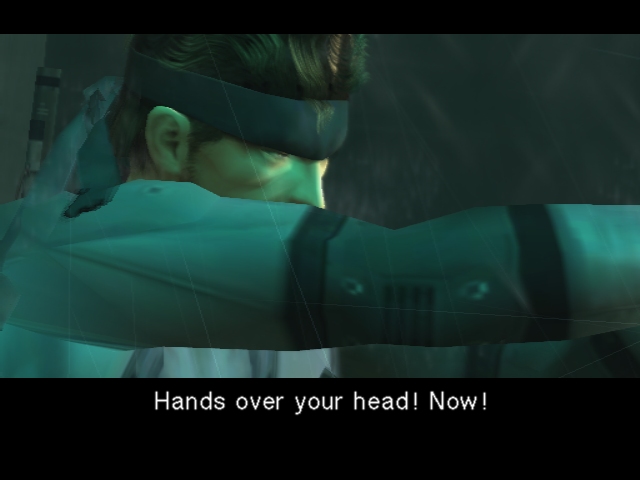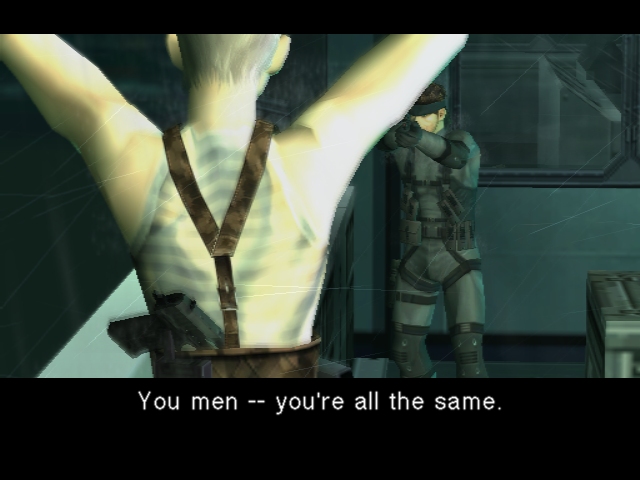 We like tits? Well, most of us, anyway...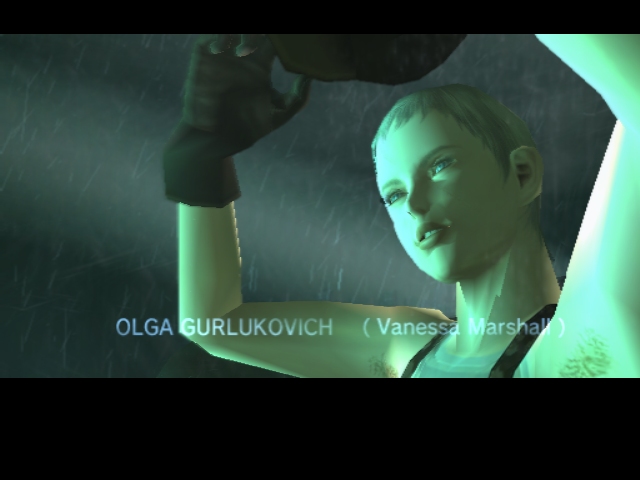 HOLY ARMPIT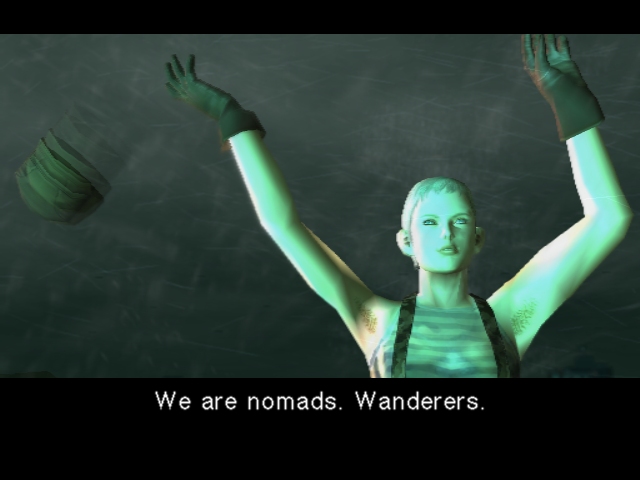 NOMADS MUST BE SHORT ON RAZORS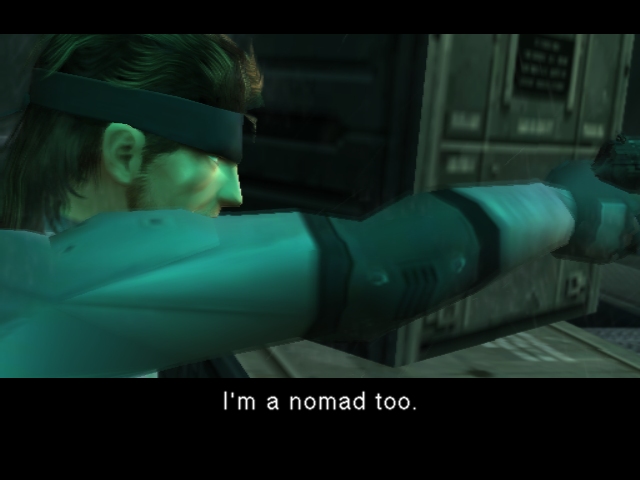 Considering Snake's hairstyle, it seems that nomads really are short of hair supplies.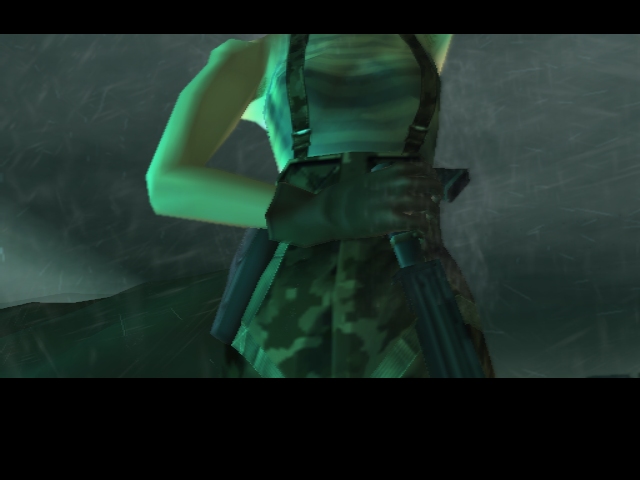 Snake tells her to toss the knife.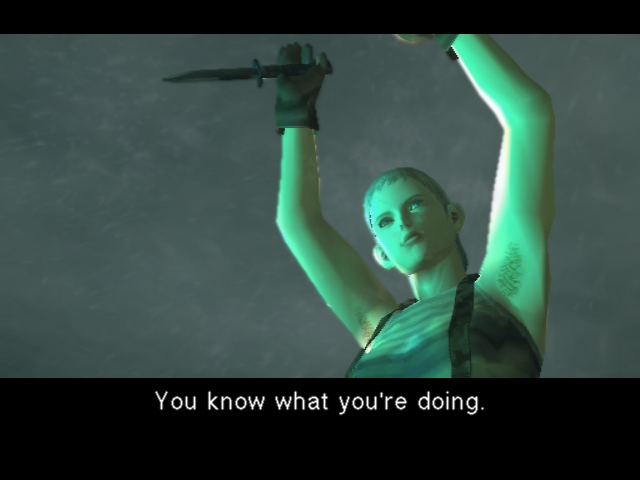 Ack.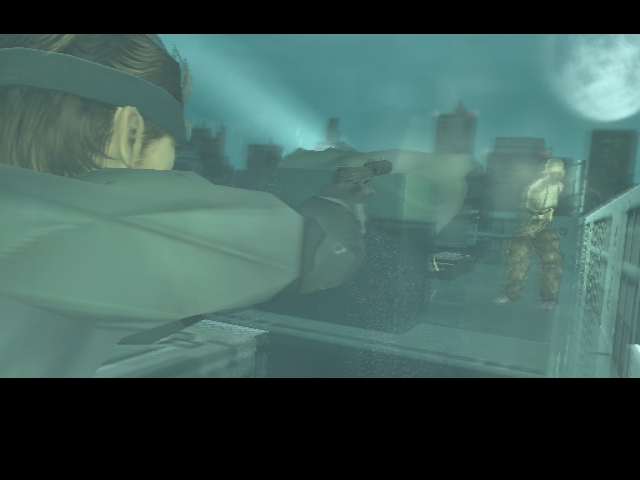 Suddenly, a bullet erupts from the handle of Olga's scout knife, and Snake pulls some Neo shit.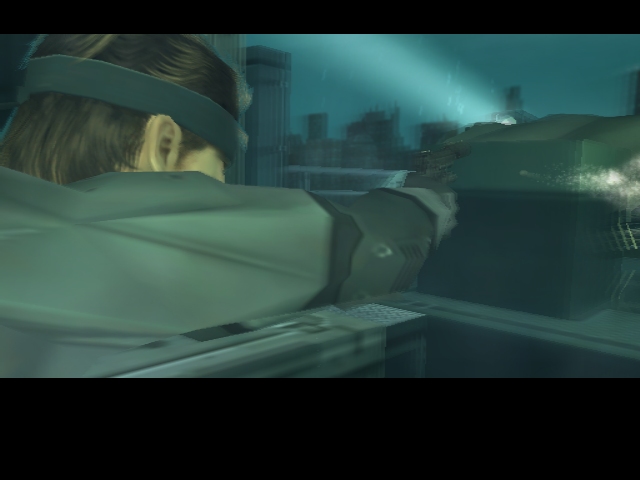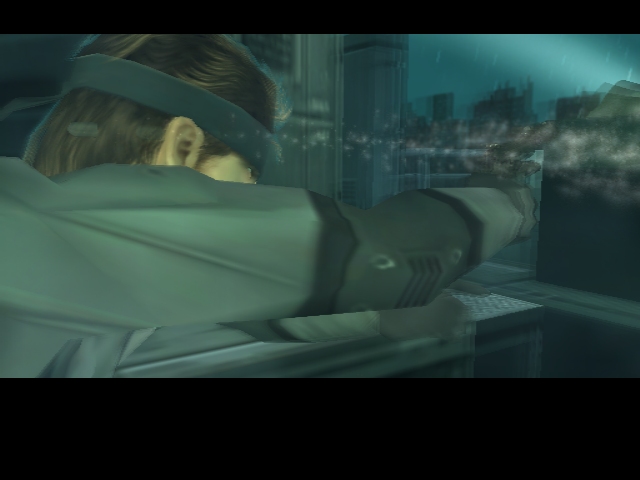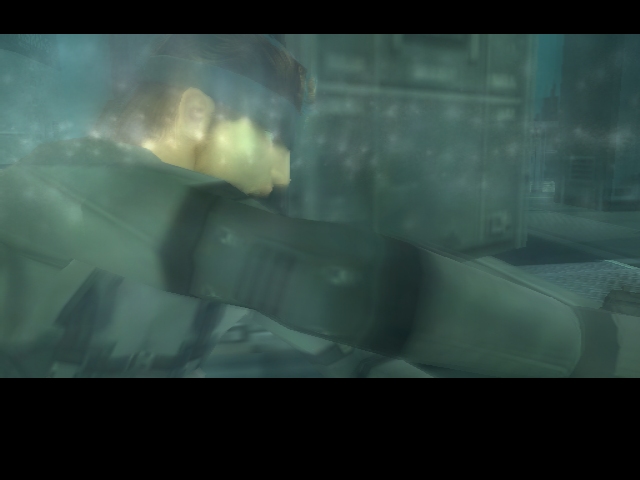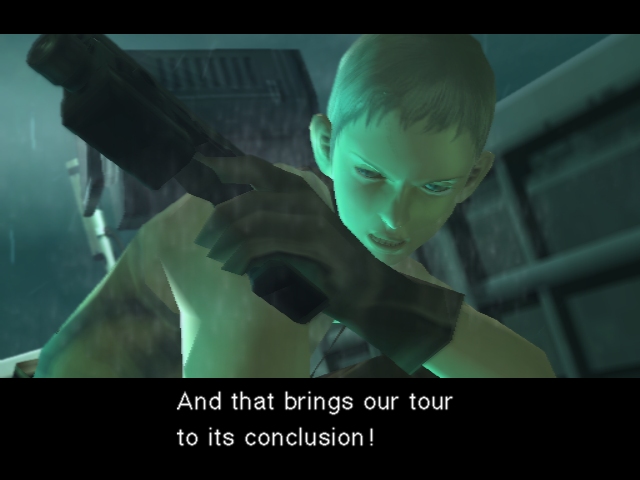 Haha, you're so clever.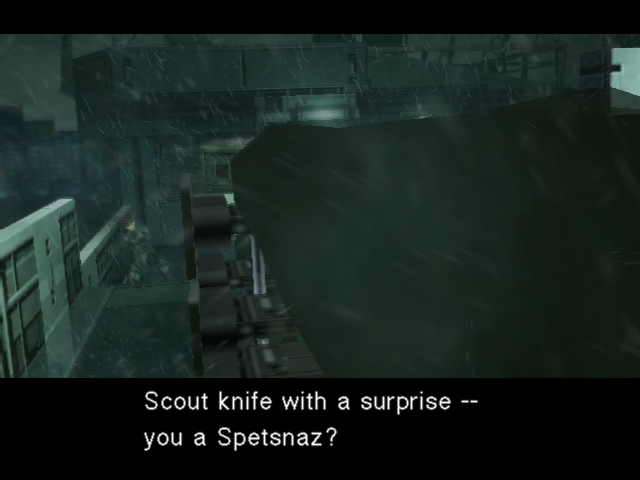 Snake. Keepin' it Cool since 1995.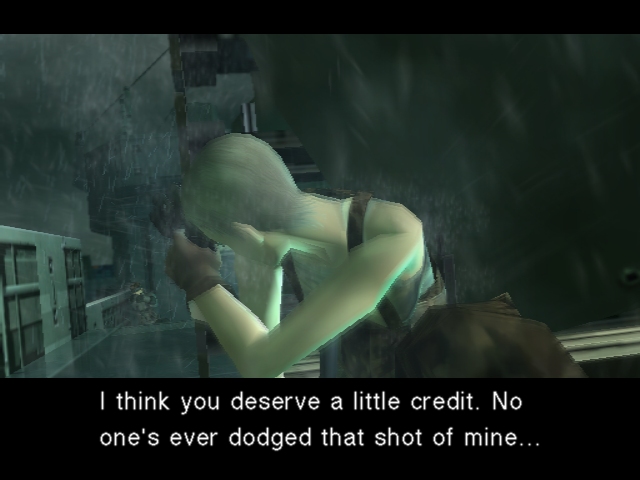 "But no one gets lucky twice, either!"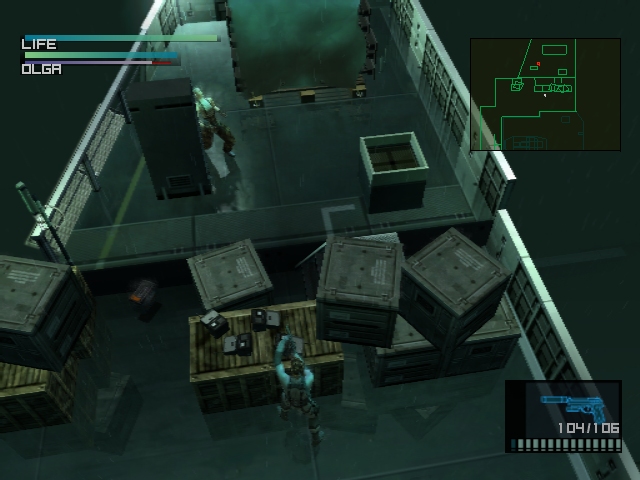 MORTAL KOOOMMMBAAATTT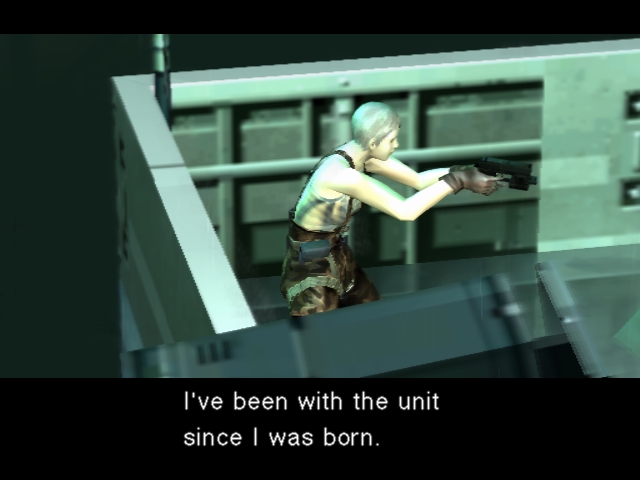 'Gratz, lady.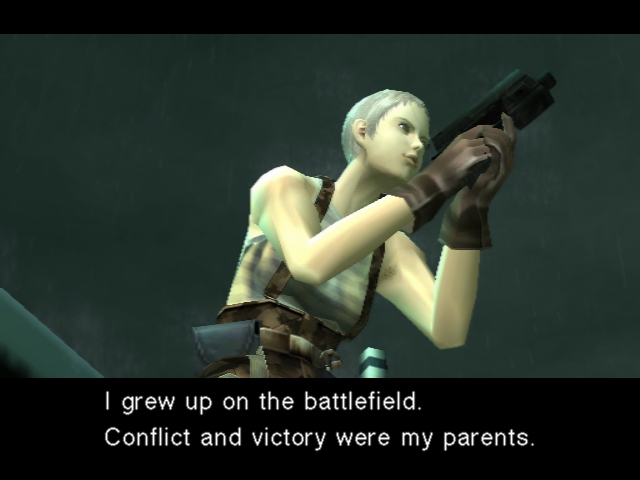 They did a shit job raising you.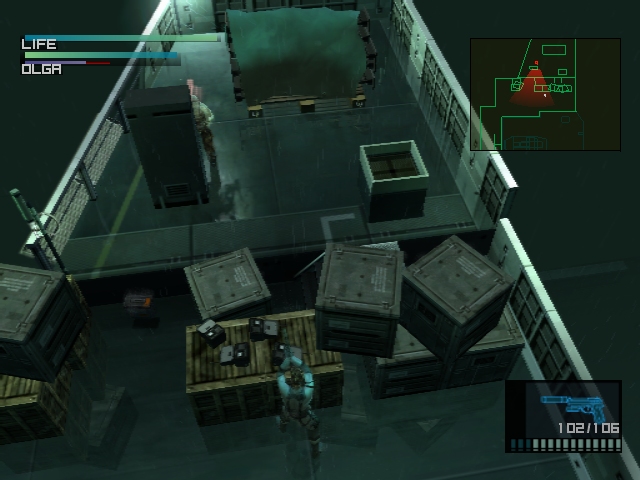 Haha, less than a minute into the fight and she's almost down for the count. What a loon.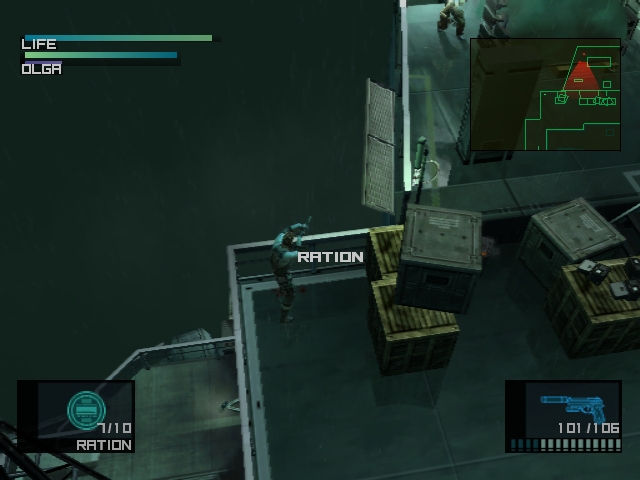 I hope these things are nutritious.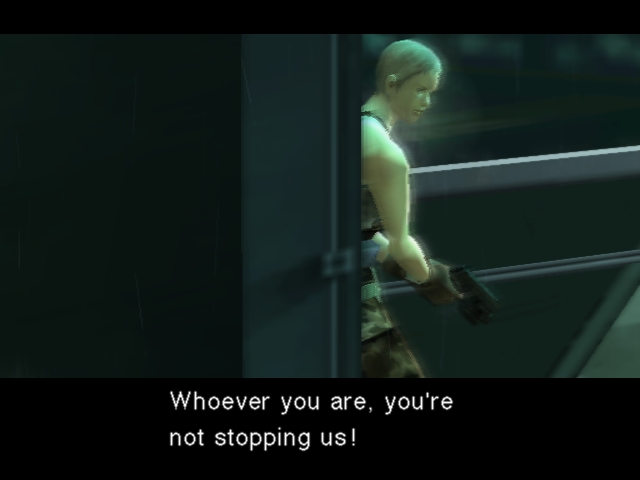 Actually, I seem to be doing a great job of it right now.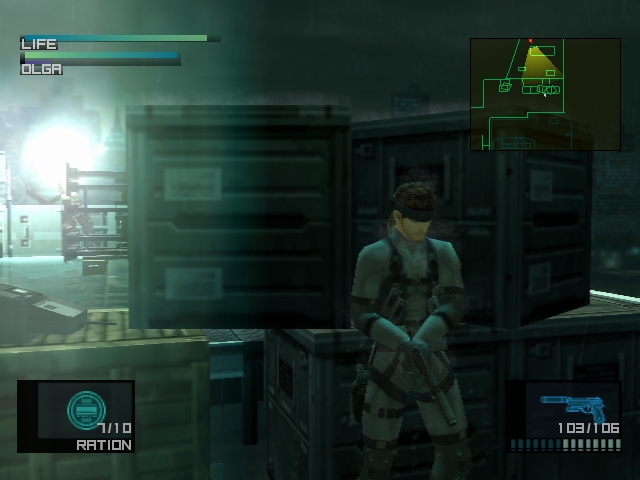 The second I take cover, she throws a grenade at me!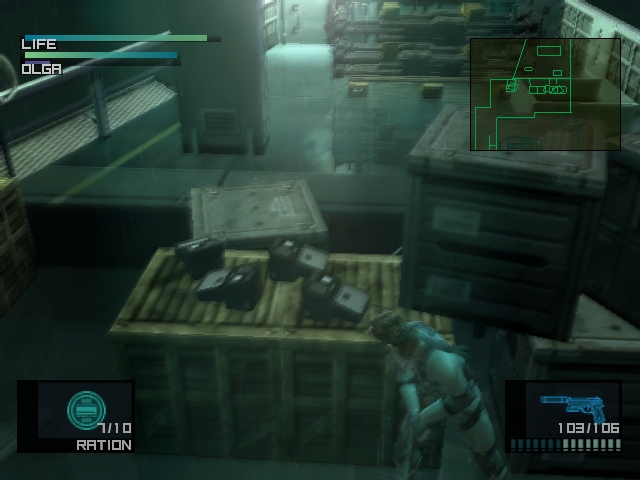 SNAKE HATE PINEAPPLES.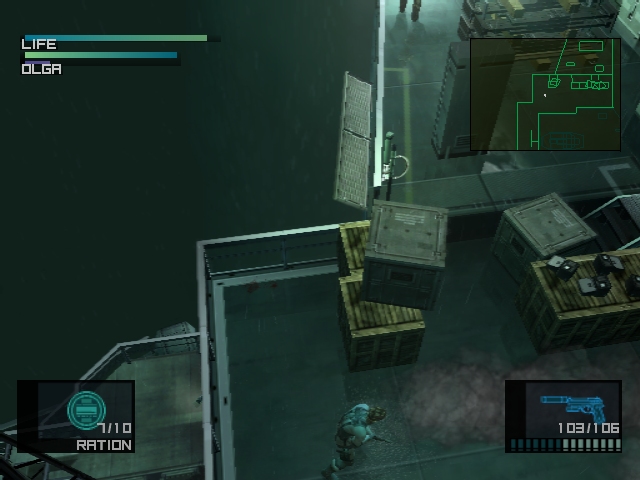 That smoke is the remnants of the explosion.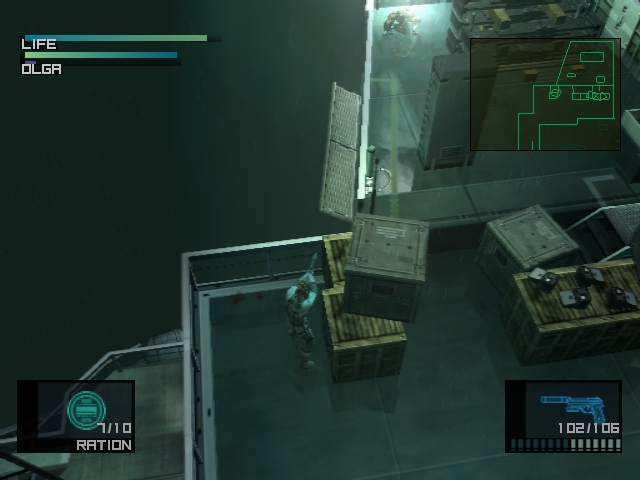 One last peg with the tranq pistol...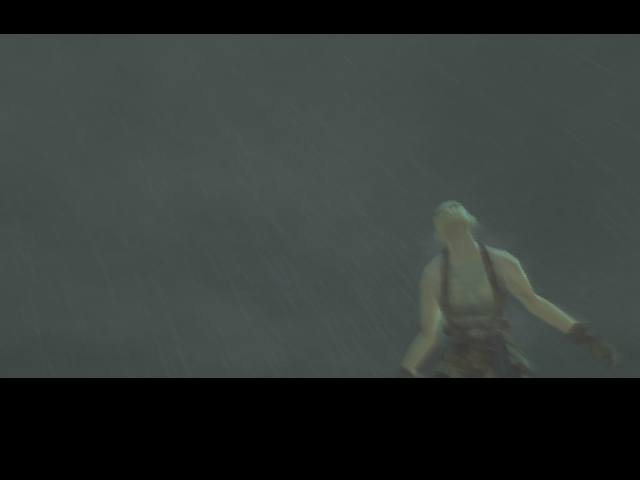 Bow down.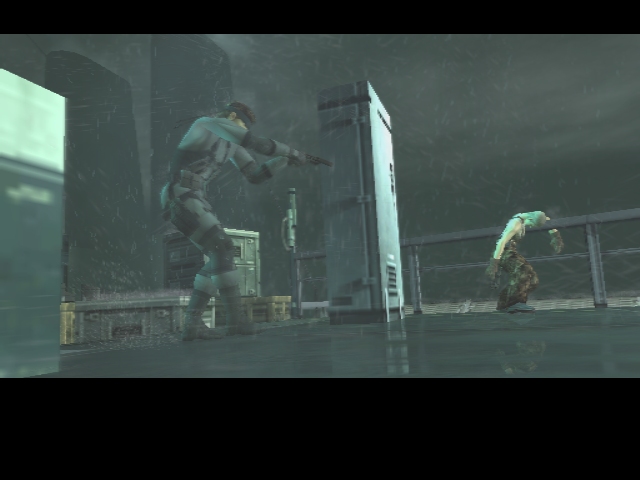 Yep, she's snoozin'. Let's hope Snake doesn't get any funny ideas...
---
Will Snake finally get that brand new Sony USP, er, HK USP he's been saving up for? Will Snake and Otacon get blackmailed as eco-terrorists?! Necks shall be snapped, and the only other black dude in the entire game will die first in the next installment of Metal Gear Solid 2: Goons of Liberty!