Part 134: Fake Update
Fake Update:
I do wish we could've gotten Vhailor in our party and done his dialogues over a more extended period of time. There's just way too much badass in his character to be squeezed into two updates comfortably. Eating up twenty pages of his righteous fury in one sitting is kinda like sitting down to that 72-ounce steak challenge and suffering from the meat sweats afterwards. You can only turn the volume up to 11 for so long.
That aside, there's another way to talk Vhailor to death, and that's to explain the futility of his existence via a Problem of Evil-ish argument.

Truth: "I disagree. Mercy is strength - and there are times when even justice can be unjust, especially when carried to the extreme."
MERCY eats at the heart of JUSTICE. NO ONE that lives is INNOCENT.

"What *defines* justice, Vhailor? What IS it, really?"
JUSTICE is defined by LAW.

"And what is law, Vhailor?"
LAW is the tool by which JUSTICE is served.

"And what makes the laws, Vhailor?"
LAW is defined by JUSTICE.

"That's a circular argument, Vhailor - it's meaningless. You say justice is defined by law, which is defined by justice."
LAW -IS- defined by JUSTICE.

"Living men and women make laws, Vhailor - are the laws they make 'just?'"
LAWS are JUST.

"But if these laws are made by living men and women - who, as *you've* said, are NOT innocent, then haven't the laws been tainted by their hands?"
NOTHING that lives is INNOCENT. Yet LAW rises ABOVE the flesh and blood. FROM IMPERFECTION PERFECTION MAY BE MADE. UNJUST LAWS may be REFINED. BLED OF THEIR EVIL.

"Then you admit laws are not always perfect - but if these same laws define justice, then isn't *justice* imperfect as well?"
Vhailor is silent.

"Vhailor - there is NO justice. All you do in the name of justice is meaningless - your LIFE is meaningless."
Your words seem to echo, gathering power as you speak them. As you do, the embers in Vhailor's eyes flicker - and then gutter out. His armor collapses, the axe and the metal plates clattering to the ground with a *crash.* As they strike the ground, however, they raise clouds of dust - ash and rust particles rising from the metal as the plates and axe age, decay, and disintegrate right before your eyes. All that remains are a few pitted metal plates as gravestones that Vhailor ever existed.
Unfortunately this technique only works if TNO's Charisma is 21 or higher. Otherwise...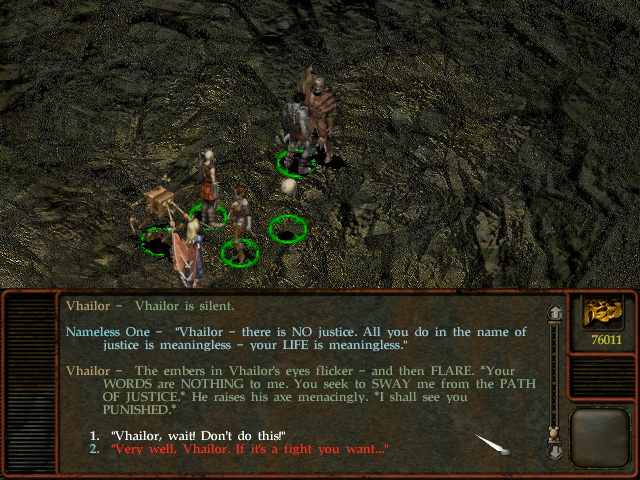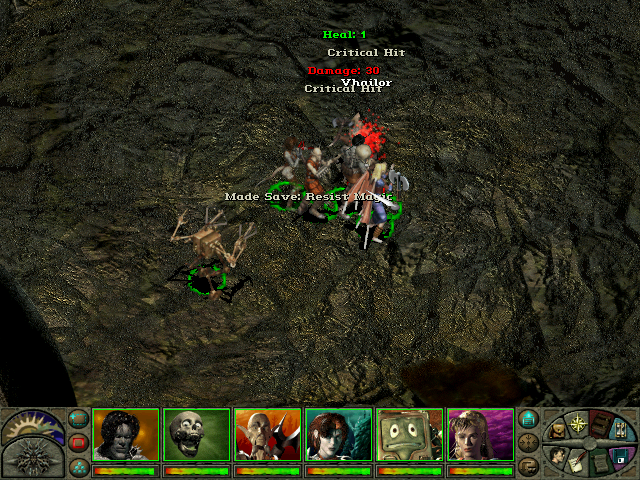 Next time: Getting the fuck outta dodge and robbing a demon blind. While he watches helplessly.
Then we make him cry.