Part 138: Sensory Stone of the Nameless One: Part 12
Sensory Stone of the Nameless One: Part 12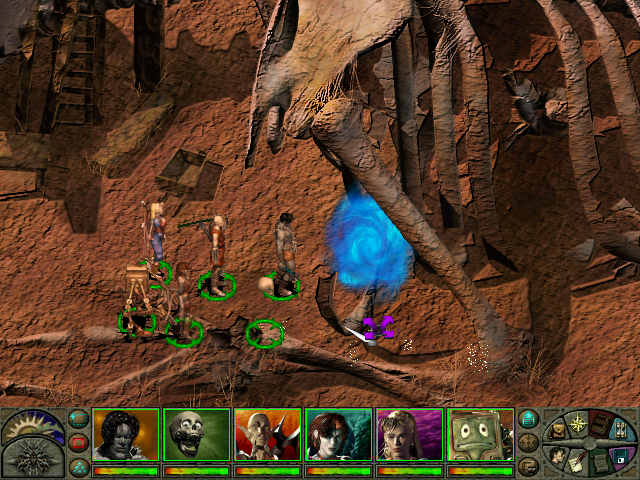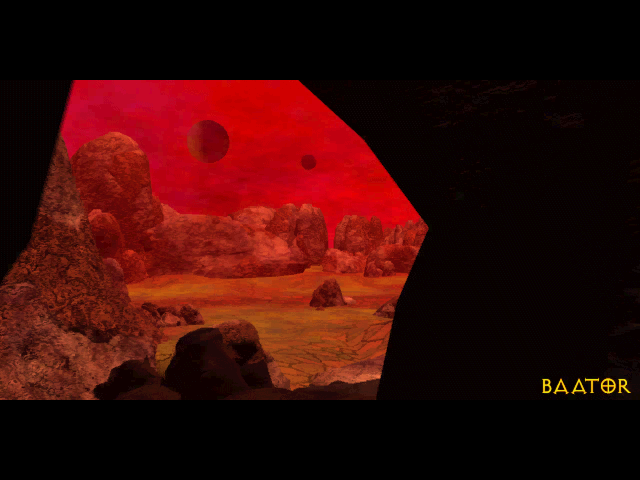 A cold wind blew across the craggy land. It whipped up a crimson wind, and the dust carried the iron scent of pain and whispered promises that could be fulfilled at the right price. A red sky roared overhead, tense as the edge of a storm. Sinister black moons hung like bodies in gibbets, bound in their orbits and gazing down upon the blasted lands in silent agony.
Baator (video)
We emerged from the cavern, shielding our eyes from the blood wind. The mouth of the cave seemed to breathe the air like a sucking chest wound. I led the way down, quickly, afraid that if we lingered the cavern would swallow us back up.
"Where is the Pillar, Morte?" I called to him, getting a mouthful of that dust. It tasted acrid and corroded my tongue.
"I'm- I'm not sure..."
"You know where it is, Morte. The sooner we get to it the sooner we can leave."
He gave me a nervous glance, a criminal returning to raid his old prison, but he nodded, and floated higher to get a good look.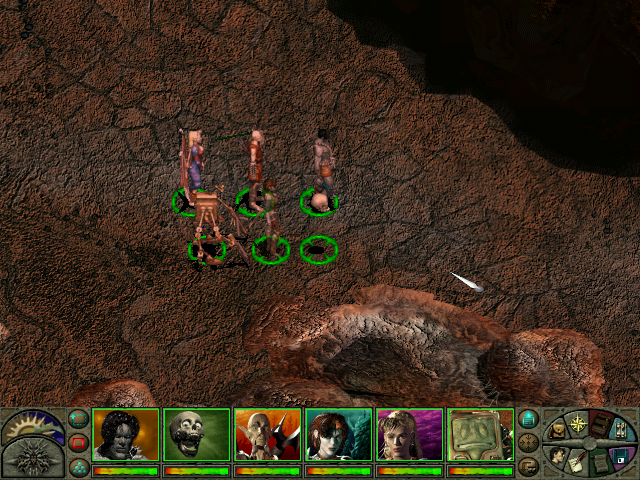 Annah began to make a move.
"No, Annah. No scouting this time. We need to stay together and I can't be sure that the fiends wouldn't be able to spot you in some other way."
"Tchah!" she scoffed, but looked relieved that she wouldn't have to go off on her own.
Dak'kon knelt, his knee fully healed under Grace's tender ministrations. His hand extended with a feather-light touch, examining the patterns of stone and sand.
"Do you see something?"
Dak'kon stood, one hand on the hilt of his blade, "I have traveled these lands long ago. When I laid my first oaths to the blade I had joined a
rakkma,
a hunt to exterminate the
illithid
threat. Many of the foul mind-flayers we had slain, and in our quest we had learned of a stronghold in Baator. The rumors whispered that the
illithid
menace had dealings with the lord of Dis, the second of the nine layers."
"What kind of deal?"
Dak'kon's gaze hardened, "An exchange of chattel slaves for knowledge of pain. Many of the People were said to have numbered among them."
I held my tongue and allowed him his moment of silence. By his tone the affair did not end well.
"We had been fools, and were lured into the baatezu trap. The documents we had obtained in the town of Ribcage promised safe passage, yet they cowed only the weak and ignorant denizens of the Pit. The greater baatezu knew them for the forgeries they were. Many of my bretheren died as we fled, embracing their blades to silence their knowledge of githzerai arcana before it could be bled out from them."
Grace shook her head, "Your people suffered from no folly, Dak'kon. Few know that Lord Paracs has no official capacity in Baator. He sells false documents of passage at exorbitant prices, and leaves the buyers to suffer their fates."
"Several bands have passed through recently," Dak'kon continued, "Perhaps a small contingent returning from a campaign in the Blood War."
"So we don't even have the protection of fake documents. Great."
Dak'kon shook his head, "Such a thing would be of little use. The tracks of one who passed are too large. They belong to the greater baatezu: red abishai if not a cornugon. They would not be fooled."
"But they can be broken," I said, readying my spells, "Fhjull is testament to that."
"Chief," Morte bobbed, "It's over this way."
Our progress was measured in such cruel increments: abishai blood, black and oily, sizzled against the stones and marked our passage. Shorn wings and severed limbs lay scattered on the red sand, and their former owners, screeching their rage in reptilian snarls, were silenced with swift efficiency. We moved in the steps of a dance, each participant with its own role. Steel and bone and will-forged metal shielded the core of our group, where magic and missiles flew out to crash against the hordes.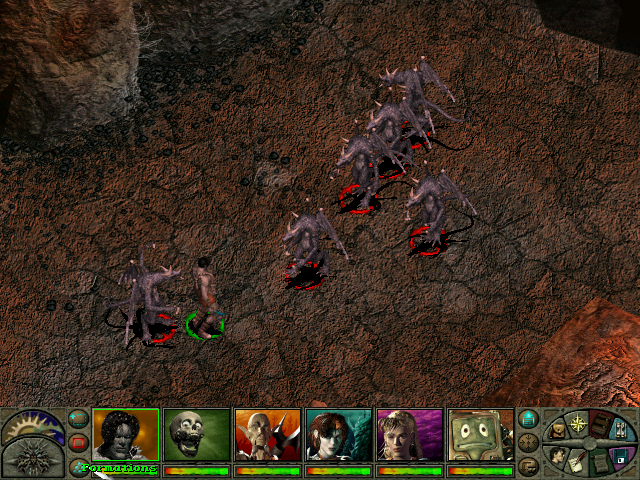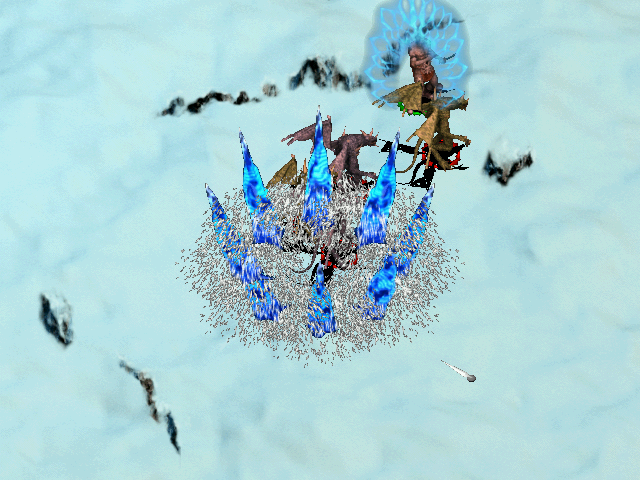 Dak'kon in particular fought with a fervor that he would usually reserve, I suspect, for illithids and githyanki. Where githzerai use order to shape chaos to their will, this entire plane used order as shackles against all who would enter. It was an abomination in his eyes.
Me, I just needed answers.
Finally the lumbering cornugon that directed the group died under the bites, the stabs, and the bolts of force.
The Pillar of Skulls sprouted from the center of a clearing, ringed on all sides with craggy mountains whose peaks pierced the sky. The Pillar itself had the bile coming up to my throat... this horrible, towering, pulsating
thing
. Loathing churned my stomach, and a faint sense of familiarity prickled at the edges of my consciousness. The innumerable rotting heads which made up the vast pile constantly shifted and throbbed, alternately bickering, weeping, conversing, shouting and whispering to one another. Heads constantly bubbled to the surface of the stack from somewhere within its foul core, while others sank back into the grisly pillar. They stacked towards the sky: a string of stinking orbs that were less like bone and more a collection of pus-filled boils, layered over one another into a disesed foam that begged for a lancet to burst them.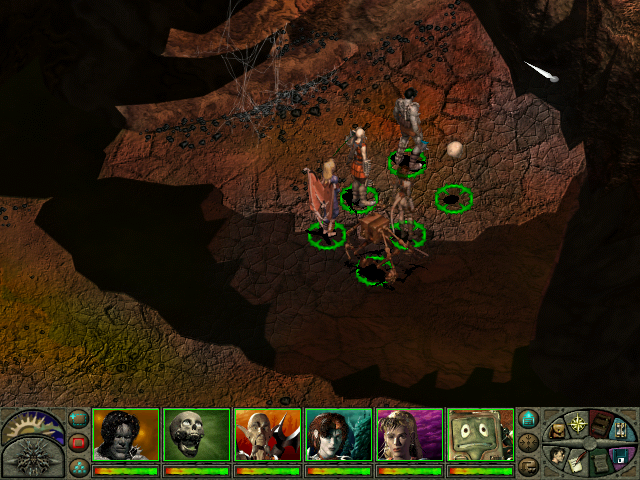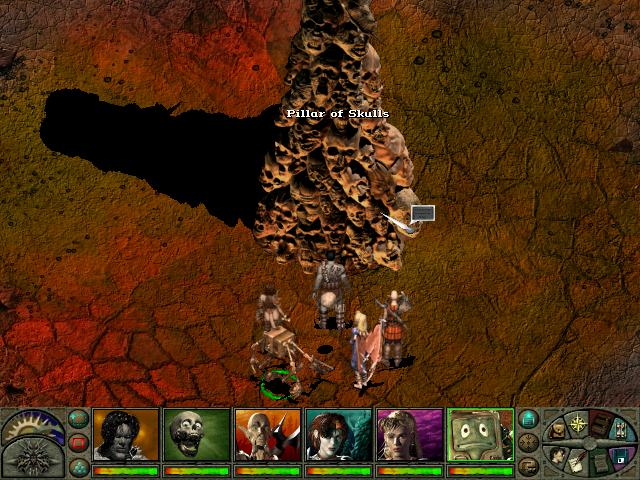 It made me itch.
As I made to step closer to the Pillar, Morte hissed to me: "Pssst! Chief! Chief... listen, I can't let that thing see me. You've got to get me out of here... drop me off somewhere, pick me up later or something..."
"All right Morte, we'll see if you can hide in-"
All the chatter, laugher, and mad screams abruptly
stopped
. The dozens of heads that lined the pillar's surface slowly turned to face me in unison. They regarded me silently, their breath fetid and moist upon my face... until they noticed Morte cowering behind my back.
"Oh, no..." Morte whimpered.
Every head on the pillar's surface spoke at once to make the thing's voice - a terrible, burbling sound that bubbled forth while foul, stinging vapors and putrid corruption streamed from their mouths. "
YOU
AGAIN... 'TIS BEEN A LONG TIME, INDEED." Many of the heads began to gibber and drool, chanting "...skull, skull, skull..." gleefully, licking their lips, their eyes fixated upon Morte.
"I have come for answers," I said.
"SILENCE! WE SPEAK NOT TO YOU, BUT TO THE SKULL. WELCOME BACK, LITTLE ONE. HAVE YOU AT LAST DECIDED TO RETURN TO THE FOLD, TO ACCEPT YOUR FINAL FATE, TO TAKE UP ONCE MORE YOUR SACRED DUTY?" Several heads burst forth from the Pillar's core, gnashing their broken teeth and wailing: "Yes, come back! Come back to us, skull! Skull..."
Morte shook with fear, his teeth rattling. "I can't go back, chief! I can't! I can't! I can't!"
"He hasn't come back to you," I said as I placed myself between Morte and the Pillar, "But I had some questions, Pillar of Skulls..."
"THE SMELL, 'TIS STRONG. IT SHALL CROSS THE PLANES, SOON, AND BEL WILL COME," they roared. Some sang the words with delight, others wept. Some shrieked, chanted, wailed, moaned. It was enough to drive a sod to madness.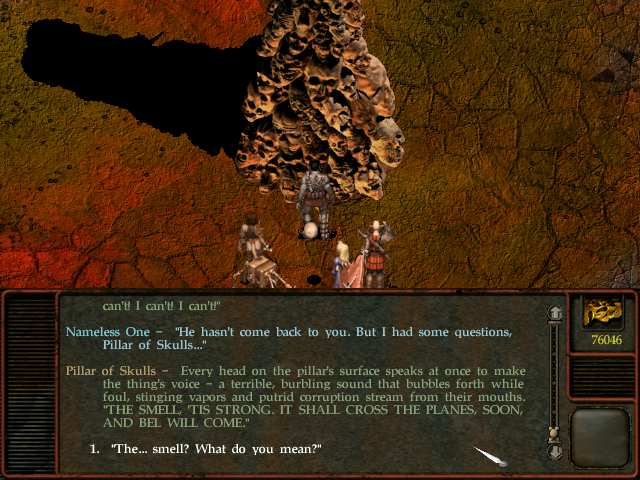 "The... smell? What do you mean?"
The heads' eyes turned wetly in their sockets to stare at Annah and Grace. "THE SMELL... THEIR MUSK... THEIR TANAR'RI
MUSK.
THE BITTERSWEET SCENT
CARRIES,
AND WILL ATTRACT BAATEZU, SOON. THEIR LORD, BEL, WILL BE
ANGRY.
"
"Oh, that's just
great
," Morte moaned. Annah stepped closer, eyes wide as if about to cling to my arm for safety.
The heads turned their gazes back to me, though a few still snuffled noisily. "IF HAVE YOU
QUESTIONS
FOR US, YOU HAD BEST BE
QUICK.
" A few of the heads squinted and gurgled softly; they might've been laughing at us.
"As I said before, then: I had-"
Before I could finish, a portion of the pillar trembled as yet another head oozed its way to the surface. After some of the noisome slime had sloughed off, my eyes widened.
It was Pharod.
Pharod's head spat out a mouthful of bloody cysts and croaked: "Annah, me darling child! Is that you?"
"Da! What yeh be doin' in this place?" she cried in horror.
The other heads remained mostly silent for a time as Pharod's spoke... only a few whispered quietly to themselves, making wicked sidelong glances at Annah and her foster father's head. "I was wrong, my dear girl, about the Sphere. It wasn't enough, no, and now look where I've ended... I beg of you, lovely Annah! Save your poor father! Save me! Oh, please, save me! Save m-" But even as it spoke, Pharod's mewling head began to sink back into the Pillar's core...
Annah stared hard at the pillar, eyes narrowed, her fists clenched and tail rigid. A mixture of fury and anguish was smeared across her trembling face.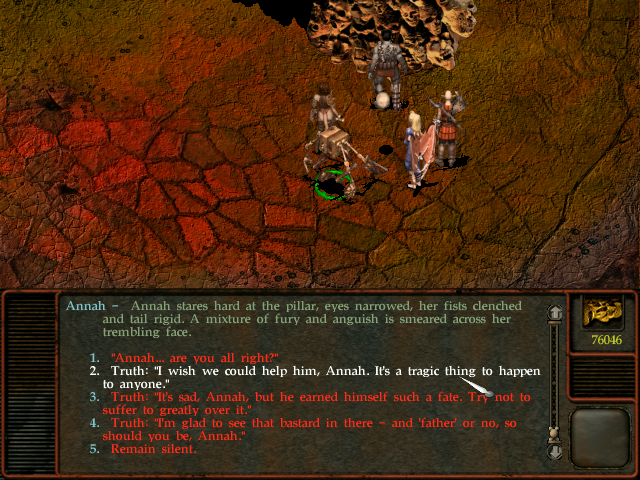 "Annah, I'm so sorry..." Grace murmured, placing a hand on her shoulder.
Annah smirked, spat, and turned away from the pile of rotting heads. She shrugged, but wouldn't look at either Grace or me. "No matter."
"Did you love Pharod, Annah?" I asked.
Annah turned, eyes blazing. "He was my
Da.
" She bared her teeth. "I
hated
him. He only saw in me a way to scarper more bodies, more jink an' more junk ta line his vault. 'Annah dear,' 'Annah lass, yeh're the most precious thing in me vault,' he'd lie. An' he'd lie. An' he was weak o' mind an' weak o' body. An' he smelled o' corpse rot an' had all the feelin's o' a vulture picking at a corpse."
Annah's voice lowered, but the fire in her eyes burned brighter. "And he was the only one ever ta show me a scrap o' kindness. Is that what yeh
wanted
ta hear, is it? Yeh
pleased
now, aye?"
"ENOUGH," bellowed the Pillar's stinking heads. "WE TIRE OF YOUR INSIGNIFICANT PRATTLE, AND WOULD KNOW YOUR BUSINESS WITH US."
"Questions. I had questions..."
The heads shifted sluggishly across the face of the pillar, nodding and murmuring before speaking in its ghastly voice: "ASK A QUESTION OF US, THEN, AND BE PREPARED TO HEAR OUR DEMANDS - YOU SHALL RENDER UNTO US A SERVICE FOR YOUR ANSWER."
"Who am I?"
The heads gurgled and croaked their reply through rotted lips: "WE WOULD ANSWER THAT QUESTION FOR A SERVICE..."
"What's your demand, Pillar?"
The pillar's heads all turned to leer at Morte. "THE SKULL... WE DEMAND THE SKULL AS TRIBUTE. RETURN HIM TO US, AND YOU SHALL HAVE YOUR ANSWER."
"Don't put me back in there, chief. Please!" he wailed, eyes panicked.
"CEASE YOUR FEEBLE PROTESTATIONS, SKULL! THE DECISION IS NOT YOURS!" The pillar's many heads swiveled slowly to face me, their eyes narrowed. "TOO LONG HAS HE CHEATED HIS FATE; HE IS
OURS.
WERE YOU TO RETURN HIM, WE WOULD BE MOST WELL-DISPOSED TOWARD SUCH A GIFT... WE WISH TO SAVOR HIS SCREAMS..."
The stack of heads began to writhe and boil, heads thrusting to the surface to howl and babble before sinking back down. They drooled and chattered: "I cannot wait to savor his screams!" Another: "Screams be damned! The
torment
is what's best for one so annoying as he! I shall yank his teeth out, spit them into his brain pan and shake him like a babe's rattle!" And another: "Oo! Oo! I'll eat his eyes out!"
"You can't have him!" I snarled, "What else will you accept?"
The pillar leaned towards me, the eyes of its heads narrowing. "THERE IS
KNOWLEDGE
YOU POSSESS THAT WE WISH FOR OURSELVES. WHERE DOES THE FIEND, FHJULL FORKED-TONGUE, RESIDE? TELL US, AND WE SHALL ANSWER YOUR QUESTION." The stench of the pillar's hot breath surrounds you as it awaits your reply...
Evil as he was, I couldn't betray Fhjull. "Fhjull has hidden himself well in a demi-plane of a long-dead sorcerer's devising. He appears only occasionally within Sigil, and it's there that I met him."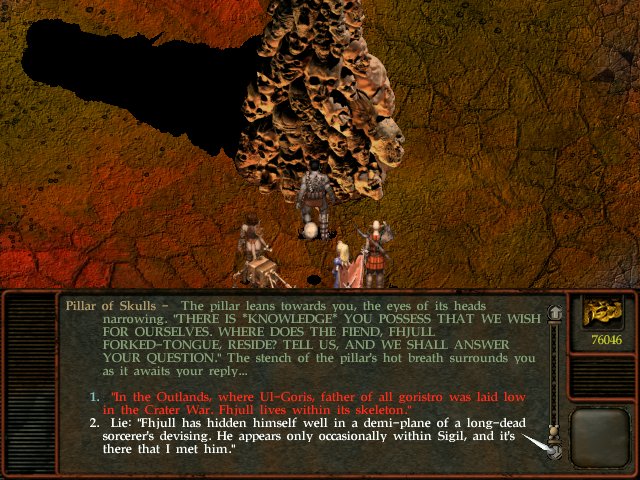 The pillar savored my gift for a time, its heads cooing and whispering to one another.
"And my answer...?"
"NOT
WHO
-- WHAT. YOU HAVE BEEN DIVIDED. YOU ARE ONE OF MANY MEN -- ONE IN MANY MEN. EACH ONE -- WHETHER GOOD OR EVIL -- A MONSTER, WHO CASTS A SHADOW UPON EXISTENCE."
"A... shadow upon existence?"
"OH, YES." The pillar's heads narrowed their eyes and smiled grotesquely. "EACH TIME YOU DIE, 'IMMORTAL,' YOU CAST A SHADOW... EACH TIME YOU DIE,
ANOTHER
DIES IN YOUR STEAD. THESE SHADOWS... THEY GATHER, HUNGERING FOR YOU, WITHIN THE FORTRESS OF REGRETS. HOW MANY TIMES
HAVE
YOU PERISHED, NAMELESS ONE? HOW MANY HUNDREDS... THOUSANDS... HAVE DIED, BECAUSE OF
YOU?
" The pillar trembled with wicked glee; its heads pulled faces and gurgled mockingly at me.
"Is that all you have to say, Pillar?"
The heads abruptly ceased their laughter. "NO. YOU BEAR MANY NAMES; EACH HAS LEFT THEIR SCARS ON YOUR FLESH:"
The names rolled from rotting lips in a grim incantation, rhythmic and terrible, "LOST ONE... IMMORTAL ONE... INCARNATION'S END... MAN OF A THOUSAND DEATHS... THE ONE DOOMED TO LIFE... RESTLESS ONE... ONE OF MANY... THE ONE WHOM LIFE HOLDS PRISONER... THE BRINGER OF SHADOWS... THE WOUNDED ONE... MISERY-BRINGER... YEMETH...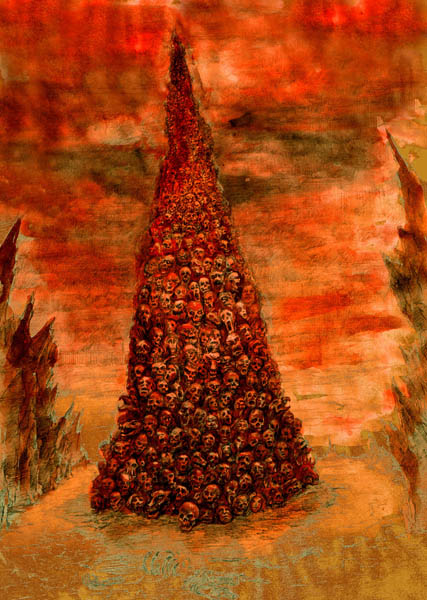 "YOU ARE AS SILVERED GLASS THAT HAS CRACKED... SHATTERED, AND THE PIECES SCATTERED ACROSS HISTORY. YET ONLY ONE PIECE IS OF IMPORT. REGAIN THAT, AND YOUR LIFE SHALL BE YOURS ONCE MORE. THERE WILL BE A PRICE. THIS PRICE WILL BUY YOU A CHANCE. WITHOUT THE CHANCE, YOU ARE DOOMED. YOU HAVE LOST THAT WHICH IS NEVER MEANT TO BE SEPARATED FROM MAN. YOUR MORTALITY HAS BEEN STRIPPED FROM YOU... LOST. IT EXISTS, BUT YOU MUST FIND IT BEFORE YOUR MIND IS LOST TO YOU AS WELL."
And then it clicked into place. The death of Pharod, the shadows beginning to hound me soon after. It was too convenient, the way they always pursued us as if sent by a guiding hand, striking when I was weakest. The shadows must've been the ones that murdered Pharod, who had pointed me along the path I now walked on. Yes, nothing could've left that stench of dread when I found his broken corpse in Illwind Court.
I needed to know. "Somethings hunts me, doesn't it? Who is my killer?"
The Pillar remained strangely silent; some of its heads simply looked away, while others shuddered with pained expressions. Eventually, they gathered themselves and spoke once more: "WE... DO NOT KNOW. THOSE HEADS THAT ONCE CONTAINED SUCH KNOWLEDGE HAVE BEEN DESTROYED - REMOVED FROM US. WE CANNOT ANSWER YOU THIS QUESTION."
That only confirmed my fears. "How do I reach the Fortress of Regrets?"
The words bubbled forth, voices diseased and grotesque: "WE WOULD ANSWER THAT QUESTION FOR ANOTHER SERVICE..."
"And what might that be?"
The pillar's heads -- save for the hissing of foul vapors issuing from rents in its rancid surface -- remained silent for a time. Finally, it answered: "THERE IS AN OBJECT IN YOUR POSSESSION THAT WE WISH FOR OURSELVES. THE MODRON CUBE: GIVE IT TO US, AND WE SHALL ANSWER YOUR QUESTION."
I shook my head, "I can't do that. I am their Creative Director, and I will not abandon the rogue modrons. What
other
gifts would you accept?"
The pillar's heads frowned, their eyes flickering this way and that. Suddenly, they all came to rest on Fall-From-Grace. "SHE WILL DO... YES. THE TANAR'RI. GIVE HER TO US... WE WILL CONSUME HER ALIVE, BATHE OURSELVES IN HER SWEET BLOOD... THEN, WE SHALL ANSWER YOUR QUESTION." A number of the heads began to moan with longing, calling to Grace: "Yes, Tanar'ri, sweet succubus, wicked thing, surrender yourself to us..."
Grace stared silently at the Pillar.
"You must be mad. I won't sacrifice her for an answer."
A deep rumbling issued from within the pillar; more heads wormed their way to its roiling surface, dissecting me with their scarlet eyes. At last, their gaze found Annah. "THE FIENDLING! GIVE US THE TIEFLING GIRL, YES... WE SHALL TEAR HER APART WITHIN US, REVEL IN THE BASKING OF HER SWEET, FIERY BLOOD... THEN, WE SHALL ANSWER YOUR QUESTION."
I felt Annah's grip tighten against my skin, nails digging deep into my flesh. Fear warred with disgust in her eyes.
"I won't sacrifice
anyone
! If you wish to deal with me ask for something I can give."
The mouths of every head on the pillar's face split in depraved, sickly grins; they chortled and burbled, laughing at me. "YOU HAVE
NOTHING
FOR US THEN... SAVE YOURSELF. COME, IMMORTAL... GIVE US A TASTE OF YOUR UNDYING BLOOD. THEN, WE SHALL ANSWER YOUR QUESTION." The heads clacked their teeth together, drooling and smacking their split, pus-covered lips in anticipation...
"Very well. I agree to your demands."
"APPROACH US, THEN... YES, COME CLOSER..." The heads seemed to draw back within the Pillar as I approached it...
Though I drew only a single step nearer, I suddenly found myself much closer to the pillar's writhing surface than I had imagined. Before I could react, it pressed forward into me like a wave of broken bone and rotten, worm-infested meat. As the rancid darkness enveloped my flesh, the pillar's heads began to consume me alive...
My shrieks of agony mingled with their cries of ecstasy, dozens of jaws gnashing, hundreds of teeth sinking into my flesh. I could feel their slimy tongues lapping at my skin, drinking from my wounds. Somewhere in the midst of it all I must've vomited, and the bile that stained the heads smeared against my cheek as they fought for a taste. When the pain and horror and humid stench finally began to seep away, I found myself being held up by Annah and Dak'kon. Grace was checking over my wounds. My entire body ached and I was unsure of what, exactly, had just happened. What I was certain of, though, is that my body was somehow
weaker
for whatever ordeal it just suffered through. The grotesque heads leered down at us, grinning and smacking their lips...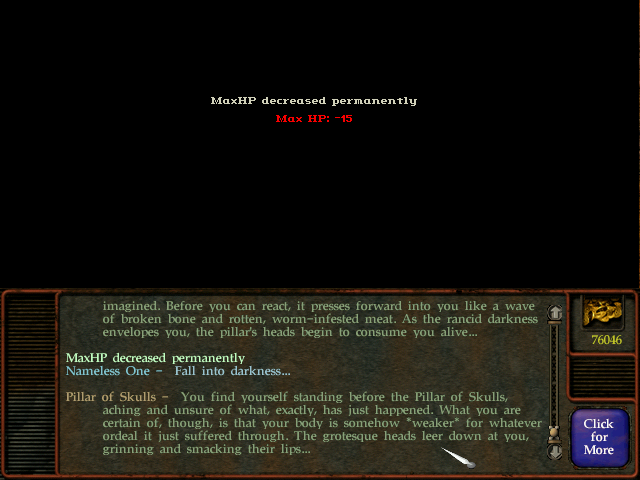 "ALREADY YOU POSSESS THE KEY, AND NEED ONLY THE LOCATION OF THE PORTAL THAT SHALL LEAD YOU THERE. WE KNOW NOT WHERE THE PORTAL LIES, BUT MIGHT TELL YOU ITS KEY: 'REGRET.'" Many of the pillar's heads began to weep and moan: "Yes, regret! Regret!"
"Regret?" I murmured, accepting a perfumed handkerchief from Grace to wipe the ichor from my cheeks.
"YES... YOU MUST HAVE EXPERIENCED REGRET TO BREACH THE FORTRESS. WRITE IT UPON A PIECE OF YOUR FLESH AND YOUR PASSAGE THROUGH THE PORTAL IS ASSURED."
"And the portal... you say you
don't
know where it is?"
"YES... ONLY THREE HAVE KNOWN THE WAY. THE FIRST ONE WAS YOU... THOUGH YOU HAVE FORGOTTEN, NOW. THE SECOND LIES BEYOND THE PORTAL, AND SHALL NOT EMERGE. THE THIRD..."
I listened intently, "The third...?"
"...THE THIRD ONE YOU HAVE ALREADY MET. THEY KNOW OF YOUR CONDITION, THE FORTRESS AND YOUR NEED TO REACH THERE... BUT THEY SHALL NOT HELP YOU. THEIR SHIELD IS ONE FORGED FROM THE COLD METALS OF LIES AND DECEPTION, A THING YOU CANNOT HOPE TO BREAK WITH MERE WORDS. YOU MUST DO BATTLE WITH THEM."
"Who is it?"
The heads remained silent for a time, giving me naught but smug smiles. Finally, they spoke: "YOU HAVE
MET
THE LIAR -- AND NOT FOR THE FIRST TIME. THE LIAR KNOWS... BUT DID NOT TELL YOU. A
PETTY
BETRAYAL BETWEEN IMMORTALS..." Some of the decomposing heads rolled their eyes and snickered at me.
I scanned my memory, sifting through the dozens of faces I had known. Yet only one came to mind, implausible as it was. "Trias?"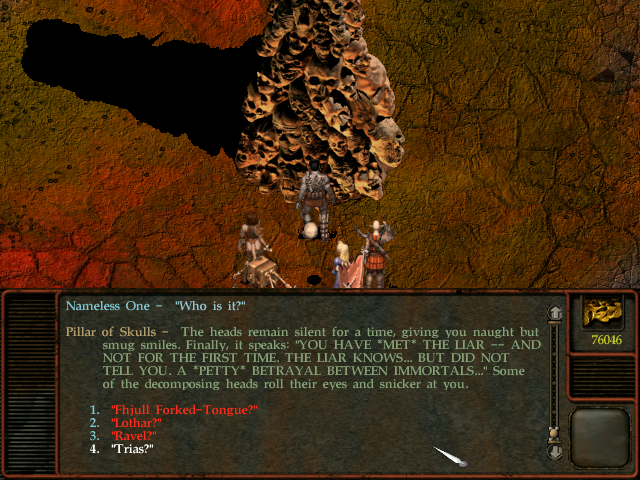 "OH, YES... THOUGH WE KNOW HIM BY HIS
FULL
NAME: TRIAS, THE BETRAYER!" The pillar shook with mirth, the pile of rotting heads tottering back and forth as it laughed at my distress. A few of the heads chanted mockingly: "Betrayer... Betrayer... Trias, the Betrayer..."
"But... he said he didn't know..." I murmured in shock. A deva... how could a deva betray me? Betray anyone?
"HE
LIED
TO YOU." Some of the heads squinted, gurgling and chortling softly -- laughing at me. "BEWARE WORDS SOAKED IN HONEY; THEY ATTRACT ALL MANNER OF WASPS."
And then it dawned on me.
She knew.
Ravel's eyes dimmed, as if she was staring at something in the distance, and her voice slowed. "A... fair-skinned one... must you ask. An angel, a deva, one who soars on the wings of morning and with his hands, is the architect of horizons. He lies, lies beyond my keeping, in another cage, in another prison...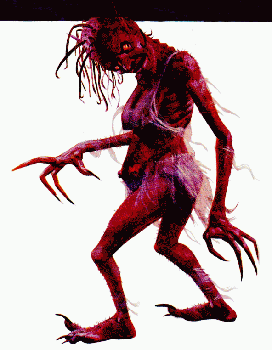 The bitch
knew
.
Trias, claiming he couldn't help me until he was freed and his blade returned. Fhjull Forked-Tongue... exiled from his people, a Baatezu somehow cheated in a contract with the deva...
And Ravel had
known
.
"How did he come to know of this?"
"TRIAS EXCHANGED WORDS WITH YOU ONCE, LONG AGO, WHEN YOU KNEW THE WAY. YOU SPOKE YOUR HEART, AND TRIAS -- IN THE WAY OF ALL GREAT BETRAYERS -- LISTENED WELL TO BUILD YOUR TRUST. SHORT THE CONVERSATION WAS, THOUGH FILLED WITH
MEANING.
MEANING AND DEATH IS WHAT YOU SEEK... TWO SEPARATE THINGS THEY ARE FOR A NORMAL MAN. BUT FOR YOU... ONE AND THE SAME."
"Why would he lie to me?"
"THE ANSWER IS NOT OURS TO GIVE. YOU MUST SEEK HIM OUT YOURSELF, AND ASK HIM."
"That's all I wished to know," I murmured, still stunned, and turned around to leave.
The pillar halted our departure with a sudden demand: "STOP - GIVE US THE SKULL. WE SHALL
NOT
ALLOW HIM TO GO. HE IS
OURS.
HE SHALL
NOT
LEAVE AVERNUS." The heads began cooing at and taunting Morte: "Yes, Skull, don't be shy... come back, Skull... it's comfortable in here, Skull... come, come back... it doesn't hurt, Skull... 'tis great fun to be without a body, living in a pillar of rot with one thousand other, lying heads..."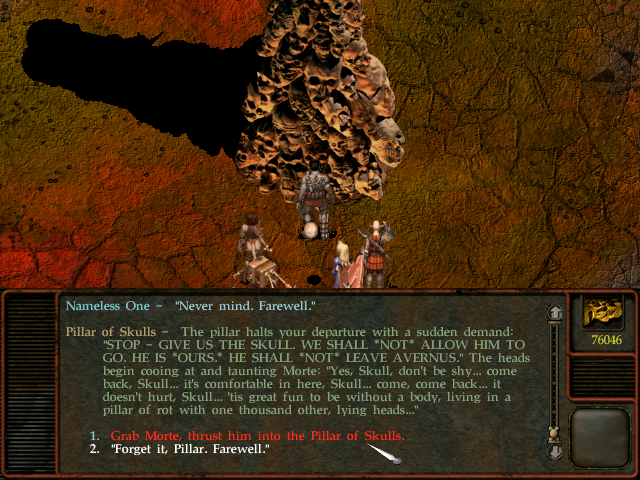 Morte shuddered, "Let's go, chief."
I gave him a nod, and walked away.
The pillar's furious heads began to howl and bellow out across the planes. The very ground beneath us shook as the thundering cacophony rang through the whole of Avernus, the shrill chorus of countless sinners. They rattled the stones, blasted the dead air, stirred the bleak red sky into a storm. Their fury called all the hordes of evil upon us.
We covered our ears, nearly blinded and deafened by their terrifying song, and fled back into the blasted lands of Baator.