Part 151: The Final Memories: Part 2
The Final Memories: Part 2
The cold, empty halls gave a grim welcome. I walked warily, hands in front of me as my eyes readjusted. Minutes passed by in a slow trickle, and in scattered fragments the architecture revealed itself to me.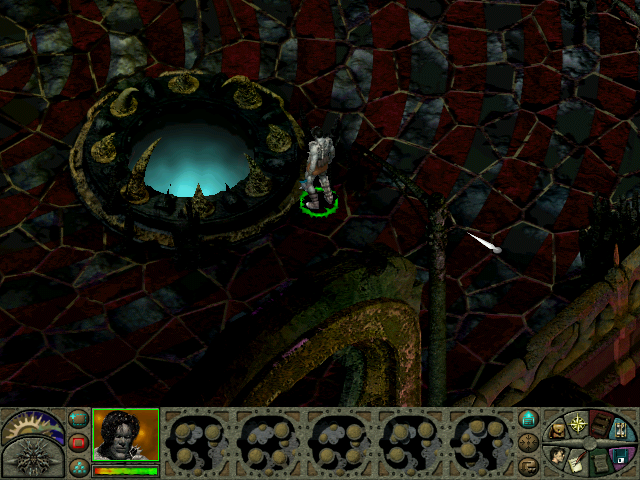 Multifaceted globes of muddy crystal seemed to draw in the tiniest amount of light and hold it prisoner. Circular pools ringed with fangs swirled with dead, milky smoke that shed some small glow. Beneath my feet the cobbles ached with each step, and by the distant crooning I knew the shadows were waiting.
They stood eight feet in height and were armored with thorns. Keen eyes stared out at me focused on vengeance. They raised their claws, charging riding the darkness as mounts.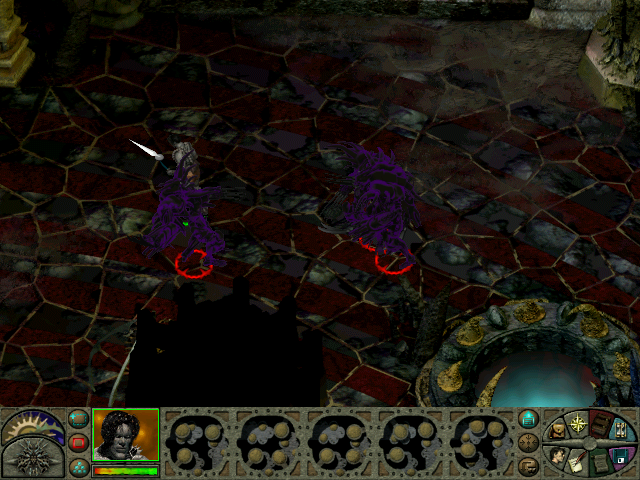 I'd had more than enough power to tear these creatures to smoky rags, but I rationed my power like slivers of meat. I had no idea how many of these I would have to face, how powerful the other guardians in this fortress could be. My wounds knitted as quickly as they came, and my knife made quick, if clumsy work slashing apart that insubstantial flesh.
Eventually I came across the huge clock that Deionarra spoke of. It'd partially melted into the black stone surrounding it... but a sense of familiarity tingled at the back of my mind. On its surface was a message carved in with a dagger... and I recognized the demented handwriting as the same that painted my back.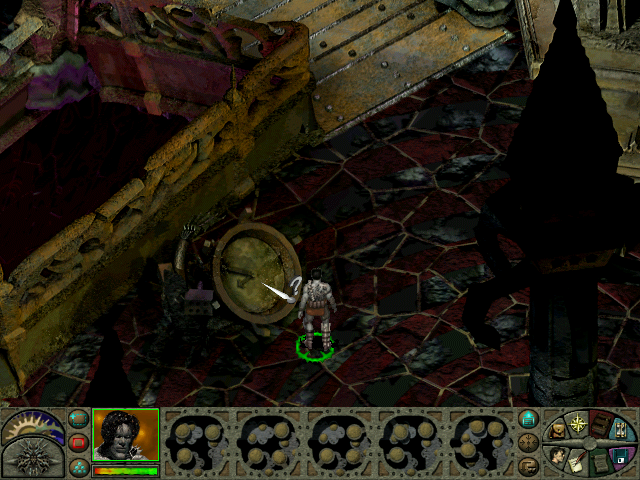 RUN - DOORS are LIES - USE Cannons - then PORTAL
The scrawl seemed panicked, as if it'd been written in some haste. Following the message was a crude 'arrow' pointing in the opposite direction as the long hand on the clock.
"Thanks for the advice..." I grumbled, and turned in that direction.
The ancient machine I came across looked like a forgotten war relic. Most of the "cannon" was covered in dust, except for the strange panel with levers at the front of it. Oddly enough, the ground around it was disturbed, broad streaks in the dust as if someone had walked here within the past few years.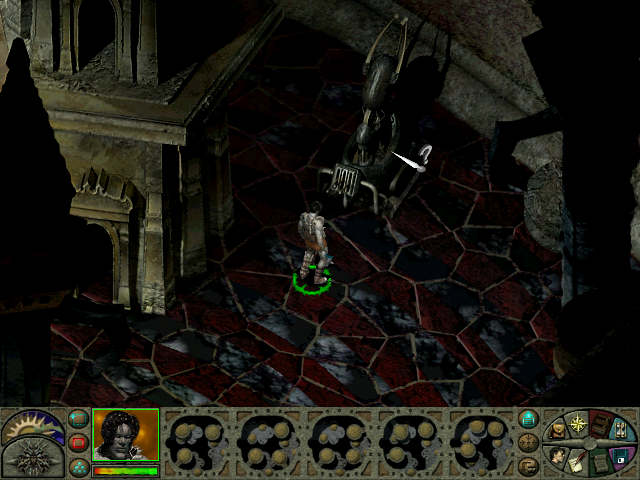 Controls were a series of gears and levers - beneath each one was a series of scratch marks that appeared to be hastily carved there with a dagger. Some bore no marks, others bore a single slash beneath them, and one had an 'X.' I felt a nudge in the back of my mind, and without knowing why I was certain that the 'X' would somehow help me leave this place.
I pulled the lever. It gave way easily beneath my grip with a hard clank, and to my surprise, disintegrated into mist. It spread to my hand, which began to fade, then my arm, and a dizziness overcame me. The walls began to fade around me as I began to panic...
"Wh-"
~~~~~
In a waking meditation, Fall-From-Grace extended her awareness outwards searching for her friends. Now and then a flicker of life seemed to pass through her range of sensation, but just as quickly it was gone again like a fleeting shadow. She didn't know yet what she would do once she did locate them. The wards she erected would only protect her within their bounds, and the pressure of the darkness was forcing those barriers in. Once the sanctified circle was twenty paces across. Soon, it would be fifteen.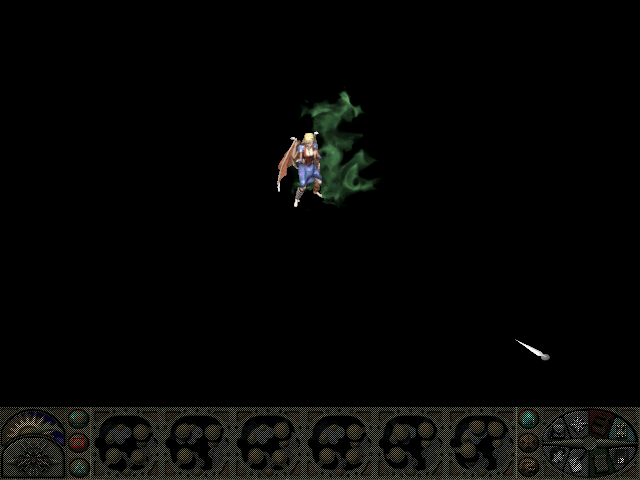 She wandered the fringe of that ward carefully, trying to capture the scent of her companions. Once she healed a person, an affinity lingered for a while... it was this that she hoped would guide her to her student: so young in spirit, and yet so ancient. It had been the thrill of novelty that led her to accept the offer to travel, and more that led her to stay even after the novelty wore off.

Outside the darkness echoed against the barrier: the rattle of Baatezu chains and the coarse laughter of the cornugon masters. She could almost hear the screams again, of pain and violation...


No...
Grace told herself. That was not something she would experience again.

"It is difficult to separate shadow from the darkness here," she murmured to herself, "This is not a place meant for the living."

Something was approaching from behind her, and Fall-From-Grace's eyes snapped open. There was no life that she could feel... it was an antithesis, dead beyond death, yet just as eternal.

A cold chill passed through the priestess. Whatever the thing was it warped existence as it moved, and the echoes of reality twisting around it seemed to linger like shrieks of agony.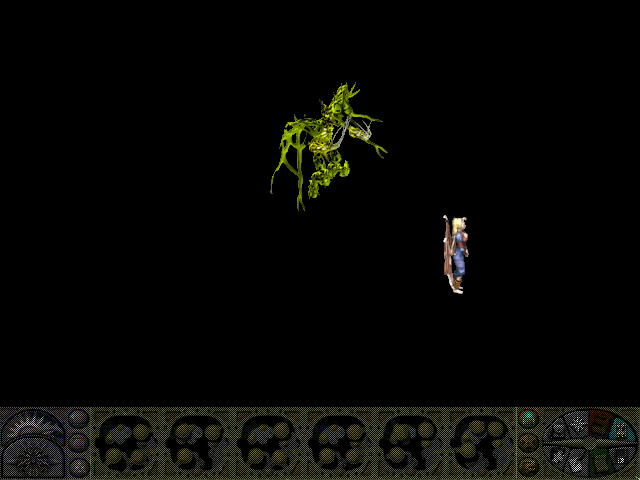 "AH, THE TANAR'RI..." it boomed.

She turned calmly to face the creature, a thing of knotted and knobby yellow-green strands webbing outward from a central body like arteries and veins.

"So," Fall-From-Grace mused, hands folded in front of her. The thing had pierced her barrier as if it'd been nothing, "You are the spider that lies in the center of it all."

She circled the creature in a cool pace, studying it from different angles as if examining a sculpture. Its head twisted in the air, following her gaze, and she looked it in the eyes, "I have many questions that you could answer. Your goals in this matter have not been entirely clear."

"MY GOALS ARE NOT FOR YOU TO KNOW, FALLEN TANAR'RI. MY INDULGENCE IS ALL THAT KEEPS YOUR BLACK HEART BEATING IN YOUR CHEST. YOU MAY LEAVE WITH YOUR LIFE NOW, IF YOU WILL."

Fall-From-Grace continued to circle the creature. She had never been impressed by clumsy rhetoric or crude threats, and brushed aside the words as easily as one might a cobweb, "My heart is neither black nor do I fear for my life. My companions, my friends, are here in your fortress. I shall not leave until we are rejoined and the man we follow has resolved this matter to a satisfactory conclusion."

"THERE IS NO SATISFACTORY CONCLUSION TO THIS FOOL'S ERRAND. YOU WILL LEAVE THIS PLACE, AND YOU SHALL LEAVE YOUR UNDYING COMPANION HERE. FEAR NOT FOR HIS LIFE. THE ONLY PRICE HE SHALL PAY IS THE LOSS OF MEMORY."

"As gracious as your offer is, I must refuse your offer to abandon my friends," her eyes narrowed, "As for the 'small' price he will pay at your hands, it is the equivalent of death to him. I have traveled with this man for some time, and there are many things I do not wish him to forget."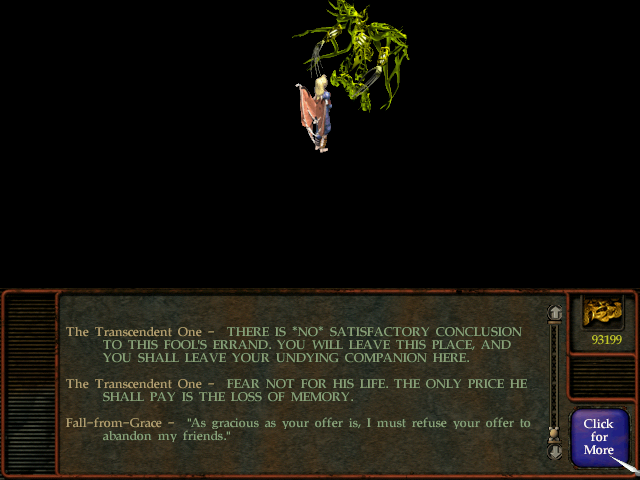 "HE WILL FORGET. IT IS HIS FATE TO REMAIN IGNORANT. HE WILL FORGET YOU, TANAR'RI, JUST AS HE HAS FORGOTTEN ALL WHO HAVE WALKED THE PATH OF MISERY WITH HIM. HE EXISTS TO DIE, FORGET, AND DIE AGAIN. HE IS NOTHING."

"That is your judgment," Grace declared in words fringed with ice, "The fact remains that I do not wish him to forget me, nor all that he has struggled for to reach this place. He has suffered much, and I find my sympathies lie with him rather than the arrogant creature that postures before me and fights as a coward, preferring to kill from a distance where his opponent cannot reach him."

Fall-From-Grace breathed, her wings unfurling, "You shall torment him no more."

"TANAR'RI... PERHAPS YOU DOUBT MY POWERS HERE IN THIS PLACE. A DEMONSTRATION MAY SILENCE YOUR DOUBT." The creature stretched out, seeming to grow larger. It raised an arm, wielding talons as long as scimitars.

Grace focused as she took a defensive stance, "You have done enough harm. Prepare yourself."

"YOU ARE NOTHING. I CAN FORGE PLANES WITH MY POWER... I CAN UNMAKE YOU."

She shielded herself as bolts of flame streaked at her, battering against that barrier of devotion. Soft hands swept through the air, calling bolts of lightning from the skyless void. Grace had little taste for battle, but pressed as she was she had no other choice. Spears of electricity struck her foe one after the other until the afterimage of those bolts left violet streaks fading across her vision. She could only resist the tongues of flame for so long, and soon her strength was nearing its limit.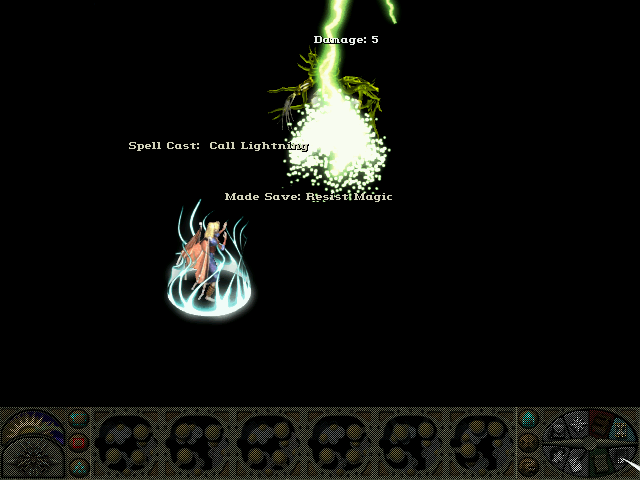 A blade of fire sliced through Grace's arm, and the stink of burning silk became a distraction. Any other time she would've savored the experience, tasted the pain and reflected on the shock. Subconsciously she filed these sensations away even as her certainty grew that she would not live to learn from the ordeal.

Fall-From-Grace stumbled at the final barrage, and that left enough of an opening. The creature swept forward in an instant, followed by the sharp pressure slicing through her body.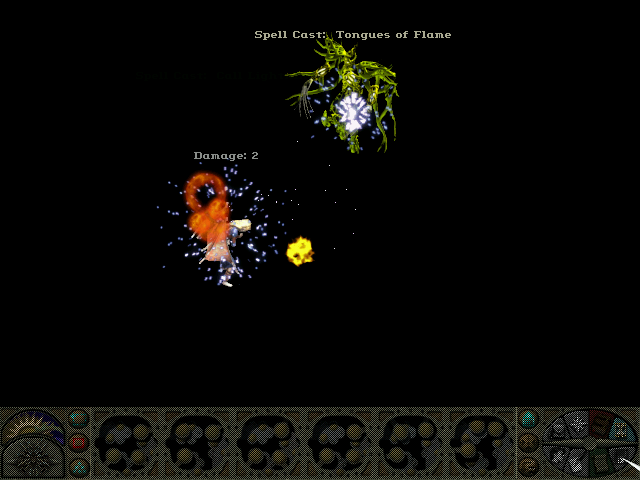 A clean wound... it is possible to recover from a clean wound...
she thought to herself desperately, already beginning the intonations of a quick healing that would stop the blood.

She didn't have the breath to cry out when those talons twisted in her body, shredding her from the inside. A wing fluttered over her face like a shroud as she collapsed, hands clutching her stomach. The warm life-blood spilled over her hands, broken edges of flesh and sinew slid between her fingers. She'd felt that warmth on her hands many times before as a healer, but never her own...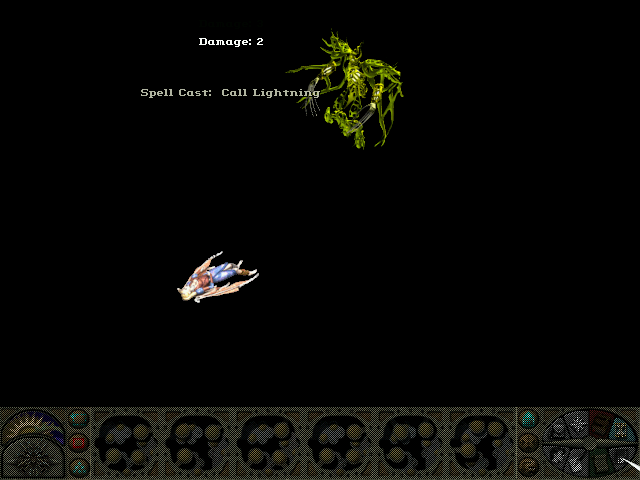 Fall-From-Grace uttered a prayer as the darkness claimed her, drowning her murmurs in whispers: the rattle of chains, the coarse laughter of the cornugon masters. She prayed, but though her thoughts were becoming too thin to imagine what for.
~~~~~
I re-coalesced, body tingling as my it was rebuilt bit by bit. The surroundings were unfamiliar, even when the dizziness faded. My head pounded, my vision swam. Worse still the bleak song echoed through the halls, and the shadows swarmed.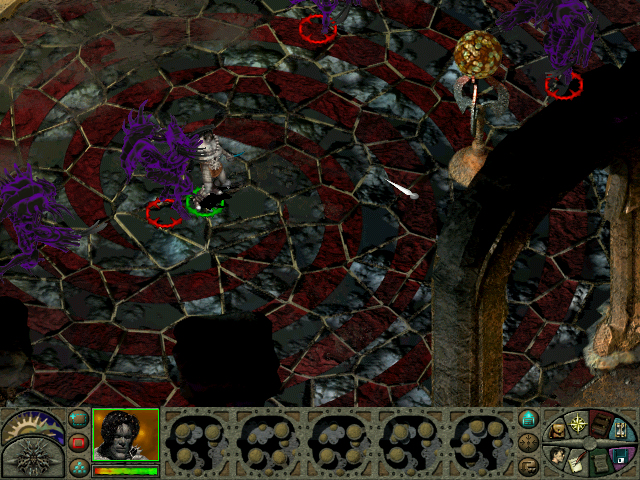 So many of them, hunting me down as if they'd caught my scent. I couldn't flee now that they knew where I was. There was no recourse then... a snarl bared my teeth, and I focused. Storms of lightning weaved down the halls, showers of acid sprayed down corridors. No shadow was left untouched, and they shrieked in fury as they died. A hundred of these would willingly die to lay one wound, and this tenacity made them even more dangerous.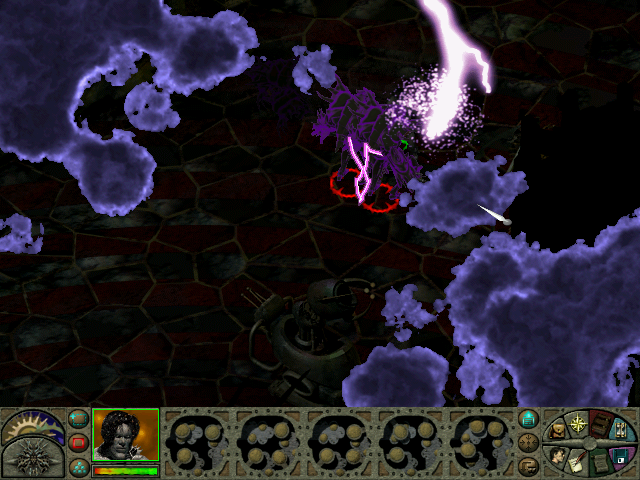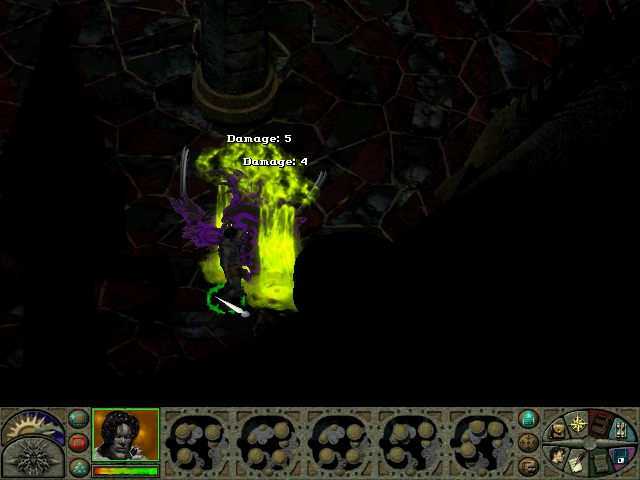 I ran through the Fortress, its walls scarred with electricity and cobbles sizzling with corrosion.
The heat faded from beneath my boots quickly as I stepped through the cleared chamber, up to the next war relic. Again the odd panel, the puzzle of levers and switches. I searched frantically for the marked lever, and quietly uttered a thanks to my former incarnation for figuring the damn thing out for me. I didn't have a moment to spare.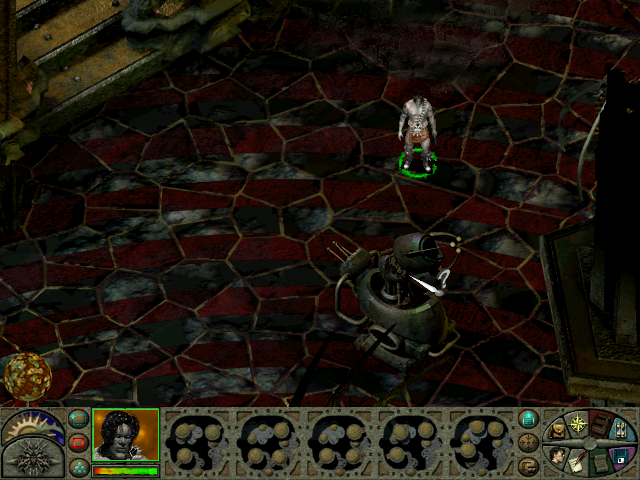 The 'X'-marked lever disintegrated at my touch, faded into mist. I knew what to expect now and took a deep breath. The wave of dizziness overtook me again as the walls began to fade.
"Where am I going
n-
"
~~~~~
Cobbled regrets crunched beneath his boots as Dak'kon sped through the halls. He ignored the blood trickling down his shoulder, the bruised rib in his side. Countless scars from a lifetime of battles still ached- the memory of the body was sharper than the memory of the mind in some ways- and he ignored his fresh wounds as merely two more.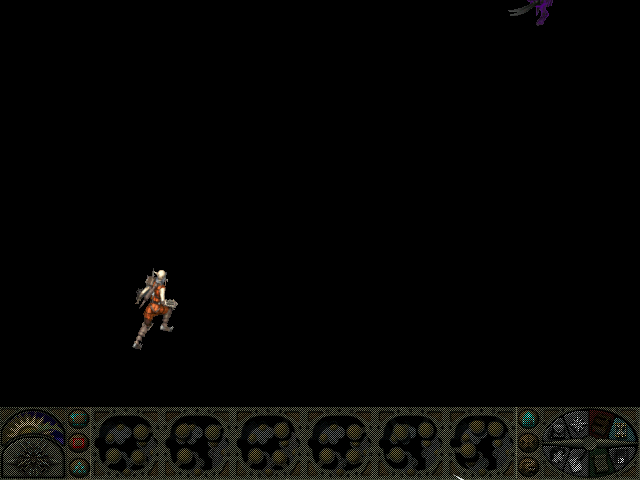 Cries of war and futile prayers resonated from empty chambers, and he knew their sound. They were ghosts of betrayal and agony... the spectres of Shra'kt'lor.

Craftsmen were taking up hammers and chisels, bakers and butchers their knives. Apprenticed warriors still too young to know the blood of illithids wetting their blades readied themselves. Mind mages and psions, monks and ascetics of every band gathered and murmured their mantras trying to strengthen what apostasy had cracked. Yet the damage was done...

The screams of a dying city chased him through the darkness.

Dak'kon pressed a hand to his pouch, gripped the round disk in comfort. The power of the Circle of Zerthimon lay in its teachings, not its form, but it had helped Dak'kon survive the Fall of Shra'kt'lor once. He would survive it again.

Another one of those great misty sentinels swept toward him down the hall, and Dak'kon turned, sliding to a halt. Difficult to charge these things... the creatures were all offense, and their umbral carapaces were spiked like thorn-crabs besides. He turned to evade, but a second shadow swooped in toward him. His head turned quickly to the other side... to a third shadow, a fourth, a fifth...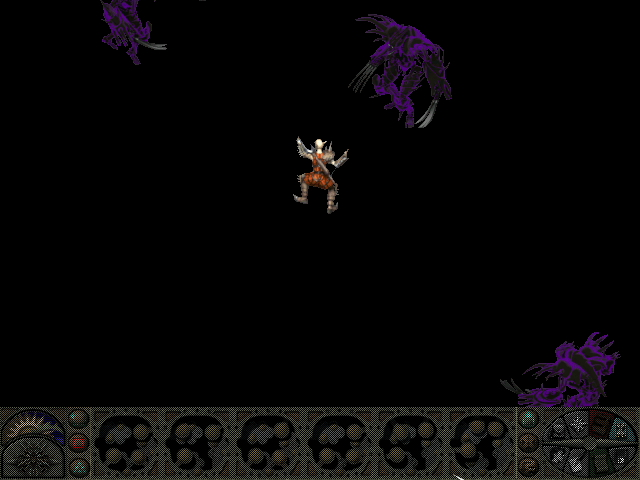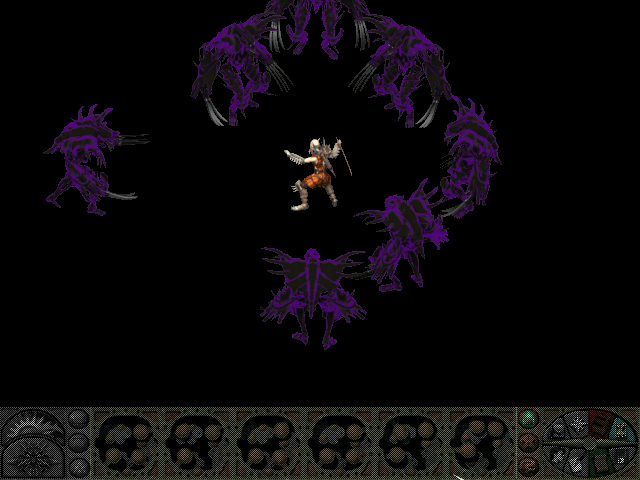 Dak'kon focused, and his zerth blade sang into a serrated edge, sharp enough to cut a thought. There were so many, from all sides...

"Shadows..." Dak'kon reminded himself. These were not the dead of Shra'kt'lor come back to haunt him, no matter how they crooned.

Another shape slid from the shadows, its brambled form wavering like vines in a beeze.

"AH, THE GITHZERAI. I REMEMBER HIM WELL..." its voice thrummed among the crowded shades, and they seemed to waver in response. "SUBMIT."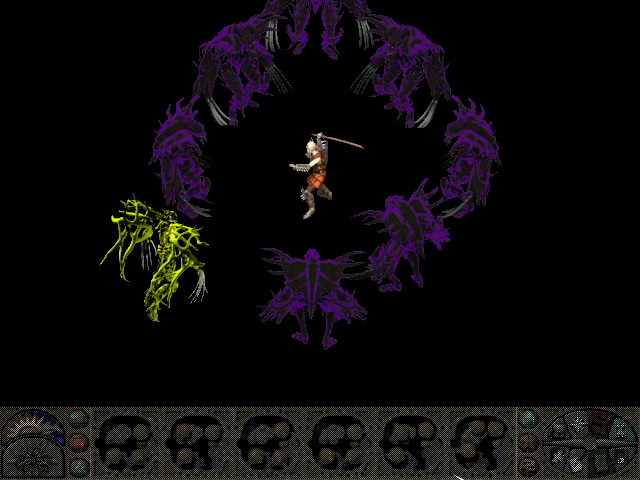 Polished obsidian eyes narrowed, and the zerth blade flashed. Dak'kon's voice was cold and soft with age, but he had found new steel to add to it, "I may be bested in battle, but I shall never submit."

"YOU CANNOT HOPE TO DEFEAT ME."

"I have been here before," Dak'kon declared. The calm he maintained came with certainty, "This time I shall never leave."

The creature regarded him as one would an insect, and seemed to approve of how Dak'kon accepted his fate. "VERY WELL..." it declared, then turned and swept away into the darkness.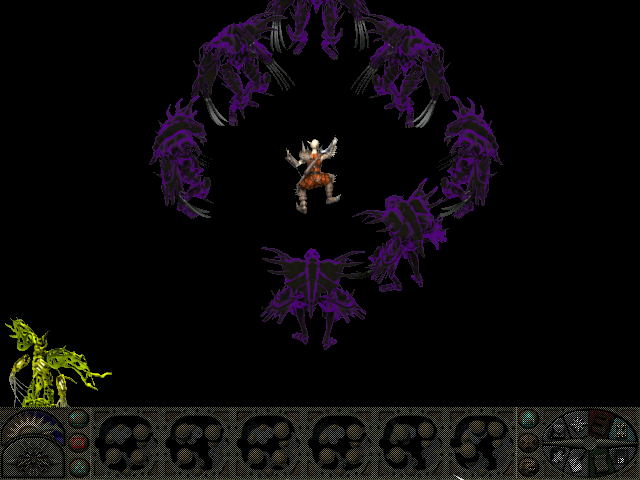 The shades fell on Dak'kon as a pack, the weight of their claws hammering him to the ground. Armor splintered, bones snapped like brittle twigs. All through those final moments, in the midst of that storm of black talons, the blade flashed and sang like quicksilver. Its edge didn't dull until a yellowed hand fell onto the cold cobblestones, and blood soaked its handle.