Part 84: The Whisper-Mad Tome of The Nameless One: Part 16
The Whisper-Mad Tome of The Nameless One: Part 16
It was high noon when we tried to enter the Siege Tower. Long shadows extended from the scarred and pitted base like the petals of a venomous flower, needle-tipped and edges razor-sharp.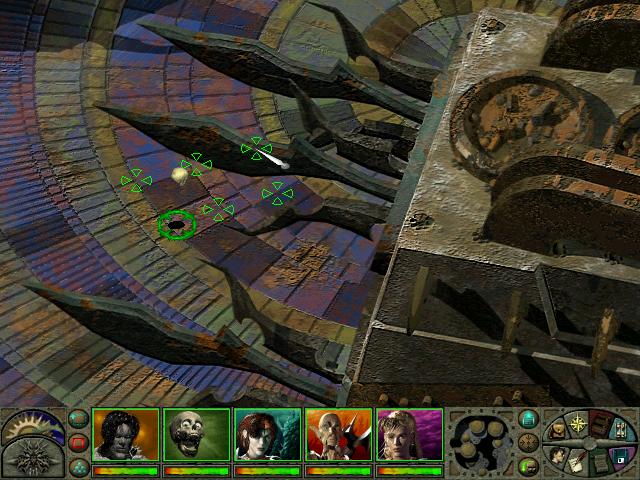 With a little more prodding and a few coppers to set him at ease, Lazlo had been able to tell us where to go.
We circled around, and came to the same drawbridge where I had slain Grosuk. The ancient wood was splintering, its corners scarred black with flame and its surface was deep with the wounds of arrows and blades. Whatever this thing was, it'd seen numerous battles in its time, perhaps more than I had.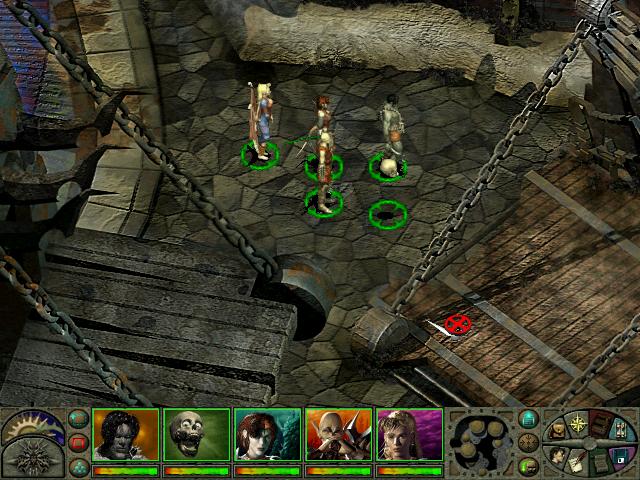 "Maybe the secret to getting in is to not want to get in..."
Given how much this thing had endured, I really thought I didn't want to get in at all, much less deal with what was inside. Really, if Nihl really needed a wrought-iron birdcage, perhaps I could just get it from someone else. The blacksmith at the open-air market seemed competent enough. Perhaps I should just head there for a commission inst-
Whoosh.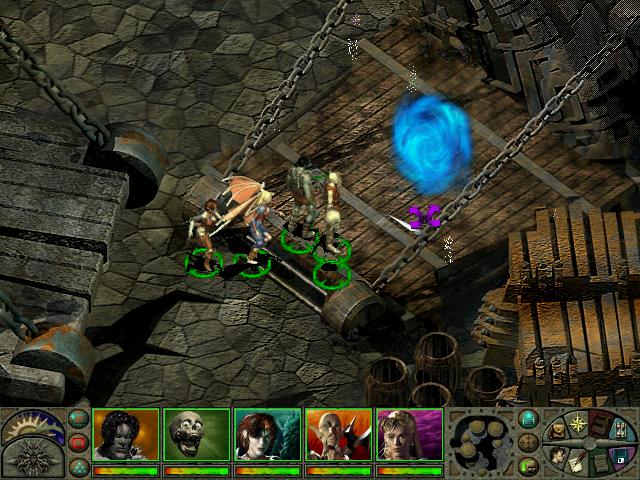 Damn it.
We were immediately assaulted by the smell of oiled sand and burning metal. Flecks of soot and ash rained down like black petals scattered at ruin's triumph. In the heart of the Siege Tower stood an iron... creature. Its size was staggering; if it stood full height, it would've shattered the roof of the siege tower. Thundering echoes rattled the walkway as the creature hammered away on its forge, each peal struck with a force that could've shattered worlds.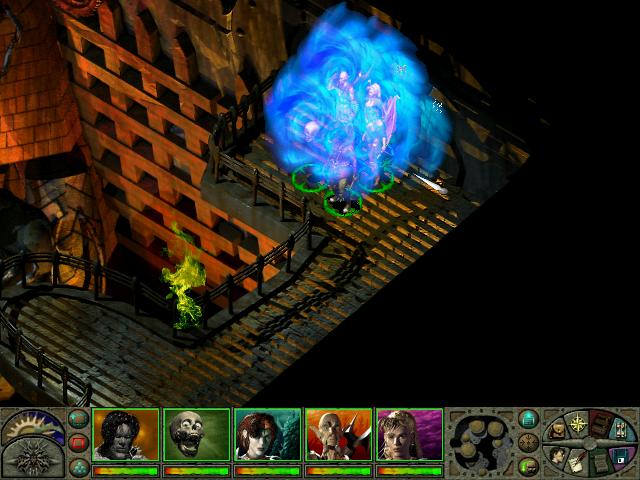 "Greetings," I said, licking my lips nervously.
There was the screaming of metal on metal as the giant turned to face me. Girders, pipes, and huge bracers ran through its lower torso and into the walls, and the bottom portion of its body made up the forge. The golem was built into the siege tower itself.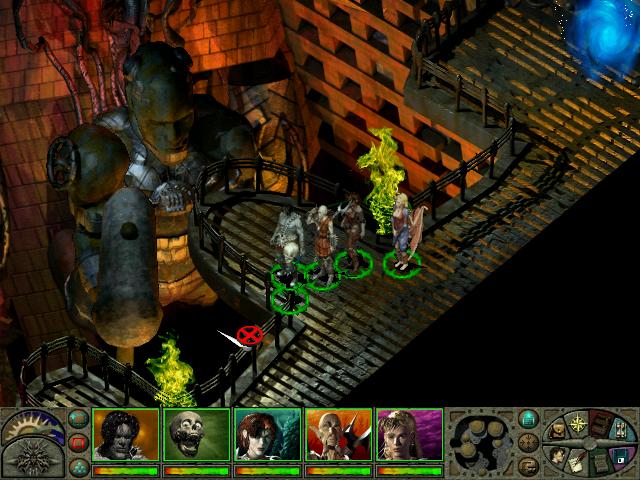 "What
are
you?"
The voice that thundered overhead sounded like the squeal of iron bending, the roar of metal buckling, I AM COAXMETAL. I AM IRON GIVEN PURPOSE.
"What purpose?"
I FORGE THE IMPLEMENTS BY WHICH THE MULTIVERSE WILL BE UNMADE.
I approached the edge, looking down at the forge. There, scattered about in ancient stands and barrels were stockpiles of cruel weapons. The metal was black as sin, and the wicked barbs and serrations of the blades looked as if they were inspired from primal fangs and barbs, teeth and nails. Savagery and destruction at its best. "You mean forging weapons? That's your purpose?"
METAL IS LIKE FLESH. BOTH CARRY POTENTIAL IN THEIR VEINS. WHEN TEMPERED WITH HEAT AND PRESSURE, THE POTENTIAL SURFACES. MY PURPOSE IS TO BRING FORTH THIS POTENTIAL. ALLOW IT EXPRESSION.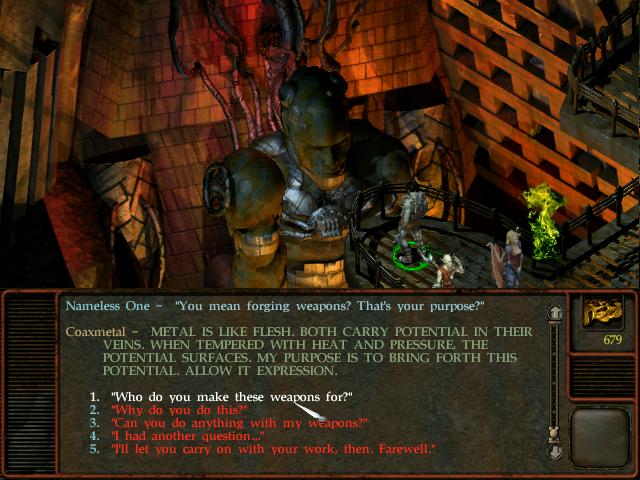 "Oh Hells, chief... this thing's a Sinker. Might not even be a namer, but it's a Doomguard to the core."
"What's a Sinker?" I winced at the sharp sound of squealing metal as Coaxmetal turned its head to gaze down at the two of us.
"The way the Sinkers see it, the multiverse is naturally winding down, and all they want to do is help it along. Kinda like the Dusties, but borderline psychotic instead of boring," Morte's eyes rolled up to look at the golem, "Though I think they just enjoy seeing crap blown to the Abyss."
I looked over the weapons again. Some looked like they were made makeshift from older scraps and rusted parts, but the design and the balance with which they were propped up told of expert craftsmanship. If there an army was supplied with these weapons, it could easily crush a city, or gouge a deep scar within a plane. "Who do you make these weapons for?"
I FORGE THEM FOR THE SAKE OF ENTROPY. THEY ARE PAIN SEEKING EXPRESSION.
"'Entropy?' But that's just- what does entropy need weapons for?"
BEYOND THIS TOWER, ORDER RALLIES ITS LEGIONS. THE MULTIVERSE HEALS ITS WOUNDS. IN TIME, ITS STRENGTH MAY EQUAL ENTROPY.
"The multiverse is your enemy? Why?"
THE MULTIVERSE BREATHES. IT GROWS. IT STAGNATES. IT FORGES ITS CHAINS AROUND THE PLANES LINK BY LINK. IN TIME, EVEN ENTROPY MAY BE CHAINED.
"And you're opposed to chaining entropy?"
WHEN A THING SEALS ITSELF AGAINST ITS OWN DESTRUCTION, IT MERELY DIES A DIFFERENT DEATH.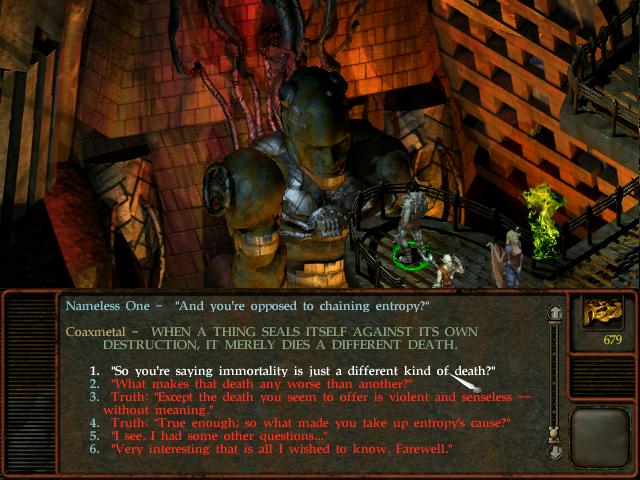 The words rang true in some small part, with the echo of old wounds and aches and the pattering of countless tears eating away at the edges of my conscience. "Except the death you seem to offer is violent and senseless -- without meaning."
ALL THINGS HAVE A COMMON GROUND IN DECAY. WAR IS NECESSARY. DEATH IS NECESSARY. DECAY IS NECESSARY.
"These things are
never
necessary," I protested, "To promote them and glorify the destruction they cause is wrong."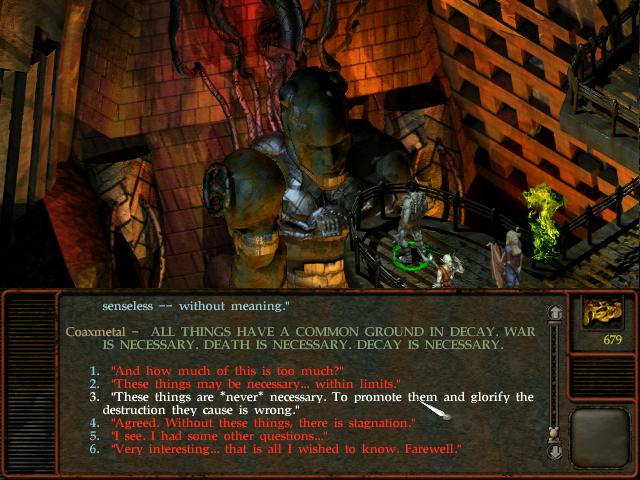 THERE ARE NO LIMITS. LIMITS ARE ONE OF THE LINKS IN THE CHAIN OF ORDER. LIMITS MUST BE SHATTERED.
"Even if death is the result?" Oh the irony.
ALL MUST FALL UPON ENTROPY'S BLADE. THE TIME NEARS WHEN IT WILL BE NECESSARY TO BREACH THE WALLS OF CREATION. ORDER WILL BE PUT TO THE SWORD. ITS CHAINS WILL BE BROKEN. THE MULTIVERSE WILL BE UNMADE.
"Why do you do this?"
THE IRON OF MY BODY ONCE EXISTED ONLY AS MINOR EXPRESSIONS OF PAIN. BLADES. SPEARS. AXES. ARROWHEADS. RIVETS IN CATAPULTS. FROM THESE IMPLEMENTS OF WAR WAS I WROUGHT.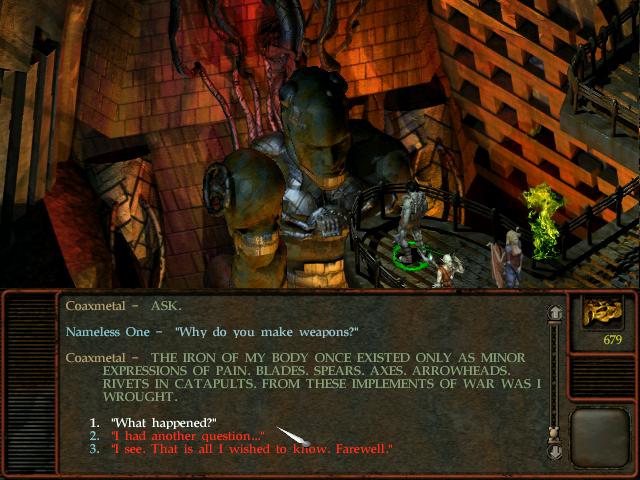 "What happened?"
THESE MINOR EXPRESSIONS OF PAIN WERE MELTED TO FORGE THIS BODY. MY POTENTIAL WAS ALLOWED TO SURFACE. NOW MY PURPOSE IS TO BRING OUT THE POTENTIAL IN OTHER METALS.
"You said that someone melted those weapons and forged your body. Who?"
ENTROPY RAISED ME FROM THE PLANAR BATTLEFIELDS.
Eerie. "Then this tower... is designed to destroy the multiverse?"
THIS TOWER IS A SIEGE ENGINE. IT EXISTS TO BREACH THE WALLS BETWEEN PLANES.
"Breach planes? How?"
THE TOWER ANCHORS ITSELF UPON A PLANE. A WOUND IS TORN IN THE MULTIVERSE WHEN THE BRIDGE OF THE TOWER OPENS. LEGIONS MAY PASS FROM ONE PLANE TO THE OTHER THROUGH THE TOWER. WHEN THE PLANE HAS SERVED ENTROPY'S PURPOSE, THE TOWER ANCHORS ITSELF AGAIN.
All this time that we'd been talking, there was neither sight nor sound of anyone else. For such a massive complex it was empty, gutted like an ancient conch shell, the lone inhabitant within long ago dead and rotted away. "What happened to the legions that have used the tower?"
ENTROPY HAS UNMADE THEM.
"And what happened to the Planes the siege tower invaded?"
ENTROPY HAS UNMADE THEM.
Wonderful. "If this siege tower can travel the planes, why do you remain here?"
THE TOWER IS TRAPPED IN THIS CITY. THIS CITY IS A CAGE THAT IT CANNOT BREACH.
I nipped the tip of my tongue, thinking. It made sense... Sigil was a cage after all, and the only ways in or out were controlled by the Lady, for the most part. "How did the siege tower get in the city in the first place?"
AT ONE TIME THE TOWER LAID SIEGE TO THE PLANES. HOW I WAS BROUGHT HERE IS NOT KNOWN TO ME. HOW I MAY ESCAPE IS NOT KNOWN TO ME.
"Look, all I need is a heavy, decorated, wrought-iron birdcage. Do you have one?"
I HAVE SUCH AN ITEM. THE DREAMBUILDER CAME TO ME AN AGE AGO. HE PROMISED ME THAT MY DURANCE IN THE PRISON OF THIS CITY WOULD BE NEAR AN END WHEN THE CAGE LEFT MY POSSESSION.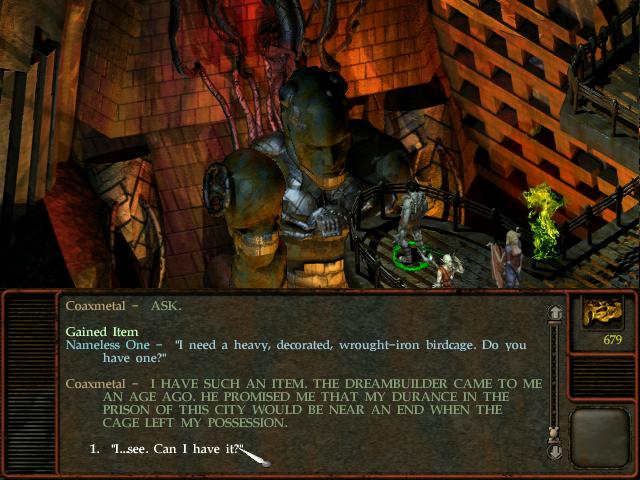 "I...see. Can I have it?"
YES. TAKE THIS CAGE AND LAY WASTE TO THOSE WHO CREATE SUCH CONFINES.
Right.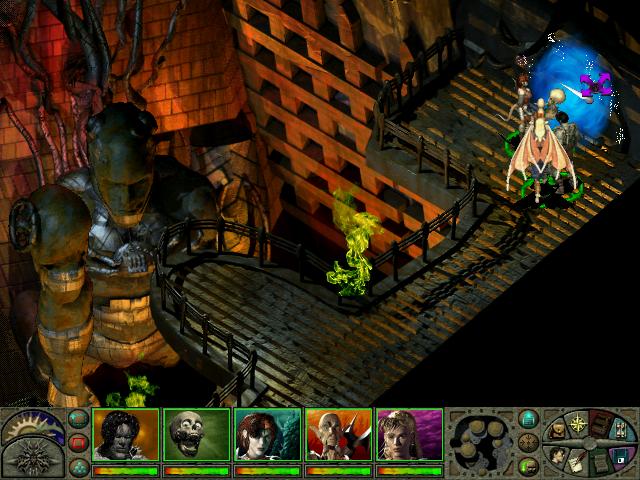 ~~~~~
"I've got the birdcage right here," I said proudly, handing it over to Nihl Xander, "Now give me my dreams."
"I need just one more item from you, and we can begin the final process of the Dreambuilder. I need a pillow that has lain inside a coffin -- it will stimulate a sleep so profound that you may as well be dead. It opens your mind to the emanations of the dreambuilder. It is, if I say so myself, a touch of inspiration on my part."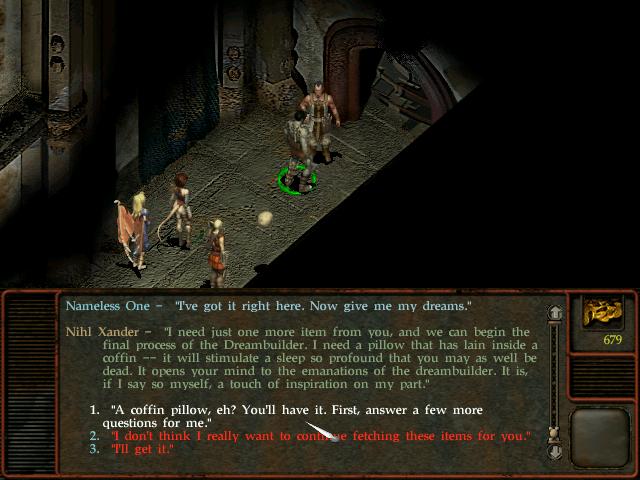 I do wish people would just write up a damn list for these things. "I'll get it."
~~~~~
The Sigilians of the Lower Ward were unfriendly enough already, but the moment I ran around asking for a coffin maker their overall moods soured even further. I was about to see why.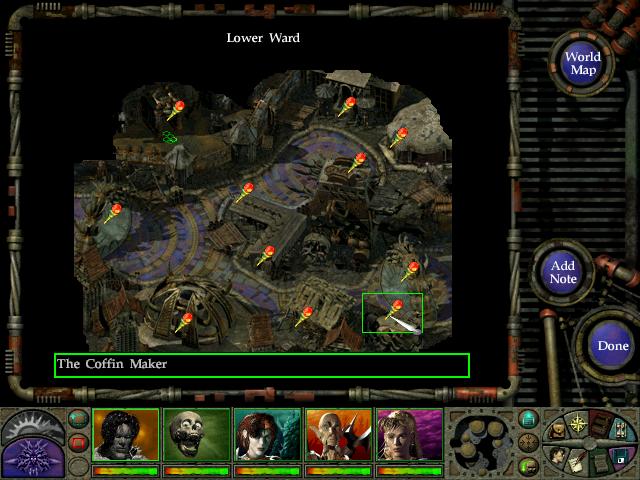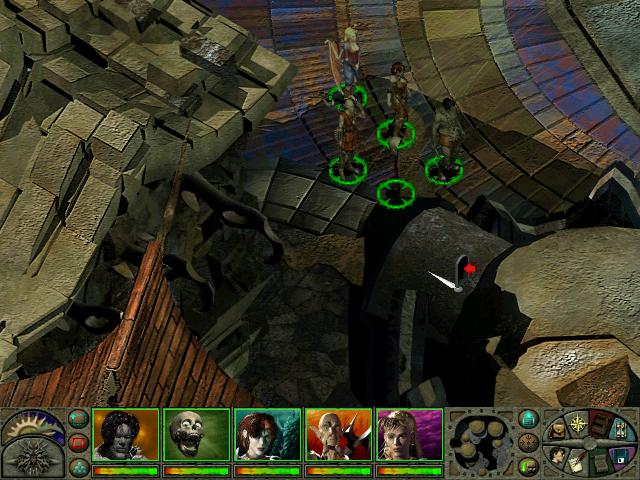 The shop was chill as the grave. A necessity, I supposed if you didn't want to be overwhelmed by the varnish fumes when there weren't any windows to leave open. Straight, sleek coffins were set up about the shop, and a selection of wooden planks were set along one wall.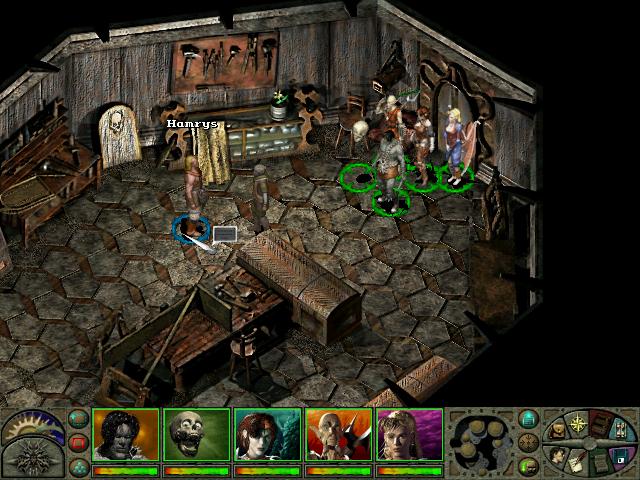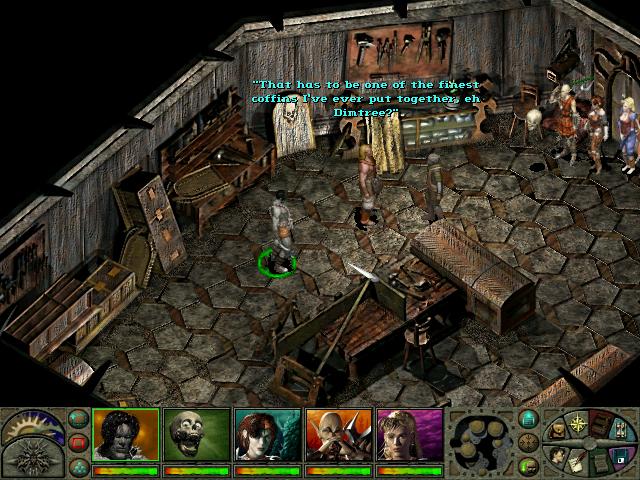 Next to a counter wsa a rugged looking, square jawed man in the middle of a conversation with a customer. The shopkeep turned to me with a wide smile. "How are you, cutter, good day to you, good day indeed." He squinted at me for a second, then thrust his hand out to shake mine.
"Greetings," I said as my palm was wrapped in his crushing grip.
"Hamrys at your service, member of the Harmonium and the fashioner of fine coffins for the recently departed. I think I know you, do I not...? Let me see if I can place it..." He paused to think a moment. "Sharp with names I was in the Harmonium, let me tell you. Knew everyone on the entire Ward..."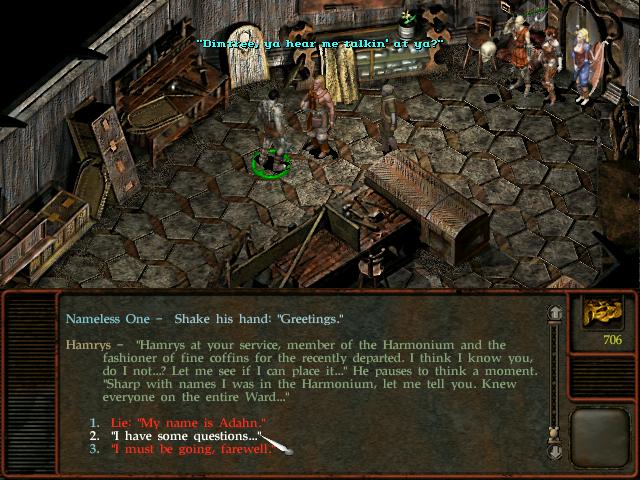 "Er... you can call me Adahn," I lied, "I have some questions..."
"Ask away." He gave me a broad smile.
"Who's your friend here?" I asked, gesturing at the quiet gentleman across from us.
He glanced at the customer. "Dimtree?" He shrugged, like he hadn't considered the fellow before. "Quiet, doesn't say much - do you, Dimtree?" Dimtree didn't respond, but simply gave the same blank expression. A few seconds later, Dimtree nodded. Hamrys shrugged and turned back to me. "Wandered in one day a few weeks back, been a regular ever since. He hasn't bought anything, but he doesn't cause any trouble, so I let him stay. Seems harmless enough. You see, when I was serving the Harmonium, part of our work was to take people under our wing, give them a little shelter from the chaos of the streets, get 'em spruced up..."
"I need to buy a coffin pillow," I interrupted him.
Hamrys beamed. "Ah! You are here to purchase then. I assure you, what I do is a labor of love. The real value of my profession is in the building of the coffin... in doing it and doing it well. It is an act of perfectly ordered creation, every piece must fit just so for the betterment of the whole. It is much like a metaphor for the Harmonium philosophy... we create order, and it is beauty..."
"I just need a pillow..."
He nodded. "I need fifty coppers for the basic boards used in construction, though the expense doesn't cover the time. Usually, it's either whitewashed or painted some color of the person's choosing. The boards themselves are usually a sixteenth handspan thick, maybe even thicker depending on the nature of the corpse, whether it's a human being buried or not. Or whether they're worried that the person might get back up again." He laughed.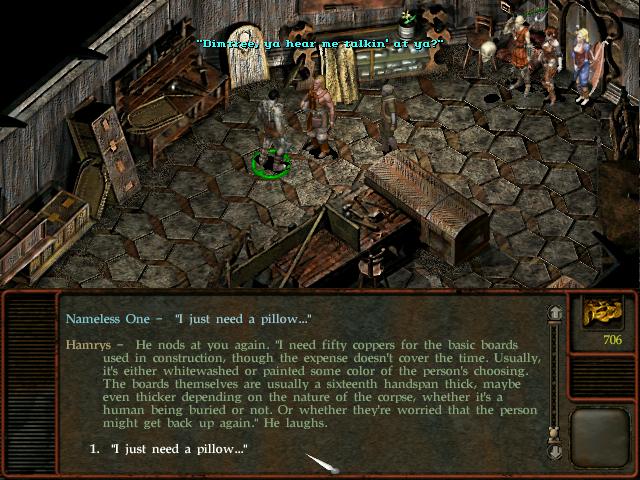 I blinked and tried to catch his attention, "I just need a pillow..."
He nodded at me again. "Some prefer Bytopian pine, which is fine and traditional, but I prefer the heavy Arborean oak materials, simply because they have a good weight about them. Even a twentieth inch of the oak is stronger than a sixteenth of a handspan of pine..." He paused for a moment.
I took the chance to slip a few words in edgewise, "I said, I just need a pillow..."
They fell on deaf ears. Hamrys only nodded and continued his incessant yammering. "From there, I might need about a score multiplied by a score of steel wood-screws, gauge about eight by one and a quarter inch, or so. Lots of shops around here carry them, not a big deal to acquire them. I'll also need some sort of metal pins for securing the interior lining, best to pick them up with the bunch. Then there's the matter of the battens and corner blocks, depending on how you wish to do it."
"Are you listening to me? I said I just need a pillow!"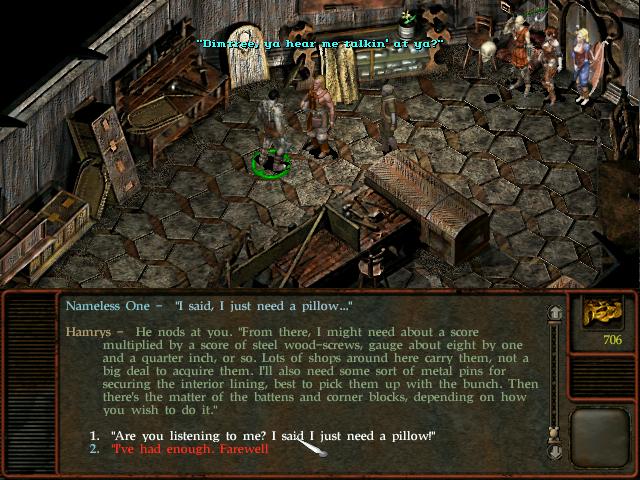 He placed his hand on his chin. "And although I usually let the natural wood speak the color of the coffin for itself, sometimes the person commissioning it wants it painted special or engraved... I don't usually do the finer work for that, though I am skilled, but contract it out..." He paused for a breath. "And the handles alone are another matter entirely..." He nodded knowingly.
I sighed, "What about the handles?"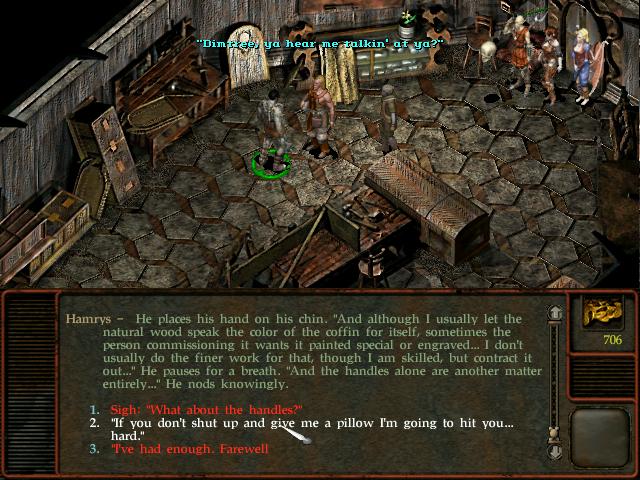 "Big thing handles: everything about handles depends on how the coffin is to be carried: you got skilled men carrying the coffin at shoulder height, don't even need to worry about handles, professional pallbearers never use them, see. If you got your family and friends carrying the coffin, then the handles are necessary. You'll need some rope handles or even metal handles..." He gave me a satisfied look.
"That's fine and all, but I came in here for a pillow... Do you have any?"
"Let me give you an example: I think the most beautiful coffin I'd ever seen was this one of clear pine. I don't know where they managed to get it, whether from a place in Bytopia or elsewhere... Anyway, it was pegged together carefully and trimmed with this beautiful run of redwood. The effect was somewhat ruined by the crude amounts of thick hemp rope that surrounded the affair. Surely, something was needed for the pallbearers to hold on to, but to ruin the entire beauty of the coffin with such badly woven-rope..." Hamrys shook his head.
"I'm sure this is fascinating and all, but I just want a pillow..."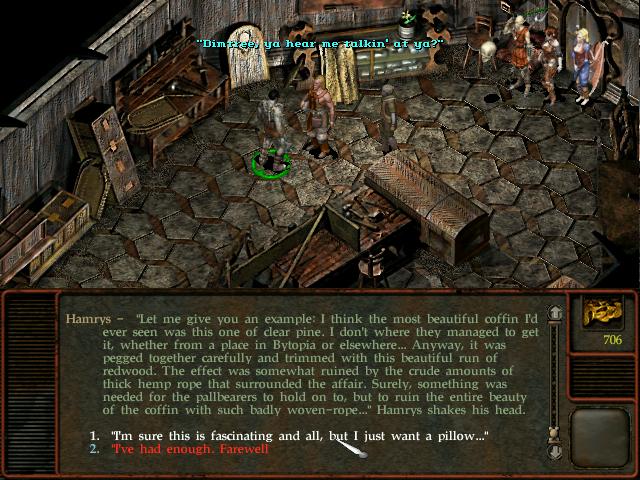 By the time I looked behind me for some support, I had noticed that both Morte and Annah had left. Only Dak'kon remained out of his stoic sense of duty, and Fall-From-Grace hid a smile behind her hand. Only a Sensate could possibly find this amusing.
Hamrys continued, "Then there's the matter of measurements. They can be tricky, and I try and do it myself, since occasionally a client will neglect to inform me as to the race of the deceased or forget something like the hip width... very important indeed. Also, if the client is still alive, I try and make precautions should the client 'fill out' before they die, you know?" He paused. "Then there's the construction itself..."
"Hamrys..."
"There's many different ways of attaching the sides and ends to the floor of the coffin, and to each other. Some use internal battens or corner-blocks, with plenty of wood screws to secure it in place. You can also do the fiend's tooth method, and just cut alternating tongues and recesses all along the edges to be joined, so that they fit together, like a fiend's jaw. Requires a little more work and precision, but the result is neat and very strong." He paused to breathe once again.
"Hamrys..."
"Then there's the lid. The lid's gonna need a rim or lip all round its edge, made from a strip of wood pinned to the box or carved around the edge itself. Once you have some pilot holes drilled into the main box, then drill in the screws in the top of the lid maybe half a handspan apart..."
He wasn't going to stop talking. The man would
never
stop talking now that he was on a roll.
I growled, "If you don't shut up and give me a pillow I'm going to hit you... Hard."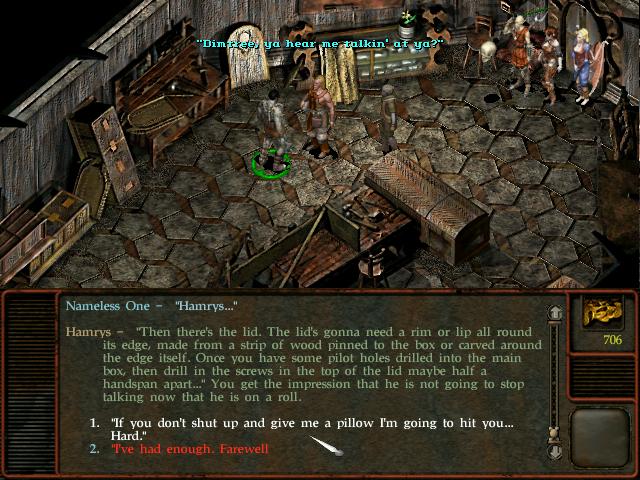 That finally got his attention. He frowned at me with a confused look on his face. "Pardon?"
"I said, I need a coffin pillow. That's all, just a pillow. Do you have any?"
He looked relieved and smiled. "A pillow? Ah, I thought you might need the entire coffin." He put his hand on his chin again. "I'm so sorry, but I'm out of stock on pillows right now. I don't know when I'll have them again, what with the warehouse being closed and all..."
"I've dealt with the warehouse, I'll just go there and get a pillow."
He smiled broadly. "Excellent. If you deal with the issue satisfactorily you may have your pillow for free..." Hamrys began to get that
lecture
look on his face again, "That may not seem like sufficient payment, but let me tell you about the construction of those pillows..."
"No thank you! I'll just get started on this right away. Farewell." I said quickly, and looked to Dimtree as Hamrys turned his blathering to the fellow full-force.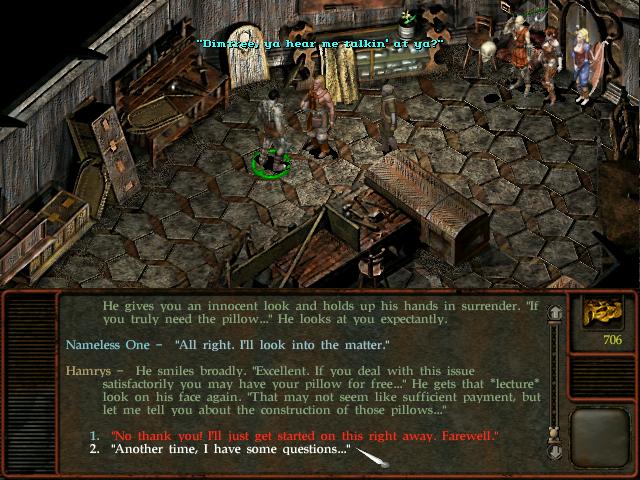 Dimtree was tall, slender, with a glassy eyed expression. He seemed engrossed in whatever tale that Hamrys was relating. Occasionally he nodded his head, but made no comments of his own.
"I can't see how you can stand that," I murmured.
The man turned slightly at my comment, just enough to acknowledge my presence. He was a little pale of complexion and rather gaunt looking, and gave nothing but a blank stare. Hamrys didn't seem to notice any of this and continued with his stream of useless prattle.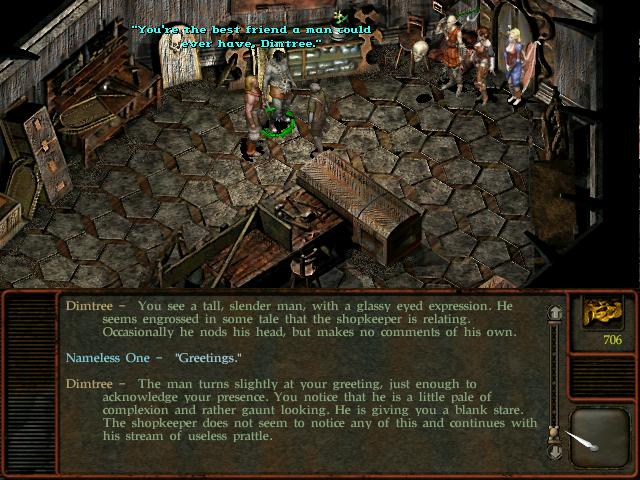 "Are you... all right?"
The man continued to stare at me and slowly nodded. For a moment I waited for any further response but he said nothing, only stared. I was about to turn away in frustration (and in worry that Hamrys might notice my lingering) when I noticed a strange, musty odor about Dimtree.
I stepped closer and sniffed, unsure what I'd find. As I did, a musty odor filled my senses, an odor I recognized from my time in the mortuary. It was the smell of dead flesh preserved by magic, muted by strong enchantments.
"You're a zombie, aren't you?"
The creature continued to stare at me blankly. Slowly, as if with great effort, he began to reply to me. Only my ability to speak with dead made him understandable. "Yes... I am... Dimtree."
"Why are you here, Dimtree?"
Dimtree slowly glanced at the shopkeeper and made a feeble gesture toward him. Seeing this as a sign of interest, Hamrys redoubled his efforts in telling whatever tale he is relating to the poor creature. Dimtree looked at me again. "Hamrys... He talks... Hamrys never stops... Wanders town... annoys Master, annoys everyone... Master create Dimtree... Tells Dimtree talk Hamrys... Now Hamrys stay in shop... Master happy... town happy. Dimtree sad..."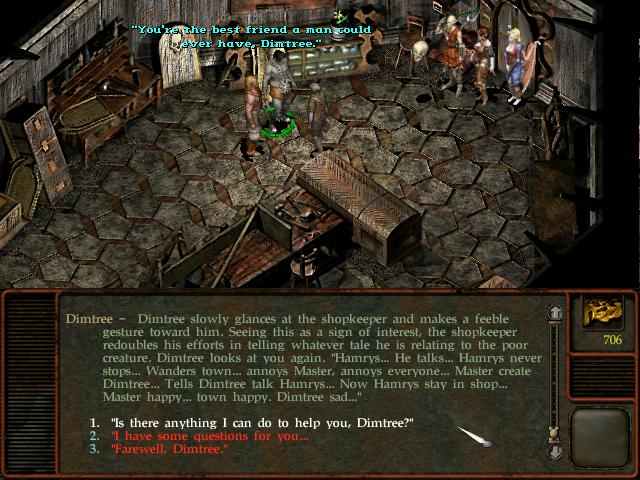 I winced, and my heart went out to the poor creature. "Is there anything I can do to help you, Dimtree?"
The creature paused, then resumed his slow speech. I could almost detect a pleading tone in his voice. "Yes... Find master... Sebastion... Ask him release me... Please..." He turned his attention to Hamrys momentarily. "Please..."
"Why don't I just put you out of your misery?" I asked, tapping the knife at my belt.
Dimtree barely shook his head at me. "No... Master revive... Must ask master... Sebastion... please." He awaited my answer.
"Sure, Dimtree. I'll see what I can do for you."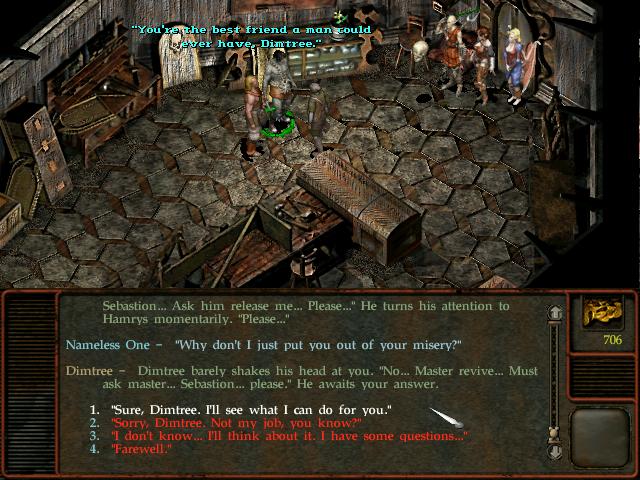 I could almost sense a feeling of relief emanating from the zombie. "Dimtree... thank you friend..."
"You're welcome. I don't suppose you could tell me anything else?"
The creature gave a barely perceptible shrug of the shoulders. "Know... nothing... Dimtree summoned... by master... Know darkness... peace... rest... Then Hamrys... Sorry... help you... if could..."
"I see... Farewell then."