Part 94: The Eye of the Nameless One: Part 3
The Eye of the Nameless One: Part 3
The smell of burning smoke stung my nostrils, way up and deep in there like someone had crammed smoldering charcoal up my nose. The harsh smell of the guttering forge-fires felt like they were eating away toward my brains, and fat tears welled up in my eyes. The heavy clangor of steel being hammered rang in my ears in an arrythmic pace. It threatened to drive me mad if I stayed here too long.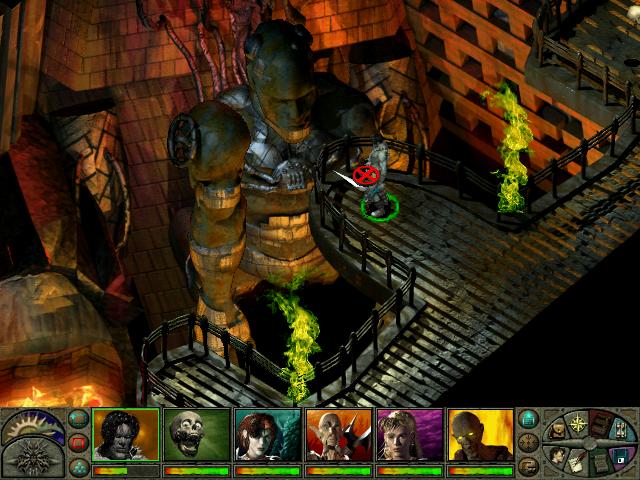 You'd think that there'd be some measure of irony in
creating
a siege tower and a golem to wage war in the name of entropy. Not so. It was later explained to me that even the act of creation is a melange of smaller destructions: you cut down hundreds of trees to build the tower, shatter ore and burn coal to smelt it and fuel the forges to make steel. The workers themselves feed aches into their bones and kinks into their muscles with each day of toil. Everything serves the cause of entropy.
Coaxmetal was just speeding up the process.
So it wasn't all that strange to go to it for advice on how to protect myself from the shadows. Something as well-versed in destruction as Coaxmetal was should know about how to protect against it.
Ever since that night any cool breeze felt like that same unnatural chill, and I glanced nervously at every shadow. There had been something familiar and primal about those shadows that attacked us. I felt like a rabbit being stalked by wolves. Annah recovered, and grumbled in her own way about me being too paranoid, but I noticed she hadn't gone out to nick purses alone since then.
WHEN A THING SEALS ITSELF AGAINST ITS OWN DESTRUCTION, IT MERELY DIES A DIFFERENT DEATH.
It was Coaxmetal's only reply to me asking for a way to protect myself. Yet there was ambiguity in those words, even if they were blunt and hammered out with a heavy throat of rusted iron. "Are you saying that immortality is just a different kind of death?"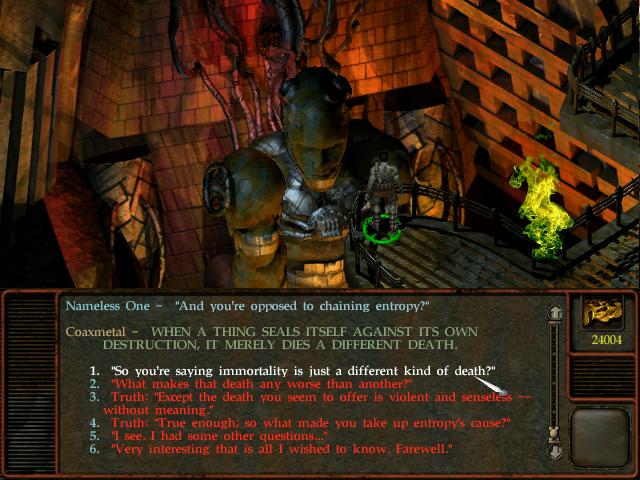 IMMORTALITY IS ONLY A WORD. ALL THAT EXISTS CAN DIE.
I blinked, "You're saying you could forge a weapon to kill an immortal?"
EVERY LIVING THING HAS A WEAPON AGAINST WHICH IT HAS NO DEFENSE. TIME. DISEASE. IRON. GUILT.
"How do you know what weapon to use?"
ONE MUST KNOW THE ENEMY TO FORGE SUCH A WEAPON.
Back to the shadows again. I scoffed, "And how do I do that? It's not going to be that easy."
START WITH A FRAGMENT OF THE ENEMY. A DROP OF BLOOD. A CRYSTALLIZED THOUGHT. ONE OF ITS HOPES. ALL OF THESE THINGS TELL THE WAY IT CAN DIE.
"What if your enemy strikes from a distance, from shadows, and never shows himself?"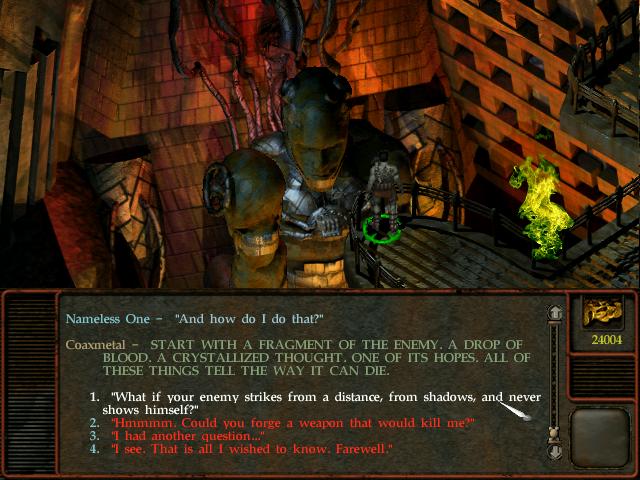 THEN THAT IS THE FRAGMENT OF THE ENEMY YOU MUST USE.
"How?"
THE ACTIONS OF YOUR ENEMY HAVE TOLD YOU MUCH. YOUR ENEMY DOES NOT WISH TO ENGAGE YOU DIRECTLY. THAT IS A WEAKNESS.
Something clicked in my mind, "Or... for some reason, it
cannot
engage me directly."
THAT IS AN EQUAL POSSIBILITY. EITHER POSSIBILITY REVEALS WEAKNESS.
"How do I exploit that?"
IF THE ENEMY DOES NOT WISH TO CONFRONT YOU DIRECTLY, DENY ITS WISH. TAKE THE BATTLE TO THE ENEMY.
"And if the reason it can't attack me directly is because it has no choice?"
IF IT IS NOT ALLOWED TO CONFRONT YOU DIRECTLY, FIND THE REASON. THE REASON WILL REVEAL A WEAKNESS.
"You said you immortality was just a word... that all that lives can die. Could you make a weapon that
could kill me?"
YES.
I blinked, excitement and uneasiness churning in my stomach. Could I actually be vulnerable, finally? "Really? How?"
I WOULD NEED A DROP OF YOUR BLOOD. THAT IS ALL.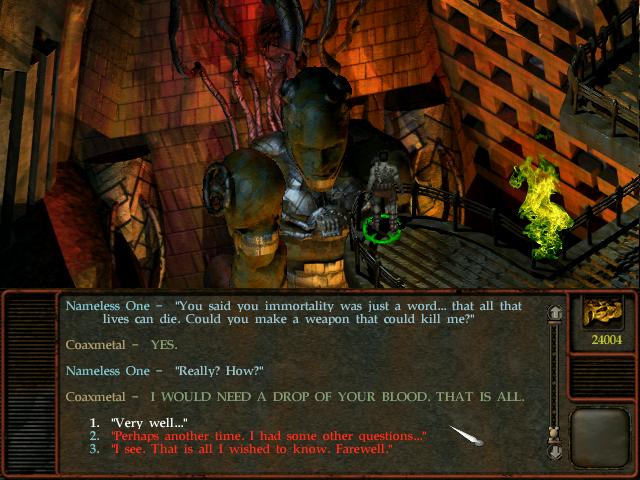 "Very well..."
I expected a sizzle or the slightest puff of smoke when my blood dripped into the burning crucible, but it melted and swam into the molten steel like a drop of water being stirred into syrup. And then the molten steel blackened and pulsed as if it were... not alive, per se, but more like a liquid zygote: life waiting to be born.
Coaxmetal was an apt name. The golem was almost gentle in the way he hammered the weapon into shape,
urging
the potential to destroy from unformed metal.
It bubbled when Coaxmetal quenched it one last time, water churning like it was giving life to the steel. And indeed, it seemed to pulse slightly when the golem dropped it into my hands, like the dull throb of a heart. It was an ugly-looking weapon, shaped so it resembled the symbol of torment on my left arm. Black veins wormed their way across the surface of the black metal, and the edge looked to be so dull that it couldn't even cut warm butter. Somehow, though, I knew this was the key.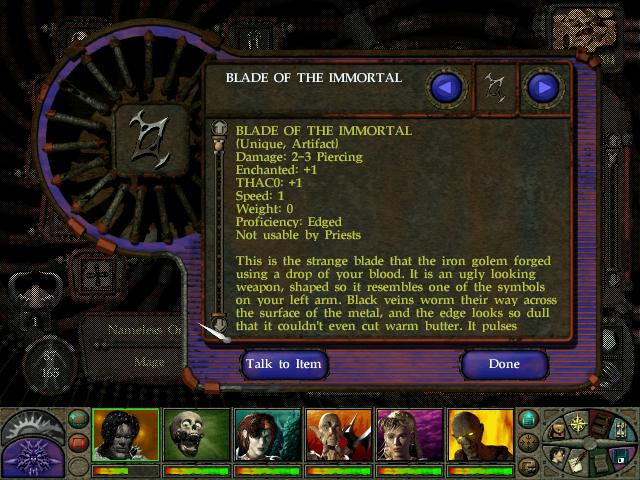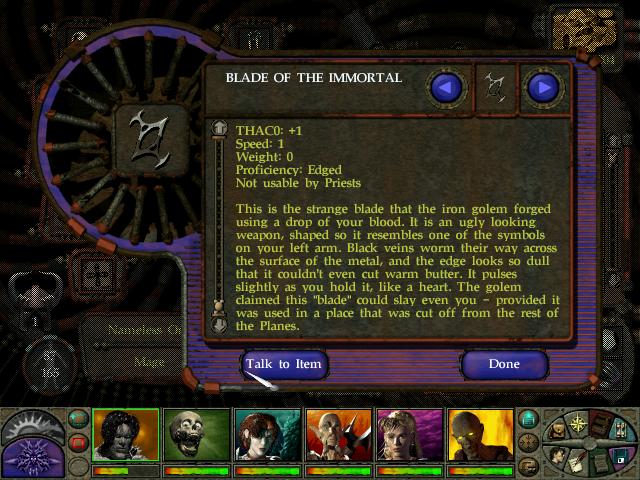 THE TOOL OF YOUR DESTRUCTION HAS BEEN FORGED AND EDUCATED. IT IS NOT ENOUGH.
I looked up, "What do you mean?"
THE MAGICKS THAT KEEP YOUR HEART BEATING AND MEND YOUR FLESH ARE STRONG. YOU MUST SINK THE BLADE INTO YOUR BODY ONLY WITHIN A SHELL WHERE YOU ARE CUT OFF FROM THE PLANES.
"Why?"
THE REASON IS NOT KNOWN TO ME. YET BOTH THE WEAPON AND THE PLACE ARE NECESSARY FOR YOUR DESTRUCTION.
"Where would I find such a shell that separated me from the Planes?"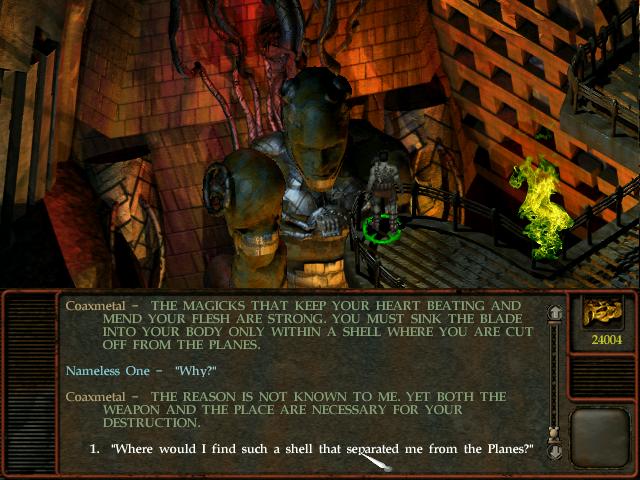 THAT IS NOT KNOWN TO ME.
Well, I wasn't exactly eager to die without some answers, anyway.
~~~~~
Knowledge is power, they say.
My fingers ran along the edges of the Unbroken Circle of Zerthimon. I knew there was something hidden there, something more. It couldn't just end there with the Sixth Circle, which had divided both the Gith people and Dak'kon's spirit. There had to be-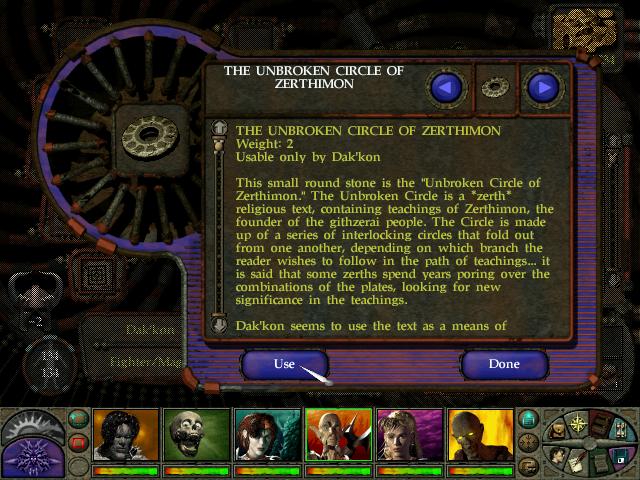 As I examined the rings of the Second Circle, I found a strange link in the plate that mentioned the laboring of the Gith people to achieve the Rising. A new circle emerged from the link, and I unlocked it, pulling the plate forth for study...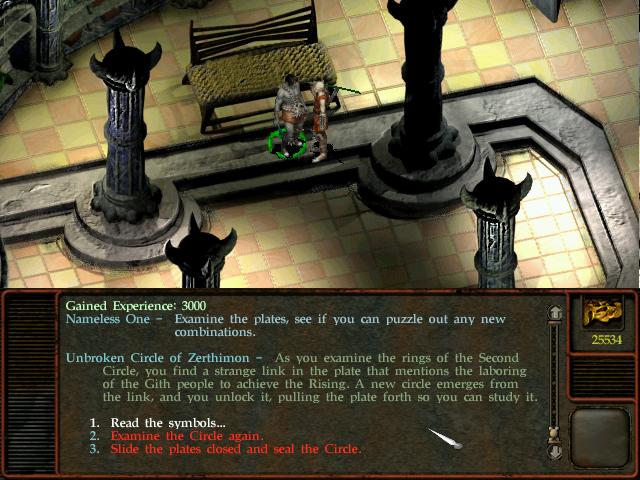 "Know that the Rising of the People against the illithid was a thing built upon many turnings. Many were the People who lived and died under time's blade while the Rising was shaped."

"The Rising was shaped upon a slow foundation. Steel was gathered so that it might mark illithid flesh. A means of knowing the movements of the illithids was established, at first weak and confused, then stronger, like a child finding its voice. When the movements were known, then the illithids were observed. In observing them, their ways of the mind were known."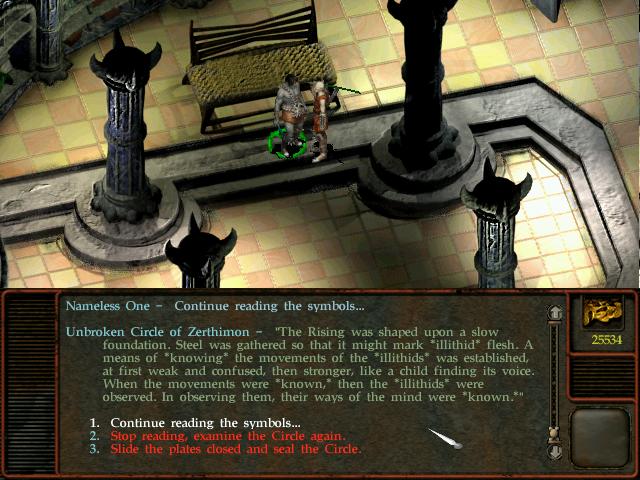 "When the ways of the illithid were known, many of the People were gathered and taught in secret the means to shield their minds, and the way to harness their will as weapons. They were taught the scripture of steel, and most importantly, they were given the knowing of freedom."

"These things were not learned quickly. The knowing of much of the ways was slow, and in all these things, time's weight fell upon all. From the knowing of one's reflection in a steel blade, to the knowing of submerging the will, to the knowing of seeing itself. All of these things and more the People built upon. In time, they came to know the whole."
I paused, not knowing what to say or do, but closed the plates shut. I stared at the city below from my balcony, and waited until Dak'kon returned from the baths, snapping me out of my reverie.
"I need to talk to you about your teachings, Dak'kon."
He stood with arms crossed patiently across his chest, "What have you come to
know
?"
"There was a Seventh Circle within the Stone of Zerthimon. It spoke of the building of the rebellion against the
illithids.
"
Dak'kon fell silent. "What does this Seventh Circle speak of?"
"It speaks of time as an ally, not as an enemy. It says that patience can sharpen even the smallest of efforts into a weapon that can strike the heart of an empire. Your victories may be small, but over time, a greater victory may be achieved."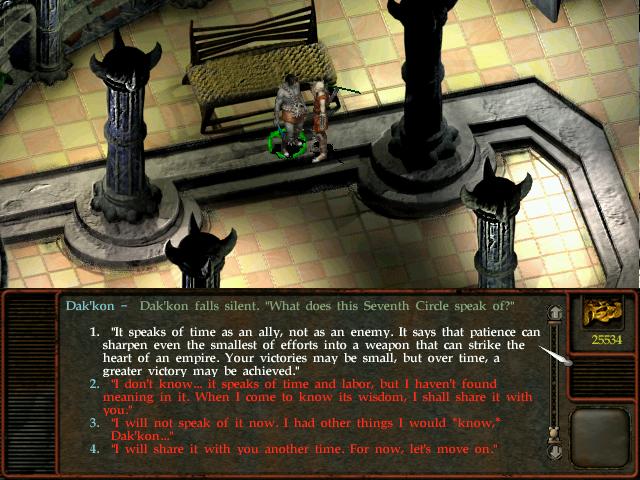 Dak'kon was silent for a moment. "Will you make this Circle
known
to me?"
I prepared to unlock the Seventh Circle for him.
As I took the circle and twisted the links, however,
two
plates slid from the interior and into my hands. I had no idea where they came from, but the Unbroken Circle still seemed intact - the Seventh Circle remained. Dak'kon watched me silently.
"There are two plates here... perhaps we should both study them, you and I?"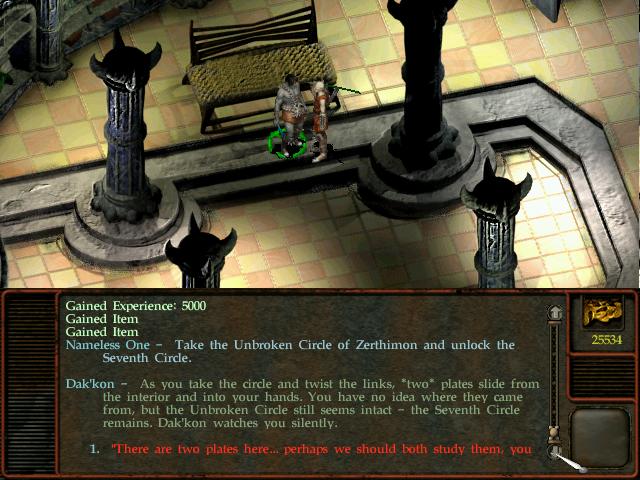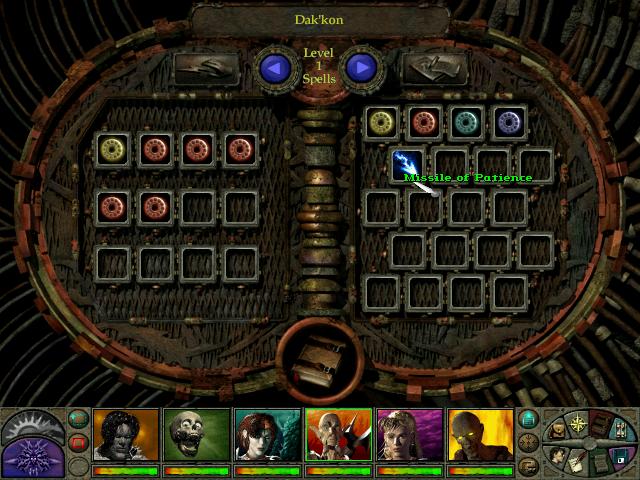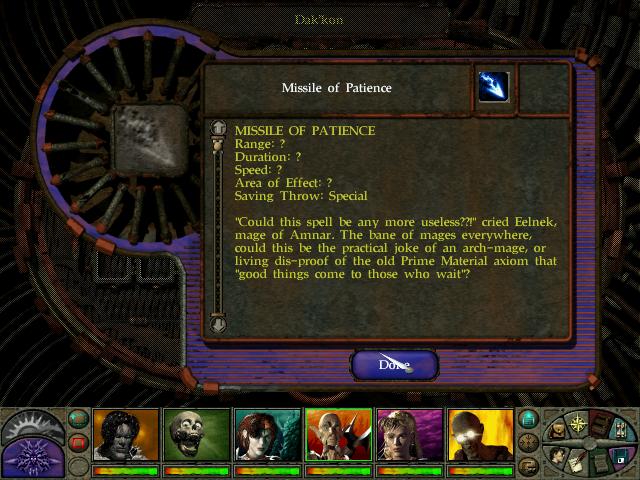 Dak'kon was silent for a moment. "There is much you have come to
know
of the Circle, and your
knowing
carries a greater weight than mine." Dak'kon matched my gaze. "
Know
that your path is mine, and it shall come to pass that as you
knew
the Way of Zerthimon from me, I shall
know
the Way of Zerthimon from you."
It wasn't much later that I made another discovery.
As I examined the rings of the seven Circles of Zerthimon, I became aware of a pattern in the way the links are formed. There was a greater meaning to it all, a last circle that binds the seven together. I hooked my fingers into the sides of the Circle and unlocked a hidden segment, pulling the plate forth to read.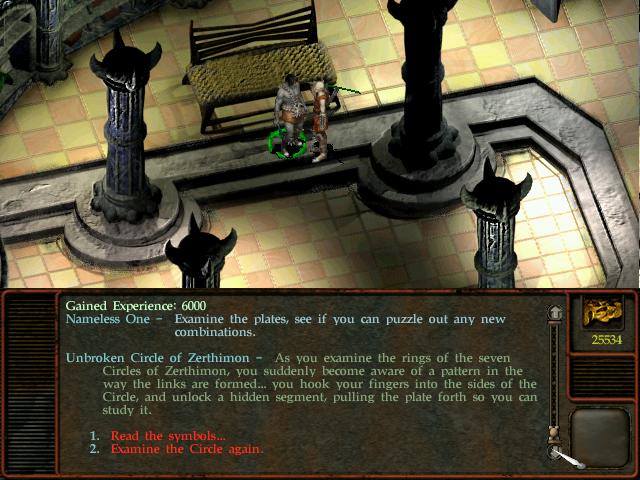 "Know that a mind divided divides the man. The will and the hand must be as one. In knowing the self, one becomes strong."

"Know that if you know a course of action to be true in your heart, do not betray it because the path leads to hardship. Know that without suffering, the Rising would have never been, and the People would never have come to know themselves."

"Know that there is nothing in all the Worlds that can stand against unity. When all know a single purpose, when all hands are guided by one will, and all act with the same intent, the Planes themselves may be moved."

"A divided mind is one that does not know itself. When it is divided, it cleaves the body in two. When one has a single purpose, the body is strengthened. In knowing the self, grow strong."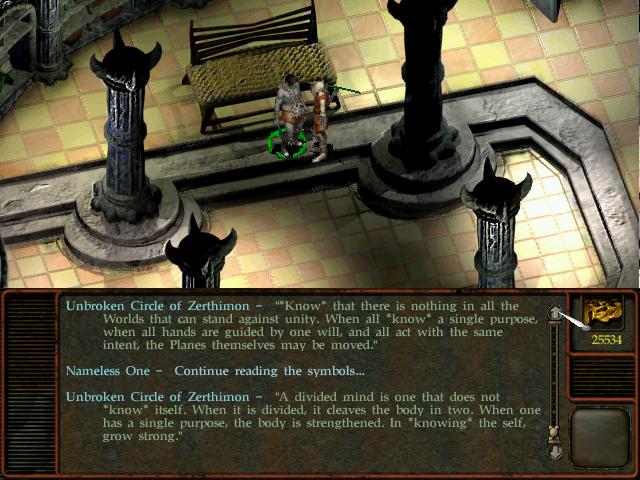 "There was an Eighth Circle within the Stone of Zerthimon, Dak'kon. It spoke of division of the mind, and the importance of focus."
He fell silent. When he spoke again... his tone was quiet, almost reverent. "What does this Eighth Circle speak of?"
"It speaks of focus and discipline... about how not
knowing
oneself can physically divide the man. It also speaks of the weaknesses that division causes. It seems to me that it tells one to not only
know
themselves and take strength from that, but that your focus can reveal weaknesses in your enemy."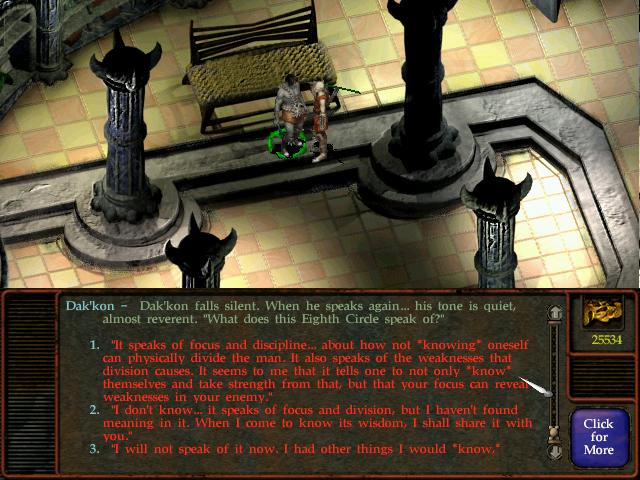 Dak'kon was silent. When he spoke again it was with caution, and grace. "Will you make this Circle
known
to me?"
With one final click, I unlocked the Eighth Circle of Zerthimon.
Again, two more plates slid from the interior and into my hands. Dak'kon watched me silently.
"There are two plates here... we should both study them, you and I. I think when you
know
the Eighth Circle, perhaps then you will
know
Zerthimon's heart when he made the Pronouncement of Two Skies. His words were not those of the
illithids,
but of the People."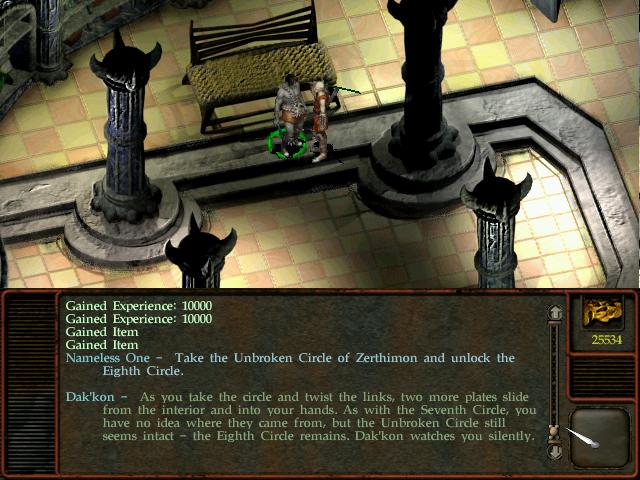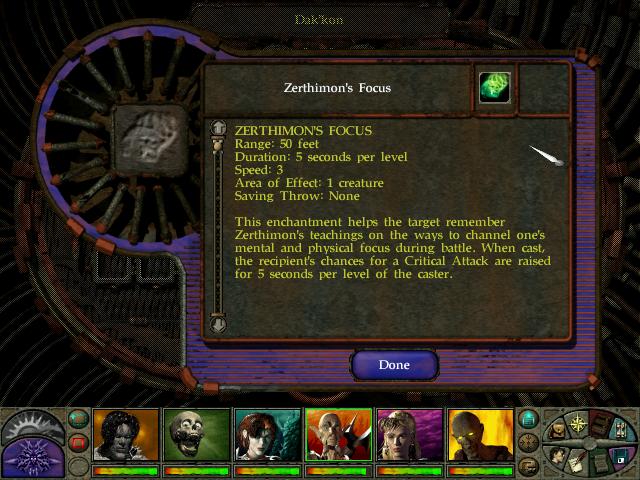 Dak'kon stared at the plates, his eyes flickering over the geometries upon them. When he looked up and matched my gaze there was a new fire in his eyes, keen as a razor's edge. One by one the doubts and years seemed to fall from his face like leaves. His blade bent, shifted, until the shimmering became a silver glow. He seemed
stronger
somehow.
"
Know
that when death comes for you,
know
that I shall meet its blade with mine.
Know
that when all dies around you,
know
I shall live for your sake."
"When we die, Dak'kon, it shall be the same death," I said in agreement, "It shall be the Pronouncement of Two Deaths As One."
Dak'kon's spirit was finally free. No longer was he bound to travel with me... he did so by proud choice.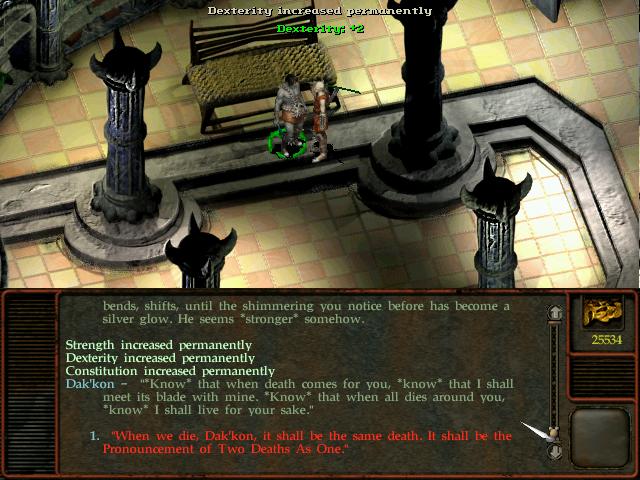 I fingered the rough black blade Coaxmetal had shaped. All that was left for me was to die.
~~~~~
Greater magics had now become hard to come by. Cantrips and apprentice spells were easy to purchase, but spells of real power were beyond my grasp. Mages guarded their highest, most arcane arts jealously. Really there were three ways to obtain these spells.
First, I could research my own, but I hardly had the books or facilities to do so. Not to mention the time and reagents needed.
Second, I could steal spells from other magi, and while I'm sure I could survive whatever traps they sprung, I wasn't about to risk having my mind turned upside down and inside out by an enchanter, or be transformed into an un-slaughterable chicken for it.
Or I could find a master to learn from. Dak'kon had taught me all he knew and I in turn completed the Circle of Zerthimon. All that remained was...
"Ignus?"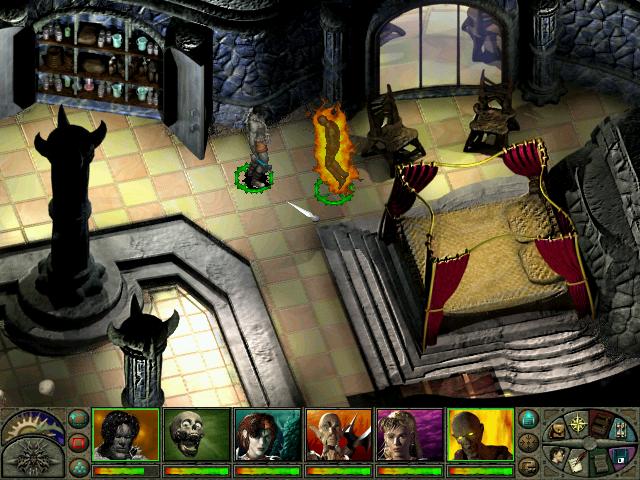 Flames curled around Ignus' throat, and a tongue of flame streamed from behind his blackened teeth.
"Yessssss...?"
"Ignus, what happened to you to make you this way?"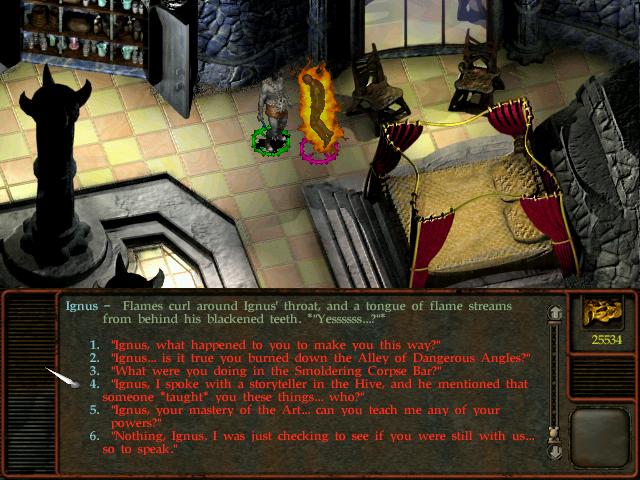 "Thissss way..."
A small pocket of flesh on Ignus' cheek
popped,
and ran in a steaming trickle down his jaw.
"Thissss way... Ignussss alwayssss wasss..."
"But... you look human. Or at least, you look like you were human once."
Ignus twisted, hunching his head forward as his body spun slowly above the ground... the effect was much like a fiery whirlwind, thermals streaming off his body and distorting the air around him.
"Ssssstill Ignusss... alwayssss Ignusss..."
"Never mind, then. I had some other quest-"
As I opened my mouth to speak, Ignus suddenly whirled on me -- I was forced to choke back my words as the heat from his frame flooded over me.
"Ignussss might YOU be... sss'PARKssss in bodiesss, alwayssss sssseeeking to rise..."
"'Sparks in bodies?' What do you mean?"
"ALL thingssss burn... insssside..."
Ignus' head craned back and he threw his arms wide, spirals of flame and heat traveling up his limbs.
"Only need to be KINDLED with flamessss to become Ignusssss... sssso might YOU have been... Ignussss..."
I shrugged, "Actually, if you end up trying to kindle the flames within people, you usually end up killing them."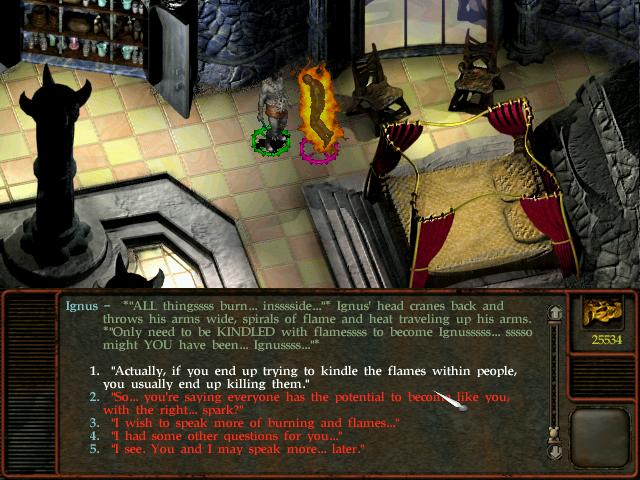 "Yessssss..."
Ignus grinned, cocking his head to one side, ashes falling from his skull and being swept up in the flaming wreath that surrounded him.
"I had some other questions for you..."
"HSSSS'SSSSS!"
My heart jumped as Ignus soared several feet into the air, flames licking at the ceiling. His jaw tore open, fiery trails spilling forth like a nest of snakes.
"NO MORE TALK AND QUESSSSTIONSSS! Ssssilence...!"
"You WILL answer my questions, Ignus," I snapped. Ignus wasn't something I could coax nor convince. Much as I hated it I had to force him to see things my way. If I didn't rein things in now, letting Ignust loose upon the world again would've been disastrous, "I set you free, and I may send you back to your hell again."
"Think YOU could ch'ain Ignussss...?"
The flames around Ignus swirled like a cloak, then fanned outwards, as if seeking to caress me.
"KILL you, turn you to asssshessss Ignussss can... for now, Ignusssss followsssss... but threatsssss... threatsss ANGER Ignusssss..."
"Actually, Ignus, you couldn't stop me - you could burn me, but I'd keep coming at you until you were kindling. So
enough
with the threats..."
There was a crackling in the air, and Ignus cocked his head slightly, as if studying me, then hissed.
"FLAMESSSSS will burnnnn the immmortality from you... you are NOT sssafe from my flamesssss..."
"Maybe you don't understand what immortality MEANS, Ignus..."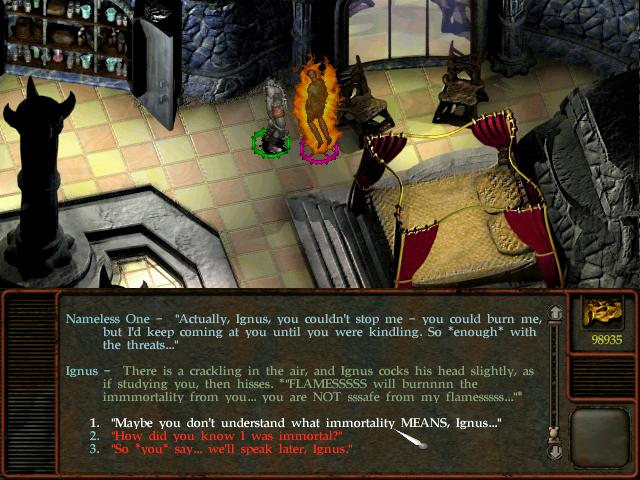 "You are NOT immmortal... Ignusssss can KILL you... ssscatter your asssshesss to the windssss..."
That said, Ignus flung his arms wide, and a HEAT poured from him, so powerful that I was forced to shield my eyes - there was a great ROARING, as the air fled past me as it was drawn into him.
"Ignus! Stop th -" I coughed, my face lashed with my own beaded locks.
As I tried to shout at Ignus to stop, the tide turned back upon itself, and a blazing
heat
washed over me. I choked back a howl as my flesh started to smolder, then smoke, then flare with the beginnings of PAIN... I clenched my teeth, and over the pain, I could hear Ignus cackling... cackling, laughter cracking like thunder...
"Ignus!"
At the sound of his name again the heat died - and I drew my arms back from my face. The skin had blackened from where Ignus burned it... and Ignus was watching me hungrily. Then I knew, more than anything, that whatever Ignus
was,
whatever power that had embraced him, it had the power to destroy me - if his flames were to kill me, my body would be seared into white-hot ash, then torn apart by the flames and whipped into naked, screaming atoms.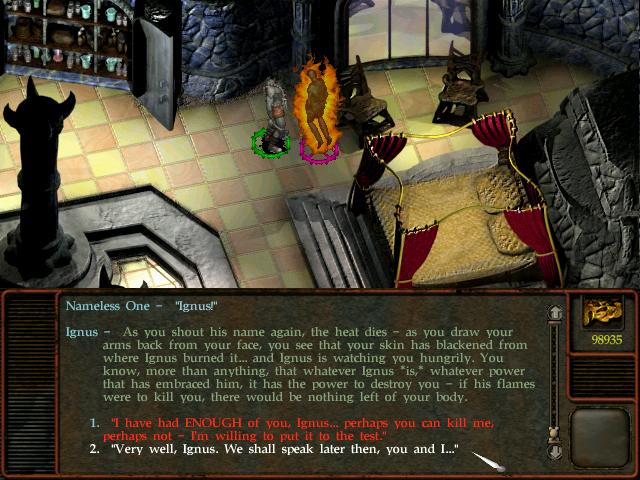 "I-" I licked my cracked lips, hoping that appealing to his pyromania would calm him, "I wished to speak more of flames and burning, Ignus..."
"Flamessss...?"
Ignus' voice crackled, as if in interest.
"Sssss'peak... Ignusss will lisssten..."
"What were you doing in the Smoldering Corpse Bar?"
For a moment, I didn't think Ignus had heard me, when suddenly the fires in his eyes dimmed slightly, and he gave a soft hiss, cinders and ash dancing at the edges of his jaw.
"Ignusss... once... knew NOTHING of flamessss..."
"Yes?"
"Once... Ignussss knew NOTHING of flamessss... he ssset ssssmall firesss, tiny flamesss, tiny flickeringssss... sssmall bitsss of flame..."
Ignus hissed again, ashes and fiery motes drifting from the ruin of his mouth.
"The firessss grew... Ignussss ssset firessss in their streetssss... and lit the firessss of anger in their heartssss..."
"Yes?"
I spoke, but Ignus didn't seem to hear me... he seemed to be somewhere else, as if re-living a memory through his words... against my will, I stopped to listen.
"They sssought to punisssh Ignus, the ssmall fliesss from the Hive. They wissshed to sssee Ignusss BURNNN after Ignusss ssset fire to their ssstreets... tiny magelingsss, hedge wizzardsss, runecasterssss... tiny ssss'parks of magic came to PUNISSSSH Ignusss for hurting their loved onessss... they sssentenced Ignusssss to BURNNNN, made Ignussss a TORCH, a sssspitting FLAME, burning, burning...
It wassss JUSSSTICE, they sssaid..."
"Jusss'tice..."
I watched, mesmerized, as Ignus began slowly turning again, as he did above the grill in the Smoldering Corpse.
"...but it was not a sssentence... there is ssoooo much flamessss and painnn that there issss NO pain... there issss LIGHT, and HEAT, and the flesssh runsss as TALLOW acrossss my bonessss... and for the firssst time... Ignussss issss PLEASSSSED..."
Ignus stopped his rotation, and his gaze fell upon me. As it did, the fires in his eyes flared, and a charred grin split his features, the flesh crackling and bubbling as it melted and streamed across his face. Ignus wore the face of all hells, of flames, and his next words were spoken like a death sentence - not only for me, but for everyone, everywhere.
"When the Planessss burnnnn and all life is torchesss, then Ignusss ssshall at lassst... be at peace..."
"Ignus, I spoke with a storyteller in the Hive, and he mentioned that someone
taught
you these things... who?"
"Of learningssss and teachingsss you know..."
Gouts of flame erupted from Ignus' mouth, in a horrid semblance of laughter.
"You have ALWAYSSSS taught Ignussss... Ignusss MASSSS'TER, you were."
I licked my lips. It couldn't be. It was profane,
impossible...
"Me? Are you
sure
...?"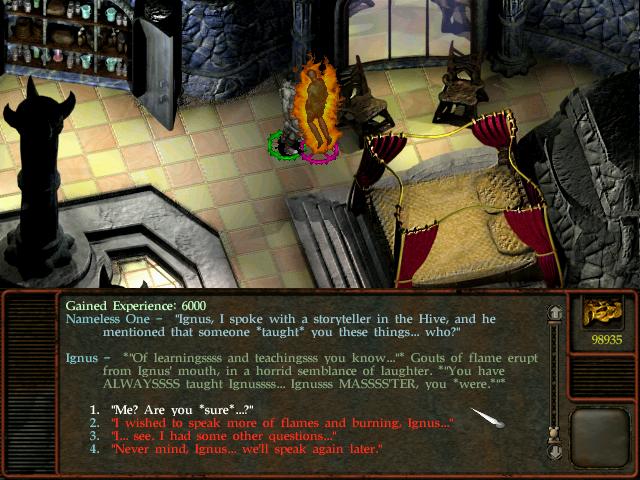 Ignus' voice
dropped,
and the crackling of the flames died.
"Yessss... it issss the only reasssson... Ignussss... OBEYSSS you..."
Flames rose around him in a crackling spiral.
"'til DEATH comessss for ussss both... your wordsssss to ME... to your sssstudent IGNUSSSS... Ignusss hassss NOT forgotten... Masssster..."
"Ignus... it must have been long ago when you learned the Art... are you absolutely sure it was me?
"Yesss...."
Ignus cackled.
"Yessssss... the face hassss changed... but many lesssonssss you taught Ignussss..."
"If my face has changed, how do you know?"
"Insssside all thingssss... tiny flamessss... the ssss'PARK, the flamesss, the SSSSAME... no matter what the sssskin... ssskin can bleed... ssskin can burn... but the INNER flame remainssssss..."
"Ignus... this is important. Can you remember anything about me?"
Ignus hissed... and for a moment, his
features
flickered - at first, I thought it was the flames, but the wavering became more familiar. It was the flickering of
memory
...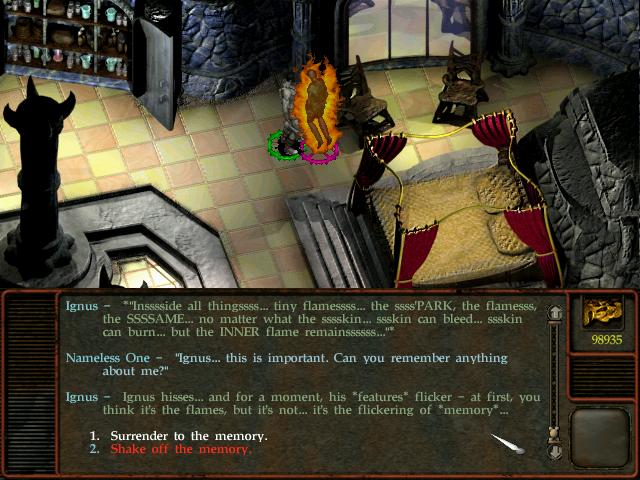 The crackling of Ignus' flames subsided, lessening as the charred bones of Ignus' body folded up, twisting into itself until his limbs lay motionless, becoming a stack of wood within a huge iron fireplace...
I stare into a fire, the bright warmth flickering only in my eyes. The room is still cold... the fire is too small to heat the high, vaulted room. The fire crackles and spits embers onto the stone floor, motes rising from the fireplace. Faintly, from the darkness behind me, there is the rasp of someone breathing.

I gesture impatiently, "I can hear you... step into the light."

There is the shuffling of sandals, and a frail youth steps into the edges of the firelight. His wide, black eyes catch the flames and mirror them. He is nervous - I hear his muscles shaking, his voice trembling - just enough to increase my irritation. "Forgive my intrusion, master. I-"

"You have already intruded, supplicant. You did so with intention. I will hear it now, then you will leave me to my thoughts."

The boy takes a deep breath, and glances at the fire. "Master, I... dreamed of flames again, last night... they felt real, and you said that we were to come to you if --"

"It was a dream, nothing more. Now leave." I wave my hand dismissively. Supplicants are fit only to mop floors and wash beakers. There is no reason for him to interrupt my thoughts now.

The boy does not move - his brows draw together, and slowly, he displays his hands. The flesh around the fingers... blackened, burned.

A muscle in my cheek twitches, "How did your hands come to be burned, supplicant?"

"I awoke and my hands were as ash." The boy meets my gaze; he is still trembling, faintly, but there is an eagerness in his voice which angers me. "I dreamed I soared above the earth and the ground and sky were as fire. The world itself was so bright that it... hurt to look at it, master. And when I awoke, my hands... they were burned, as if I had held a flame within my hands."

"You lie, supplicant," I hiss, "You have come to me with a story, and now you are in danger of angering me."

"No, master..." The boy's face glistens with a sweaty sheen of fear. "No, upon my life, I do not!"

"You burned yourself with a candle, supplicant. Or thrust your hand within one of the pyres in the Vault of Currents. Now you come to me and tell me a dream burned you. I tire of your lies."

The boy falls silent, and to my surprise, his face clenches in anger. "No. I do not lie. It was the dream that burned me, master, as you said it might if we felt the power stirring. They were your words, and I came to repeat them to you and tell you they are true." He holds up his hands. "Look, master..."

With a rustle of my sleeves, my own hands lash out to clench his. The boy's palms are tiny in my grip, and my meaty palms squeeze down to crush his burned hands. He screams, and the din echoes in the vault. With a snarl, I hurl him to the ground in front of the fireplace, and there is a sharp crack as his knees strike the flagstones.

"Look into those flames, supplicant!" I snap, growling in his ear, "Raise your head, look!"

The boy is shuddering from the pain... tears blur his eyes as he raises his head to look into the fireplace. The flames cast his face in a red, gaunt glow...

"Is that what you wish to hold, supplicant? Is the shaping of flames what stirs your heart? Know that flames can burn, and if you would learn their power, you must suffer their touch."

The boy is silent, staring into the flames. He seems mesmerized. His tears have dried in the heat, and the shaking is gone. The flames are his focus. He is not LISTENING to me, he has never LISTENED. The fury washes over me.

"If that is what consumes you, enough for you to intrude upon my meditations, then I shall teach you of the shaping of flames, supplicant."

My hand lashes out again and clamps onto the boy's wrist. He howls as I drag him closer to the fireplace, then thrust his hands into the coals - there is a crackling, a hissing of burning flesh, and his screams - so terrible, yet -

"To learn, you must suffer, supplicant. You must allow yourself to be burned by the power of that which you wield. Know its torment, and you shall know how to use it against your enemies."
My vision cleared, the memory streaming away like smoke. Ignus was hovering above me, his head cocked to one side, and an insane, blackened grin smeared across his face...
"Masssster... Ignusssss hasss NOT forgotten your teachingsss..."