Part 43: Mt. Battle: 100-Battle Challenge (Battles 91-100)
Mt. Battle: 100-Battle Challenge (Battles 91-100)
You are given 5 continues, and can win one additional continue for each battle you complete. Two versions of these battles exist, with differing teams: a Single Battle (1v1), and a Double Battle (2v2). I highly recommend the Single Battle, for the sake of making things go faster.
Between battles, you have the opportunity to switch Pokémon. Battles are conducted by selecting three of the six Pokémon in your party; your opponent does the same for their party.
For these teams, I'm not going to bother to put their level; it scales up to the highest level Pokémon on your team.
Battle 91:
COOLTRAINER CRUIK
Entei
Golem
Muk
Torkoal
Manectric
Tentacruel
A rather Water-weak team, save for Tentacruel. Ground-type attacks do wonders even more so.
Battle 92:
HUNTER PAREL
Swampert
Alakazam
Ludicolo
Walrein
Golduck
Exploud
Pretty much in order of how big a threat each is. The double-weakness to Grass helps for taking out Swampert, though.
Battle 93:
ATHLETE NOMOL
Raikou
Ninetails
Weezing
Shuckle
Armaldo
Xatu
An unprepared team could easily be swept by this team's Raikou. Great Speed and Special Attack make it a formidable foe.
Battle 94:
FUN OLD LADY DESOR
Meganium
Typhlosion
Feraligatr
Espeon
Umbreon
Pinsir
The final evolutions of the Johto starters (or initial Snags), your starter Pokémon, and... a Pinsir. Yup.
Battle 95:
GLASSES MAN ELDAN
Latias
Ursaring
Houndoom
Miltank
Electrode
Gyarados
Latias is a strong legendary Psychic/Dragon Pokémon. Forming a duo with Latios, this one is the more wall-ish one, though both are capable of being potent Special sweepers.
Battle 96:
BODYBUILDER ELDORA
Suicune
Ampharos
Claydol
Stantler
Porygon2
Donphan
I'm really not sure how a coherent strategy is to come of this team, but still... Porygon2's Trace ability will copy the ability possessed by whatever Pokémon you have out. Suicune can sponge up hits, so try to induce status or pound it with Electric or Grass attacks.
Battle 97:
HUNTER LISAN
Metagross
Cradily
Machamp
Skarmory
Rhydon
Hariyama
A good number of walls on this team.
Battle 98:
TEACHER MASSI
Latios
Kingdra
Flygon
Altaria
Salamence
Sceptile
Dragons, tons of dragons. Everything but Sceptile is weak to Dragon-type attacks. Everything but Kingdra is weak to Ice-type attacks, and of those, all but Sceptile are doubly-weak. Don't let that fool you, though. These dragons are fast, and can hit quite hard.
Battle 99:
COOLTRAINER TYNAN
Heracross
Wobbuffet
Milotic
Dodrio
Cacturne
Sableye
Remember, Wobbuffet prevents normal switching. The team is diverse, but the weaknesses are manageable.
Battle 100: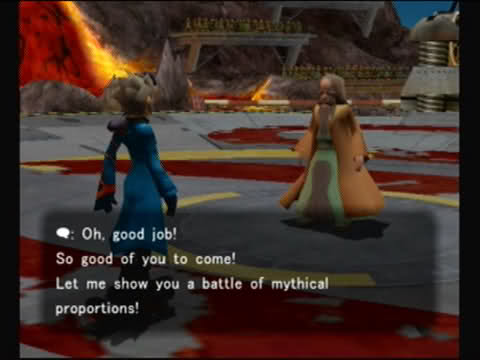 MT.BTLMASTER INFIN
Gardevoir
Altaria
Kyogre
Crobat
Magneton
Aggron
INFIN: You've become a new legend!
Ooooooh boy. Altaria is the least of your troubles; Ice will do it in. Magneton and Aggron are susceptible to Ground and Fighting, though Crobat and Altaria are immune to the former. Gardevoir may need one more hit than you expect it to take to bring it down. The big beast of this team, however, is Kyogre. The legendary Pokémon associated with Pokémon Sapphire, Kyogre is a leviathan with a powerful movepool. Its STAB Water attacks are boosted further by its Drizzle ability: what Sand Stream did for Sandstorms, Drizzle does for rain. If it comes out, try to concentrate your attacks on it.
_________________
So, what reward do you receive for putting in hours upon hours of battling into this mode? Besides a bunch of Poké Coupons, useful for buying items in the Story Mode (and then trading them to your GBA cartridge, presumably), each of the Pokémon in your party are decorated with a ribbon, to show they participated in this 100-battle challenge. You also get one last Pokémon: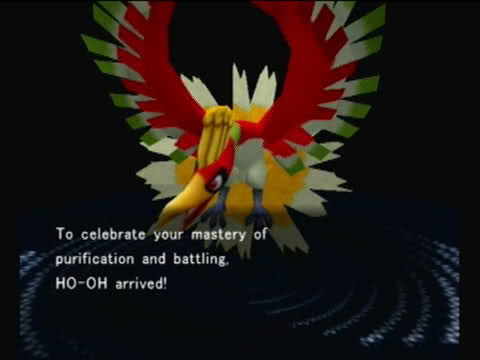 HO-OH (OT: MATTLE, ID No. 10048) (Lv. 70, Poké Ball): Recover, Fire Blast, Sunny Day, Swift
There's one more bonus update coming. The last Pokémon Poopsock is going to be in that post, listing the natures and IVs of the Shadow Pokémon yet unlisted, as well as the Pokémon used during the LP and a few other closing details.