Part 53
ONWARD TO MOSSDEEP CITY GYM!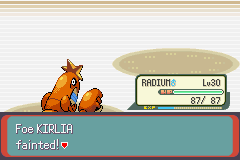 Hahaha, using Calm Mind several times in a row isn't that effective when I'm whacking you with Knock Off.
Radium the Crawdaunt has a slight problem though. His best stat is Attack. However his current move set:
Knock Off
Bubblebeam
Protect
Leer
See the problem? What's more Crawdaunt doesn't learn any more physical attacks.
Time to remedy this real quick.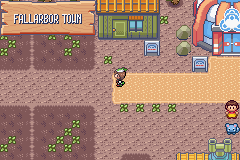 The Town full of Assholes!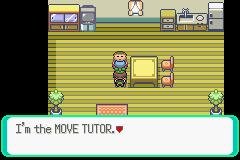 Why is everyone yelling at me?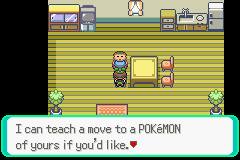 That's probably the only reason anyone ever visits your fat ass.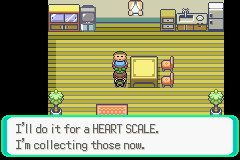 Deal!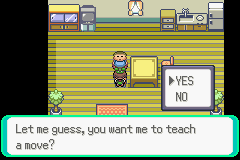 GODDAMMIT YES.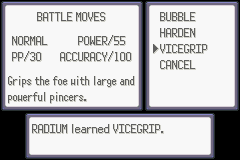 Radium remembered how to crush stuff with his claws!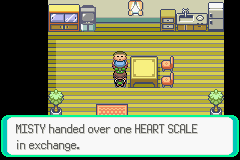 Fun Fact: Heart Scales are prized for their hallucinigenic properties.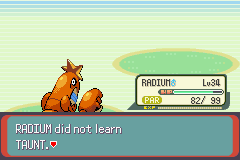 I had nothing I was willing to lose for this.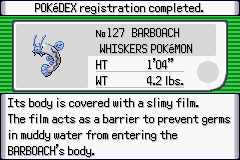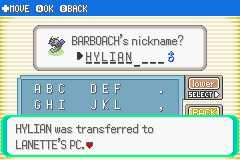 Also caught this while I was over there.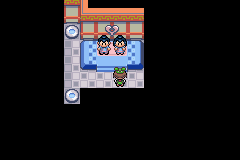 EVERYONE! BACK TO THE POKéMON GYM!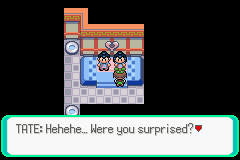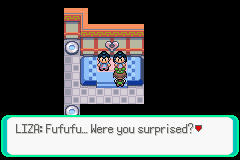 You're the evil one! The laugh totally gives you away!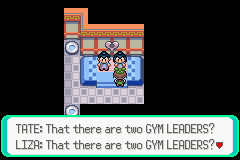 What? Good then. The Ampersand
didn't
mean what I thought it meant... aparently...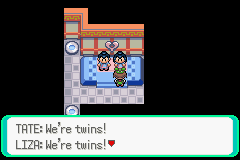 Bullshit you're CLONES because I said so!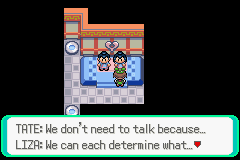 If you imagine they sound like the Siamese Cats from Lady and the Tramp it's kinda funny.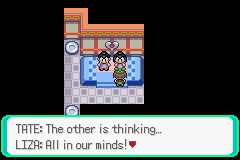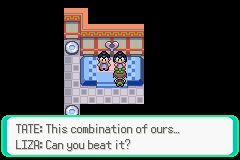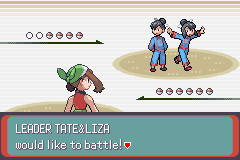 "Bring it!" Misty shouted to Thing 1 and Thing 2. "I'll easily kick the shit out of you!"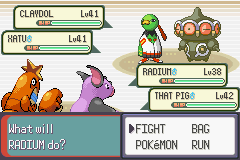 Clairvoyant Bird and Ancient Psychic Statue vs. Disgruntled Crawdad and Telekinetic Pig!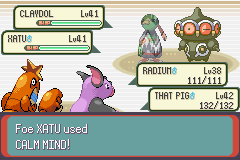 Calm Mind = Sp.Atk/Sp.Def upped one level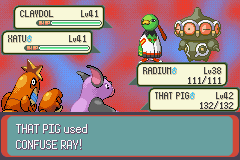 Unfortunately it still got an Earthquake out.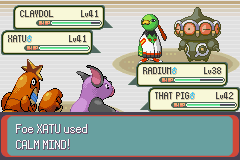 Oh god now it's up twice.

It didn't deal shitworth damage to itself, but at least I wasn't earthquake'd again.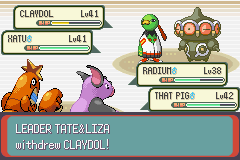 FUCK. That woulda been the clincher.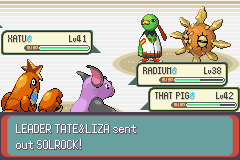 Hahahaha, oh man wrong move ya creepy little freaks.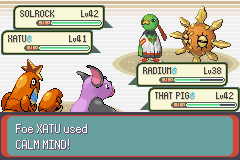 Oh no!

SP.Atk/Sp.Def upped three times!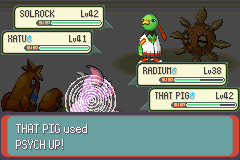 THAT PIG! INITIATE SUPER SECRET OPERATION: RAPE PSYCHIC GYM! GO!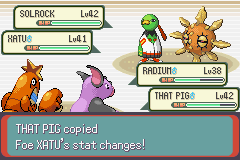 That Pig: 'sup Calm Minded three times buddy?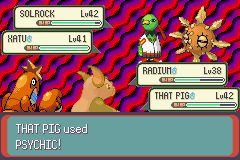 And this was my little plan for taking down this gym. Let the Xatu buff itself then let That Pig steal it and throw it right in it's creepy, non changing face.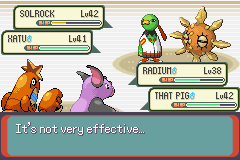 Ahahaha, check Solrock's damage from that noncritical "not very effective" attack.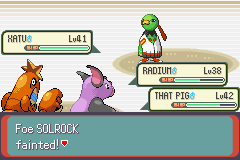 Another Psychic later and it drops like a sack of batteries,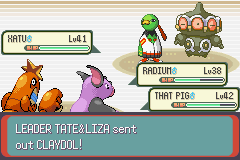 Welcome back buddy!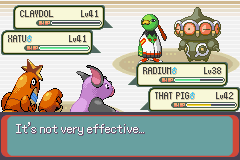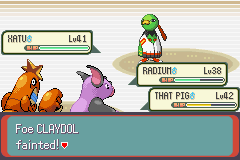 Oh the only way this would be even better is if...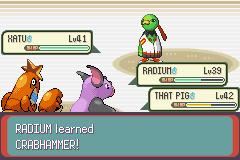 Ahahahahaha!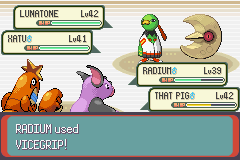 Hey Lunatone, s'up?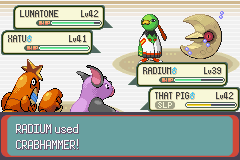 I dunno what Crabhammer is but damn if it wasn't effective. Also after this attack Xatu confused Radium and That Pig confused Xatu. Lunatone Hypnotized That Pig.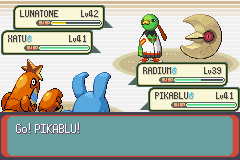 Go lil' surf bitch! Defend my honor!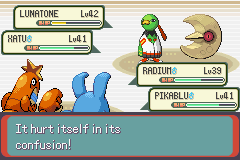 That was Xatu on that one heh.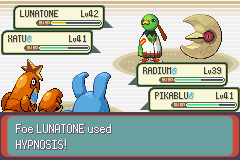 YOU LAZY SLACKER SURF BITCH. WAKE UP. Radium Crabhammers Lunatone out of vengeance.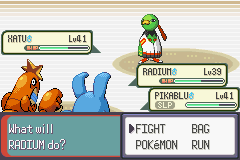 Hey there Xatu, all alone? Thanks for those stat boosts, by the way. But now whatcha gonna do?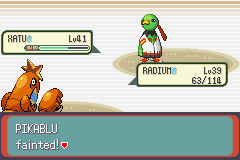 Oh.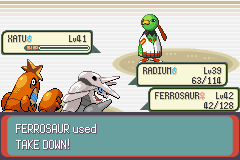 Well now ya went and made me have to call Ferrosaur.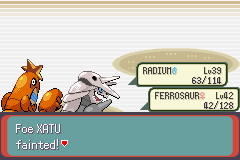 A Full body tackle from an Aggron, not a good way to go.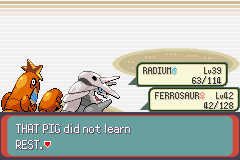 Again, I'm fairly happy with this moveset.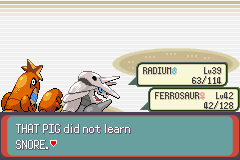 I said no to Rest, why would I want you?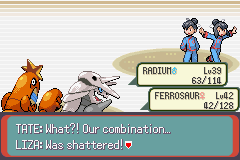 Along with your Xatu's ribcage!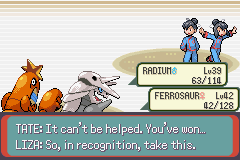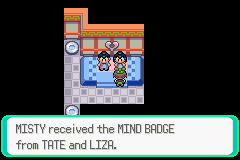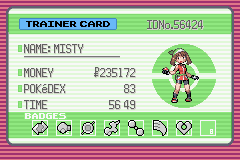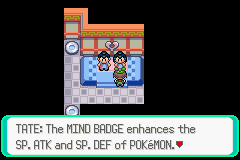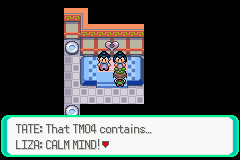 Woo!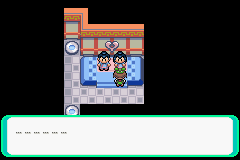 About time they fucking shut up. They had creepy voices I'd imagine.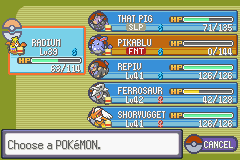 Not too shabby.

That makes seven of eight gym badges. GO US!