Introduction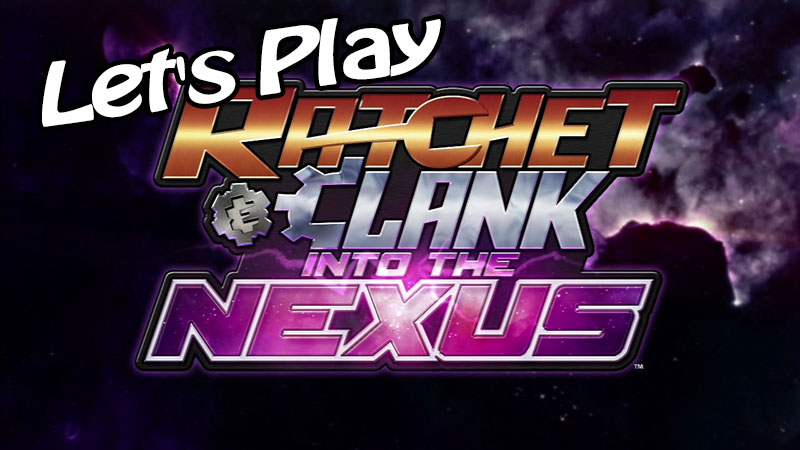 Ratchet and Clank went through some tough times, recently. First, there was the god-awful tragedy that was All 4 One, a game that was lousy with bugs, poor design choices, and sub-par weapons (but you don't have to take
my word
for that). Then there was Full Frontal Assault, which while it wasn't as reviled as All 4 One, it was met with sub-par reviews and a general dislike for being a tower defence game rather than a cartoony platformer. Add in the fact that the HD port of Deadlocked had really buggy cutscenes, and it looked like that Ratchet and Clank was going the way of the dodo.
Then, Insomniac announced Ratchet and Clank: Into the Nexus. Insomniac stated from the get go that it was a smaller scale game, with the intention of only lasting a few hours. The trailer showed promise. The gameplay looked like the old games, it had humor, AND it had the one good thing that came out of All 4 One (the art direction). I was excited. I was ESTATIC. The more I saw of this game, the more hyped I got. So imagine my disappointment when this game ended up being a complete and utter let-down.
Nah, I'm just fucking with you. This game's awesome. It controls tight. Every weapon feels useful. Mr. Zurkon is back and he's at his best in this game. The Clank segments are actually really fun and well-thought out. Despite the game's length, it doesn't feel rushed. It's not the BEST Ratchet and Clank, but it's a very, VERY good one, and I'm excited to be showing it off for you all.
Like my other Ratchet and Clank Let's Plays, this will be a comprehensive, 100% run, at least showing off every weapon as well as collecting all the gold bolts and RYNO schematics. At the end I'll show off a bit of the challenge mode of the game.



SPOILER ALERT: RED




Youtube
Hosted

Youtube
Uncut
Hosted

Youtube
Uncut
Hosted

Youtube
Uncut
Hosted

Youtube
Uncut
Hosted

Youtube
Uncut
Hosted

Youtube
Uncut
Hosted

Youtube
Uncut
Hosted

Youtube
Uncut
Hosted

Youtube
Uncut
Hosted

Ratchet and Clank
by us two idiots.
Ratchet and Clank
by Moominbiscuit. Archives upgrade are required, but if you have it then you should watch it.
Ratchet and Clank: Going Commando
by us two idiots again.
Ratchet and Clank: Going Commando
by two former Insomniac developers.
Ratchet and Clank: Up Your Arsenal
by the Insomniac dudes again.
Ratchet and Clank Future: Tools of Destruction
by us two idiots AGAIN.
Ratchet and Clank Future: Quest for Booty
by just me this time.
Ratchet and Clank Future: A Crack in Time
by us two idiots YET AGAIN.
Ratchet and Clank: All 4 One
by us two idiots plus two other idiots.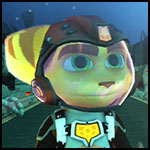 Ratchet is the hero of the game yet again. Quick rundown on his backstory: Former jerk turned hero, Ratchet is a Lombax, a race of beings who locked themselves away in another dimension to escape the wrath of Emperor Tachyon. He's been looking for a way home ever since, but now he has a pretty good life going here. Oh, and Talwyn Apogee is his girlfriend now.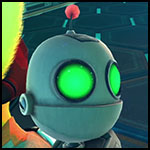 Clank is a robot buddy who has helped Ratchet save the galaxy time and time again. His body was built on Quartu, but his soul was created in the Great Clock, a megadevice built in the exact center of the universe (give or take 50 feet) that helps stabilize time. He's buddies with the Zoni, the beings who run the clock, and was supposed to be its' caretaker, but decided he wanted to hang out with Ratchet instead.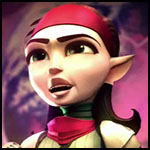 Talwyn is the child of Max Apogee, who was a brilliant explorer. While Max's whereabouts are (if you didn't listen to the radio in Crack in Time) unknown, Talwyn is right here in the Polaris galaxy, heading up the Polaris Defence Force and making smooches with Ratchet. Her best friends are Cronk and Zephyr, the most grandpaiest of grandpa robots you'll ever see.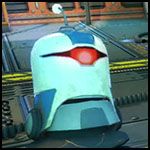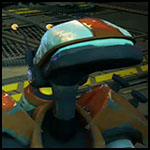 Cronk and Zephyr are the robotic warrior friends of Talwyn. Combined, they have seen over 600 space battles, and even helped bring down Emperor Tachyon a while back. They're old, like to nap, and basically are the most grandpaiest robots ever. They're helping Ratchet and Clank deliver Vendra Prog to the proper authorities, hopefully so she can't do any more harm then she's already done.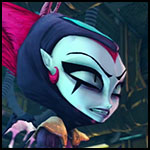 The brains behind the Prog crime siblings, Vendra has a bit of a reputation about her. Multiple people have accused her of being a Witch, and even those who haven't admit that she's really, really creepy and weird. Vendra was recently caught, however, and is currently being transported on the Nebulox for her many, varied crimes.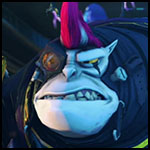 Neftin is the brawn behind the Prog siblings. Vendra claims that Neftin has never, not once, lost a fight. He managed to escape the authorities when his sister was arrested, and his current whereabouts are unknown. Despite being a mountain of muscle, he seems to have a healthy dose of fear of his sister.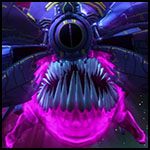 Little is known about the being known as Mr. Eye. Other than he's the leader of the Nethers, and the source of Vendra's witch powers, this skyscraper-sized monster isn't exactly keen on sharing details. At least, not in any language anybody can understand.