Part 8: Introduction
Let's All Play Sherlock Holmes: Consulting Detective - The Tin Soldier
Introduction

"Inspector Smythe from Scotland Yard has informed Watson and me of the murder of General Armstead, a Tontine ticket holder. Of course, I was aware of the Tontine – a lottery that was set up to aid the veterans of the Battle of Waterloo. Something about this case intrigues me. Perhaps it ís that there are only five surviving ticket holders here in London? Perhaps it ís that the General was about to publish a scintillating addendum to his infamous book on treasure."
Newspapers
The remastered version of the game has condensed newspapers designed specifically for this case.
Imgur album:
https://imgur.com/a/bBOE3Qu
Friday, May 30th 1890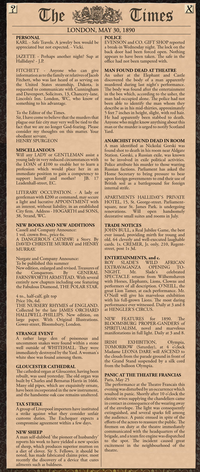 Sunday, June 1st 1890

Wednesday, June 4th 1890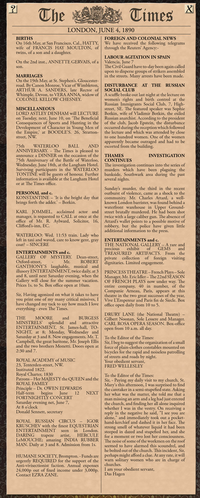 Tuesday, June 10th 1890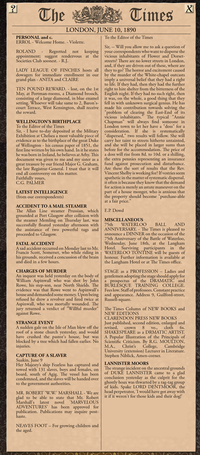 Notebook (New clues will be spoilered.)
1. The detectives learn that General Farnsworth Armstead, one of the six surviving Tontine Ticket holders, has been murdered. The remaining ticket holders are Robert Juergens, Anita and Clara Thomas, William Roland and Peter Dudley. Lastly, they learn that he was working on a revision to a book for his publisher and hear the circumstances of his death.
Locations
Ainstree, Dr. A. - World authority on tropical diseases.
Armstead, General (Sennett, David) - Tontine Ticket holder. Decorated soldier of foreign wars and author of "Treasure of the Conquerors".
Banks - Bank Of England - Established in 1694, the Bank of England is the only financial institution in the city with the legal authority to issue paper money. In 1834, it moved to it's current building located on Threadneedle St.
Cabot, Carson - Carson Cabot is a collector and trader of gems.
Cobbett, Wentworth - Local English poet of little renown.
Dudley, Peter - Tontine Ticket holder. Mr. Dudley associates with company that is at best questionable.
Ellis, Henry (Newspaper - London Times) - Baker Street Regular.
Embassies - French Embassy - The French Embassy is situated on the southern end of Hyde Park.
Embassies - Russian Embassy - The current ambassador is Staal'Egor Egorovich, an austere and gloomy sort suffering from bouts of melancholy.
Fitch, Malcolm - Malcolm Fitch is the son of Lord Fitch and the grandson of the Earl of Leicester.
Goldini Restaurant - Located on Gloucester Road. Watson and I are quite fond of their duck.
Hall, Edward (Old Bailey) - Baker Street Regular.
Hogg, Quentin (Newspaper - Police Gazette) - Baker Street Regular.
Hotels - Bridgehouse Hotel - Modest accommodations for businessmen and travellers. Located near Hatham-grove.
Hotels - Dekeyser's Royal Hotel - A fashionable stopping over spot for foreign dignitaries. Well known in London for their superb watercress sandwiches.
Hotels - Grand Hotel - The Grand Hotel is located in Charing-cross. It is one of London's most recently built hotels.
Hotels - Langham Hotel - The Langham Hotel is located in the West End of London. It boasts the city's most elegant accommodations. The Tontine banquet is to be held there.
Juergens, Robert - Tontine Ticket holder.
Lacey, Booth - A common beggar, but very clever indeed. He has been known to use numerous disguises in his endeavour to bilk the public out of their tuppence.
Lestrade, Inspector (Scotland Yard - Criminal Investigations) - Baker Street Regular.
London Bridge Station - The railway station located in Bermondsey. It is the end of the line for the London, Brighton, and South Coast Railway.
London Library - Baker Street Regular.
Meek, Sir Jasper (St. Bartholomew's Hospital) - Baker Street Regular.
Murray, H.R. (Scotland Yard - Criminology Lab) - Baker Street Regular.
Norgate and Co. - Wells Osbourne is a senior partner of Norgate and Company, a London publisher. Recently they have published more than their share of controversial books. They are located at 36 New Oxford-street, WC.
O'Brian, Disraeli (Office Of Records) - Baker Street Regular.
Pike, Langdale (Society Club) - Baker Street Regular.
Princess Theatre - The Princess Theatre showcase splendid productions from France. The box office is open daily from 10 a.m. to 5 p.m.
Quaritch's - A pub on the West End. Once temporarily shut down when a patron found a friend cockroach in his fish and chips.
Red Bull Inn - The Red Bull Inn is a working class pub. It is located on the road to the Priory School.
Rowland, William - William Rowland is a Tontine Ticket holder.
St. Mary's Church - St. Mary's is an Anglican church on Finsbury Square. It is known for its mid-morning ministries to the poor and hungry.
Shinwell, Porky (The Raven and Rat) - Baker Street Regular.
Shoemaker, Lloyd - A former society columnist for several of the London "garbage papers." He was forced into retirement in 1877 when Langdale Pike began gaining in popularity.
Somerset House - Baker Street Regular.
Thomas, Anita/Claire - Anita and Claire Thomas are Tontine Ticket holders.
Vegetarian Restaurant - Located on the backside of Jabez Wilson's Pawn Shoppe. They are known for their cream of leek soup.
Time to vote!
You can choose up to, and including, five more locations for the detectives to visit. You're also free to send the Irregulars to one location.
It's too early to call for an end to the case.
Voting will end Sunday, 26th April 2200 GMT