Part 14: Introduction
Let's All Play Sherlock Holmes: Consulting Detective - The Mystified Murderess
Introduction

"Francis Nolan is found hovering over the body of her lover, Guy Clarendon, in a London hotel with a pistol in her hand. She's convicted of Guy's murder, despite having no memory of ever being there, nor purchasing the gun that was bought in her name. She insists that she's innocent as Holmes and Watson take on the case to see if she is telling the truth. Along the way, Holmes and Watson learn about Guy Clarendon's dark past."
Newspapers
The remastered version of the game has condensed the amount of newspapers for this case and combined material into new editions.
Imgur album:
https://imgur.com/a/PU5F1hm
Thursday, June 26th 1890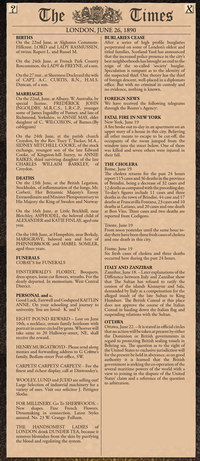 Saturday, June 28th 1890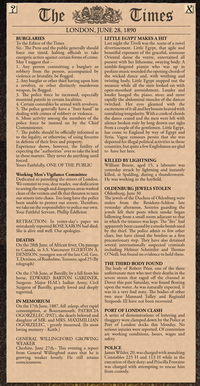 Thursday, July 3rd 1890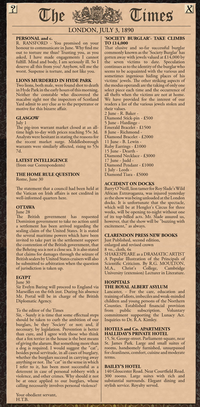 Friday, July 4th 1890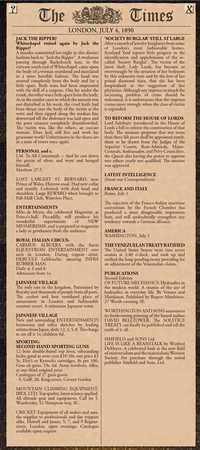 Notebook (New clues will be spoilered.)
1. Gerald Locke visited the detectives at Baker Street, beseeching Holmes to look into the murder of Guy Clarendon at Halliday's Private Hotel. He believes that Frances Nolan, the woman being held at Old Bailey, could not possibly have commited the crime.
Locations
Baker, Roger - Nothing on file.
Banks - Cox & Company Bank - A well-respected financial institution located in Charing Cross. Watson keeps all of the notes on my cases in a dispatch box in their vault.
Clarendon, Sir Francis - Sir Francis jointly owned several diamond mines in South Africa with Hiram Dearth, until Dearth's death in 1881. He recently bought out all of his former partner's shares from the widow, Bessie Dearth. Sir Francis and his wife, Gertrude have one son, Guy.
Davenport, Hiram - Davenport specializes in setting up and administering estates. Never quite made the cut to barrister.
Dearth, Bessie - Bessie Dearth is the wife of the late Hiram Dearth who made his fortune harvesting diamonds from mines in South Africa. Dearth was in partnership with Sir Francis Clarendon.
Ellis, Henry (Newspaper - London Times) - Baker Street Regular.
Goff, S. - Purveyor of used guns at one-third the original price. Located at 28 King-street, Covent Garden.
Hall, Edward (Old Bailey) - Baker Street Regular.
Hardinge, H.C. - H.C. Hardinge is a distributor of excellent Harris tweeds in the London area. He moved back here in 1886 after residing for several years on the Hebrides island of Lewis-with-Harris.
Hogg, Quentin (Newspaper - Police Gazette) - Baker Street Regular.
Hotels - Halliday's Private Hotel - Halliday's Private Hotel, located on Little George Street.
Ignacio's - A restaurant in the northwest sector of London which serves delectable Italian cuisine.
Ivy Plant Pub - Located in Westminster, around the corner from Godolphin Street.
Judd, Nancy - Nothing on file.
Kilgore, Claude - Kilgore served three years in Pentonville Prison for illegal gambling. Was cell mates with James Ryder's friend, Mausley.
Leeds, Sir Sanford - Sir Sanford Leeds is an avid croquet player. He is married to the daughter of the Duke of York.
Lestrade, Inspector (Scotland Yard - Criminal Investigations) - Baker Street Regular.
Lewin, Bradford - Bradford Lewin was educated at Oxford University and now advises the Queen on foreign affairs.
Locke, Gerald - A clerk at Finsterwald's Florist and the suitor of Frances Nolan.
London Library - Baker Street Regular.
Mason, Dr. Jerrold - Nothing on file.
Meek, Sir Jasper (St. Bartholomew's Hospital) - Baker Street Regular.
Murray, H.R. (Scotland Yard - Criminology Lab) - Baker Street Regular.
Nolan, Frances - Younger sister of Loretta Nolan (see Loretta Nolan).
Nolan, Loretta - Frances and Loretta Nolan are the only surviving heirs of Sir Malcolm Nolan, founder of Aberdeen Navigation. On November 18, 1868 their parents were killed when a bomb was hurled into their carriage. Miraculously, Loretta Nolan, aged 4, was uninjured.
O'Brian, Disraeli (Office Of Records) - Baker Street Regular.
Oldwine, Cornelius - Born into a class of idle aristocrats, Cornelius inherited a huge sum at the passing of his mother, Dame Crabtree, daughter of the late Lord Crabtree.
Quaritch's - A pub on the West End. Once temporarily shut down when a patron found a friend cockroach in his fish and chips.
Pike, Langdale (Society Club) - Baker Street Regular.
Richmond, Otis - Otis Richmond is a self-made millionaire. His entire fortune comes from his railroad company holdings. He's retired and, these days, spends most of his time playing cribbage and throwing lavish parties.
Robarts, Wilfred - A noted London barrister. He tends to win more of his cases through courtroom theatrics rather than hard presentation of the facts.
Shinwell, Porky (The Raven and Rat) - Baker Street Regular.
Shipping - Aberdeen Navigation - the late Sir Malcolm Nolan founded the Aberdeen Navigation Company.
Somerset House - Baker Street Regular.
Trevelyan, Dr. Percy - Dr. Trevelyan was a practising physician at the Mesmer-Braid Institute from 1878 to 1886 where he specialized in treating neurosis through hypnosis. He currently conducts a private practice close to his home on Brooke Street.
Vegetarian Restaurant - Located on the backside of Jabez Wilson's Pawn Shoppe. They are known for their cream of leek soup.
Time to vote!
You can choose up to, and including, five more locations for the detectives to visit. You're also free to send the Irregulars to one location.
It's far too early to call for an end to the case.
Voting will end Wednesday, 13th May at 2200 GMT.