Part 34: Update #1
Let's All Play Sherlock Holmes: Consulting Detective - The Murdered Munitions Magnate (Update #1)

Notebook (New clues will be spoilered.)
1. Richard Allen paid a visit to the detectives at 221b Baker Street. His brother,
Courtney Allen
, was the president of the
Grant Arms Company (Corporate Offices)
. Courtney was found shot to death in the alley behind his office on the evening of March 9th.
Scotland Yard
put it down to a simple robbery by a person, or persons, unknown.
According to Richard, Courtney was a dynamic and charismatic individual who was always busy and on the move. Apparently, no woman could resist him. Even though he was married to
Beatrice Allen
, who is inheriting Courtney's stock, he was known to have a string of affairs with different women. None of these women can be named at this time.
The company's second vice-president,
Philip Marlowe
, has now taken over the presidency of the company. He was handpicked as the successor by Courtney himself. The transfer of power should have gone to the senior vice-president,
Lord Ragland
(who runs the
(Grant Arms Co.) Deverall Street Plant
. But according to Richard, Lord Ragland is a brilliant technician but a rather inept businessman.
The personal effects found on Courtney were a few folders, a keychain, his gold wedding band and a small notebook. His pocket watch was missing as well as the contents of one of the files labelled "SP 10". There were two entries in the notebook made on the day of Courtney's death, One is "Captain Egan - 8:30 PM" and the other is "Plant, 8 AM, surprise!" There is also a note in the back of the book, written in Courtney's hand, which says "Meet me tonight at
Spaniard's (Inn)
at 10 o'clock" followed by the initials "A.M."

2. Courtney Allen visited Captain Egan's office eight months ago with a design for a revolutionary new naval gun. It was approved by the navy and considered "most secret". Allen failed to appear for the meeting with Egan on March 9th, but we already knew the reason why. Captain Egan had no idea what the meeting was about but he still had possession of the wire that he received:

"Meet tonight, 8:30, your office. Call out the guards, "Pounce" at 10."

Egan believes that Allen was worried about the security surrounding "Project #10" so he put his best men onto it right away. They discovered that Richard Camp, a development engineer on Project #10, was bringing boxes and bundles to the French Embassy. The French Military Attache, Emile Zobar, has an office that is located within the embassy. Egan believes that Allen had, and still has, information that on Camp that implicated him in a breach of security regarding "Project #10". Captain Egan had a meeting with Lord Ragland, who is the head of the project, on March 11th and he was assured that Camp's security fails were unfounded. But as a precaution, Lord Ragland also assured him that Camp would be removed from the project.

Captain Egan believes that other governments would have a lot of interest in this new naval gun and because of this, he is currently investigating important military attaches who are currently in the city. These people are: Emile Zobar, Frederick von Schulenberg, Hector Del Guerra and Alexi Meshkoff.

3. We were greeted by Walter Keyhoe at the Deverall Street Plant, he informed us that Lord Ragland wasn't currently available but he was able to meet with us in his place. Keyhoe said that Courtney Allen visited the office on the morning of March 9th to see Lord Ragland, but he wasn't in the building at that time. He had no idea what the meeting would have been about but suspected that it may have had something to do with "Special Project #10". Lord Ragland didn't show up for the meeting so Allen told Keyhoe that "he had some details to attend too", Keyhoe returned to the plant at this point. A quarter of an hour later, Allen called Keyhoe and then handed him a note which was addressed to Lord Ragland, claiming that it had arrived when Keyhoe was working down on the line. He was very adamant that Lord Ragland should receive the letter and also expressed that he didn't want his visit to the office to be known.

We were referred to Richard Camp to find out more information about "Special Project #10", but he had left the plant earlier today as he wasn't feeling well.

Walter Keyhoe is in the directory but his residence leads to a dead end: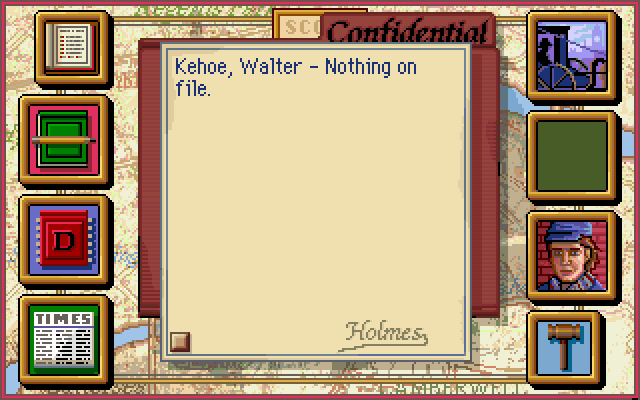 4. Sir Jasper Meek has informed us that Courtney Allen was shot in the chest from around two feet away. There were extensive powder burns on his overcoat and it seems like it was a larger calibre due to the "massive" exit wound.

5. We spoke to Beatrice Allen who spoke very highly of her husband, she has no idea about his business and doesn't believe that anyone would want to murder him.

6. Holmes asked Philip Marlowe about the murder of Courtney Allen. Marlowe was much more concerned about the missing plans to "Secret Project #10". He has no idea what has happened to them but has informed us that Scotland Yard is on the case. Marlowe told us that n the evening of March 9th, he was having dinner with Sir Clayton Partridge after playing a round of golf earlier in the day. Marlowe also confirmed the details that surrounded his promotion, the understanding that he would take over after Allen's retirement is the key reason why he joined the company three years ago.

Locations
Admiralty, The - The Admiralty is located in Whitehall. All affairs of the Royal Navy and matters related to maritime activities fall under their jurisdiction. They are one of the most well-organized departments of our British Government.
Allen, Courtney & Beatrice
- Courtney Allen is the president of The Grant Arms Company, England's largest small arms and artillery manufacturer. He is married to the former Beatrice Luce.
Camp, Richard - Nothing on file.
Covent Garden Theatre - The Covent Garden Theatre is located near Covent Garden Market, on Bow Street in Westminster. It is a magnificent edifice that used to be devoted to Italian opera. As of late, it has been host to operas and fancy balls of all sorts. A favourite place of mine to hear Wagner.
Del Guerra, Hector - Hector del Guerra is the military attache for the Spanish Embassy here in London.
Egan, Captain Derrick
- Captain Egan is the artillery officer for The Admiralty.
Ellis, Henry (London Times) - Baker Street Regular.
Embassies - French Embassy - The French Embassy is situated on the southern border of Hyde Park.
Embassies - Russian Embassy - All Russian immigrants must register here upon their arrival in London.
Embassies - Spanish Embassy - Nothing on file.
Grant Arms Co. - Corporate Offices - Grant Arms has been manufacturing firearms since the early 1800s. They began operations with the fashioning of an improved breech-block rifle which they made available to the public with a generous supply of the newly invented smokeless gunpowder.
Grant Arms Co. - Deverall Street Plant
- See above.
Hall, Edward (Old Bailey) - Baker Street Regular.
Hogg, Quentin (Police Gazette) - Baker Street Regular.
Keen's Pub - Keen's is a quaint corner pub that serves a delectable kidney pie.
Lestrade, Inspector (Scotland Yard - Criminal Investigations) - Baker Street Regular.
London Library - Baker Street Regular
Marlowe, Philip
- Nothing on file.
Meek, Sir Jasper (St. Bartholomew's Hospital)
- Baker Street Regular.
Meshkoff, Alexi - Alexi Meshkoff has been the Russian attache at the Russian Embassy since March of 1886, when Boris Androchev, his predecessor, was accused by his government of spying and promptly summoned home.
Murray, H.R. (Scotland Yard - Criminology Lab) - Baker Street Regular.
O'Brian, Disraeli (Office Of Records) - Baker Street Regular.
Partridge, Sir Clayton - Sir Clayton is a scholarly gentleman who is also an excellent hunter. Ironically his game of choice is partridge.
Pike, Langdale (Society Club) - Baker Street Regular.
Ragland, Lord Robert - Lord Robert Ragland is a collector of antiquated firearms. He is the son of the Duke of Balmoral, a noted art collector and the former Secretary for Foreign Affairs.
Raven & Rat Inn (Shinwell, Porky) - Baker Street Regular.
Somerset House - Baker Street Regular.
Spaniard's Inn - Spaniard's is a small elegant restaurant across from St. James Square. Several years ago, Watson and I slipped away in the middle of many a dreary day to dine on their paella.
Tobacconists - Brady's Smoke Shoppe - Brady's Smoke Shoppe caters to an exclusive clientele. They are well-stocked with expensive foreign brands.
Tobacconists - Dunhill's Smoke Shoppe - Dunhill's is located on Regent Street. They carry an adequate stock of Watson's Ship tobacco, but they rarely have my beloved shag on hand. An excellent source, however, for sealskin tobacco pouches.
Tobacconists - Friborg & Treyer - Friborg * Treyer has a most impressive array of chewing tobaccos and snuff.
Tobacconists - Simpson's Cigar Divan - Simpson's specialities are cigars imported by the Dutch from their East Indian colonies. I have had several riveting conversations with Leonard Simpson, the proprietor, about distinguishing the brand of cigar simply by studying the ash.
Tobacconists - Wolf's Tobacco - Wolf's Tobacco is located at Waterloo Place, across from Dunhill's. Wolf's speciality is in Grosvenor mixture and Cavendish, neither of which merits my excellent pipe.
Vegetarian Restaurant - Located on the back side of Jabez Wilson's Pawn Shoppe. They are known for their cream of spinach soup.
von Schulenberg, Frederick - Count Frederick von Schulenberg is the Military Attache for the German Embassy here in London.
Zobar, Emile - Emile Zobar is the French Military Attache for the Embassy here in London.
Time to vote!
You can choose up to, and including, five more locations for the detectives to visit. You're also free to send the Irregulars to one location.
It's too early to call for an end to the case. We have visited
two
out of
seven
key locations.
Voting will end on Saturday 11th July at 2200 GMT.