Part 49: Update #4
Let's All Play Sherlock Holmes: Consulting Detective - The Banker's Final Debt (Update #4)

Notebook (New clues will be spoilered.)
1. Inspector Gregson from
Scotland Yard
surprised us with a visit to inform us of a very troubling murder.
Oswald Mason
, the chief accountant for the
Bank Of England
, was found murdered at his home at 10 pm the previous night by his wife. On the surface, there seems to be no motive and he appears to be a simple, hard-working man. Gregson was here at the request of the exchequer as it seems like Mason was doing important work for
The Treasury
. The chancellor wants to make sure that Mason's death has nothing to do with the work that he was involved with. At this point, there are no connections with the murder, to the Yard, it appears like a commonplace murder.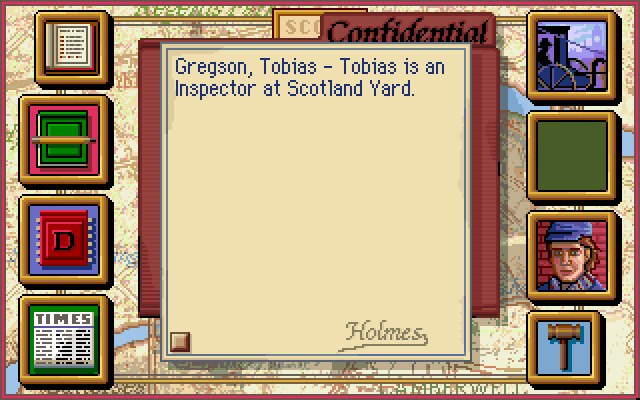 2. Holmes spoke to Sir Adrian Malmquist at The Treasury about the murder of Oswald Mason. Malmquist finds the murder inconvenient as Mason was set to give him a report regarding some embarrassing irregularities. Even though the investigation was dealing with large sums of money, Malmquist believes that murder over this report doesn't make any sense as his death will only delay the investigation and not stop it from happening. Besides this, all of MAson's paperwork has been accounted for.
The Treasury relied on
Bacon and Company
for many of their investments, they are one of the largest investment houses in London. It came to The Treasury's attention that six months ago, Bacon and Company were under deep financial straits and do not own sufficient liquid assets to meet their liabilities. They had invested in too many securities that were weighing down the London Stock Market. Her Majesty's government and
Lionel Foxcroft
, the Governor of the Bank Of England, guaranteed to cover the discredited securities. But when their books were audited it was discovered that they were investing in more securities than they were reporting, over £1,300,000 worth. Oswald Mason was attempting to trace the additional securities. Sir Adrian believes that the Bacon and Company directors,
Michael Essex
and
Mitchell Yourke
, are hoping to make a profit out of all of this.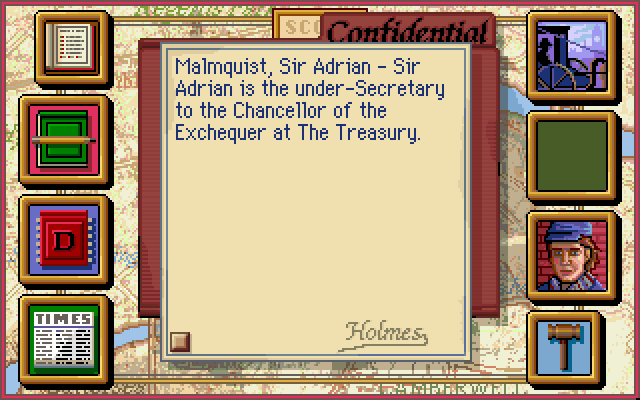 3. Lestrade believes that he has the case cracked as he believes this to be just a typical case of breaking and entering. He has informed us that entry was made into Mason's residence was through an upstairs window which was forced open. The intruder made his way downstairs and into the study where he encountered Mason, a fight ensued which lead to Mason's death and the intruder escaped through the study window. Nothing seems to have been stolen, all of the jewellery and heirlooms have been accounted for. The paper's that Mason was working on were sent to The Treasury and have all been accounted for. The Inspector hasn't yet found a motive for this incident at this point.
4. The detective paid a visit to Oswald Mason's residence and found Constable Parks awaiting them. He is awaiting the Yard to conduct a final investigation before he leaves the scene, he assures us that everything is in the same place as when he had found it the night before. Mason's body was found sprawled across a blood-covered desk and Parks believes that he was killed with a statue. He believes that the intruder entered the house through an upstairs window as it showed signs of forced entry. The intruder seems to have exited through the study window, there's a palm print in plaster residue on the window and there are pieces of plaster shards on the floor. Oswald was found by his wife when she had returned home from visiting her sister's,
Dahlia Farmer
, Parks was doing his nightly rounds when he heard Rose Mason screaming. Parks immediately covered up Oswald and had him sent over to St. Bartholomew's Hospital and then gathered up the paperwork and sent them to the Yard. The murder weapon is currently in the possession of
H.R. Murray
. Rose Mason is currently staying with her sister,
Dahlia Farmer
.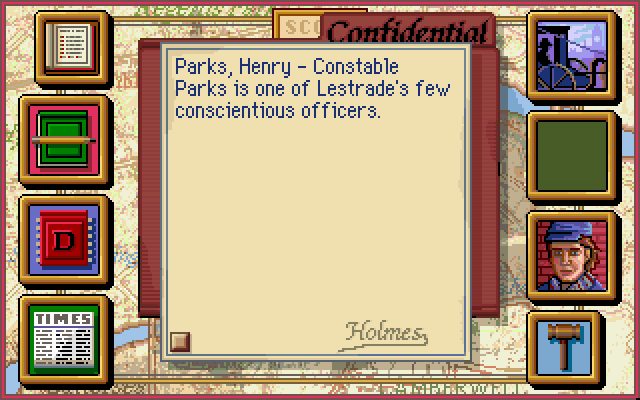 5. Watson consulted Sir Jasper Meek about his report on Oswald Mason. His body arrived at 0030 on the 11th of April, Mason was in his early forties and was in very good health. The cause of death was a blow to the side of the head by a heavy blunt object. Blood was discovered under Mason's fingernails which were of a different type to his own.
6. Mr Kimbel informed us that Oswald Mason was very well-liked at the Bank Of England, he had been working there for over fifteen years and was one of their most trusted employees. Kimble knew very little about Mason's work with The Treasury. One of their responsibilities is to oversee government audits and this was Mason's area and it was highly confidential. Kimbel only knows that Mason was working for the Chancellor Of The Exchequer and we will need to speak to the Governor,
Lionel Foxcroft
if we have any further questions. After asking for permission to investigate Mason's office, Kimbel informed us that he was planning to have Mason's secretary,
Mabel Brown
, sort through his papers but he has given her the day off due to the current circumstances.
Holmes and Watson investigated Mason's office and discovered several things:
A bank statement which declared that on April 4th, Mason had withdrawn a personal cheque for £240.
Two tickets to travel to Greece with the
Aberdeen Nav Company
, purchased on the 28th of March.
A receipt from
Evenson & Company Gift Shoppe
for two statues, dated the 31st of March.
A bill from the
Langham Hotel
for £3. 6s.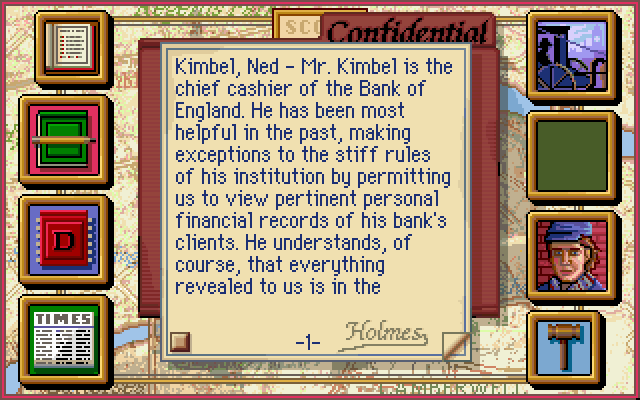 7. When the Irregulars visited Porky Shinwell they discovered that he didn't know anything about this case.
8. Witson visited Murray at the Criminology Lab, the murder weapon was a small statue of David and it still had bloodstains on it. It was one of two replicas that were sitting on the fireplace mantel.
9. Holmes met with Lionel Foxcroft, he informed us that only he and Malmquist knew about Mason's involvement with the investigation.
10. Watson was able to interview Rose Mason at Dahlia Farmer's residence and both of them were able to answer his questions. Rose visits her sister every Thursday evening to play whist, she didn't seem to think that any visitors were expected back at her home. Rose had returned home at 10 o'clock and that is when she found Oswald in the study. The place was in a mess, furniture was overturned and books had been strewn about. Oswald had bought Rose a Venus De Milo statue a week beforehand and had promised to take her on a special trip. She believes that it would have been to Paris as they saw the original Venus De Milo there on their honeymoon. The statue is currently broken into pieces.
11. The Mason's had been taking good care of Mabel Brown ever since her husband had died at sea three years ago. They had bought Mabel a statue for her birthday last week, which she had discovered that it had been broken into pieces when she returned home from work last night. Mabel seemed to think that it had fallen.
12. The shop owner of Evenson & Co. Gift Shoppe told us that Oswald Mason had ordered two Venus De Milo statues on the 31st of March. They delivered both statues for him, one to Rose Mason at their home address and the other was sent to Mabel Brown. The last three statues were sold to a gentleman on Wednesday. The owner offered to order more from,
J. Small & Co.
, the manufacturer of the statues.
13. We sent the Irregulars to the Langham hotel, they discovered that Oswald Mason only used their rooms for business meetings.
14. Mrs Small was in attendance when we visited J. Small & Company. The Venus De Milo statues have been very popular lately. Last Wednesday, A man from Southampton had purchased the last five statues. The other statues had been sold to Evenson & Company and the gift shop at the
British Museum
. Her late husband made fifteen of these statues three years ago but refused to sell them. She revealed to us that Jonathan Small had died a fortnight ago and that he wasn't a very reputable man. It seems like the barman at the
Red Bull Inn
knew him very well.
15. We arrived at the Small household, we have already discovered that Jonathan Small is now dead and his wife is currently running the business. Their landlady did reveal to us that Mr Small always returned home drunk from the pub and beat his wife regularly. Mrs Small was the one who took care of everything.
16. Henry Ellis revealed to us that Oswald Mason was known in the office for his work with the government, but what is known about it is that wasn't anything worth killing him over.
17. Our trip to Mitchell Yourke's residence was fruitless, he seems to have left for France this morning.
18. We spoke to Michael Essex about Oswald Mason's audit of
Bacon and Company
. He told us that if we had any questions then we should speak to his barrister,
Charles Dixon
19. Unfortunately, the Irregulars only found sweet fanny Adams at Quentin Hogg's.

20. The British Museum had already sold the last of their Venus De Milo statues. A "Mrs Smith" bought all five of the statues only yesterday. The attendant believes he has seen her on stage before, he assures us that her name isn't "Mrs Smith". Maybe we could find something in today's newspaper.

21. The barman at the Red Bull Inn told us a little more about "Jonny" Small. He wasn't surprised that Small came to a violent end as he was a wild one and always on the wrong side of the law. He always wondered where he came up with the money for his ceramics shop as he heard rumours about the Drummond Bank robbery as well as other heists. The word on the street is that his Rose killed Jonny with poison.

22. Watson visited the Aberdeen Shipping Company and got confirmation that Oswald purchased two tickets to board the "Grecian Queen", which was departing for Athens on April 21st.

23. Charles Dixon was currently unavailable, unfortunately. His associate assured us that Dixon wouldn't be available to us in any capacity for the foreseeable future.

24. Our visit to Bacon and Company was equally fruitless. Their employees have been advised to not say anything about these matters to anyone.

25. The Irregulars were sent to De Vries Diamonds and the lady there said that she recognized Nat Cook after the burglary. Two other people were involved too, the Irregulars seem to think that it was the "Three Musketeers".

Locations
Bacon and Company
- Bacon and Company is one of the largest investment houses in London. The government relies on them to handle many of their investments.
Banks - Bank Of England
- Established in 1694, the Bank of England is the only financial institute in the city with the legal authority to issue paper money. In 1834, they moved to their current building located on Threadneedle-street.
Blue, Violette - Nothing on file.
British Museum
- Founded in 1773 by Sir Hans Sloan, this great national museum and library is located on Montague-street. My first chambers were located on the same street, just around the corner.
Brown, Mabel
- Nothing on file.
Central Carriage Stables - Central Carriage Stables is located at 5 Grey's-road, WC. It is here that all of London's cabs are stabled and dispatched. This is a good place to find information about people's movements about the city.
De Vries Diamonds
- A reseller of gems, frequented by some notorious types. Mr De Vries makes it a habit of not inquiring as to the origins of the stones he buys. Last year a thief stole their entire inventory of gems. They have never been recovered.
Dixon, Charles
- Charles Dixon is a barrister who has occasionally represented the underworld, and has managed - with great success - to keep them out of their deserved place in prison.
Ellis, Henry
(London Times) - Baker Street Regular.
Essex, Michael
- Michael Essex is one of the directors of Bacon and Company, and has been for some forty-three years.
Evenson & Co. Gift Shoppe
- Watson claims that Evenson & Co. has the finest assortment of statuary and small gift items in London.
Farmer, Dahlia (Interview with Rose Mason and Dahlia Farmer)
- Dahlia Farmer is the former Dahlia Bloom. Her father, Phillip Bloom, was knighted years ago by the Queen. He is renowned for his lovely gardens at his home in Devonshire. Bloom and his wife, Cacile, have five daughters - each named after a flower.
Foxcroft, Lionel
- Lionel Foxcroft is the Governor of the Bank of England.
Gamble, Sandra - Nothing on file.
Hall, Edward (Old Bailey) - Baker Street Regular.
Hogg, Quentin (Police Gazette)
- Baker Street Regular.
Hotels - Langham Hotel
- The Langham Hotel is located in the West End of London and boasts the city's most elegant accomodations. A favourite place of the King of Bohemia.
J. Small & Co.
- Their miniature replicas are quite good. They specialize in military figures. They are located on the SE side of London, at 32 Oakley-street.
Lestrade, Inspector (Scotland Yard - Criminal Investigations)
- Baker Street Regular.
London Library - Baker Street Regular.
Mason, Oswald (Investigation of the residence and interview with Constable Parks.)
- Mr Mason is married to the former Rose Bloom. Her father, Phillip Bloom, was knighted years ago by the Queen who so admired his lovely gardens at his home in Devonshire. Bloom and wife Cecile have five daughters: Dahlia, Camellia, Daisy, Lily and Rose.
Meek, Sir Jasper (St. Bartholomew's Hospital)
- Baker Street Regular.
Millbank Prison - Of late, there is much controversy surrounding Millbank Prison. Maintaining a prison near to the Houses of Parliament has a vociferous vowing to tear it down by 1893. Once, Watson and I nearly arrived on the doorstep of the prison. We had missed boarding the Aurora and had to cross the river by wherry, which landed a stone's throw from the prison walls.
Murray, H.R. (Scotland Yard - Criminology Lab)
- Baker Street Regular.
O'Brian, Disraeli (Office Of Records) - Baker Street Regular.
Oxford Music Hall - I was terribly impressed by the quality of sound at the Oxford Music Hall. One could only hear the music in spite of a very restless audience. It seems that one could get away with murder in there without seeming to make a sound.
Pike, Langdale (Society Club) - Baker Street Regular.
Raven & Rat Inn (Shinwell, Porky)
- Baker Street Regular.
Red Bull Inn
- The Red Bull Inn is a working class pub located upon the road to Priory School.
Shipping Companies - Aberdeen Nav Co.
- Founded by Sir Malcolm Nolan, Aberdeen's is sometimes referred to as the Aberdeen Shipping Company. They have offices in the city.
Small, Aggie
(J. Small & Co.) - Nothing on file.
Small, Jonathan
- Jonathan Small was acquitted in the De Vries Diamond robbery.
Somerset House - Baker Street Regular.
Treasury, The
- The Treasury is located on Downing-street and is also the residence of our esteemed Prime Minister - who has been doing a commendable job of managing England's public revenue.
Waterloo Station - Waterloo Station is located in Lambeth and provides the final stop for the South Western Railway. It is in desperate need of repair.
Yourke, Mitchell
- Mitchell Yourke was appointed as a director of Bacon and Company at the end of 1888. He worked his way up to the top, beginning in his relative youth as a clerk.
Time to vote!
You can choose up to, and including, five more locations for the detectives to visit. You're also free to send the Irregulars to one location.
It's too early to call for an end to the case. We have visited
seven
out of
nine
key locations.
Voting will end Tuesday, 25th August at 2215 GMT.