Part 52: Introduction
Let's All Play Sherlock Holmes: Consulting Detective - The Thames Murders
Introduction

"A fifth body has been discovered in the Thames in a short amount of time. A frustrated Scotland Yard recruits Holmes and Watson to find a possible connection between all five deaths."
Newspapers
Newspapers:
Imgur Album
Wednesday, June 4th 1890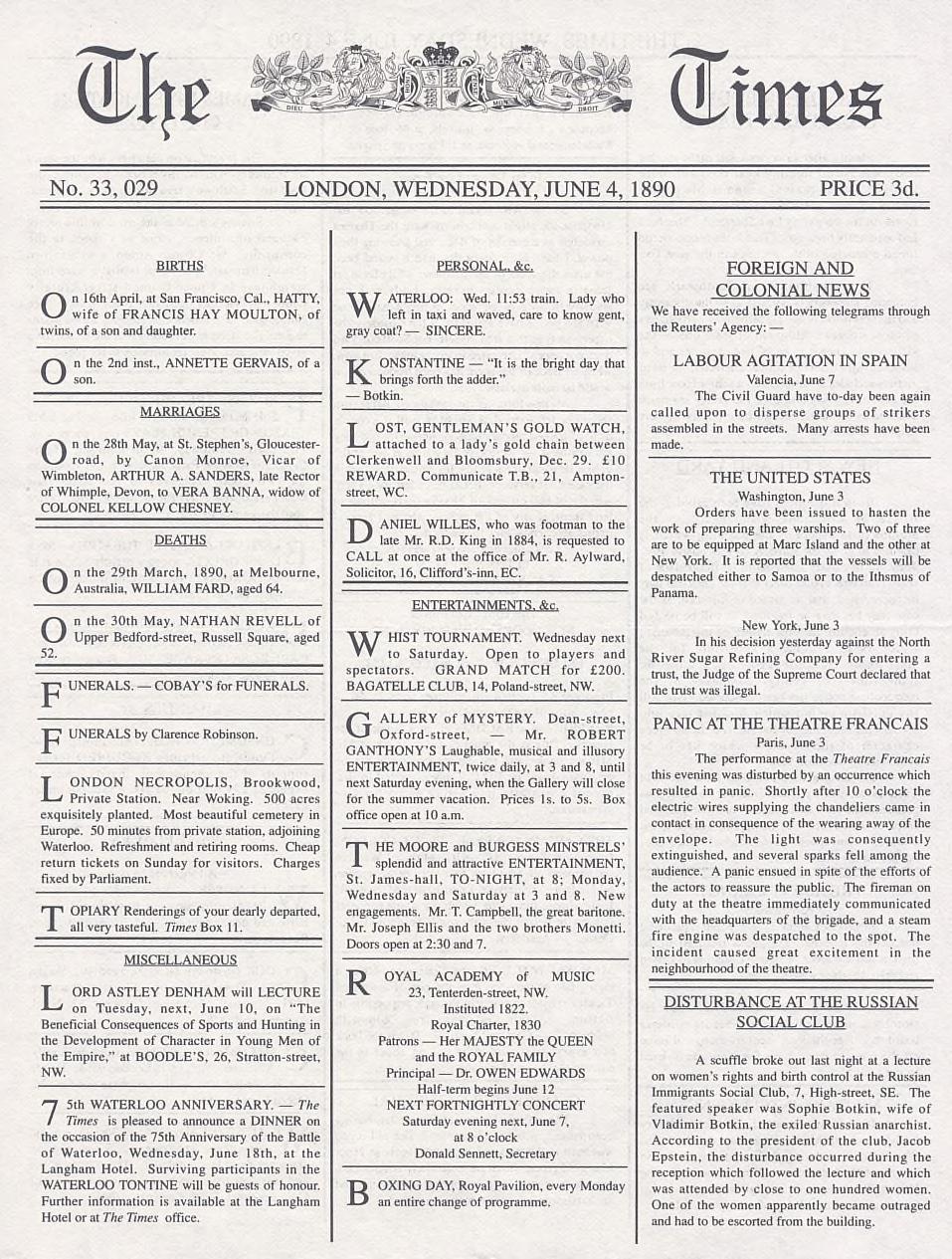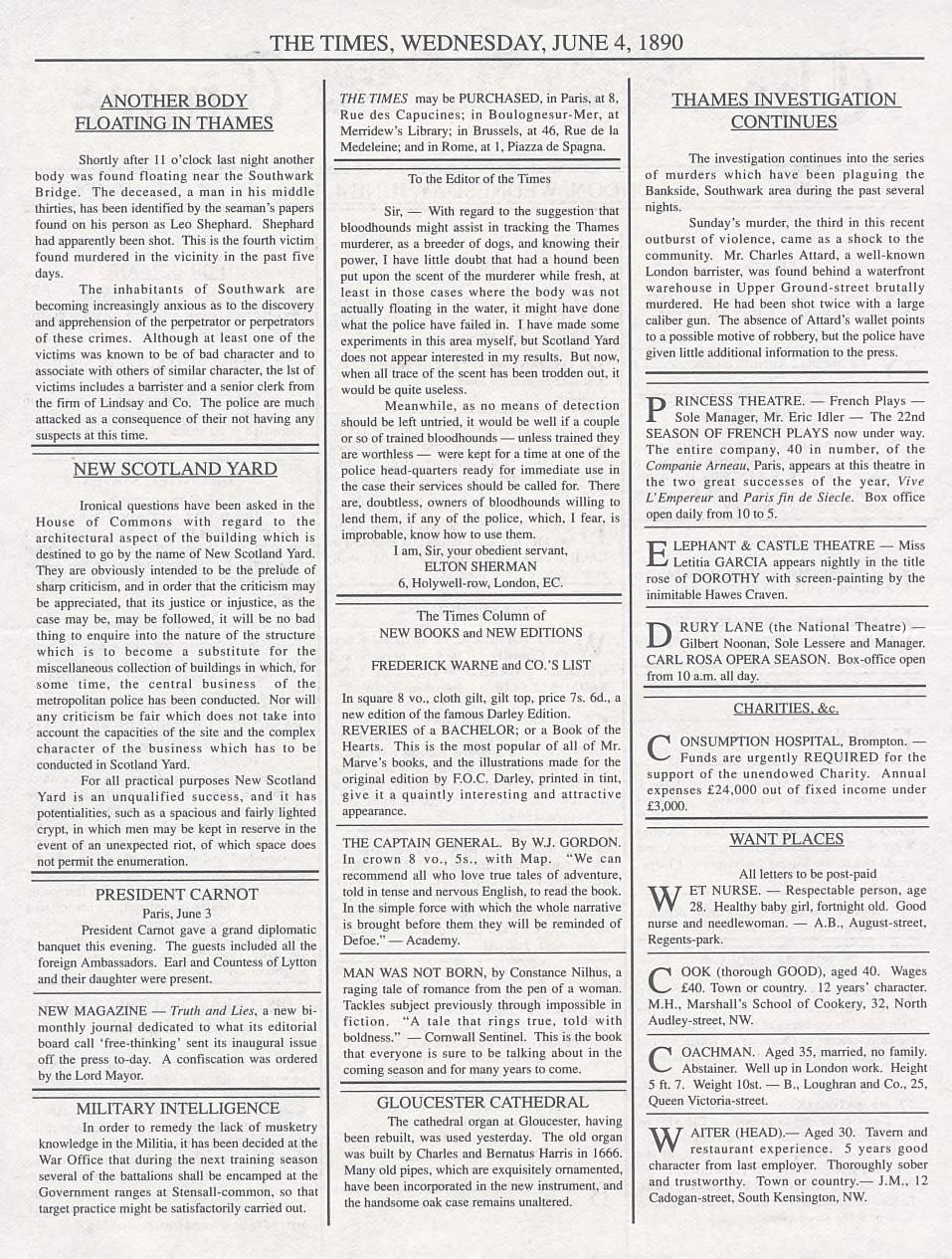 Monday, June 9th 1890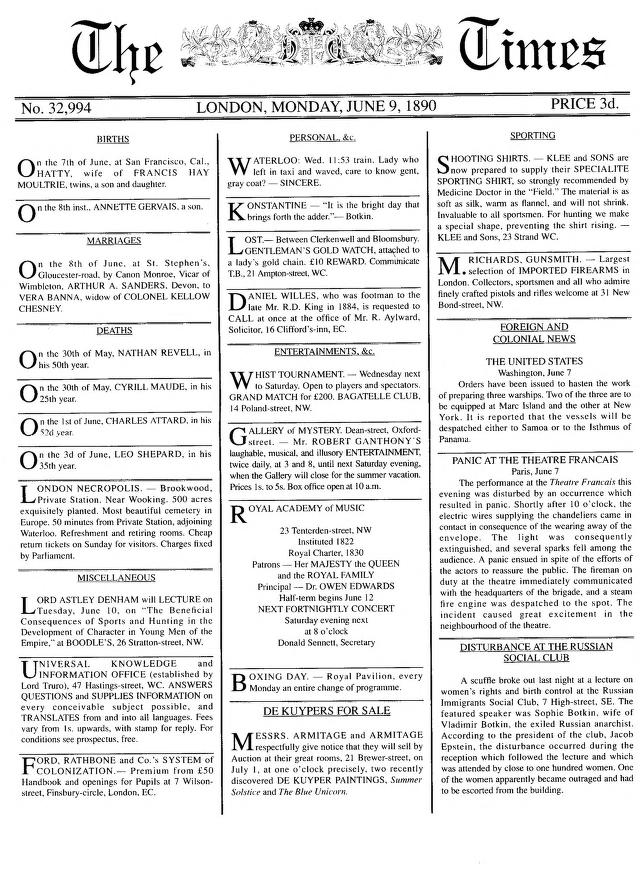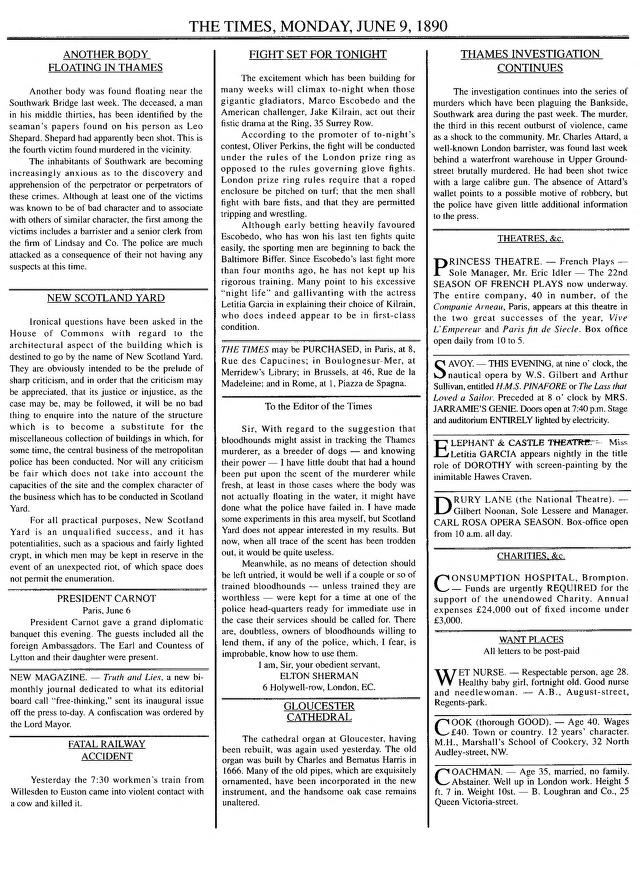 Notebook (New clues will be spoilered.)
1. Inspector Gregson paid us a visit upon the request of
Inspector Lestrade
who would like us to solve "The Thames Murders". In the last week, four bodies have been found floating in the river. A fifth body, that of
Roland Jaquard
, was found under the Charing Cross footbridge early this morning. Jaquard was the stepson of
Lord Astley Denham
, he had a reputation as a mountebank and a ne'er-do-well. He spent most of his time at the card tables in the
Bagatelle Club
, he was one of the finest whist players in London. Jaquard was also a known womaniser. Lestrade is currently still working on the other murders in this case.
The other four people that were found are:
Charles Attard
,
Cyril Maude
,
Nathan Revell
and
Leo Shepherd
.
Locations
Attard, Charles (Interview with his sister) - A prominent solicitor who is a defender of London's most notorious criminals. I suspect he has ties to Moriarty.
Bagatelle Club - An exclusive London card club where everyone seems passionate about the game of whist. It is said that Colonel Sebastian Moran is a member.
Banks - Bank Of England - Established in 1694, the Bank of England is the only financial institute in the city with the legal authority to issue paper money. In 1834, they moved to their current building located on Threadneedle-street.
Banks - Drummond Bank - Drummond's Bank is located on Charing Cross-road, across from the Alhambra Music Hall. Mr Ivan Emhoe is always a helpful and reliable resource there. He has been a clerk at Drummond's Bank for 37 years.
Chambers, Ralph - Nothing on file.
Denham, Lord Astley - Lord Astley owns several racehorses and was once in business with Lord Backwater.
Elephant & Castle - Wonderful, vaudevillian entertainment.
Ellis, Henry (London Times) - Baker Street Regular.
Escobedo, Juan - Nothing on file.
Escobedo, Marco - Nothing on file.
Farber, Jeffrey - Nothing on file.
Garcia, Letitia - Miss Garcia is a Spanish actress who once came to me in her search for her missing brother, Geronimo.
Gunsmith - Grant Arms Co. - Grant Arms has been selling and manufacturing firearms since the early 1800s. They began operations with the fashioning of an improved breechblock rifle which they made available to the public with a generous supply of the newly invented smokeless gunpowder. It is currently England's largest small arms and artillery manufacturer. Courtney Allen was president until he was brutally murdered in March of 1888. He left behind his widow, Beatrice.
Gunsmith - M. Richards Gunsmith - M. Richards is one of the best suppliers of pistols in London.
Gunsmith - Rigby & Co. - A small gun shoppe located on the southwest end of London. It is run by a pleasant fellow by the name of Ken Tarolla, whose affability rather than a large and varied stock of firearms, keeps him in business.
Hall, Edward (Old Bailey) - Baker Street Regular.
Hogg, Quentin (Police Gazette) - Baker Street Regular.
Ivory, Bettina - Nothing on file.
Jaquard, Roland (Inspection of residence and interview with landlady) - Roland Jaquard is the stepson of Lord Astley Denham and son of Lady Denham. Lady Denham had been married to Jacques Jaquard, a violent man, who died of food poisoning in 1871. It had been rumoured that Roland's real father was Lord Backwater, with whom the now Lady Denham had been involved during her marriage to Jaquard. No public acknowledgement of paternity has ever been made, but there is no mistaking that Roland Jaquard is the spitting image of Lord Backwater.
Landmark, Ltd - Landmark Ltd is in the business of transporting corpses to funerals.
Lestrade, Inspector (Scotland Yard - Criminal Investigations) - Baker Street Regular.
Lindsay & Co. - Lindsay & Company is a respected investment firm which handles the monies of much of England's royalty and London's upper class. It is located at 49 King's-road, SW.
Lindsay, Kathleen - Nothing on file.
London Library - Baker Street Regular.
Maude, Cyril (Inspection of residence) - Nothing on file.
Meek, Sir Jasper (St. Bartholomew's Hospital) - Baker Street Regular.
Mettier, Yves - Nothing on file.
Millbank Prison - Of late, there is much controversy surrounding Millbank Prison. Maintaining a prison near to the Houses of Parliament has a vociferous vowing to tear it down by 1893. Once, Watson and I nearly arrived on the doorstep of the prison. We had missed boarding the Aurora and had to cross the river by wherry, which landed a stone's throw from the prison walls.
Murray, H.R. (Scotland Yard - Criminology Lab) - Baker Street Regular.
O'Brian, Disraeli (Office Of Records) - Baker Street Regular.
Ogilvie, Sir Lester - Sir Lester Ogilvie inherited great wealth from his parents when they both perished in a carriage accident. He is a great collector of egg specimens and performs exacting experiments on them, although no one in the scientific community quite comprehends what these experiments are meant to prove. He is, by all accounts, an odd bird.
Pike, Langdale (Society Club) - Baker Street Regular.
Randolph, Vincent - Vincent Randolph has made a considerable fortune running a shipping line between England and the Orient. He is married to the former Linda Thurston-Eliot.
Raven & Rat Inn (Shinwell, Porky) - Baker Street Regular.
Revell, Nathan (Interview with landlady) - nothing on file.
Ring, The - The Ring is a famous landmark in London - famous for boxing, wrestling, and Sunday Shakespeare. Ironically, it was originally London's first Sunday School. It was built in 1782 as a chapel for Rowland Hill, who preached here for fifty years. Located on Surrey Row.
Rooker, Jeanette - Mrs Rooker is the former Jeanette Jaquard. She married her husband, Charles Rooker in 1879, much to the disapproval of her youngest brother, Roland.
Shephard, Faye & Leo (Interview with Leo's mother, Faye) - Nothing on file.
Somerset House - Baker Street Regular.
Spaniards Inn - Spaniard's is a small elegant restaurant across from St James Square. Several years ago, Watson and I slipped away in the middle of many a dreary day to dine on their paella.
Tankerville Club - The Tankerville Social Club serves the best prime rib in London. Watson, however, swears that they water down their drinks. Card playing is taken most seriously here.
Twiggs, Curtis - Curtis Twiggs was arrested in 1888 for the Drummond Bank robbery. The case was dismissed, because a key witness mysteriously disappeared.
Unvisitable locations of note.
Emhoe, Ivan - Mr Emhoe has been a clerk at Drummond's Bank for 37 years.
Moran, Sebastian - Chief of Staff for Moriarty. Moran attempted to murder me on two occasions following Moriarty's death - once at Reichenbach Falls and once in London. Obviously I got the better of the man. In spite of his arrest for the murder of Ronald Adair, he managed to escape the gallows. Moran was at one time an officer in the Indian Army and a heavy game hunter.
Time to vote!
You can choose up to, and including, five more locations for the detectives to visit. You're also free to send the Irregulars to one location.
It's too early to call for an end to the case.
Voting will end Thursday 3rd of September at 2215 GMT.