Part 22: Outer Heaven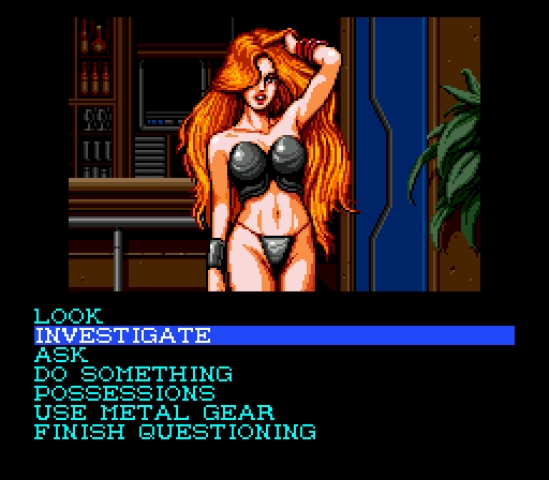 INVESTIGATE > ISABELLA
Gillian: I'll investigate her!
Metal: No, I think it's best if I handle it...
Gillian: I can manage by myself...
Isabella: What's wrong? Aren't you going to investigate me?
Gillian: No, that's all right.
WHAT?! Gill, man, what the fuck are you doing?
INVESTIGATE > ISABELLA
Gillian: It would probably take too long to check these, er, you out.
Isabella: Such bad jokes...
I agree.
INVESTIGATE > ISABELLA
Gillian: We don't really need to conduct an investigation do we, Metal?
Metal: Well, I guess you're right.
Gillian: (...liar...)
INVESTIGATE > ISABELLA
Gillian: Metal. Stop that vulgar nonsense. You have to learn to be more mature.
Metal: What? Have I done something wrong?
ASK > TASTE IN MEN
Gillian: What kind of men do you like?
Isabella: Let's see... somebody really masculine who you can depend on. You know, the kind of guy who grabs you and says "Come on baby, follow me".
ASK > TASTE IN MEN
Gillian: Somebody with well-formed opinions. But I hate guys who aren't flexible.
Metal: Well, that about rules you out, Gillian!
Gillian: You shut up!
ASK > TASTE IN MEN
Gillian: What about career preferences?
Isabella: Well, investigators are really strong and masculine types. I was always a big fan of crime dramas when I was little.
DO SOMETHING > ASK FOR AUTOGRAPH
Gillian: Um, uh... could I have your autograph?
Isabella: My autograph? Well let's see... I don't have anything to write with.. Oh, how about this... <<smooch!>>
Gillian: Whoa!
Metal: Ah! I saw that! I'm telling Jamie!
Shazzner posted:

Be sure to flash your badge around in the club, the ladies love the boys in blue.

Well, okay!
POSSESSIONS > SHOW > JUNKER I.D.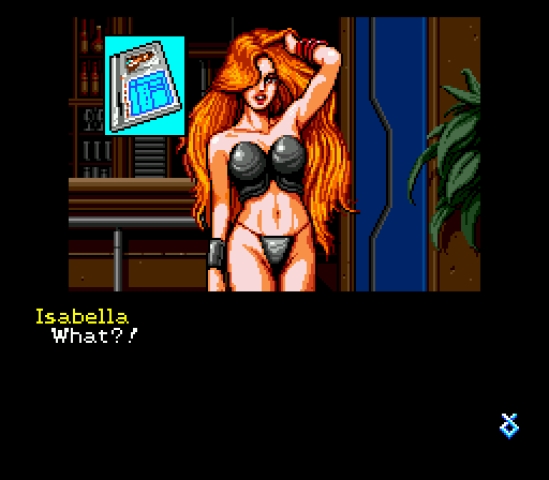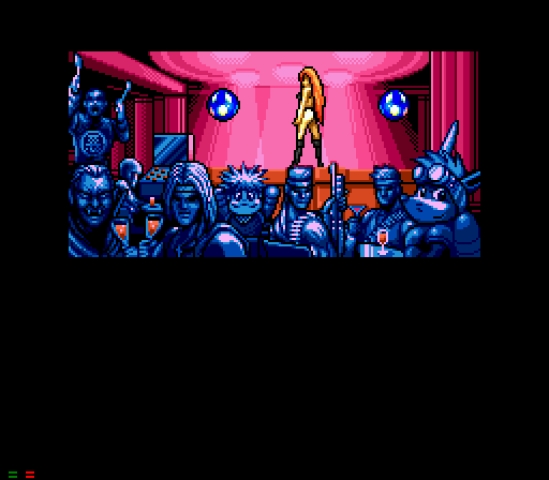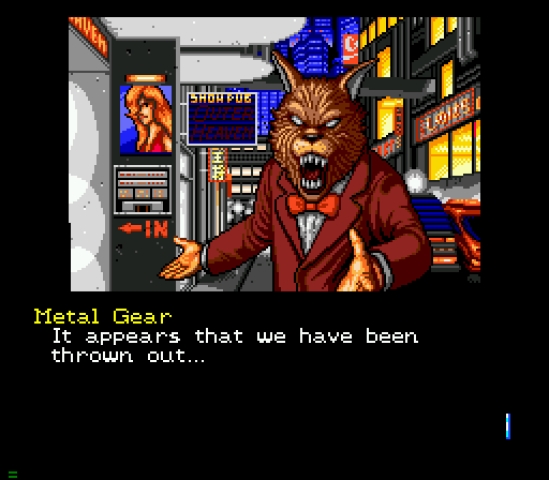 APOLOGIZE
Gillian: I'm sorry. I was a bit rash. Will you let me in now, please?
Doorman: We need to wait for things to settle down.
Thanks a lot, Shazzner! Now we got thrown out! Ugh!
...Then again, we also got out of paying the bill! Awesome!
Okay, there's more content if you continue to ask Isabella out, etc. but I'm going to leave it where it is for now and continue until we get to the next puzzle. Well, we should probably get going with the investigation, but...
What if we dropped by Alton Plaza and LOOKed around and such?
Bonus Post by Metal Gear

This is SomethingAwful.com
Gillian Seed posted:

Maybe if we go to Alton Plaza and look around I might be able to find something that I could give to Jamie as a gift or something, or find something period that might help my relationship. It can't hurt, right? Let's go to Alton Plaza and look around a bit, yeah...


Don't worry about it Gillian, I'm sure they were just a similar looking couple.
Bonus Post by The Script
INT. OUTER HEAVEN CLUB - NIGHT
GILLIAN SEED and his robot assistant METAL GEAR question ISABELLA the dancer.
Gillian wears a Moai mask, concealing his identity. Meanwhile, REVOLVER OCELOT barges
into the club. The BOUNCER stands in his way.
REVOLVER OCELOT
Out of my pardner! I'm too busy to deal with the likes of you!
BOUNCER
Sorry brah, no costume, no service.
REVOLVER OCELOT
What are you, blind? I'm Revolver Ocelot!
BOUNCER
Doesn't ring a bell.
REVOLVER OCELOT
Metal Gear Solid? You know, I was the first boss, been in like all of the
MGS games?
Revolver TWIRLS his dual revolvers, fancy cowboy style. The bouncer refuses to
budge.
BOUNCER
No can do. The Metal Gear Solid series doesn't exist yet.
REVOLVER OCELOT
What?!! It's like 50 years old by now.
BOUNCER
No, it won't exist for 10 years.
REVOLVER OCELOT.
...
Gillian shows a photo to Isabella. Revolver sees this and gets more agitated.
REVOLVER OCELOT (CONT'D)
You're retarded. Move aside.
BOUNCER
Think about it. This game was first released in 1988 while Metal Gear Solid
wasn't out until 1998.
REVOLVER OCELOT
But this is the future.
BOUNCER
Yes, the future of the past. You're from the future of the future.
REVOLVER OCELOT
No, Metal Gear Solid was set in 2005, so I'm also from the future of the past.
BOUNCER
To the reader, yes, but you have to think of the context here. You don't exist
yet because we couldn't possibly know about you.
REVOLVER OCELOT
But you just acknowledged my presence and knew the release date of MGS.
BOUNCER
That's true I guess--
Gillian FLASHES his JUNKER ID CARD to the crowd. Everyone STOPS and STARES at him.
The Bouncer moves to escort him out. Revolver draws his pistol and is about to
shoot Gillian...
BOUNCER
(shouting)
I guess you'd be ripped apart by the internal logic daemons!
INTERNAL LOGIC DAEMONS, which appear an awful lot like piranha plants from Mario
Brothers, only sepia toned, pop out of fucking nowhere and EAT Revolver Ocelot.
Gillian never notices any of this.
CUT TO:
INT. COMMAND CENTER - NIGHT
Hideo grimaces as Revolver is eaten whole by the daemons.
HIDEO
Damn you Nintendo and your agents...maintaining precious order...but at what
cost?
The intern looks at a clipboard.
INTERN
We can't risk any characters from games that came later than Snatchers? Who
should we send?
HIDEO
No...we can send later characters just as long as they don't draw attention to
themselves...perhaps someone who would fit in Neo Kobe...or would draw
Gillian's attention...
Hideo hits a button on the command chair. SHIORI FUJISAKI, a pretty teenager,
appears on the main screen.
HIDEO
Honey draws more flies than vinegar...
DISSOLVE TO:
INT. WHITE SPACE - DAY
CHIBI GILLIAN, METAL GEAR, and ISABELLA run in and bow comically. Again, they
speak in a high pitched silly voice.
GILLIAN
Haha! I'm even closer to solving the mystery than ever before!
METAL GEAR
But Gillian, you've only barely begun to find clues about the snatcher...why
are you so overconfident?
GILLIAN
Snatchers? I'm talking about the mystery of getting a date with a hot babe!
Say Isabella, want some hot buffalo meat?
Gillian leans in on Isabella.
ISABELLA
Huh? It looks like the buffalo went extinct long ago from where I'm looking...
Gillian withers at the insult. Metal Gear chuckles to itself.
ISABELLA
Oh don't feel too bad sailor. If you tell them about next episode, I'll give
you my number..
Gillian perks up instantly.
GILLIAN
Next time on Let's Play Snatchers! Can Gillian resist the Siren that Shiori?
Where will his investigation lead next? Find out in LOVE IS A BATTLEFIELD...
THAT BLOSSOMS...SNOW 9...so how bout that number?
ISABELLA
Here you go...tee-hee...
She hands him a slip of paper and prances off, giggling. Gillian dials it up.
A CRONE appears on the video screen.
CRONE
I'm Isabella's mother! You looking for some action hot stuff?
Gillian falls over, humiliated.
FADE TO BLACK