Introduction
Following closely in the success of
Vexation's Grim Fandango LP
, I've decided to produce a commentary-free LP of another adventure game which you probably haven't heard of...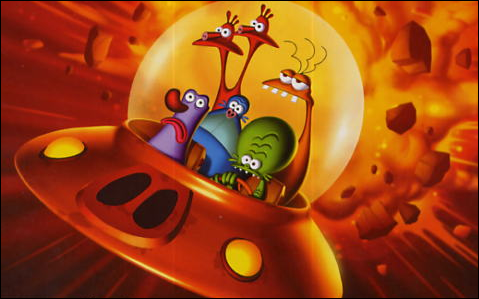 Why this game?
While watching the Vexation's Grim Fandango LP I tried to think of some other games which would be more entertaining to watch without somebody jibber jabbering over it, and this was the first game to come to mind.
Stupid Invaders is a point-and-click adventure game loosely based on the TV series
Space Goofs
, released in 2000.
Here's a summary of some of the selling features:
- Toilet humour
- Awesome voice acting (features Billy West and Robert Paulson)
- Gorgeous pre-rendered 3d graphics
- Toilet humour
- Excellent sound and music
- Atmospheric environments
- Rape
- Did I mention toilet humour?
So why haven't I heard of this game before?
Well, probably because it isn't a very good game. It's riddled with many horrible puzzles that range from stupidly easy to fantastically impossible without a walkthrough. It's possibly for this reason that the game is known by so few (a google search for "stupid invaders" returns only 78,700 results).
As a game, it's pretty bad. As a movie, however, I think you'll be pleasantly surprised...
Okay...
For technical reasons I'll try to upload videos in 10-minute segments. The game crashes a lot on modern machines (which is why I'm making this LP while I still can), so there may be a few weird transitions where I cut out save/load menus. I'll also cut out any repetition and backtracking, but I'll try to make it look as smooth as possible.
The first three videos are encoded at 320x240, but watching a test run of the fourth video I found that some things are hard to see at such a small resolution, so from now on all the videos will be at 640x480. Eventually I'll go back and redo the first three.
One last note, many actions in the game result in a game over. Since I know the game well I'll be avoiding these, but I'll put all the death scenes in separate bonus videos.
- Characters -
Etno Polino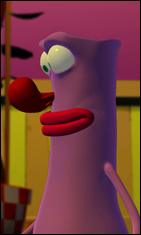 Etno's the undisputed leader of the band. Whever there's a problem, her's there with the solution. He's as phlegmatic as a Swiss banker, analyzing every situation in his cool and collected manner. And Etno's got one big plan - whatever the cost, he wants to finish writing his encylopedia on human beings whom he secretly admires. On moonless nights, you see, he too wouldlike to have a few tufts of hair on his itchy bits! The truth is, Etno hasn't got a clue. He's uptight and completely lacking in self-confidence. But that's his unmentionable little secret.
Candy Caramella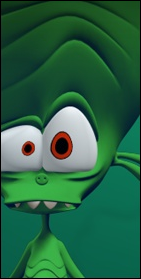 Candy's manic-depressive, an ocean of tenderness lost in a world of brutes. He's emotional and as precious as a virgin in a provincial convent.
At home, Candy's a proper little housewife. He irons Gorgious's leather briefs, toils away in the garden, sweats over the washing-up etc. etc. But when he kicks up a stink, it's as spectacular as it's unexpected. He's as sweet as pie and a pushover to exploit, but woe betide he who pushes Candy too far!
Gorgious Klaatu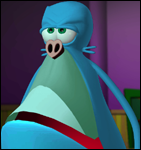 He hates humans and their lousy rotten planet. He can pick up the putrid odor of an earthling at more than two miles. Gorgious is a gourmet, a gut with legs. He's just wild about goulash - or a nice dish of pony with beans!
His favorite pastimes? Raking his sausage field and pestering Candy when he's taking his shower. Despite his virile looks and fiery temperament, Gorgious quickly chickens out in dangerous situations. He never stops moaning and groaning like a crabby old woman.
Stereo Monovici

Stereo's a living paradox. He's ultra-talkative and repetitive, but he accumulates an encyclopedic glut of utterly worthless knowledge. In a matter of seconds, he can calculate the number of sixteenth notes in a cantata by J. S. Bach or the exact length of a roll of toilet paper for a regiment of 500 parachutists. He lives in a closed world and ends up answering his own questions.
Bud Buddiovitch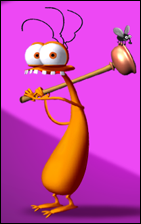 A worm ... a living wreck with the IQ of a quartered jellyfish's brain. Yup, that's Bud! He passes the time of day rotting in front of the TV like a couch potato that's way past its sell-by date. He thinks in slow motion, speaks in words of one syllable and lives exclusively on a diet of junk food.
Bud adapts pretty well to life on Earth, provided he doesn't miss out on any episodes of 'Inspector Schmidt' at 7.30 pm.
Bolok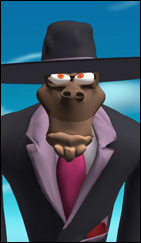 Bolok likes to be called 'the professional'.
He's a dangerous bounty hunter who's nevertheless a stickler for principles. He never lets slip a contract and only has two words on his lips: "my dough!" In this character, we can observe certain not insignificant distinguishing features. He loathes kids, loves monkeys and was found in a trash can when he was 12 years old...
Dr Sakarin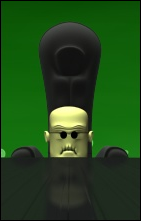 Two feet of hate and thirty-three pounds of blind rage. This is one scientist who definitely isn't a happy person.
Since his earliest days, Dr Sakarin has hunted and captured extra-terrestrials who happen to dropin on Earth. He dissects the little green men and puts them into storage in unwholesome vats of formalin.
- Videos -