Part 10: Stop! Put those brains down!
Last time on Stygian: Reign of the Old Ones, we had to fight an absolute hero because the devs wanted us to go through and do whatever the fuck we're supposed to be doing. I have no idea what we're doing except that the Dismal Man (who is probably Nyarlathotep) is having is do dumb shit in the hope of escaping this game.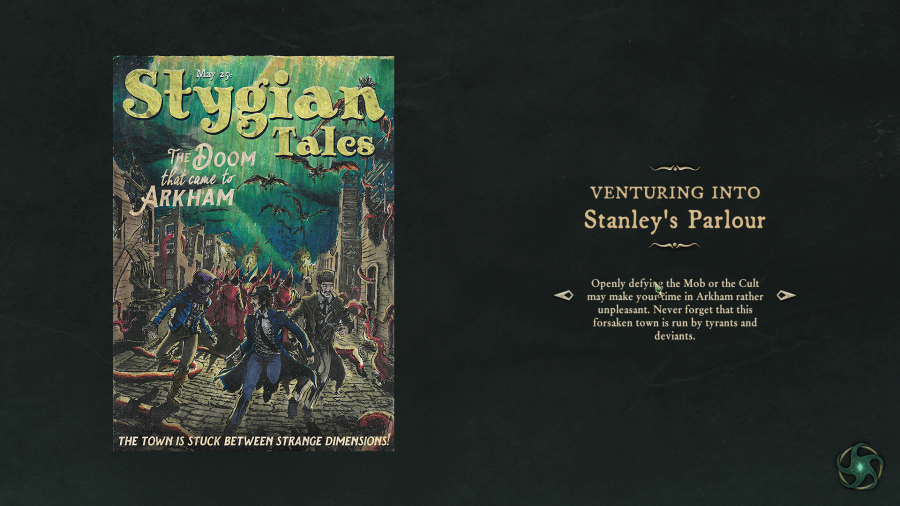 Are the deviants the cultists or the developers?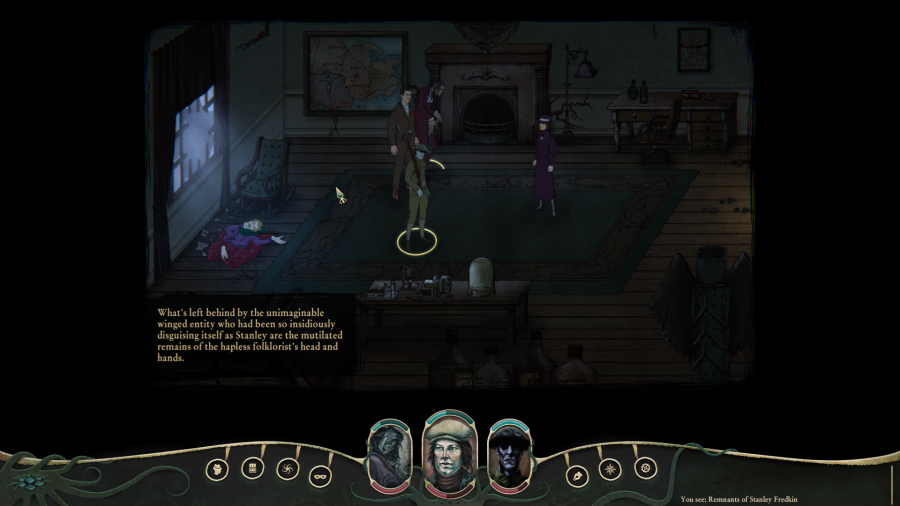 Lovecraft tends to leave these kinds of things ambiguous, because fear of the unknown is rather huge in his stories, but these developers don't seem to have realized any of that so we get it spelled out.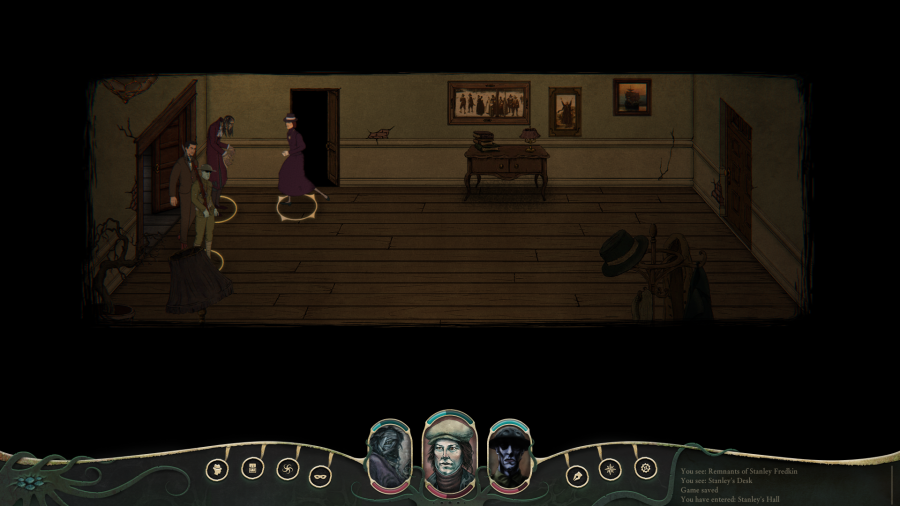 Now that the Mi-go has left, taking our dreams of being done with this game with him, we can go into the other room and get some stuff.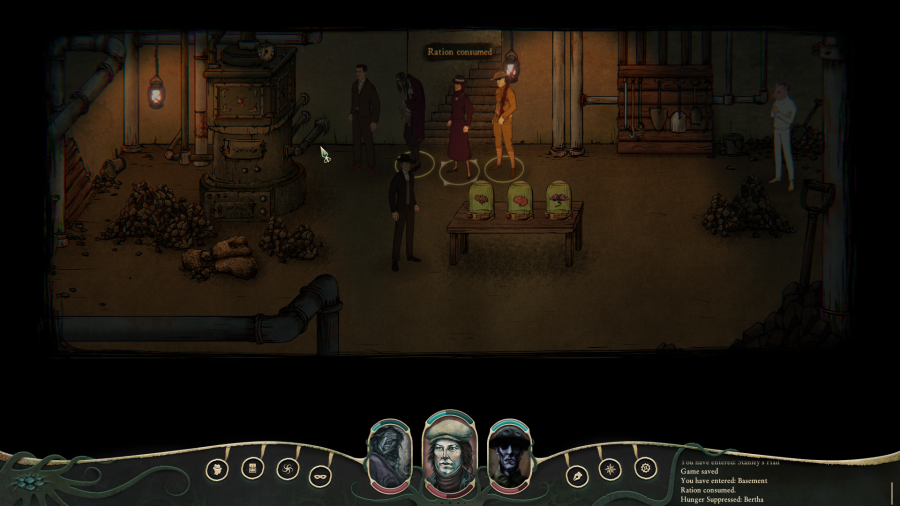 Look, it's the rustic man. I don't know why the game made such a big deal out of him, but, again, the developers didn't actually bother to read "The Whisperer in Darkness".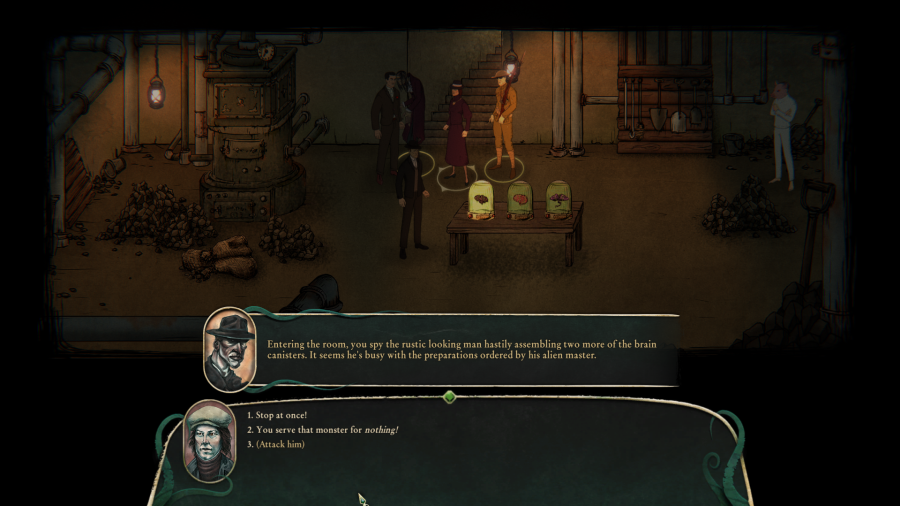 Wait, why do we even care? The actual story has the brains in jars talk about how cool it is to fly around space, and if we're being honest literally everything in that story could be some kind of lie cooked up by Nyarlathotep, an entity known for lying his ass off and called "The Crawling Chaos".

: You serve that monster for
nothing
!
Considering the shit we say and do, why do we care?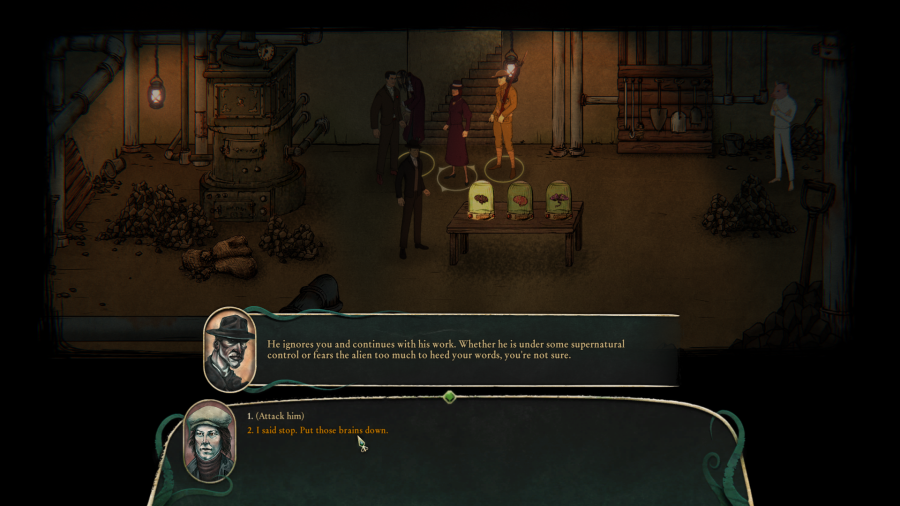 : I said stop. Put those brains down.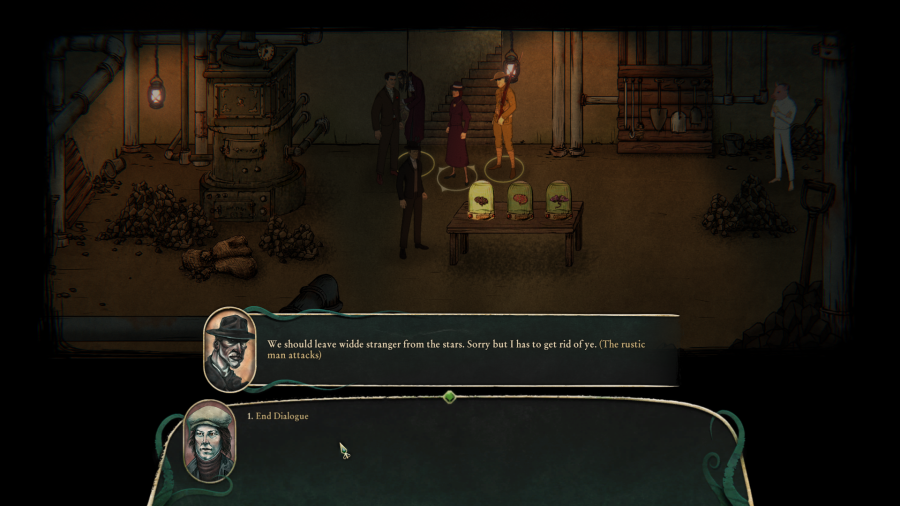 But..why?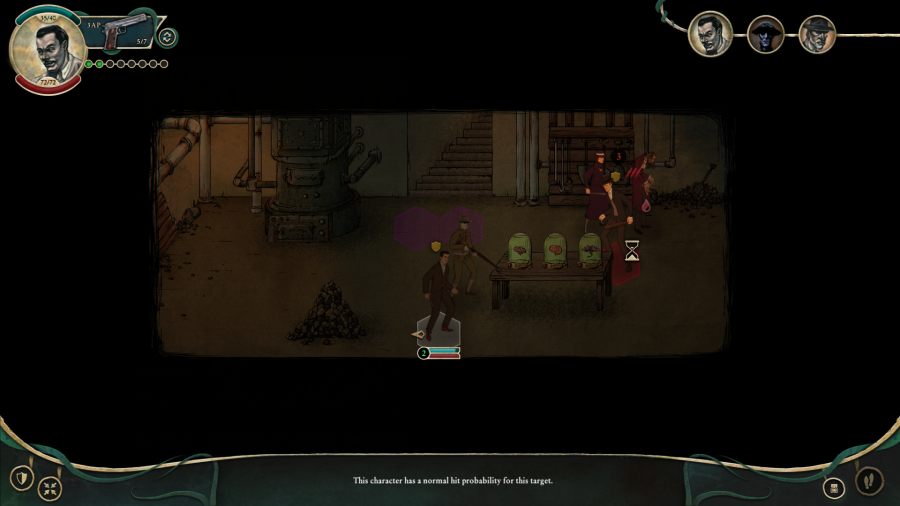 It doesn't end well for him.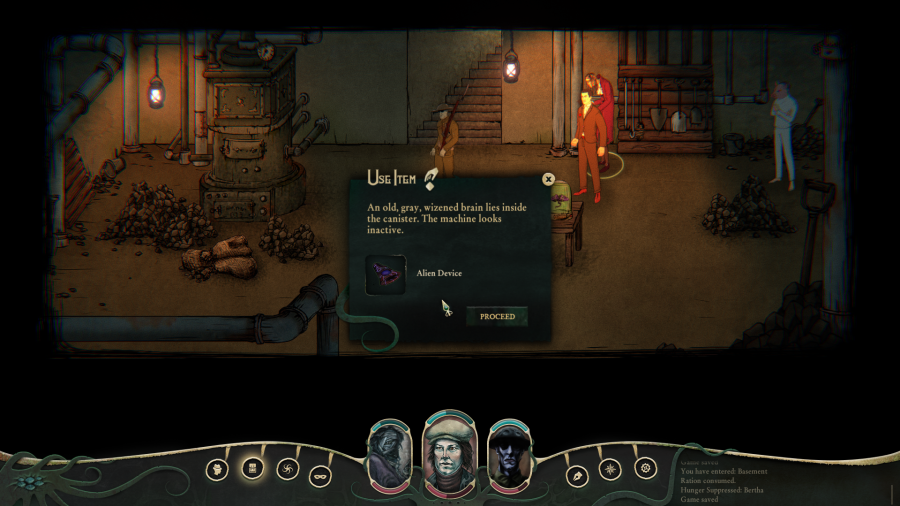 We can use the activation device we got from the Mi-go on the brain jar on the left which...actually helps us complete our main quest.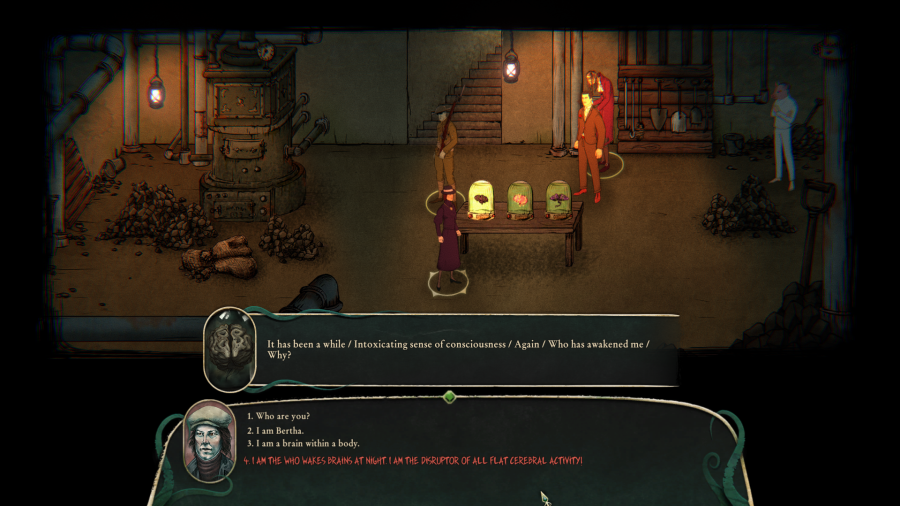 : I AM THE [sic] WHO WAKES BRAINS AT NIGHT I AM THE DISRUPTOR OF ALL FLAT CEREBRAL ACTIVITY

: It is not easy / Neither to explain /Nor to apprehend / My species called me / Aleister Fanning / I remember / Yet / Only flickering pictures / survived the long dark / Memories / Fading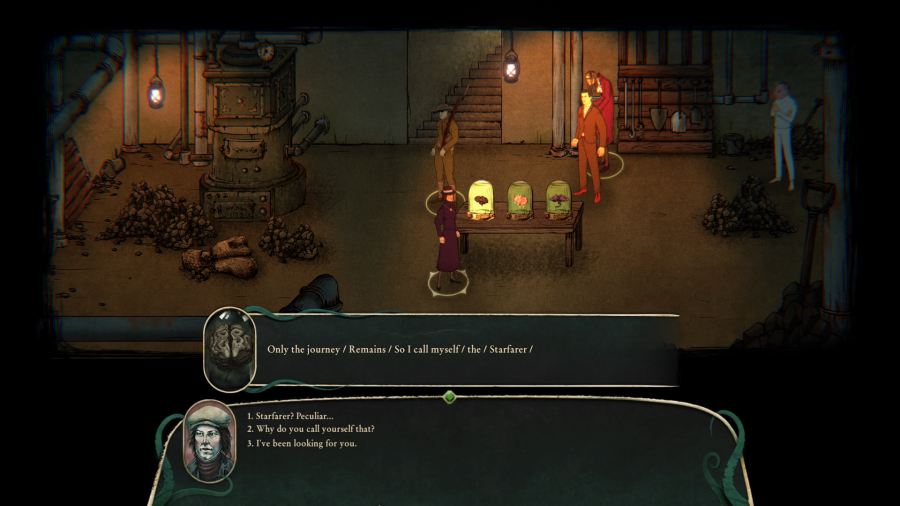 : Why do you call yourself that?

: I've seen things / Bedazzling / Countless suns / Dancing to the celestial symphony / Whirlpools of infinite / devouring / blackness / Walked through bodies / Became other things / Saw colors never thought to exist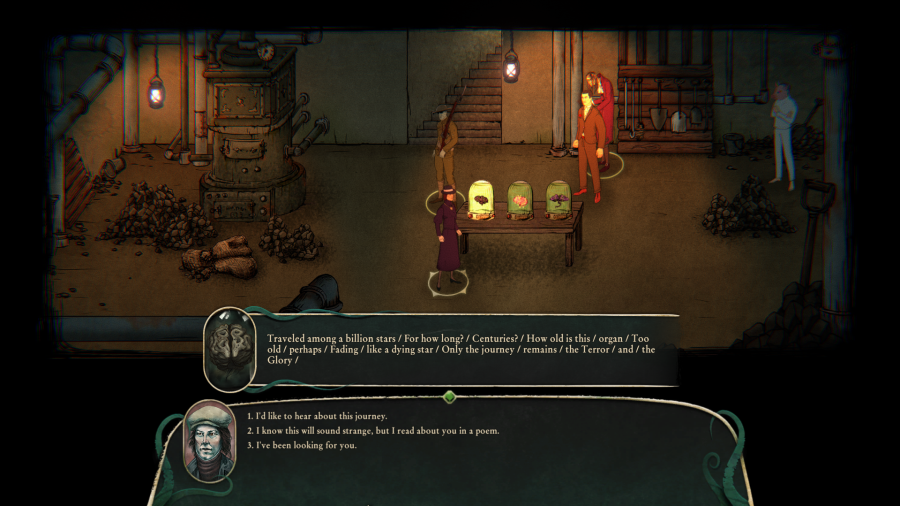 : I know this will sound strange, but I read about you in a poem.

: Strange / ? / I have become the very essence of strange / You talk my earth tongue / A communication pattern long unused /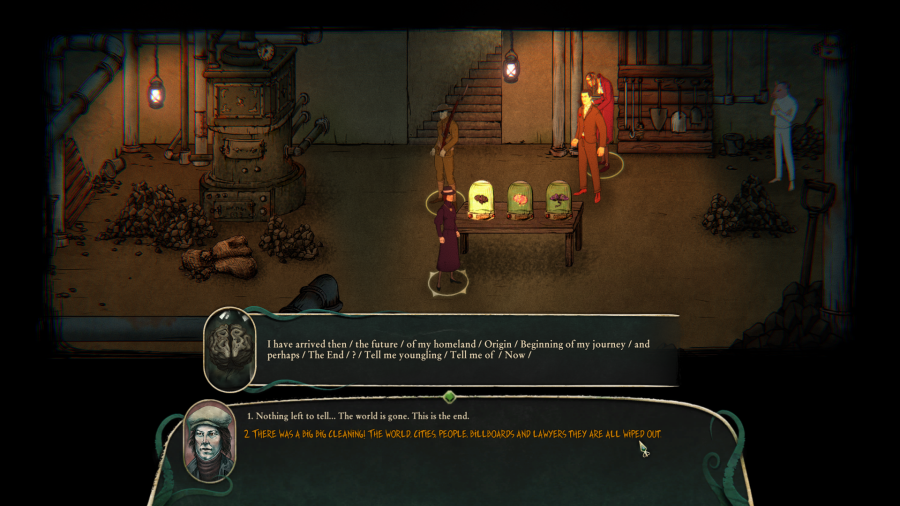 : THERE WAS A BIG BIG CLEANING! THE WORLD CITIES PEOPLE BILLBOARDS AND LAWYERS THEY ARE ALL WIPED OUT.
Look, Stygian, we need to talk about tone. Constantly interrupting this supposedly horrifying experience to spout off Madcap Hijinks does not fucking work and you need to knock it off.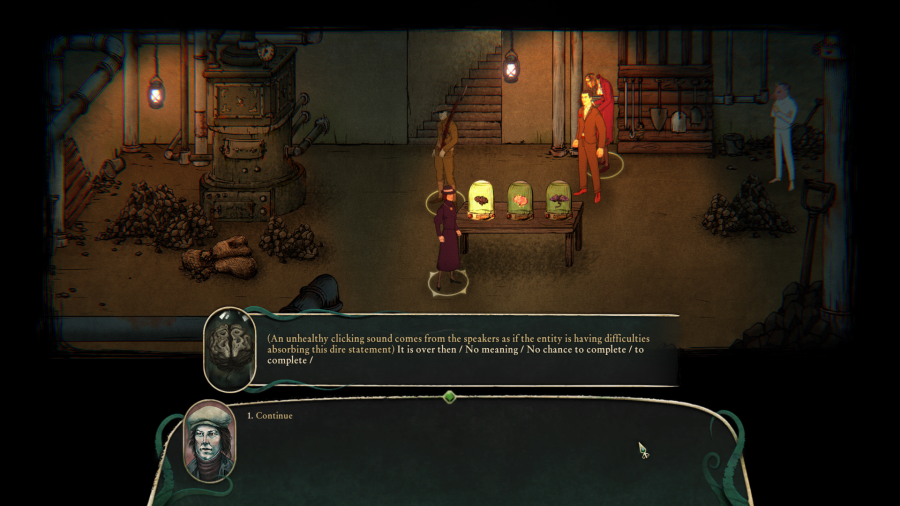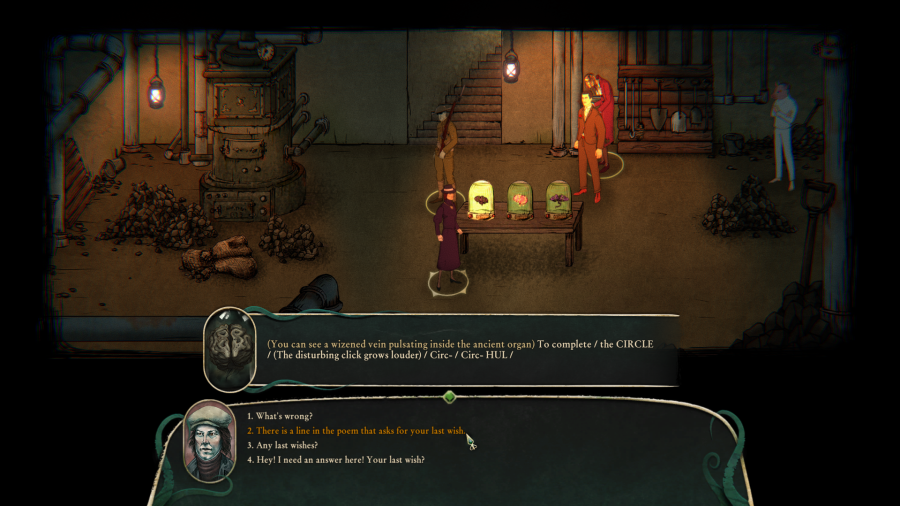 : There is a line in the poem which asks for your last wish.
Now by this point I had completely forgotten the Dismal Man's poem because of all the other stupid shit we did and because the game literally held our hand and dragged us through everything.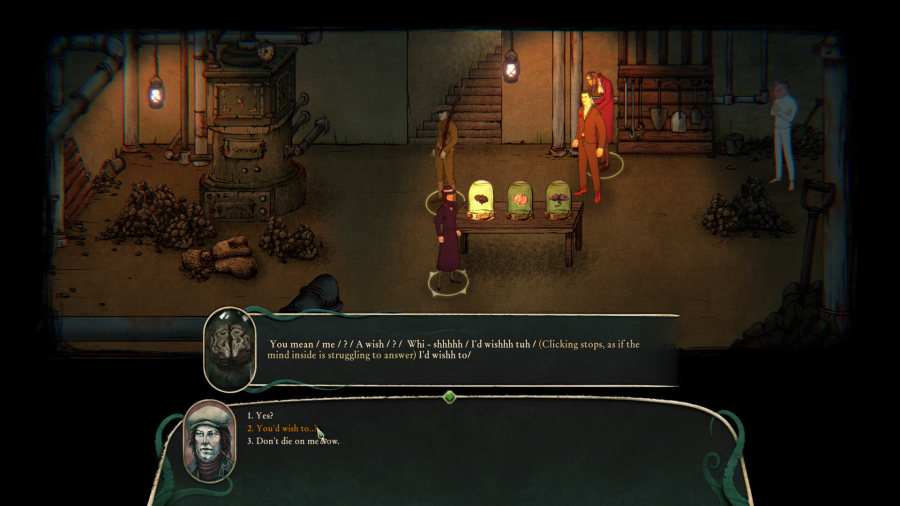 : You'd wish to...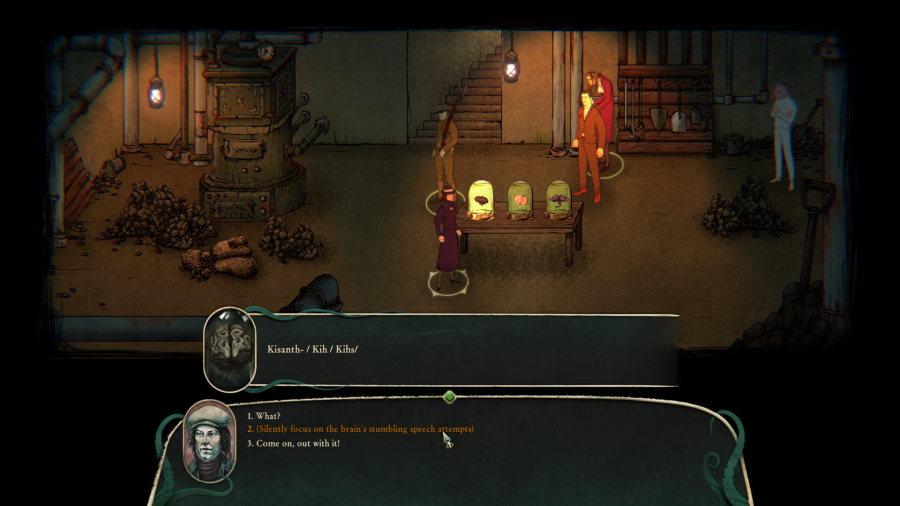 : Silently focus on the brain's stumbling speech attempts.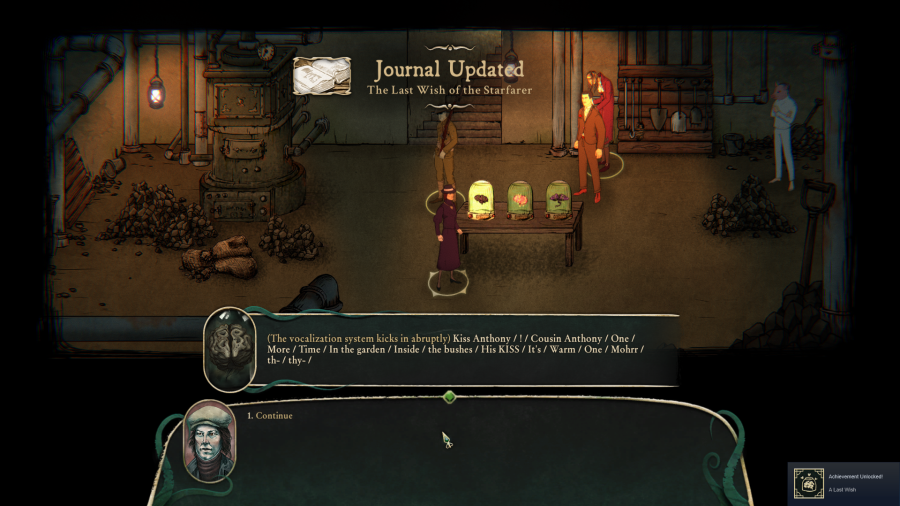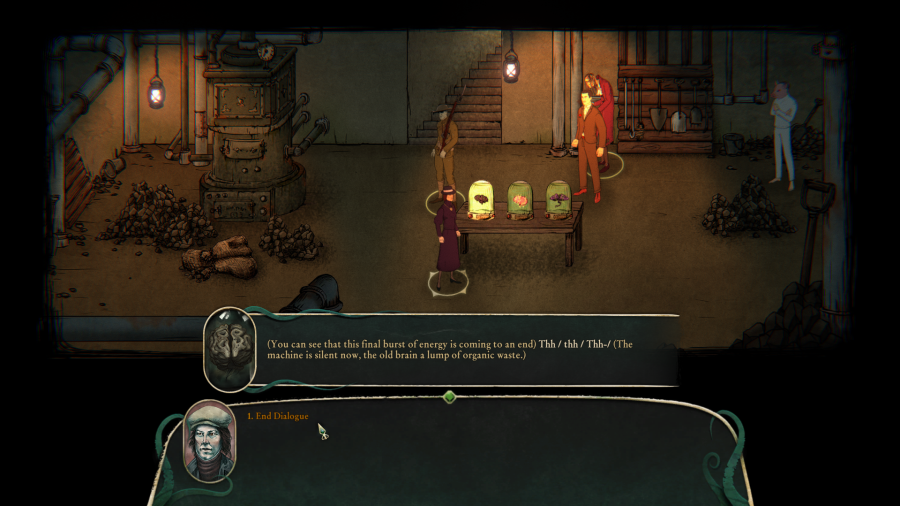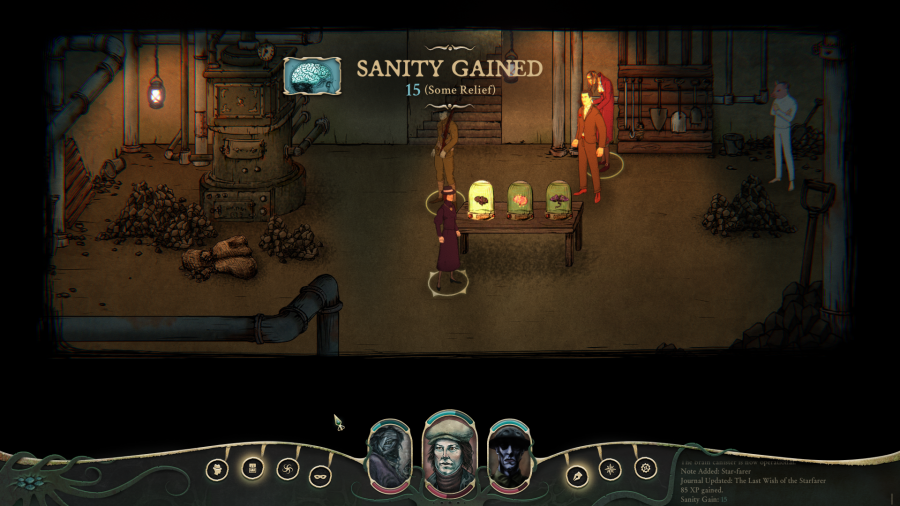 TheGreatEvilKing summary posted:

: Who are you?

: WHOOP I AM CRAZY BRAIN WAKING PERSON AM I FUNNY????

: Oh, man, a human, I've seen some shit in space!

: Space?

: I am the Starfarer, I do the space stuff!

: Hey, I read about you in a poem, do you have a last wish?

: I wish...

: Yes?

: I WANNA DO INCEST WITH MY COUSIN ONE MORE TIME! dies

: I'm sane again!

We can interact with just one of the other brains.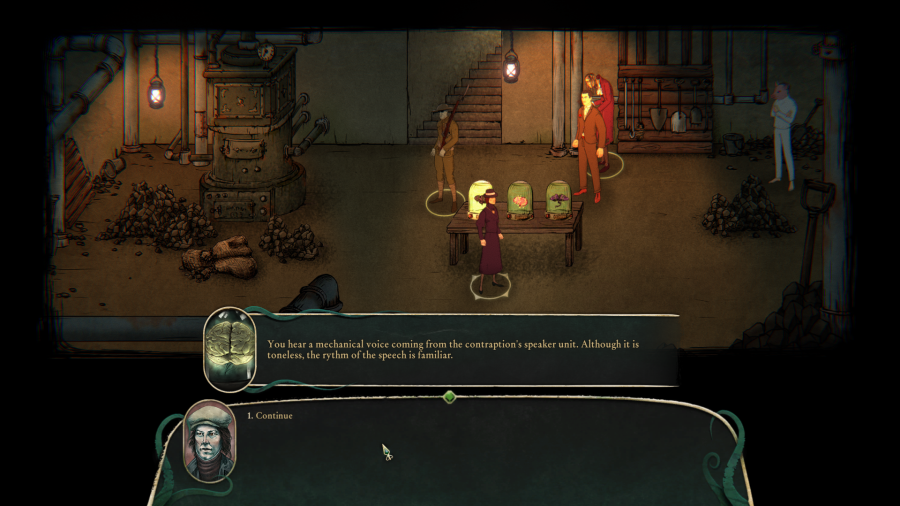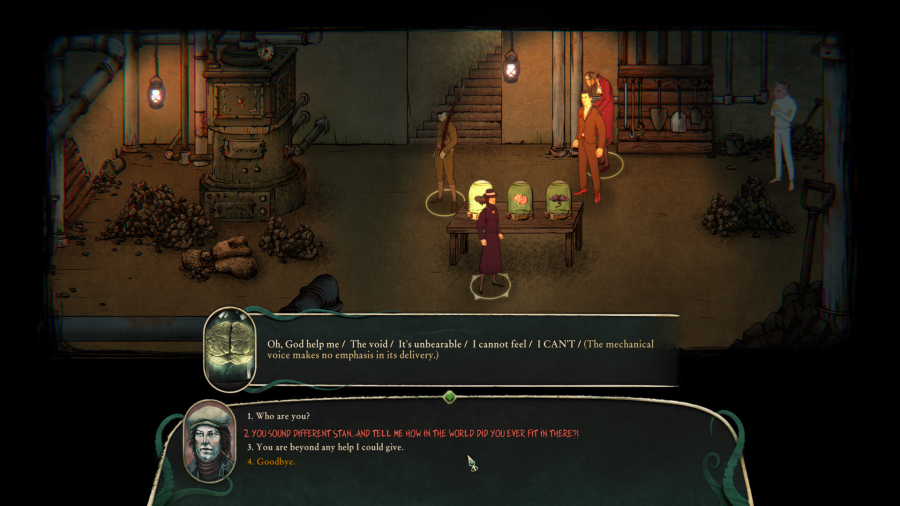 : YOU SOUND DIFFERENT STAN, AND TELL ME HOW IN THE WORLD DID YOU EVER FIT IN THERE?!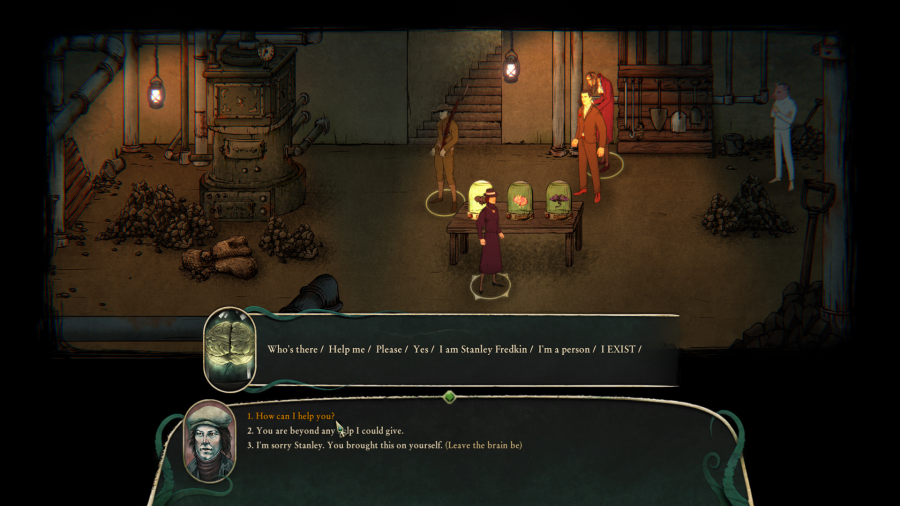 : How can I help you?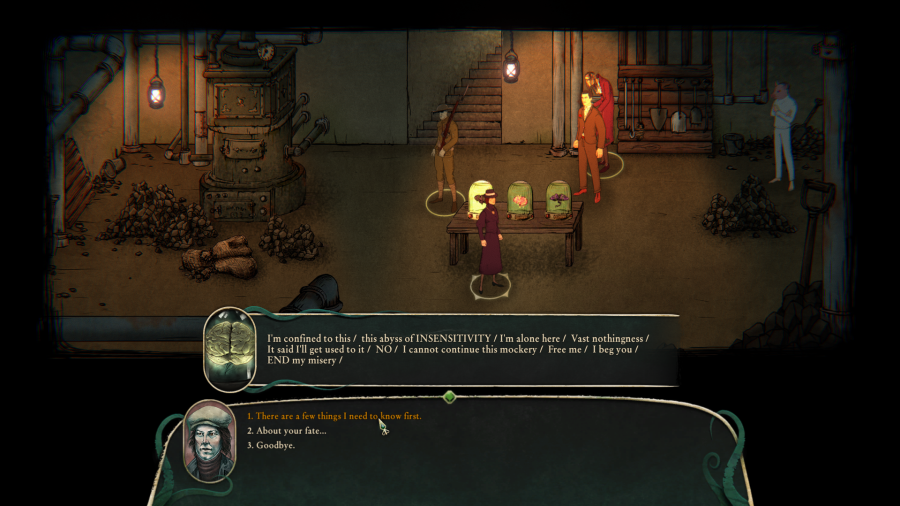 : There are a few things I need to know first.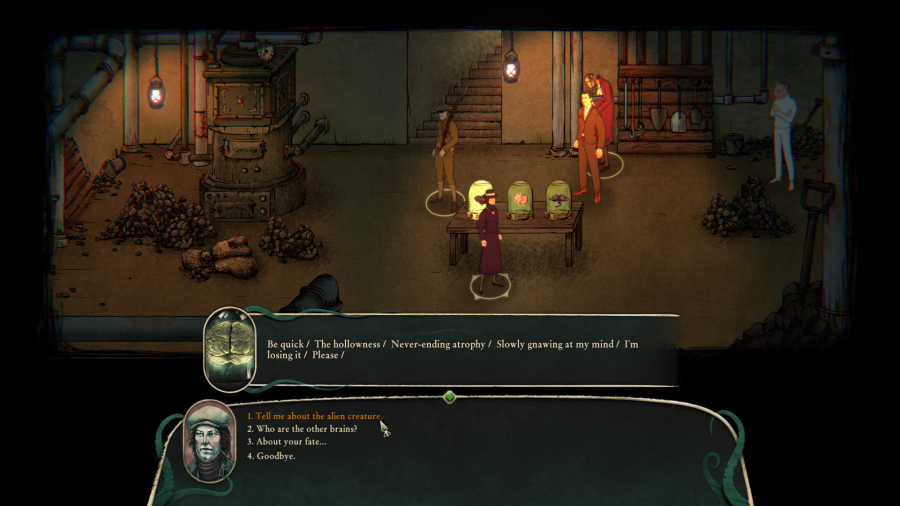 I'm kind of torn on this depiction. Part of the horror of Nyarlathotep and the brains was that people liked being brains in a space jar. This was abhorrent to Wilmarth and one of the reasons he tried to escape, but the brains were once again the surface level for the overall moral that you do not understand the universe and it actively defies your attempts at casual mastery. On the other hand it vaguely reminds me of "Thing on the Doorstep" which has its own little collection of issues.

: Who are the other brains?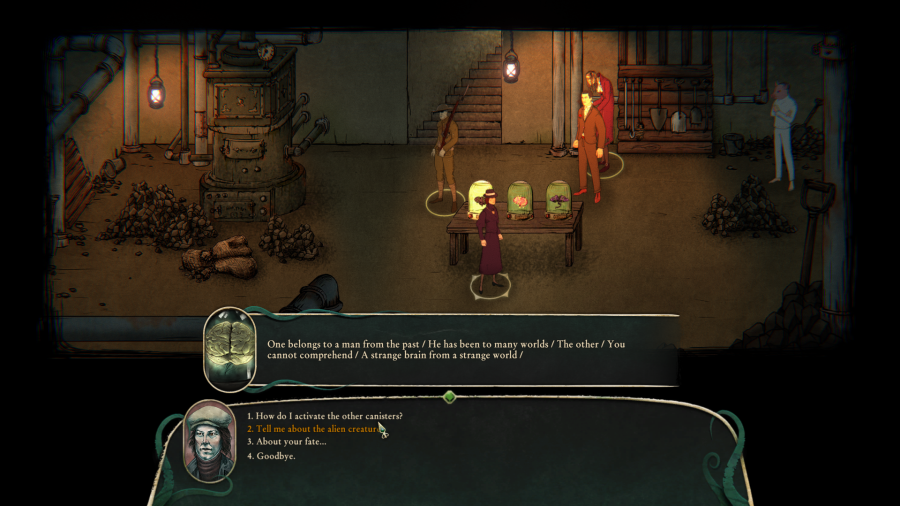 : Tell me about the alien creature.

: I first encountered its kind in Vermont / I was researching a local legend / The winged people of the hills / I turned out that they actually EXIST / They were always here / DAMN the day I learned the truth!

: They promised many things / Knowledge of the cosmos / Voyages to outer realms where no man has set foot / Oh, my feet / They are GONE / I miss how gracefully they carried me around /
Where's Nyarlathotep?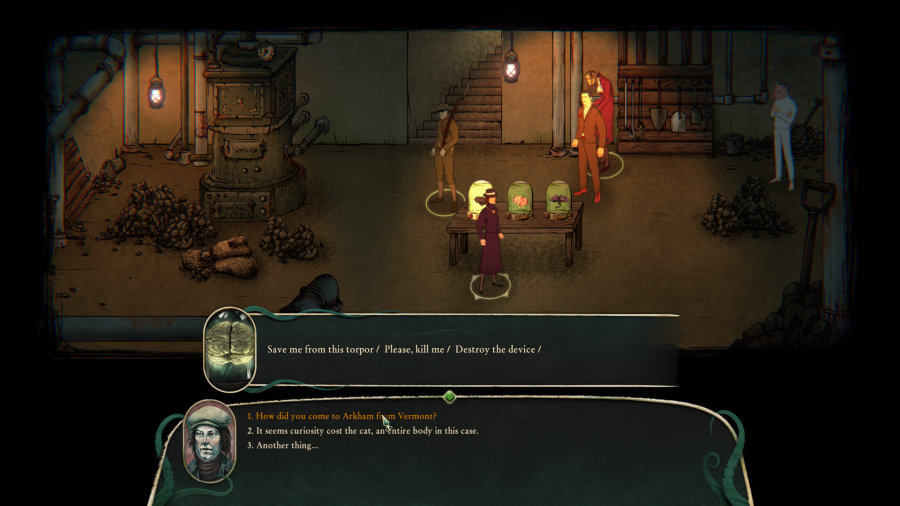 : How did you come to Arkham from Vermont?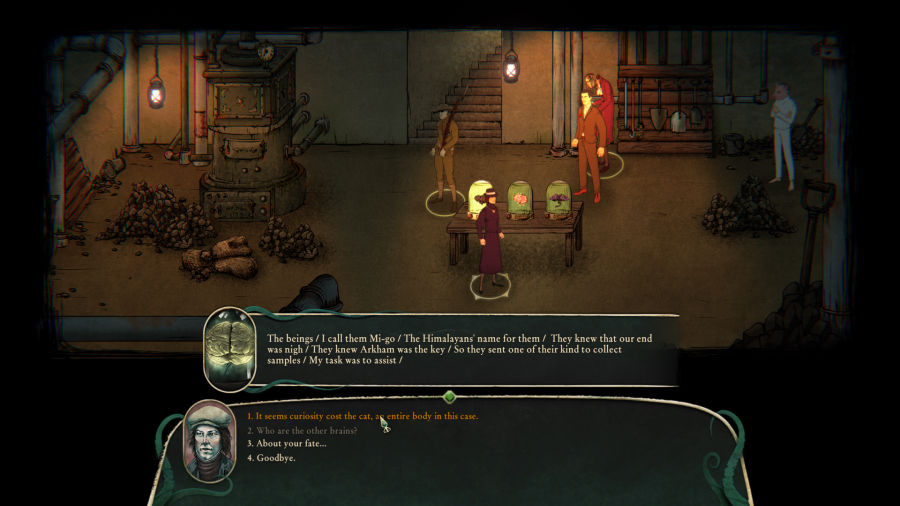 This sucks. The entire point of the Mi-go is that they're inscrutable and alien, and incomprehension is key to Lovecraft's horror. Saying that they were scientists here to collect samples blows.

: It seems curiosity cost the cat, an entire body in this case.
Please get idioms right if you're going to use them.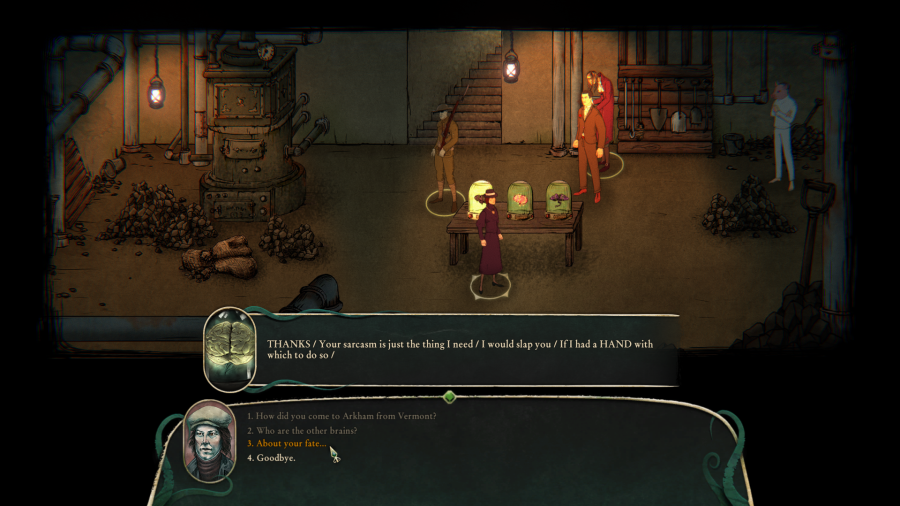 : About your fate...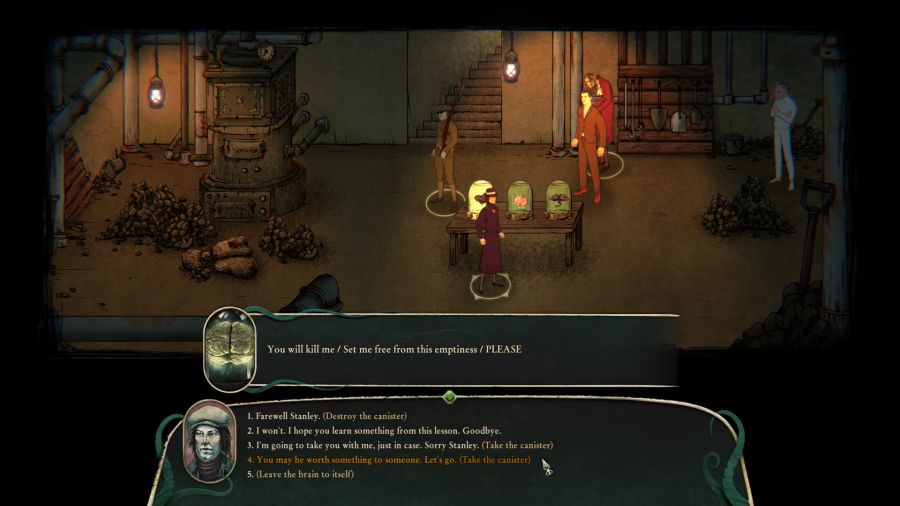 : You may be worth something to someone. Let's go. (Take the canister)
I love how there's no option to try to convince him we can get him a new body, even though there is magic that lets you do that in "The Thing on the Doorstep" and I'm sure these hacks would rip it off.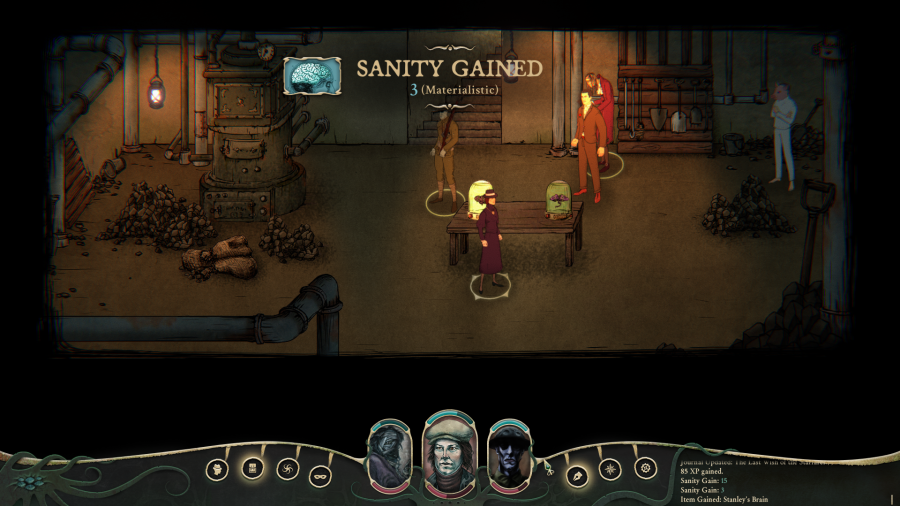 TheGreatEvilKing summary posted:

: Who's there?

: WHOOOOOP ITS STANLEY LOL UR A BRAIN

: This sucks! You gotta mercy kill me!

: I demand exposition first!

: Ok, I was researching local legends, then I discovered the Mi-go were real! They promised me all kinds of cool stuff, but then they stuffed me in this jar! It really sucks! You gotta kill me!

: Nah I'm gonna take you along and maybe sell you into slavery. Sweet sanity!

We leave Stanley's house and get a cutscene.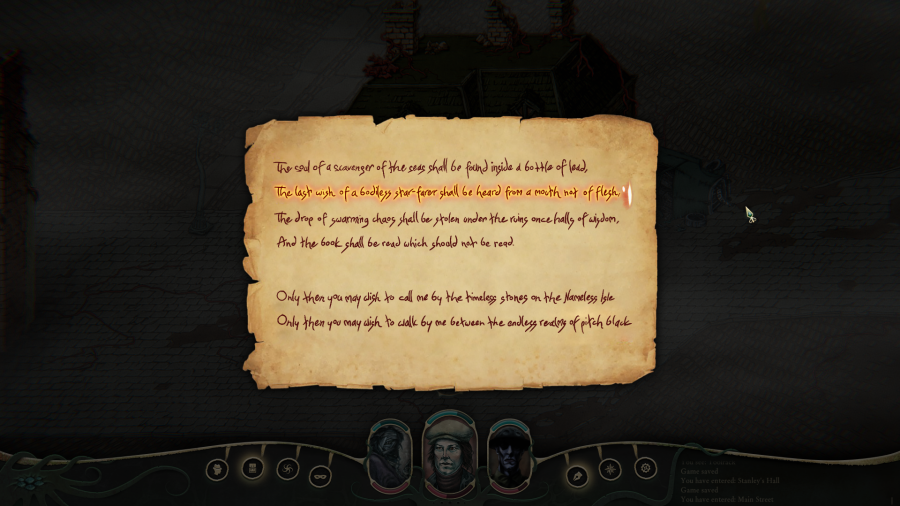 We did the second line of the poem! Hooray!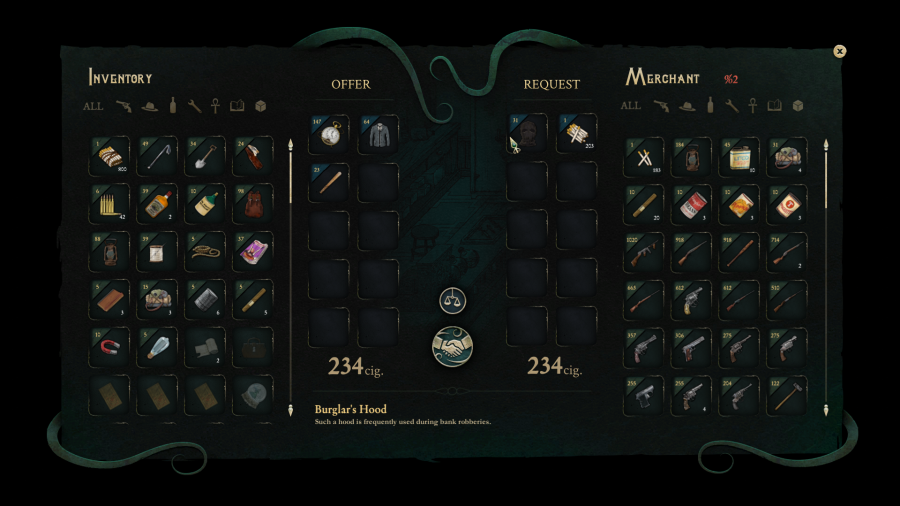 I sell some of our loot. We are loaded with smokes, and I want the burglar's hood because it lets us attack the Mob and/or the Cult without taking a reputation hit. Anyway, the random hobo got possessed by Dark Powers(tm) and told us we needed to look into the Arkham Stabber, and I want you all to watch as the game starts falling all over itself trying to explain that nativism is bad while making a very strong case for it.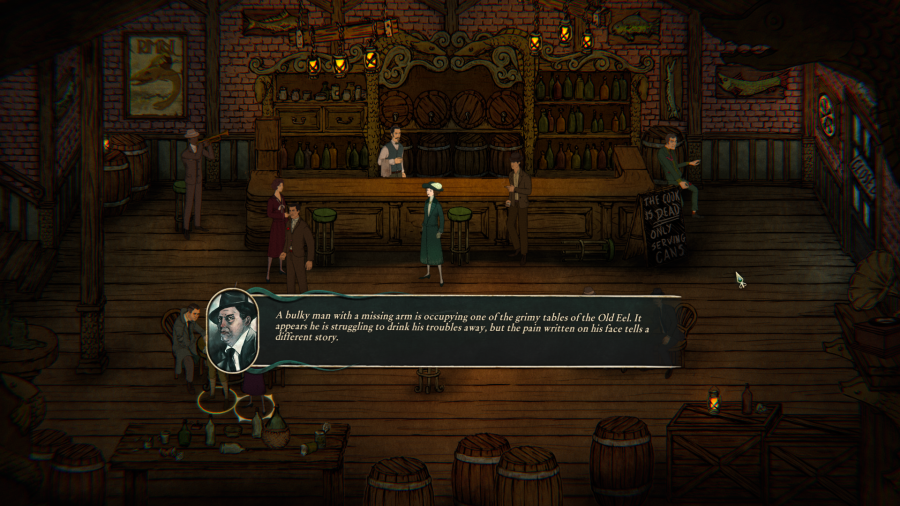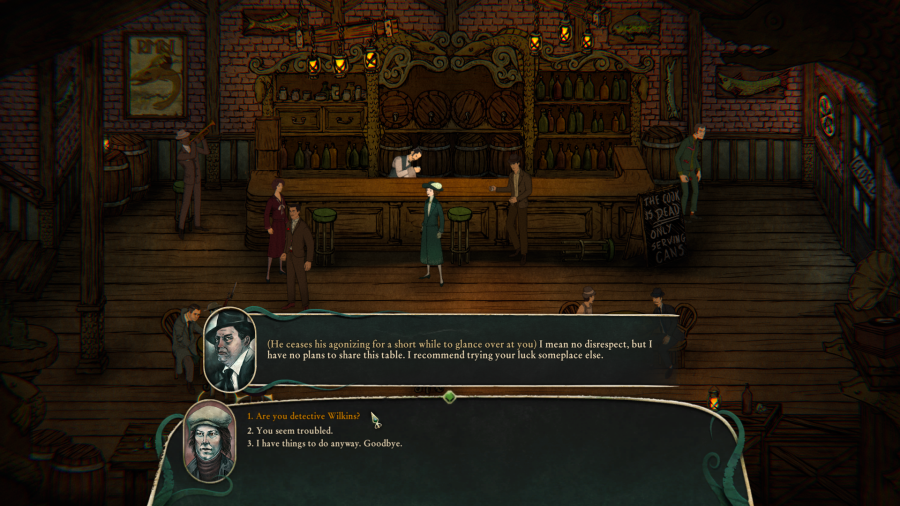 : Are you detective Wilkins?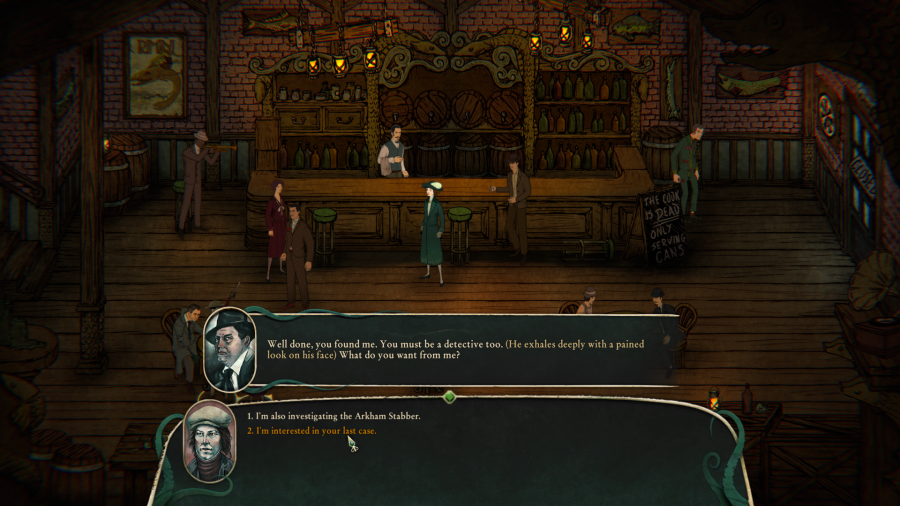 : I'm interested in your last case.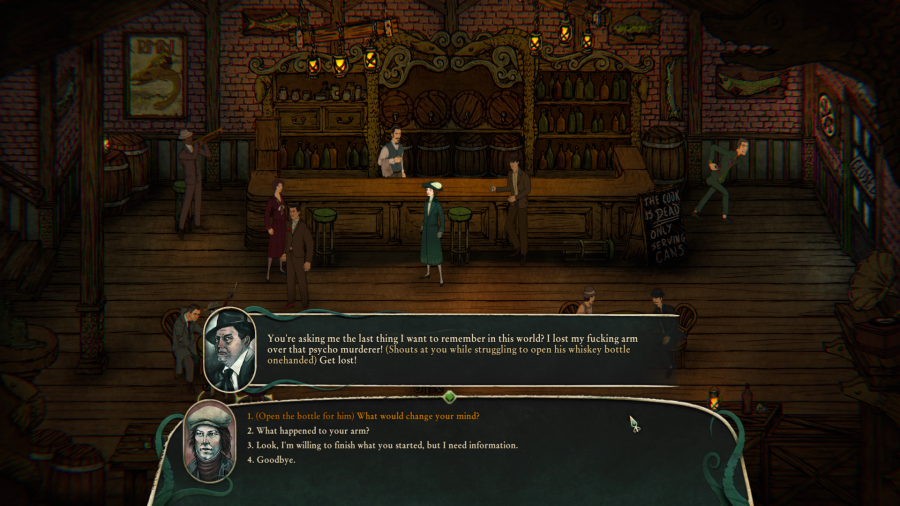 : (Open the bottle for him) What would change your mind?

: Do I fucking look like I want to discuss this? (He looks at what remains of his severed limb) Do you know how this feels? The pain you can cope with, if you're lucky. But the itching, the damned itching never relents.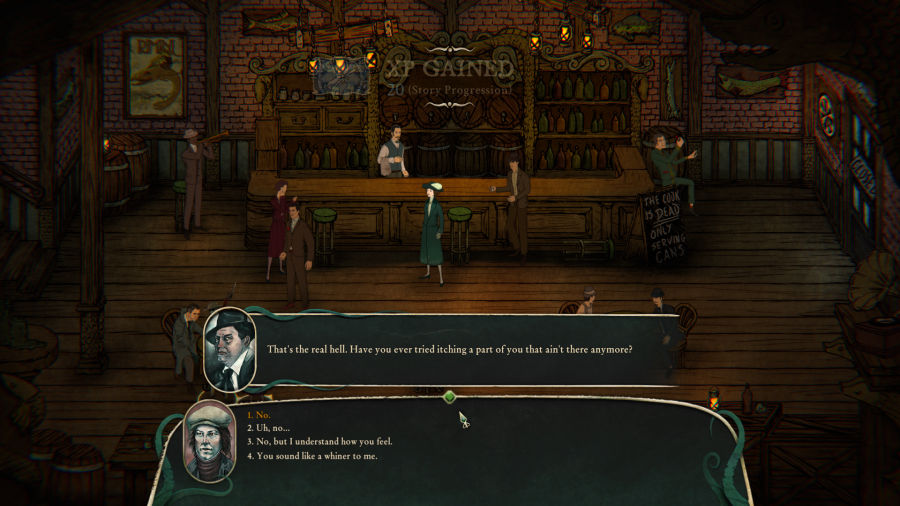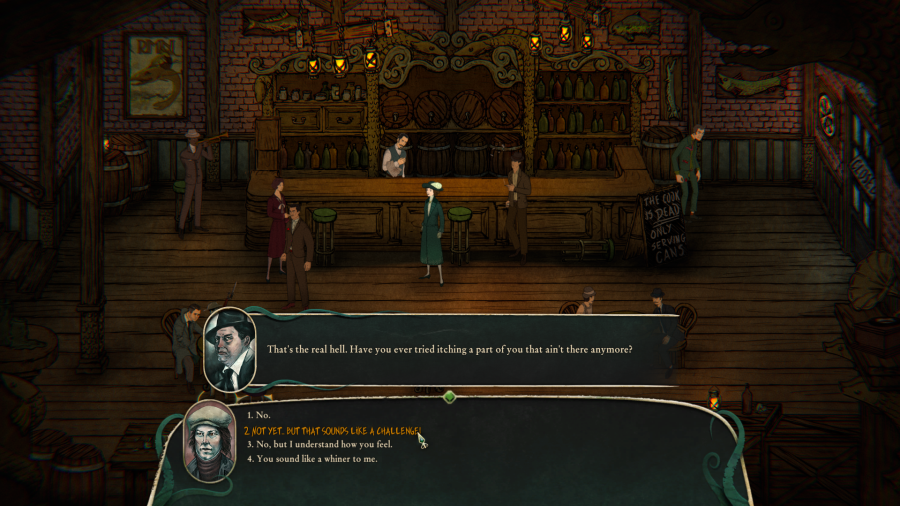 I do not understand why these madcap hijinks are in the game.

: NOT YET, BUT THAT SOUNDS LIKE A CHALLENGE!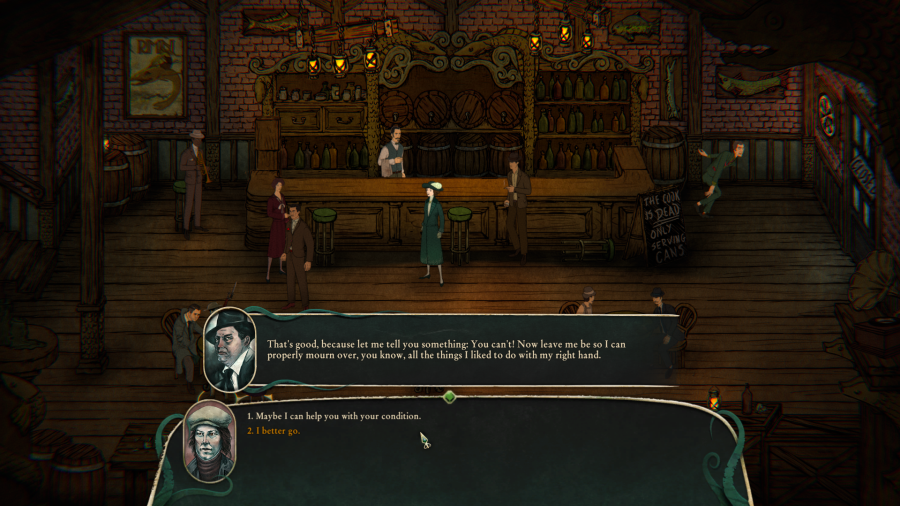 Why do you even have these stupid things if no one reacts except the prostitutes and one other character we have yet to meet later?

: What about finding you a wooden arm?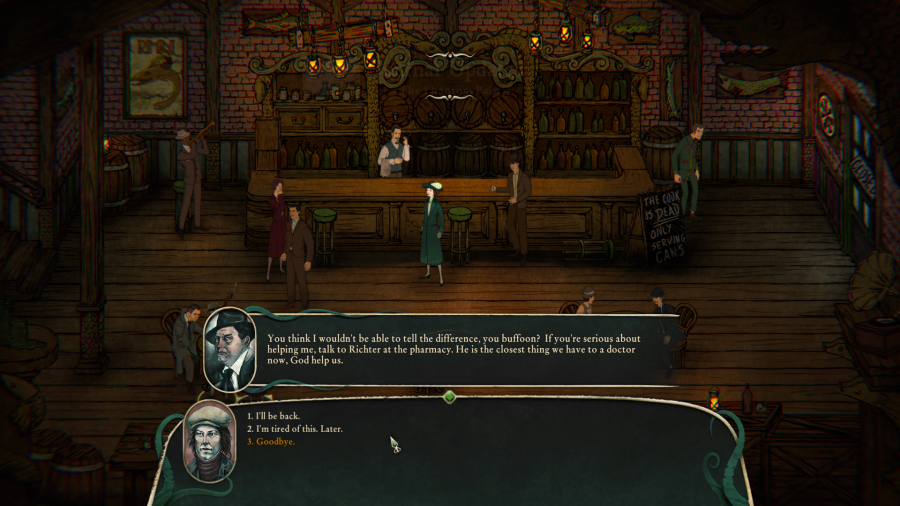 : I'll be back.
We fuck off to Richter's, but first I try to rest.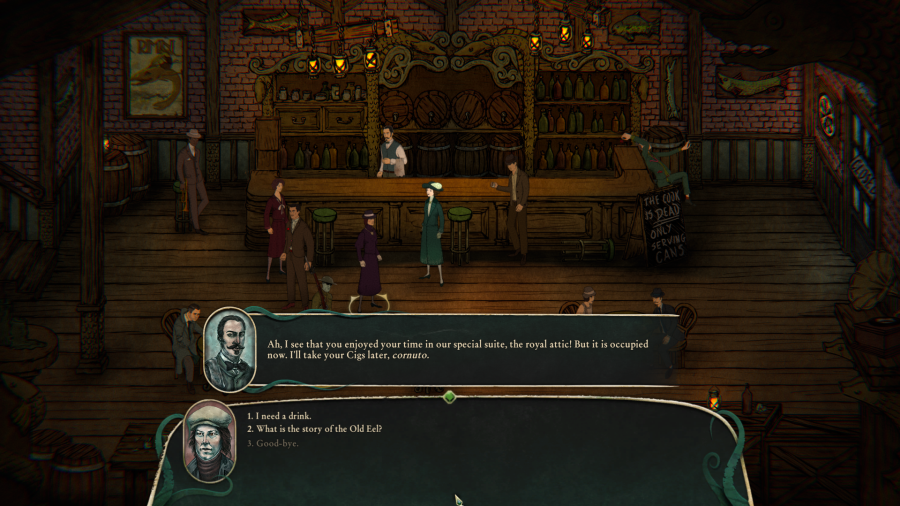 Something I haven't mentioned about Marino is that he does the little Waluigi "weeeeeh" every..10 seconds or so when you're in the bar? It makes an already obnoxious character even worse, and of course you can't just put the mask on and turn him to stone or something.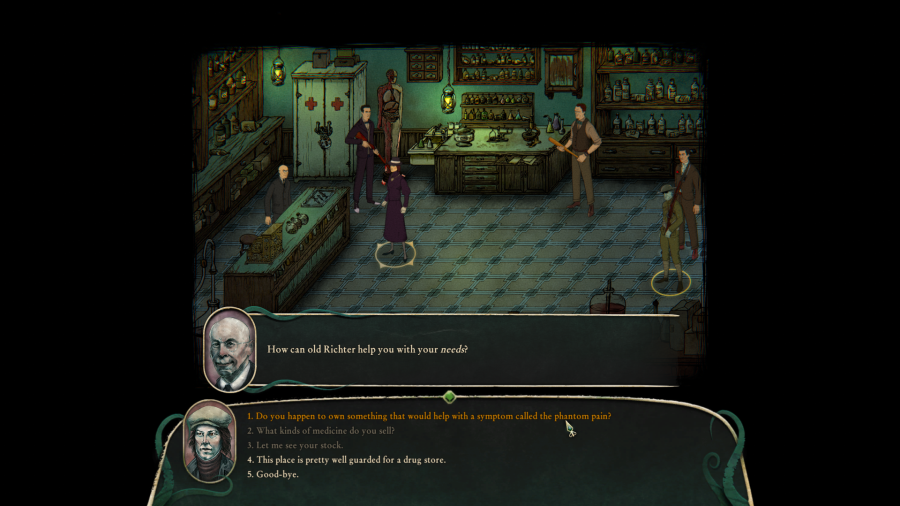 : Do you happen to have anything that would help with a symptom called the phantom pain?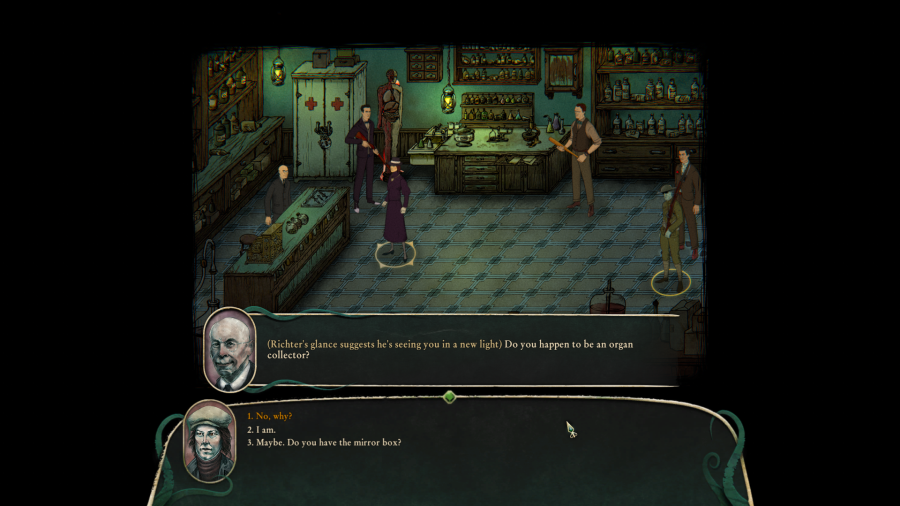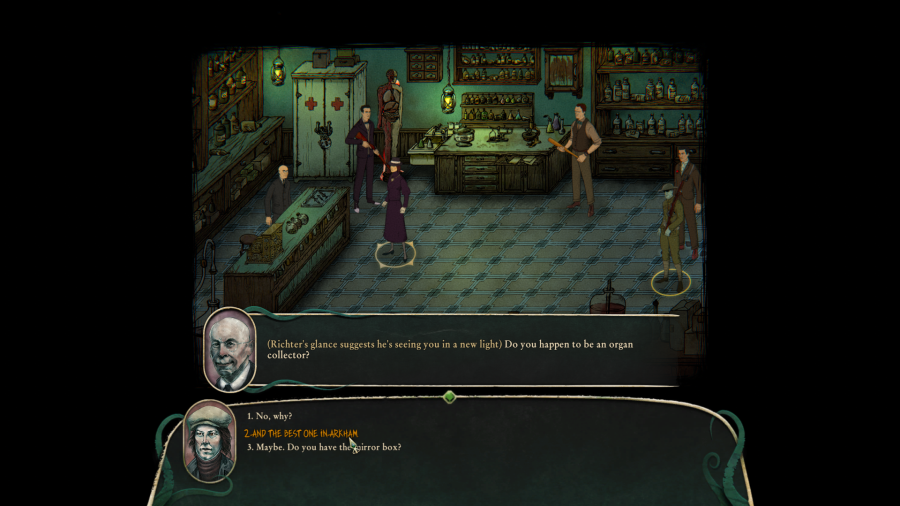 : AND THE BEST ONE IN ARKHAM
See, this could be read as friendly banter and not insanity, and would be a place to insert some comic relief. I really do not understand this Voice of Madness feature.

: Hm, let me see. First you asked about formaldehyde and we both know that it is used for the preservation of dissected organs.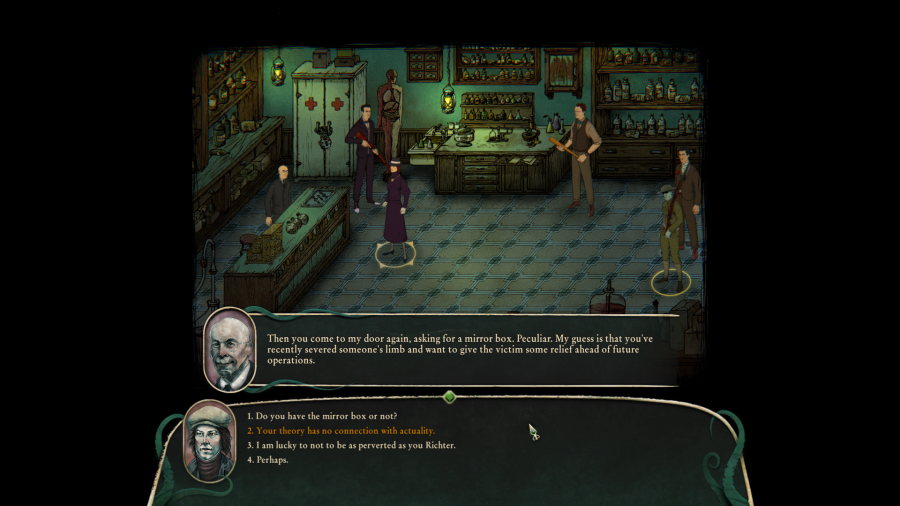 : I am lucky to not to be as perverted as you Richter [sic]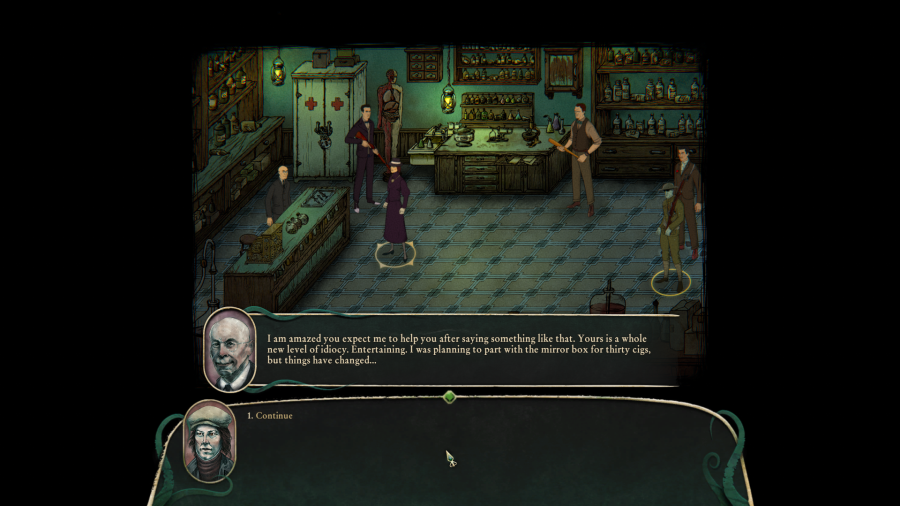 Is Richter supposed to be a weird pedo or just a sadist? I'm honestly not sure and it disturbs me.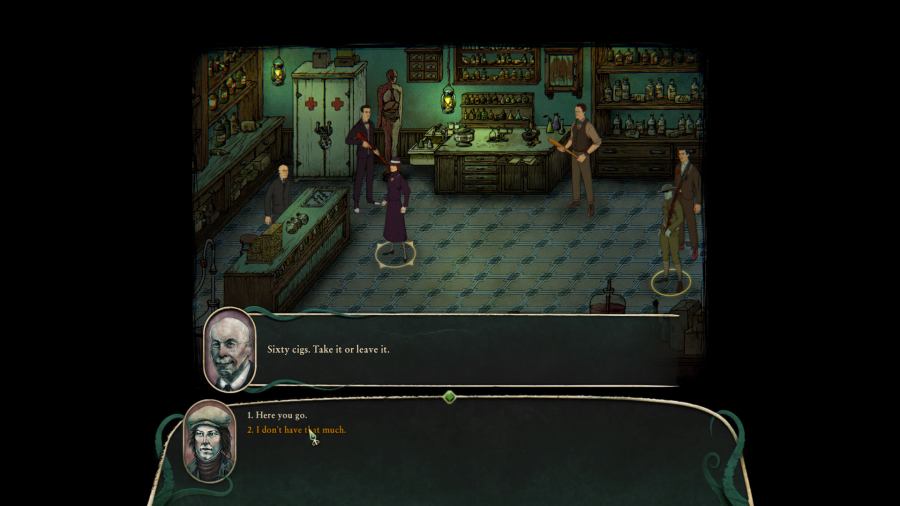 : Here you go.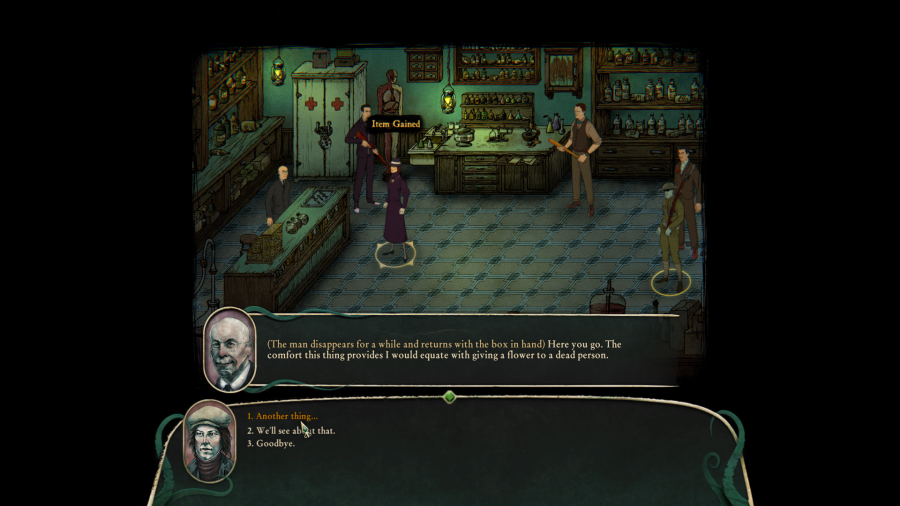 We disappear into the sunset, secure in the knowledge we currently have more Cigs than Richter does.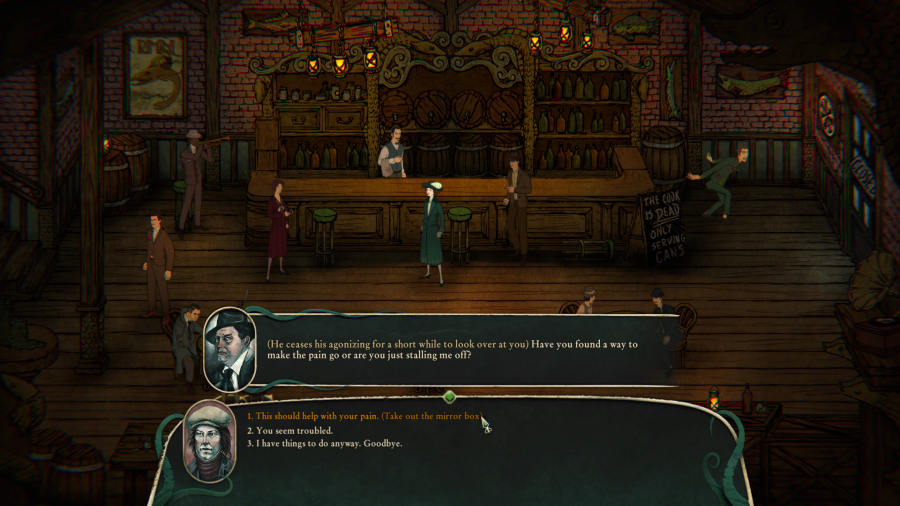 : This should help with your pain. (Take out the mirror box)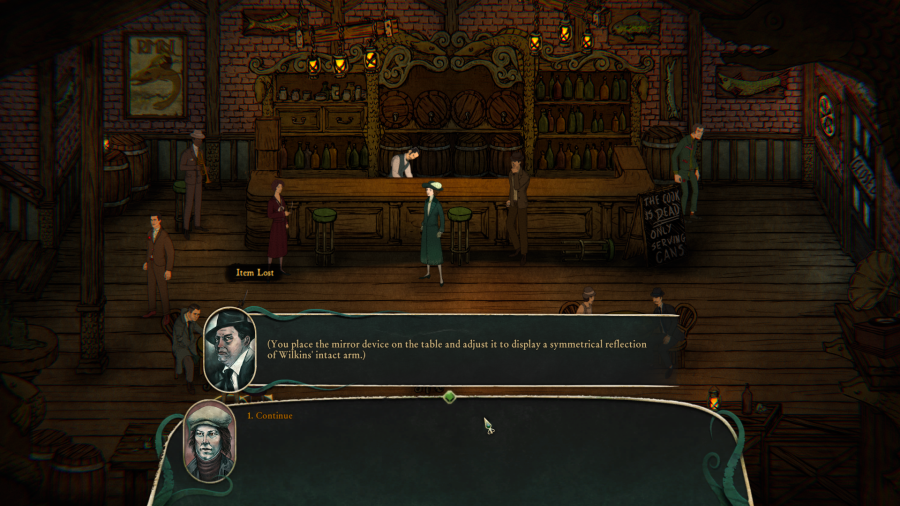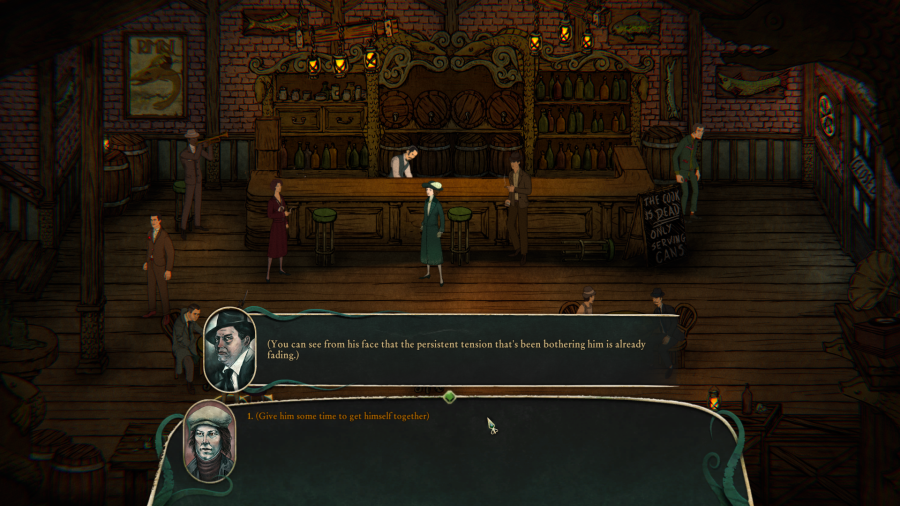 The game fades to black when we take the last dialog option.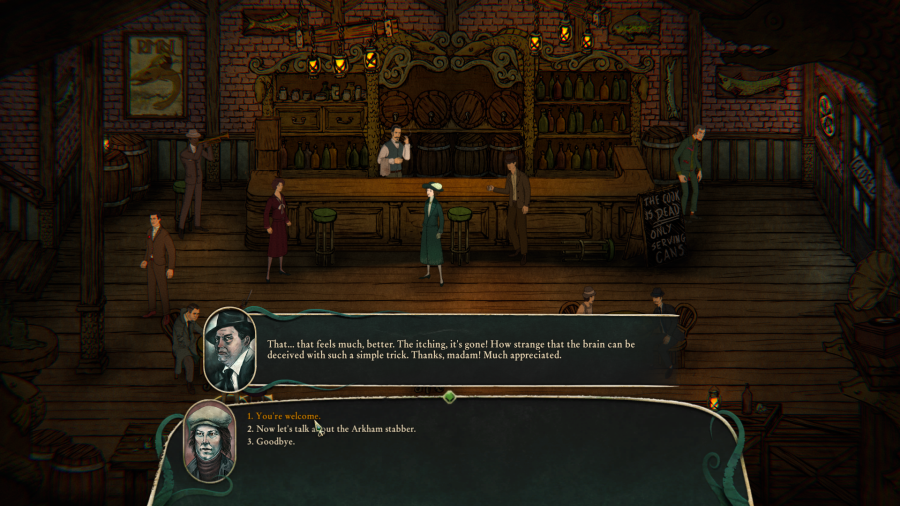 : You're welcome.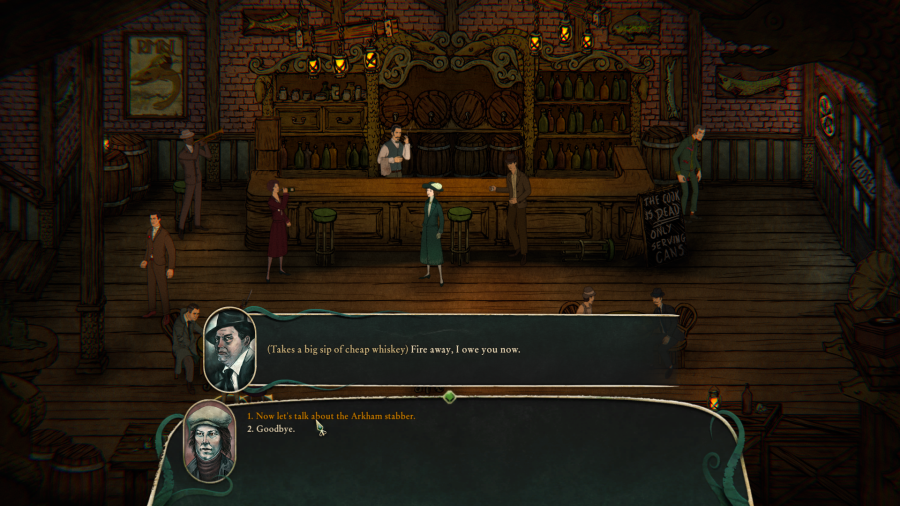 : Now let's talk about the Arkham stabber.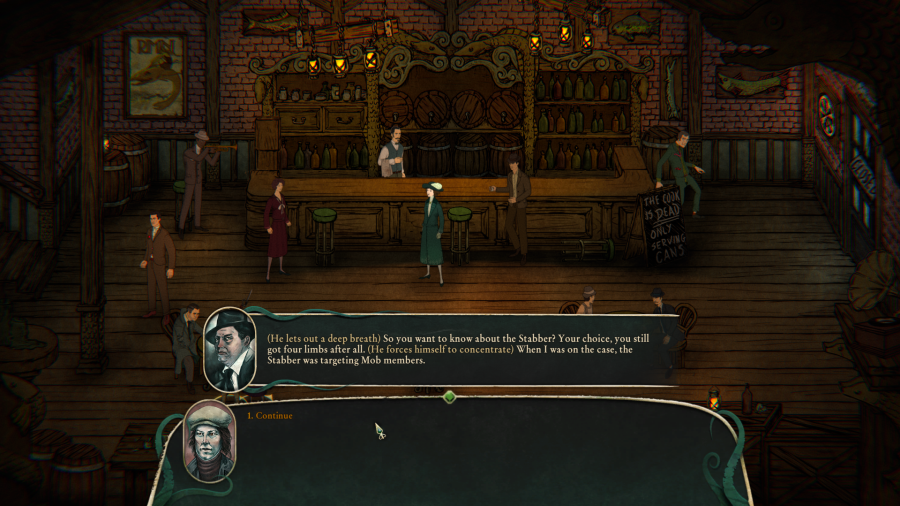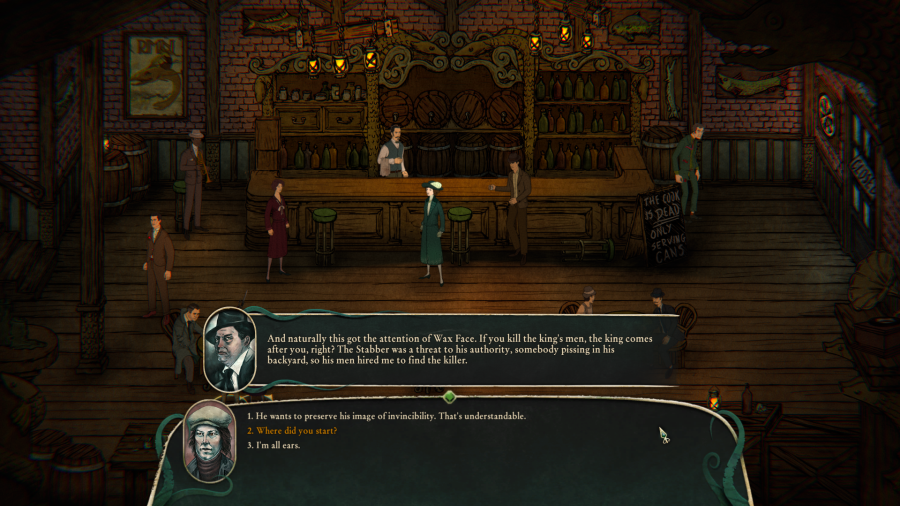 : He wants to preserve his image of invincibility. That's understandable.

: Look, you don't understand shit about that...that... (He looks around anxiously and lowers his voice ) good samaritan[sic]. That bringer of law, unseen Caesar...whatever.

: With the victims. What were there names? (He clumsily pulls out an old notebook and finds a torn page inside) Salvador and Abel, no one important. Clueless, fresh recruits for the Mob, that's all.
I want you to keep in mind they joined the Mob for later.

: Then I looked into how they were killed and that proved interesting indeed. The wounds all pointed to one thing: a sword, and a big one, with a broad blade.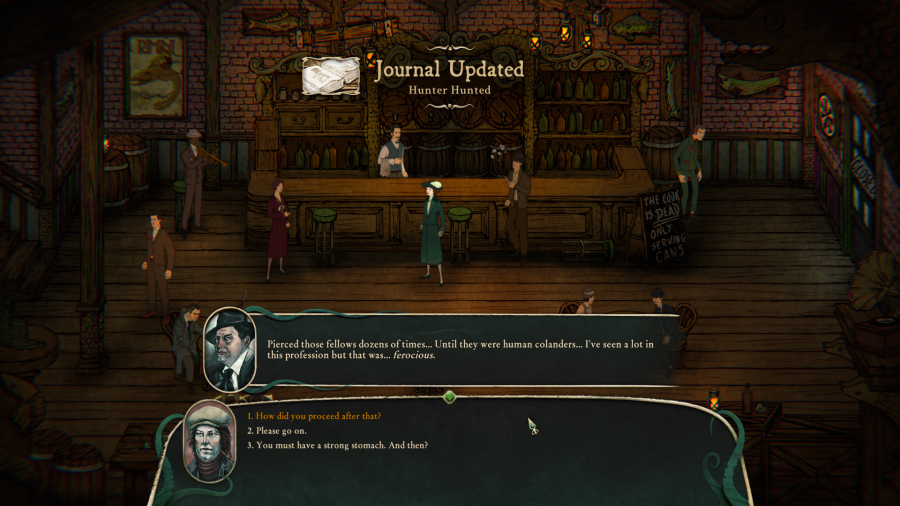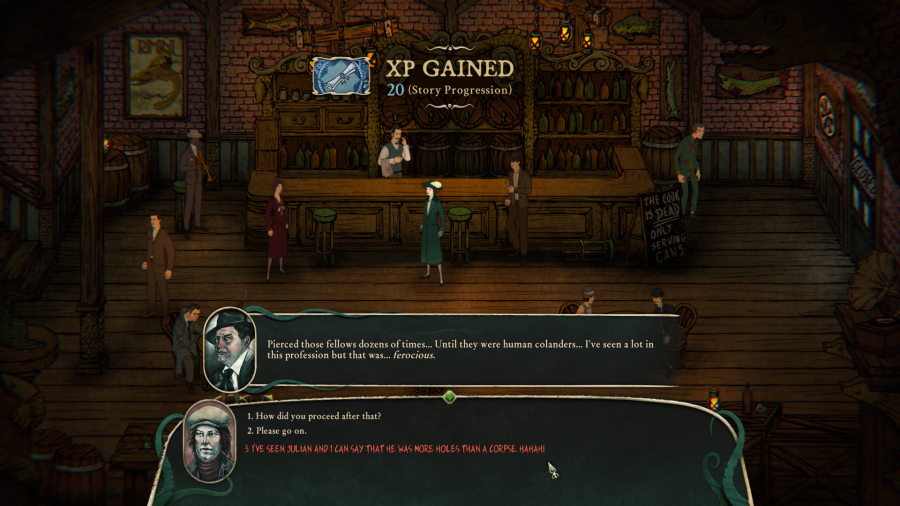 : I'VE SEEN JULIAN AND I CAN SAY THAT HE HAS MORE HOLES THAN A CORPSE HAHAH!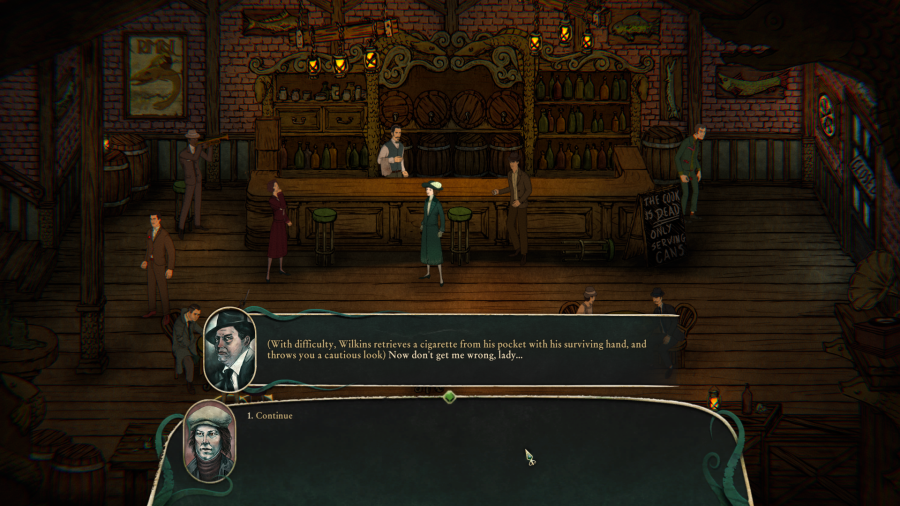 : But in this business, even a small misinterpretation can mean punishment. And in Arkham, this punishment is almost always a horrible death. So for now, I'll keep what I know to myself.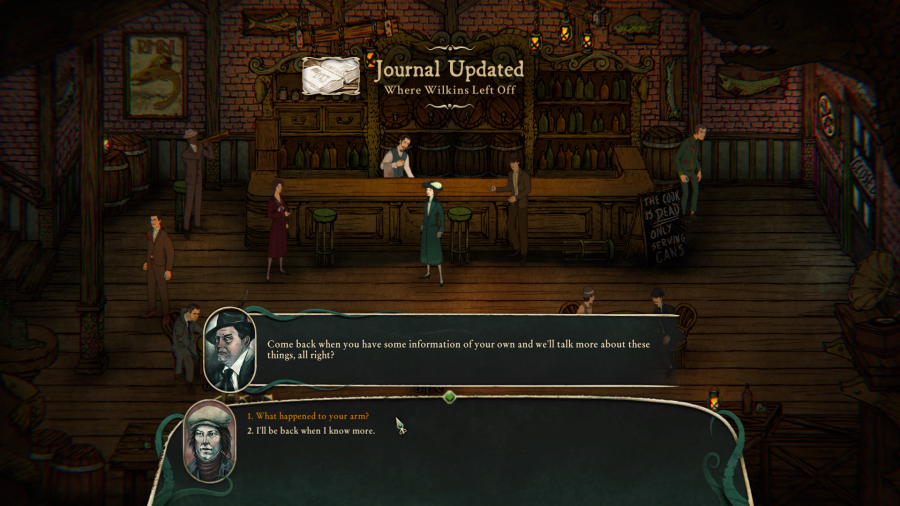 : What happened to your arm?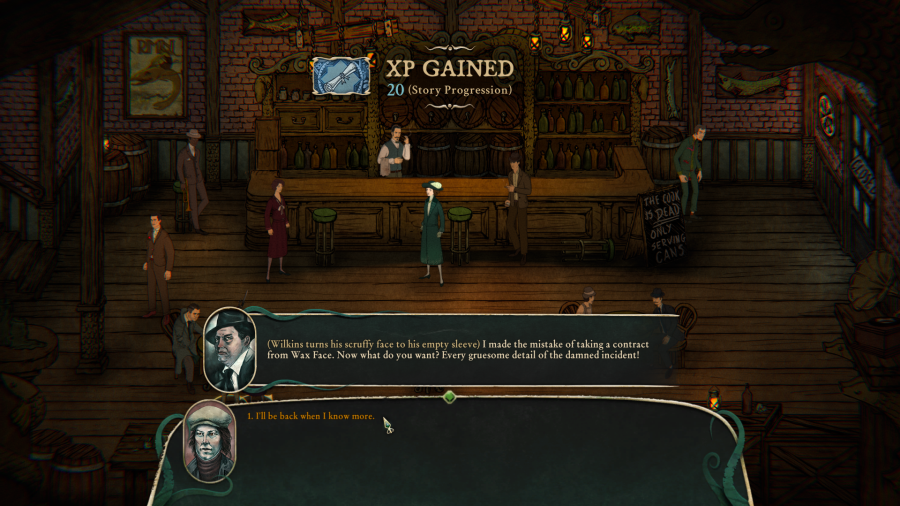 : I'll be back when I have more.
TheGreatEvilKing summarizes this shit posted:

: Fuck off. Uh, no offense.

: Detective Wilkins? I need to know about the Arkham Stabber.

: Oh yea? Well, I'm very traumatized because the Mafia cut off my arm! Fix my arm?

: Like a wooden arm or...?

: Go talk to Richter, I'm gonna go drinking.

: Do you want druuuuuuugs?

: Actually, I just need something to help with phantom pain.

: Are you an organ collector?

: YES THE BEST IN ARKHAM THIS MODERATE FUNNY JOKE MEANS IM CRAZY WHOOOOOP!

: Hmm...all this evidence...let me ignore that confession...lol you must be a serial mutilator!

: Eh, it beats being a weird BDSM pedo dude.

: My price just doubled, asshole!

: Oh no...60 Cigs...whatever will I do? Gimme. Wilkins, I got your thing! Tell me about the stabbed guys!

: Wow, thanks! Anyway, they got stabbed with swords, and their names were Salvador and Abel. I'm not telling you anything more until you figure things out on your own, because we gotta pad out game time!

: How'd you lose your arm?

: The Mafia cut it off, asshole! Shoo!

Not pictured: Me failing to beat Herschel again. Just need more subterfuge...
Next time
: Hotels! Sex rituals! Necromancy! Native American genocide!