Part 12: First Base
Last time on Suikoden IV...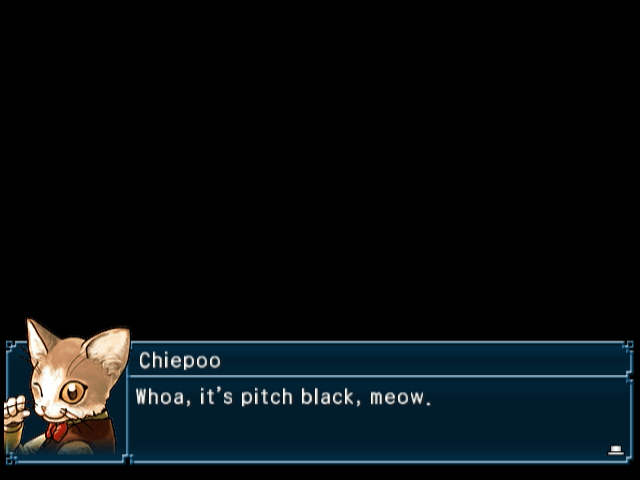 It kind of still is.

Your eyes will get used to it gradually. Now, please keep going.

Whoa! Hey, watch it!

Oops. Your foot was in the way! Sorry.

It's not so bad, right? Is it easier to see now?

Certainly is!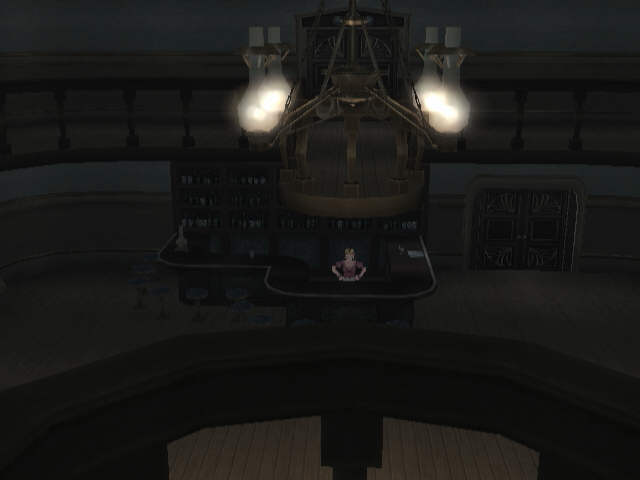 ...oh, someone finally turned on the lights. And check it! A sweet bar!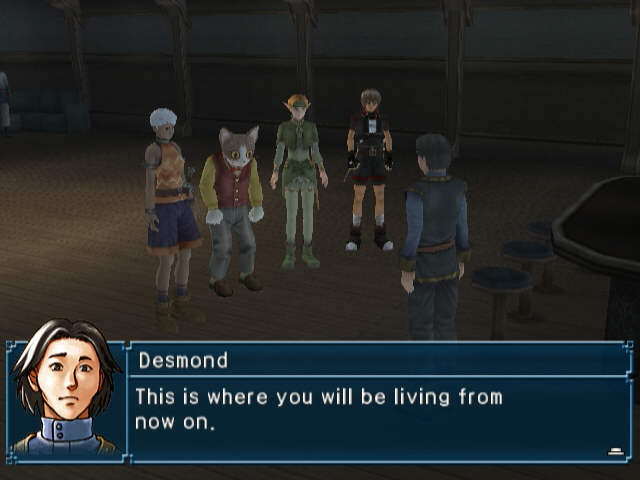 This room here is where you can rest, but there are many additional rooms as well.
Oh, yes, I have a message from the king. He wishes you to assemble a group of people with various skills?
Oh, I like where
this
is going!

What does he mean by that?
He means you're about to become obsolete, and frankly, it's not a moment too soon.
Oh, don't give me that look, I've been using you for the past what, ten hours?
(granted at least half of that was spent doing completely unrelated things... but still!)

It means exactly what I said.


Also, he requested that Lazlo be in charge of this task.
He truly is the second most competent man on the island. Tenkai star, reporting for duty!

There are already several guests here who have preceded you. See? Over there.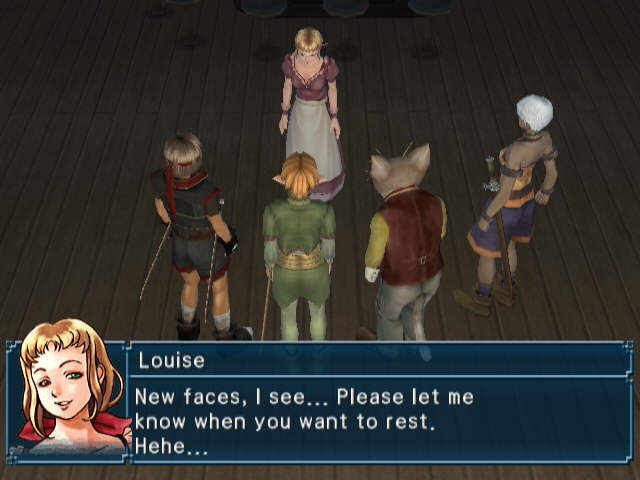 We'll compromise. I'll tell you about resting, and we forget the "Hehe" because that sounded kind of creepy.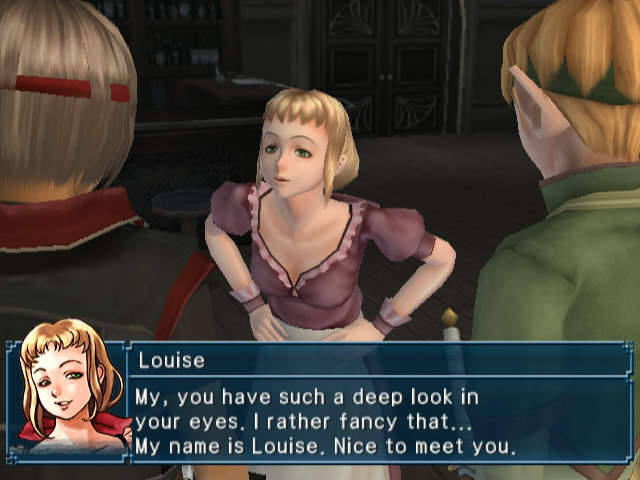 Of course you do, dear. Of course you do.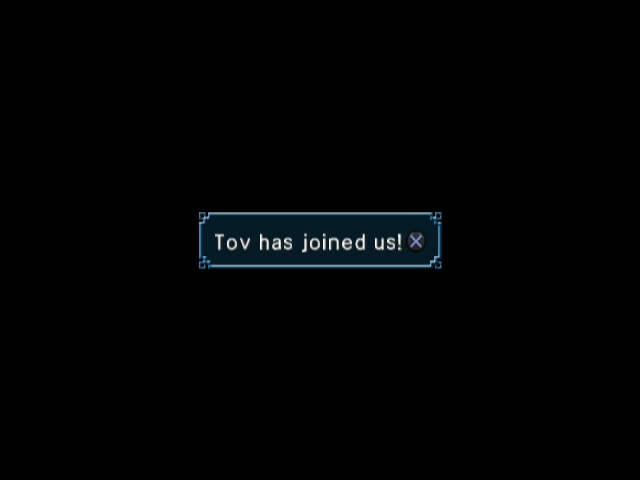 Who?

Also Louise and Chadli.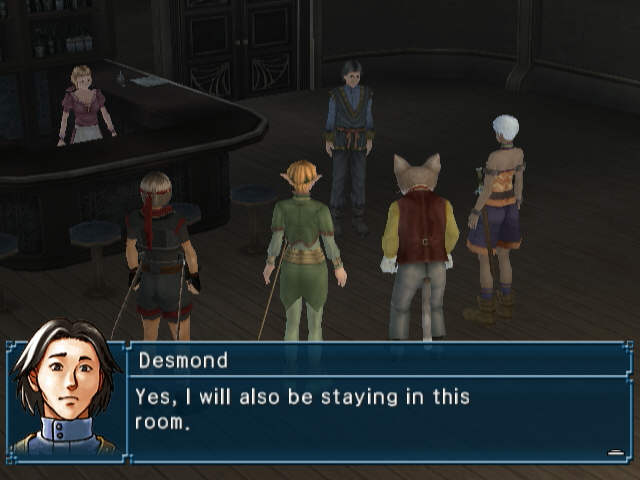 Oh, and if you wish to change your party members, please talk to Ms. Louise or myself.
If you grow weary, the sleeping quarters are up the stairs and to the right.

Ahh... sleep sounds good right now... After being out at sea for so long, we finally get to sleep on land!

I agree with Mr. Chiepoo's suggestion... Let us first get some rest.
Are you trying to tell me something


When we wake up, we'll be starting a new life.
Let's do our best, Lazlo. Don't worry. We'll get to return to Razril someday...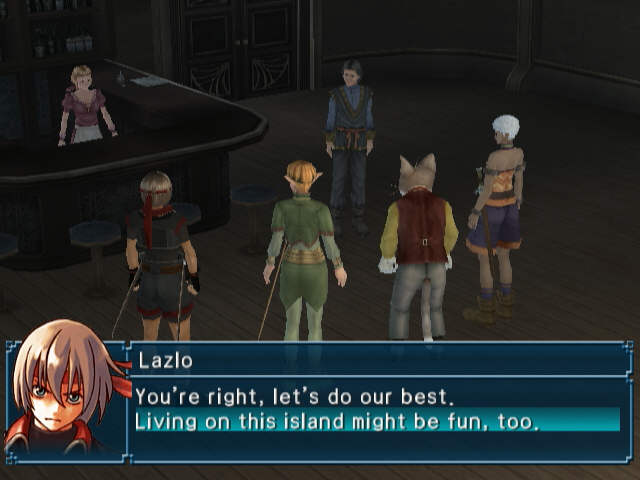 Eh, I still want that beach house.

What? We joined you because... we believe in your innocence, Lazlo...
Well... your cool and calm demeanor comes as no surprise, Lazlo. At any rate, let us get some rest first.
Lazlo's swag has no off switch.
(Oh yeah and we get a "Desmond has joined you!" but if you've seen one, you've seen them all and fuck no I won't be posting all those things.)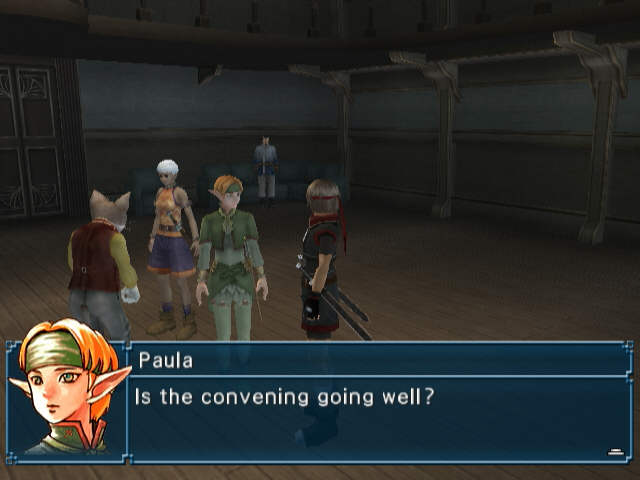 The party disbands, and we can go around the place and converse with our recruits...

Hey, how's everything been?
...but there aren't very many of them and they don't have much to say.

Take me with you once in a while. I need to be out in the sun more often...
You really are a cat. Damn it Chiepoo, you were
just
outside and I distinctly heard you say you wanted to get some sleep, so
go get some sleep
.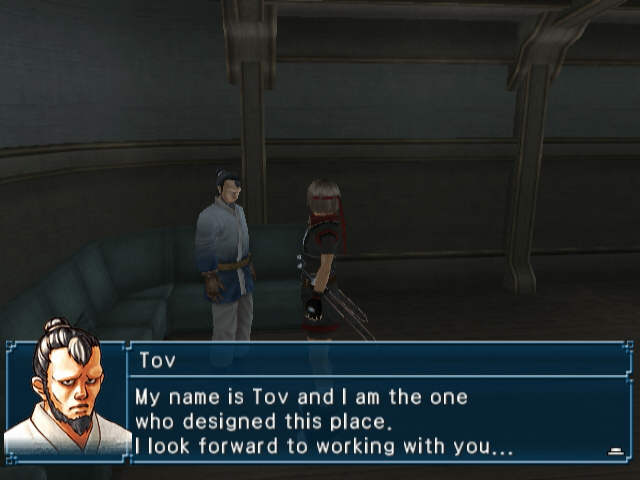 This guy, weirdly, gets no introduction at all unless you specifically go talk to him. He has a pretty sweet jacket.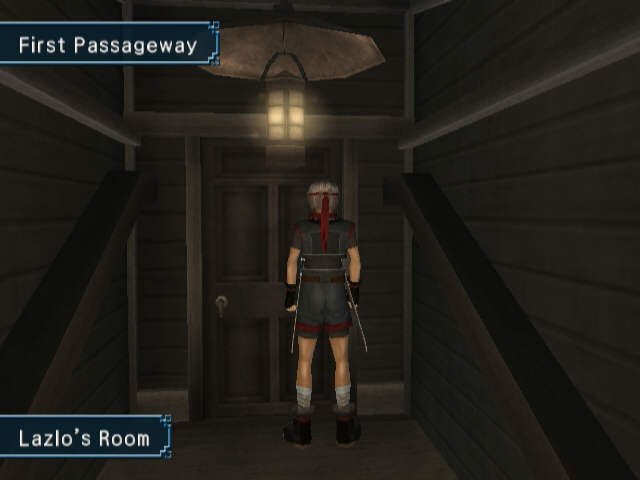 Our own room! Lazlo is moving up in this world!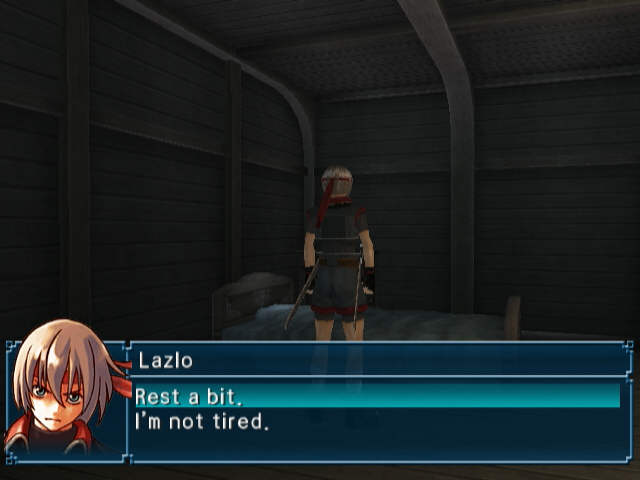 It's kind of empty, but hey, an actual bed. Have we even seen one of those since the last night in Razril?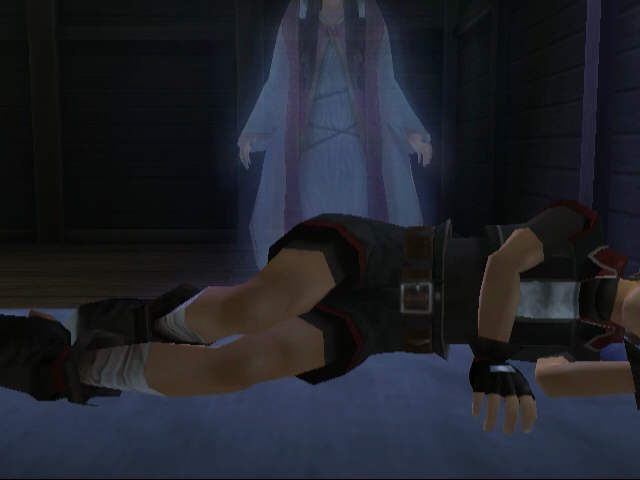 However, his rest is interrupted...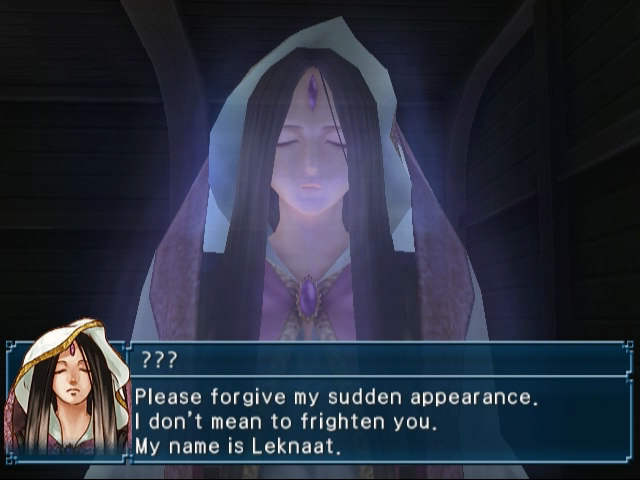 ...by
an uninvited visitor in the middle of the night
.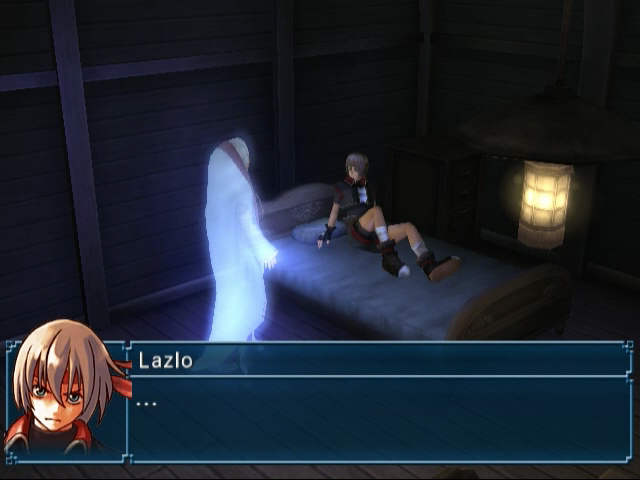 You tell her, Lazlo!

I am the guardian of the True Runes. Some call me the "Executor of Balance."
Exewhat now? I think I'd rather call you a meddler who can't keep her nose out of other people's business.

Embedded in your left hand is one of the True Runes. That particular one is called the "Rune of Punishment."
I am blown away by this revelation!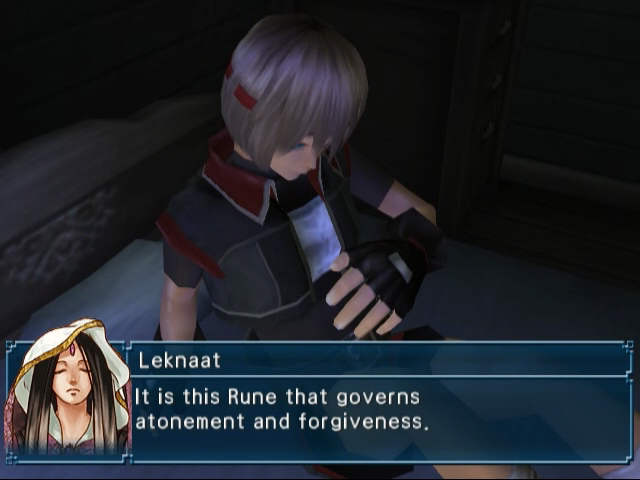 Actually I'm pretty sure it's the Rune that governs gameplay/story segregation.

As the Rune's power is used, its dreadful spell will consume its master's life, little by little.
Oh, you speak Plot. Let me get my dictionary... says here, "USE A FIRE RUNE INSTEAD YOU DUMB FUCK". Is that about correct?

But no matter how harsh the journey, you must realize that there are no trials that you cannot overcome.
Friends will help you along the way. Surround yourself with strength, the strength of many...
"THERE ARE 108 RECRUITABE CHARACTERS IN THE GAME"
"IN CASE YOU DIDN'T READ THE BACK OF THE BOX"
"WHY DID YOU NOT READ THE BACK OF THE BOX"
I think I'm getting the hang of it.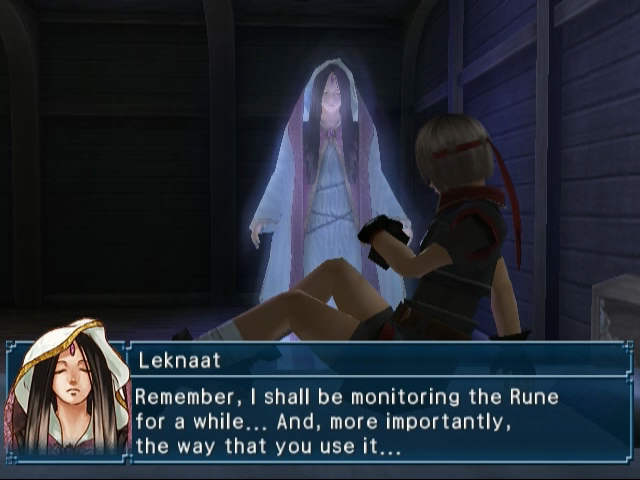 Hey, I have a request. How about you say or do
anything at all
that would actually be useful?
...no?
I know, I'm being harsh on Leknaat, but this really has to qualify as her least useful and least necessary appearance ever. It
might
have made sense in Razril, some time just after obtaining the Rune, but before having a chance to use it and discover its effects by ourselves. It would have made more sense if we had watched the
next
voiced cutscene instead at this point.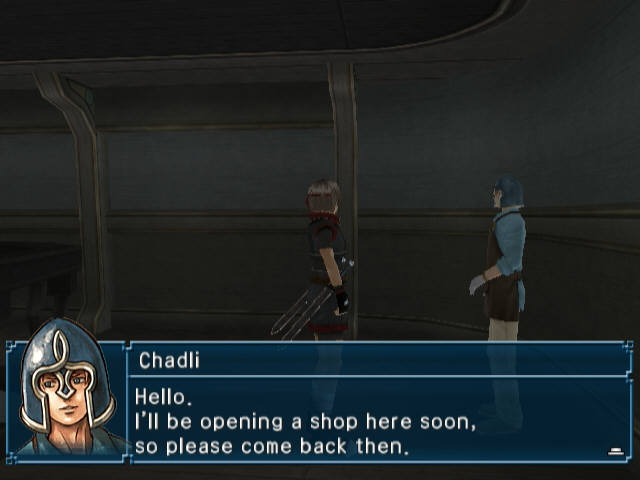 The next morning, Lazlo inspects his new pad and finds that other guy. Nice hat.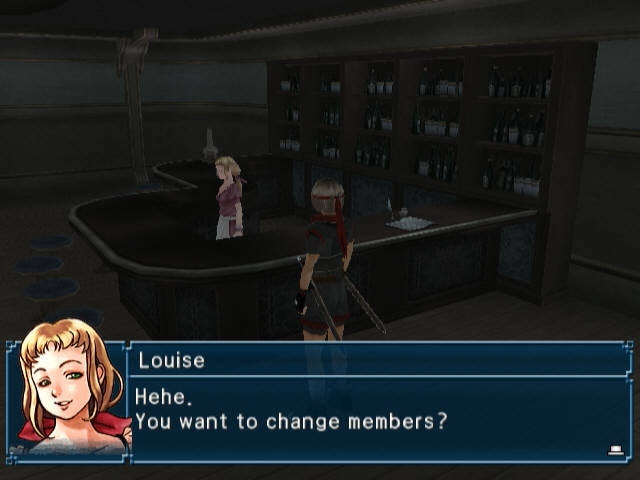 It's not as if we can "change" them or anything, we just have the three, but...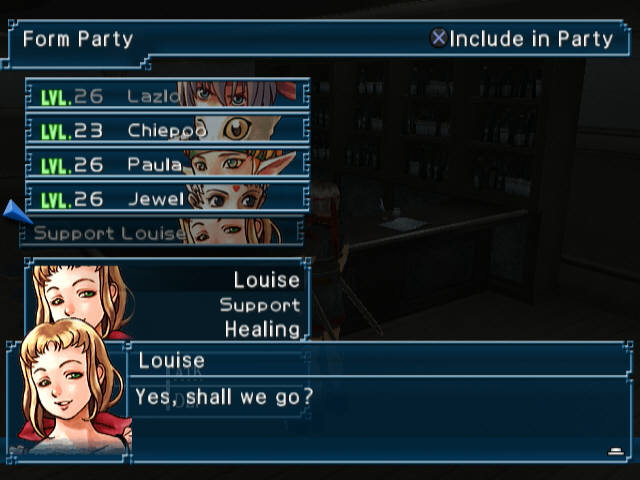 ...we
can
add Louise to the support slot. She comes with the Healing skill, which restores some health to the party after each battle. This may offset the shittiness of the Rune of Punishment somewhat... maybe.
However, that isn't the end of it. The game doesn't
tell
you this (

), but support skills come with different ranks! Louise's Healing skill is rank C, the lowest possible, and restores 10% of max HP after every battle. (For comparison, Healing B restores 11-15%, and Healing A restores 18%.)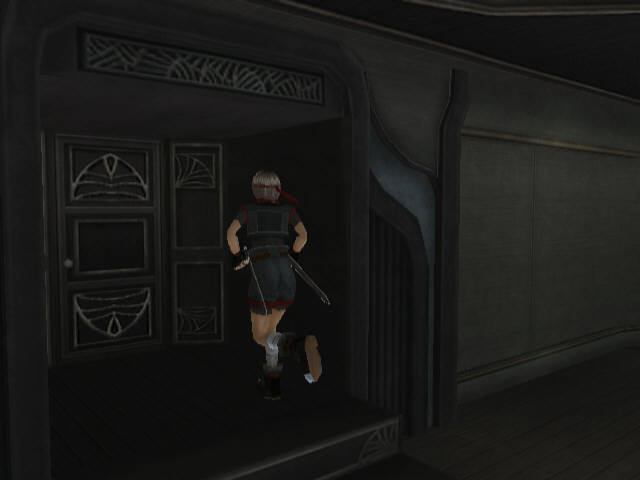 Now, we were told to-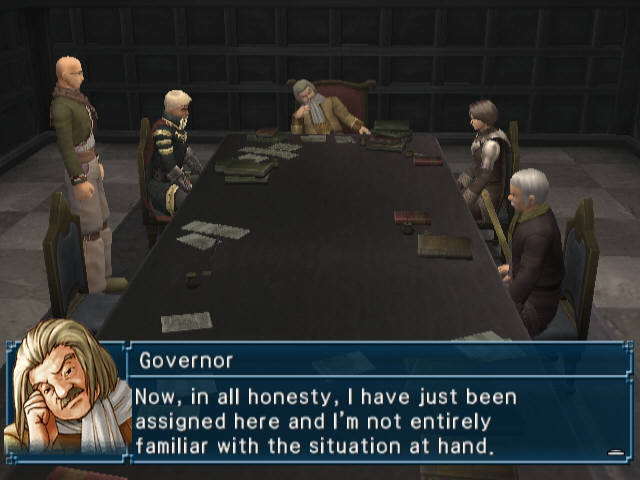 wait what
This is the scene I was talking about a few lines up, and it just cuts in out of nowhere as you exit the building.

Nevertheless, please begin.
He has a portrait... but not a name? My world view!


Ahem, if I may...
It is the light that was seen earlier that concerns us. It has not been seen around Razril since then.

Hmm... In other words, this proves that this light has nothing to do with the land of Razril, correct?
I
what
no
that doesn't prove anything at all!

But Sir Cray, I remember you saying--

Don't be hasty, Governor. I am saying that this light is something that shifts. Please humor me for now...
...maybe his name
is
Governor?

I beg your pardon, Sir Cray, but your story... I cannot help but think it sounds like a work of fiction.

This is coming from one who is known as the "Child of the Sea God"? Sorry for being so outlandish!
Don't apologize for that.
Apologize for so obviously being a villain instead. I mean, fuck's sake. Look at yourself.

If you would please stop calling me that...

Troy, just let it go. There's no need to be so sensitive.
"But mooom!"

I know the achievements of each of your fleets. As does Sir Cray.

Yes. Without you, we would be unable to fulfill the Governor's plans for the southern expansion.
I know it's boring to just watch a couple of talking heads, but rest assured, I'll put up another screenshot the moment the camera angle changes.

In any case, I was told one of my men had a report for us.
Ramada?
Oh, that scum-sucking son of a bitch.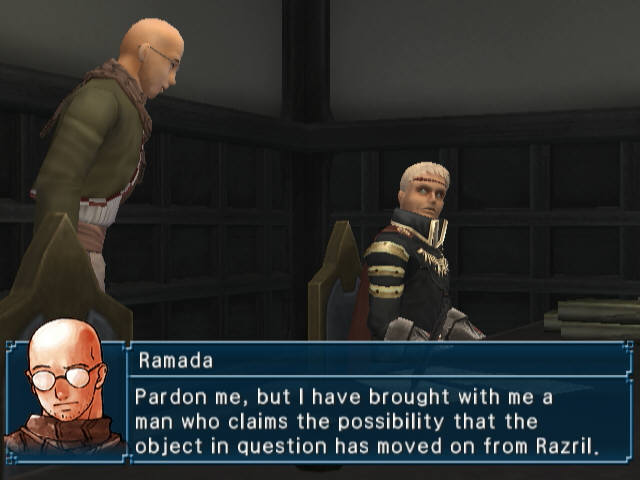 New camera angle! Rejoice!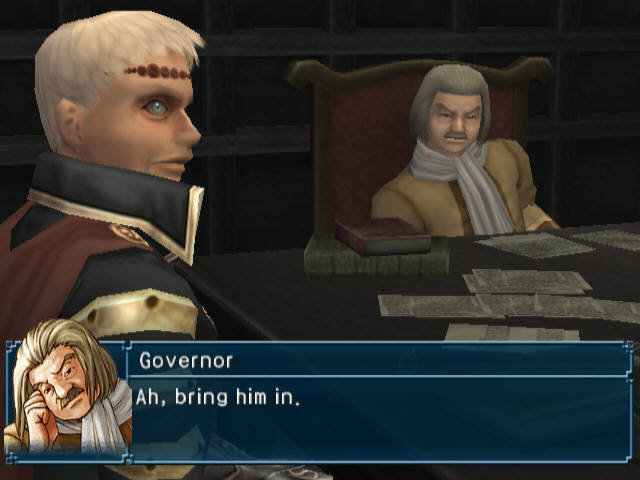 And another! Behold, Cray's villainous countenance in its full glory. Come to think of it, that hair vaguely resembles the hero's in Suikoden Tierwossname. You should probably apologize for that, too.

As you wish. You may enter.
Who could he be...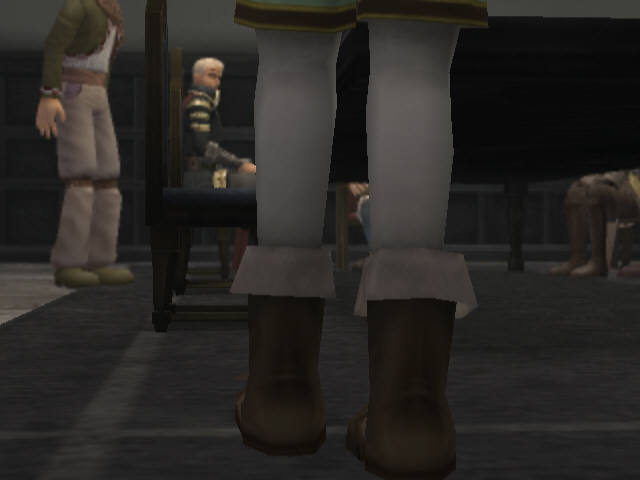 ...talking ab...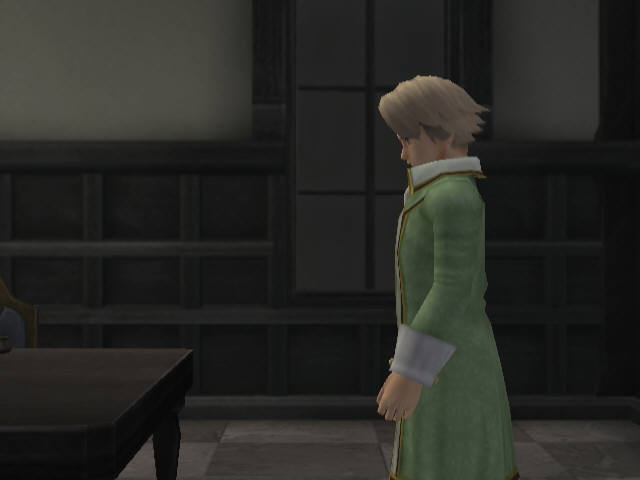 Oh, for fuck's
fucking
sake.
---
So like I was
saying
, we were
told
to go visit the ruins, but we just got our home base in a Suikoden game and you all know what
that
means: disregard plot, acquire minions!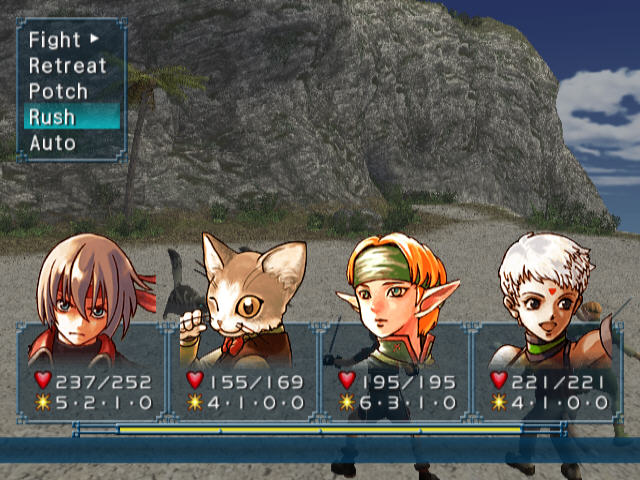 Oh, and speaking of gameplay, we have a new toy.
The Rush command is only enabled when the yellow bar at the bottom is full, and it charges slowly as battle things happen.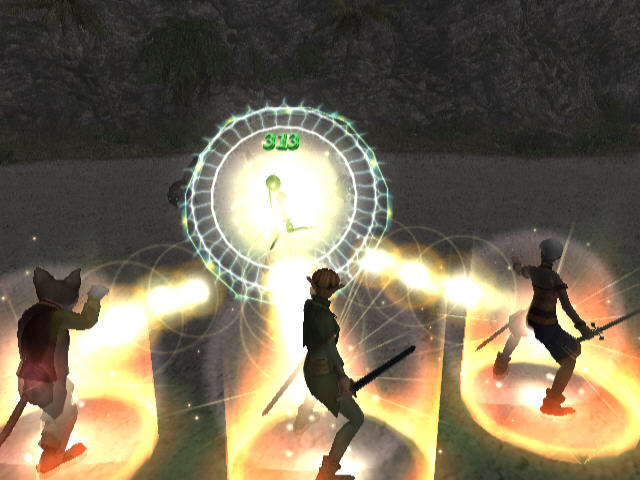 Using Rush depletes the bar and causes your party to charge Lazlo up with the power of friendship, healing him...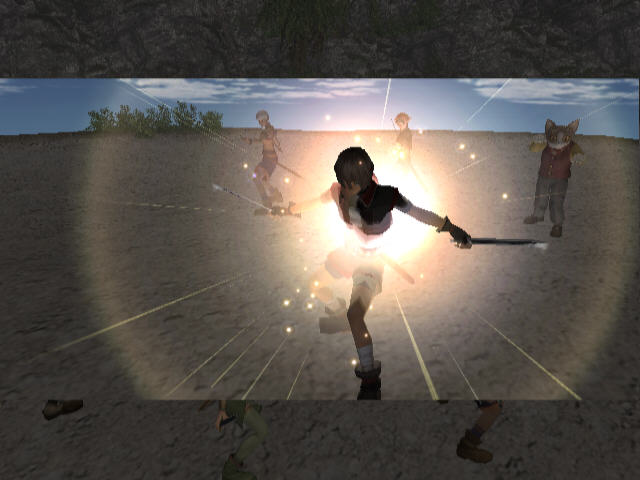 ...and enabling him...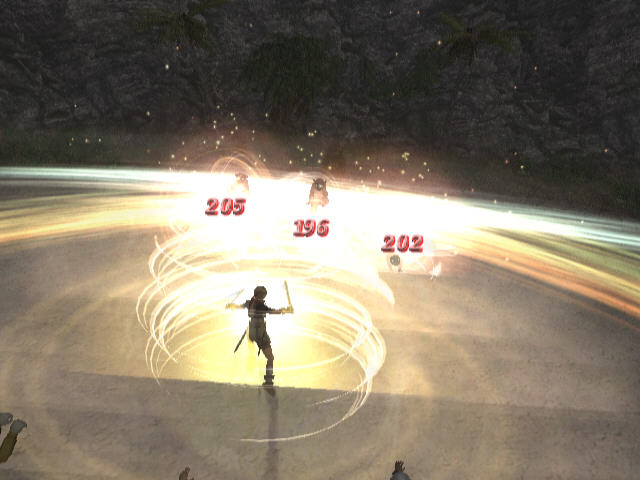 ...to launch a huge shockwave at enemies.
It's pretty nice, and should be used whenever it comes up, unless you're absolutely certain you won't have time to re-charge until the next boss or something.
(Because you'll really need Rush for the bosses.)
((That was sarcasm, by the way.))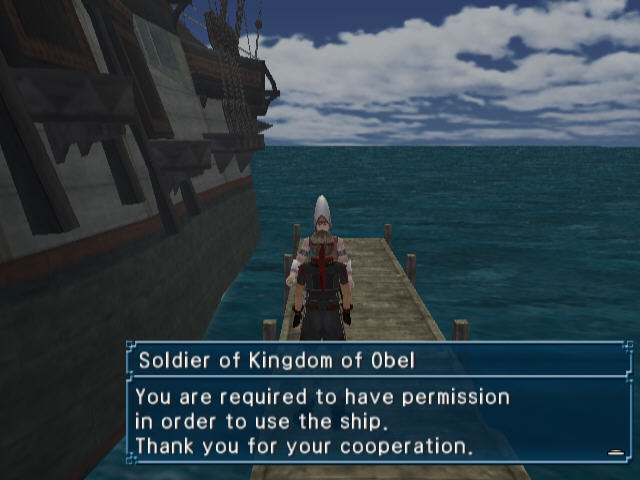 This is me being an idiot and forgetting that I have to talk to A Specific Person to obtain permission to get back on the goddamn ocean!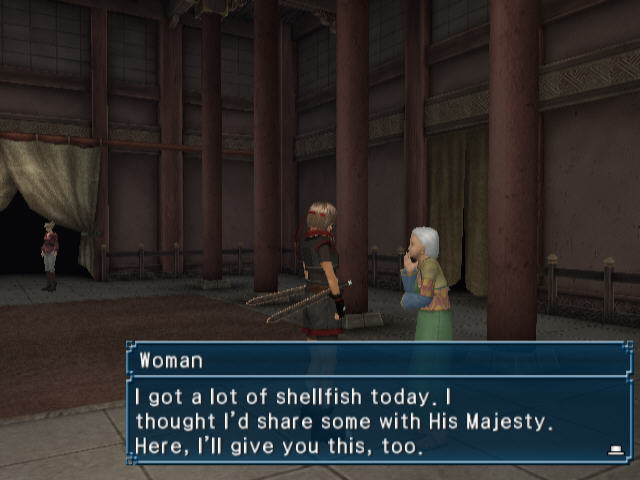 This is me obtaining a free seashell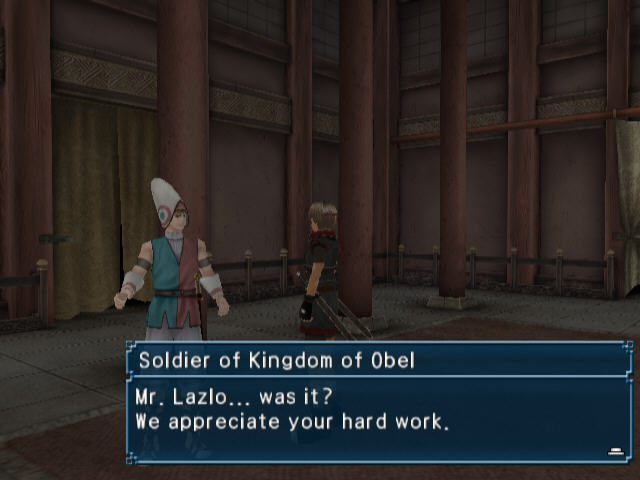 I haven't even done anything yet!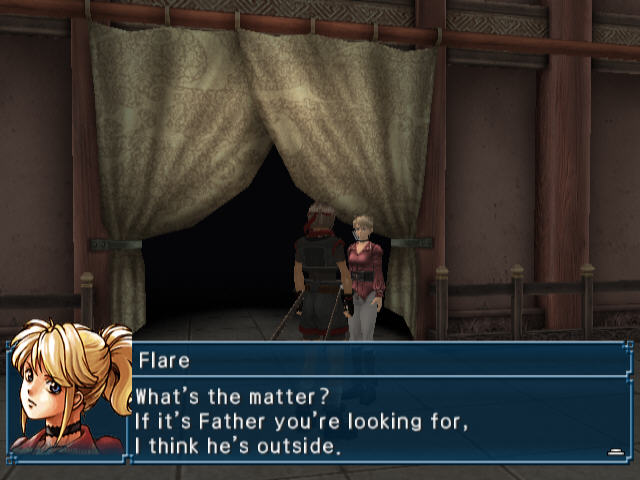 Oh, he might be out at sea, too... I guess we don't know where he is, either.
This is me still being an idiot and assuming it's the king's permission I need!

Generally, you never see Father in here... He's always out and about somewhere.
Ugh. Lino, you bastard, I like you and all, but please be at my beck and call at all times from now on, okay.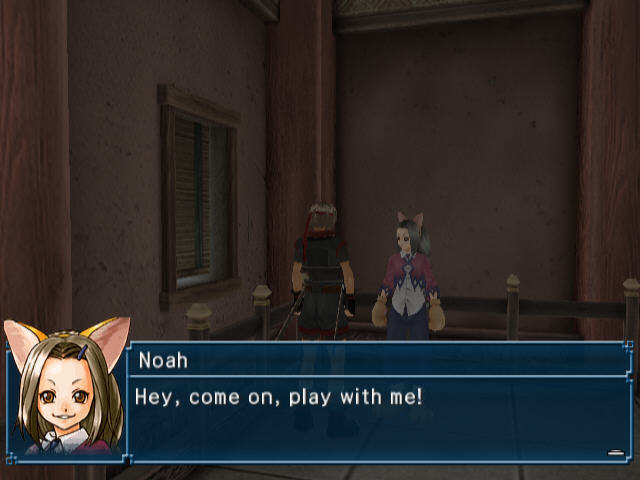 oh
my god
it is a furry
a real one
flee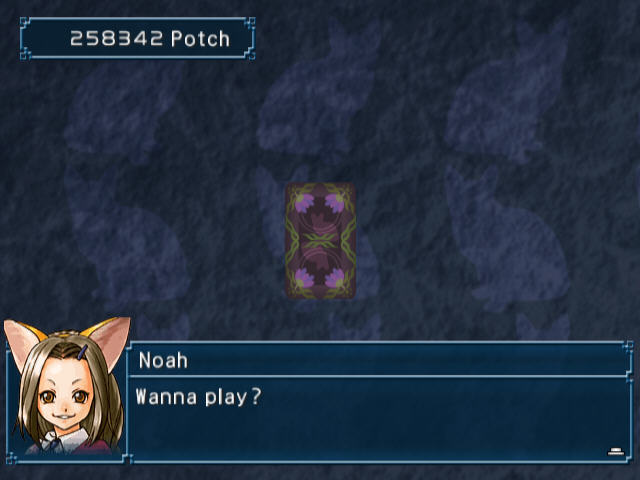 ...hold on, it plays
cards
? With those gloves?
(It also explains how to play cards. This takes up, I shit you not, eleven text boxes.)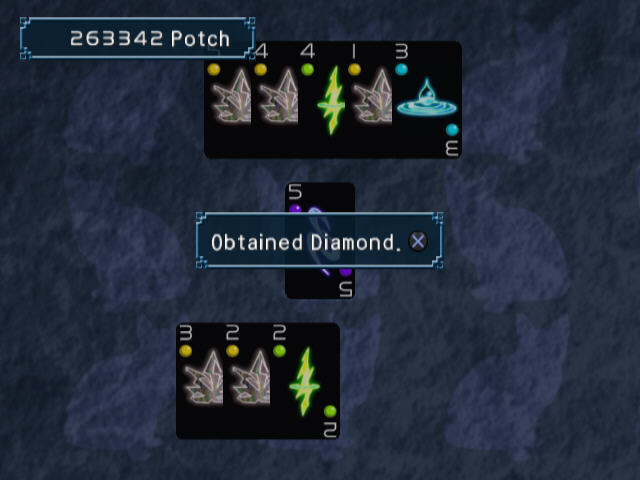 So here's the short version. You each get five cards. Players take turns putting cards down (at which point you draw more to keep your total at five), getting points as they do, and each card adds its value to a counter. If you put a card of the same type as the last one placed (so earth on earth, or whatever) you get extra points and get to place another card. If you place a card that puts the counter at a number divisible by 10, you get extra points. The goal is to reach 51. When that happens, the game is over. If you go over 51, you lose points; if you hit it exactly, you get more points. Most points in the end wins.
Winning here nets me a diamond. I do not yet know if that was a worthy investment of my time.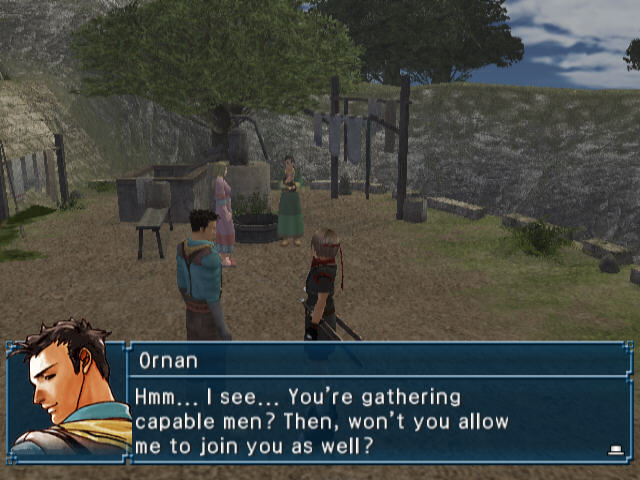 So here's something more productive.

The truth is... I'm looking for a certain woman, but to no avail. Won't you join me on my search?
Let me make a counter-offer. You join
me
on
my
search, and I'll bench you forever for being terrible. How's that sound?

Sucker!


Behold! Our first optional recruit! This is cause for celebr...
...well, okay, maybe not so much.
Ornan's stats are actually pretty good (reminder: endgame stats range from 60 to 219, so 140 is about average) but he comes with a(n unremovable) Waking Rune in his head slot. This makes him start battles asleep, but he goes berserk when he wakes up. Sure, I know exactly how that feels, but it's not exactly suitable for
battle
.
Berserk status in Suikoden does not make you spaz out, as in most other games, but rather simply makes you stronger. This is handy, but it still means 25% of your party won't be able to do shit unless someone slaps them one to wake them up.

Then, I shall also head for this place where you all are gathering...
You do that!
Wait. Take me with you.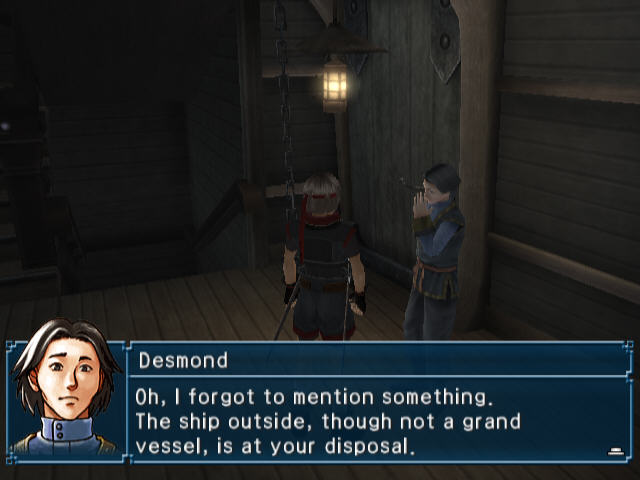 ...this is me returning to base,
not
in order to put Ornan in my party, but because I finally realized that it's Desmond of all people I needed to talk to.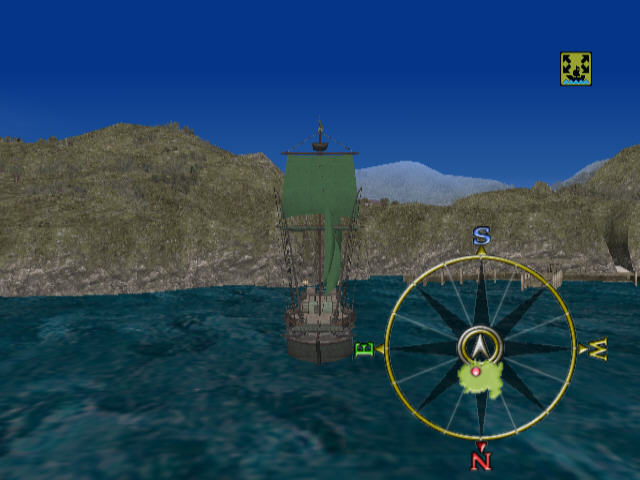 ...now if only that didn't entail going back on the
fucking
ocean.

This is where Suikoden IV opens up. Right now, most things are still out of our reach - if you'll remember the invisible walls I was talking about - but at least now we
have
optional locations to visit. However, two out of the three places we can reach are hilariously far away.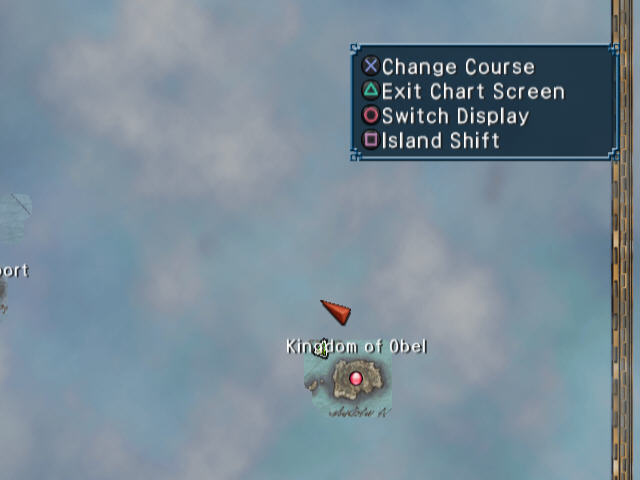 Fortunately, our first destination is only a
couple
of hundred random encounters later.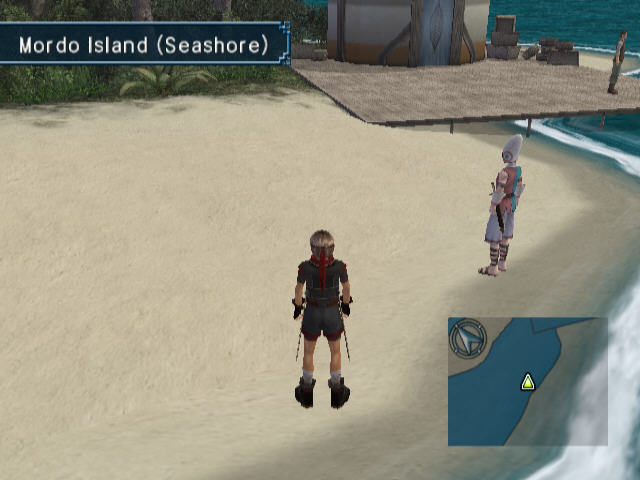 This is Mordo Iland.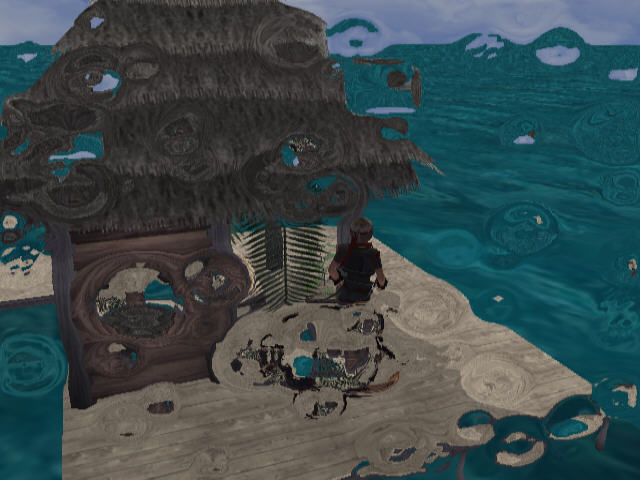 Mordo Island is inhabited by two guys and literally endless hordes of angry bees.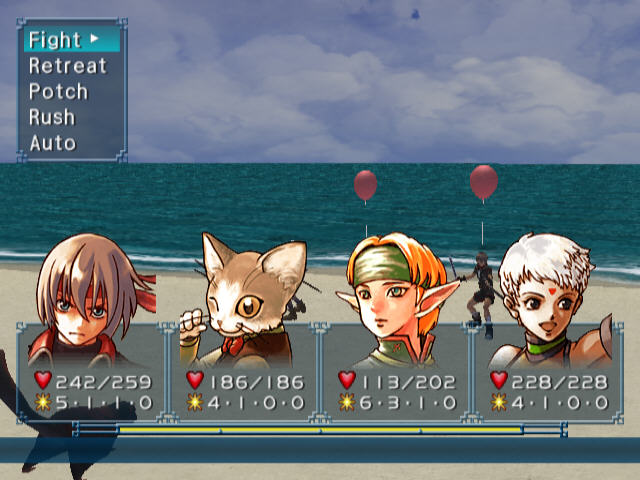 The only reason I'm showing this off at all is because look! Balloon status! If you get three balloons attached to you, you fly off and leave the battle.
This will never happen.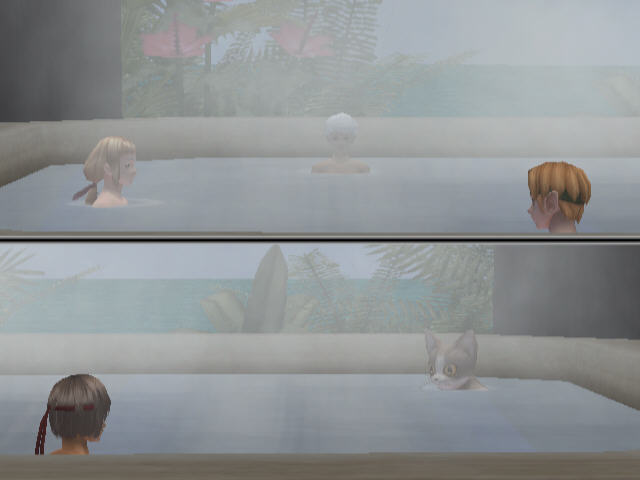 It also has a bath. This is
almost
entirely pointless.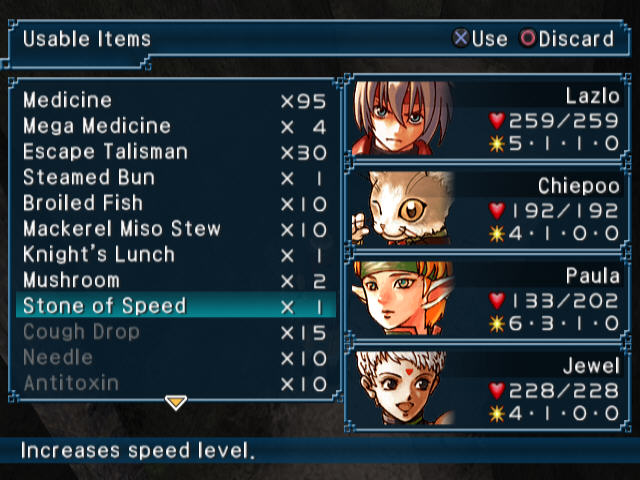 Pictured, the only good thing to happen to me during this whole visit: something dropped a stat increase item. I could grind here forever, but I won't because I still don't hate myself
that
much.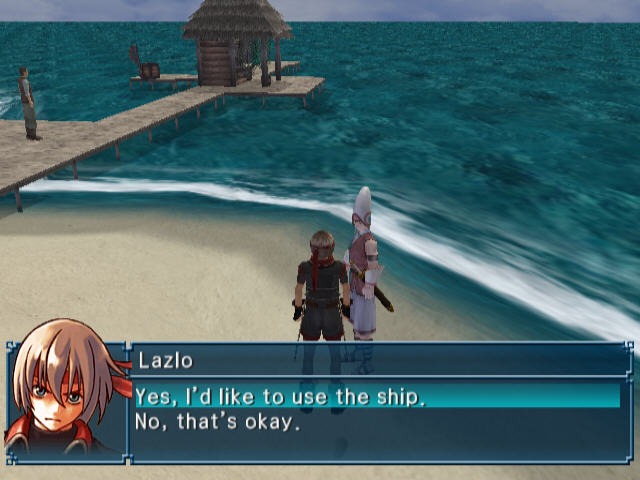 Right now, even going back on the ocean is preferable to staying here.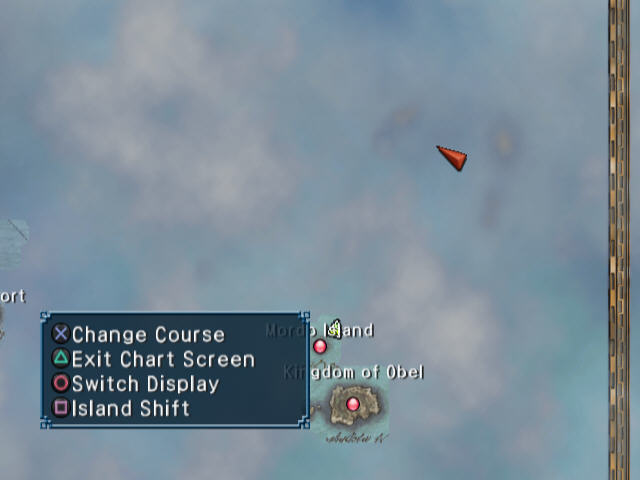 Look how close we are to Obel.
Too bad we're headed for the vague blurs next to the cursor next!