Introduction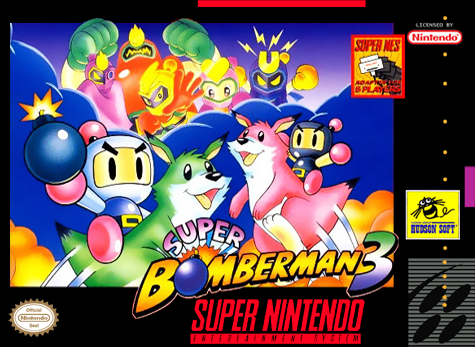 ---The Game---
Super Bomberman 3
is the 1995 sequel to both
Super Bomberman 2
and
Bomberman '94
. It's the first of the Supers to not to be released in America, which is a shame, because it's as solid and fun as the previous ones, coupled with
one of June Chikuma's best set of mixes
.
The Story is Such
:
Bagular, fresh from you kicking his ass in
Bomberman '94
, finds and resurrects the corpses of the Five Dastardly Bombers, rotting from you kicking their asses in
Super Bomberman 2
. They invade five single-biome planets and steal power chips of some kind, like you do. Bomberman, with the help of his Louie friends, sets out to stop them.
---The LP---
Quick run through,
like
my
previous
LPs
. My co-commentators for this LP are
Heavy Sigh
and
SorataYuy
.