Introduction
See this thread first:
http://forums.somethingawful.com/sh...hreadid=2479012
Disclaimer:
All of these videos are "first play-throughs", meaning should you choose to watch them prepare for a LOT of trial and error. You'll know after watching a few videos whether or not I'm your cup of comedy-tea.
Some asshole made a game about the Virginia Tech shooting and I have decided to subject you all to its horror. Since this game is also really short I will use this thread to play
SUPER COLUMBINE RPG
as well!

VIDEOS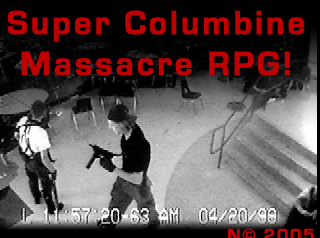 SU PER CO LUM BIN E RP G
S ESSI ON O NE
SE SSIO N TW O
S ES SION TH REE
SESS I O N 4
SES SSION F I VE
SES SION S IX
SES SION SEVE N
S ESS IO N EI GH T
S ESSIO N NI NE
S ESS I ON T EN
SES SION EL VEN
S ES SIO N TW E L VE
S ES I O N TH I R TE EN
SESS I ON F OU R EE N
- We finally make progress!
SE SS I ON FIF TEEN
S ES ION SIX TEE N
All the above videos were recorded with Vollipopmambo, IN PERSON!
SE SI ON SEV EN TE EN
- Back in Time Grinding, no commentary just new game music
SE SION EIG H TEEN
Another sped-up grindcore movie set to music. NO BABBLIN' BUDDY IN THIS VIDEO EITHER. With the following accomplishments:
Murdering a girl on her period!
Killing a Janitor to get a very important key!
Saving a Cherubic Blumpkin from getting beaten up by a bunch of jocks
SE S SI ON NIN ETEEN
- Two new character developing cut scenes! Solo babblin', by myself!~
SE S I O N TW ENT Y
- Solo babblin', by myself!~
S E S S I O NTW EN TY ONE
SE SS ION 22
SE S I O N TWE N TY TH REE
SE SI ON 24
S E S S I O N T W E N TY FI VE
S ES IO N W TWEN TY S I X
S ES I SO N TWEN TY SE VEN
SESSION TWENTY EIGHTS
- The End

Above videos with Vollipop again!
Bonus
- ThinVeilCutlet42's Playthrough of Megaman 2
QUICKMAN
BUBBLEMAN first half
BUBBLEMAN second half
METAL MAN
WOODMAN
AIRMAN first half
AIRMAN second half
FLASHMAN
CRASH MAN
- Best LP ever.
HEAT MAN
Wiley Stage 1
- In this video we had some LP advice!
Wiley Stage 2
Wiley Stage 3
Wiley Stage 3