Introduction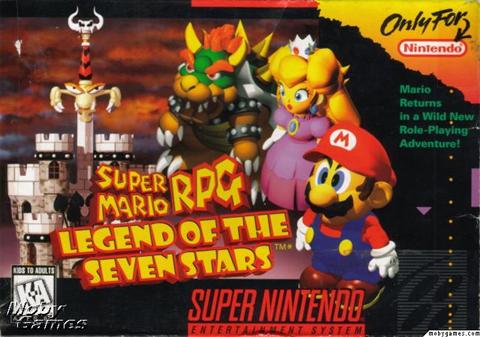 Super Mario RPG: Legend of the Seven Stars, commonly referred to simply as Mario RPG, is Nintendo's first attempt at building a role-playing experience around the Mario brand, developed by scene legends Square-Enix, back when they were just called Square. It was released at just around the end of the SNES era, in 1996. Two years later, I (a recovering Sega kid) overpaid for a used Super Nintendo at Funcoland explicitly for the purpose of overpaying for a used copy of this game. It's the predecessor of the Paper Mario series, but gameplay is quite different from that of Paper Mario--where those games could be described as increasingly Mario-styled games with simple JRPG elements, Mario RPG is a classical (if on the simple side) JRPG whose characters and themes happen to be drawn from the Mario universe. Well, some of them, anyway. Square kind of got caught up in the excitement of their heady SNES period and went a little crazy with their interpretation of Mario's world. But we'll gawk at that inexplicable and bizarre bridge when we come to it.
My cousin and fellow SA member Organ Donor will be joining me in doing a video-with-commentary-style LP -- theoretically, updates will be Monday, Wednesday, and Friday, but prepare for inevitable disappointment! For the record: Yes, I'm aware that there is an LP of this game already in the archive. That was a screenshot LP. This is totally different. Hush.
STORYLINE
Mario is settling into his usual routine of rescuing the princess from Bowser when all parties involved are rudely interrupted by some apparent newcomers to the Mushroom Kingdom. From there on, shiny thing after shiny thing is noticed until we find out we've Solved Everything. (SPOILER WARNING: We eventually solve everything)
VIDEOS
Star 1
Video 1 - Plot? Who needs a plot? (Prologue / Mushroom Way)
Viddler
(Polsy)
|
Veoh
(Polsy)
Video 2 - Mallow be thy Name (Mushroom Kingdom / Bandit's Way)
Viddler
(Polsy)
|
Veoh
(Polsy)
Video 3 - Hey, That's the Name of the Thread! (Mushroom Kingdom Again)
Viddler
(Polsy)
|
Veoh
(Polsy)
Star 2
Video 4 - Let's Play Soap-Opera Mario RPG! (Kero Sewers / Midas River / Tadpole Pond)
Viddler
(Polsy)
|
Veoh
(Polsy)
Video 5 - We are SO probated. (Rose Way / Rose Town / Forest Maze)
Viddler
(Polsy)
|
Veoh
(Polsy)
Star 3
Video 6 - Mode 7, guys. Wave of the future. (Moleville / Moleville Mines)
Viddler
(Polsy)
|
Veoh
(Polsy)
Star 4
Video 7 - So this is what rock bottom feels like (Booster Tower / Booster Hill)
Viddler
(Polsy)
|
Veoh
(Polsy)
Video 8 - Less of a minister and more of a ship's captain, really (Marrymore)
Viddler
(Polsy)
|
Veoh
(Polsy)
Video 9 - Spergin' For Cola (Roundup 1)
Viddler
(Polsy)
|
Veoh
(Polsy)
Star 5
Video 10 - Creepytown, USA (Star Hill / Seaside Town)
Viddler
(Polsy)
|
Veoh
(Polsy)
Video 11 - Welcome aboard the haunted shipwreck U.S.S. Puzzle Time! (Sunken Ship)
Viddler
(Polsy)
|
Veoh
(Polsy)
Video 12 - I'm a shARRRRRRRRRRRRk! (Sunken Ship pt 2)
Viddler
(Polsy)
|
Veoh
(Polsy)
Video 13 - Deceit, Lies, and Flimflam (Seaside Town / Booster Tower Again)
Viddler
(Polsy)
|
Veoh
(Polsy)
Star 6
Video 14 - At least it's not called The North Face (Land's End)
Viddler
(Polsy)
|
Veoh
(Polsy)
Video 15 - Big Trouble in Little Monstro (Monstro Town)
Viddler
(Polsy)
|
Veoh
(Polsy)
Video 16 - No beans, no valley. What's the deal? (Bean Valley)
Viddler
(Polsy)
|
Veoh
(Polsy)
Video 17 - A Plumber's Lament (Nimbus Land)
Viddler
(Polsy)
|
Veoh
(Polsy)
Video 18 - Kind of like Hamlet, but with less murder (Nimbus Land)
Viddler
(Polsy)
|
Veoh
(Polsy)
Video 19 - The Birds and the Boobs (More Nimbus Land) Featuring VoidBurger
Viddler
(Polsy)
|
Veoh
(Polsy)
Video 20 - I Like My Games Like I Like My Women (Gamebreakers) Featuring VoidBurger
Viddler
(Polsy)
|
Veoh
(Polsy)
Video 21 - We finally go to the volcano (Barrel Volcano) Featuring VoidBurger
Viddler
(Polsy)
|
Veoh
(Polsy)
Star 7
Video 22 - Drunk editing is a bad idea (Bowser's Keep) Featuring Zuzie and Ambisagrus
Viddler
(Polsy)
|
Veoh
(Polsy)
Video 23 - The Folly of Edutainment (Bowser's Keep) Featuring Zuzie and Ambisagrus
Viddler
(Polsy)
|
Veoh
(Polsy)
Video 24 - Deja Vu All Over Again (Bowser's Keep) Featuring Zuzie and Ambisagrus
Viddler
(Polsy)
|
Veoh
(Polsy)
Video 25 - Some Other Crap I Did (Roundup 2) Featuring Ambisagrus and A Wooden Palisade
Viddler
(Polsy)
|
Veoh
(Polsy)
Video 26 - SUPER OPTIONAL BOSS EXTRAVAGANZA (Monstro Town) Featuring Ambisagrus and A Wooden Palisade
Viddler
(Polsy)
|
Veoh
(Polsy)
Video 27 - Smithy's Factory violates several OSHA regulations (Smithy Factory) Featuring Ambisagrus
Viddler
(Polsy)
|
Veoh
(Polsy)
Video 28 - Gather 'Round the Water Cooler and Fight the Adventurers (Smithy Factory)
Viddler
(Polsy)
|
Veoh
(Polsy)
Video 29 - The Sport of Kings (Yo'Ster Isle / Monstro Town)
Viddler
(Polsy)
|
Veoh
(Polsy)
Video 30 - Smithy Is a Huge Whiny Baby (ENDGAME)
Viddler
(Polsy)
|
Veoh
(Polsy)
BONUS CONTENT
Bonus Video 1 - How To Kill Exor in Under A Minute
Viddler
(Polsy)
| (no Veoh)
USER-GENERATED CONTENT
VoidBurger
fulfills a request from the murkiest depths of my subconscious, and dispenses some sage advice!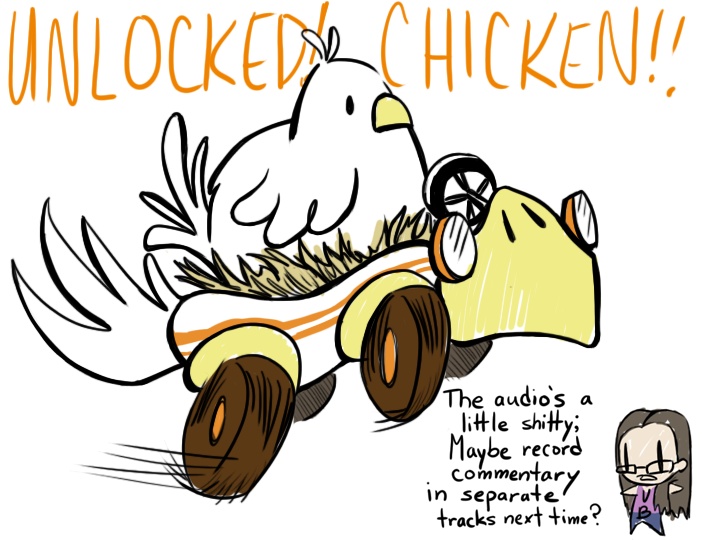 Janderbuilt
smells money to be made. Can anyone say "movie deal"? I certainly don't wanna rule it out!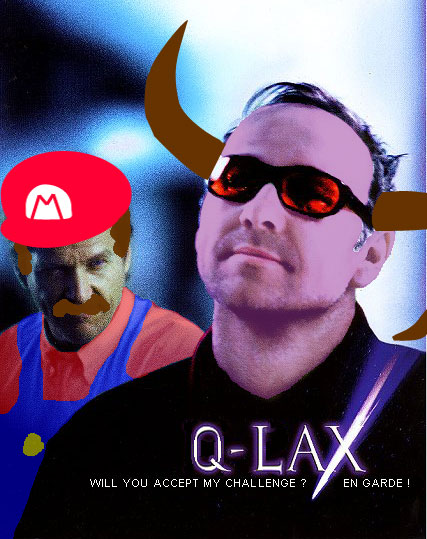 Weird BIAS
likes mixes so much that sometimes he takes things that have been mixed and he mixes them over again. Like this battle theme from the endgame.

CHARACTERS, listed here as they are introduced in videos
Party Members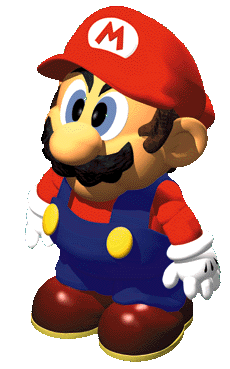 MARIO:
You know who Mario is. He's some kind of jumping-themed superhero who's also a plumber somehow. Also: Fire? In this game, like in the Paper Mario series, he enjoys a kind of celebrity status among NPCs despite being an archetypal JRPG "silent hero." He IS a little better at expressing himself than Crono or Gordon Freeman are. More on that later. Also later: absolutely nothing gets plumbed.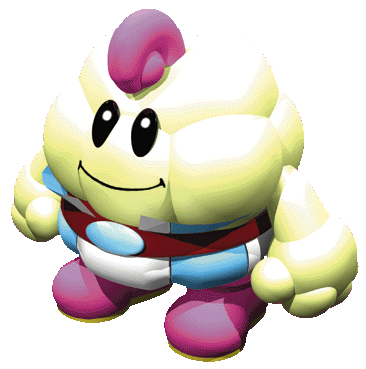 MALLOW:
Naturally our first non-Mario party member is my least favorite! After meeting Mario on an errand and tagging along for a while for little to no reason, he's questing to find his real parents. Was raised by his foster grandpa, the amphibian savant Frogfucius. Look at his pink shoes. I bet Frogfucius does his clothes shopping for him. Mallow is kind of like John Cusack in a way. See if you can figure out how! LIKES: Weather; being roughly the same color scheme as a clown / 1980s-era teenage girl. DISLIKES: Petty theft; shirts.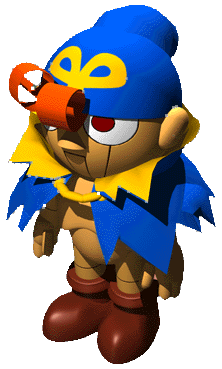 GENO:
Second only to Bowser for Most Naked Mario RPG Character. Except he's actually some kind of Star Spirit living INSIDE a big wooden doll, so I guess that counts as clothing? Anyway, Geno is an agent sent down from On High to find all the pieces of the Star Road, which got fuxX0r3d when that big sword fell out of the sky. Mario just happens to already have one! Geno lives in a wooden doll he stole from some kid, which is modded all to shit and back with hidden weapons all over the place. Kind of like Sasori--I mean NO I HAVE NO IDEA WHAT I JUST SAID HAHA MOVING ON.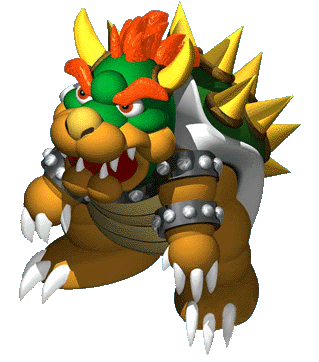 BOWSER:
You guys, Bowser is seriously so great. In all previous games he's basically Godzilla with political aspirations. Pure Other. In THIS game he's... insecure! Angsty, but in a lovable way, not a brooding Cloud Strife way! And playable! And the game's main tank! At the beginning of the game, after capturing Princess Toadstool again
in an obvious desperate plea for attention
, Bowser is forcibly ejected from his castle, which is then made inaccessible, no thanks to MARIO. Has joined up with Mario (or inducted him into the Koopa Troop, your choice) in an effort to get that stupid sword out of his stupid castle. Obviously just wants everyone's approval; expresses it through being a big bad monster.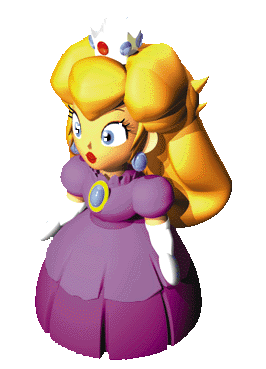 PRINCESS TOADSTOOL:
Note: Her name is "Toadstool" in this game. Not "Peach." This is very important. I understand that "Toadstool" isn't a name the average person mentally associates with pretty pretty princesses, but it's at least thematically appropriate. It's the MUSHROOM kingdom, why put a fruit in charge? Anyway, Toadstool, playable for the first time since Super Mario Bros 2, snuck out of her job as the public figurehead of hope or something to gallivant around the world with her boyfriend and the bunch of weird creatures he hangs out with, mostly because she was bored, I think. If this were real life she'd just get a DUI and pose for Penthouse or something.
HORRIBLE JERKS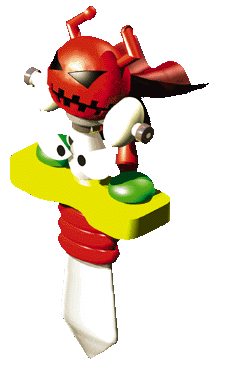 MACK:
His name is Mack. And (depending on your preference) he either owns or is a gigantic knife. The whole thing is some kind of reference to
some billion-year-old song or something
. Leads a fearsome gang of unruly trespassers and loiterers--pretty scary stuff, right? Fortunately, the fact that he either is a huge metal rod or stands on one all the time (depending on your preference) makes him particularly vulnerable to being struck by lightning again and again and again. ULTIMATE FATE: Electricity was passed through his body until he was dead, in accordance with state law.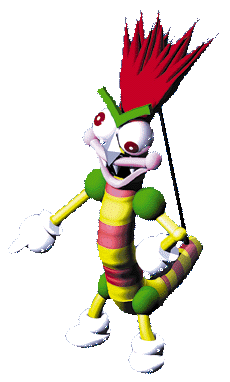 BOWYER:
When I was a kid, I thought this was pronounced the same as "Bowser" but with a Y in there, and I was like "Can't they think of more original names for their villains?" In the wisdom of maturity, of course, I know now that a bowyer is a guy who makes bows. Which still might not be the most apt decision they could make here, because Bowyer is a guy who IS a bow. Anyway, he bombards Rose Town using his body (ewww) until Mario & Co have their say! ULTIMATE FATE: His foolproof defense scheme ensured that he was defeated mercilessly using an eclectic mix of diverse attack methods. Way to strike a blow for multiculturalism!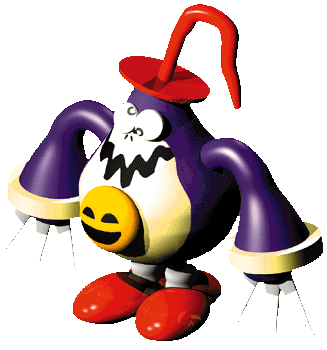 PUNCHINELLO:
I got nothing here, guys. He's basically The Grimace wearing a kitschy necklace (or something) and a weird hat, only he's also a pyromaniac (does that apply to explosions?) and he's named after the guy from the Punch And Judy puppet show. It really doesn't make much sense, but worth noting is that in the process of writing that one sentence I spent like twenty minutes reading the Wikipedia articles for McDonaldLand and Punch And Judy. Anyway, he's obsessed with bombs, but he's not a bomb himself because the Mario universe already has a character like that, so instead he's just some guy who summons a bunch of those things. ULTIMATE FATE: Crushed to death by an unexploded Giant Blackface Bomb.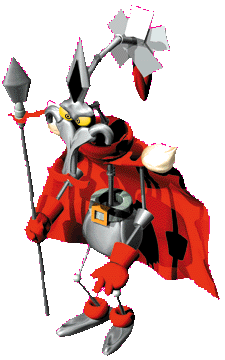 YARIDOVICH
: The first Horrible Jerk who shows signs of being high up on Smithy's chain of command! We're in the big leagues now, kids. This guy is a robot made of a spear, another spear, a cauldron, and a cape. And some kind of windmill or something. Likes to impersonate a set of five really creepy other robots who look more like Toads and talk more like William Shatner. Is apparently Russian or something and also some kind of really charismatic super-spy. Has some kind of Ultra Squirt Gun built into him or something. ULTIMATE FATE: Received a bunch of dents in his frame approximately the size and shape of Mario's face.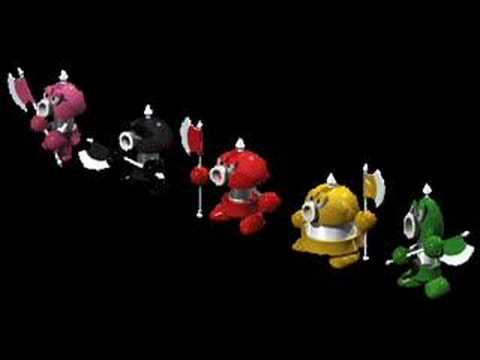 THE AXEM RANGERS
: Not technically weapons, but named after one, and they ride an airship shaped like a giant axe. They're kind of like the Power Rangers, only they're assholes, and they're more cultural stereotypes than racial ones (Axem Yellow is the fat one rather than the Asian one; Axem Black is the Hip '90s Dude rather than the black one; there is no Axem White). Axem Pink, of course, is The Girl What Has Healing Spells. I mean, it's still Japan we're discussing here. ULTIMATE FATE: Individually found excuses not to fight, then demonstrated the power of teamwork, trust and friendship by all dying AS ONE!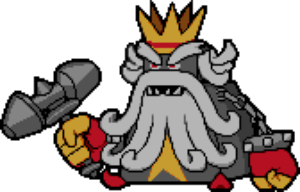 SMITHY
(fanart used here due to lack of official art anywhere on the Internet): Smithy is basically your standard Interdimensional rear end in a top hat. He makes weapons because he can. He floods worlds with weapons because he can. And he throws huge shitfit baby tantrums because who the hell's gonna stop him? His standard M.O. is apparently: (1) Make a big sword, send it to some other dimension, and use it as a conduit to transport an army of anthropomorphic weapons to generally tear shit up, (2) ... (3)... profit? ULTIMATE FATE: Died, either as a direct result of something the party did, or from hitting himself in the head with a hammer the size of Toadstool one too many times.
Others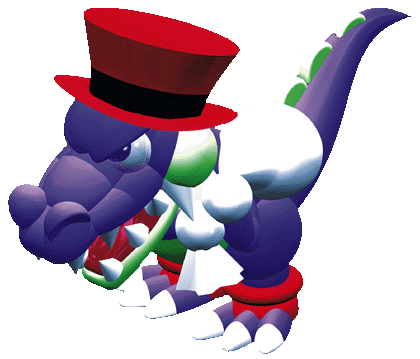 CROCO: Huh. In-game, he looks a lot more like some kind of reptilian/avian freak genetic experiment. In his art he's just kind of a dinosaur wearing half of shoes or something. Anyway, Croco, by himself, represents the criminal element of the Mushroom Kingdom. He steals stuff. And that's about it. He's reminiscent of a 1920s-era gangster, even if his particular choice of chapeau seems to evoke the late 19th century a bit more. Like Fagin from Oliver Twist, except... purple. CURRENT WHEREABOUTS: AT LARGE. Hanging out in Bowser's Keep just in case I feel like buying a zillion pairs of Prince Pants.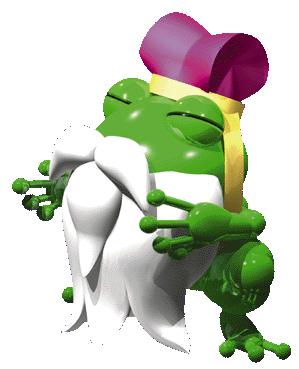 FROGFUCIUS: Founder of the ancient Frogfucian school of thought; Mallow's adopted grandpa and schoolmaster (or something) of a whole bunch of tadpoles. Spends less time than expected spouting off proverbs and gnomic wisdom and more time just generally acting like an old guy (if a particularly well-informed and awesome old guy). All the waters of the world bring him news--yeah, I guess that apparently works somehow? I dunno, don't ask too many questions. Frogfucius say, man who live in glass house should change clothes in basement. (Frogfucius say, joke racist.) CURRENT WHEREABOUTS: Chillin' at the Pond, probably drinking scotch or something.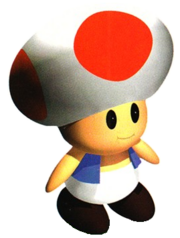 TOAD: I fucking hate Toad. So much. He's always SO unnecessary. His character can pretty much be summed up as "little bitch", every game he's ever been in. And when he has a voice it's always SO GODDAMN ANNOYING. Luckily we see pretty much all of him we're going to see in the first two videos or so. CURRENT WHEREABOUTS: Standing in the throne room all day and night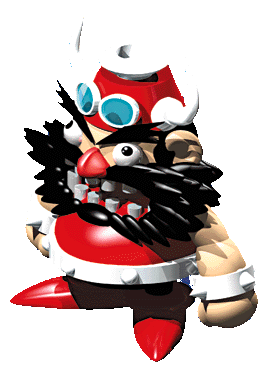 BOOSTER: A rich guy from a long (and probably "pure", if you know what I mean) line of Boosters. Has his own tower and his own servant class. Completely and utterly removed from all social skills and all rational thought. Plays with dolls. Locked a princess on his balcony; tried to marry her as an excuse to eat cake. Ladies and gentlemen, I give you The Perfect Example of a Goon. CURRENT WHEREABOUTS: Back at his giant tower, probs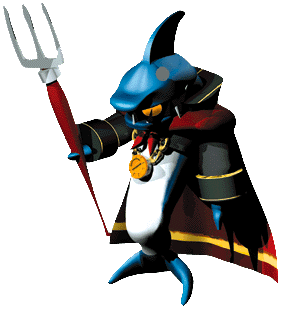 JONATHAN JONES: Oddly enough, his name has an H when shortened to "Johnny" but not when spelled out completely. Inconsistent! Anyway, Johnny is a shark pirate. With some kind of vampire theme going on. And a trident. We're getting mixed themes all over the place, but it ends up being pretty badass. I'm not exactly sure what it is he pirates considering his ship is a nonmoving, half-buried wreck, but what does he need money for anyway? He's
a SHAAAAAAAAAAAAAARK
, he can catch his own food. Basically he's a squatter with a bunch of lackeys who talk funny. Anyway the slander ends here because Johnny is awesome.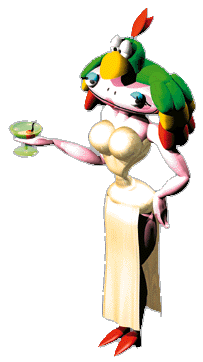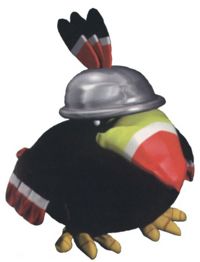 VALENTINA AND DODO: A bird, and a socialite who likes birds waaaaaay too much. Valentina is an interesting villain in that
no one in the game likes her
. Even her underlings (the lowly Birdys) hate her guts. Dodo hates her too, but she keeps him in line with a steady diet of verbal abuse. It's obvious who wears the pants in THIS partnership. Valentina is using Dodo in an elaborate plot to take over Nimbus Land because she wants to be the queen of something. It relies upon everyone in the kingdom being really stupid. Inconveniently, they are--yeah, she kind of lucked out there. Fun fact, GIS's fourth result for the phrase
"mario rpg" valentina
was a Rule 34 picture. The FOURTH result. That's gotta be some kind of record.