Part 78: Mission 32 - The Song That Was Played - Part 1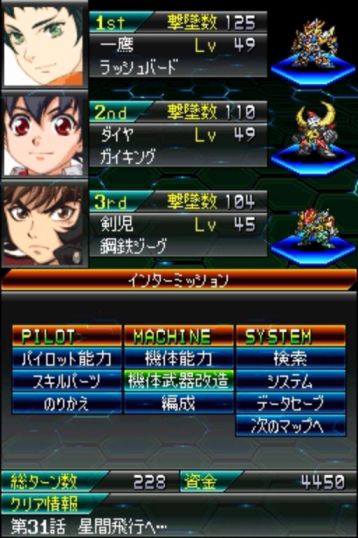 And we are back from the route split – it's now just a strait shot to the end! And, indeed, Ichitaka's Vajra rampages have given him a sizeable lead over Daiya and Kenji. Can he keep that through the 10 missions we've left?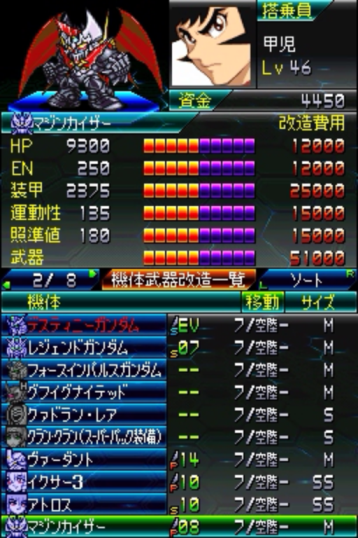 Few upgrades went to some squaddies, but the more important part is that Mazinkaiser came 40% upgraded and is now up to 50. Its squad bonus is now Armor + 200, Dodge + 15, with Tetsuya also taking a few pips.
And, in case you're wondering, our new Katou friends all come 40% upgraded as well.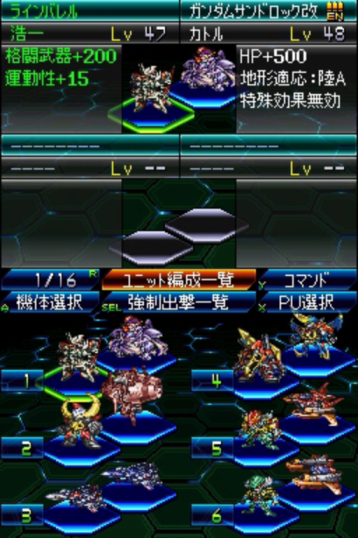 Ichitaka and Shinn are deploying as event units and, much to my dismay, we're only allowed 12 slots in the upcoming mission. As such, the squads we'll be deploying are:
Kouichi/Quatre
Daiya/Deceive
Lee/Norza
Kenji/Kyo
Shinji/Rey
Kouji/Sawatari (accelerate and flies – that's all I care)
Tetsuya/Canaria
Dancouga/Hilde
Goh/Yanma
Eida/Anna
Combattler/Miu (shrug)
Voltes/Puria

We'll give Wufei and Yulianne some time to play later on.

Forward!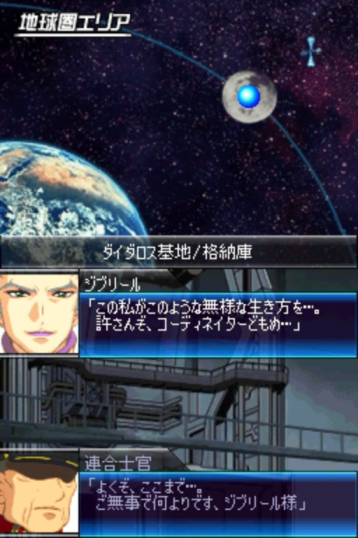 We open up at the moon's Daedalus Base, where Djibril's just arrived. He's very much cross with the Coordinators (more so than usual, at least) for reducing his life to such indignity and asks how are preparations for THAT.
His goon says it'll be good to go very soon and Djibril's glad – his only regret is that he won't get to see the horror that'll set in Durandal's face. When Relena asks what he's up to, he says he's just going to "play a little song".
A song? "Yes, a requiem for all of the space monsters."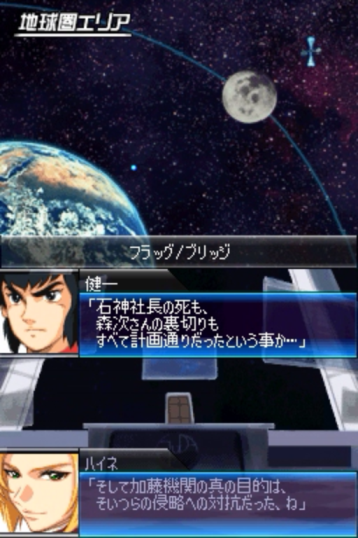 Cut to the Flag, already in space, and it's catch-up time. Here are the important/amusing bits:
As Ishigami explains that Reiji attacked us to push Kouichi into growing as a Factor, it turns out Sawatari and the other Katou captains weren't really in on their boss' actual agenda – they were fighting us legit, unlike FiveheadWufei. He tells Sawatari that he didn't outright know, but he had an inkling of what was up after using some of their vaunted IMAGINATION. Not his problem the others couldn't do the same.

FYI, as Rey and Kouichi point out, none of this excuses all the crap the Katou Organization has done – we just have bigger, interdimensional, fish to fry right now.

Asuka singles out "the Cthulhu girl" among our space crew, but Iczer-3 tells her not to say that: Atross is our friend now. Indeed, the girl declares she's made up her mind to help Nagisa and her allies, and if Asuka thinks that's stupid – so be it. "That's stupid," she immediately proclaims… then continues, "But we're all just as bad, so I won't say anything. Strength and stupidity seem to go hand-in-hand, I guess." Atross is grateful to hear that.

Dick extends his condolences to Klan over what happened to Michel (if you let him get wrecked), but she says all of them were aware death was a possibility whenever they deployed. Lou, however, tells her not to let revenge become the sole driving force in her life and Klan understands. And she's a Zentran, so she'll just be ready to fight when the time is right (Nene can see that she's masking her feelings, but says nothing).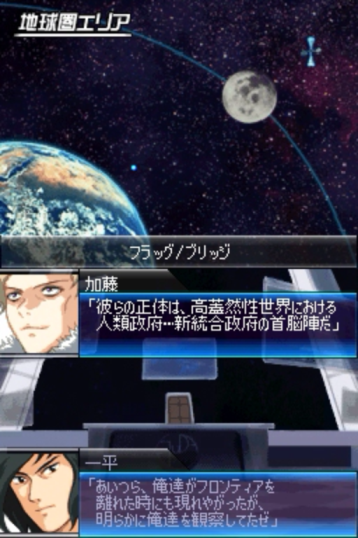 So, good news is that teaming up with the Katou Organization has taken one enemy faction of our plate… but, as Reiji points out, that spot has been taken by Central, so we're not better off. Plus there's still the Vajra, Moon WILL, the Logos remnants, the Cthulhu and that mysterious group that the Archangel team was chasing. Katou actually knows who those guys are: the New United Nations Government, the ruling body of the regular humans in the Highly Probable World!
As Luca gasps, Katou asks how much Cathy's aware of the situation on their homeworld after the Frontier's departure. All she heard from Mishima is that the Government had gotten into a war with
someone
, and Katou clears up the writing on the wall: the enemy in said war was Central.
That strikes Ichitaka as weird since, as he heard, when those guys attacked Misaki and kidnapped Grife, Katou's group ignored them. If they were posing as Central's allies back then, shouldn't they have attacked?
Not quite, and Katou will take this opportunity to explain: Central and the New United Nations Government are now
allies
. When he said Central'd deemed them to have the potential to be useful to the whole, this is what he meant. You see, the Highly Probable World is not only haunted by a chronic energy deficiency, but was also previously assailed by alien invaders.
As Alto knows, that is what lead to them dispatching the Macross fleets out into space. Another way the Government found to deal with the energy crisis was to start fusing cybernetic implants into people.
But while doing so is perfectly legal in some Macross Fleets, many on Earth looked at it with fear and suspicion. Thus, those who'd undergone full integration with machines – the Machina-Humans – were rounded up away from the eye of the common folk.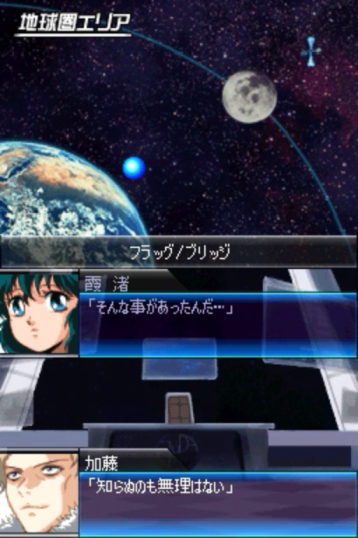 That's the first Nagisa's ever heard of that, but Katou isn't surprised. The New United Nations Government is very adept at information control, and they've kept much from ever becoming public knowledge – going back as far as the incident where Sharon Apple, a groundbreaking AI, went out of control… though Luca should be privy to details on that.
Whatever the case, the secluded Machina-Humans began secretly bolstering their numbers and, guided by their collective consciousness seeking more and more efficiency, produced the combat-specialized Machinas and declared war on humanity.
The humans had a very difficult fight on their hands, compounded by the energy shortage. But it all eventually ended in a cease-fire put together by an anti-war faction within the New United Nations Government. They were hailed as heroes by the people, and in very short time, saw a huge increase in their power and influence.
They gave Central sovereignty over its territory, and even brokered the construction of city meant as a hub of cultural and technological exchange between humans and Machina-Humans. It was in that city where Emi, Katou and Amagatsu lived. In Central's eyes, that city facilitated its survey of what kind of technologies humanity was creating.
Amagatsu Kizaki was especially worthy of attention for Central, with his development of Factor technology, various Assault Machinas and trans-dimensional travel. The guy carried on his research, playing at the loyal scientist, and eventually built the Linebarrel – the ultimate Machina-Kiler – in secret.
Amagatsu teleported the Assault Machinas he'd been developing into this world… and that was when Central decided he had to go, culminating in Katou having to kill him. His "loyalty" assured, Katou came to this world and arrived twenty years ago, way before Emi got through (
Time displacement? Was Emi put in stasis for those decades, like in the manga? The anime doesn't explain.
), whereupon he formed his Organization and began searching for the Machinas Amagatsu sent over.
However, right after the Second Impact had hit, he ran into someone else from the Highly Probable World – someone who'd made the jump around the same time he did.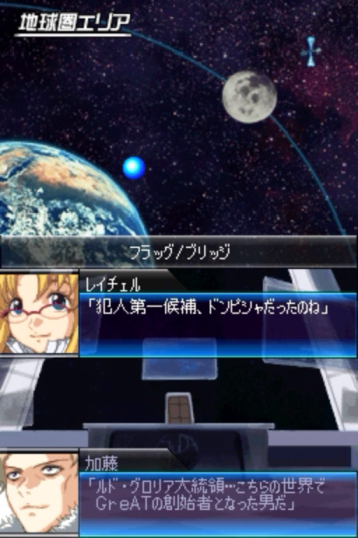 That'd be one Ludo Gloria – the goddamn PRESIDENT of the New United Nations Government, and the founder of GreAT in this world. Seems to Rachel that we were right to suspect the company. The man, in order to keep what remained of mankind from being turned into a Machinas, struck a deal with Central: he'd come to this world and look for any tech and intellectually-gifted people that could be useful for the collectivity.
GreAT and the Katou Organization cooperated with one another every now and then, but Katou can't give us more details on the front. All dealings with that group were handled by Masaki, so, much to his embarrassment, he doesn't know anything else.
Ichitaka won't give him crap, but at the very least he and Alice now know why they took Grife and kept on stalking us: it's all part of their scheme to bring Central new goodies. LOTUS is a cornucopia of valuable samples, with all our myriad high-tech units and, as WILL put it, the massive potential we have.
That makes it all but certain to Hiroshi that they'll be coming after us again, but Kouji isn't scared now that we're starting to understand what we're dealing with. First things first, though, Rey says we need to deal with Djibril. Misato and Ozma agree, being especially worried as to what that crazy guy my try to pull now that he's backed against the wall.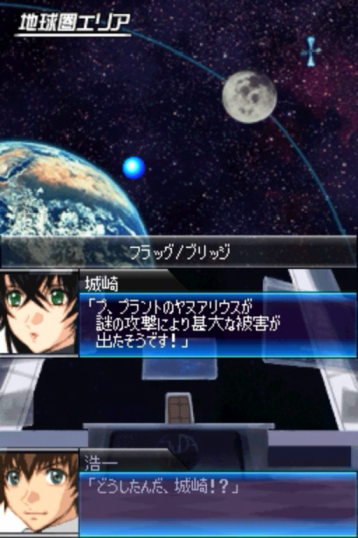 We're interrupted when the alarm sounds and Emi gets a startling message: something has just attacked the PLANTs' Januarius colonies, causing catastrophic damage!
Shinn, Lunamaria, everyone is dumbstruck as images of the destruction arrive, and we get a transmission from Durandal soon after. When Talia asks, he says Djibril is the one behind it, having blasted the colonies with a weapon at the Daedalus Base.
But isn't said base at the far side of the moon, Quatre points out – it shouldn't be capable of getting an angle to fire at the PLANTs. Durandal sighs that they also thought the same, which is why they were only keeping an eye on Logos' Arzachel Base (which has line of sight with the PLANTs). None of them expected the enemy to be capable of something like this.
As data starts coming in, Rey realizes the problem: Logos has retrofitted a bunch of abandoned colonies as gigantic relay stations to deflect their beam blast in any direction they wish – nowhere is safe.
Rey grunts that the deaths of all these people are our responsibility since we didn't kill Djibril back at Orb, but Talia says dwelling on the past won't help. We need to think of something to do NOW, and Durandal agrees: Daedalus Base needs to be assaulted, conquered, and Djibril has to be dealt with immediately.
It's high time put a full stop to this war, Misato thinks, and Durandal wishes us all good luck in our offensive.
Now, if you did things differently from what we did…

: Damn that Djibril… I won't let him kill any more innocents…!

: Don't beat yourself over this… the guy's escape at Orb was GreAT's fault – they're the ones to blame.

: Maybe, but I can't bring myself to look at it like that… whoever's at fault, the fact is all the lives that've been taking will never come back…!

: Shinn, I know you're getting ready to deploy, but there was someone who insisted on seeing you immediately.

: Someone…?

: Yes. You see, the Flag's infirmary and other facilities were the ones at JUDA HQ, so…

: Shiiiiiiiiinn!
*
Jumping hug!
*

: S-Stella! What're you doing here? Should you really be up and about?!

: Yes, I'm all better, so I asked them to let me see you!

: You're "all better"… really?

: Hmhmm. Everyone came through and we manage to fully heal the side-effects of her Extended conditioning.

: So she can go on living as a regular girl?

: Yes, she can!

: Oh, thank god… I'm so happy for you, Stella.

: Thanks, but… Shinn, I'm also going to be fighting with you!

: Fight with— S-Stella, no! You don't have to take part in anything like that anymore.

: I'm only here because you and your friends helped me… So now I want to help you all back!

: Stella…

: I can see where she's coming from. Having to just sit and watch as people that are dear to you throw themselves into the fire is very, very tough…

: We understand that you don't want her to get wrapped up in another battle, but if she's that important to you, then I think there are times where you should respect her wishes.

: Anna… Goh… Alright, Stella. But
please
don't do anything crazy out there. This next battle will be a lot tougher from the ones before.

: Okay! I'll help in any way I can!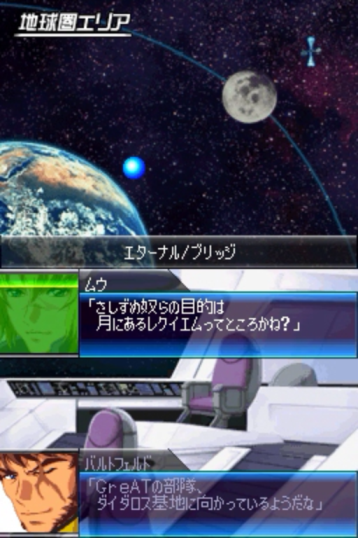 Elsewhere, the Eternal crew has pinged GreAT's forces headed for Daedalus Base as well. Makes sense to Waltfeld and Mu, especially in light of the new intel LOTUS sent them IDing the guys as essentially an R&D team for Central.
A giant beam cannon and colonies capable of relaying it to attack anywhere sounds like something they'd be interested in, alright. Lacus feels like the time has come for the Eternal to step into the limelight, so she tells Kira and the others to set a course for Daedalus.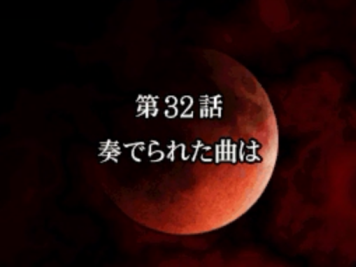 Mission 32 – The Song That Was Played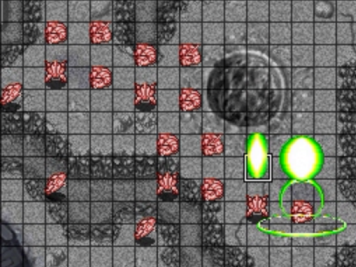 : ZAFT troops are now engaging our forces at satellite orbit!

: Hmph, they don't know when they're beaten… the next REQUIEM shot will obliterate Aprillius, and with Durandal gone, that'll be check mate.

: You… How could you create something like this…?!

: Because I had to – it is a mighty crucible with which to purify space. And once that's all done, you'll rise to lead the Earth Sphere… just like the good old days, "Queen Relena".

: Don't be ridiculous! I'd never go along with that a plan like that!

: Your wants matter absolutely nothing. I just need you to look the part… and I have
many
ways to make that happen.

: (Heero… at this rate, I…!)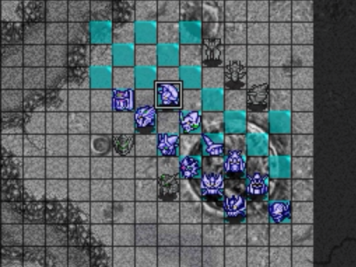 : LOTUS?! What're they doing here?!

: The majority of the enemy forces are currently engaging the fleet at satellite orbit!

: Looks like the plan went off without a hitch. All that's left now is to bring down Daedalus Base!

: Rrgh, deploy all remaining troops! Do whatever it takes to hold that line!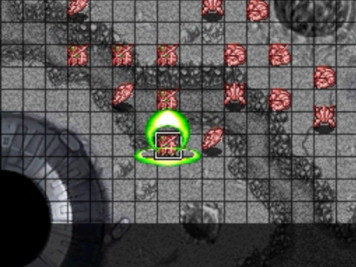 : HYAHAHAHAHAHA! Look at all these annoying little flies! I'm gonna squish you all into paste!

: That voice… It's the Extended we fought at Heaven's Base…!

: Sting, stop! It's me, Stella! Come with me, please!

: Stella…? I dunno any Stella! I've always killed alone, and that's exactly what I'll do here!

: They went overboard with his adjustments… he's gone…

: All we can do now is put him out of his misery, then.

: Sting…
If you didn't get Stella, it'll be Shinn speaking in her place, only with more "angry" and less "sad".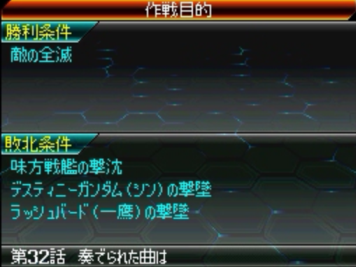 One last battle with Logos, and they bring absolutely nothing new to the table. We, on the other hand, are even stronger than during our battle at Orb, so even with the reduced numbers, we'll carve a bloody swathe through them. Just don't lose a ship, Ichitaka or Shinn.
In the interest of saving time, I say try to have Rey MAPW the Destroy pack and shave off about half their health with Valor. Aside from that, it's no different from what we did before – easier, even, because they'll packed in a tighter area.
Sting's by far the bigger threat, but he can easily be burned down before he has a chance to do any damage with his own MAPW.

As you're approaching, on turn 2…

: What are you all doing?! Isn't REQUIEM done charging yet?!

: Currently at 70%! Just a few more minutes…

: No, this is good enough! Aim the blast at LOTUS! Once they're out of the picture, there won't be anyone capable of stopping us…!
*
Alarm!
*

: …! Energy spike within Daedalus Base! I think it's the weapon that attacked the PLANTs!

: They're targeting us! All troops, evasive maneuvers!

: We can't! There's not enough time…!

: I'm afraid this is where we part, LOTUS. Goodbye.
*
Energy Charge!
*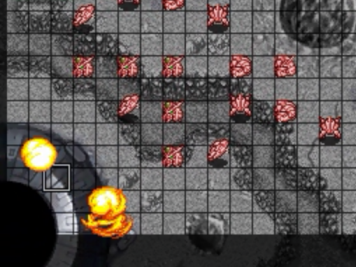 : Kch… Wh-What happened?!

: Someone's attacked REQUIEM! The muzzle… has been destroyed…!

: Whaaat?!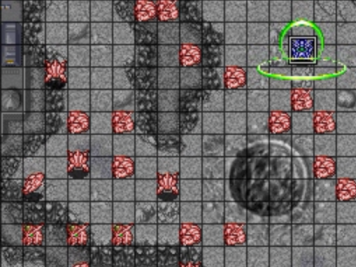 : There you are, Heero.

: Yeesh… the guy always knows the right time to pop out the woodwork.

: Lord Djibril… I'm taking Relena back today.

Blast you straight to hell, Heero Yui…! How dare you destroy my beautiful REQUIEM!

: But that doesn't mean this is over! And
where
is the ambush we had set up?!

: We have nothing, Mr. Djibril! We can't get in touch with him!

: What?! D-Did he abandon me…?!

: You pathetic man… even now you haven't realized how you have been played.

: S-Shut your mouth…! This isn't over yet! I just have to win this one battle…!
Don't lose Heero either. Now off we go!

https://www.youtube.com/watch?v=tCOgVqJwNjg
Here's the DK for Sawatari's best trick.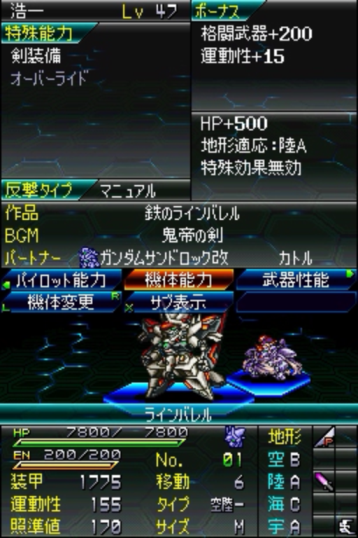 Oh, by the way, the Linebarrel can't use Trans-Am yet. That said, he now has fully unlocked the Override attack and skill!


: You won't be making anyone else miserable…! The Destiny and I'll put the final nail into Logos' coffin today!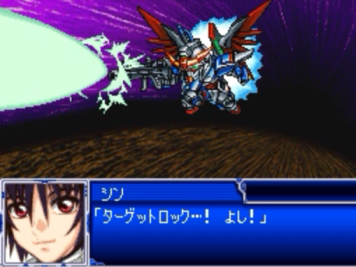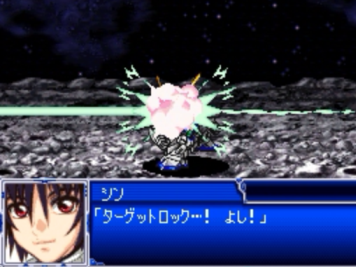 : The world Gil envisions has no place for someone like Lord Djibril. Your insane agenda has gone on for far too long…!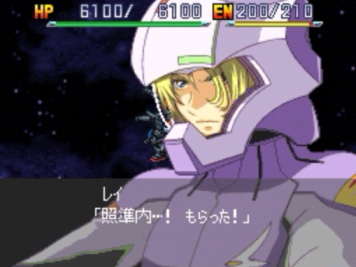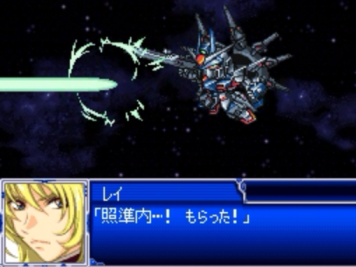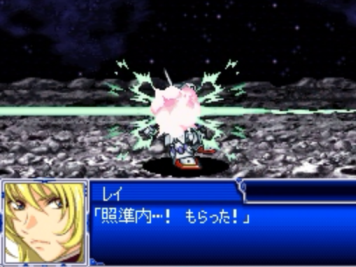 : I won't be leaving here without Relena… Anyone who gets in the way won't be there for long…!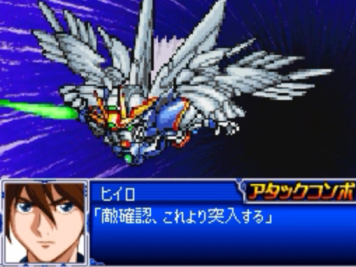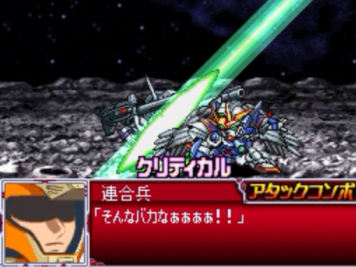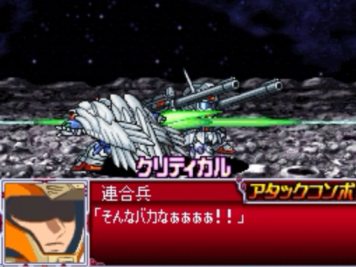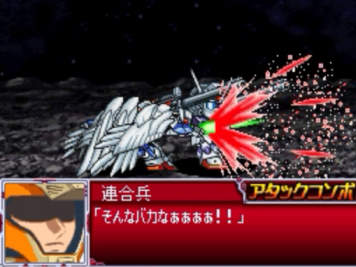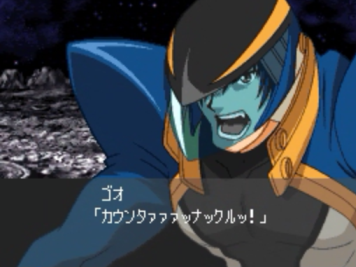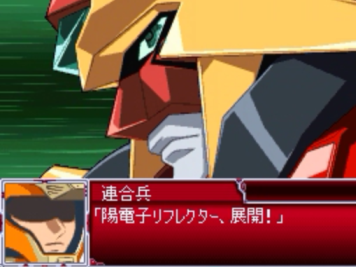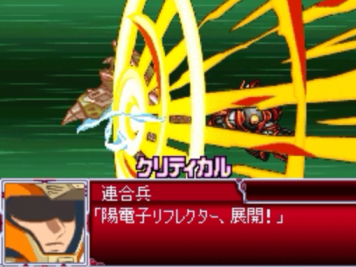 https://www.youtube.com/watch?v=HNYmrV3Z8Do
https://www.youtube.com/watch?v=d9r5yse7QZw

And I found worthy targets to showcase the very swanky DKs for the Nagahamas' new attacks!


Can you hear Kenichi yelling VOOOOOLTES FIIIIIIIIIIVE inside your head? I can.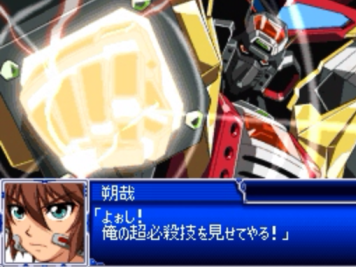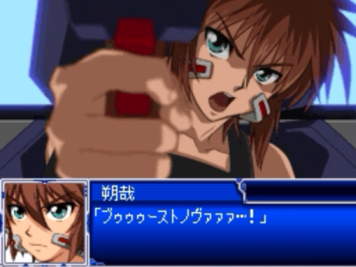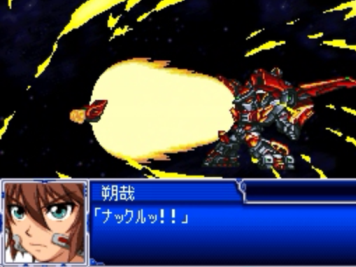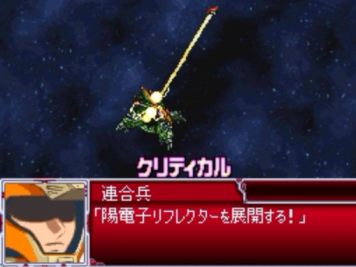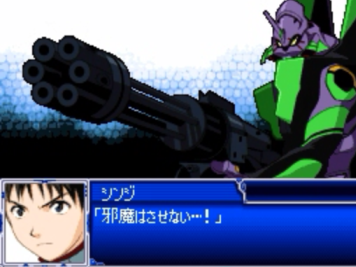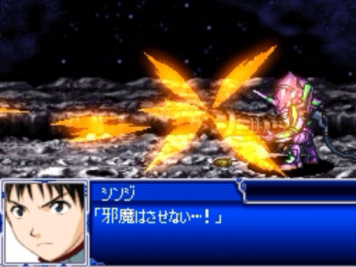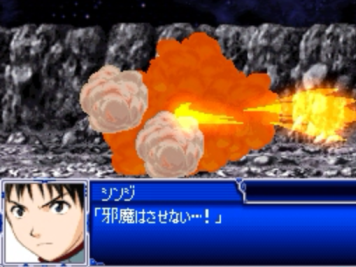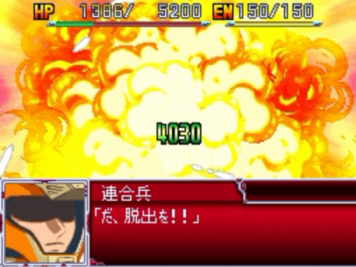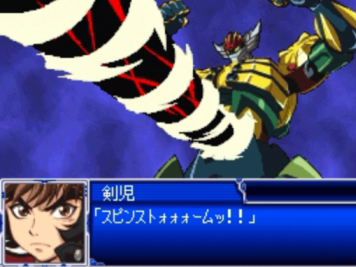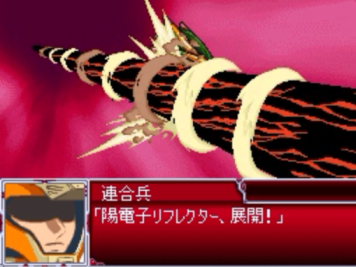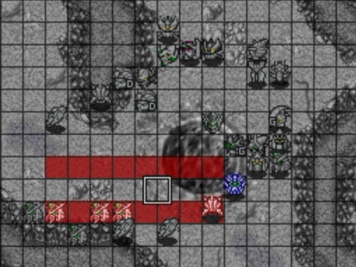 https://www.youtube.com/watch?v=0PtRRH3YjUY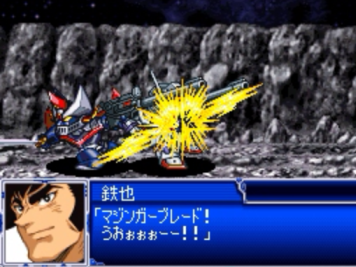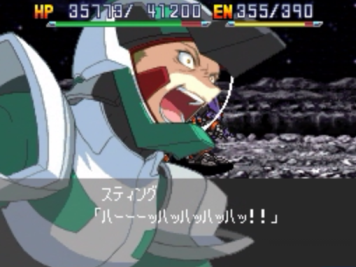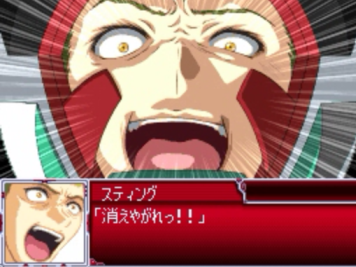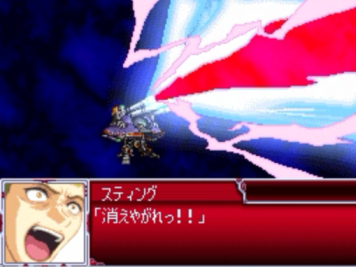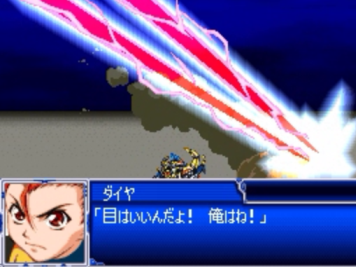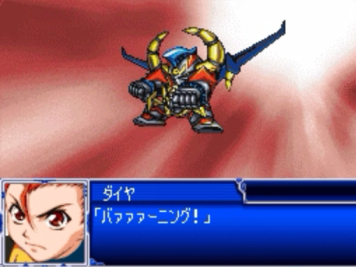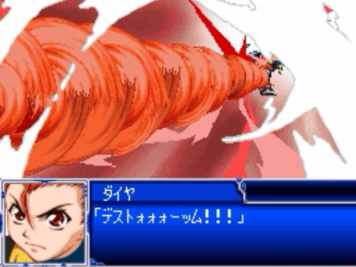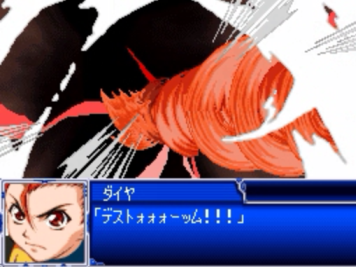 https://www.youtube.com/watch?v=x3cqnjG6Pc0
Also, damn, did they go all-out with this attack. Glorious.

Sting's about to get blown to kingdom come by a valored Face Open: The Great, so here's what Stella had to say to him:


: Please, Sting! Come with us! You can't stay with them!

: Aah? Who the hell are you?!

: Well, whatever, I can kill you first and then deal with the others! I feel like a million bucks right now!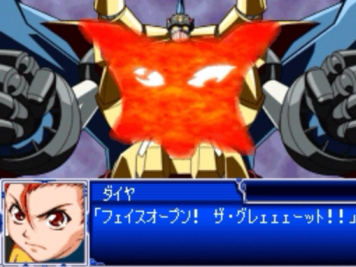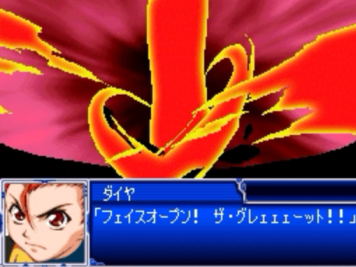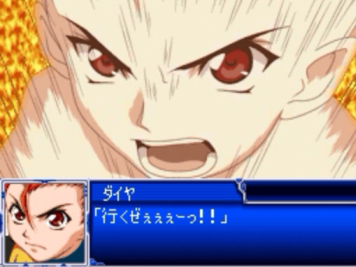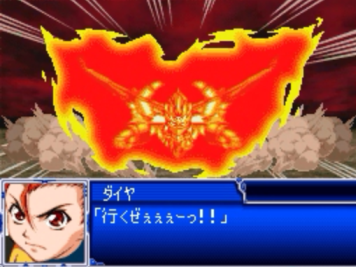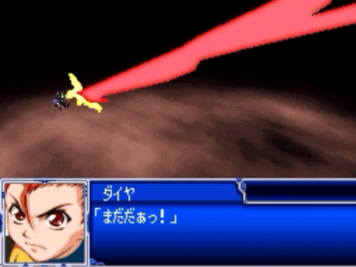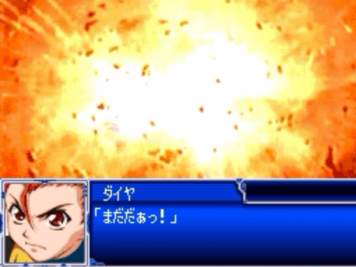 : HYAAHAHAHAHA! Burn! Burn! Everything is burning…!

: Stiiiiiing!

: …!

: Ste…lla…?

: Sting?!

: He went back to normal?!

: You were… alive… Stella…

: Yes, and we can all live together, Sting! I don't… I don't want anyone else to die…!

: You said… Hah… You're a normal girl again… Glad to see that… Stella…

: Sting, eject! Quick! You can't die!

: Sorry… But I can't just… let Auel by himself. He'll get lonely…

: Be happy… Stella…
*
His Destroy explodes.
*

: S-STIIIIIIIIIIING…!

: The Extended… yet another group victimized by this war…

: Thank you… Sting… and goodbye…

: Looks like that's all of them.

: Stop right there, LOTUS.

: Lord Djibril… are you finally ready to call it quits?

: Hardly. Did you forget that I still have Vice-Foreign Minister Darlian here with me?

: Djibril…!

: You seriously gonna try a cheap shot like that, ya crook?!

: Victory is all that's important, not how you achieve it. Now, if you would, put down your weapons and surrender immediately.

: C-Captain…

: …

: What will it be, then…?

: Do not worry about me! Just stop him!

: Hah, do you think any of them would be capable of doing anything like that?

: …

*
Heero charges towards REQUIEM!
*

: Wha?! Did you not hear what I said? I—

: Forget me, Heero. Just destroy us both.

: Mission… accepted.

: Ha-Hahahaha… You're bluffing. You won't actually shoo—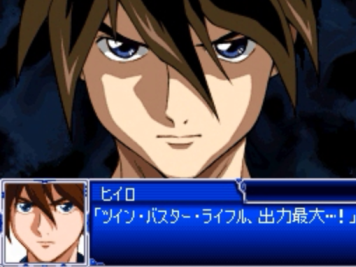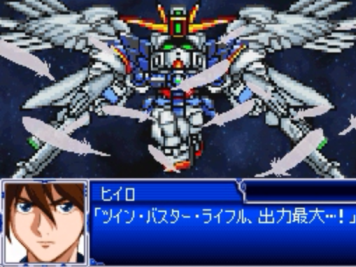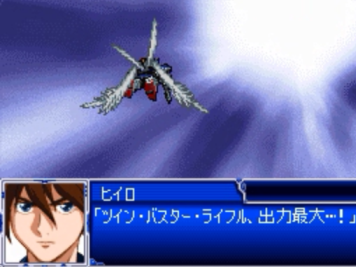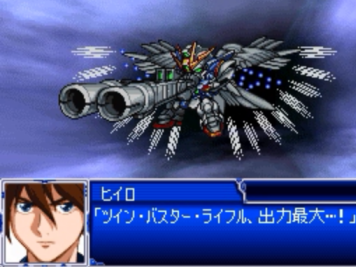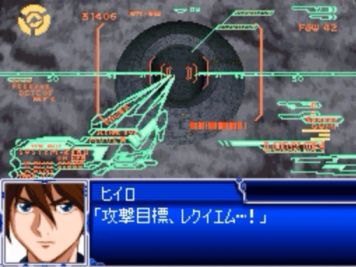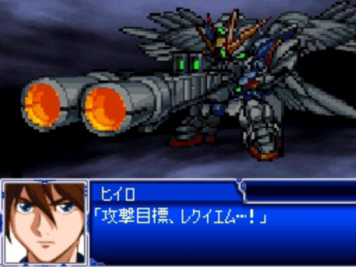 : He actually shot?!

: Let him handle this one, guys.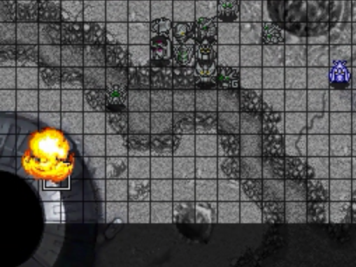 : H-He's aiming right at us…! Does he not care what happens to her?!

: Your threats won't work on him. Accept your defeat and surrender, I say.

: Hrm! No, not yet…! The Arzachel Base is still under my control! If I can just make it there…!

: He's trying to run off again!

: Not this time, Djibril…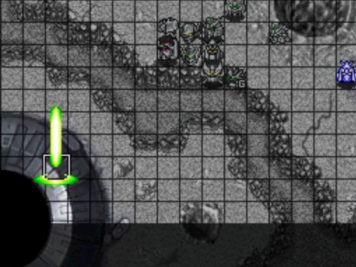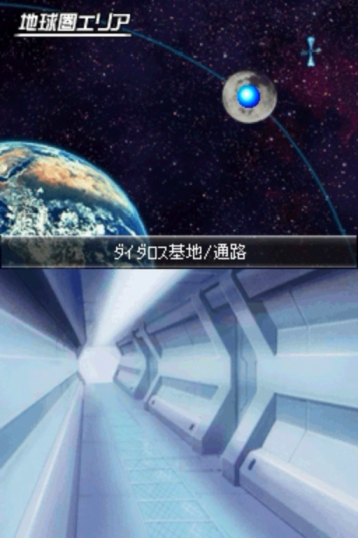 : (Hold on, Relena.)

: This way, Heero.

: Your infiltration mission is also ending today, it seems.

: Save that for later. Djibril is not too far – follow me.
Little bit later…

: Contact! There they are!

: Djibril went through there. Go. I'll hold them off.

: Sorry for this. I'll see you soon…!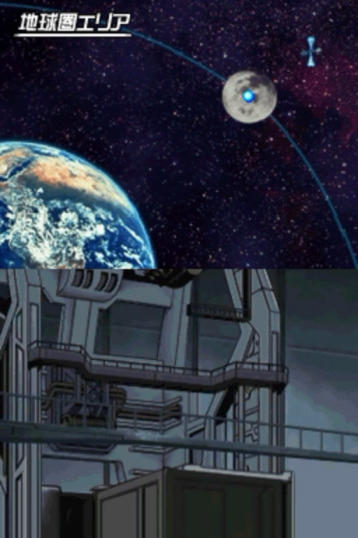 : Damn it all, I can't die yet…!
*

*

: Stop right there, Djibril. Let Relena go.

: Heero!

: No,
you
stop! Do you not care if this woman dies?!

: If you want to shoot me, then be my guest. I'm ready to face my end.

: Wh-What… You lie…!

: Shoot her if you will. But the moment you pull that trigger…

: I'll kill you.

: Tch…! Damn it!
*
Throws Relena!
*

: Aah!

: Relena!

: Now's my chance!
*
Runs off.
*

: Are you alright?

: I am. Thank you, Heero… but Djibril…

: … He won't be a problem.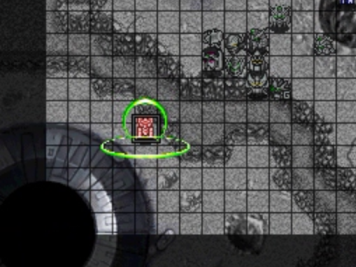 : Hurry! Get us to Arzachel Base! I can still—
*
Shinn intercepts!
*

: Wh-What…?!

: You're not getting away today! The world that gave birth to men like me… it ends, here and now, with you!

: S-Stop! STOOOOOOP!!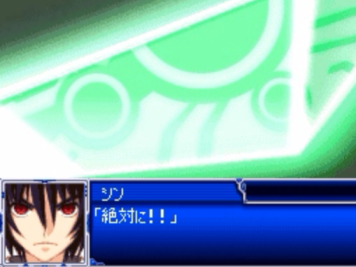 "Djibril! I'll never forgive you for what you've done! Ever!"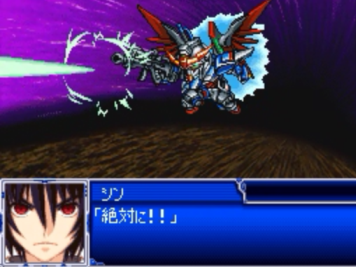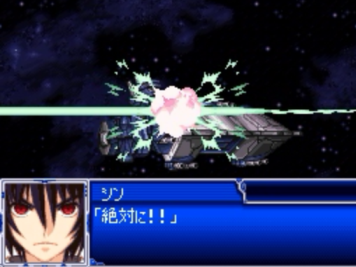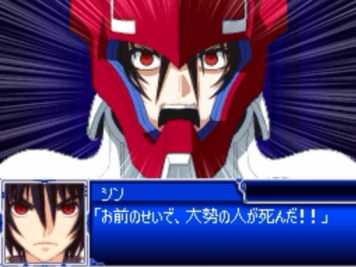 "So many people died because of you!"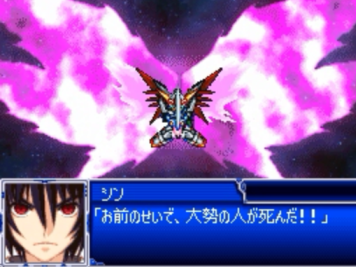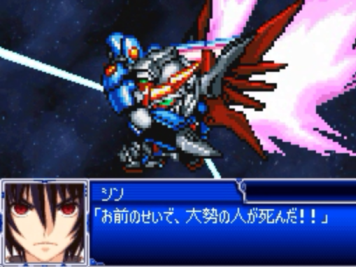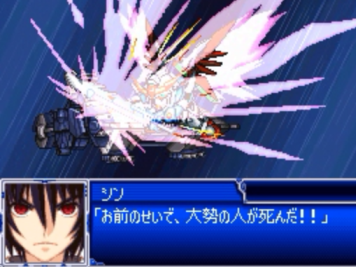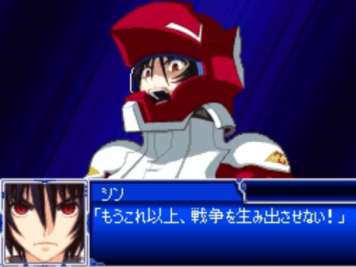 "I won't let you create any more war!"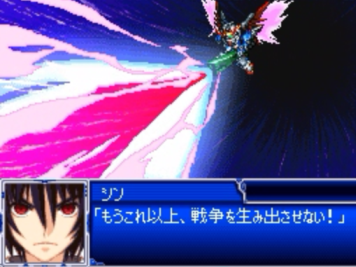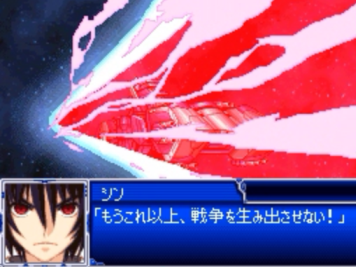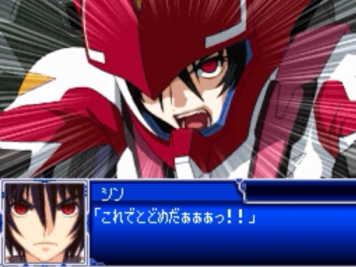 "You're finished!"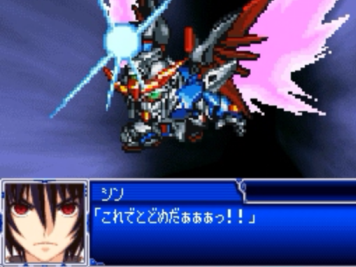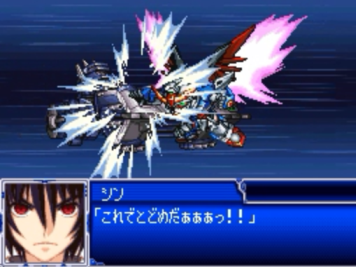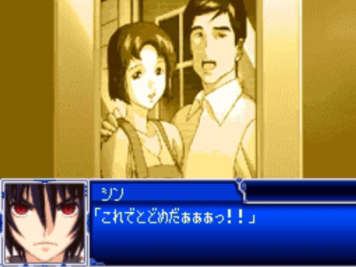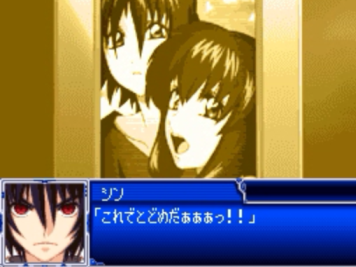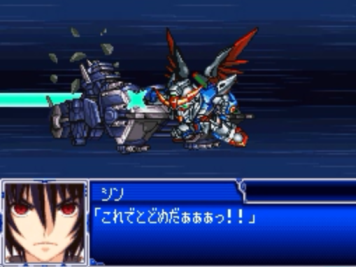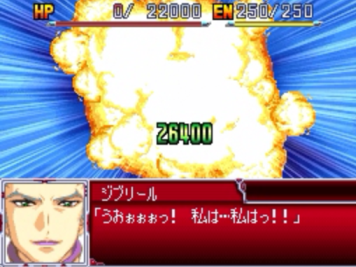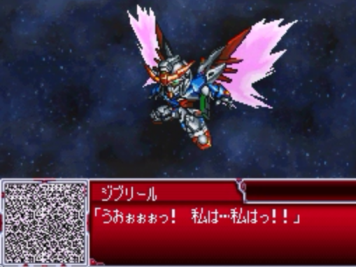 : I-I'm the one meant to rule this world…! I-I cannot… GAAAAAAAARGH!!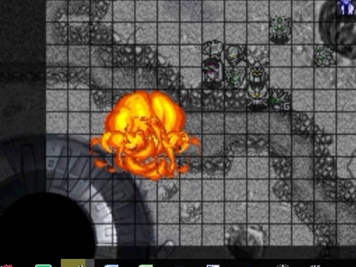 : And so ends Logos…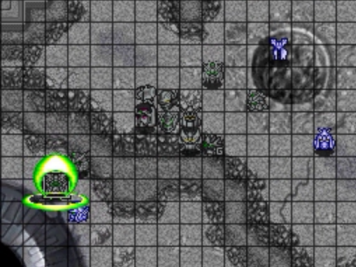 : It's already done, it seems.

: Heero, Trowa! You're safe!

: And by the looks of things, they're also got the lady back all safe and sound.

: My sincerest thanks, LOTUS. With Djibril gone and the remaining Logos members already in custody, their organization is, for all intents and purposes, finished.

: Dad, mom… Mayu… I've done it. It might just be a small step in the right direction, but at least we've ended this war…

: Shinn…

: Don't let your guard down just yet, Shinn!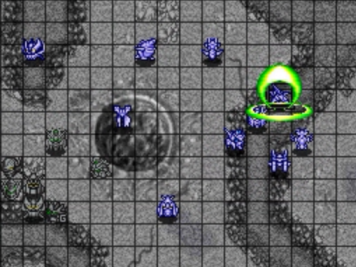 : The Archangel! And the Eternal!

: Be careful. They're coming!
*
Alarm!
*

: Multiple signals closing in overhead! It… It's GreAT!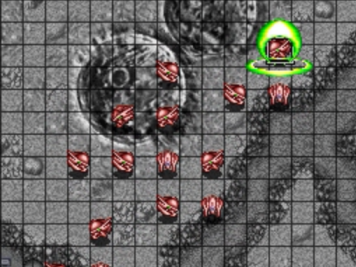 : They've broken through all those defending forces and destroyed REQUIEM… Impressive. Their growth is far exceeding our expectations.

: That said, my AI should also be perfect now… let's put it to the test.

: You're
still
hounding us to collect our data?!

: … Wait, was that voice just now—?!

: Haruno? Is that you?!

: Not quite. I am HL-1… a new defense mechanism "potential" created by Prof. Kral Grife's brain.

: I see… so you're kind of like her sister?

: Yes, though our basic design philosophies are very different… and the professor didn't
voluntarily
create me, either.

: What…?!

: You… How much did you hurt Grife to force him to do as told?!

: You misunderstand; we did not actively force him. Rather, we simply analyzed his brain waves… Boazan technology is a thing of wonder, you see.

: … And just to confirm our suspicions, tell us: what are you all after?

: You already know what: survey all the technology, the weaponry, present within LOTUS that has the potential to be deemed useful by Central. Nothing more, nothing less.

: Alright, I think I've had enough of your shtick. If you wanna see what we're about, how strong we are, then we'll show you 'til your eyes pop out!

: Do it, then. Help me experience the full might of the strongest fighting force in the Earth Sphere.

: All troops, pull yourselves back together and set forth! Everything we did would be for nothing if we were beaten here!

: Mission… accepted.