Part 47: Coda 4: The Eyvind Ending
CODA 4: THE EYVIND ENDING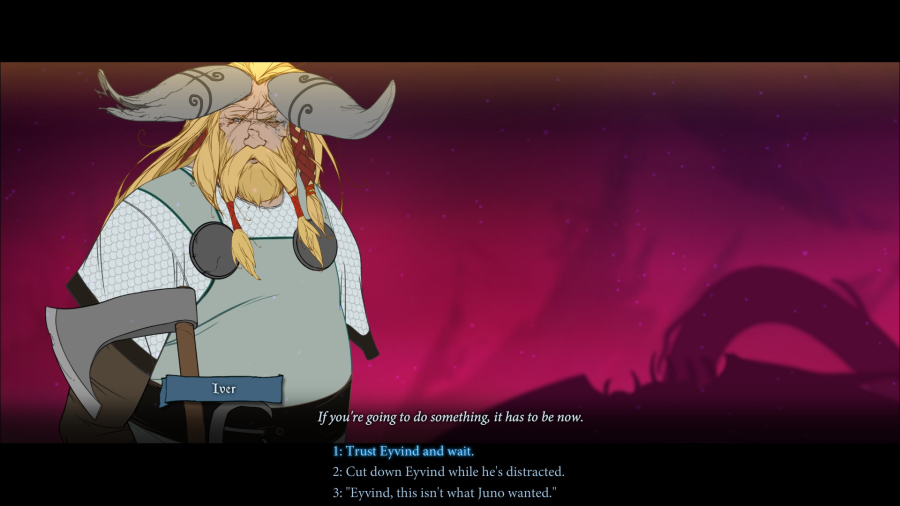 Let's see what happens if we trust Eyvind.
Eyvind debates with the Serpent, tension rising, until only a terrifying silence suddenly hangs between them.

: It's over. There has been an agreement.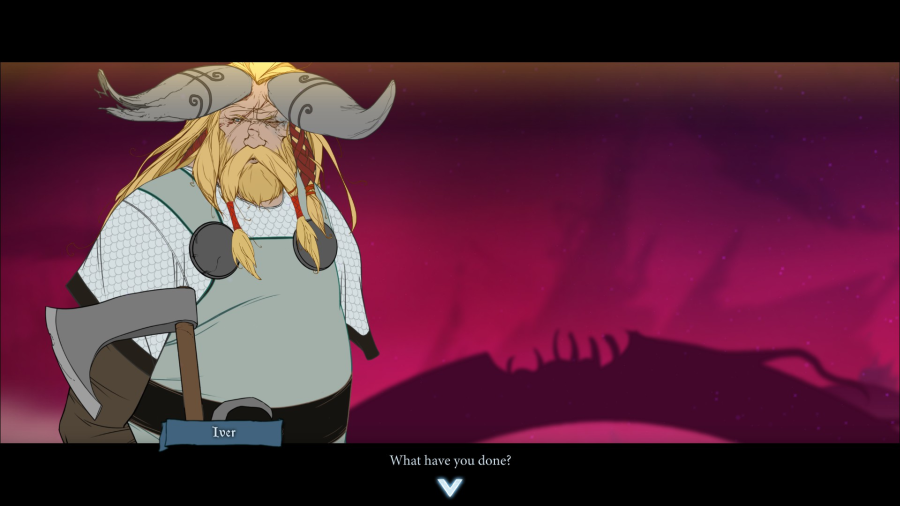 : Do not fear what you see now. The world may be changed, but Arberrang will survive. And Juno will finally have peace.
Eyvind stands before Juno's hovering form and completes his part of the bargain.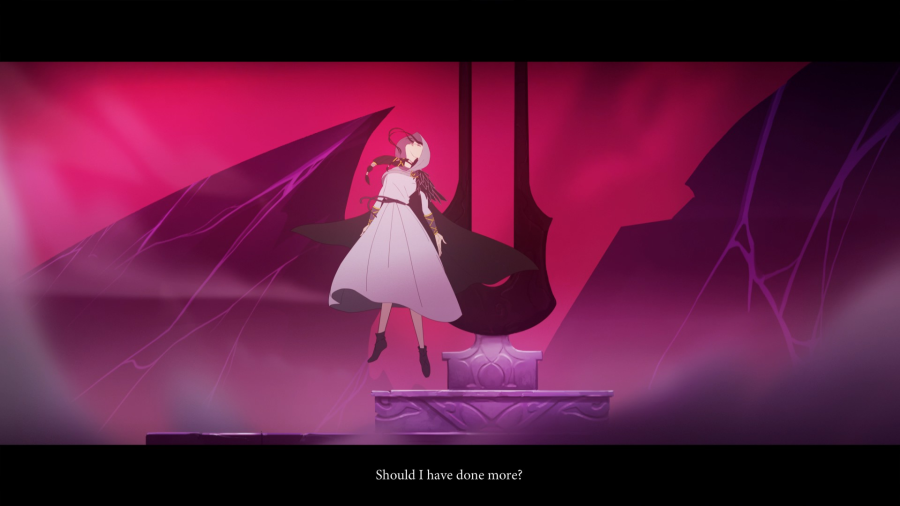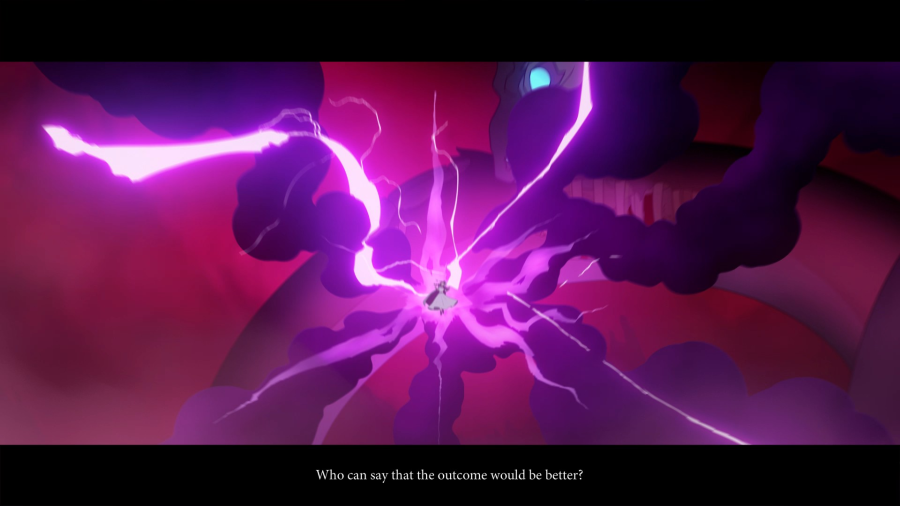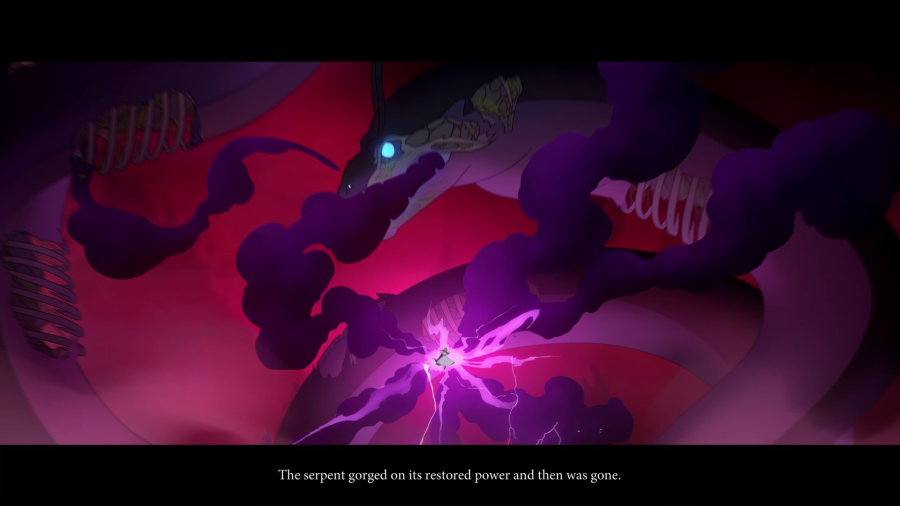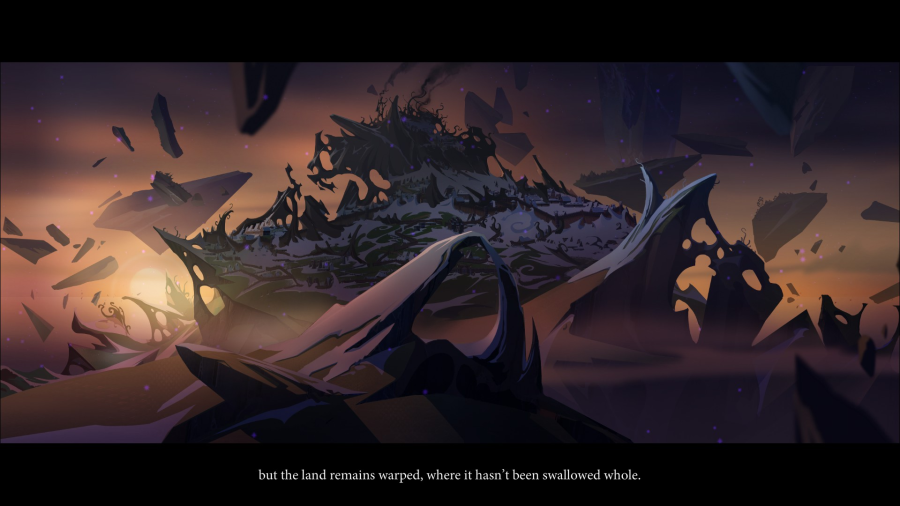 :
At least no warped remain to waylay us, and on the horizon now approaches Arberrang. Do I dare to hope?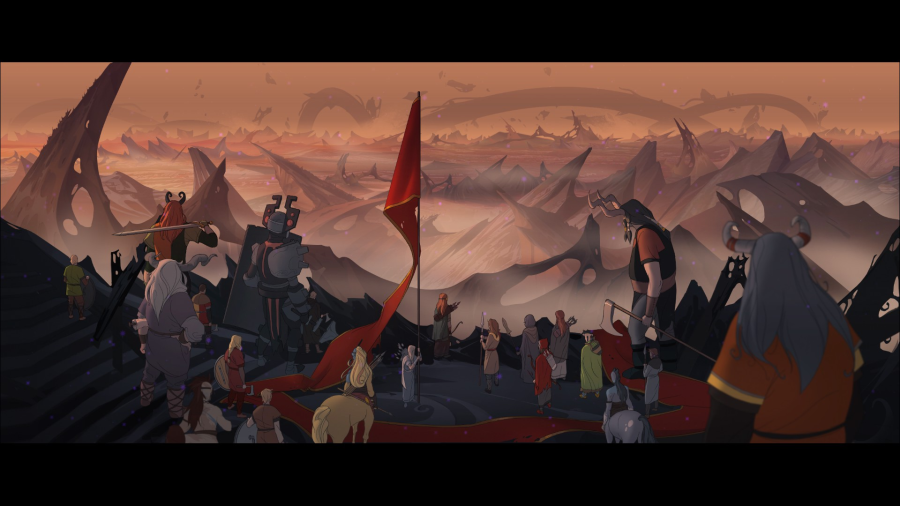 We get the same "all surviving heroes" but they get to see a restored World Serpent who...maybe won't eat them because he should totally keep his word with the crazy wizard.
Everything from here is the same as in our canonical ending.
If you trust the Serpent to keep its word then I guess it's the 3rd best ending. But like...why would it? And how are people going to reach lands that were untouched by the darkness and more readily habitable when the Serpent has eaten all but the areas nearest to Arberrang.
Eyvind is a bad negotiator. Worst deal in history. Sad!
...and that's it for the endings. Remaining work for me:
1.) Revise the first couple updates I did before I hit my stride with automation, and get the images down to 900 pixels wide so we can go to the LPArchive.
2.) I'll show off Survival Mode in 2. I'm not paying $5 to buy it in 3; I don't like the combat enough in 3 to make it tolerable. To that end, we'll have 1 more vote. More on that in a moment.
3.) Any other stuff y'all wanted to see? I can probably trigger most things through savegame editing, though I don't trust myself enough to switch from Alette to Rook via edits.
As for the vote:

We're going to play Survival Mode on NORMAL difficulty. And we're going to not bring Alette with us because she's overpowered as heck.
So...
VOTE FOR SIX CHARACTERS
. I'll play as far as I can take them and then we'll call it a wrap on the thread.
ARCHERS
: No more than 2
Oddleif
Nid
Yrsa
HORSEBORN
: No more than 2
Ro'Ech
Canary
Derdriu
Scathach
LANDSMEN
: No more than 1
Eirik
Dytch
MENDERS
: Choose 1. I won't take both, nor will I take 0.
Zefr
Eyvind
RAIDERS
: No more than 2.
Dagr
Hogun
Mogun
Onef
Ekkill
Egil
Gudmundr
Oli
SPEARMEN
: No more than 2.
Ludin
Tryggvi
Bak
SKALDS
: No more than 1.
Aleo
Sparr
SPECIAL CHARACTERS
: No more than 1.
Rook
Bolverk
Folka
Iver
VARL SHIELDBANGERS
: No more than 1.
Fasolt
Griss
Mogr
VARL WARRIORS
: No more than 2.
Hakon
Gunnulf
Bersi
Krumr
Sigbjorn