Introduction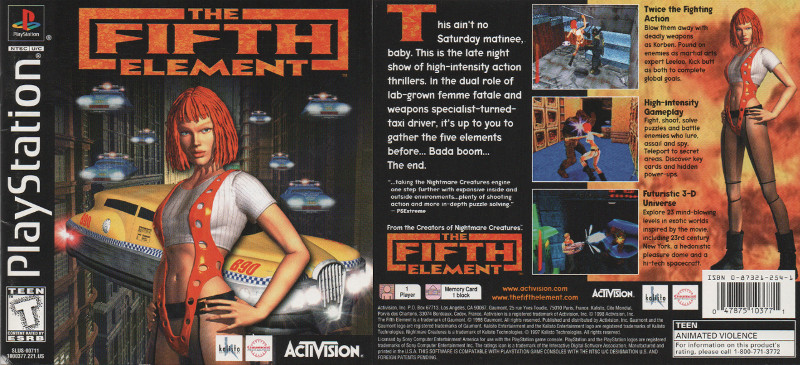 The Fifth Element
is a 1998 third-person action-adventure game developed for the Playstation by Kalisto Entertainment (Nightmare Creatures, Fury of the Furries) and published by Activision (Apocalypse, Wu-Tang: Shaolin Style). Following along with the events of the
1997 film
, players assume the roles of Korben Dallas and Leeloominaï Lekatariba Lamina-Tchaï Ekbat De Sebat on a mission to gather up four ancient stones and save the world from Absolute Evil.
Get in your hover-taxi and buckle up, because this game is primed to explode -- this is
the ride.
I'm
Phenwah
, joined once again by
Lobst
and
DemoWeasel
. Welcome to
The Fifth Element
!
Note
: this game uses solely footage and dialogue from the film for its cutscenes, and we're going to be talking over them. If you haven't
seen the film
, you'll probably get lost pretty quickly, as the game makes very little effort to fill in the gaps between story beats. Also, it's a genuinely good piece of entertainment and worth a watch on its own.
Videos