Part 2: - Picking Our Opponent
Alright, it's been about 24 hours, and the vote has crystallized to the point where a single vote couldn't change anything! So, what's our ticket?
code:
Zodiac Killer:       IIIIIIIIIIIIIII
Herman Cain:         IIIIIIIIIII
Donald Trump:        IIIIIIIII
Sarah Palin:         IIIIIII
Rob Portman:         IIII
JEB!:                III
John Kasich:         II
Chris Christie:      I
Rick Santorum:       I
Newt Gingrich:       I
Michelle Bachmann:   I
Cruz/Cain 2016! Flat Tax Now! Now, there's only one question left to be answered:
Who will we be running against?
We also get to select our opponent (albeit not their VP), so let's see who you folks pick for this!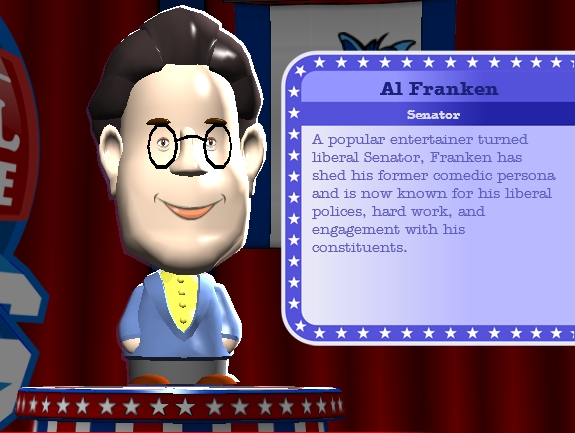 Al Franken:
Stamina: 7
Money: 4
Fund Raising Ability: 6
Charisma: 8
Appearance: 4
Credibility: 5
Experience: 5
Intelligence: 6
Minority Appeal: 3
Religious: 4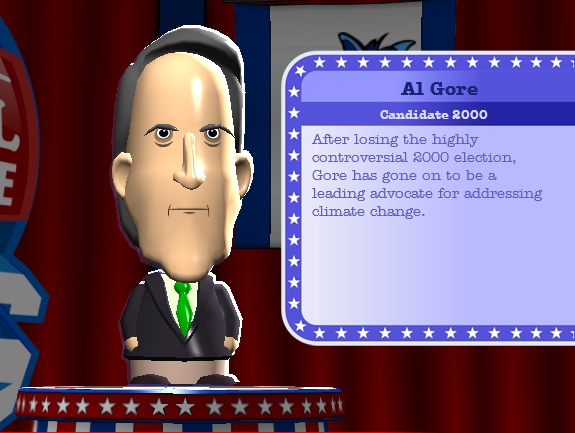 Al Gore:
Stamina: 7
Money: 6
Fund Raising Ability: 5
Charisma: 4
Appearance: 6
Credibility: 6
Experience: 7
Intelligence: 6
Minority Appeal: 4
Religious: 3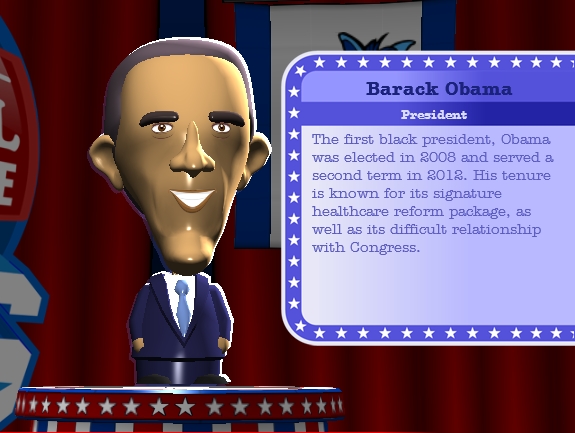 Barack Obama:
Stamina: 7
Money: 6
Fund Raising Ability: 6
Charisma: 8
Appearance: 6
Credibility: 6
Experience: 5
Intelligence: 7
Minority Appeal: 9
Religious: 3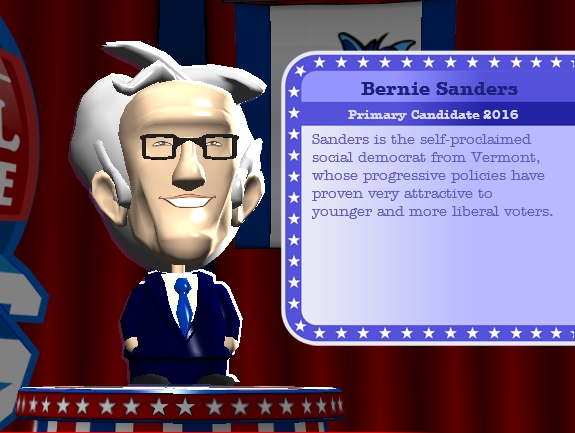 Bernie Sanders:
Stamina: 7
Money: 4
Fund Raising Ability: 7
Charisma: 9
Appearance: 2
Credibility: 9
Experience: 7
Intelligence: 7
Minority Appeal: 4
Religious: 3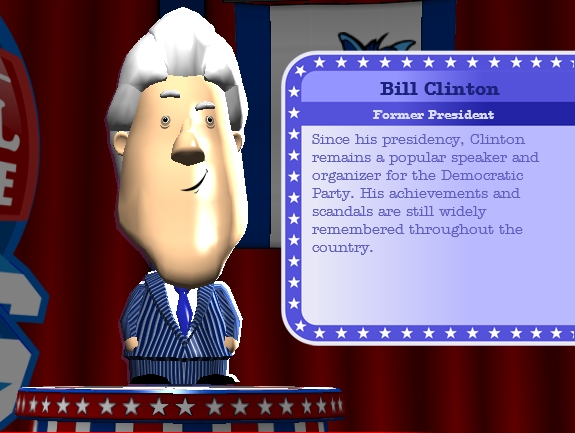 Bill Clinton:
Stamina: 5
Money: 6
Fund Raising Ability: 8
Charisma: 7
Appearance: 7
Credibility: 3
Experience: 8
Intelligence: 6
Minority Appeal: 6
Religious: 2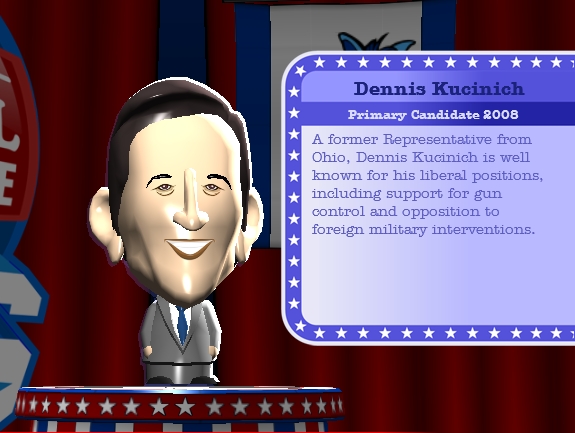 Dennis Kucinich:
Stamina: 6
Money: 6
Fund Raising Ability: 6
Charisma: 5
Appearance: 3
Credibility: 6
Experience: 7
Intelligence: 6
Minority Appeal: 5
Religious: 5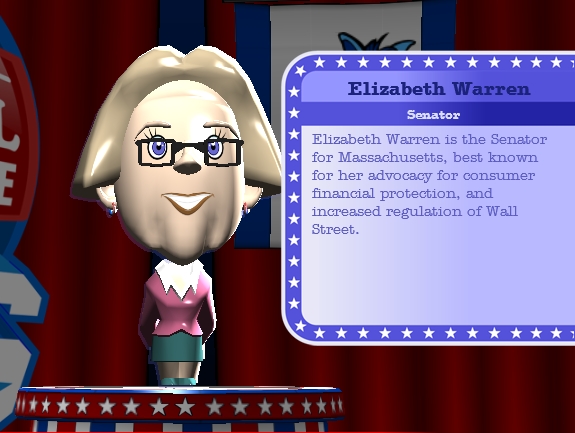 Elizabeth Warren:
Stamina: 5
Money: 6
Fund Raising Ability: 6
Charisma: 7
Appearance: 5
Credibility: 6
Experience: 5
Intelligence: 7
Minority Appeal: 6
Religious: 5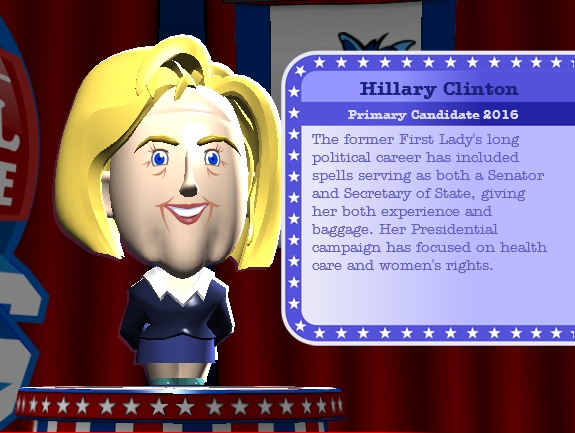 Hillary Clinton:
Stamina: 7
Money: 6
Fund Raising Ability: 9
Charisma: 6
Appearance: 5
Credibility: 3
Experience: 8
Intelligence: 7
Minority Appeal: 5
Religious: 3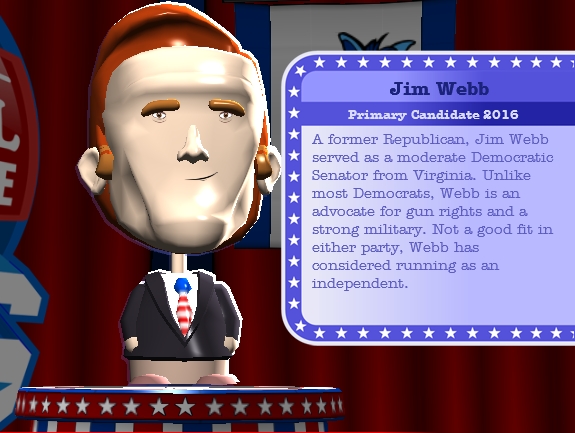 Jim Webb:
Stamina: 7
Money: 5
Fund Raising Ability: 3
Charisma: 5
Appearance: 5
Credibility: 5
Experience: 7
Intelligence: 6
Minority Appeal: 5
Religious: 5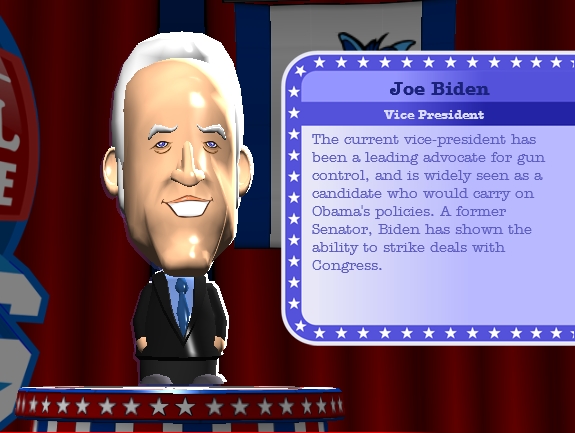 Joe Biden:
Stamina: 4
Money: 5
Fund Raising Ability: 7
Charisma: 7
Appearance: 5
Credibility: 5
Experience: 8
Intelligence: 5
Minority Appeal: 5
Religious: 7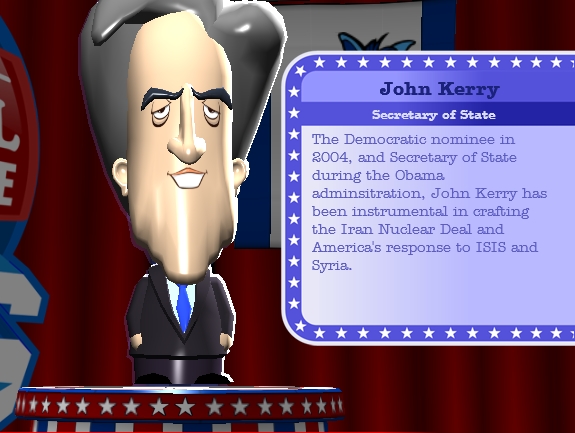 John Kerry:
Stamina: 6
Money: 6
Fund Raising Ability: 6
Charisma: 4
Appearance: 6
Credibility: 6
Experience: 7
Intelligence: 6
Minority Appeal: 5
Religious: 3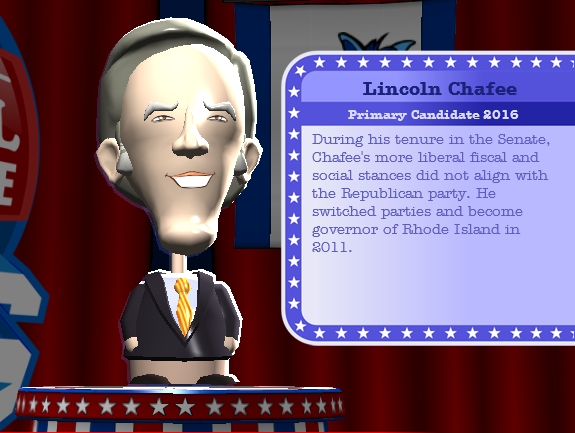 Lincoln Chafee:
Stamina: 7
Money: 7
Fund Raising Ability: 3
Charisma: 3
Appearance: 5
Credibility: 3
Experience: 7
Intelligence: 7
Minority Appeal: 5
Religious: 3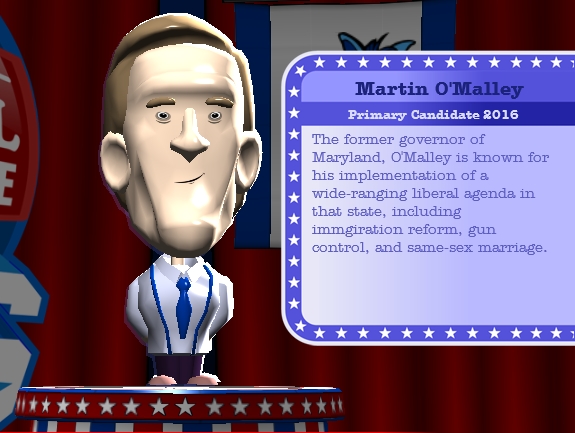 Martin O'Malley:
Stamina: 5
Money: 5
Fund Raising Ability: 4
Charisma: 6
Appearance: 10
Credibility: 3
Experience: 5
Intelligence: 5
Minority Appeal: 5
Religious: 5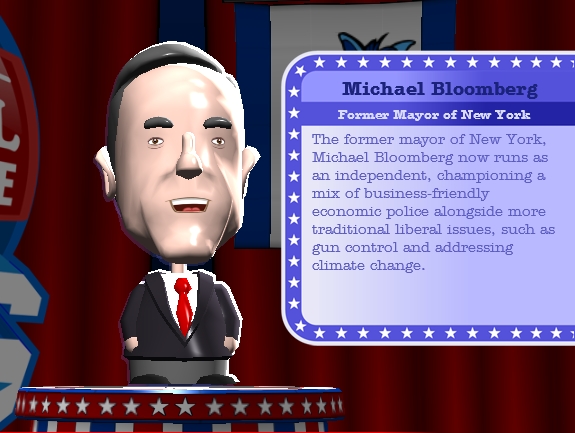 Michael Bloomberg:
Stamina: 7
Money: 10
Fund Raising Ability: 7
Charisma: 5
Appearance: 6
Credibility: 6
Experience: 6
Intelligence: 7
Minority Appeal: 6
Religious: 4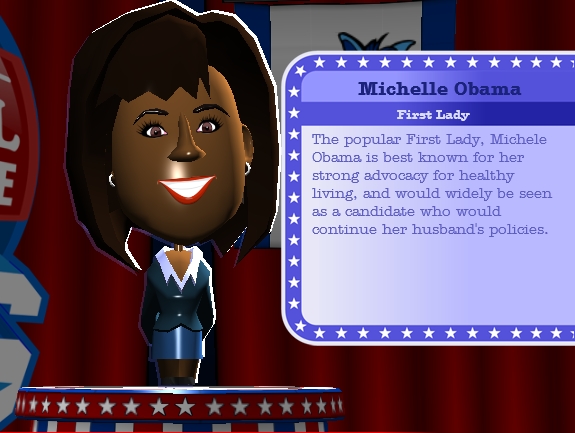 Michelle Obama:
Stamina: 6
Money: 6
Fund Raising Ability: 6
Charisma: 7
Appearance: 9
Credibility: 5
Experience: 3
Intelligence: 6
Minority Appeal: 9
Religious: 4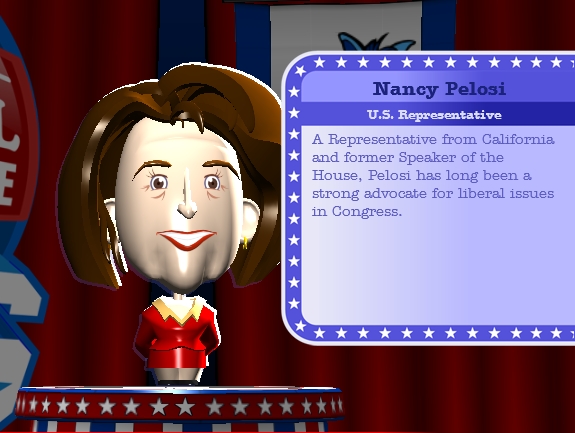 Nancy Pelosi:
Stamina: 7
Money: 6
Fund Raising Ability: 6
Charisma: 5
Appearance: 6
Credibility: 6
Experience: 6
Intelligence: 7
Minority Appeal: 6
Religious: 2