Part 27: Aug 01 2157 - Aged Ultron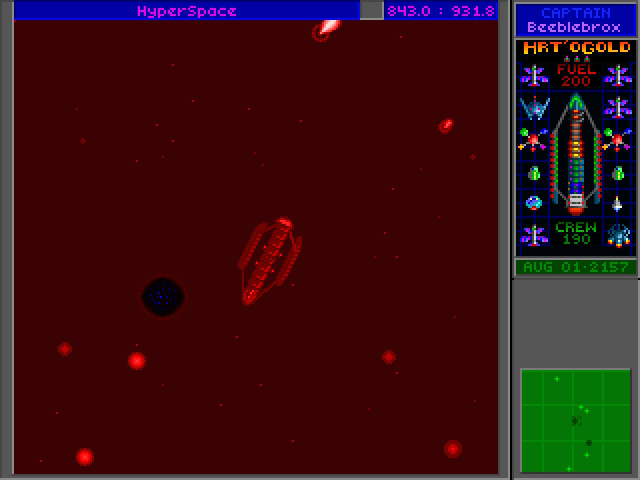 I flag down the nearest Utwig fleet to say hello.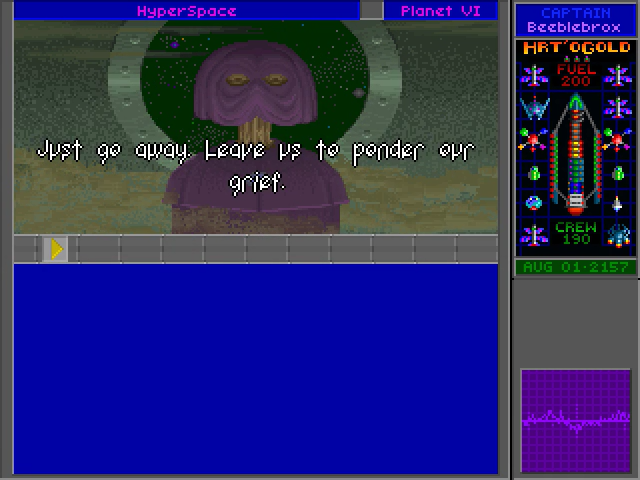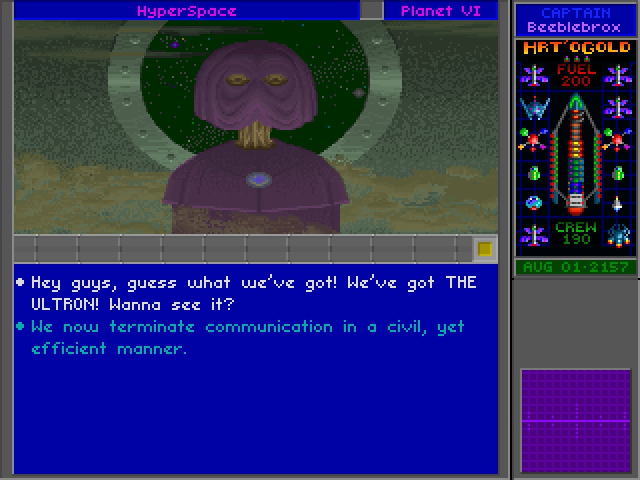 Gaaah! Should I set my gaze upon such a sight I might suffer sleepless nights for years on end! It is a symbol of the collective Utwig failure. It is our ultimate tragedy! AAAHHH!! Every divot, every crack on Its surface is etched forever in my soul! Remove It from my sight lest I purge my... hey!
That is not the devastated Ultron, it is the image of the Ultron BEFORE!... a trick? A TRICK?! Oooh! I had no idea that any species could sink so low! How dare you try to manipulate me with that cheap stage prop?!... why it's not even...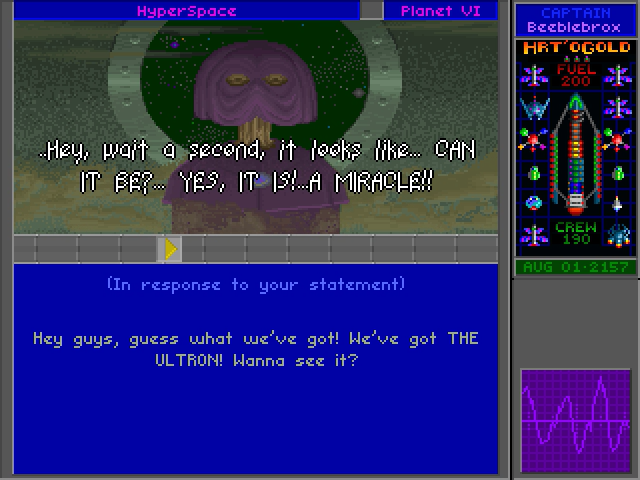 OH HAPPY DAY!! JOYOUS OCCASION!! You have our eternal thanks, good Captain! You will be immortalized as the blessed figure that delivered unto us our future! We will revere your very likeness!
Let me take the Ultron...yes, I feel the link...the knowledge, and... the Power. Hmm, it seems that there is much to do. Indeed, it seems that you should proceed to the second moon of the sixth planet of Zeta Hyades and take what you find there; we no longer have need for it, but the Ultron reveals that YOU will! I thank you for your part in the grand scheme. We now recover that which is ours via destiny and proceed to perform our essential service for the universe.

The Ultron throbs and whistles! Matters of significance are being relayed to our brains. It has been so long since we communicated with the ultimate in such a manner, but slowly, the truth is revealed... our destiny!! We have been directed to join with our Supox allies and attack... YOU!
...no wait, that's wrong. Sorry. We attack... YOUR ENEMIES... the Ur-Quan and the Kohr-Ah!... ...no, that's not quite right either... what? Oh, okay. We must strike ONLY the black ships... only the Kohr-Ah! Now, Captain, we must leave to prepare our battle fleets. Wish us luck!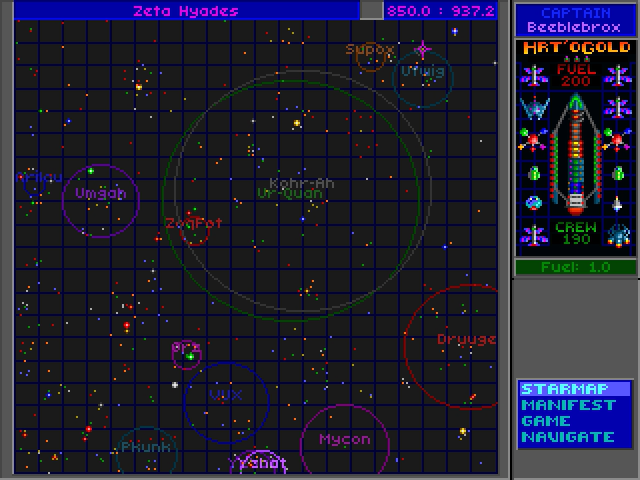 Nothing left between me and the weapon that will blow up the Sa-Matra!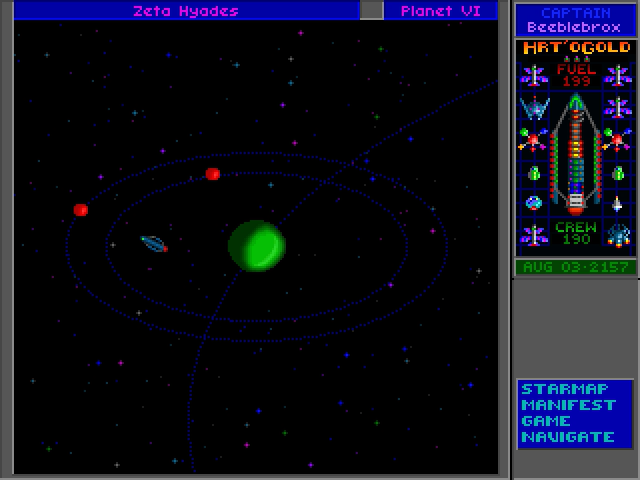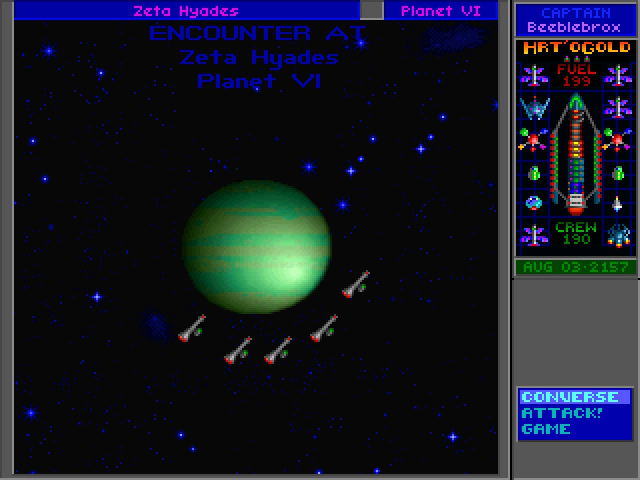 THE BOMB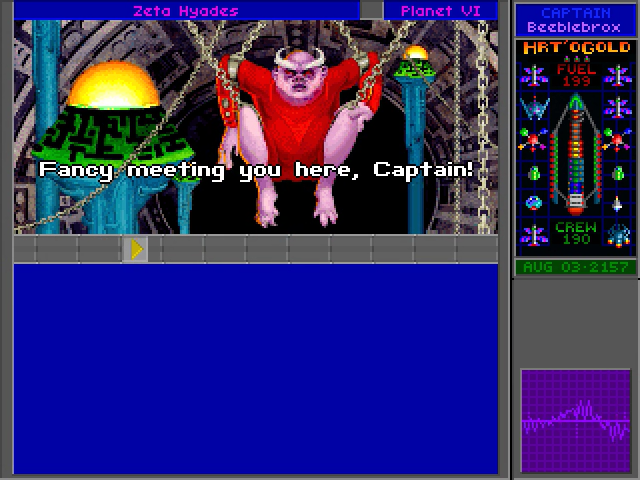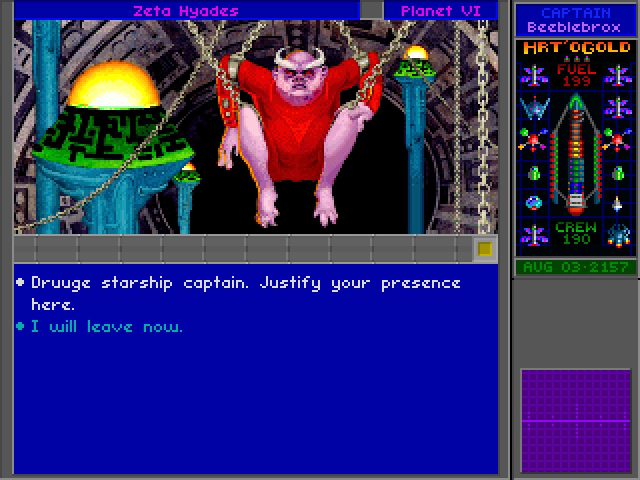 We, the appointed representatives of the Crimson Corporation, merely come to obtain the fair and reasonable payment for our goods! We travelled to this region of space years ago to sell the useless Ultron device to the Utwig. We knew even then of the weapon on the surface below us -- this was to be our price!
But the Utwig used a clever ploy to cheat us! I had convinced the morose Utwig fools that the Ultron was the answer to all of their pitiful dreams. 'Powers?', the Proctors whined. 'Will it give us the powers we crave?' I assured them that, yes, the Ultron would give them the Second Sight, the Ultron would allow them to see into the past and the future, the Ultron would slowly imbue each of them with unique secret powers of great significance, the Ultron would ensure that their race's huge potential for greatness would be fulfilled. Then... then a mistake was made.
Enough foolishness! We will take the Precursor device from the surface and then leave. Thereafter, I may see fit to bequeath the entire planet to you, Captain, for your invaluable services in the past... provided you leave now!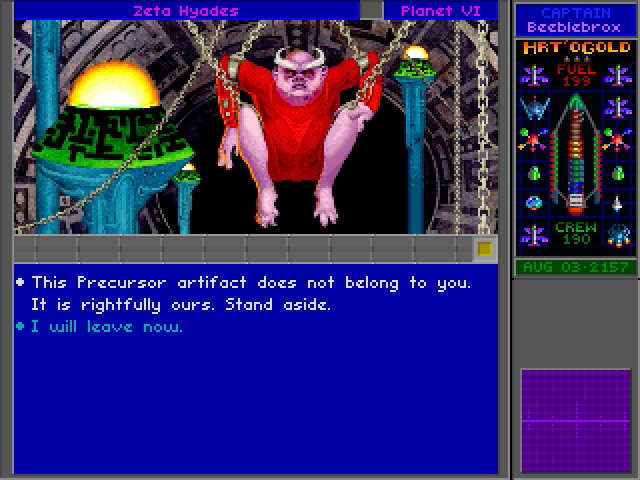 LIAR! It is WE who are the genuine owners! Not you, Captain. Those many years ago, when we offered the Ultron to the Utwig, how they capered and laughed at their good fortune... Fools! Then they begged to hold the device, just for a moment. To close the deal, I permitted this... a grievous mistake!
The moment the High Proctor touched the Ultron, her body arched and her eyes rolled back in her head. She began to babble meaningless phrases and howl like a beast. We had expected the Utwig to fall for our Sell, to buy the useless device. But never with such gusto! Their self-doubt and lack of clear reason left them vulnerable to our every manipulation. But then, the Proctor's body relaxed, and her eyes slowly closed. When they re-opened, her visual orbs shone with a wild and frightening light.
'This is all we could have dreamed of... and more!', she intoned. 'And now, Druuge, as to your price...' I opened my mouth to speak, but before I could utter a word, the Proctor interrupted, 'Wait! The Ultron feeds your thoughts directly to me. Do not speak! I know what you desire.' What could I say? That the Ultron was a farce and could do no such thing? I was stunned and silent.
The Proctor continued. 'You Druuge of the Crimson Corporation desire an object of great antiquity! Something of secret function and value. Very well! It shall be done.' And with that we were led to a small vault. The Proctor ceremoniously opened the door of the vault, and explained that because we had been of such great service, ALL of the treasures within were now ours!
Inside we found a hodge-podge of ancient and useless artifacts... a glowing rod, an absurd trident and more such junk. I could see no way to salvage the disastrous situation at that time. But when I heard of you, your travels, and your foolish quest for freedom, I realized that you could be the agent of our justice... and lo!... it is so.
You have heard our justification. It is valid and unassailable. Now GO! And do not return.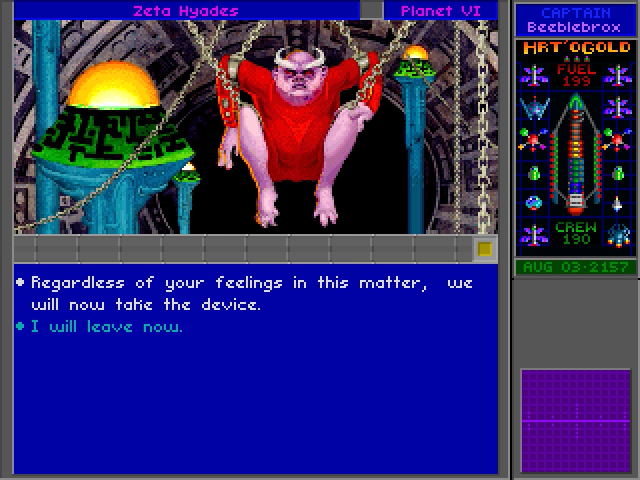 No! You will not! We know your soul, young Captain. It is no brighter than ours! We acknowledge our greed. We revel in it. You are the dishonest one! Hiding your shame in shadows, you fabricate justifications, rationales! In the end, we are just the same.
But now you stand in our way. You will not be moved. Therefore, we will add your true name to our Ledger of Hatred, but first... Die, child, DIE!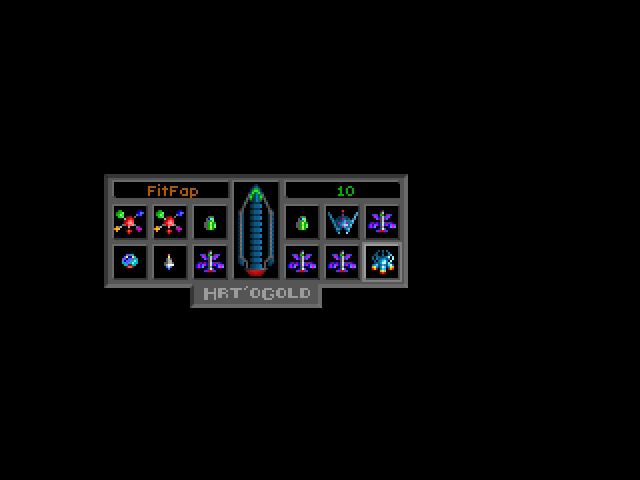 To make this fun, I'm not going to use the Heart of Gold here.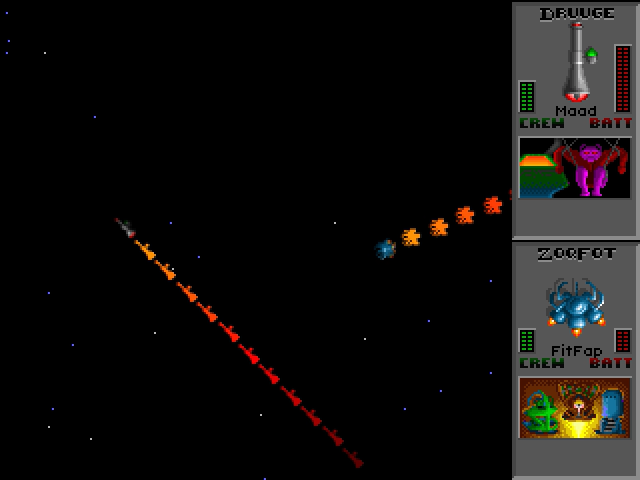 The Mauler is an interesting ship. Despite having a lousy top speed, it's one of the fastest ships in the game.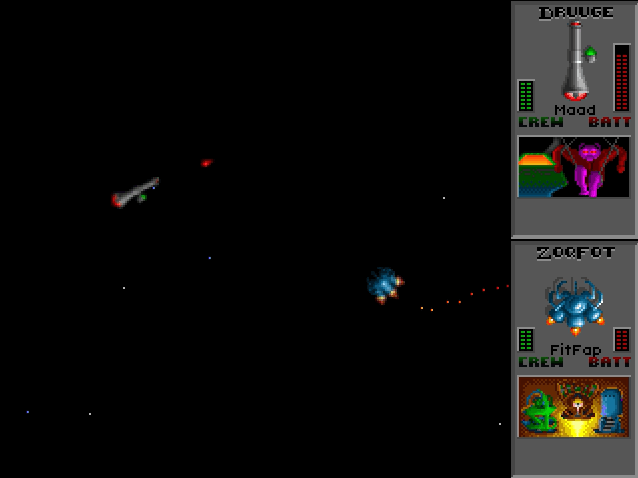 Its main weapon is a super-powerful cannon that does six damage a hit, and also has massive recoil. With a few shots, the Mauler can wind up careening backwards across the map at nigh-untouchable speed.
It has a large energy battery, but it regenerates very slowly. Their secondary function is to throw one of their crew into the furnace, restoring massive amounts of energy at once.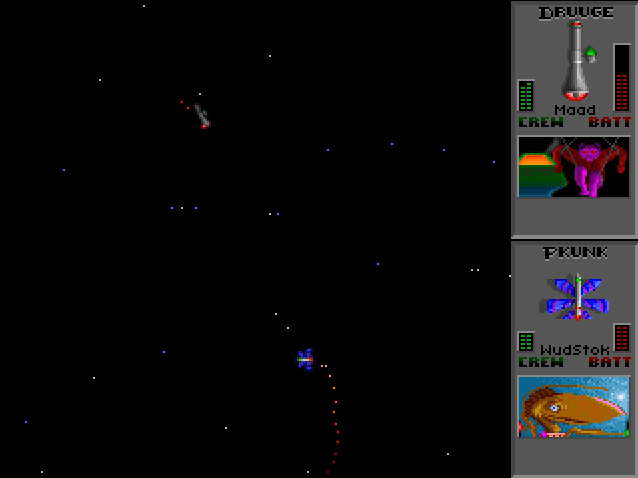 The Pkunk do a bit better against it - they're not as fast as a full-speed Mauler, but they can run circles around it with superior maneuverability.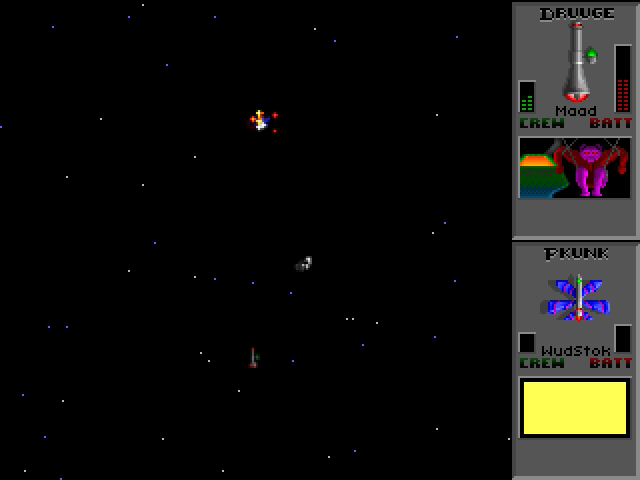 But WudStok still doesn't last long.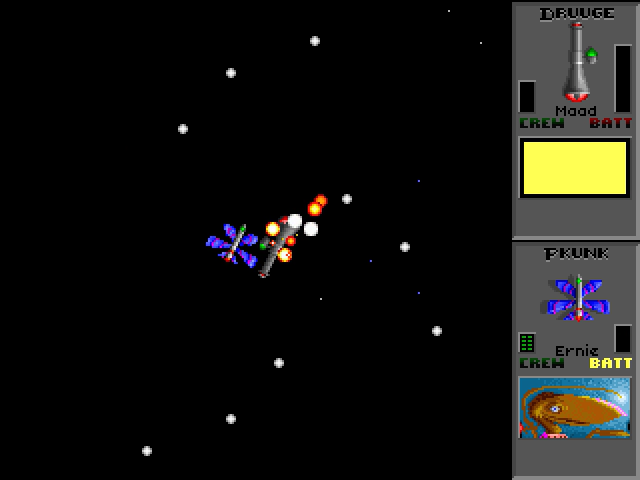 Ernie avenges WudStok by killing Maad!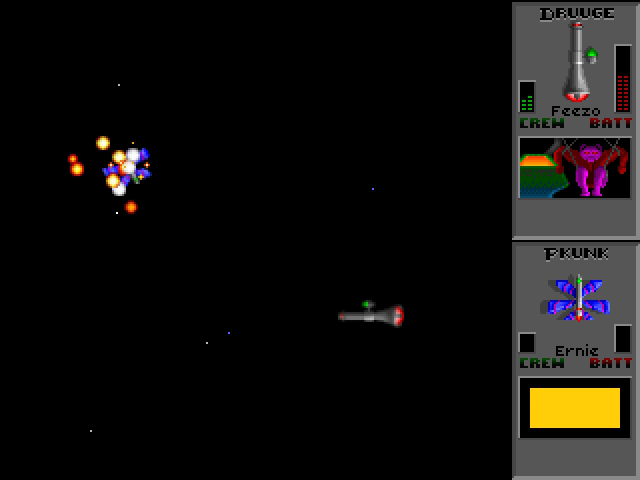 Feezo avengers Ernie by killing Ernie!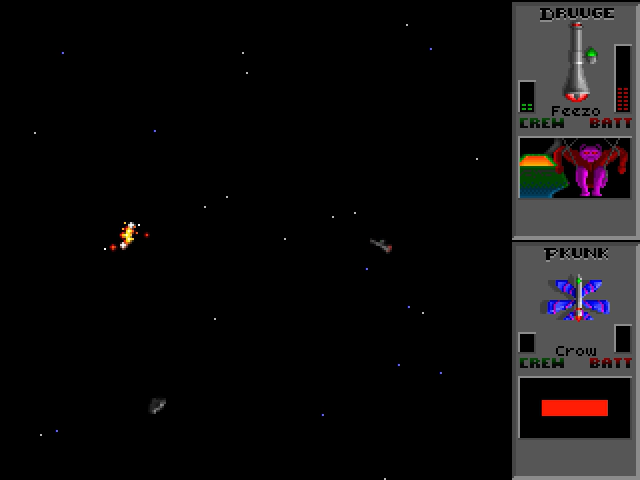 Crow fails to avenge Feezo!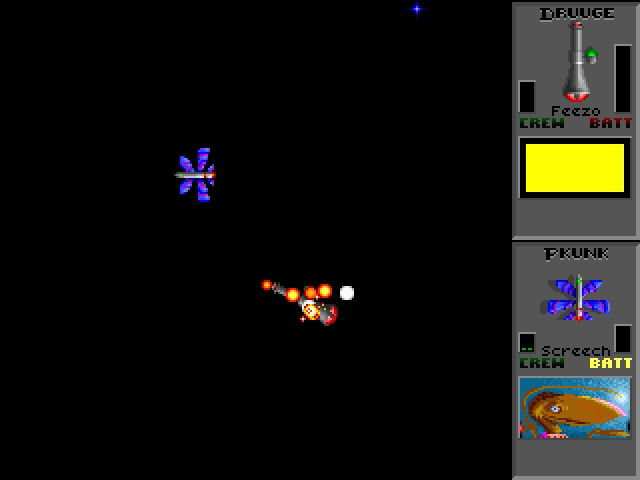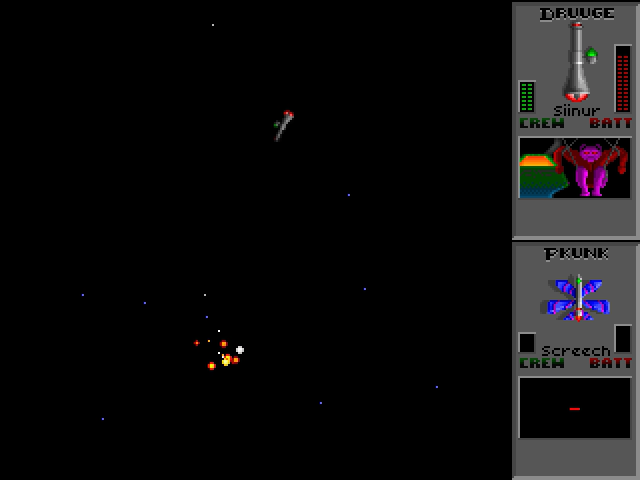 Screech avenges them both, before getting killed by Siinur!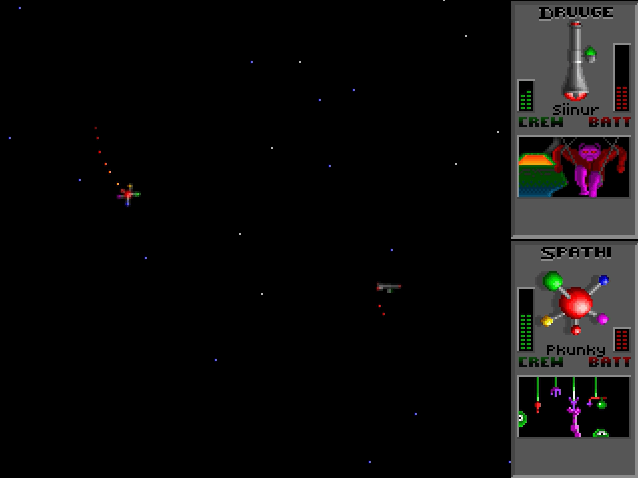 The Mauler is one of the few ships that the Eluder isn't a decent pick against - it can easily outrun B.U.T.T attacks.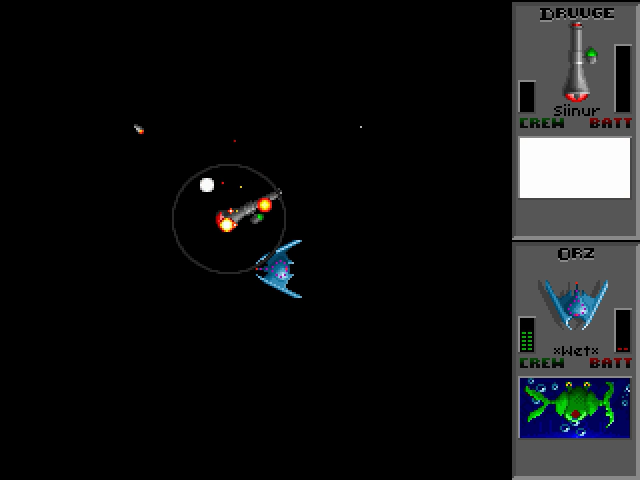 Pkunky perishes in the line of duty, but *Wet* follows up.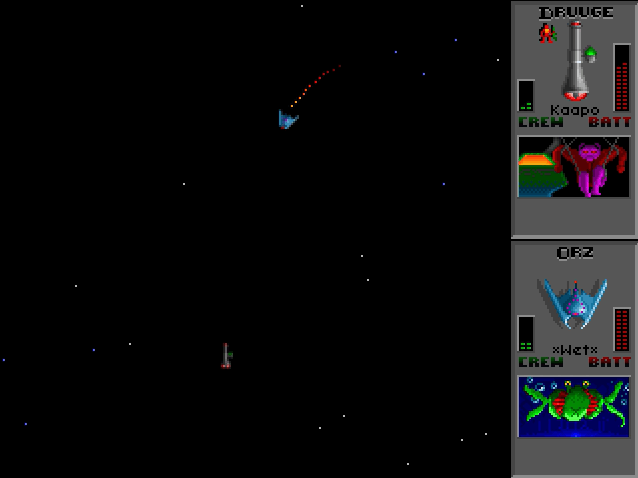 The Orz marines are a good weapon against the Druge, because they chase after it long enough for it to often make a mistake and get caught, and once they're on board the Mauler's escape tactics are useless.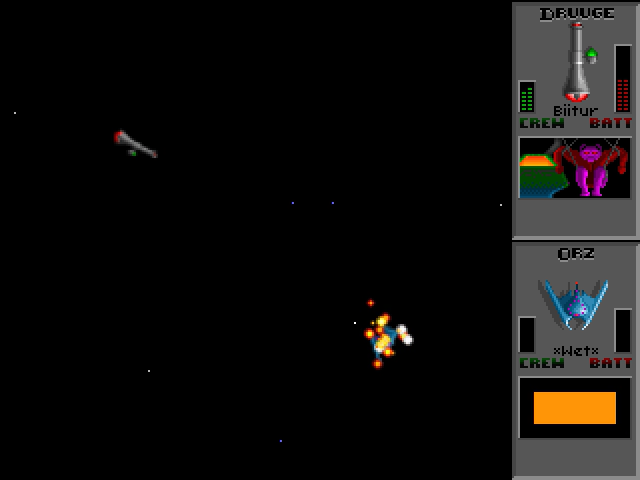 Biitur is the last enemy captain, and I'm fast running out of ships for my fleet.
It's time for drastic measures.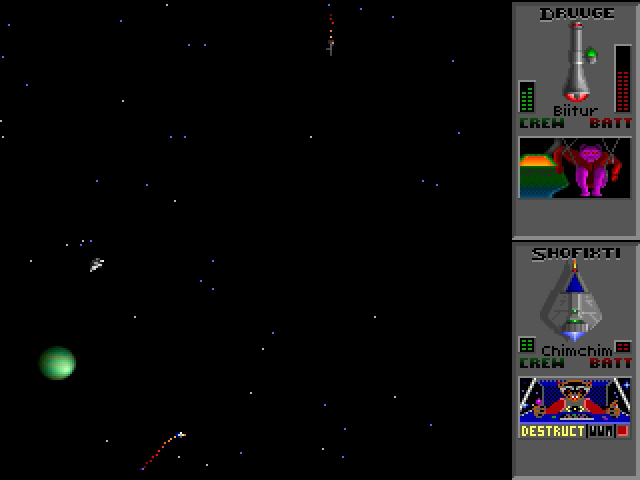 The first two time the Scout uses its secondary, it flips failsafe switches.
The third time...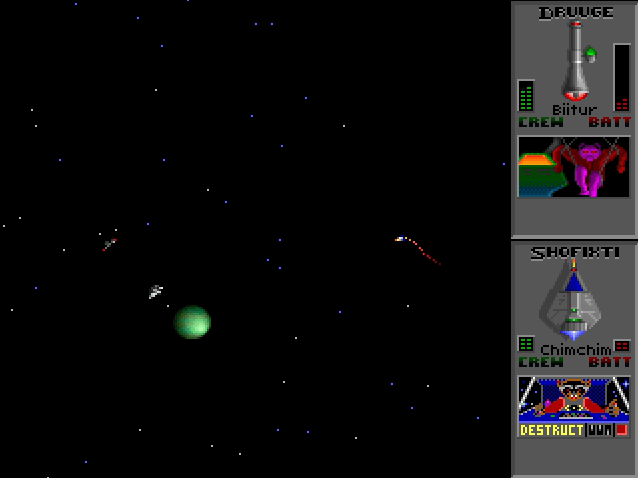 KYAIEEE!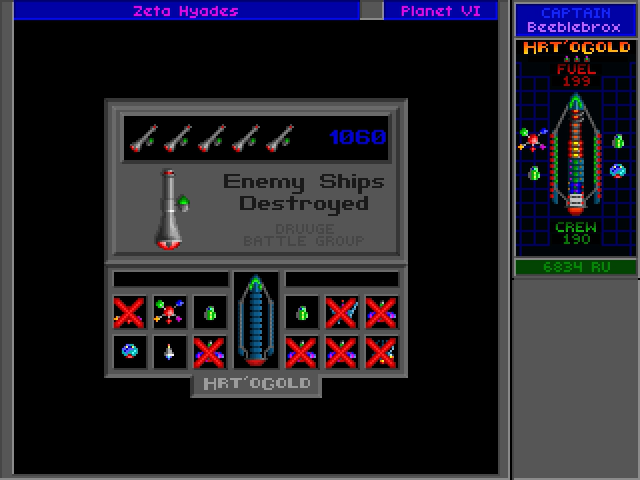 That about wraps up the opposition.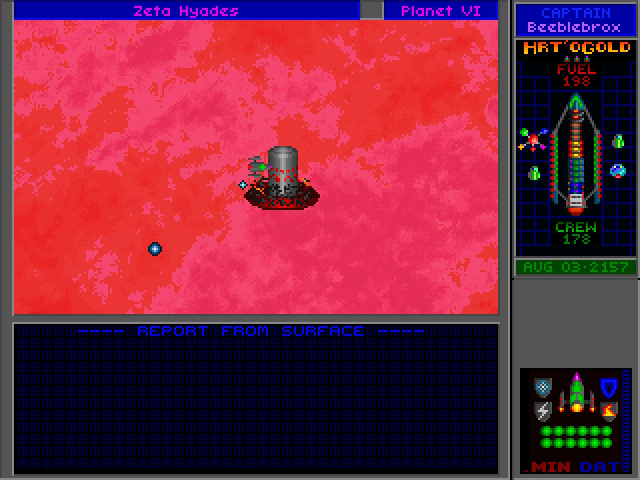 quote:
WE FOUND A HUGE PRECURSOR DEVICE ON THE PLANET'S SURFACE -- A GIANT BLACK CYLINDER SET WITHIN A SIMPLE DEFENSIVE GRID. WE HAVE ALREADY NEUTRALIZED THE GRID -- WELL, ACTUALLY JENKINS JUST DROVE THROUGH IT BY ACCIDENT, BUT THAT SEEMED TO WORK.

THE ARTIFACT IS COVERED WITH PRECURSOR SCRIPT AND ALTHOUGH WE CAN'T TRANSLATE ALL OF THE WRITING, IT IS PRETTY CLEAR THAT IT IS A WARNING, REPEATED AGAIN AND AGAIN.

THE ENERGY OUTPUT OF THIS ARTIFACT IS SCARY -- IT RIVALS ALL OUR SHIPS' ENGINES AT REDLINE! IF I MAY BE SO BOLD, CAPTAIN, I WOULD ADVISE THAT WE NOT EXPERIMENT WITH THIS DEVICE UNTIL WE ARE BACK AT THE STARBASE. WE SHALL NOW RETURN TO THE SHIP, WITH THE BLACK CYLINDER DEVICE CAREFULLY STOWED IN THE CARGO AREA.

---- END OF REPORT ----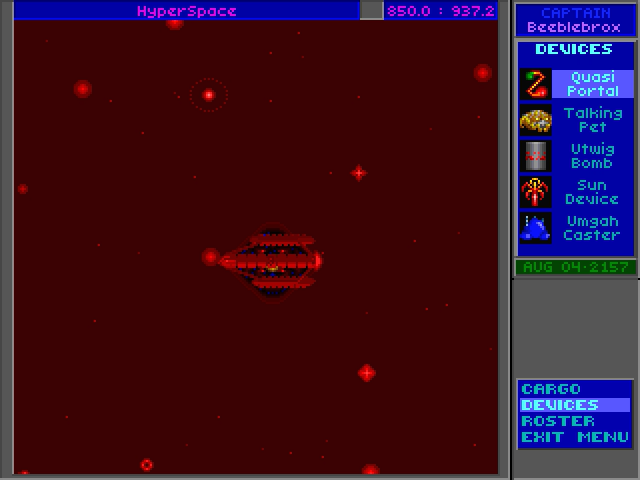 If you use the bomb from this screen, it immediately ends the game and boots you back to the main menu.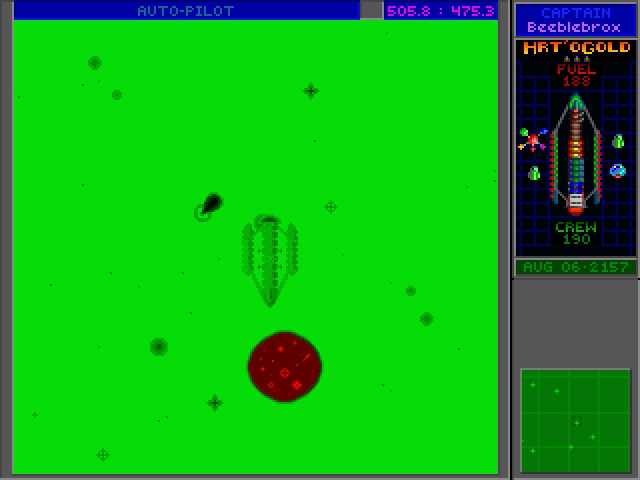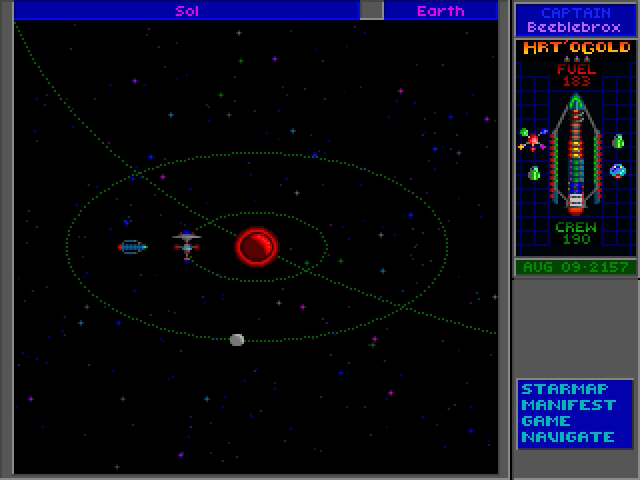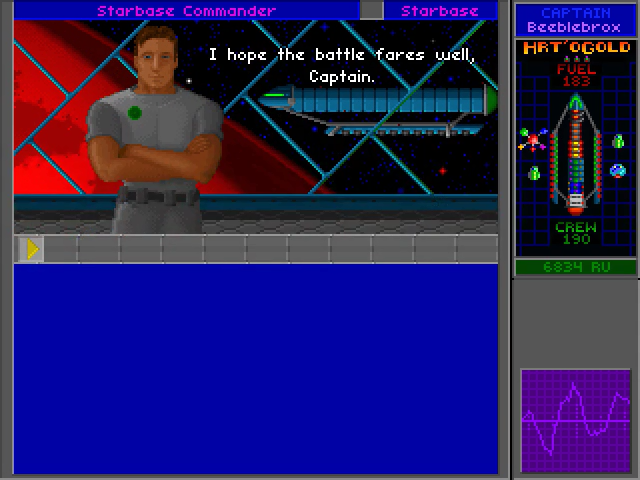 Before we proceed, I wanted you to know.
A race of plant creatures called the Supox have arrived in your absence, Captain. They offered use of their ship designs and will supply you as many starship captains as we require. I, of course, accepted their offer immediately.
A small contingent of Utwig has visited. After spending a few days setting up our fabricators to build their Jugger starships, and providing us with a few capable commanders, they departed. Captain, if you continue to build such strong alliances, we will surely win our battle against the Ur-Quan!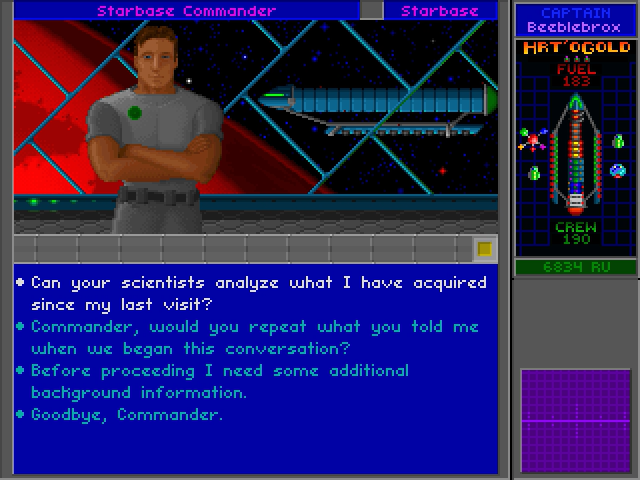 The analysis reads as follows:
SUBJECT: Utwig Bomb Device.
DATA: Analysis has yielded little information about this device, largely because of our technicians' unwillingness to open it, or even remove the bomb from your ship. That aside, here's what we know so far: The device is correctly defined as a Bomb... one of enormous destructive potential, but it is not of Utwig origin -- nothing about it relates to the technology we see in the Jugger ship. We believe it to be of late Precursor origin
though it somewhat resembles certain Chenjesu technology. Its original function? Probably a planeteering tool for dispersing unwanted moons.
SUMMARY: Unless there is a strong reason to do otherwise, DO NOT ACTIVATE THIS DEVICE! LEAVE IT ALONE! Any experimentation should be conducted AT LEAST 12 AU from this starbase, and preferably a bit further.
The next entry in the analysis is:
SUBJECT: Sun Device.
DATA: The unit contains a power generator whose output magnitude is simply mind-croggling. When activated, the device radiates energy equivalent to less than 1/100 of 1% of our sun; however, when placed close to a planet, perhaps in orbit, its output would rival Sol's.
SUMMARY: Another Precursor tool, the energy output of which can replace or augment a sun's radiance.
That's the end of our scientists' report.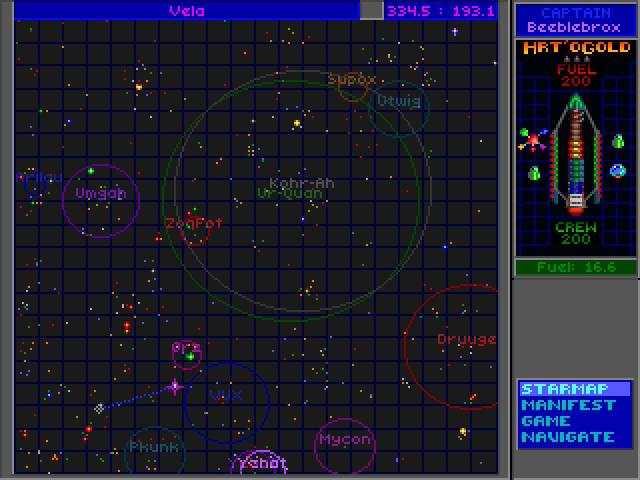 A little bit of unfinished business remains.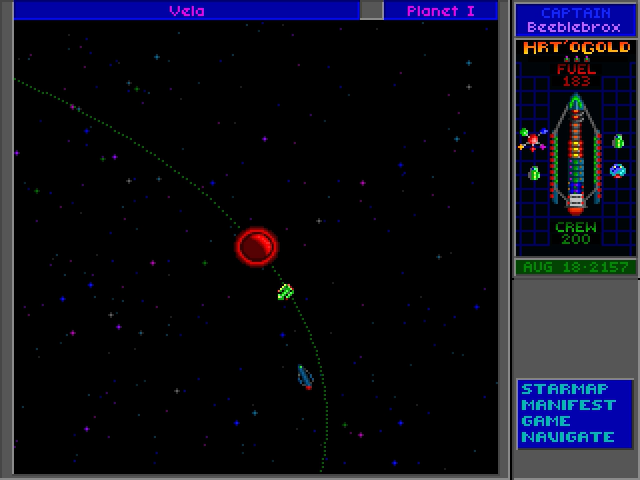 Remember me?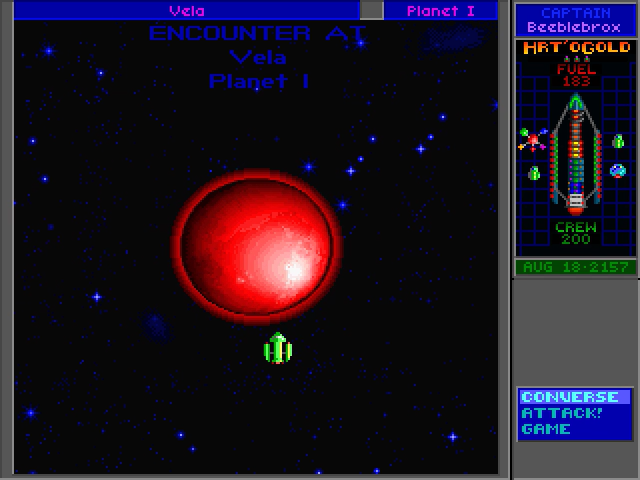 VIDEO: REVENGE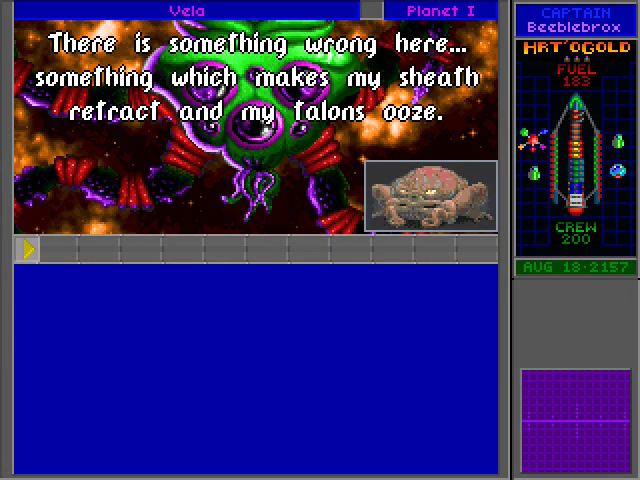 I sense the ugliness of a thousand evil thoughts, and I have located the source of these fetid emanations. They come from aboard your vessel! Foolish renegade human, why have you come here? All that you have found is your inevitable punishment.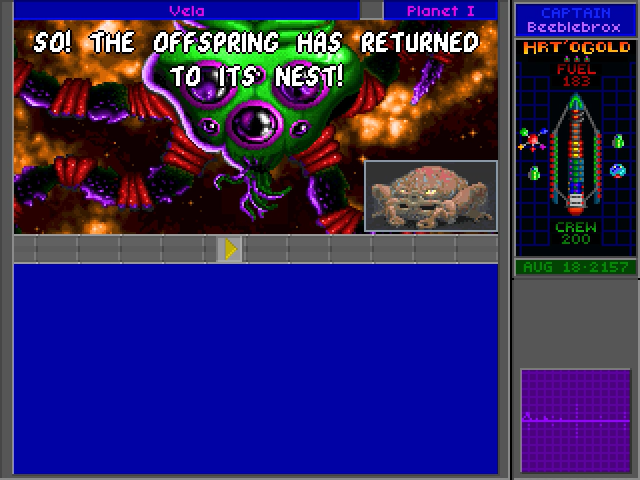 When you left this system, our ship was near enough to detect your translation into HyperSpace. Though we lost your HyperSpace spoor, we were able to backtrack your path here to this star system. And what did we FIND? An outlaw culture! Humans outside of a slave shield! You will note that this oversight has been rectified. Now, we shall finish the job.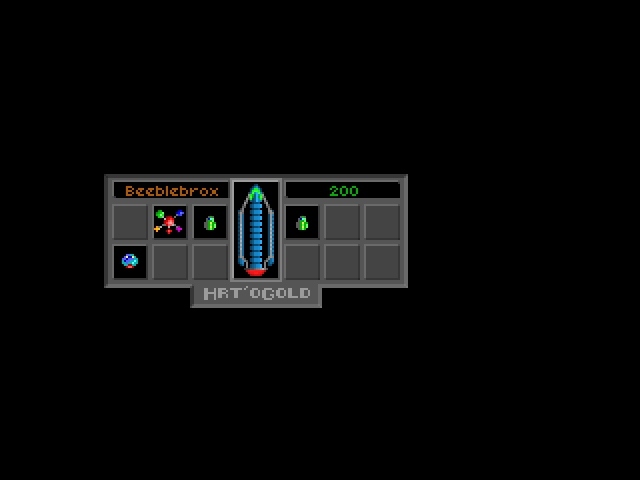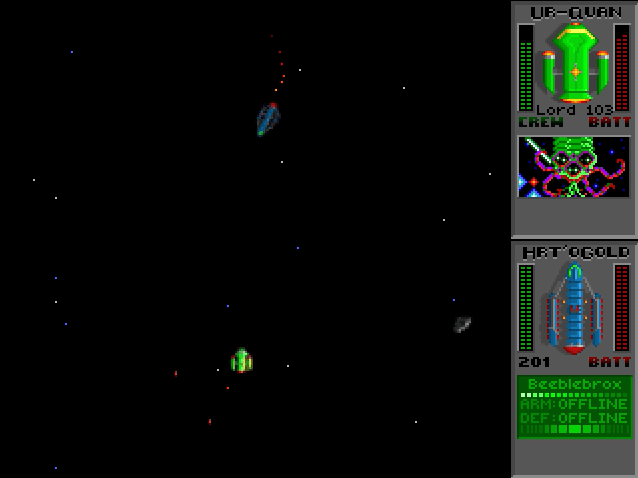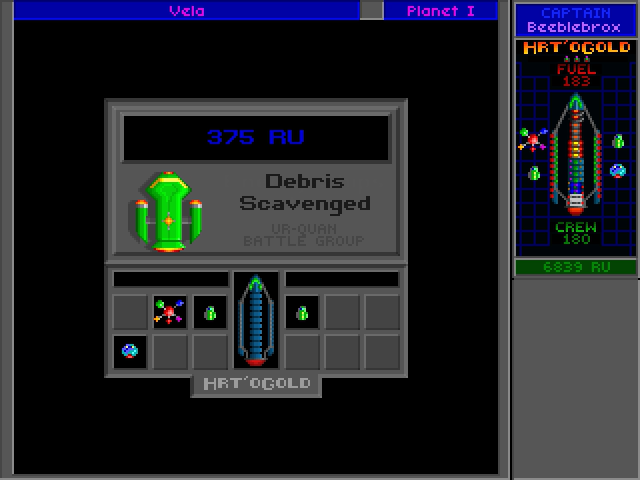 Damn straight.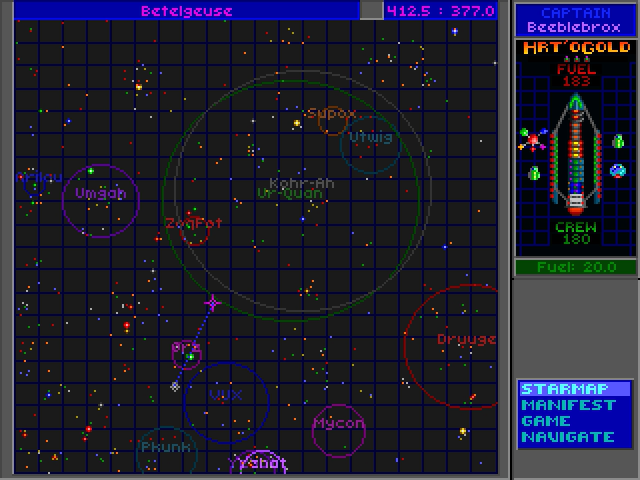 Next: Betelgeuse.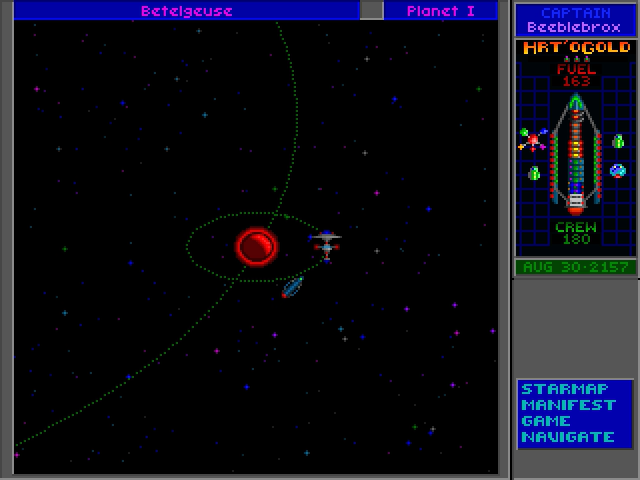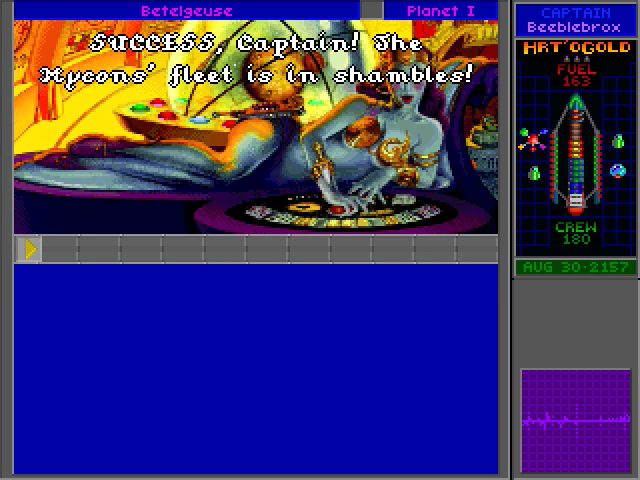 JUSTICE IS OURS! We have revenged ourselves against the heinous Mycons!
They fell for our trap so completely! When they approached Organon I, we were hiding behind its moon. As they approached, their ships broke combat formation in preparation for their hideous implanting ceremony. We waited until they were fully dispersed around the planet, then we attacked! The standard Mycon tactic would have been to speed out of orbit using a gravity whip maneuver, but the Podships refused to abandon their slow-moving Deep Children spore pods. They remained in the gravity well, and WE SLICED THEM TO RIBBONS! They must have lost a dozen ships to their own stupidity... running into their own Plasmoids! The rest?... well we took care of most of them... in our own special way.
And Captain, now that we have taken our revenge on the Mycon, we give you our starship officers and Penetrator designs so that you can add our ships to your fleet.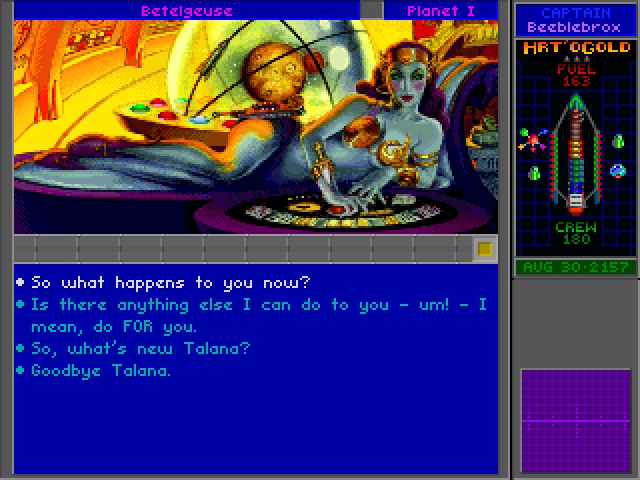 I expect I'm going to be pretty busy for the next few months overseeing repairs to our fleet of Penetrator starships and preparing some kind of defensive system for this starbase. If and when the Ur-Quan return here, we want to have a little surprise ready for them.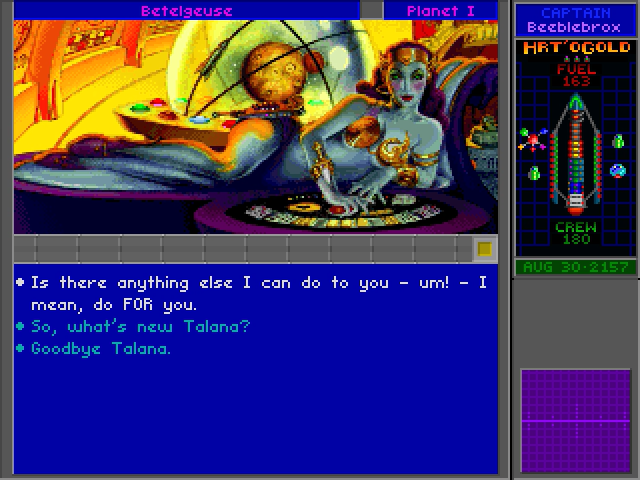 Captain, the next step is to pull down the slave shield from our planet. In my opinion, the only people who could do that are the Chenjesu, and as far as I know, they are under a shield of their own. Actually... I'm just dodging the real issue, Captain. Your agenda really has only one item... Destroy the Ur-Quan Hierarchy!
How to do that? I'm not sure, but I know you can't take them head-on, even with that amazing ship of yours. You will have to find their weak spot, and then strike it with everything you've got.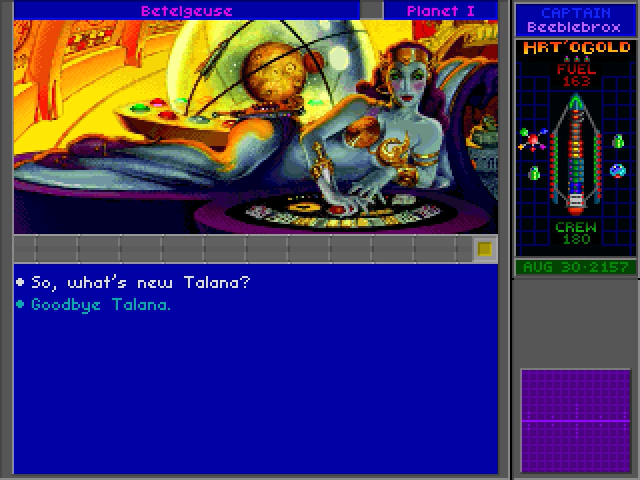 Not a great deal, Captain. You seem to be the biggest source of excitement around here. I've had requests from just about every officer under my command to be transferred to your Earth Starbase to serve under you. If I wasn't running this Starbase, I'd be first in line.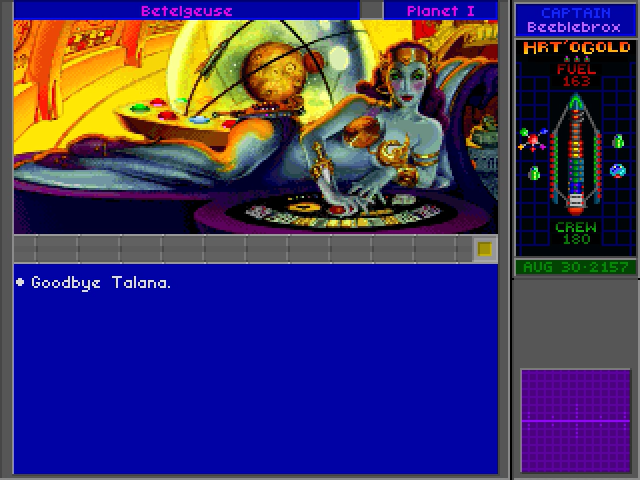 Goodbye, my human.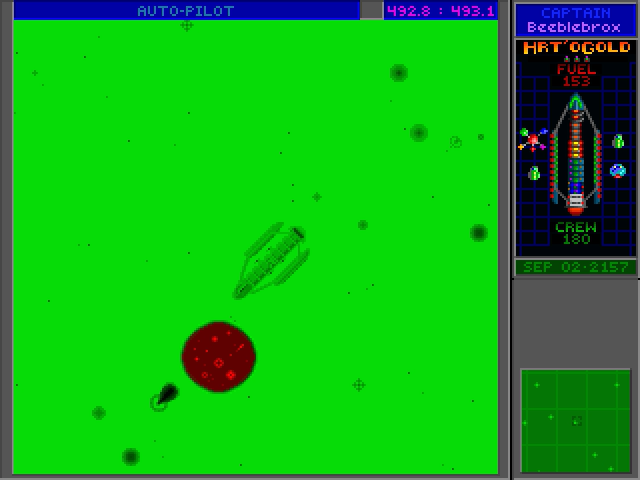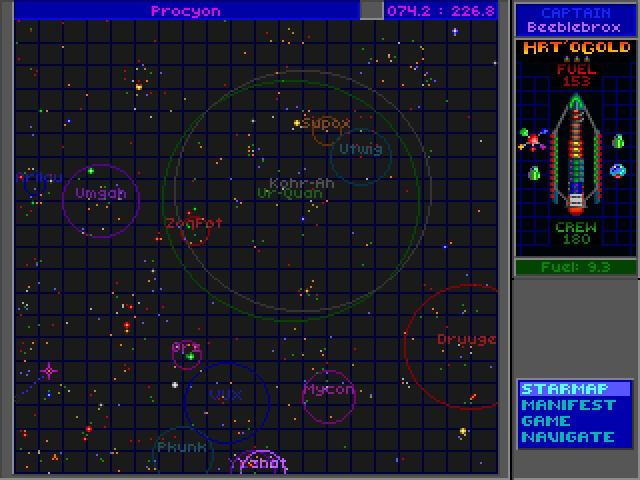 Finally: Procyon.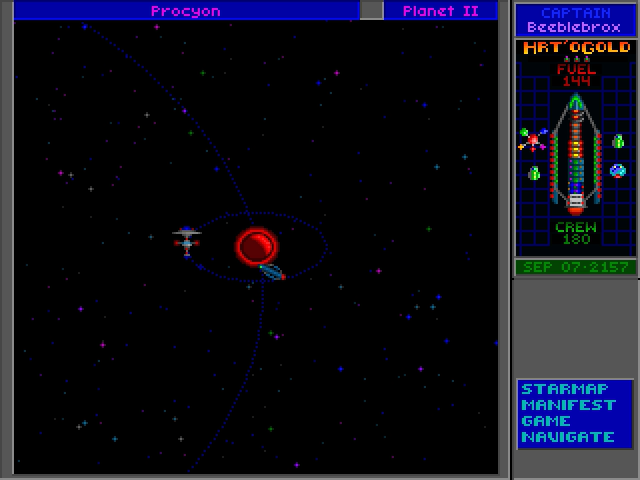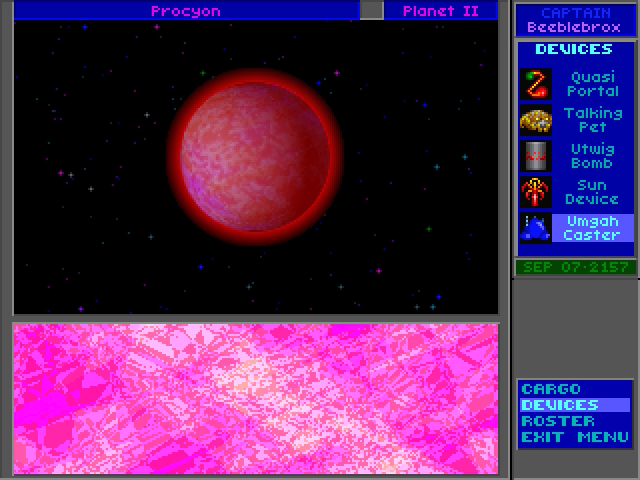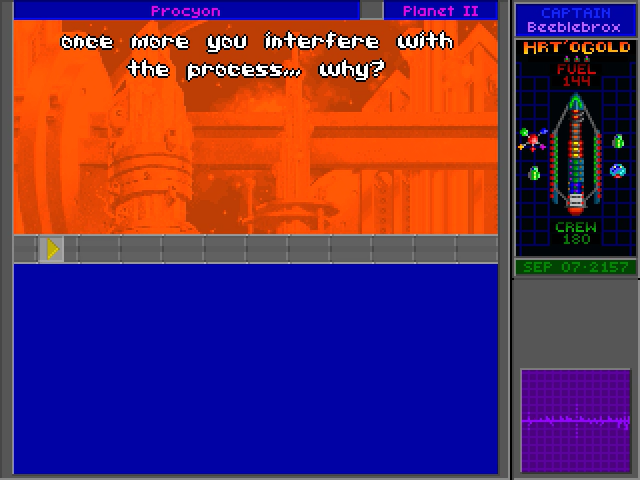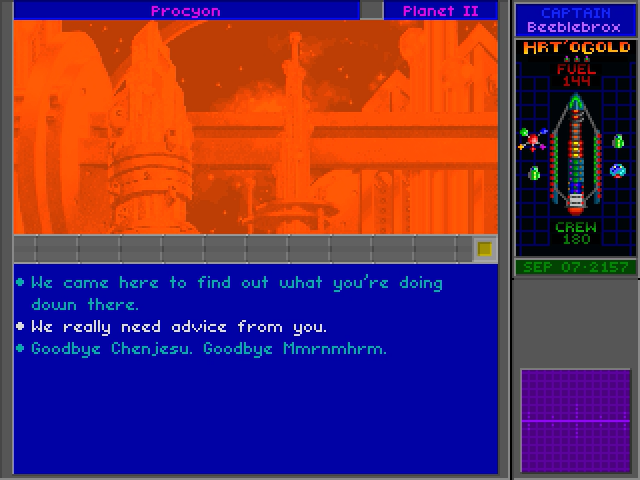 our wisdom is available... detail your need.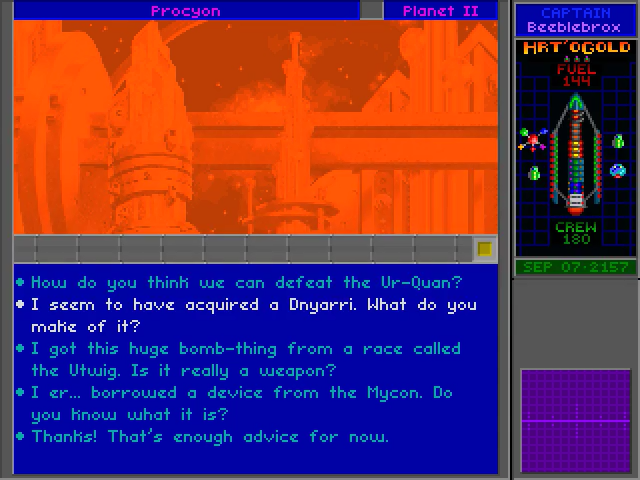 we know the dnyarri only from legend... where they are described as the embodiment of evil and cruelty... if ever there was a devil, captain, it was the dnyarri... however, if in fact the creature you possess is one of this ancient breed... its mental power may be useful to help confuse the ur-quan.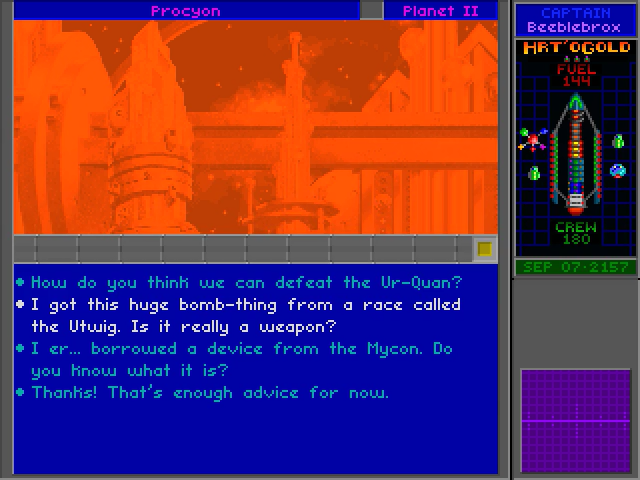 the device you speak of is a huge matter-antimatter bomb... if you had activated it, the weapon would have annihilated your ship and everything else within five hundred kilometers... the destructive power of this weapon makes it suitable for the most important task you will ever undertake... the neutralization of the sa-matra, the ur-quan's nearly invincible battle platform.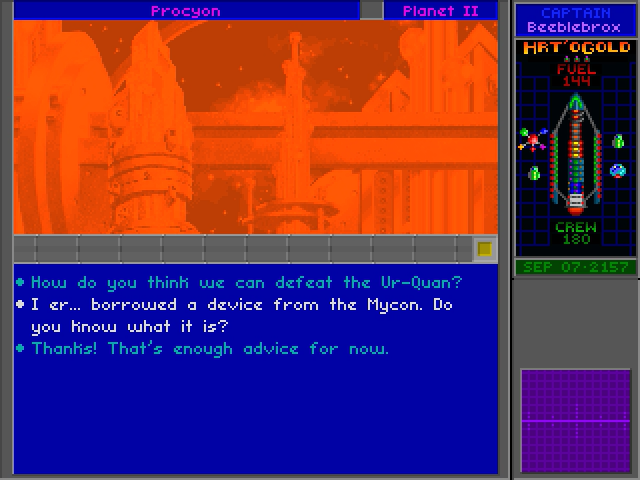 we do not recognize this device... but it appears to be a precursor tool which can radiate a great amount of energy.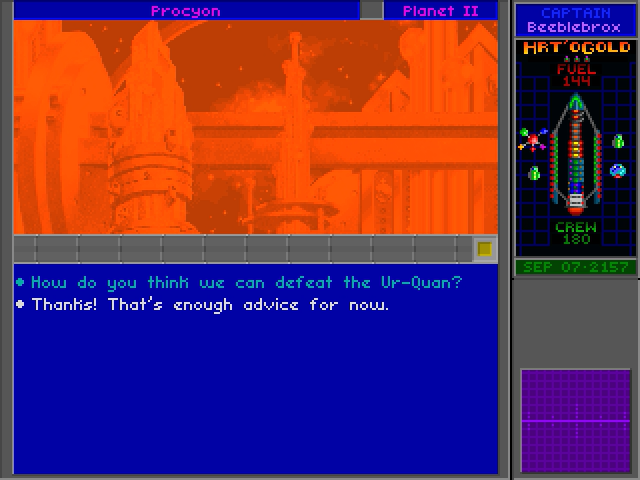 though your presence here is a painful intrusion, we will always provide advice whenever you request it, captain.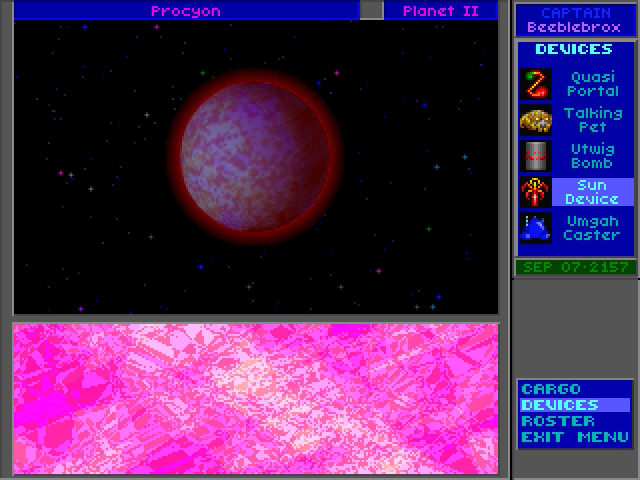 Cool story. Time to take some risks!


VIDEO: FINAL PREPARATIONS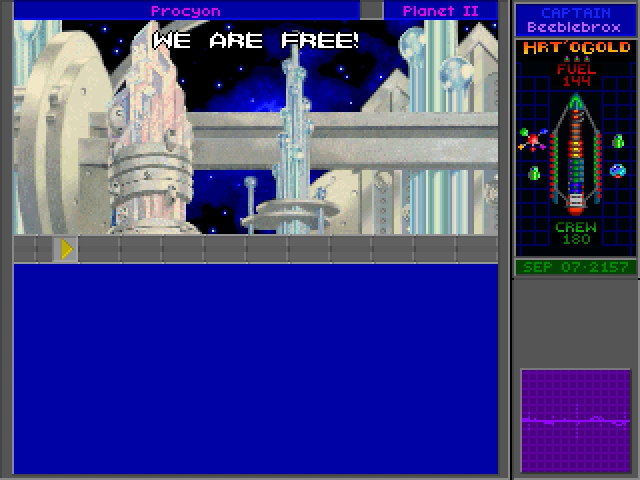 YOU HAVE FLOODED OUR SYNTHESIS MECHANISMS WITH A WEALTH OF RADIANT ENERGY. WHAT WAS SUPPOSED TO TAKE DECADES HAS BEEN ACCOMPLISHED IN SECONDS. THE PROCESS IS INCOMPLETE, YET WE HAVE EMERGED. WE ARE THE CHMMR. WHY HAVE YOU INTERRUPTED THE PROCESS?!!!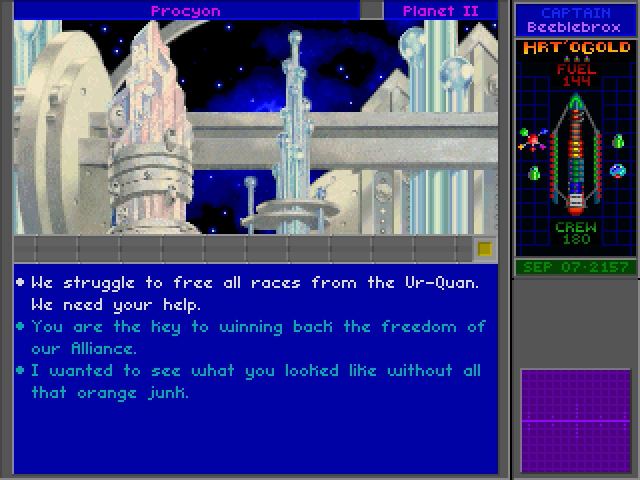 YOUR NEED MUST BE GREAT FOR YOU TO HAVE RISKED SO MUCH JUST TO BRING US FROM BENEATH THE SHIELD. WE WERE NOT READY... BUT THIS IS NOW IN THE PAST. WHAT IS DONE IS DONE.
YOU ARE INTENT ON STOPPING THE UR-QUAN... VERY WELL. WE ARE PREPARED TO ASSIST YOU IN WHATEVER WAY WE CAN. WE MUST FIRST TELL YOU THAT EVEN BEFORE WE WERE PLACED UNDER THE SLAVE SHIELD, WE REALIZED THAT THE ONLY WAY TO TRULY DEFEAT THE UR-QUAN WAS TO FIRST DESTROY THEIR PRECURSOR BATTLE PLATFORM... THE SA-MATRA. THIS VESSEL WAS RESPONSIBLE FOR THE VICTORY OF THE HIERARCHY OVER THE ALLIANCE. WHEN IT WAS BROUGHT TO BEAR AGAINST OUR WORLDS, WE COULD NOT RESIST IT. THIS MUST BE YOUR PRIORITY. THIS MUST BE YOUR EVENTUAL GOAL. WE KNOW WHAT IS NECESSARY TO ACHIEVE THIS END, BUT FIRST WE MUST KNOW WHAT YOU HAVE ALREADY LEARNED, SO WE WILL SCAN THE DATABANKS AND LOGS ABOARD YOUR SHIP. THERE. THE PROCESS IS COMPLETE. NOW WE CAN DISCUSS WHAT YOU MUST DO.
YOU NEED TO LOCATE THE UR-QUAN'S SA-MATRA VESSEL. IF YOU CANNOT FIND IT YOURSELF, ASK THOSE OTHERS WHO ARE NEAR THE UR-QUAN. PERHAPS THEY WILL KNOW.
WE HAVE DETECTED THE PRESENCE OF A DNYARRI ABOARD YOUR SHIP. THOUGH THE BEING IS DARKLY EVIL, AND INCREDIBLY DANGEROUS, THE TAALO DEVICE YOU POSSESS HAS EFFECTIVELY NULLIFIED THE CREATURE'S POWER OVER YOU. HOWEVER, IT WILL DO A MOST EXCELLENT JOB DISTRACTING THE UR-QUAN LONG ENOUGH FOR YOU TO APPROACH THE SA-MATRA AND DESTROY IT.
YOU POSSESS AN ANTI-MATTER BOMB. THIS IS GOOD. BUT HAD YOU ACTIVATED IT, THE DEVICE WOULD HAVE ANNIHILATED YOUR SHIP AND EVERYTHING ELSE WITHIN FIVE HUNDRED KILOMETERS. EVEN SO, WE WILL HAVE TO IMPROVE THIS DEVICE, MAGNIFY ITS POWER WITH OUR CRYSTAL TECHNOLOGY. THE DESTRUCTIVE POTENTIAL OF THIS WEAPON WILL THEN MAKE IT SUITABLE FOR THE MOST IMPORTANT TASK YOU WILL EVER UNDERTAKE: THE NEUTRALIZATION OF THE SA-MATRA, THE UR-QUAN'S NEARLY INVINCIBLE BATTLE PLATFORM.
YOU ARE FULLY PREPARED FOR THE UNDERTAKING. THERE IS EVERY CHANCE THAT YOU WILL BE ABLE TO DESTROY THE SA-MATRA AND STOP BOTH THE UR-QUAN AND THE KOHR-AH.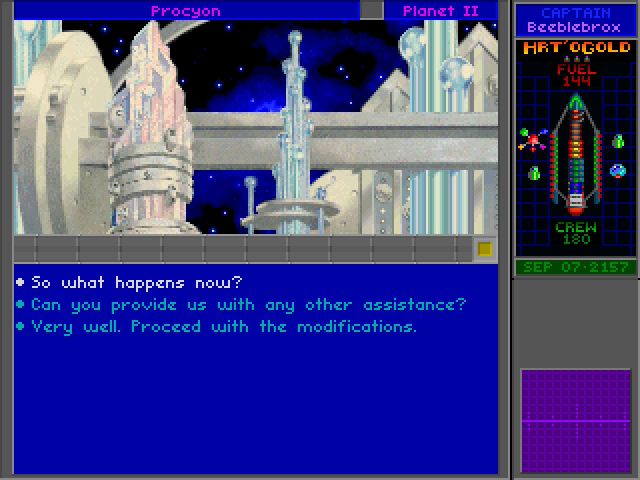 WE WILL NOW FIT THE PRECURSOR WEAPON AND OUR OWN CRYSTAL AMPLIFICATION SYSTEM TO YOUR VESSEL. BY ROUTING A PORTION OF YOUR FLAGSHIP'S FUSION POWER THROUGH THE WEAPON'S IGNITION CHAMBER, ITS DESTRUCTIVE FORCE WILL BE MULTIPLIED BY A LARGE FACTOR.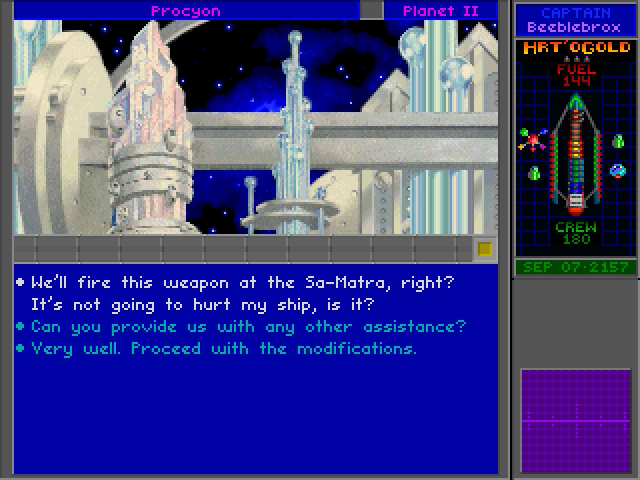 YOUR VESSEL WILL BE TOTALLY ANNIHILATED.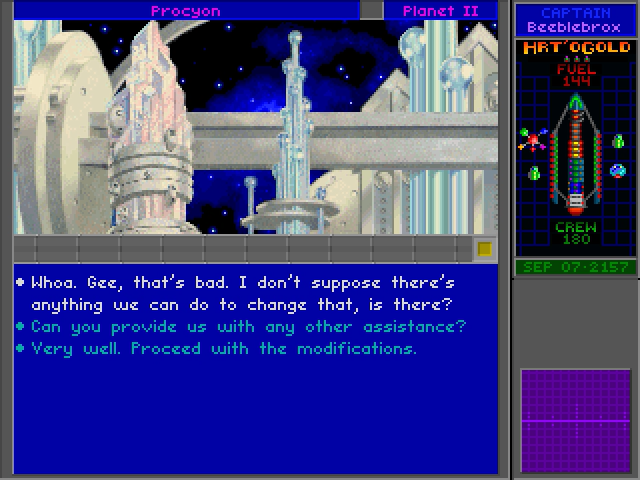 NO.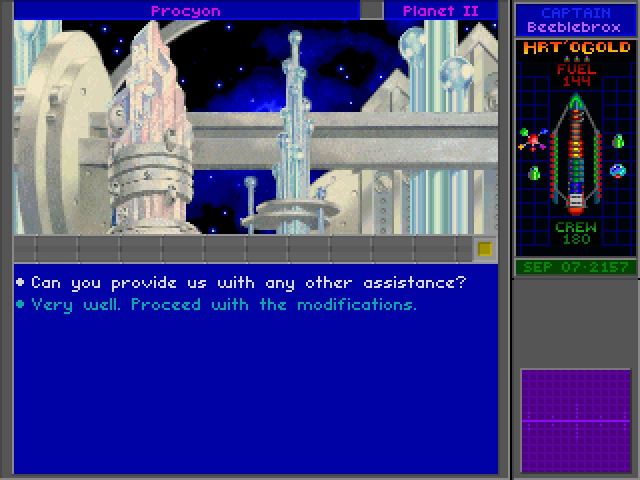 BECAUSE YOUR FLAGSHIP WILL BE SUBSTANTIALLY WEAKENED BY OUR MODIFICATIONS, YOU MAY REQUIRE ADDITIONAL COMBAT VEHICLES FOR PROTECTION, SO THAT YOU CAN APPROACH CLOSE ENOUGH TO THE SA-MATRA TO DETONATE THE WEAPON. WE WILL PROVIDE YOU WITH THE DESIGNS FOR OUR NEW AVATAR-CLASS FIGHTING SHIPS. IN COMPETENT HANDS, THESE SHIPS ARE A MATCH FOR BOTH THE UR-QUAN AND KOHR-AH VESSELS.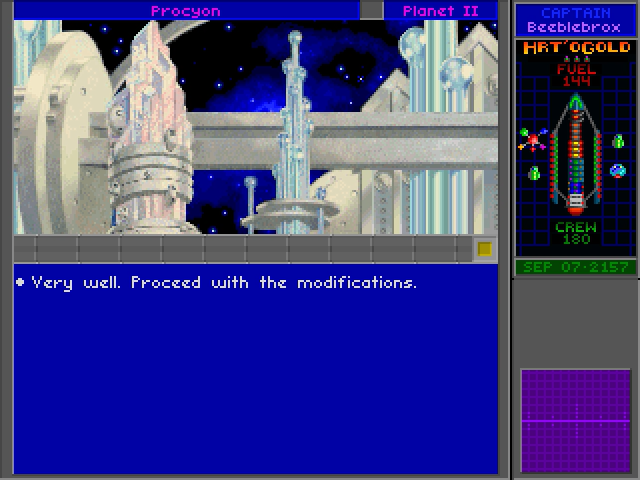 THE COMPLETION DATE FOR YOUR VESSEL'S MODIFICATION IS ROUGHLY TWO WEEKS HENCE. SO THAT YOU AND YOUR HUMAN COMPANIONS MAY MAKE ANY NECESSARY PREPARATIONS AT YOUR STARBASE, WE WILL NOW TRANSPORT YOU AND YOUR CREW BACK TO EARTH IMMEDIATELY. GOOD LUCK, CAPTAIN.

These modificationis will take a long time. While we wait, I'll show off a bunch of side content that we didn't hit!