Part 17: Wasn't there a LP in here?
Update 15: You Can't Keep A Good Canadian Down
"February twenty eighth, medical update.
I'm not sure how to put this, but the medical team had some ideas concerning Canuck. With the new understandings of biotechnology they were able revive him. Sort of. While Canuck did die, it was only due to chemical poisoning and not extensive physical damage to his body. This allowed the docs to experiment on him with new biotechnology tools gained from the UFOs medical rooms. Or torture chambers. We're still not sure what the hell goes on in those things. While I'm not sure on all the details, the scientific crap just goes over my head, the result is that I have been given a squad member back from the grave, even if he is slightly changed from it.

Canuck is essentially a biotechnology created cyborg now. Most of his vital organs were poisoned and damaged beyond repair during his death and have been replaced. His brain has also been replaced, something akin to the neural net the androids used before Nightfall only upgraded heavily with bio-nano machines. His skeleton, largely unaffected by his death has been reinforced with tritanium alloys. The list goes on, but the bottom line is we have rebuilt him. He is faster, stronger, and less Canadian then ever before.
He's staying in medical for now, to make sure he's alright and doesn't malfunction or suddenly die or anything. If everything works out though, he'll be back on the team with everyone else.
Back in the realm of our more traditional research the boys have put together the following autopsy report on the transgenant that killed Canuck.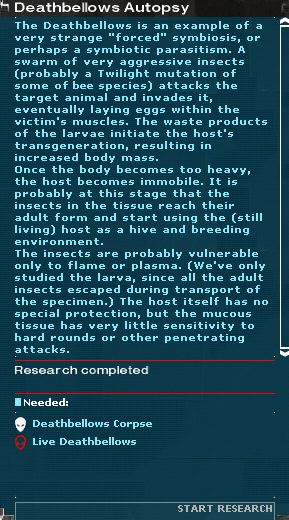 The scientists say they're starting to get a bigger picture of what we're dealing with out there and may soon be able to piece together a theory about the transgenants. They require more time to study the bodies of the other transgenants they haven't completed an autopsy of yet. Since there is nothing more pressing right now I've given them go ahead to pursue this option.
While the scientists are busy with that, the engineers have been playing with some new guns.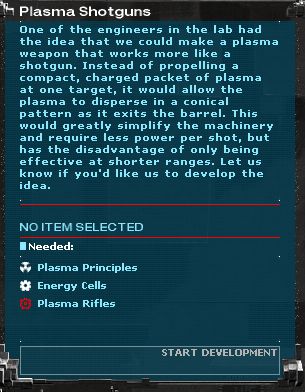 This is a first step in producing our own plasma weapons. The idea behind a shotgun model for it is that it simplifies the process and gives them an easier starting project which will give them a better understanding of plasma weaponry and a better idea of how to improve on it. It is still only a prototype and will take a few more days before they have one ready for the troops to use, but it is still impressive. The prototype is pretty bulky, but they say thats due to redundant safety mechanisms to ensure a safe testing phase, but I tell you that think packs a punch. It's almost half shotgun half flame thrower as a cone of plasma sprays out and burns everything in its way. I bet one of the troops will snatch this up first chance they get."
"March second, situation update.
The biomass problem continues to grow. The Red Sea is totally gone now, as is most of Egypt, Israel, and southern Turkey. Moscow is gone as well, most of the Nightfall survivors are heading west into Europe rather then going north over the frozen Arctic. That is going to be a real problem if the two biomass clumps join together and trap everyone in Europe, a significant portion of Earth's remaining population could be lost like that.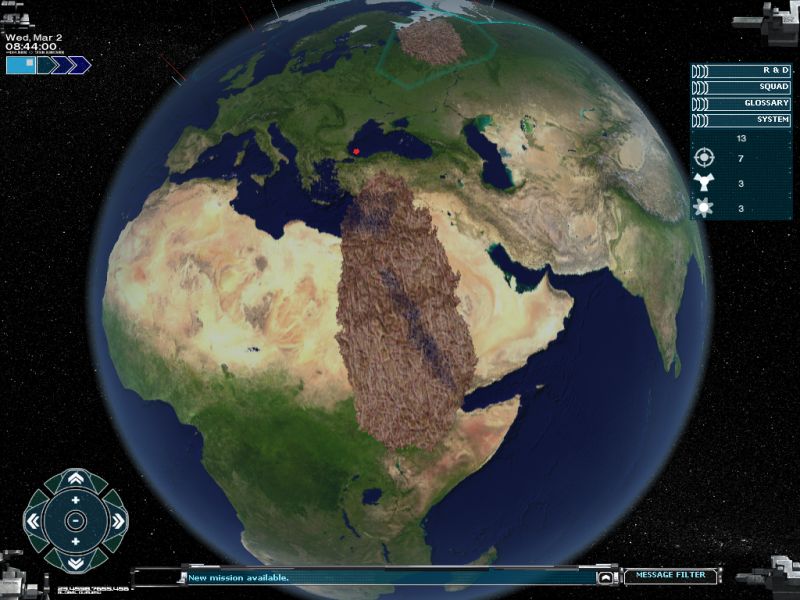 Ever since that biomass has showed up Reticulan activity picked up everywhere. In the last four days we have seen six UFOs, and they're getting larger each sighting. We shot one down off the coast of Cuba and it sank into the ocean. Dropped another into the sea north of England, and one other in the water just shy of the Canadian coast. The big news that was one came at us from the Atlantic, shot down a wing of our fighters and then
landed
on Newfoundland only a few hours ago. This was the first time we've ever seen one land on its own. Our fighters are in the air around it ready to blast it to hell if it tries to take off. Meanwhile Phoenix Squad is on route to eliminate the Reticulan threat and recover the craft in one piece
When the squad gets back they'll meet Henry Bobeka. Another new recruit I found.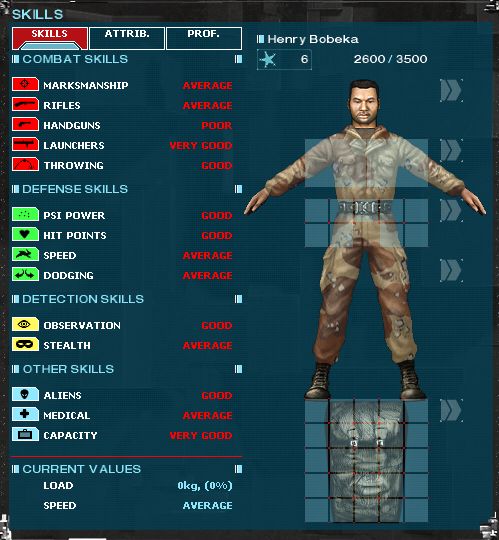 While he doesn't excel in any one category he has good rounded skills and could be shaped into a strong fighter."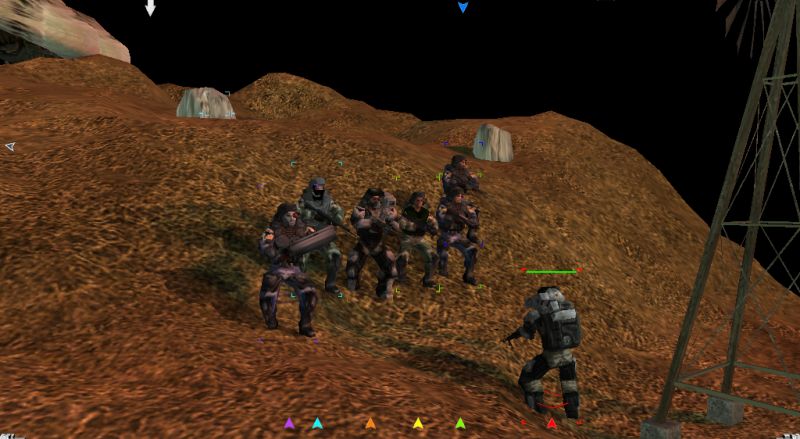 Booya: The hostile UFO landed under its own power up ahead and we're going to clear it out. Since it wasn't shot down, we can expect to see a lot more little gray bastards the usual.
Hero: You mean like Canuck over there?
Robo-Canuck: THAT IS NOT FUNNY. I DIED AND YOU ARE MAKING JOKES?
Booya: You're alive now aren't you dead man? Also Val and I got the new heavy armor-
Vallhallan: Hurah enhanced crotch protection!
Booya: ... and can't run while in these suits. So movements at a half pace. Any questions?
Jimmy: Yeah, what the hell are you carrying there Canuck?
Robo-Canuck: MEGAPOL AUTOCANNON. AMMUNITION COMES IN THREE FLAVORS. ARMOR PIERCING, EXPLOSIVE, AND INCENDIARY. ALL TASTE LIKE DEATH.
Ice7: Does the new Robo-Canuck creep anyone else out?
Booya: Shut up croissant kisser. We've got Reticulans to kill.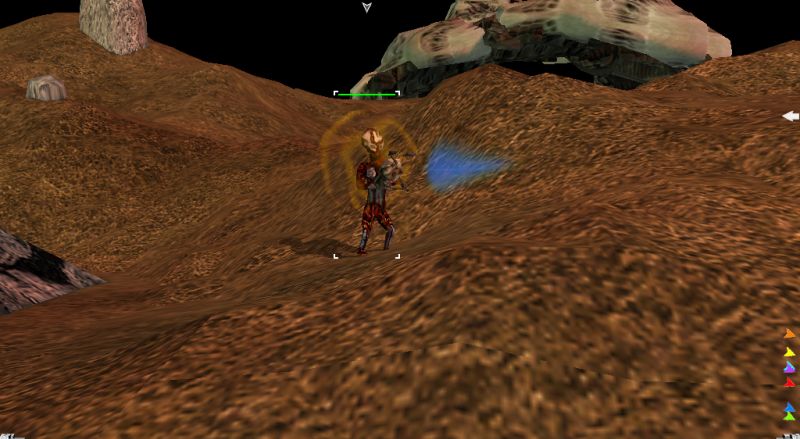 Ackbar: Infidel spotted on the hill!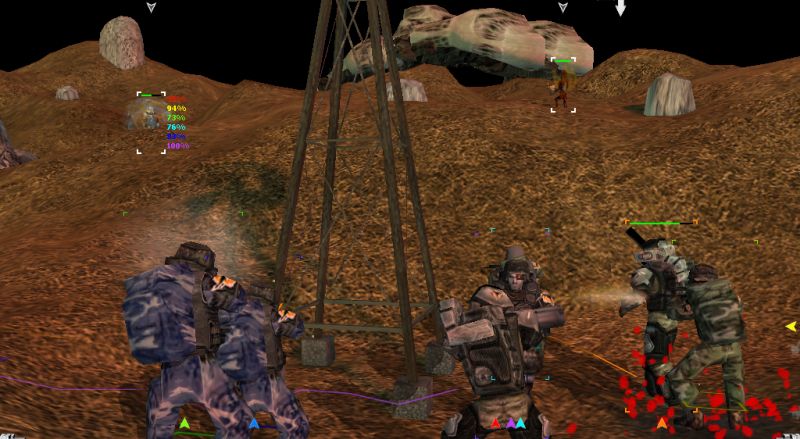 Ackbar: Two of them!
Vallhallan: Ow! Fuck that plasma still stings, but no where near as bad as before!
Robo-Canuck: I CAN NOT HIT FROM HERE, RELOCATING.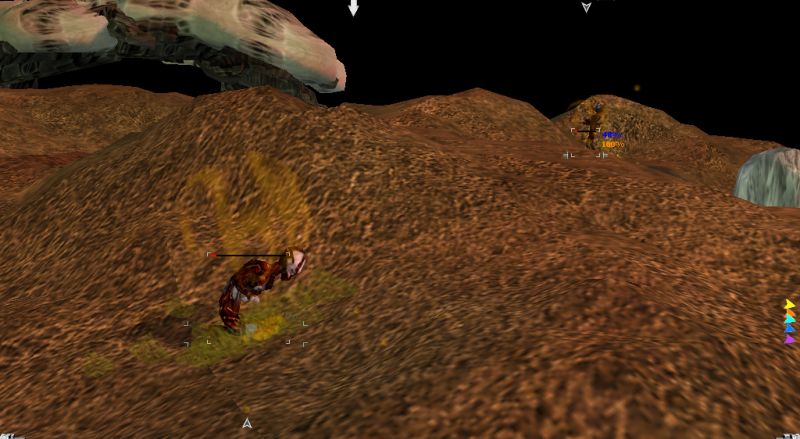 Hero: Ha, don't bother gray boy. They're down.
Robo-Canuck: DAMN IT.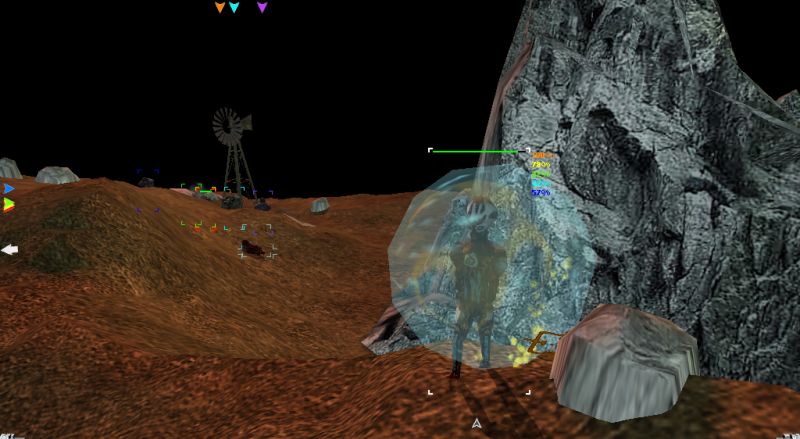 Ackbar: Oh no my friends, there is more!
Robo-Canuck: NOW I WILL SHOW YOU.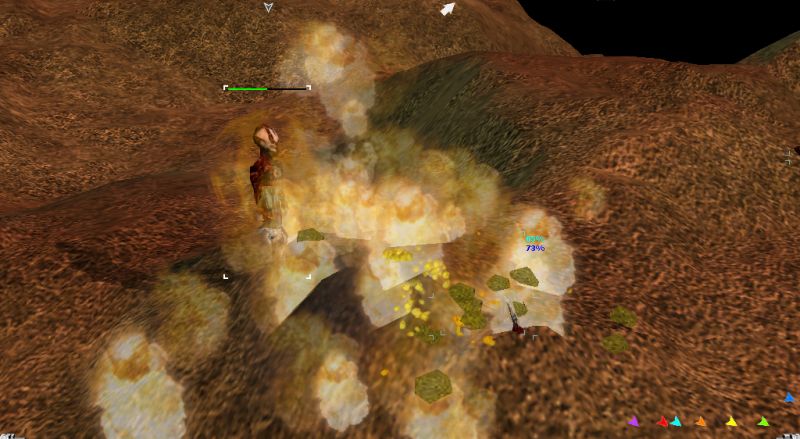 Robo-Canuck: DIRECT HIT.
Ice7: zere more behind him!
Robo-Canuck: NOT A PROBLEM.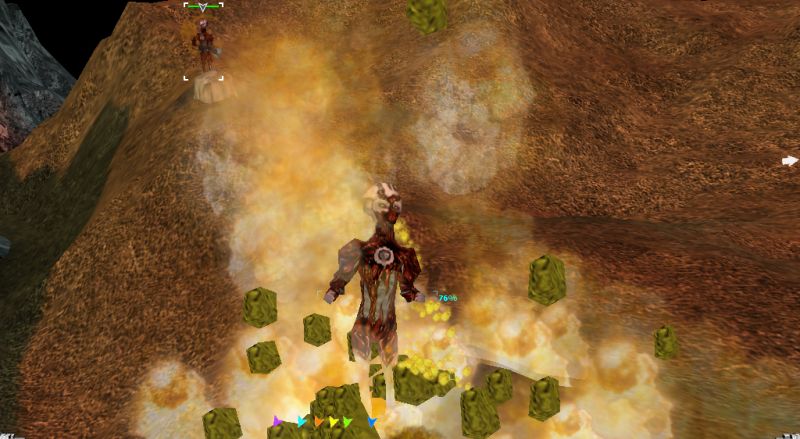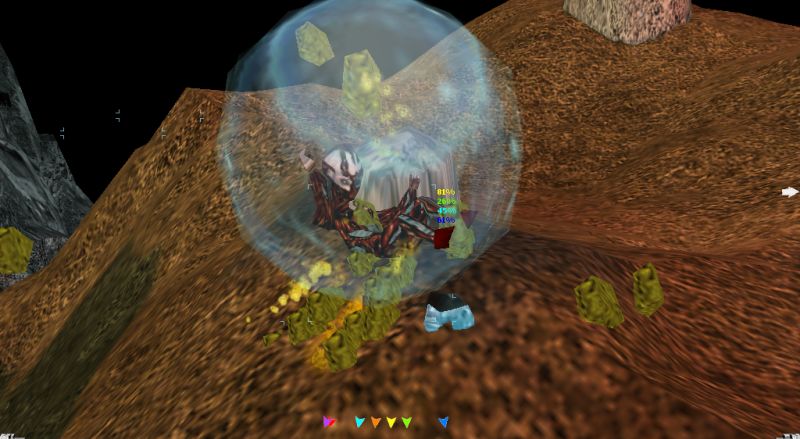 Booya: Far one is mine. This suit really helps soak up the recoil.
Jimmy: Looks clear, moving up... Alien!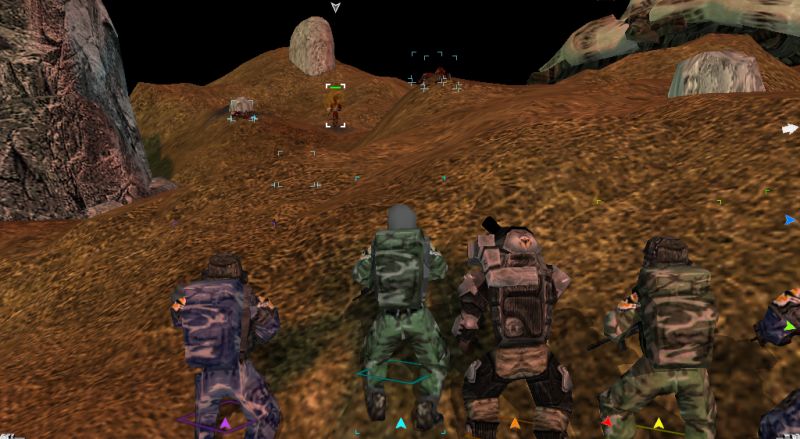 Vallhallan: Christ, weren't kidding about there being more then usual. Grenade out!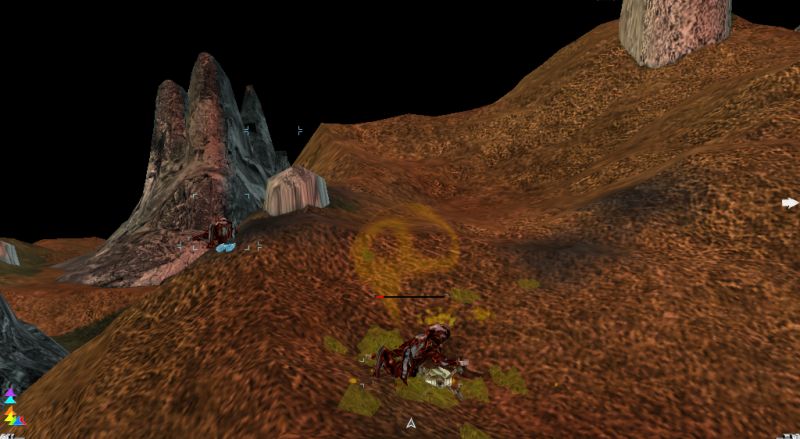 Ackbar: I believe that is what you westerners call 'Boom, headshot'.
Vallhallan: Yeah yeah yeah. The grenade would have killed him if you hadn't.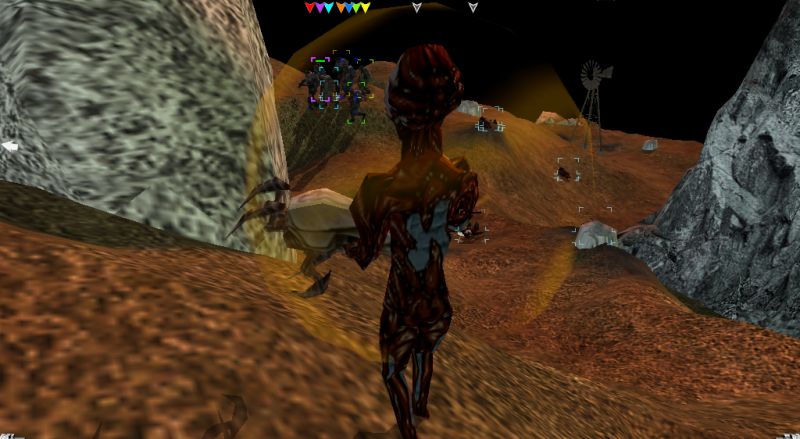 Ice7: They juz keep coming!
Hero: Plasma launcher, be careful.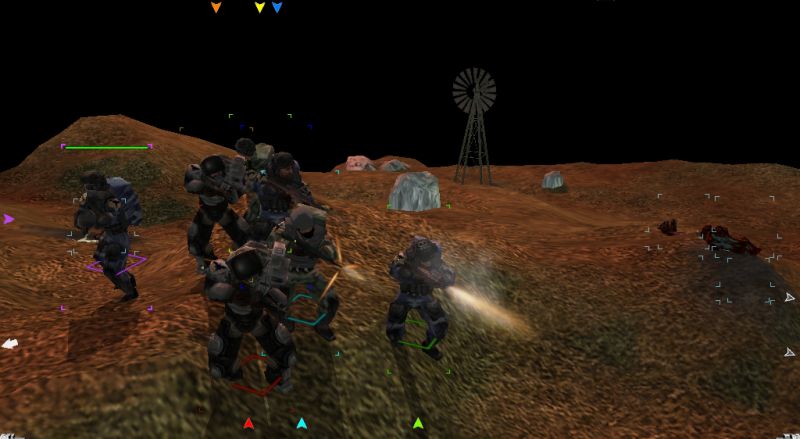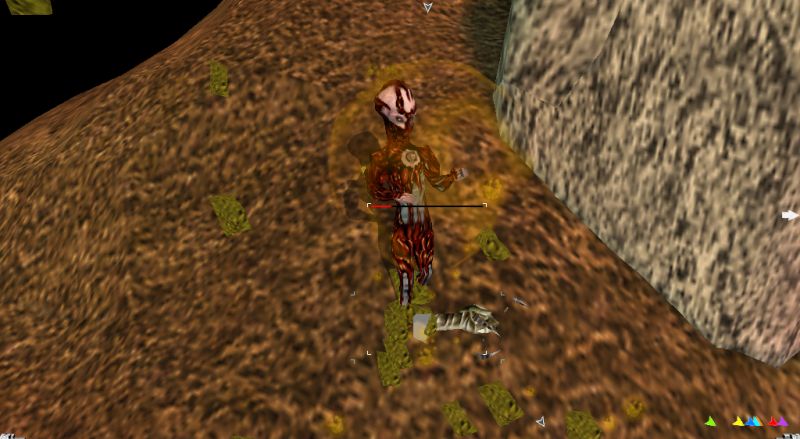 Hero: Got him! Can't believe Golden traded in this Steyr for an AK. Dumbass.
Booya: Showers ain't the sharpest tool in the shed. Line up and get ready to teleport in there. Val, you got something for the inside?
Vallhallan: AK-74
Booya: That will do. Here we go!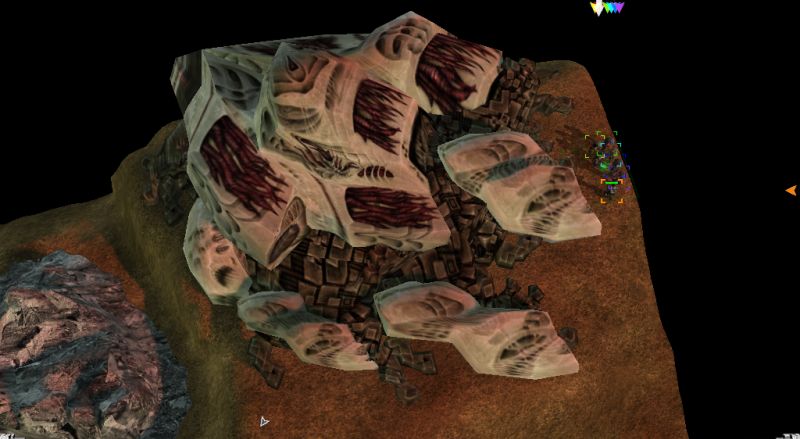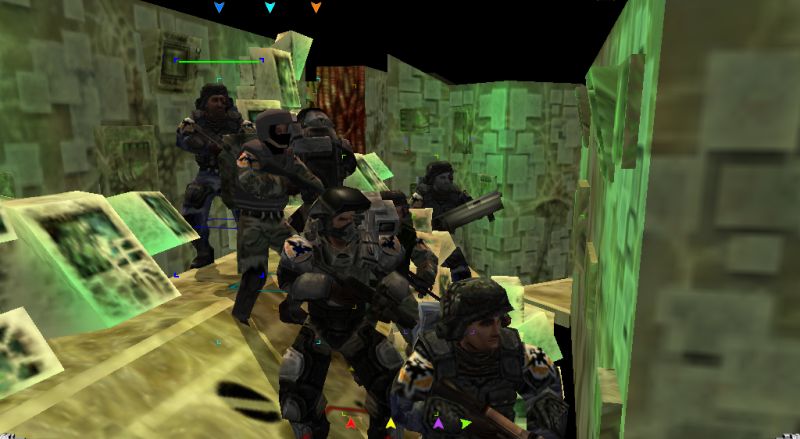 Ice7: Get your rifle out of my ear Jimmy!
Jimmy: Sorry. You'd think they'd build the teleport area a little bigger.
Robo-Canuck: THE WHOLE SHIP IS CONNECTED VIA A SERIES OF SMALL NARROW PASSAGE WAYS.
Jimmy: Great.
Booya: Pair off and watch a door until we start moving.
Ackbar: I will watch this wa- y'aahh! My neck!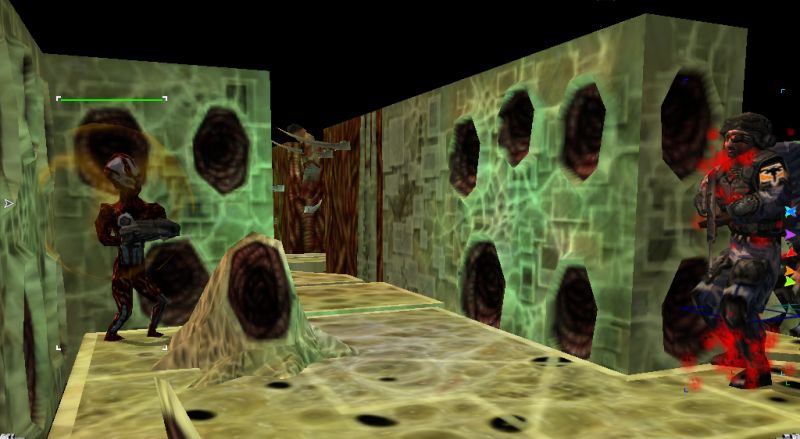 Robo-Canuck: DIE.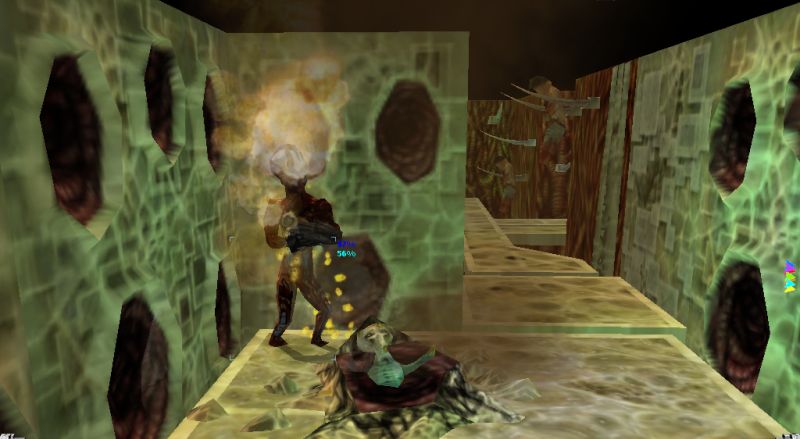 Jimmy: Ackbar, get back. Let us get these!
Robo-Canuck: I SEE ANOTHER. DIE.
Ackbar: Look out for that Psi blast!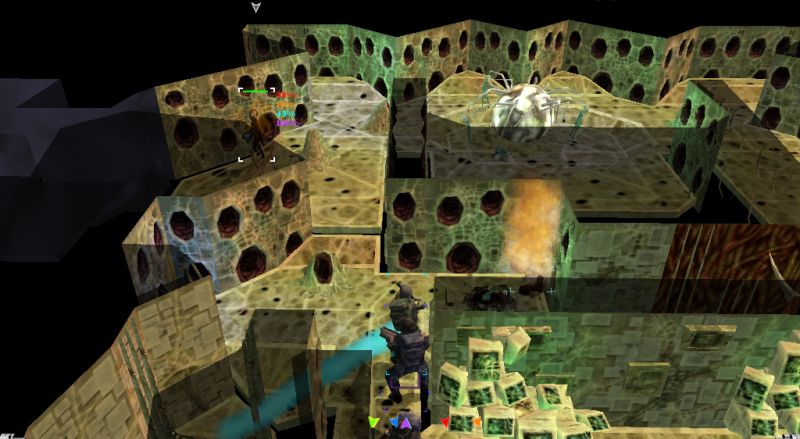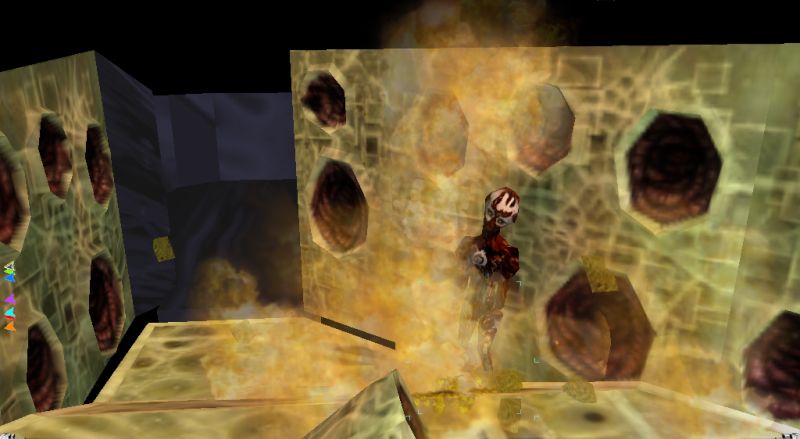 Ackbar: Jimmy, to the left!
Jimmy: I see him, I see him!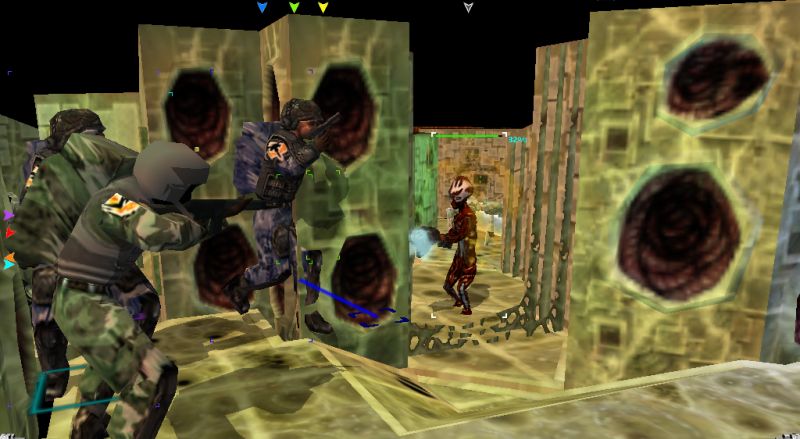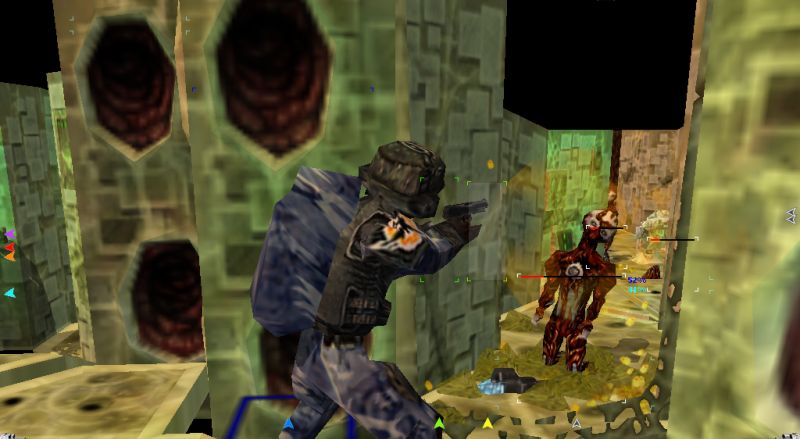 Ackbar: We got him, but I see more further down.
Hero: We'll get them. Ice, pop that door.
Ice7: Oui!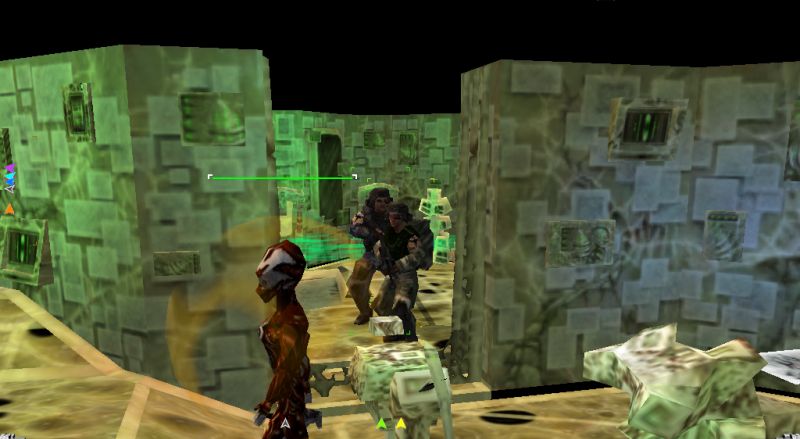 Hero: There he is, waste him!
Ice7: Mon Dieu! Another!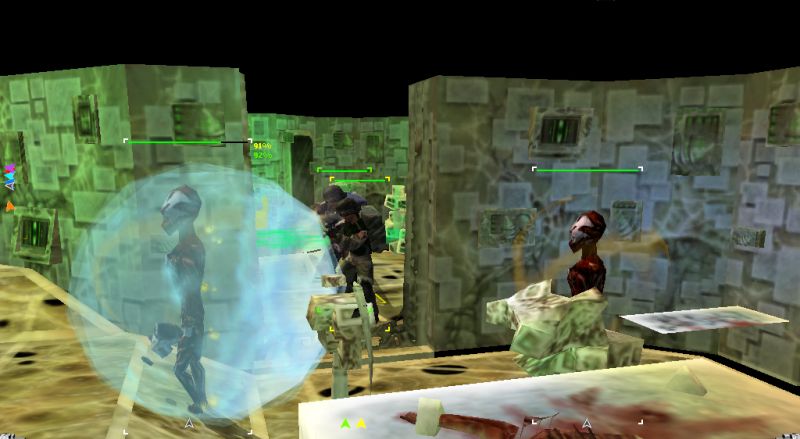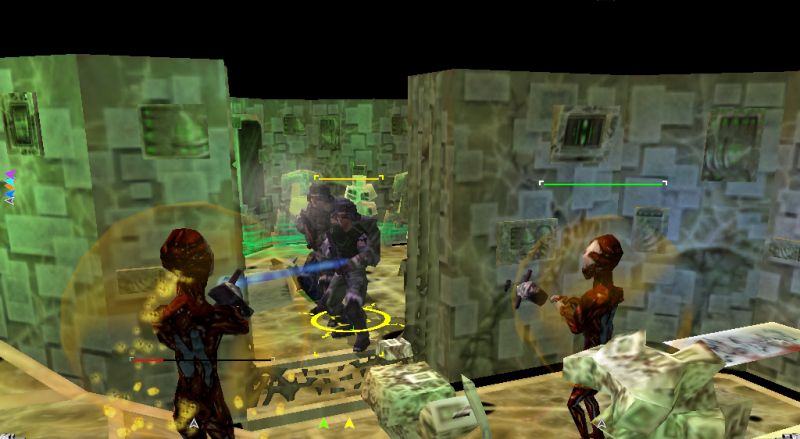 Hero: Hurrrgggkkk... I can't move! Ice help!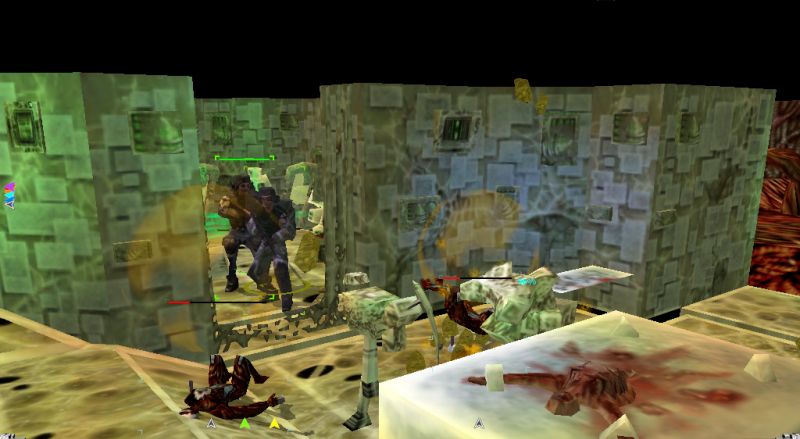 Ice7: No sweat mon ami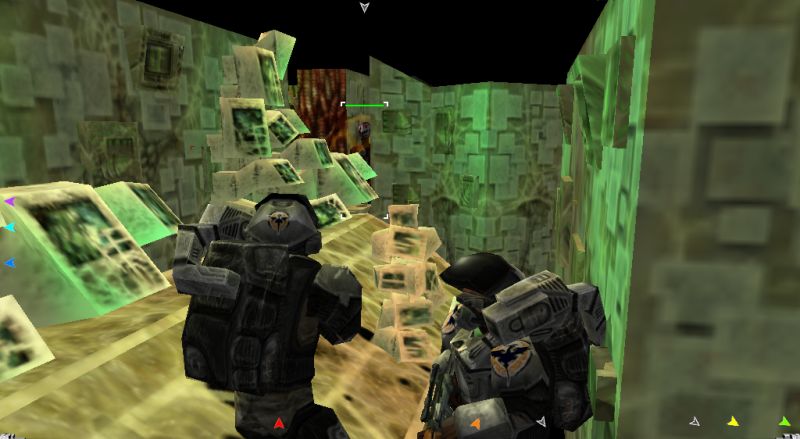 Booya: Wake up crotch guard, they're coming from behind.
Vallhallan: There are at least two things wrong with what you just said...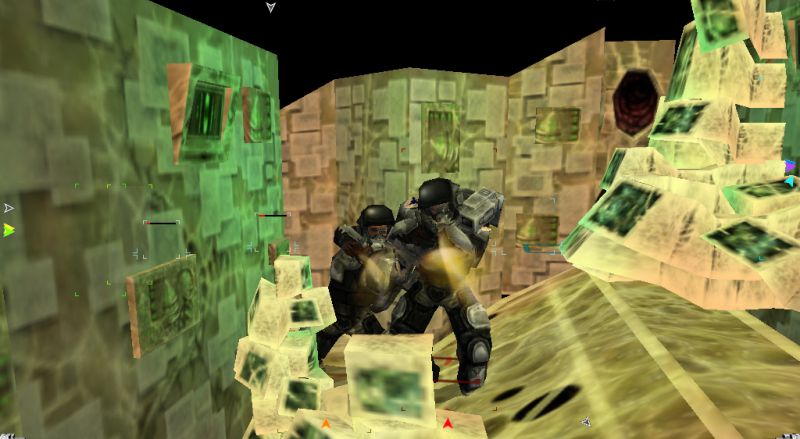 Booya: And he's down! We finished him off.
Vallhallan: I swear none of that sounds right anymore.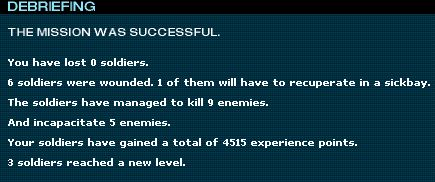 --Soldiers Logs--
Posted by Canuck-Errant 'Robo-Canuck'
LOADING COEOS VER. 0.9.0.1 (BETA)... PLEASE WAIT...
LOADING MEMORY MODULE... DONE
LOADING SENSORY PROCESSING UNITS... DONE
LOADING LINGUISTIC PROCESSING UNITS... ERROR! RETRYING...
LOADING LINGUISTIC PROCESSING UNITS... ERROR! LOADING BACKUP MODULE
LOADING LINGUISTIC PROCESSING BACKUP UNITS... ROBOCOP MODULE LOADED
LOGGING IS ENABLED.
OH GOD BEES OH
WAIT WAIT THIS ISN'T SOUTH AMERICA IT LOOKS LIKE ITS THE BASE
AND MY SKIN IS ALL GRAY AND AW SHIT
AND ALL MY THOUGHTS ARE APPEARING IN FRONT OF MY EYES THIS IS SHITTY HOW DO I TURN OFF caps lock oh there we go
Lets try punctuation now!?-; Okay that works too. Fingers? Yeah, I have fingers, they move, okay, good. Um. Torso, check. Feet and toes, check. Legs, check.
...I guess that works too. That would kind of suck to lose, I guess. Don't want to end up like Colander. ...though I guess being dead is kind of... uh. Well, at least I work.
Uhh... ooh, hey, I can connect to the network just by thinking, cool! This could be useful... But later. I wonder what enhancements they gave me. I mean, I'm, like, a cyborg now, right? I ought to check - maybe I have invisibility or infrared scanning or something. ...maybe I'd better put on some pants, first.
Posted by Colander Crotch 'Vallhallan'
Personal Log- Dick "Vallhallan" McReady
Holy Jesus fuck, the Canadians just won't stay dead. I mean we watched his ass die and he is back as a mother fucking cyborg. Jesus, this seems like a bad idea. I can't help but imagine some scenario where he goes insane and kills one of us before we have to put him down. With any like it will be Showers. Fuck, I hate him. He has even taken to mimicking me. I guess he just wants to be as cool as I am or something.
Whatever, at least we made it back, and this armor is fucking sweet. I am glad for the extra protection, even if I move like old people fuck.
- Vallhallan
Posted by Mutant Headcrab 'Ackbar'
Ackbar's Personal Log
-(Entry Unknown)-
By Allah! Western science has done the unthinkable and have returned to this world those claimed by Him! Though I trusted Canuck as a comrade, this...thing is a desecration to his memory. Though his soul may be burning in hell as an infidel, it is still a dishonor of his name!
This worries me though. What if they try to bring others back as such? Or, Prophet forbid, me? Though I will gladly give my life to stop the infidels-from-the-stars, I could never abide being brought back. Allah help me, if they take me from my promised 72 virgins, I shall destroy this base myself!
Posted by lilljonas 'Hero'
Personal log of Megan "Hero" Okembo. Part 11.
What the fuck. This week is one that has startled the entire squad, ever since they brought Canuck back from the morgue. You have that right, they somehow managed to reconstruct him and now he's some sort of cyborg all of a sudden. I can really tell how uncomfortable some of my teammates are, but at the same time I feel sorry for Canuck, becoming an outcast all of a sudden. No matter if he's truly alive or not, I'll do my best to make him feel welcome in the squad. It's not like we don't need his support on the ground, anyway. He proved to be functioning all right on the following mission, a UFO mysteriously landing by itself. Now that's something we're not used to, to be honest I was pretty nervous that it would still have an active defensive grid or something. There were plenty of aliens there, but I cut a few down, and the rest of the squad pulverized what was left. Robo-Can tested out our new support weapon, an autocannon that proved to be excellent for suppressing fire. Booya and Val tried out the new suits, and while they are slow, I really want one myself. Too bad the engineers haven't found out how to make'em yet, so we'll have to keep an eye out while searching abandoned bases.
End of Entry
Posted by seaborgium
Personal Log Entry 4, Bruce "seaborgium" Smith, Janitor for the Council of Earth,
Ok, there's a fucking dead Canadian walking around the goddamn base. Not a fucking chance in Hell I'm cleaning up his fucking toilet, who knows what the fuck will come out of his ass! Freaks me the fuck out, all this cyborg shit. Next thing you know he'll get hacked by some alien and we're all fucked. And besides, shouldn't our cyborg not be Canadian? We are America after all, or at least we used to be.
Oh well, no one asks me. I did manage to finagle a sidearm out of Haggis in exchange for some real booze. Didn't get nothing fancy, just a simple pistol but I sleep better at night knowing that when that Canadiaborg goes crazy, I can blast his ass. Managed to find an oak barrel near the base, gonna make me some real whiskey, and if I can find some honey I can make some mead too.
Well, maybe I shouldn't do that after that guy got eaten by mutant bees, but hell, I don't think they'll care. It's booze ain't it?
----End log
Posted by Dinictus 'Rabbit'
Personal Log of Raveena "Rabbit" Sen
February 27th, 10th Entry
We've been ordered to move into Managua and clean up a cult location of sorts. I'm not really that familiar with the Cult of Sirius beyond what we occasionally dealt with as 'religious fanatics' on a very sporadic basis. Either way, it'll be standard, otherwise. Sweep of a city block, assault the suspect location, and make sure we kill every transgenant on the way and return any and all human survivors. It's almost like the good old days.
At the base, Vina's given me a rather tight hug. I know she's worried about me, but something really set her off for some reason. I managed to calm her down, but now I can't help but have a sneaking suspicion...
Personal Log of Raveena "Rabbit" Sen
February 27th, 11th Entry, supplementary
Oh Jesus Christ! Fuck!
...
We've lost Canuck. Jean Maury. One of these... bloated bodies of pale flesh we encountered spewed swarms of bees. Oh god, I can't get this image outta my head... all those tiny bastards pumping their bodies into his skin, torturing him. His cries, oh god, his cries...!
...
I've requested to take at least one mission off with Commander Vault. He basically allowed it if only to give the rookies a shot at assignments as well. I just need someone to talk to and get this damned image out of my head. No amount of booze will cure this.
Personal Log of Raveena "Rabbit" Sen
February 28th, 12th Entry
...I think I'm going to drink myself into a stupor.
RnD has brought Canuck... back to life. A mechanically enhanced body, a new brain, new organs and pumps and whatnot. I'm oddly fascinated by how lifelike the machine is, and by how it walks and talks, as well as utterly terrified of what has become of... him.
I'm hesitant to even speak with this cyborg, as the labcoats dubbed him unceremoniously. But maybe I should. If only to see if it's really Jean. I'm afraid of two things: him and hurting him. I can't even begin to imagine the stress this puts on whatever's going on in that head of his, if it's really him.
I've planned to steal some of Showers' liquor, and just go for a mano e mano talk. Maybe he's more Canuck than meets the eye.