Part 8: Update VIII - Stranger Danger
Update VIII - Stranger Danger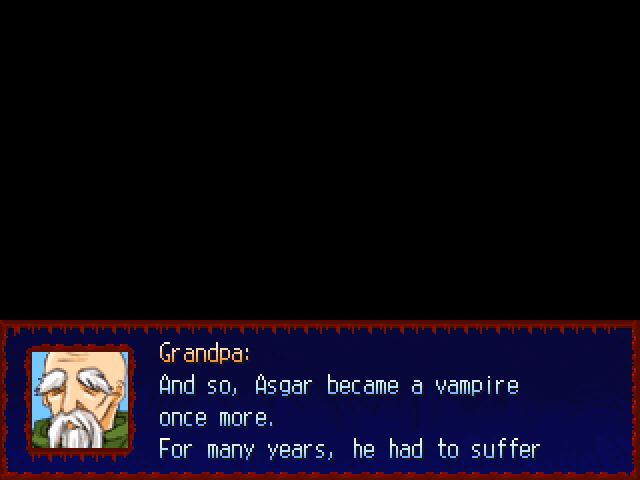 ♪ BGM: Silence ♫

never-ending pain, but they were over now. As you may remember, Simon, vampires can never really die. If you cut off their heads, they become Blood Spirits, who suffer unimaginable agony in another world. The so called Crimson Realm. And that was where Asgar was as well after he was decapitated by Valnar and Alaine. Powerful Blood Spirits, however, are capable of materializing in the "real" world for a short time. And that is how Asgar was able to contact Strife after many years and order him to bring the spell book to him. Of course, Asgar promised him he would turn him into a vampire, as well, which has quite a few perks to it, too. But you saw yourself how that turned out. Asgar killed Strife and something invaded Asgar. Asgar suddenly had a very sinister vision of the future of the world. But first, he wanted to get revenge on Valnar and Alaine, and so he waited for a favorable moment for Jayna to be completely alone...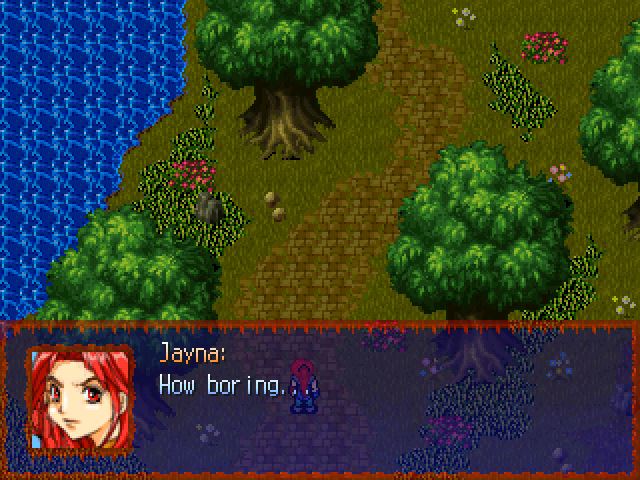 ♪ BGM: A Truth Revealed - WraithTouch.mid ♫

Another day like the other... Valnar still hasn't told me how I can create new vampires. Why not? What's so bad about creating new vampires? We're also vampires! And we're doing just fine. I finally want to have real friends! Humans simply aren't my preferred kind of company anymore. I could do so much more with vampire friends. And why aren't they telling me the truth about their past, already? Everytime I ask, they just give me a completely meaningless answer! I don't like how they keep secrets from me!

Huh, somehow, there's a cold wind coming all of a sudden...

I know the solution for your little problems...

What, who's there?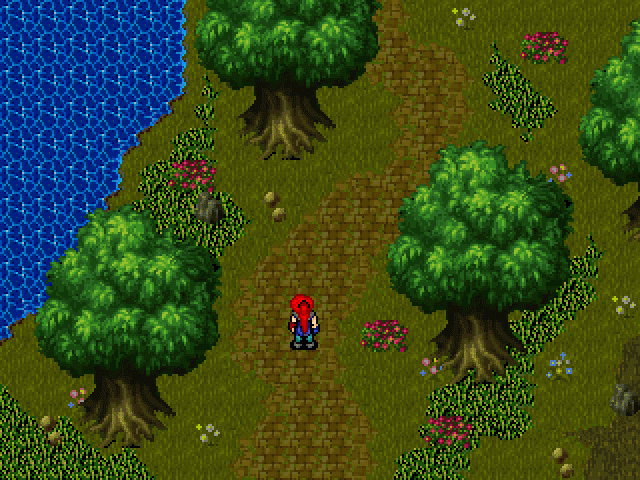 You know, it's just not as impressive when you just walk in. Being invisible and sneaking up on her was more impressive.

I know your problems just too well, and I am willing to help you.

What do you mean you know my problems?

Well, I overheard what you said, and you claimed you're feeling lonely, and that you'd like to have real vampire friends. And I know how to create new ones!

How would you know about that?

It may surprise you, but I am also a vampire. I know ALL the secrets.

You are a vampire? But Valnar said there are no other vampires in this world.

Har har... you don't really believe everything Valnar tells you, do you?

What are you saying? You don't even know him!

Oh, you are gravely mistaken. I know him better than YOU!

That doesn't sound very believable to me...

What would you say if I told you that I know Valnar's and Alaine's past VERY well? I was their... companion.

Well then, tell me.

Har har! You truly are a very sceptical young lady! But very well, I know, for example, that Valnar lost his beloved girlfriend many years ago.

That is what connects the two of us... I lost MINE, as well!

Hm, he never told me about that.

He didn't tell you how to create new vampires, either, after all. Or why you shouldn't do that...

Go on!

It appears I was able to pique your interest after all... I assume you also never heard of the Holy Crusade... or even Vincent Weynard...

No... there are so many things they never talk to me about...

And you, of course, would be dying to know all of it! The whole story. The whole past. The whole TRUTH!

Of course...

I will tell you EVERYTHING. How to create vampires... the powers in you... simply everything you want to know!

Hm...

Just fly with me to my beautiful castle! You'll find out everything there.

I don't know...

What is there left to think about?

I'm not sure I can trust you...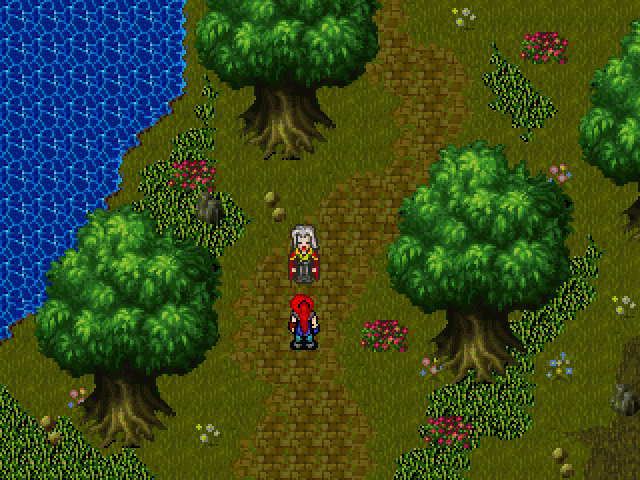 Come on, you can trust a guy like that! Evil laughs are totally a sign of trustworthiness.

HAR HAR HAR! I wouldn't be Asgar if you couldn't trust me!

Your name is Asgar? I heard that name before...

Of course. I already told you that Valnar, Alaine and my humble self have known each other very well. Perhaps even better than it was necessary...

Asgar... Asgar... I think Alaine mentioned your name casually at one point.

Casually? CASUALLY? It seems now I'm only some forgettable piece of history to her!

I think I should go...

Suit yourself... if that is your wish. But keep in mind, I am the only one who will ever tell you how to create vampires. And if you go now, you will never know the truth about Valnar and Alaine. Their past... how they betrayed me...

Hm...

If you leave NOW, the next eternity will continue like this... no real friends... loneliness... countless mysteries...

But we'll be back this evening, right?

Of course... trust me! I am now your... friend!
Yeah, this guy seems legit.

All right, let's go...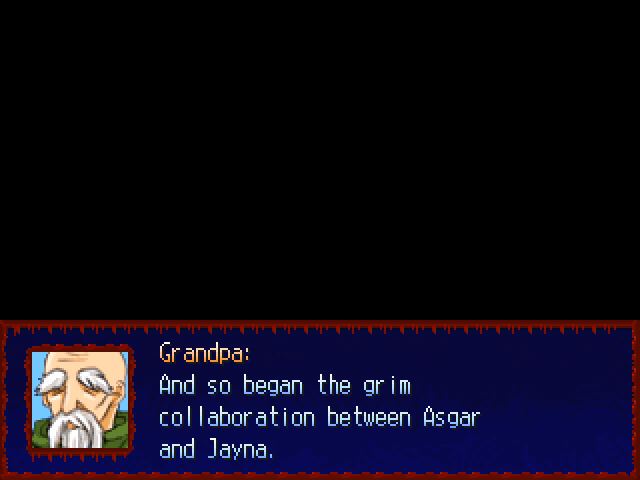 He told her a lot about the events from the past, the crusade and its end, the extinction of the vampires, and the benefits of being a vampire. But he told her far from everything. But unlike Valnar, he often covered the truth with shrewd lies and turned everything around to his desires... Jayna completely lost her sense of time and was already gone for several days. Asgar dragged her deeper and deeper into the evil ways of vampires. Jayna quickly found a liking for the power she now posessed, and Asgar taught her many simple spells. He even managed to make Jayna forget that she was missed by Valnar and Alaine. And so she was... on the first day of her disappearance, Valnar and Alaine started searching for her...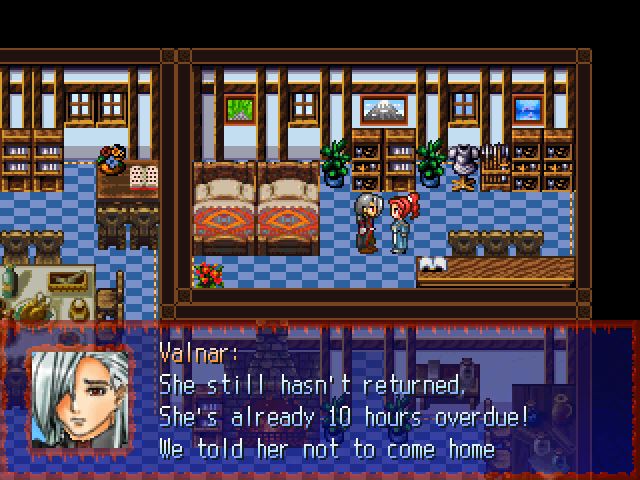 ♪ BGM: Silence ♫

too late! And now, it's already noon!

I don't understand this, either! Until now, she was always home quite on time in most cases...

Maybe something has happened to her!?

We should go look for her!

Isn't there some kind of spell that allows us to check if she's safe?

I don't know... I'll take a look inside the book.

Um, Valnar? Did you put the book somewhere else, by any chance?

I'm sorry?

The book! Where did you put it?

I didn't take it out!

Oh no! Jayna couldn't have taken it and left, could she?

But she doesn't have any use for the spells!? Or does she?

We have to go and start looking for her at once!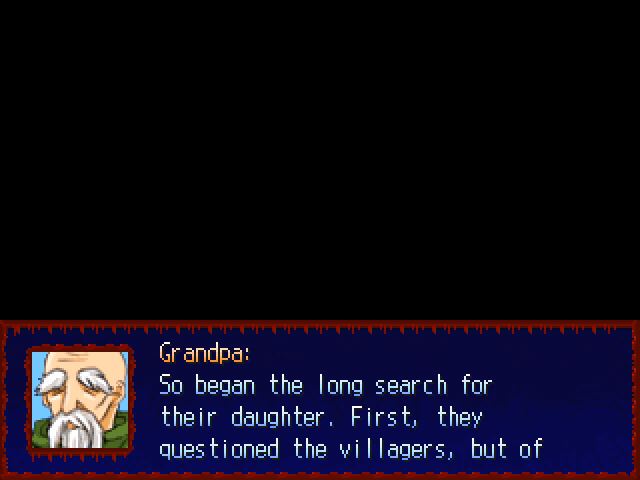 course, they knew nothing. They kept expanding their search radius, but they had no luck. They never found a single hint about Jayna's current whereabouts. Days passed, and slowly, their hope died...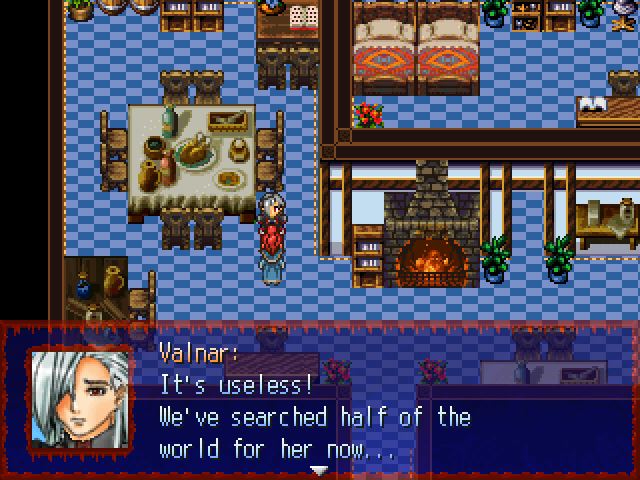 And we have found NOTHING that could help us...

We... we have failed... she ran away! She no longer wants to see us! We were bad parents!

No, Alaine, I don't want to believe that! There has to be another reason.

But we always kept avoiding her questions... so many things that we didn't tell her!

It was the right decision! Believe me, there was no alternative.

We lost her...

Don't give up, Alaine... why would she take the book and disappear? That doesn't make sense! We have to keep looking for her! She MUST be somewhere!

...

Hm...

Jayna, just where are you?

... Asgar's... castle...

What? What did you just say, Valnar?

Hm? I didn't say anything!

But I did hear something...

... Asgar's... castle...

Again! Asgar's castle!

Asgar's castle? ASGAR'S castle?

We haven't tried looking there yet!

But the castle has been vacant since back then.

But maybe Jayna really is there!

Why there of all places? But you're right, we should at least take a look...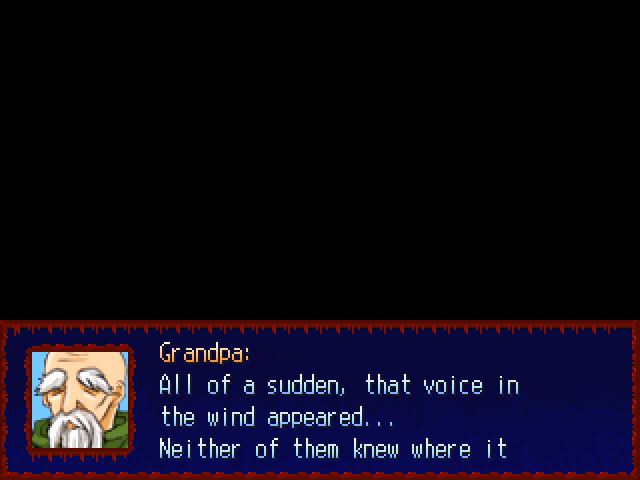 came from and whose voice it was. And yet it whispered to them "Asgar's castle". As unlikely as it was, as strange as it sounded, Valnar and Alaine decided to visit the place they have been avoiding for so many years. Asgar's castle...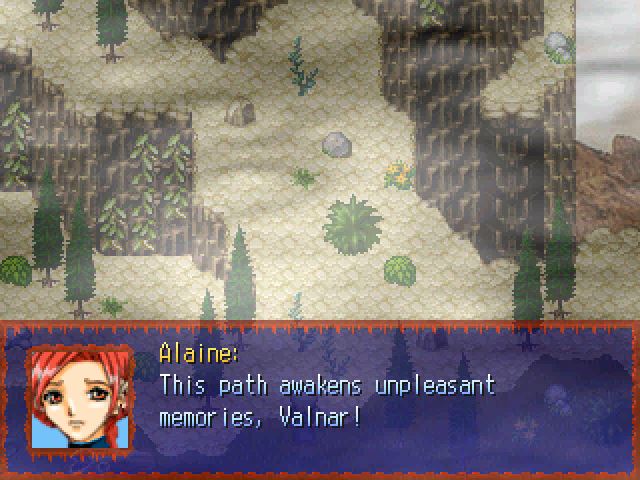 ♪ BGM: Asgar's Castle - blood009.mid ♫

Do you really think we should go up there?

I have the same bad feeling as you, Alaine. But as long as there is even a slight chance that Jayna could be here, then we should take it!

But where did the voice come from? What is happening here, Valnar?

Hopefully, we'll find out! Let's go...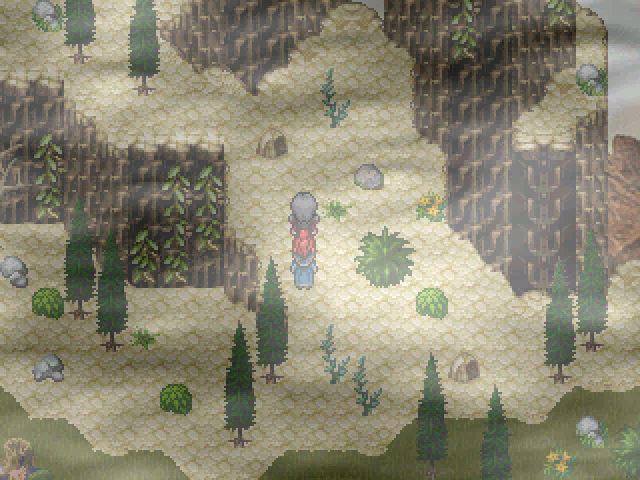 And thus, we're off to Asgar's castle.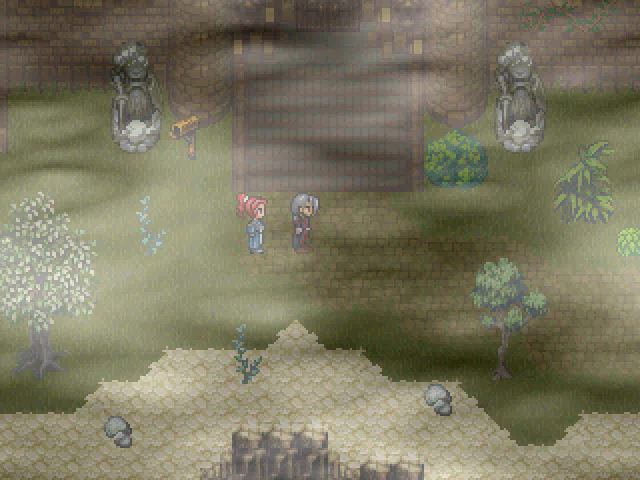 We get there with nothing much happening, and I think I'm going to cut things here. Asgar's castle is a bit of a clusterfuck and takes me a while to get through, so we'll have that in its own update (or two), since I'm trying to keep updates nice and short now.