Part 11: Day 11, The Van De Mar Mountains, Attack (Victory), Day 11, The Demes Northlands, Defense (Victory)
Cythereal posted:
Van Der Mar Mountains looks like a fine choice to hopefully get Tau slaughtered in job lots before hitting Thur'Abis. The veteran stealth team will be handy for that.

Heaven Spacey posted:
Not actually sure if my vote counts due to being a filthy Gue'la but Van De Mar Mountains anyway, I want you to really show off how bullshit Necrons can be.

GhostStalker posted:
Van De Mar Mountains, that Veteran Stealth Team will be really handy in the coming battles.


Van De Mar Mountains
it is. Ready my Honour Guard. If our last encounter with the Necron was anything to go by, this will be a joke.

Shas'o, a call for you.

Again? Who is it?

Patching it through.

Will you wait--

You underestimate the Necron, Shas'o Kais. It will be your undoing.

Farseer Taldeer? Ha, I think it's YOU who underesti--
*click*
--huh, she hung up again.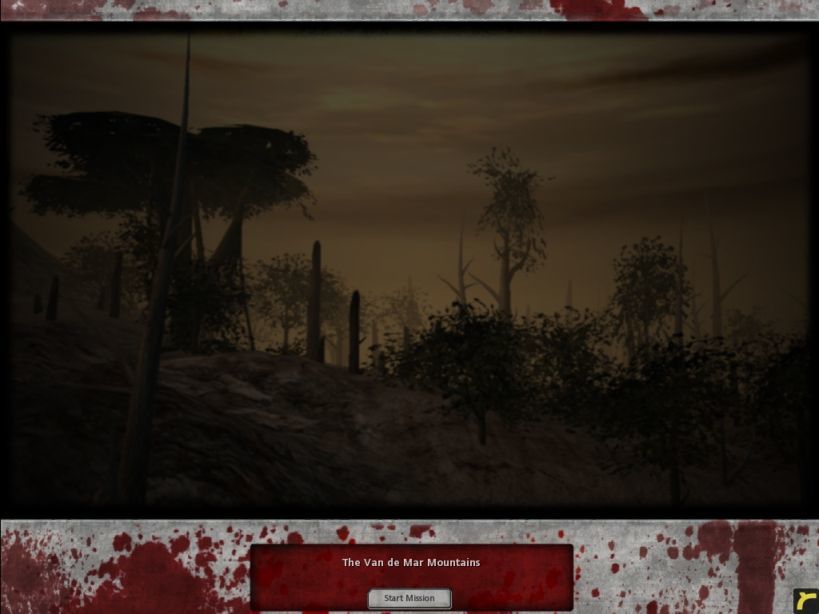 GOODNESS, WHAT A
BEAUTIFUL HORIZON
. I SHALL ENJOY CONSTRUCTION UPON THESE
VAN DE MAR MOUNTAINS
.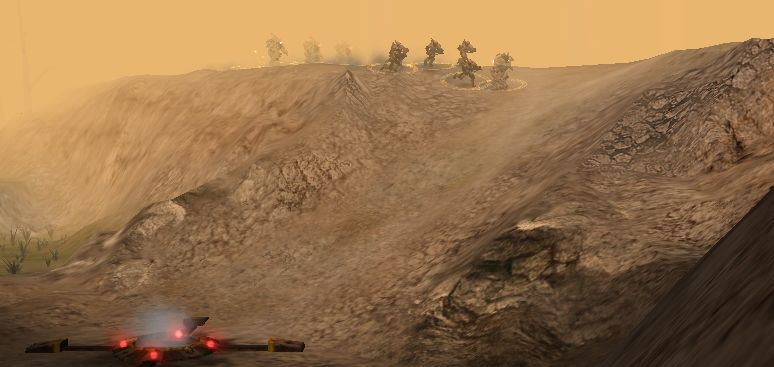 Move forward. Let's move quickly. We can finish this before the Necron even have a chance to mobilize.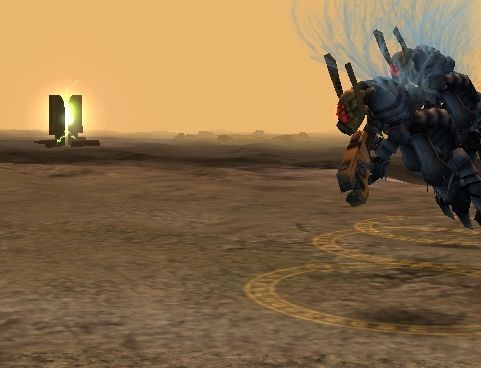 Vespid have located the Necron.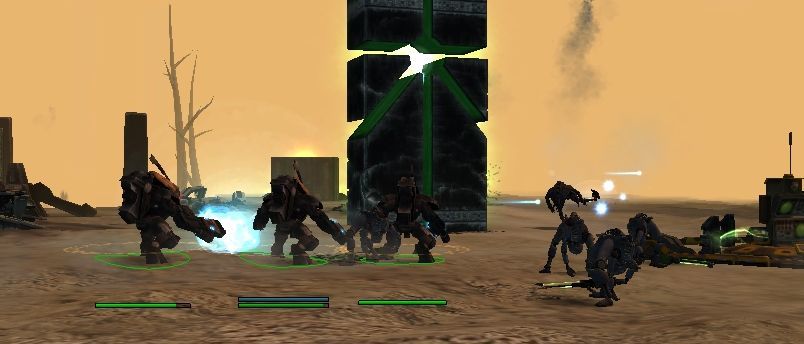 Knock it down, for the Greater Good.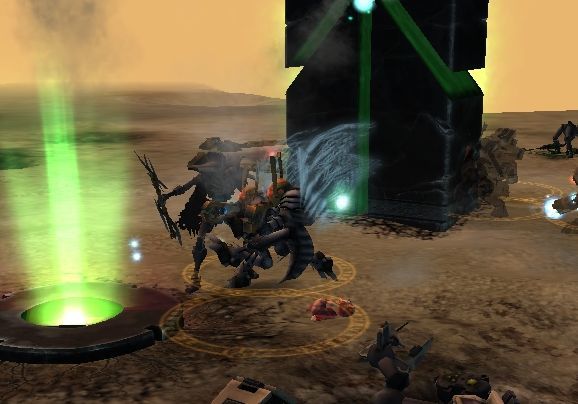 Tearing apart the Necron Lord.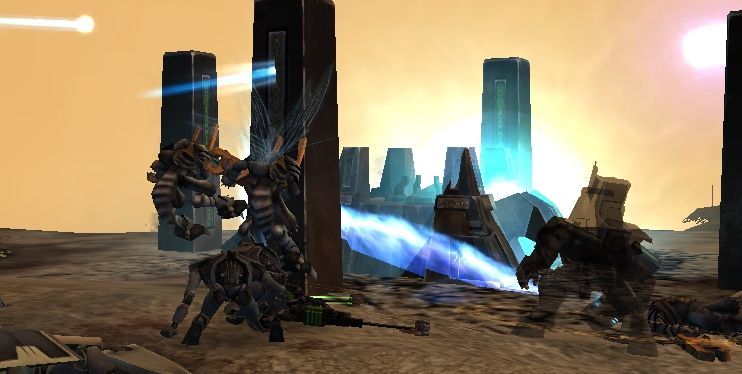 Destroying their Monolith.

The Vespid auxiliaries have a couple of abilities that make them particularly useful. I mean, being extremely fast, being able to fly short distances, and being decent melee units with detection abilities are already awesome enough, but they have the ability to blast enemies backwards with their wings. Also, they can vibrate their wings in such a way that destabilizes buildings and allows us to do double damage temporarily.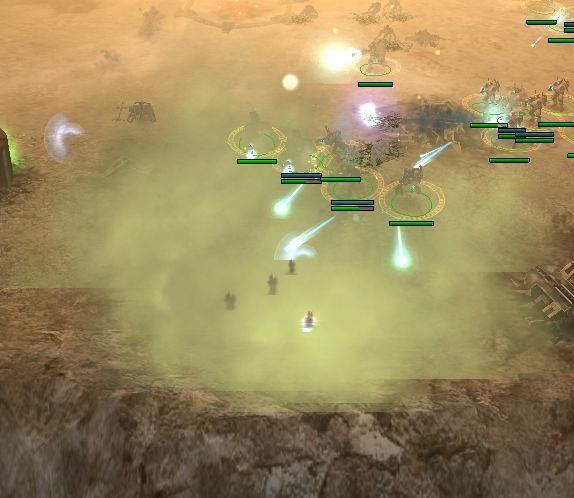 It's down.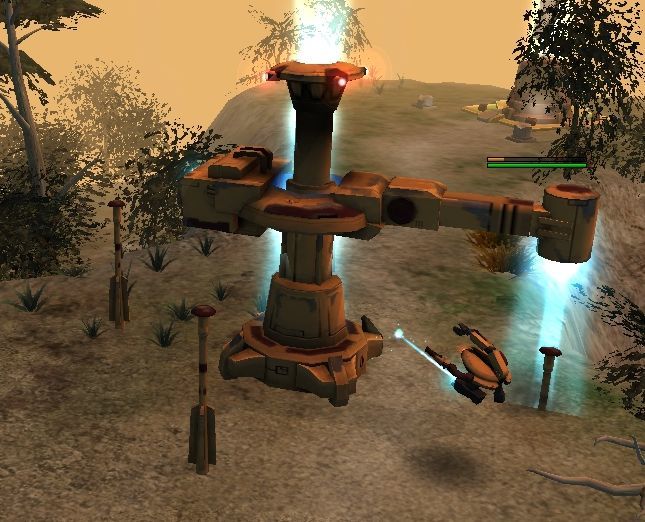 YES< IT IS INDEED A
LOVELY DAY
TODAY. IT IS THE
PERFECT WEATHER
FOR BUILDING A
TAU BARRACKS
.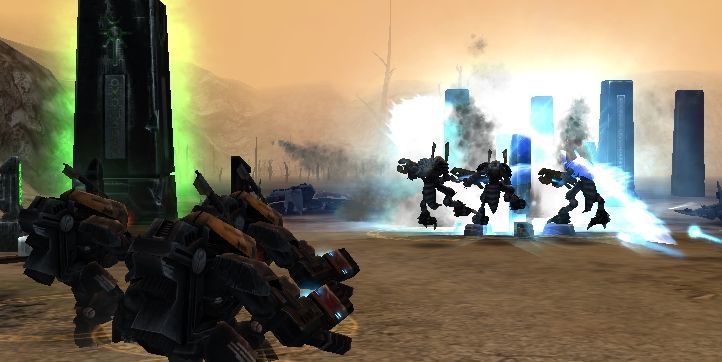 We have--

We have located the second base.

--second, uh, yeah, we found it.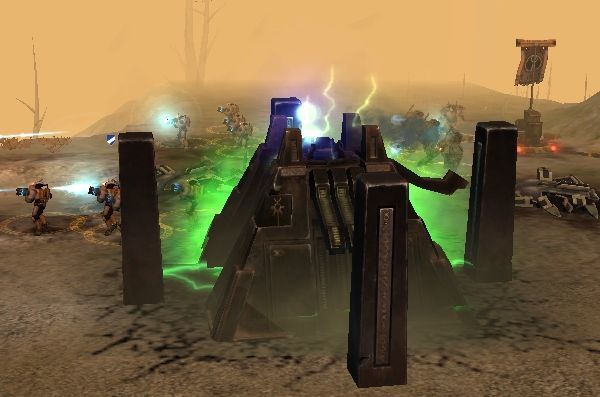 They are trying to activate their monolith.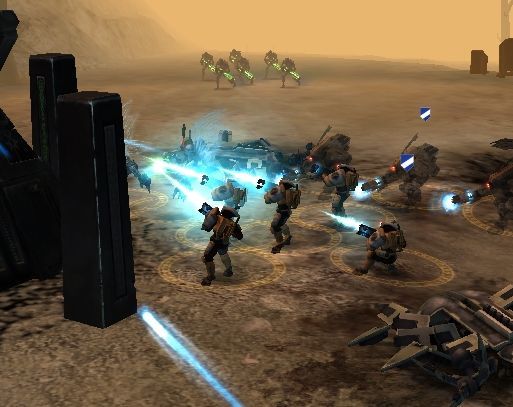 We've spotted some Necron Warriors.

Is that it?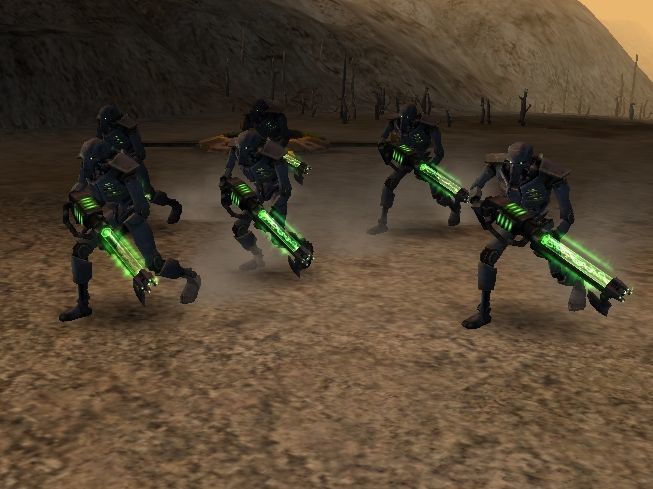 See, this is why it sucks to be the Necron. They're so damn slow. These mooks probably got sent out to scout the area. They heard their base was under attack and came back to defend it, but arrived just in time to see it destroyed. I mean, they
could
have teleported, but I think that's a research tech or dependent on certain buildings existing (I forgot).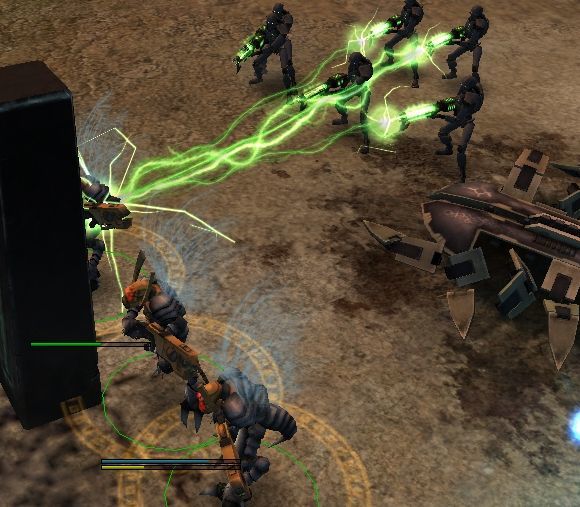 Shas'o, shall we attack?

Ha, no. You know what? Focus on their Monolith. I bet we can take it down before the Necron can do anything about it.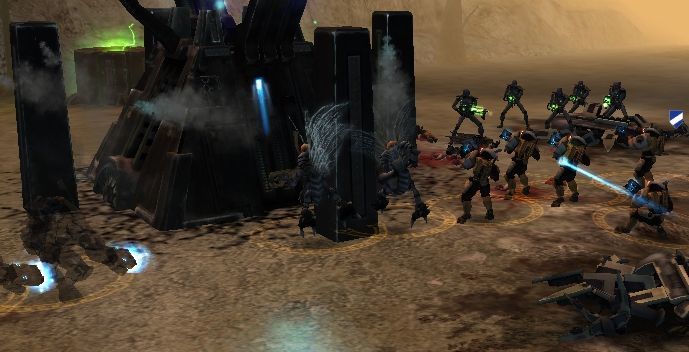 Just jetpack to the other side of the Monolith if you need to recover.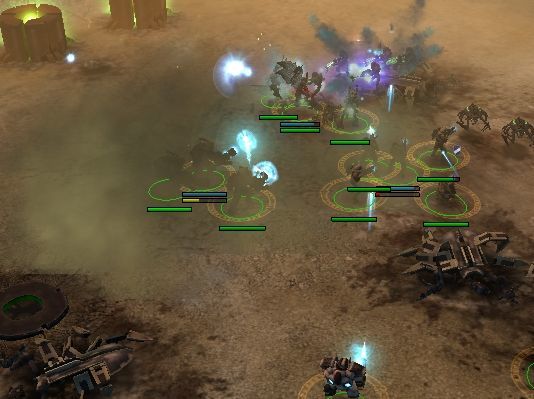 We're done here.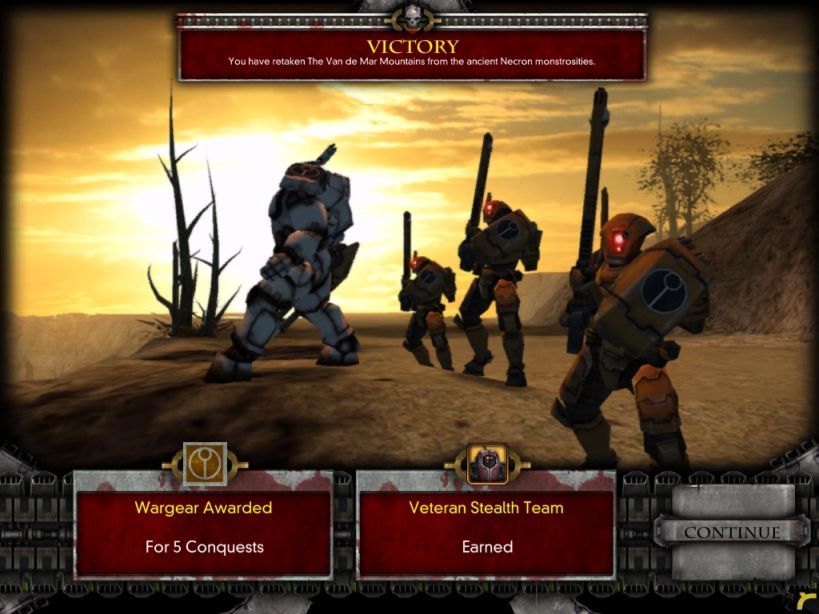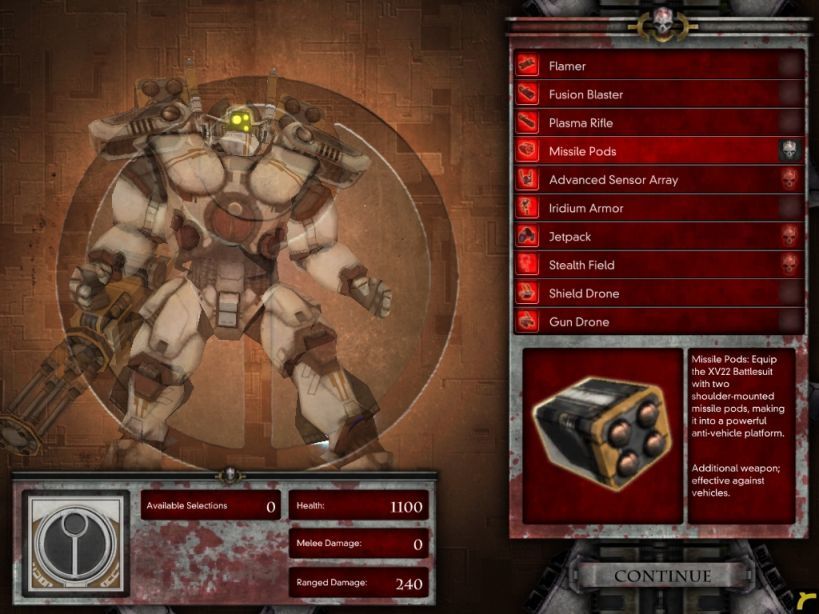 Okay,
now
I can take on the Hyperion Peaks.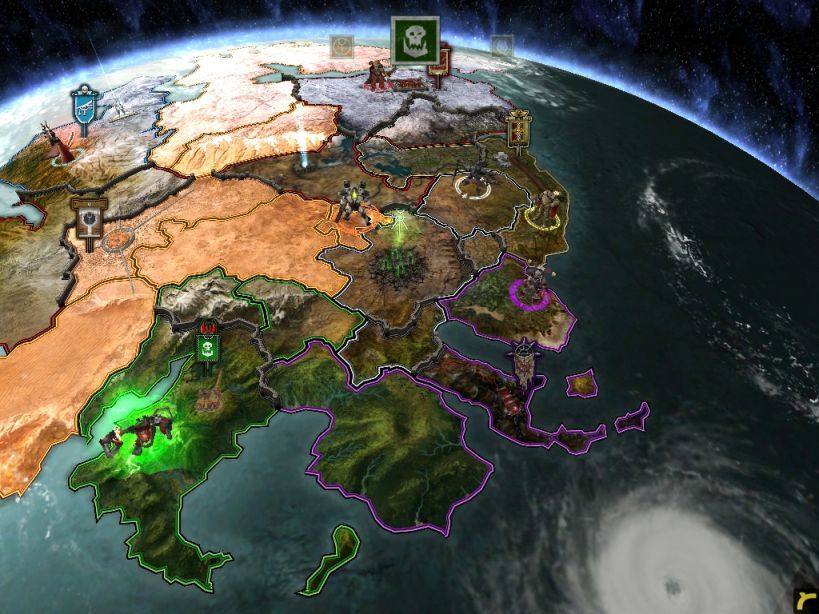 Well fought, Shas'o.

Incoming reports: Gorgutz has returned to the Green Coast.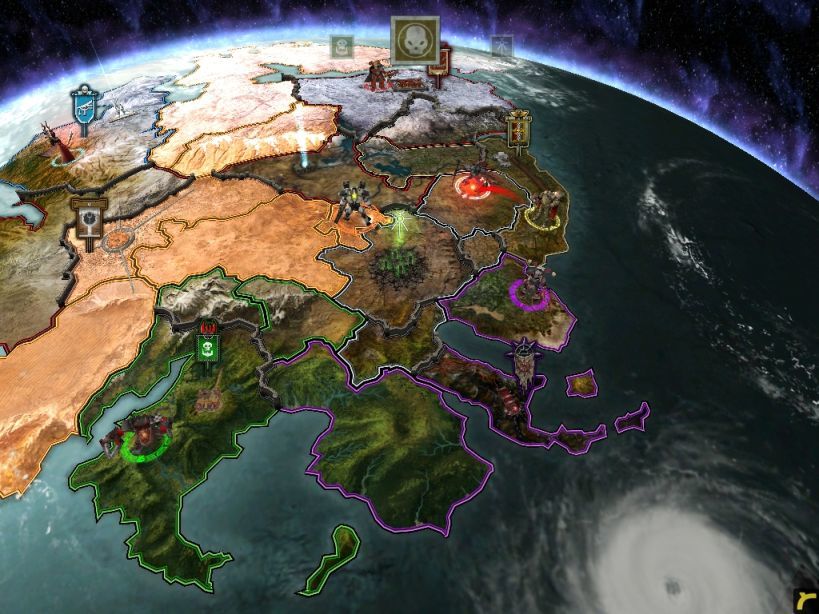 Hey, the Imperial Guard are leading an attack on the Necron! Maybe they can take back their territory.

They failed.

Shameful, shameful. I thought the Imperial Guard were supposed to be dangerous.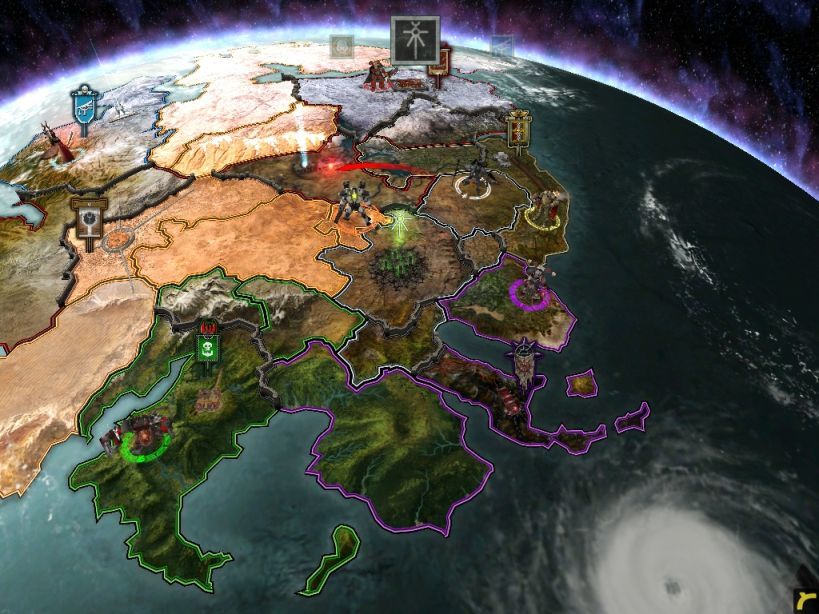 The Necron are making an attempt on Pavonis Spaceport.

They failed.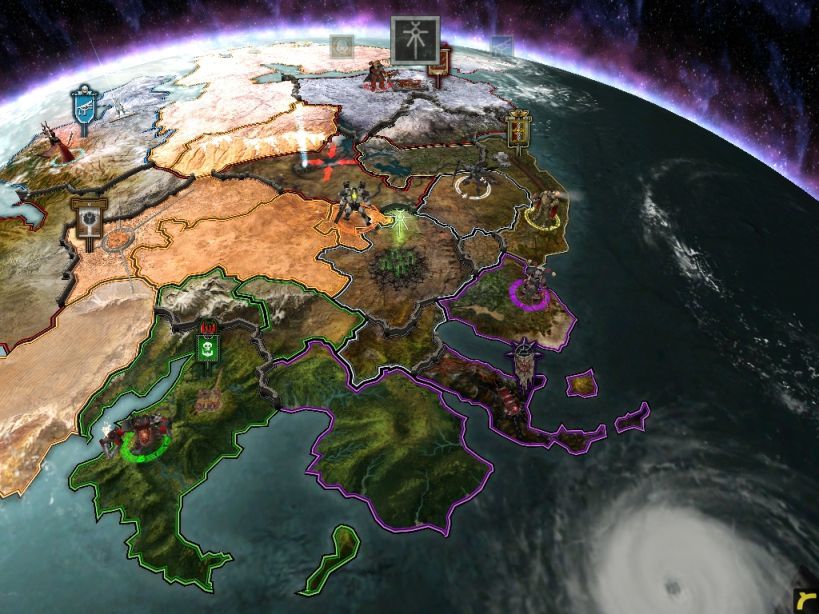 Twice. They attacked twice and they failed twice.

Either the Space Marine defenses are too powerful or the Necron have a shamefully weak army.

The Necron are able to attack twice in a single day because they hold the Eres Badlands. The Badlands hold an artifact of the Chaos God Khorne. If we could capture the Eres Badlands, we, too, could attack twice in a day.

We're nowhere near the Badlands, though.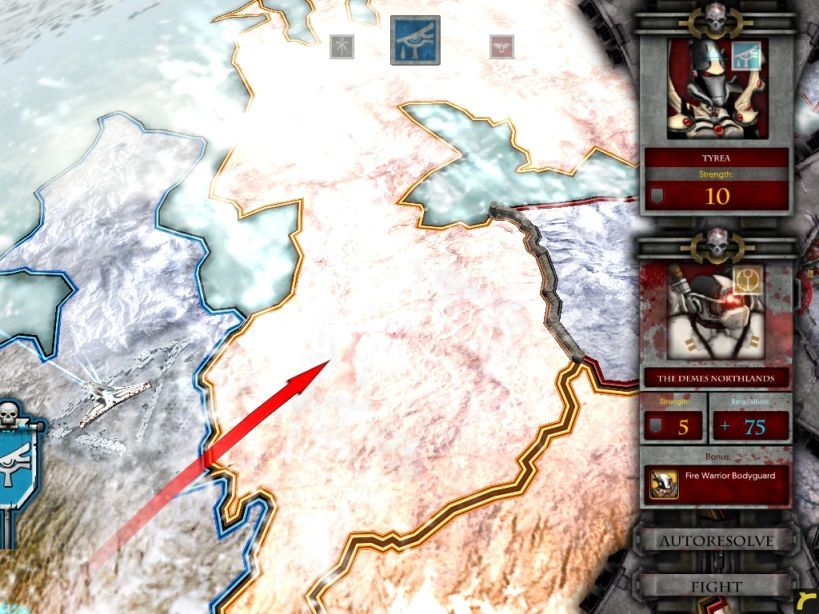 O'Kais, Farseer Taldeer attacks again!

*sigh*
Just give me the cliffnotes.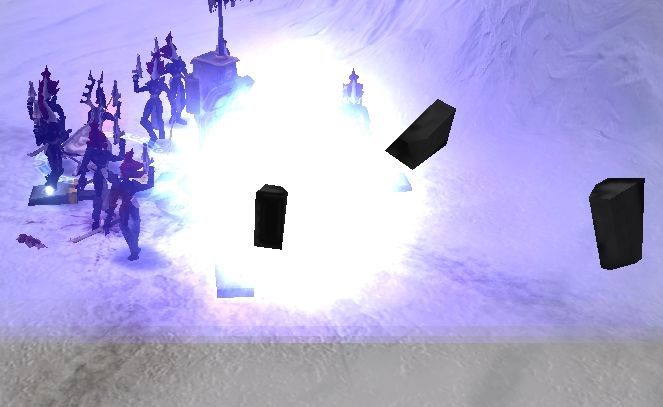 Some more petty vandalism.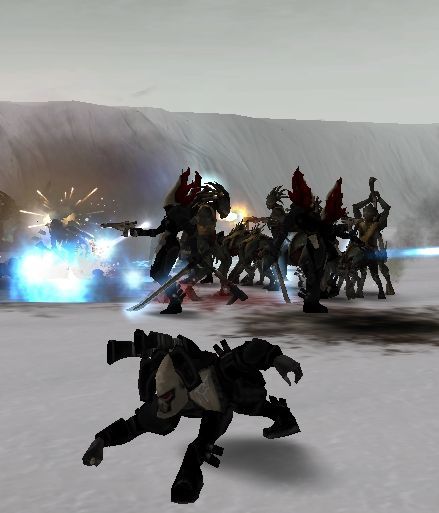 You know what I dislike about the Eldar? They're so obsessed with striking cool poses--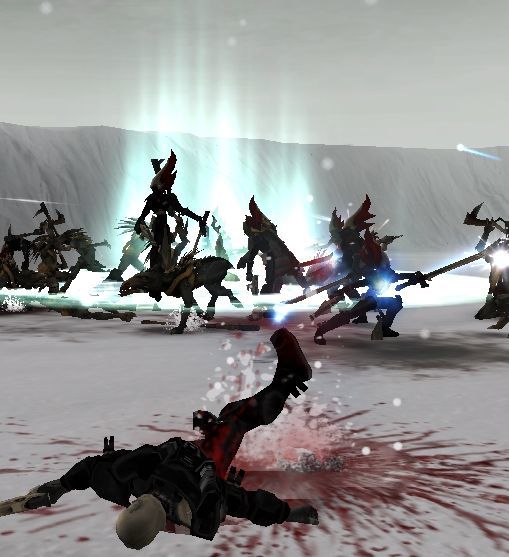 --they leave themselves open to attack.
Shameful, shameful, shameful.


Out of my way, children! I have a mission I must complete!

We will feast on your bones!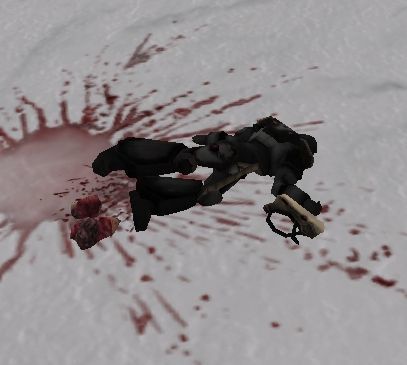 These are Dark Reapers. Special anti-infantry Eldar units. You can see how effective they are.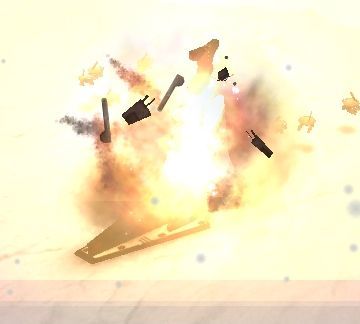 One base down.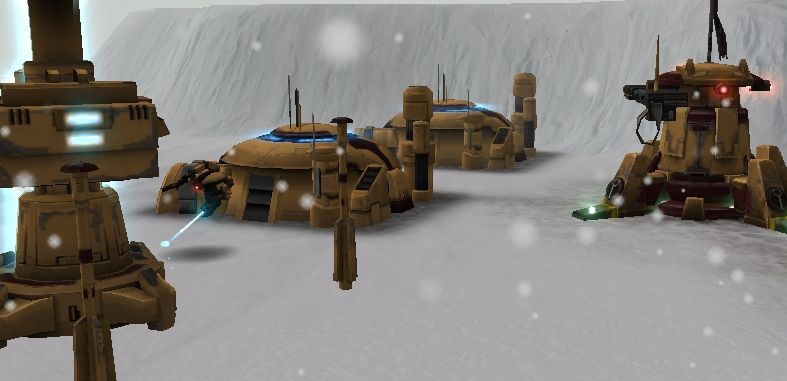 I HAVE BUILT UP OUR DEFENSE BY THAT ONE
LISTENING POST
. IF
THE FARSEER TALDEER
ATTACKS AGAIN, SHE WILL HAVE TO FACE OUR IMPROVED DEFENSES.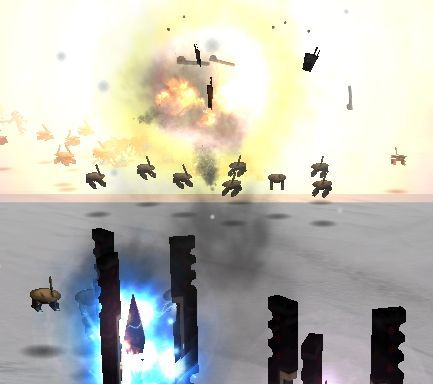 Second base down. The Eldar attack has failed--again.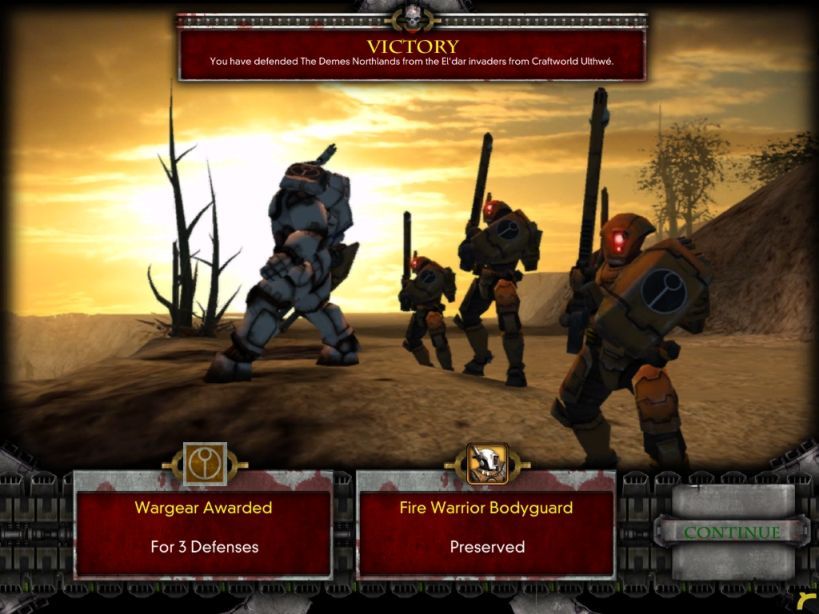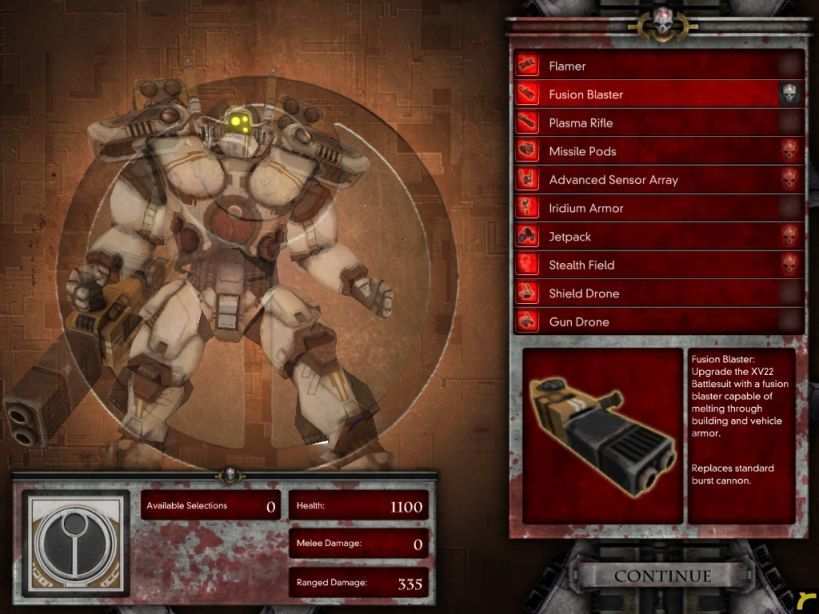 Ha, now I can easily take down the Hyperion Peaks.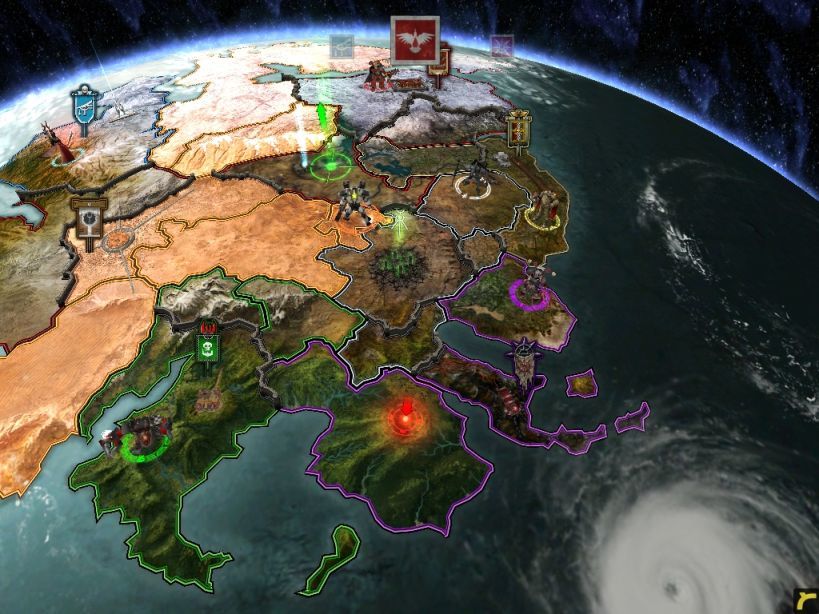 Thule is attempting an incursion into Chaos territory.

Oh? How did it go?

Poorly.

Ha! You, text Thule. Tell him he's an idiot.

Of course, Shas'o!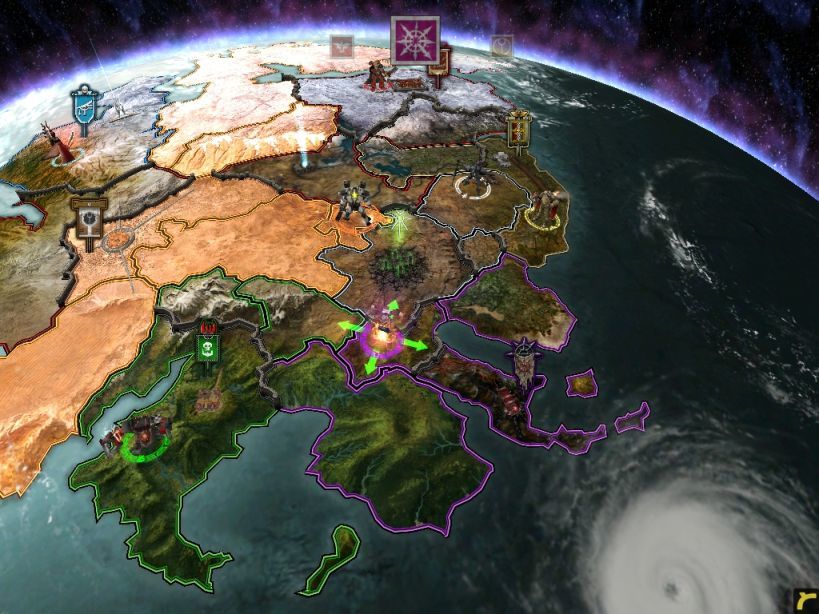 Chaos forces have taken territory from the Necron!

Is it just me or are the Necron a pitiful excuse for an army?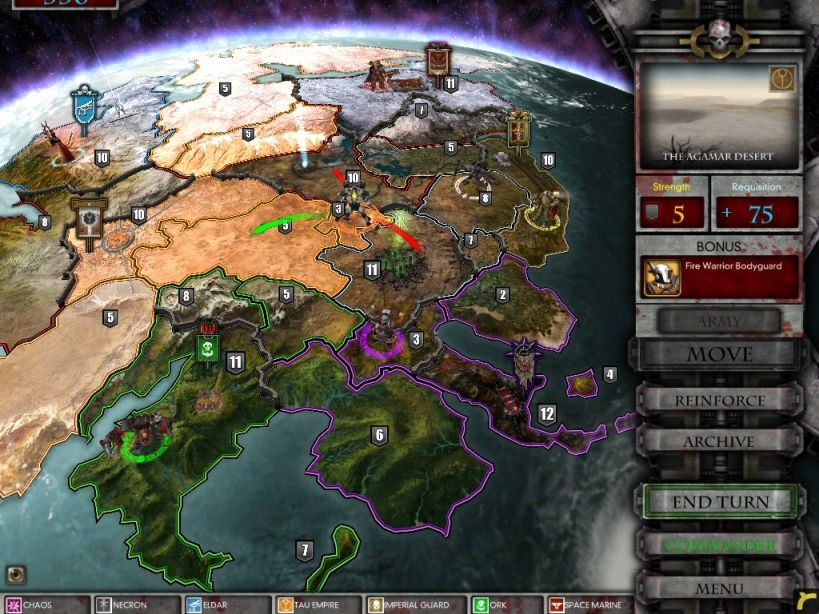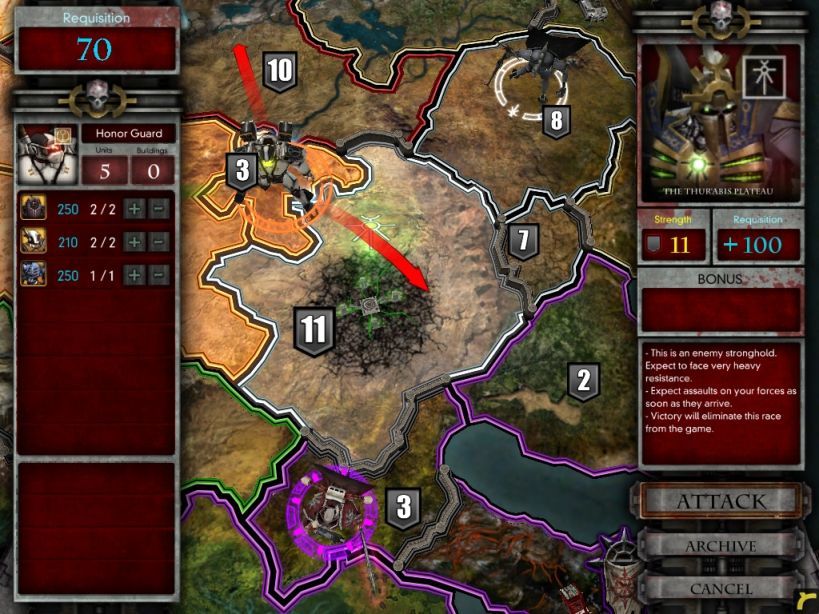 O'Kais, our options are limited from this location. We can assault the
Thur'abis Plateau
.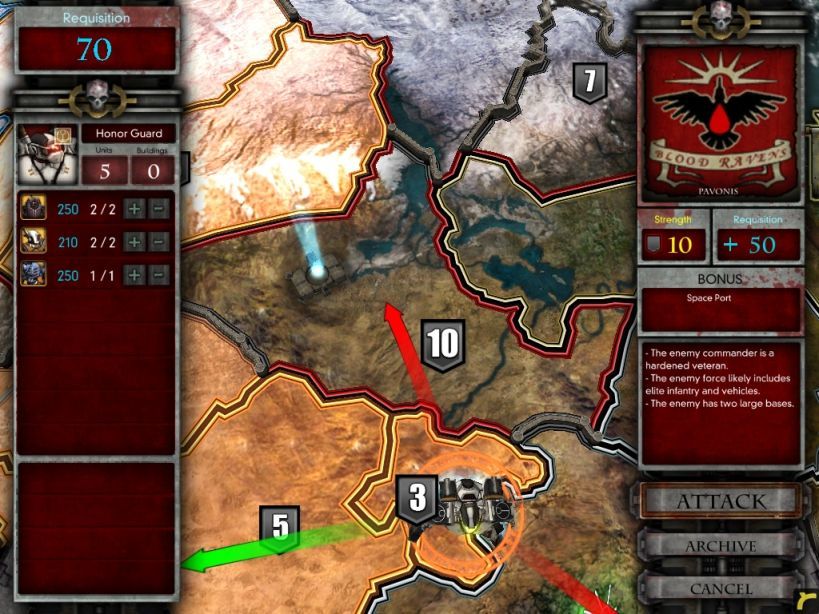 Or we can attempt to take
Pavonis
. If we want to make any other offensive plans, we need to pull back first.

As always, it's up to the War Council.