Part 27: Day 21, North Vandea, Attack (Victory)
bunnyofdoom posted:
Take the Orbital Relay That way Thule can't trasmit his fanfics to the battle barge

Dooky Dingo posted:
Take the Relay.
We must avenge our fallen comrade, EARTH CASTE DRONE DESIGNATION BN-0117, by hijacking his own machines for the glory of the GREATER GOOD.

Veloxyll posted:
Take the Relay

EARTH CASTE DRONE DESIGNATION BN-0117

never forget.


*OUTPUT SOUND: SNIFFLE* MAY THE ETHEREAL CASTE BLESS YOU, EACH AND EVERY ONE>>>>>!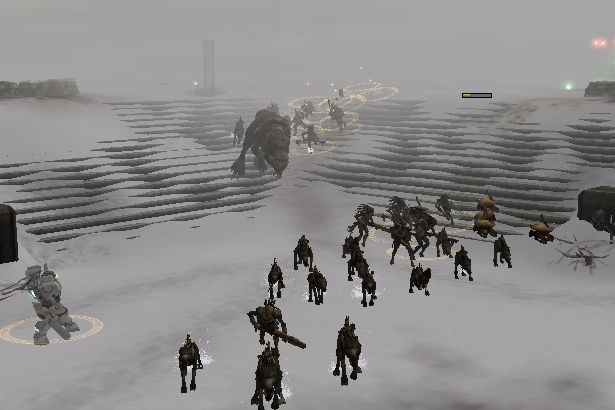 Right, let's take the relay. Move out, troops!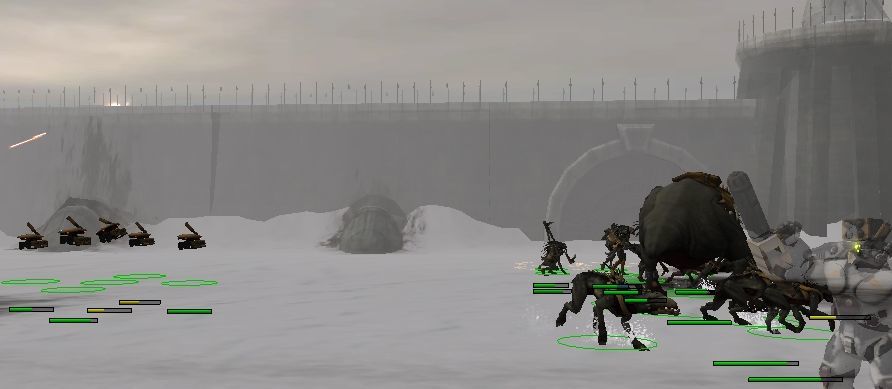 There are the walls of Thule's base.

O'Kais, the rumours were true! Much of the secrets in the Blood Ravens' temple are just erotic fan fiction!

By the Ethereals, have these Blood Ravens no sense of decency?

This one's called "Dead Space 4: The Dead Space of Isaac's Ass"--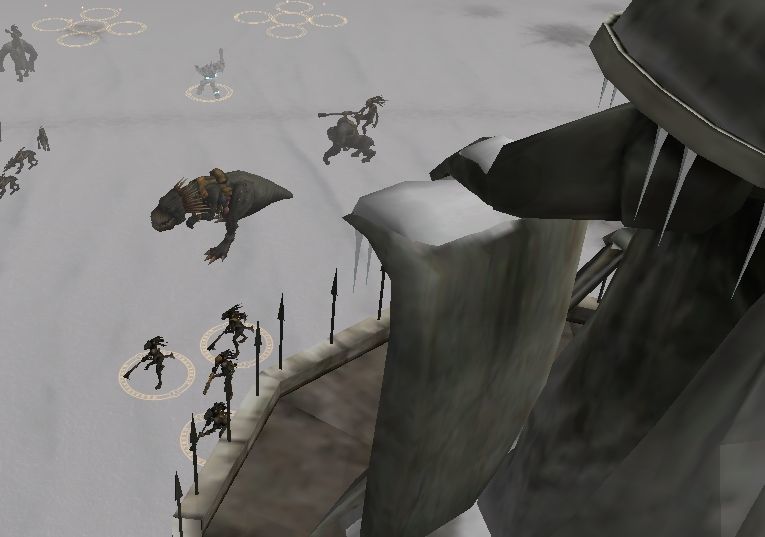 The horror... the horror...

Yeah, that one's here, too: "The Horror, The Horror... of Marlon Brando's Ass".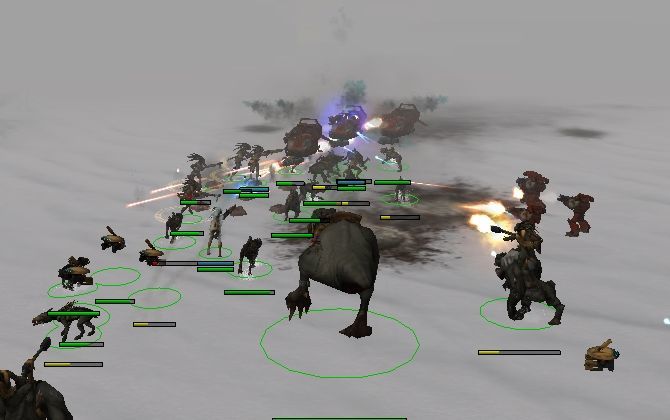 Please, just--just don't tell me. Instead, broadcast these fan fictions to the Blood Raven troops. We'll use them to break their morale.

Ahh, psychological warfare! I see, O'Kais, we'll break their spirit!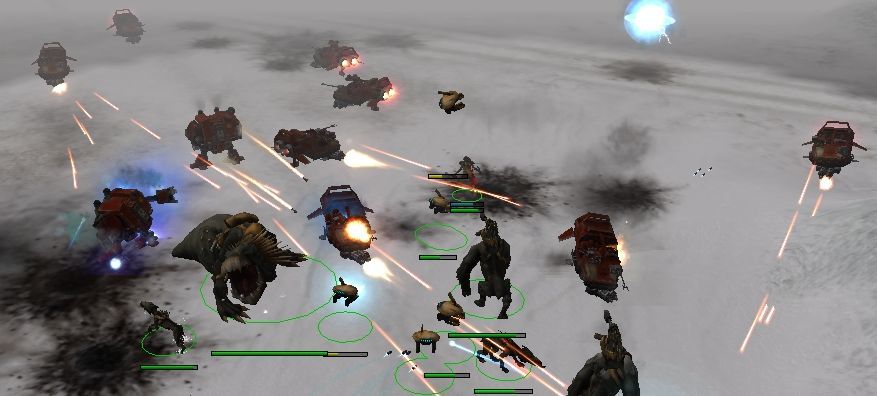 For the Emperor! For the Unknown Primarch!

Someone's hacking our comms. It--They're reading something.

W-what did they call it? "The Unknown Primarch's Unknown Parts"???

Emperor save us.


Chaplain, bombard those Blood Ravens!!!

S-sir?!

They have been poisoned by Tau propaganda and must be purged in the name of the Emperor! Quickly, now, if you please!
Damn you, O'Kais!
Uh, try and hit some Tau as well so it looks like an accident.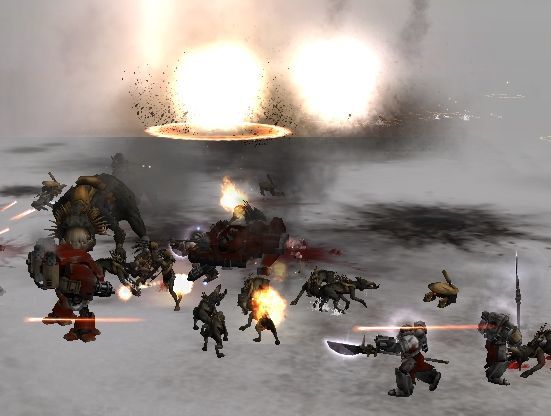 Shas'o, they're bombarding their own soldiers.

Hahaha, Thule, you incompetent!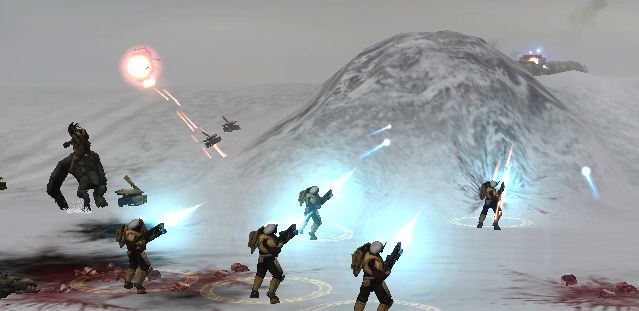 We'll move through their Forward Base, stop them from reinforcing, then swing around and take their Orbital Relay.

Damnit, O'Kais is trying to cut off our reinforcements! Drive them back!

Haha, O'Kais, get a load of this: Thule himself wrote a bunch of these fan fics. He has a whole series of erotic Blood Raven fan fictions starring a Chapter-Master named "Grunt McBrickhouse".

Thule, you're an embarrassment. Someone send Thule a text with only the words: "Grunt McBrickhouse".

Waaaaay ahead of you.

*checks phone*

Captain Thule, you look pale.

Burn everything. Burn them all.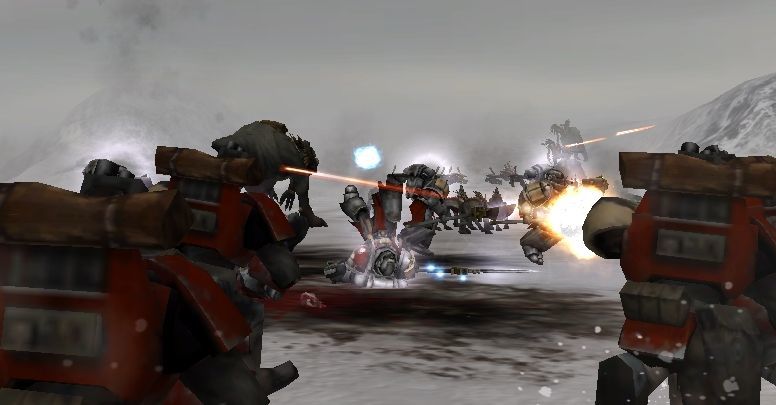 "Grunt McBrickhouse and the Emperor's Gift"? "Grunt McBrickhouse Does Inquisitor Assholichus Cornrimaran"? "Grunt McBrickhouse's Guide to Sensual Clone-play"? Emperor preserve us, what sort of unnatural things have you Blood Ravens been getting yourselves into? T-this is heresy of the highest order! Grey Knights, we must stop this at once! Grey Knights, to me!

Uh, uh, this is Captain Davian Thule to all Blood Ravens. The Grey Knights are Genestealers. All of them. Kill them now to prevent a Tyranid invasion, thanks in advance! For t-the Emperor and the Unknown Primarch!

DIE, GENESTEALER SCUM!

W-wait!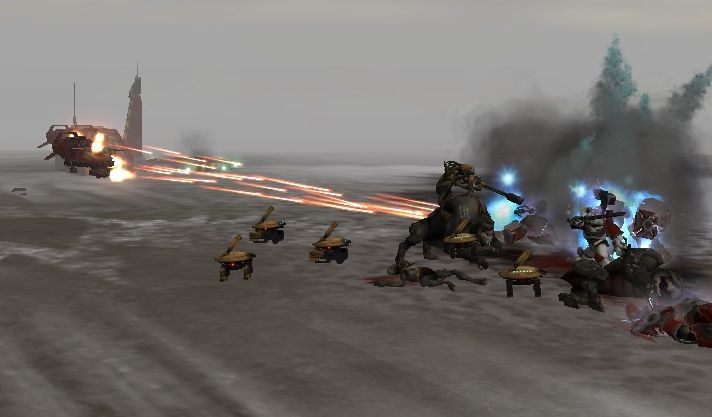 Captain Thule, Kroot forces are overwhelming our base!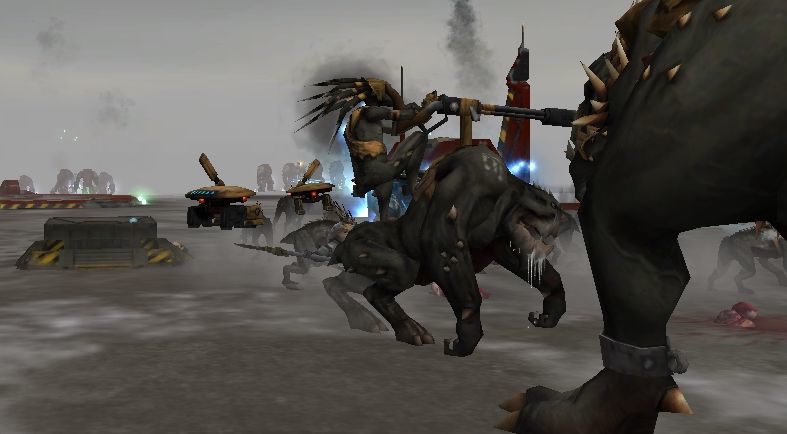 Uh, what's this? "Grunt McBrickhouse and the Very Large Gun".

I WANT TO DIE AGAIN. KILL ME.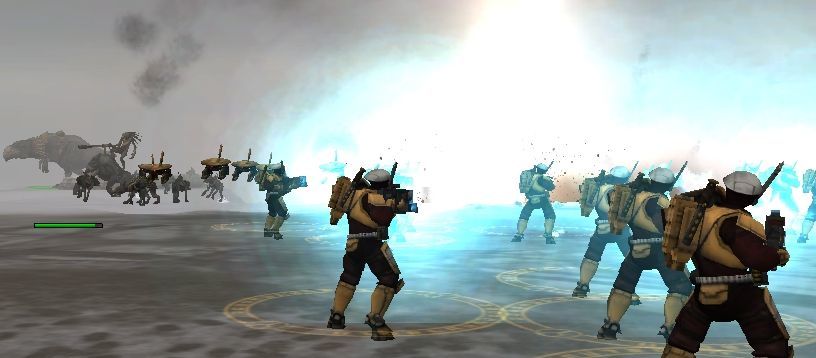 This is really weird, it's like the Space Marines are just giving up.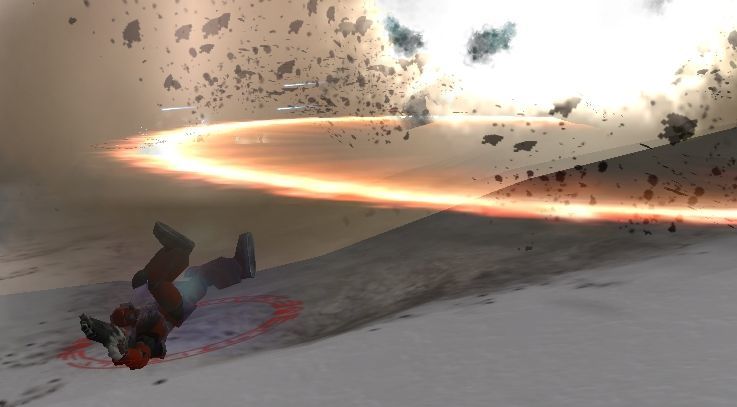 "Sin Sinnernemesis, the Servant of Slaanesh". Uh. Paging the
Litany Of Fury
, fire your orbital lasers at these coordinates.

We hear you, Space Marine, but our intel says that Blood Ravens are in that area. Please clarify.

Uh, n-no, we left. All of us. It's just Tau, now. Please fire.
Grant me a swift death.

Roger, we are firing on those coordinates.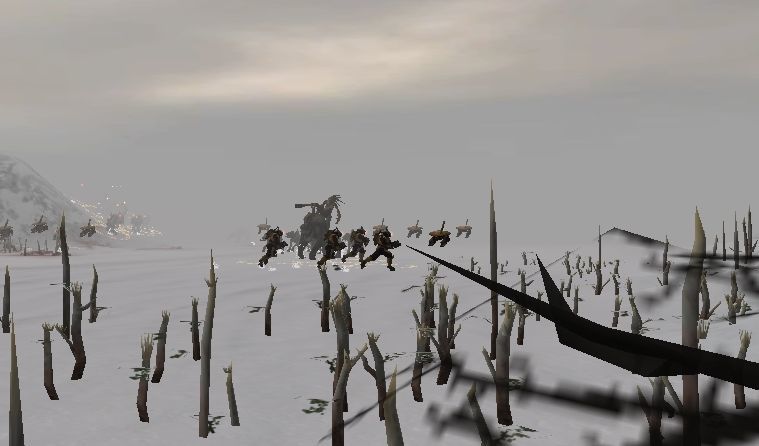 Their reinforcements are cut off. We are heading for the beacon.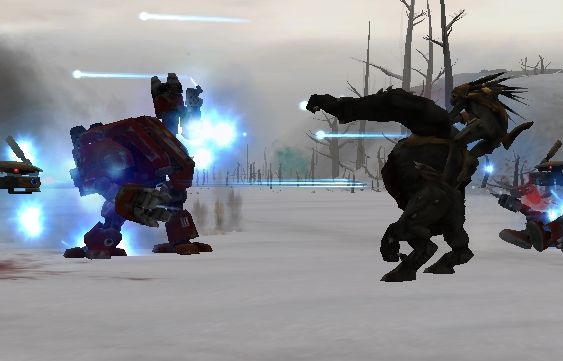 WHAT IS THIS? "FOR THE EMPEROR, A PLAY IN ONE ACT". UH. NO. NO, WHY. THAT IS SO WRONG. PLEASE END MY PAINED EXISTENCE.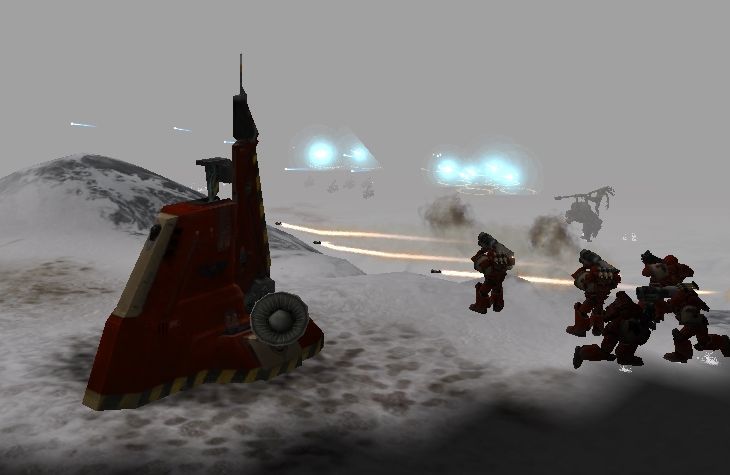 Hold the relay station! We must keep in touch with the "Litany Of Fury"!

Captain, what is "Grunt McBrickhouse's Military Vacation"?

Where did you get that!!!?

'Dear Diary, I spent my military vacation by honouring the emperor'--oh god. Oh god, no. No, no, no, no, no.

I'm sorry you had to see that, Brother, but some knowledge is forbidden.
fires gun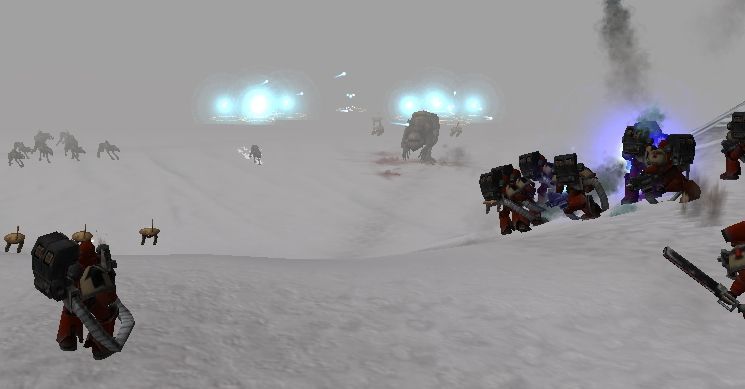 Turn off your comms, Brothers, orders directly from Captain Thule!

Uh, okay?

And quick, have the
Litany Of Fury
bombard that dinosaur from orbit!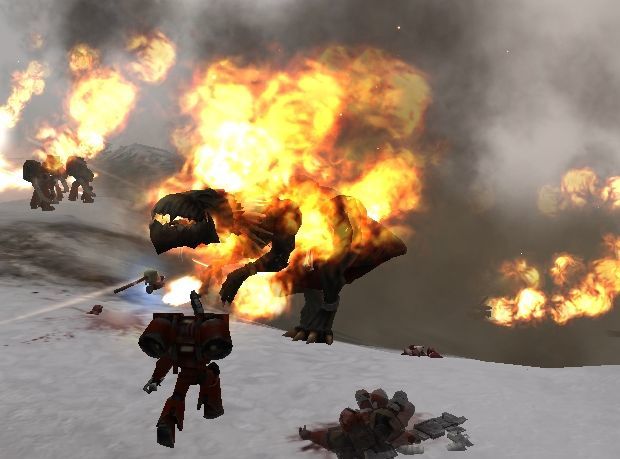 Oh god, that was such a bad idea! Now it's angry!

Show them who's boss, Gregory!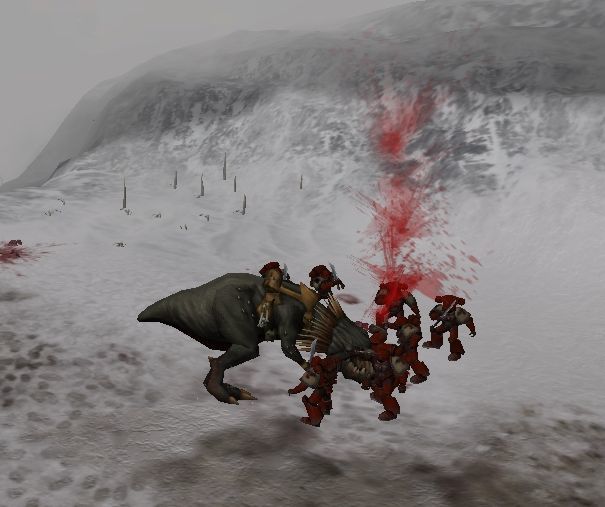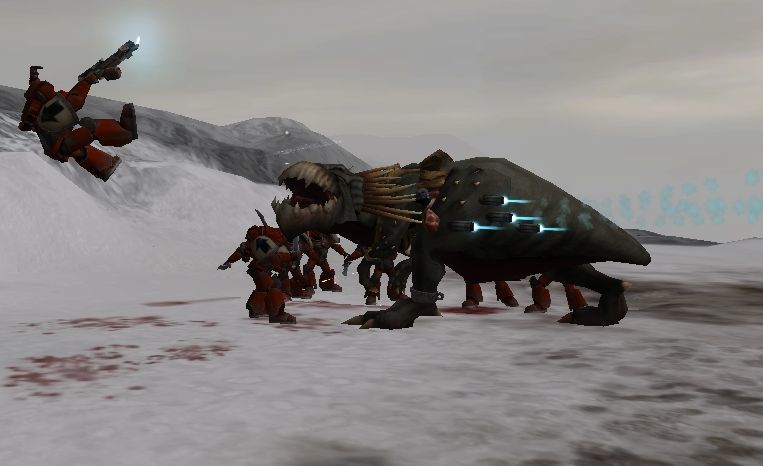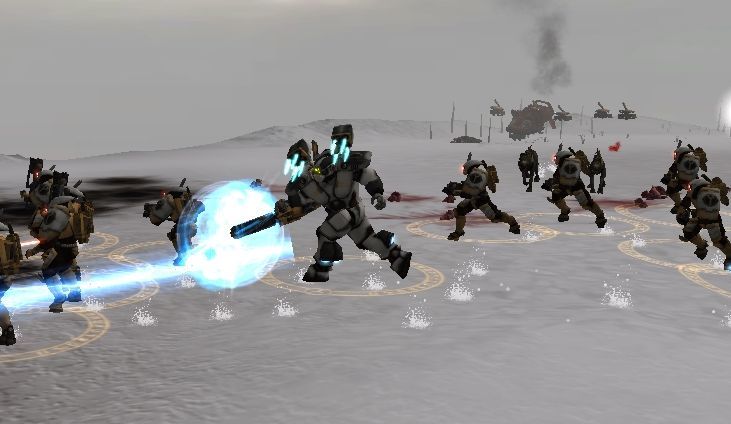 That's it, the Space Marines are losing ground!

I can't believe it. Davian Thule has written over 4 million words about his "Grunt McBrickhouse" original character--but his isn't the only creation the Blood Raven leadership has obsessively written bad erotic fiction about it.

Apparently the Blood Ravens have an entire cathedral dedicated to churning out new chapters to its erotic codex--it's powered by the souls of 1,000 teenage shut-ins that need to be replenished each time a new update is published. They expire from the universe with a last wailing cry of "Con-crit and favourite".

...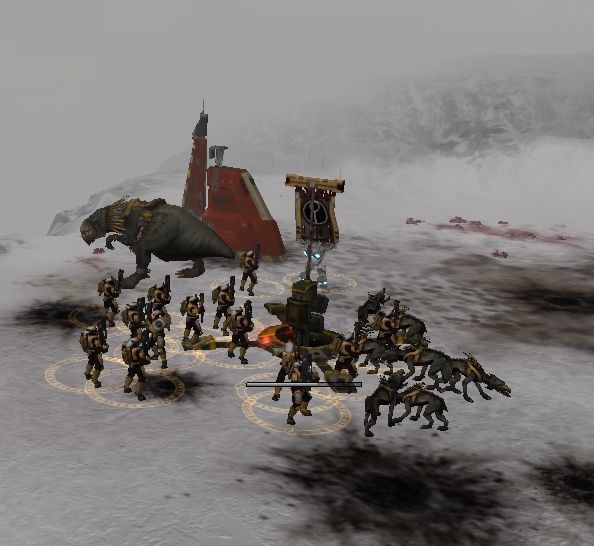 Brothers, the enemy is feeding coordinates to the Battle Barge. Prepare for incoming fire!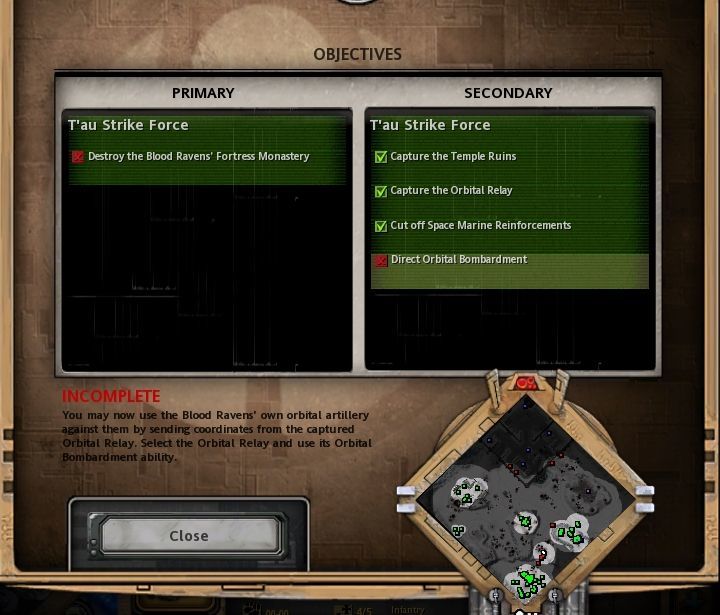 Well, the orbital relay is ours and we've broken the morale of most of Thule's Blood Ravens.

Hey, Shas'o, get a load of this: turns out they
know
who their Primarch is and that they're descended from the Thousand Sons--

Please, no more. I don't think I can hear to any more of the Blood Ravens' "secrets". No, something has to be done to make sure Thule is further embarrassed. Fire Warriors, with me. I have a plan.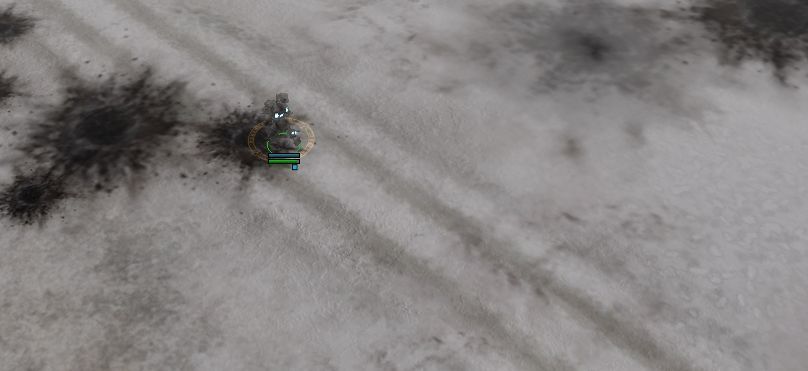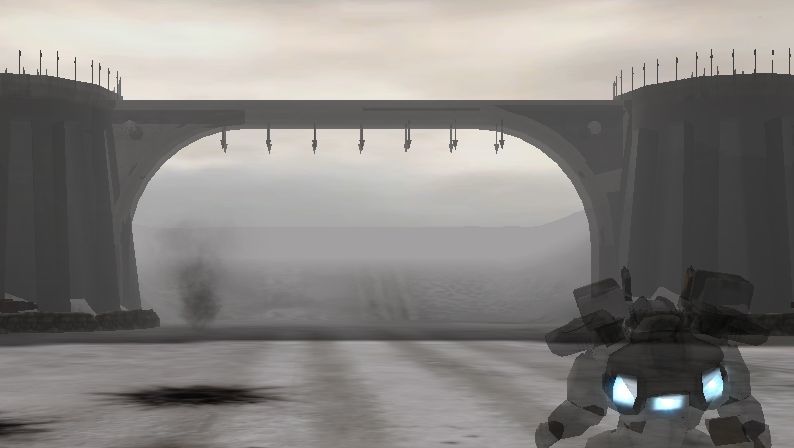 There it is. The entrance to the Space Marine base. The last of the Blood Ravens are holed up in there with Thule. Hey, Thule! You should have surrendered, Gue'la! Now it's too late!

Come on, then, your death awaits!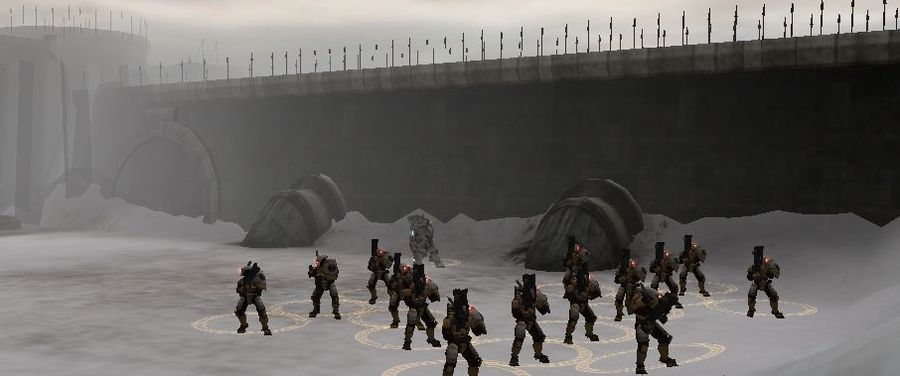 Right, you guys stay here. I'm going in alone.

You sure, O'Kais?

Please, knowing how incompetent Thule is? Yeah, he won't be able to stop me.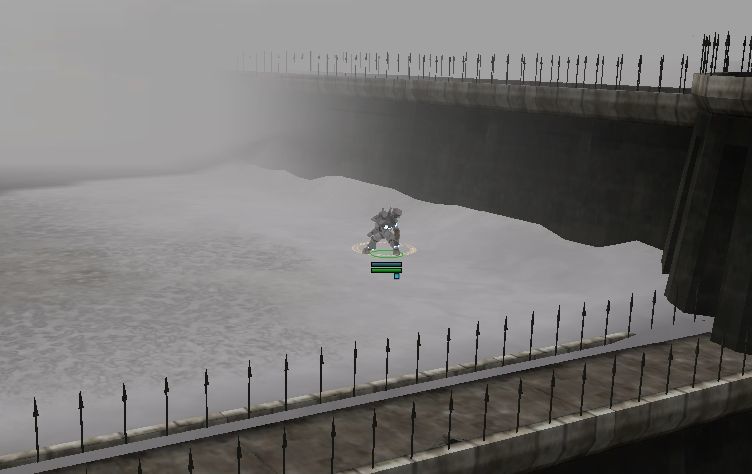 Their defenses are poorly laid out.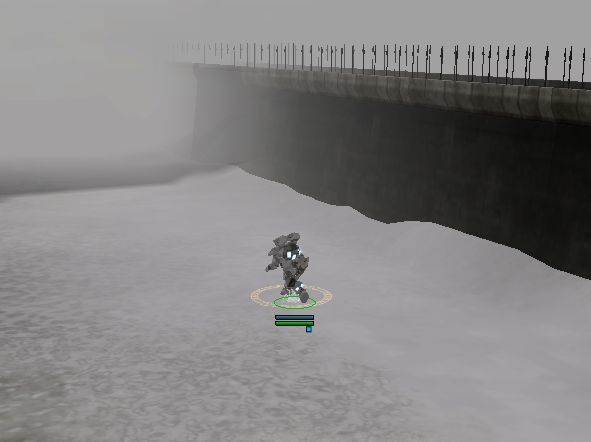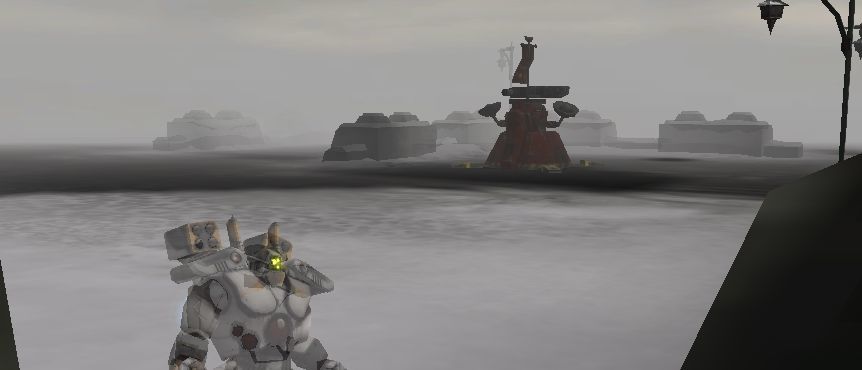 It's all by the road. Nothing to stop a Stealthsuit.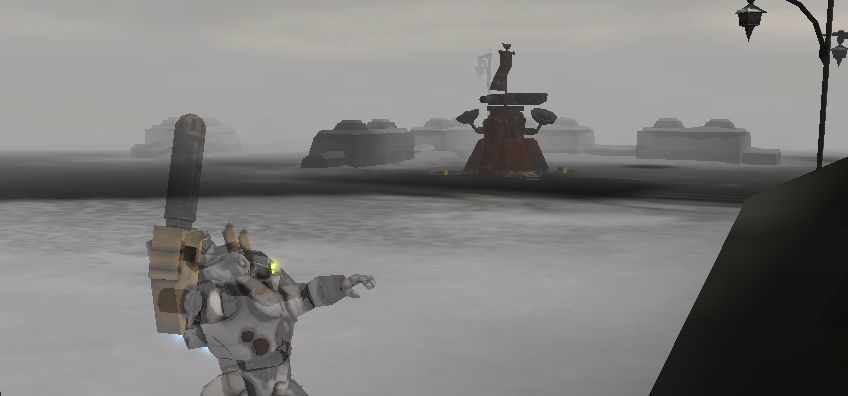 Ahh, looks like the Stronghold is over there.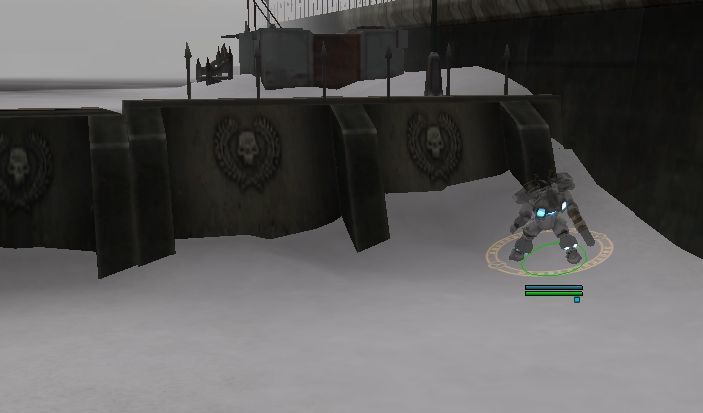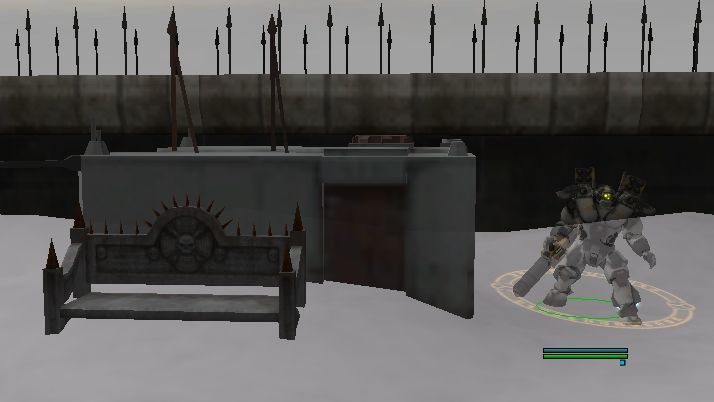 Even the park benches have skulls.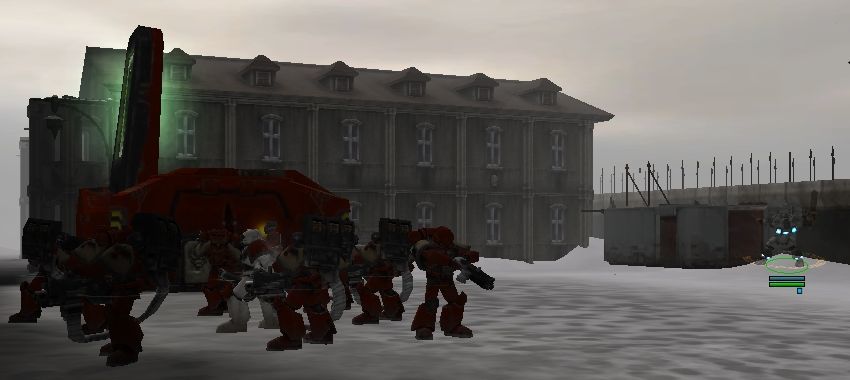 My god. Who knows what sort of strange secrets lay within those libraries.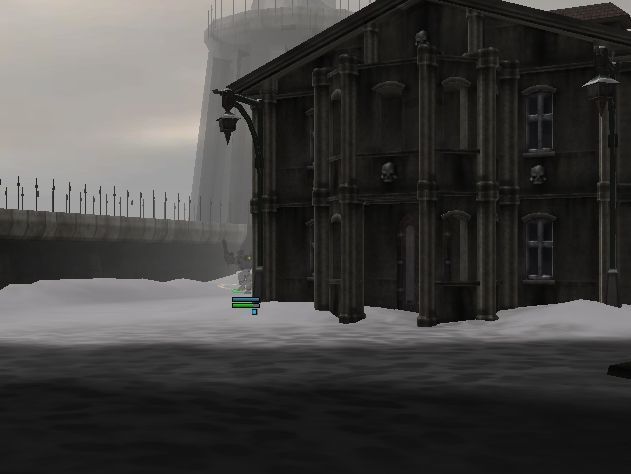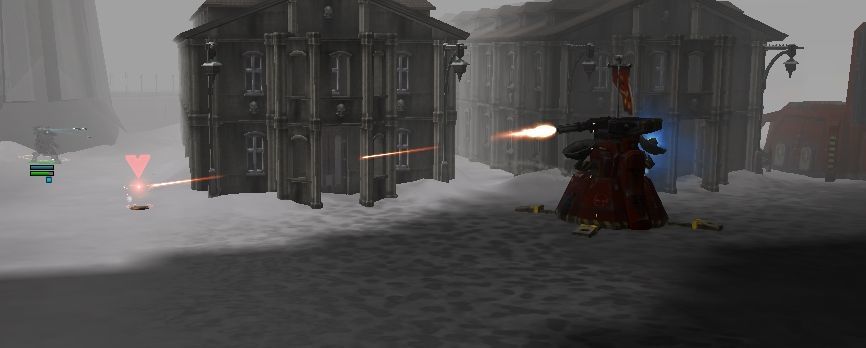 My range of sight isn't as great as a Pathfinder's, but I can goad that turret into revealing its location with a snare trap.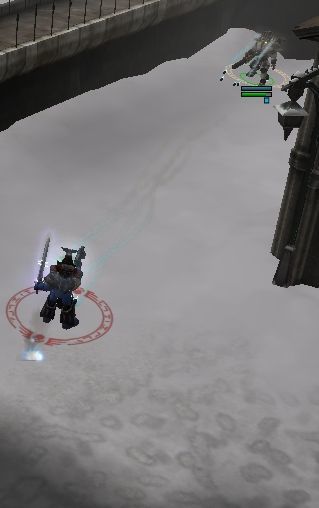 Huh, their Senior Librarian.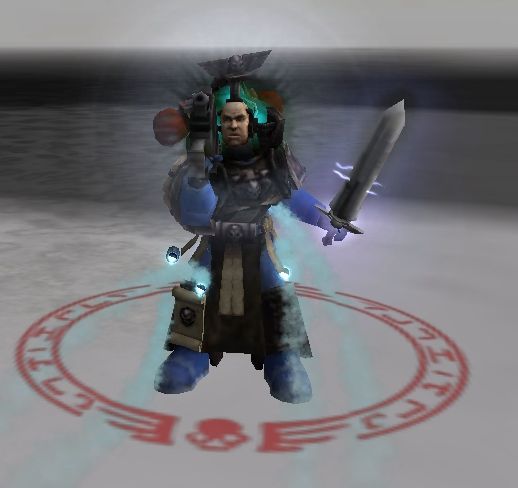 Epistolary Anteas.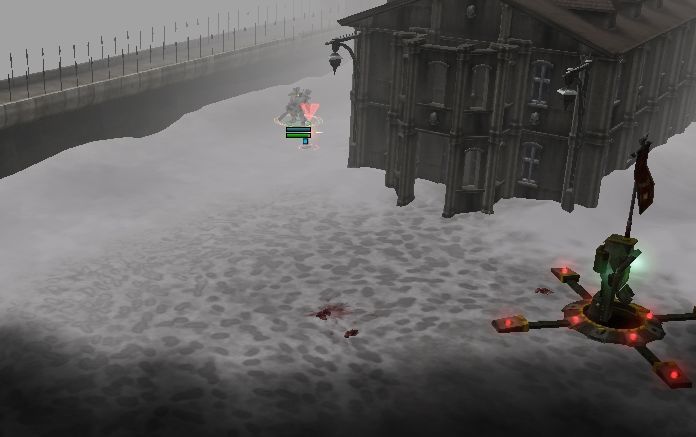 With Anteas dead and that Listening Post disabled, there is nothing between me and their Headquarters than can stop me from executing my plan.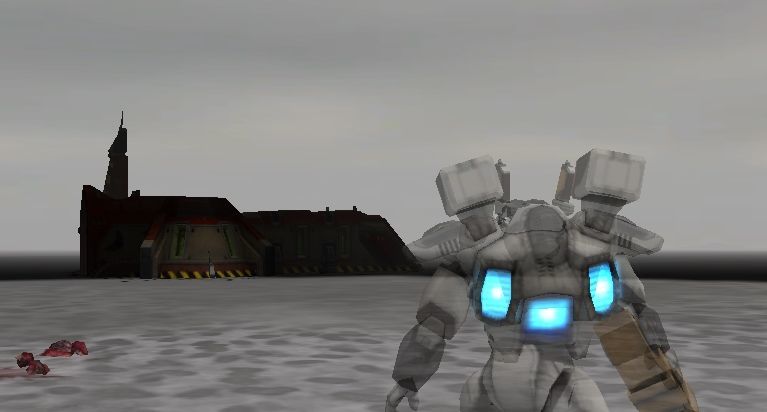 Which is to use their own Battle Barge to blow up their HQ and win the mission!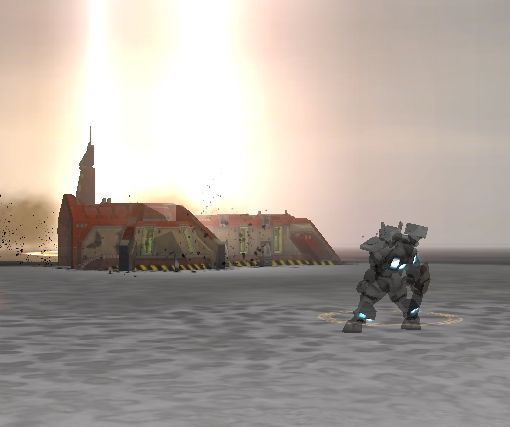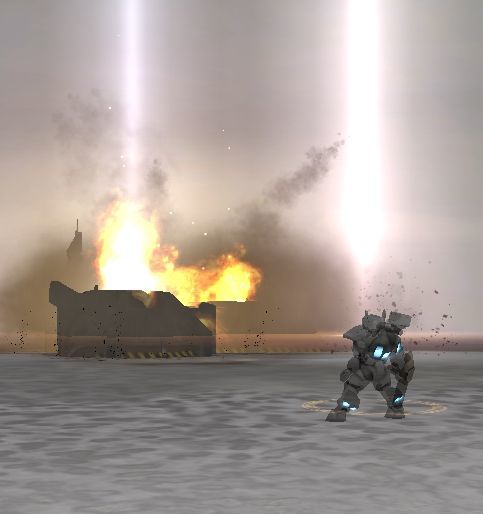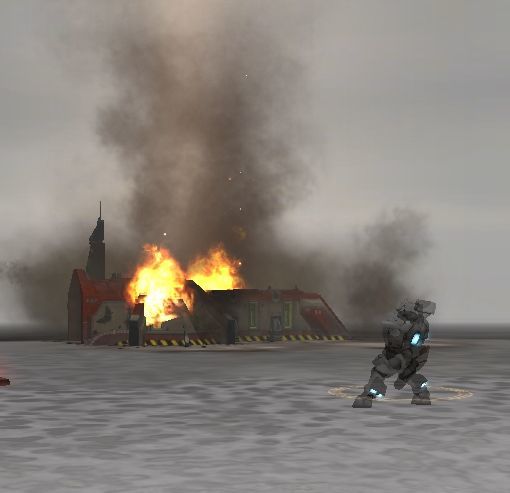 Hahaha, oh man, this is hilarious!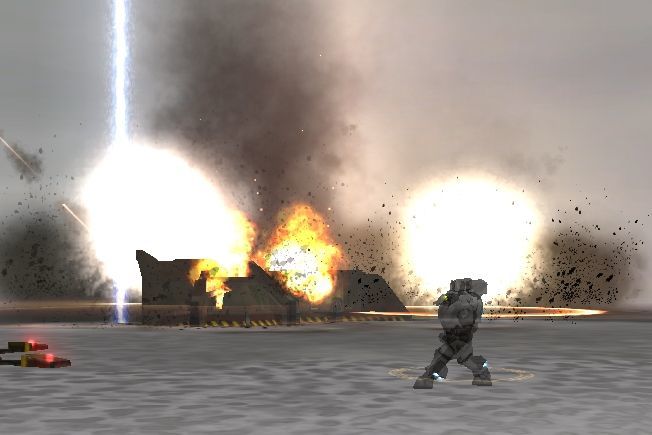 Captain Thule, the
Litany Of Fury
is firing on our headquarters!

But how? No Tau have infiltrated our defensive lines--right?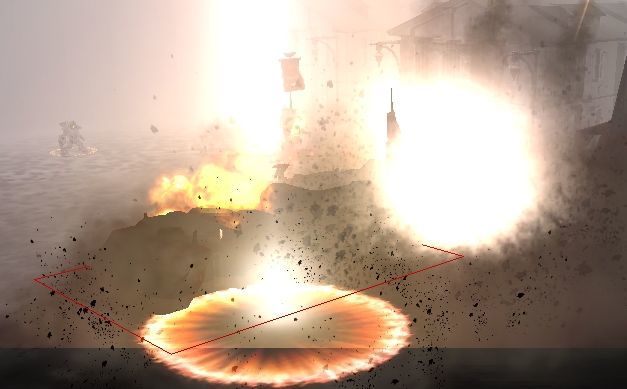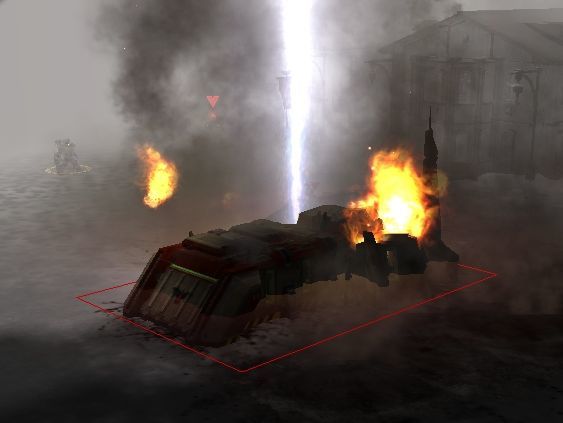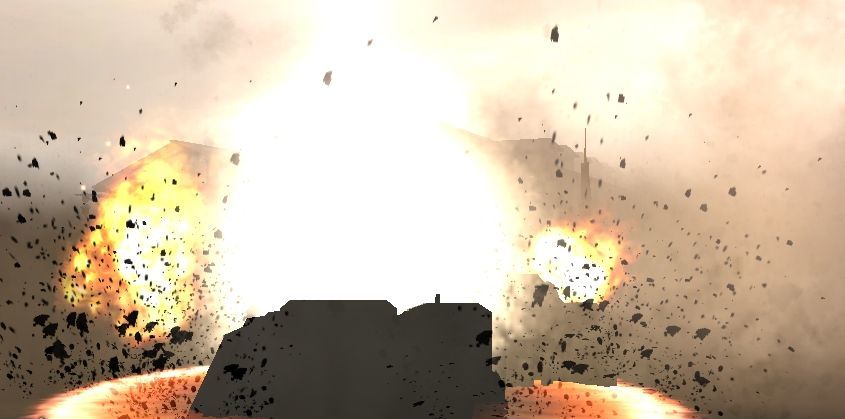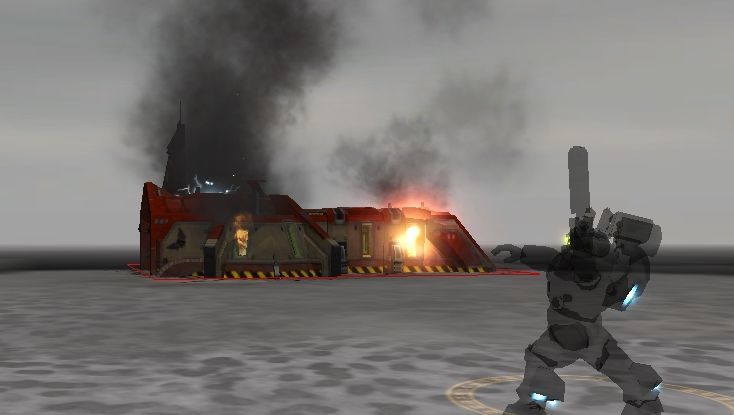 What baffles me is that Thule has neglected to build any Servitors for this map, so he won't bother fixing his command base. Shameful.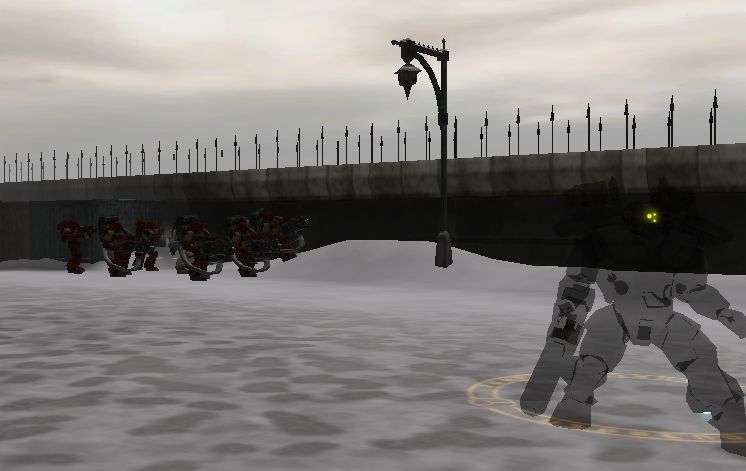 This is the best the Blood Ravens have to offer? Simply shameful.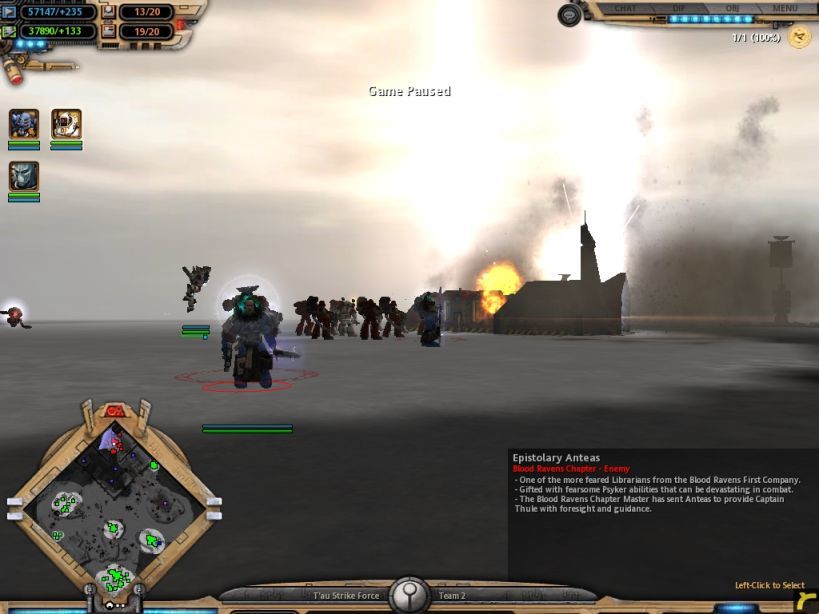 Proof that the Blood Ravens truly are into cloning: more Anteas's. I've killed one, there's a second--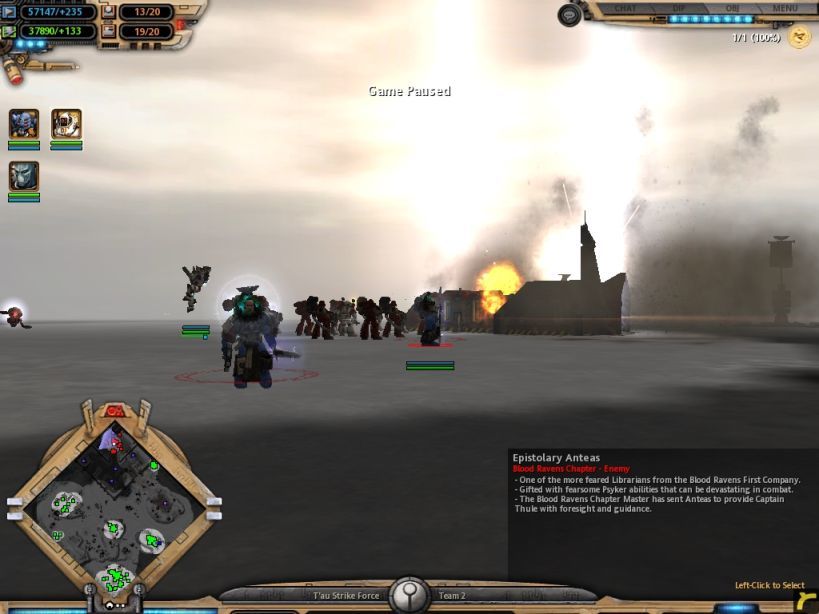 --there's a third, and behind that crowd of marines is a fourth.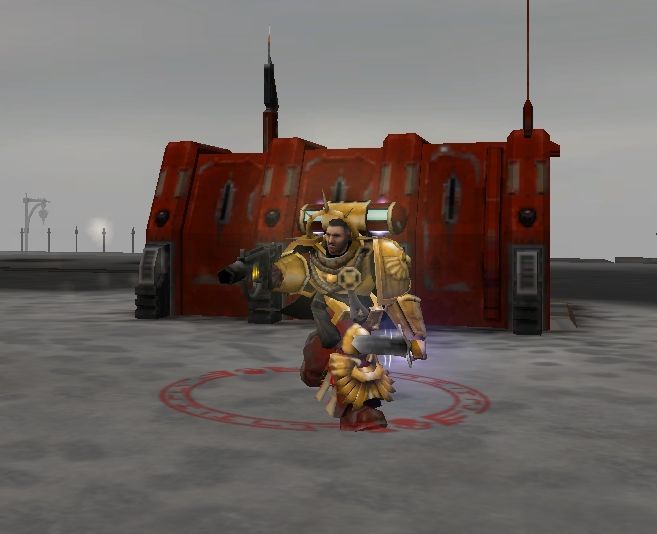 Y-you! It was you!

Oh, hey, Thule! I thought it'd be funnier to make myself known so you knew who you lost to.

W--I, I, I oughta--guh, I, you--I can't--

Well, gosh, O'Kais, looks like I lost to you fair and square!

GET HIM! KILL HIM! TEAR HIM APART! DESTROY HIM! MAKE HIM SUFFER!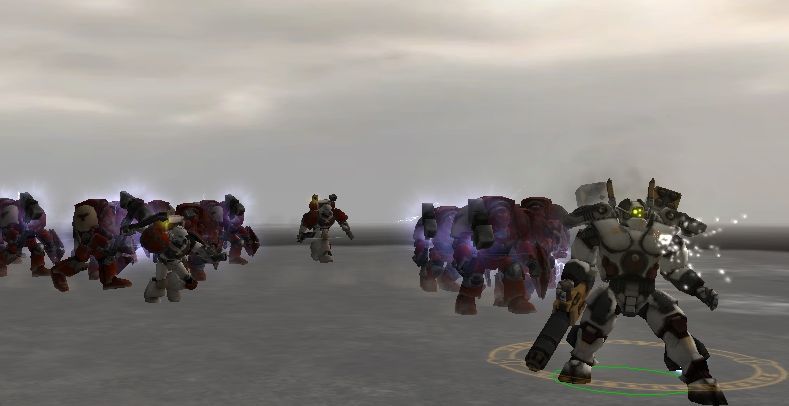 Hahahahaa!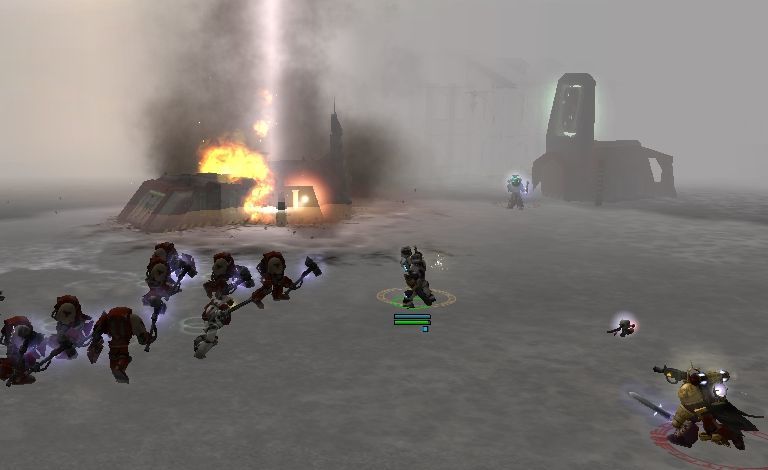 I HATE YOU, O'KAIS, I HATE YOU!!!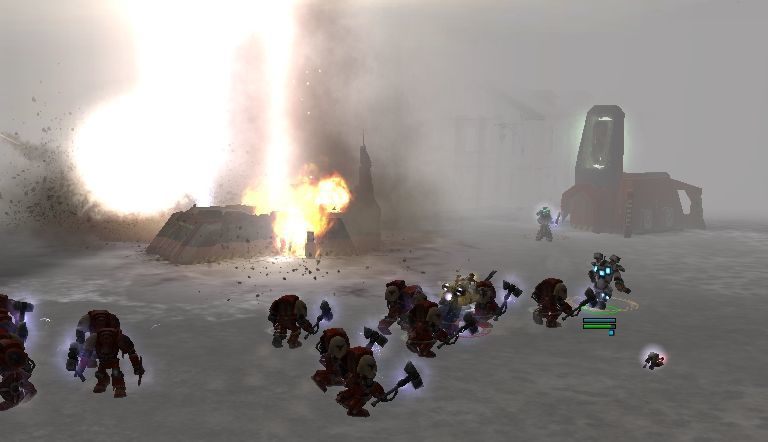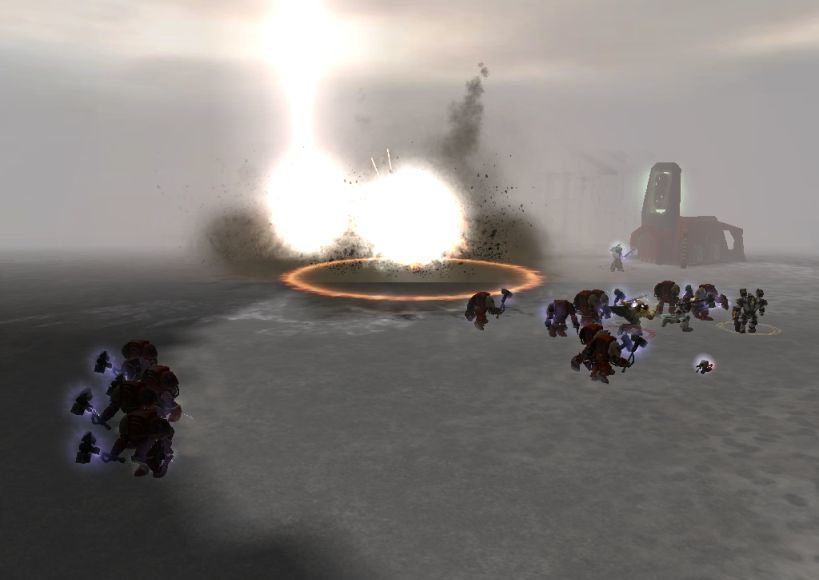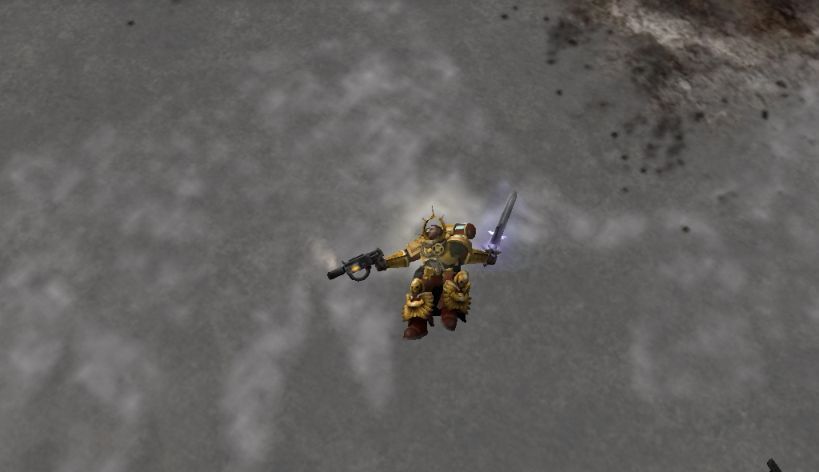 No--we, cannot fail--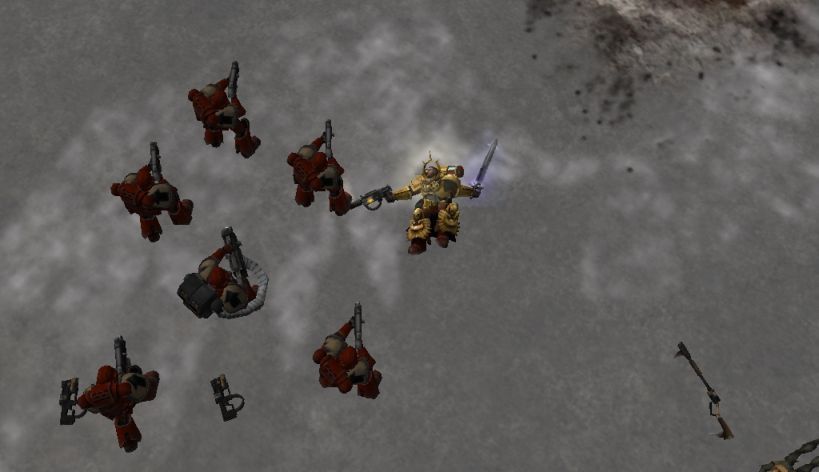 The gene-seed must be preserved.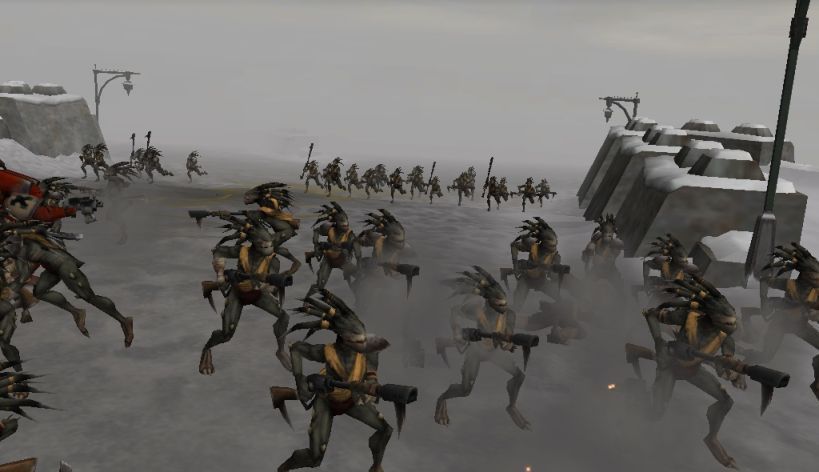 Get Captain Thule to the Thunderhawk. (We'll get him cloned back on the
Litany Of Fury
)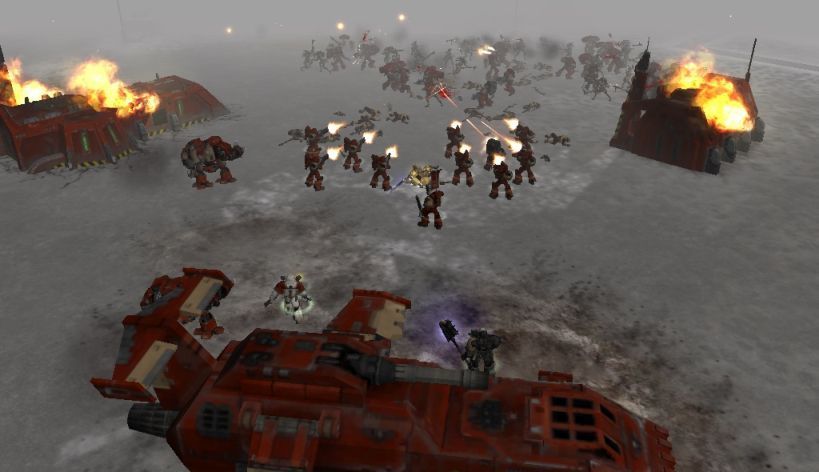 Understood.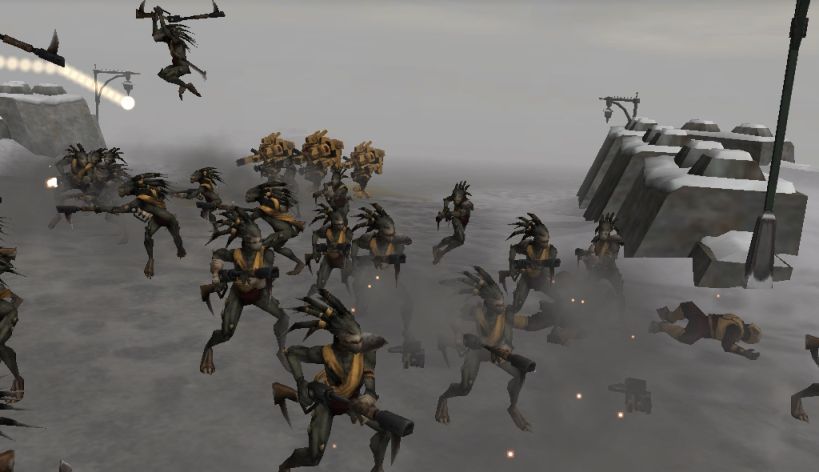 Join them, Brother Chaplain, we will cover your escape.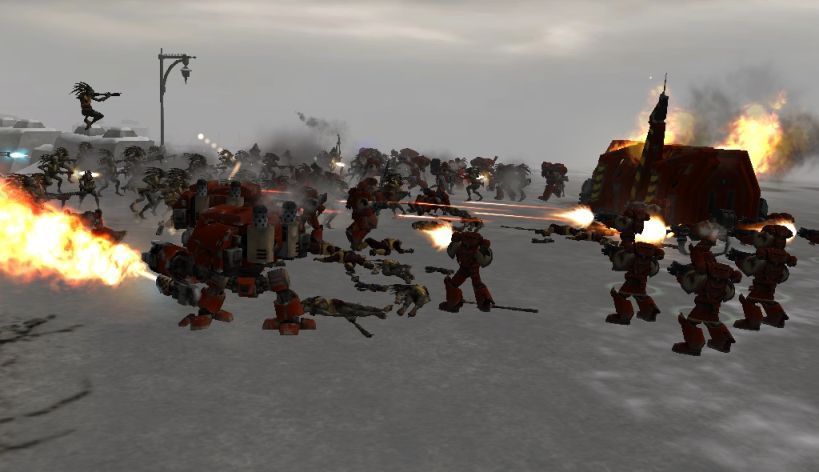 And you?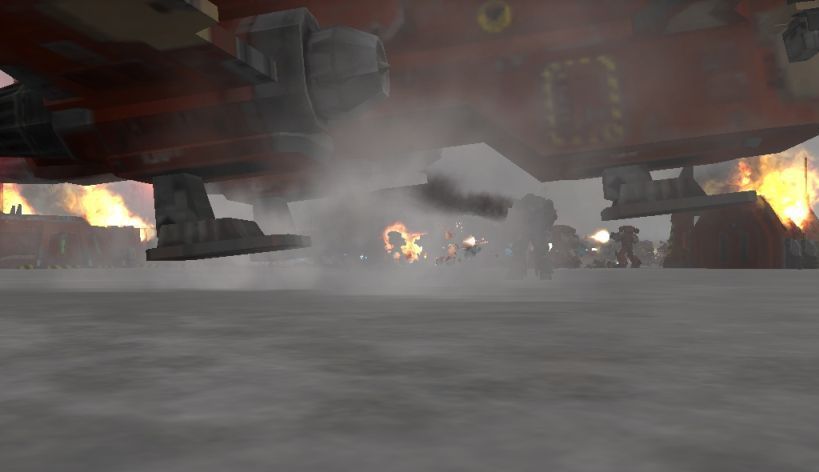 We cannot allow the enemy to claim our relics (read: stacks and stacks of poorly written erotic fan fiction). This area must be cleansed with orbital fire (lest the secret reaches the ears of the Inquisition).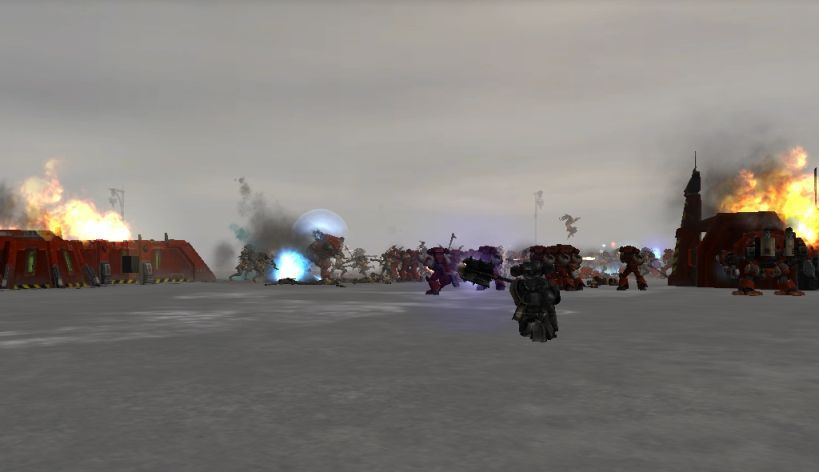 The chapter will honour you, Brother.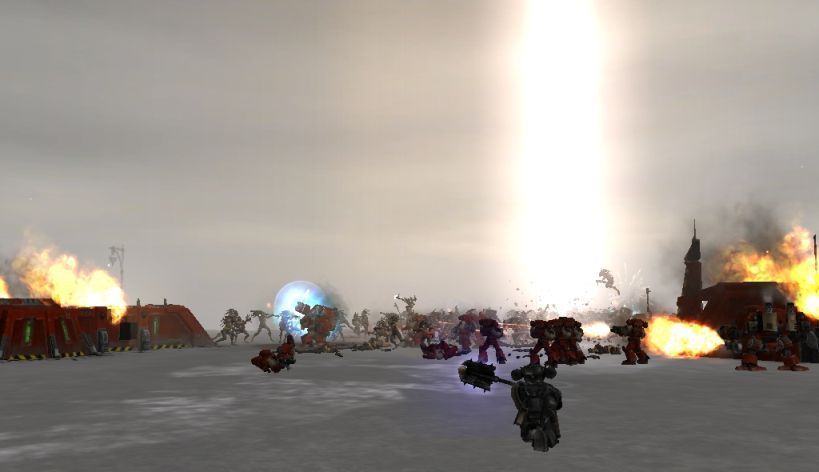 There is no honour to be had in bad erotic fan fiction, but someone must deliver the targeting beacon.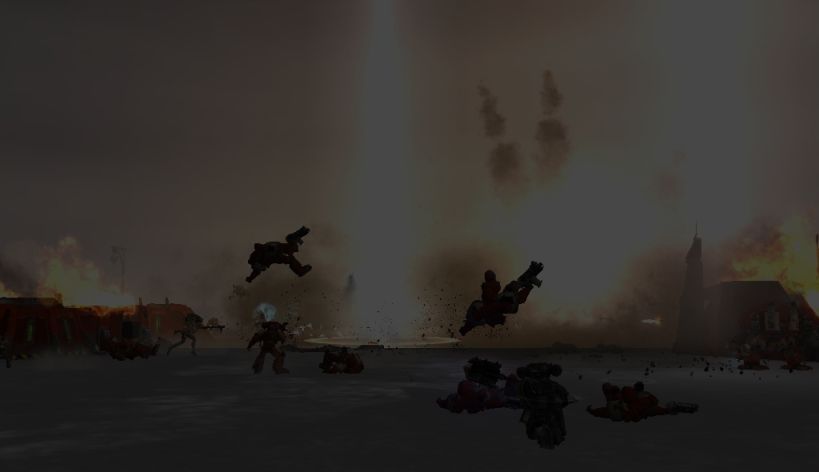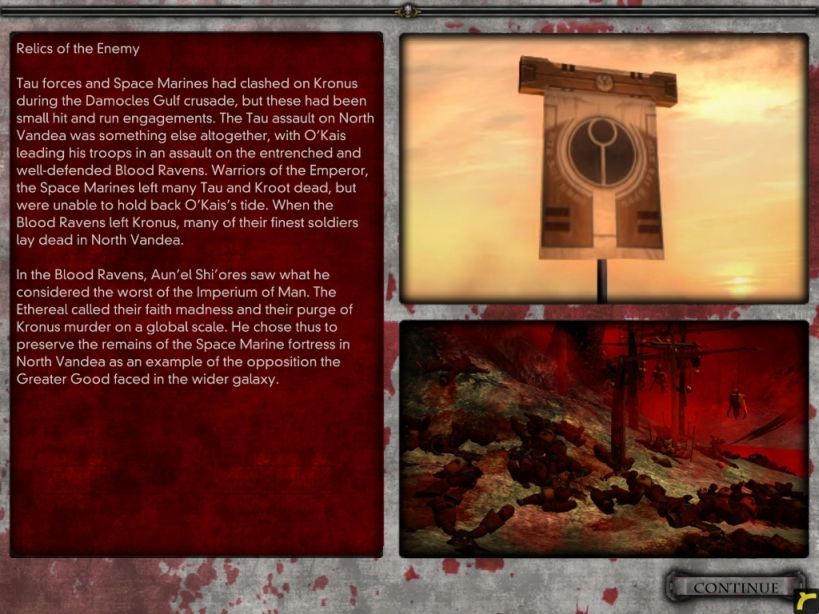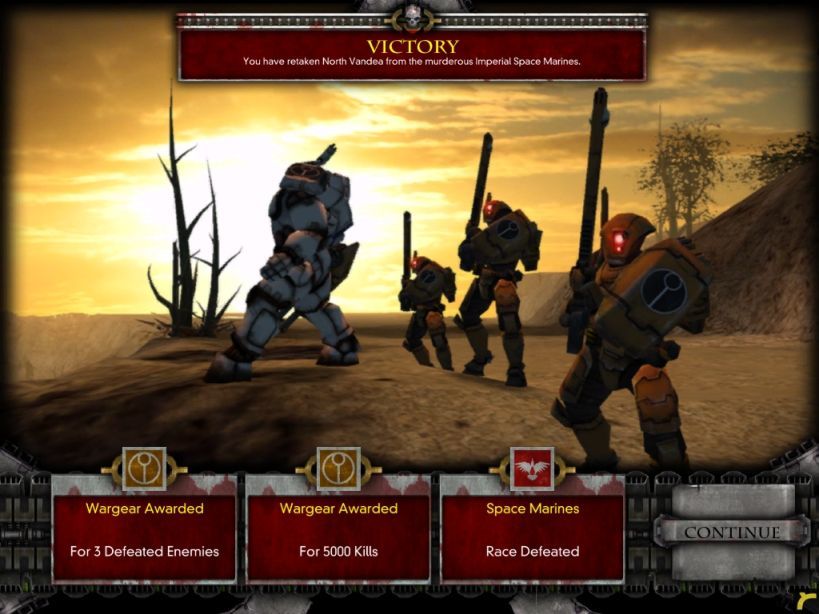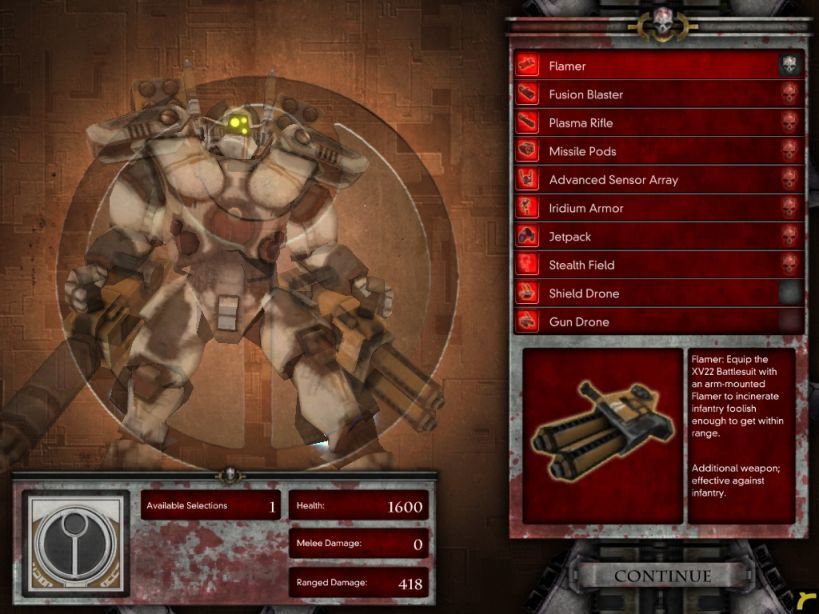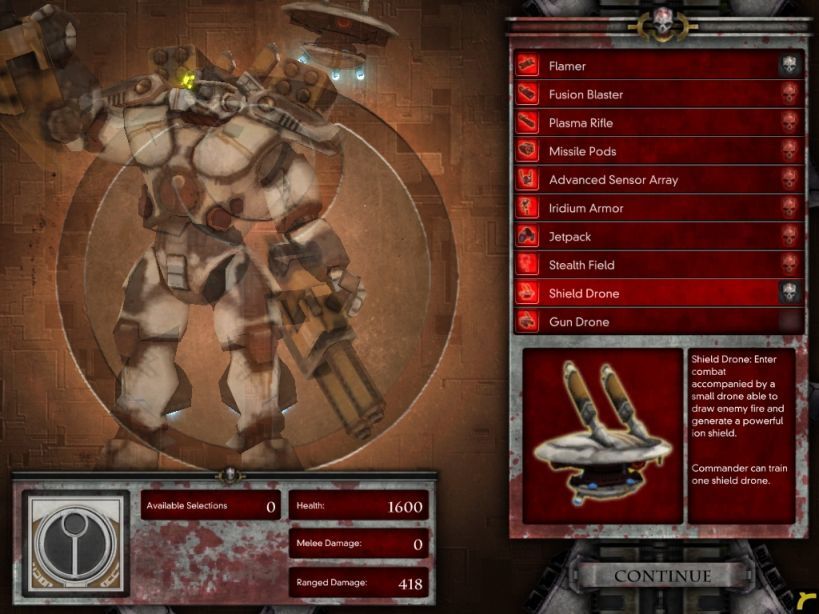 At this point, I'm more or less unstoppable.

Good work stopping Thule, O'Kais.

I thought I might miss Thule, but after learning more about the Blood Ravens, I can't say I'm upset to see him go. I mean, I know they'll just clone him later on, but at least he's off-planet. Any news on the southern front?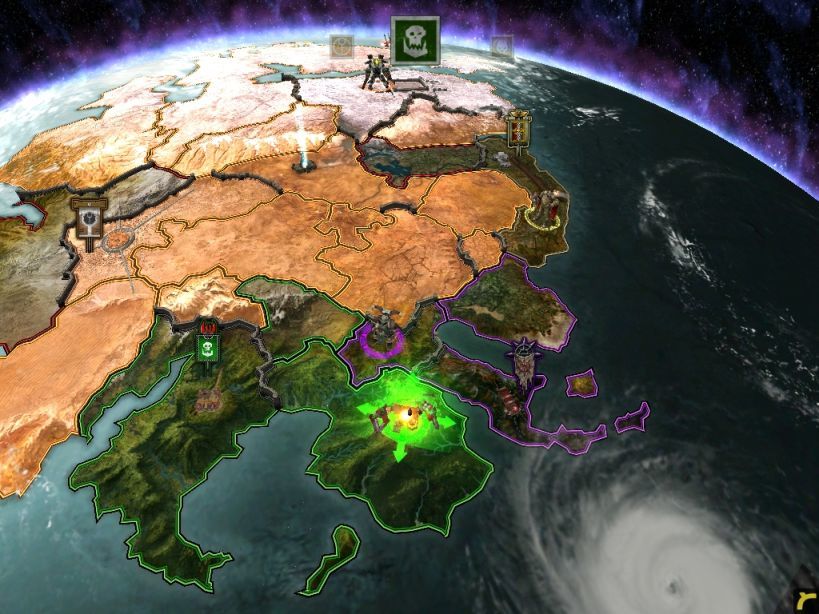 Gorgutz took territory from Chaos. He's approaching their Stronghold and could move to knock them out of the war.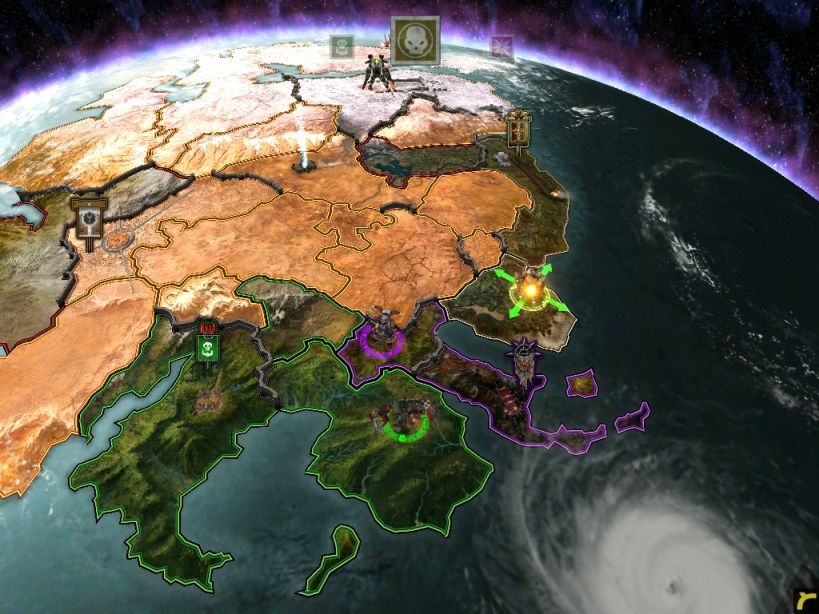 The Imperial Guards have the same idea. Chaos is rapidly being wiped off the map.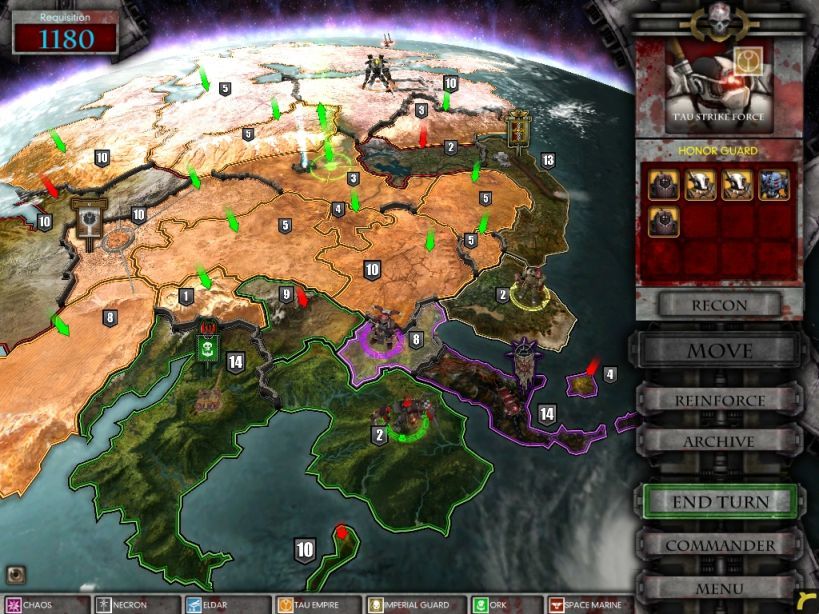 Alright, War Council, what's our next step? With our Fury upgrade, we could take Chaos out of the game before someone else does. I kinda want to complete my severed head collection: