Introduction
Mystical amulets, biological experiments, and death rays... those wacky Nazis are at it again, meddling with forces beyond human comprehension! If their experiments succeed, Nazi Germany will conquer the world. If they fail, there might not be a world left for anyone. When Nazi shit hits the occult fan, there's one man for the job... no, not Indiana Jones you fool, I'm talking about B.J. Blazkowicz!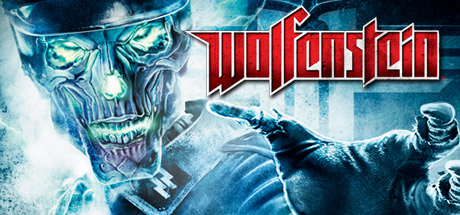 I am playing the 2009 instalment in the Wolfenstein franchise, simply titled...
Wolfenstein
. As with Quake 4, the game was made by Raven Software rather than id Software. If anyone knows how to make an old skool shoot-em-up, it's Raven!
Wolfenstein (2009) has modern conveniences (regenerating health, looking down your gun's sights) but it still has that old-fashioned shooter spirit. You have no problem carrying your entire arsenal – a mixture of real-world weapons and sci-fi ray guns – allowing you to easily commit gory carnage on numerous Nazis. You also gain access to supernatural abilities; they are not terribly imaginative, but they do spice-up the gunplay. The treasure is back too, and this time it is actually useful rather than simply for completionist bragging rights. The weapon upgrade system is a particularly impressive aspect of the game, as each weapon has numerous modifications that alters its performance and sometimes adds new features; most of them also result in visible changes to your gun's appearance.
History of the Wolfenstein franchise
The first to bear the name was actually
Castle Wolfenstein
, made by Muse Software and released in 1981. It was an 8-bit top-down stealth game, a sort of precursor to Metal Gear. In 1992 id software released
Wolfenstein 3D
. You ran around collecting guns, ammo and treasure, with the unique hook that you played as its protagonist Blazkowicz from a first-person perspective. The crude story involved Nazis creating mutant super-soldiers, and it featured Adolf Hitler himself in a boss battle. A few months later they released a sequel/prequel level pack, named
Spear of Destiny
, and there was also bunch of extra episodes and expansions and re-releases over the years. Wolfenstein 3D was the prototype FPS game, and it changed the face of gaming forever.
In 2001 id Software rebooted the franchise with
Return to Castle Wolfenstein
, a remake/re-imagining of Wolfenstein 3D featuring exciting Nazi-shooting action, some stealth missions, and a mixture of sci-fi technology, magic and zombies in the midst of a convincing WW2 setting. Despite the fantastical elements, the game started a fad for "realistic" WW2 shooters.
Raven's 2009 instalment of Wolfenstein is explicitly a sequel to Return to Castle Wolfenstein; there's no need play the previous game as the Nazis have an entirely new scheme, but if you are curious then I recommend kefkafloyd's excellent LP, easily accessible in the LP archives
http://lparchive.org/Return-to-Castle-Wolfenstein/
.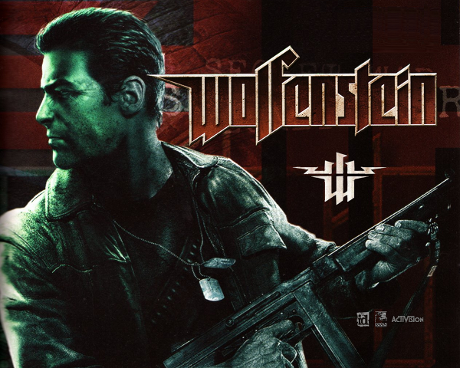 The Retrostein mod
It turns out that Wolfenstein 2009 is actually surprisingly easy, even on the hardest difficulty setting. The enemies have literally half as much health as they did in Return to Castle Wolfenstein and very slow reaction times, presumably because the game has been balanced for a console controller rather than a keyboard and mouse, and also because the game is designed to appeal to a new generation of more "casual" gamers rather than the grizzled veterans who played the previous games in the franchise.
It also seems that the developers assumed that many players would not be bothered to collect more than half of the collectibles and so would only be able to afford a few weapon upgrades; finding all the collectibles and buying everything causes the game to have a reverse difficulty curve and for the middle of the game to actually be easier than the beginning of the game.
This became clear by the 7th episode of the LP, and so from the 8th episode onwards I started to modify the game to boost the challenge of the game to something closer to Return to Castle Wolfenstein. The mod had a very positive response and so by popular demand I have formally released it to the public:
http://www.moddb.com/mods/retrostein
Videos
EPISODE ZERO: The previous adventures of B.J. Blazkowicz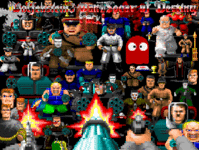 Youtube
Blip
EPISODE ONE: FYI I am a spy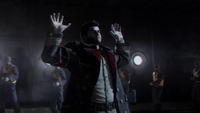 Youtube
Blip
EPISODE TWO: Anton and Stefan are jerks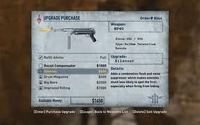 Youtube
Blip
EPISODE THREE: Pulling the Veil over your eyes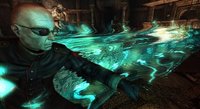 Youtube
Blip
EPISODE FOUR: The thief of Isenstadt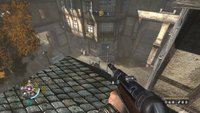 Youtube
Blip
EPISODE FIVE: Control Experiment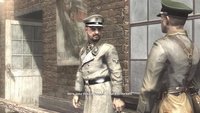 Youtube
Blip
EPISODE SIX: Raygun Gothic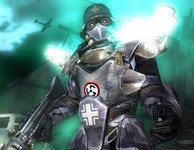 Youtube
Blip
EPISODE SEVEN: Guten tag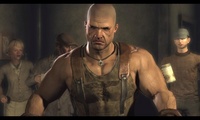 Youtube
Blip
EPISODE EIGHT: Turquoise Pastures of the SS
Note: from this point onwards I am using my difficulty-enhancing "Retrostein" mod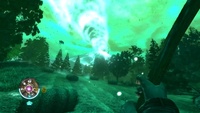 Youtube
Blip
EPISODE NINE: Black Farm Research Facility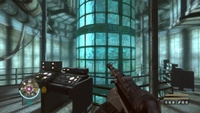 Youtube
Blip
EPISODE TEN: Pyjama Party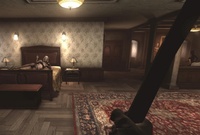 Youtube
Blip
EPISODE ELEVEN: Medical Malpractice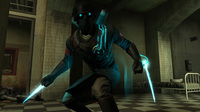 Youtube
Blip
EPISODE TWELVE: Shock Therapy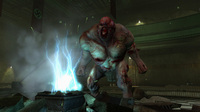 Youtube
Blip
EPISODE THIRTEEN: Sassy SS Assassinesses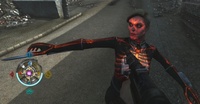 Youtube
Blip
EPISODE FOURTEEN: Nazi Flambé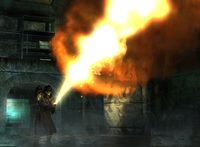 Youtube
Blip
EPISODE FIFTEEN: ZETTA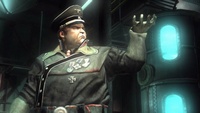 Youtube
Blip
EPISODE SIXTEEN: There goes the neighbourhood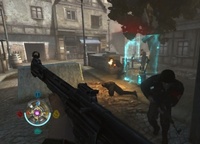 Youtube
Blip
EPISODE SEVENTEEN: Downtown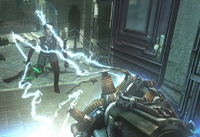 Youtube
Blip
EPISODE EIGHTEEN: Castle CORPSEFIST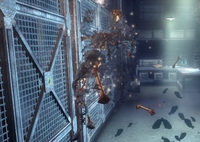 Youtube
Blip
EPISODE NINETEEN: Giant Space Flea From Nowhere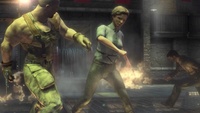 Youtube
Blip
EPISODE TWENTY: Move aside DJ, here comes BJ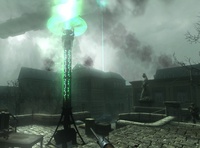 Youtube
Blip
EPISODE TWENTY ONE: Flesh-Melting Forcefield of Doom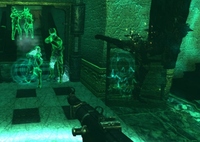 Youtube
Blip
EPISODE TWENTY TWO: The Girl in the Bubble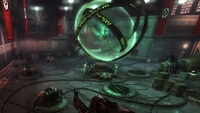 Youtube
Blip
EPISODE TWENTY THREE: Hail Hydra!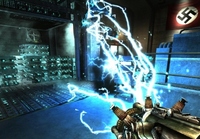 Youtube
Blip
EPISODE TWENTY FOUR: Badyear Blimp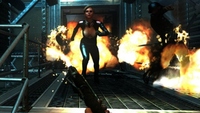 Youtube
Blip
EPISODE TWENTY FIVE: The Final Showdown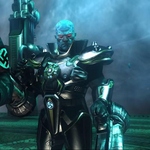 Youtube
Blip
BONUS: Cheat Mode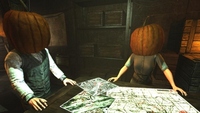 Youtube
Blip
Fan Art
After extensively studying the artefacts of the ancient civilisation, the Nazis have pinpointed the date that they will conquer the world...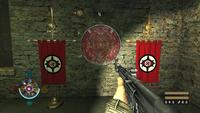 (by Edminster)
Important safety notice: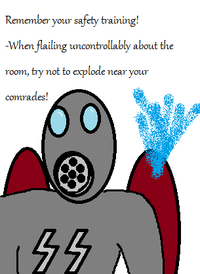 (by thiswayliesmadness)
This sums up the entirety of my LP: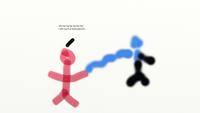 (by Samizdata)
A card guaranteed to capture the heart of a Nazi killer: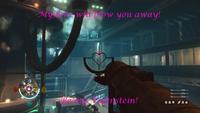 Alternatives: "My love for you is like a rocket to the face", "Sending you my love... With stabilizer fins" or "You are the Black Sun of my heart!"
(by Jolan)