Part 10: X-COM SOLDIER BRIEFING TWO - SQUADDIE CLEARANCE LEVEL
Chapter 11: Seasons, The Wind, The Sun, The Rain, X-COM Soldiers. One Of These Doesn't Belong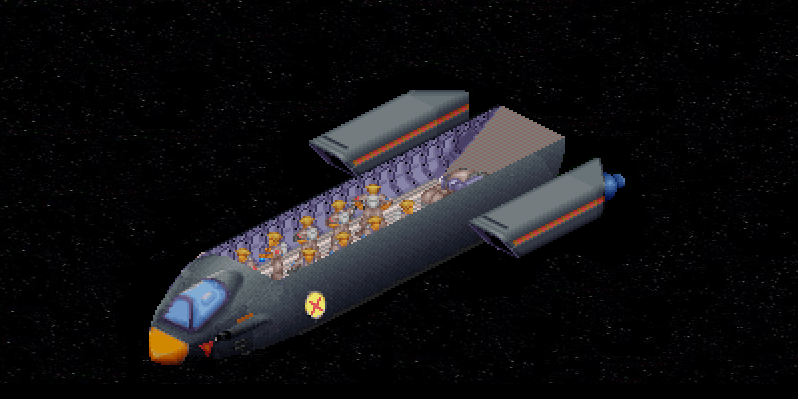 Keyboard Fox: I can see out the window, we're over a huge body of water now. Where are we going?
Otto Zander: We lost track of that enormous UFO hours ago, I have no idea.
Some New Guy: Any chance you could fill us in yet Captain?
Anticheese: I know as much as you do. We'll going to have to wait for orders from Ulysses.
*
A short time later
*
Ulysses:
Okay troops, initial reports are coming in, and it doesn't sound good. The UFO you've been following has landed near the city of Tokyo in Japan.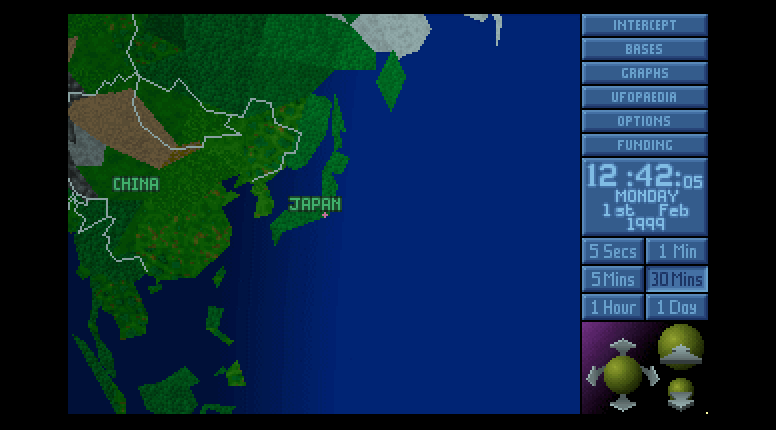 Ulysses:
The reports say the aliens are attacking civilians. Openly.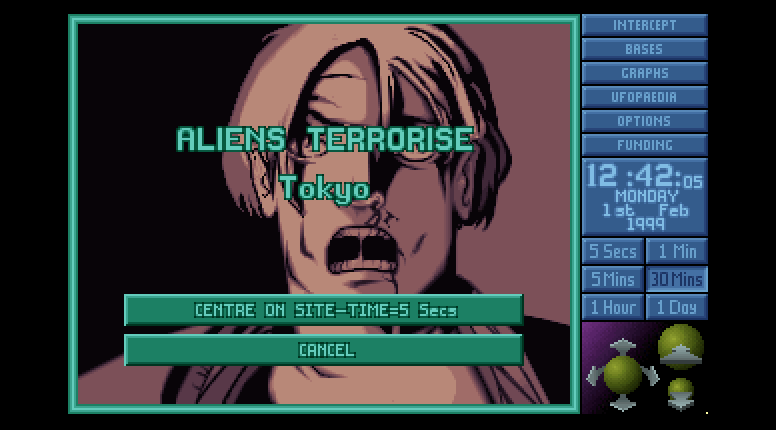 Ulysses:
We suspect this to be some kind of retaliatory attack for the UFOs we shot down last month. I don't know what you'll expect to find down there, but remember that your mission is to kill or incapacitate all aliens. Tell all civilians encountered to hide and or leave the area. If there are any civilians who refuse to follow your orders, remember that since X-COM does not officially exist, you are not bound by any sort of...conventions.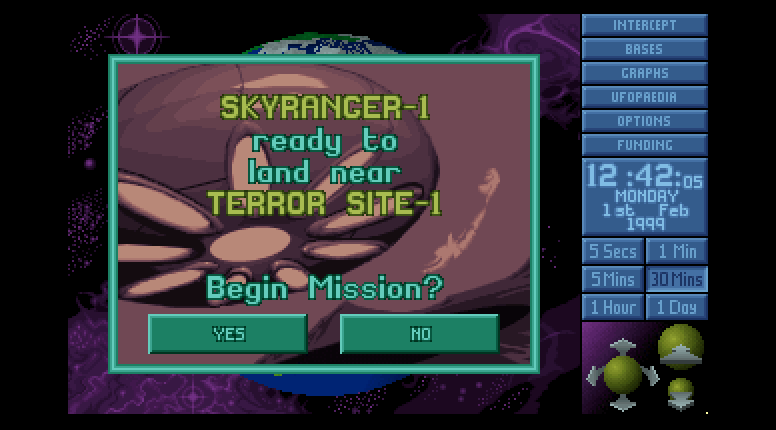 Ulysses:
Good luck, I'll be watching and trying to help as best as I can from the base.
code:
UFO 6/Terror Mission 1 - Tokyo, Japan
Waddle Dee operating the tank
Otto Zander, Sugary, Eddy-Baby, Anticheese, Terashell, Blackray Mr. Peepers, Some New Guy, Keyboard Fox, Synth attending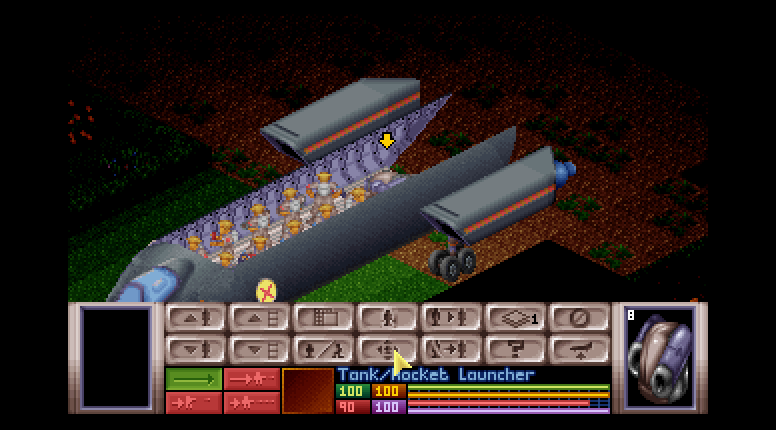 Waddle Dee: Jesus, we landed in a public park. There're buildings all around. I'm not sure I'm comfortable shooting rockets all willy-nilly.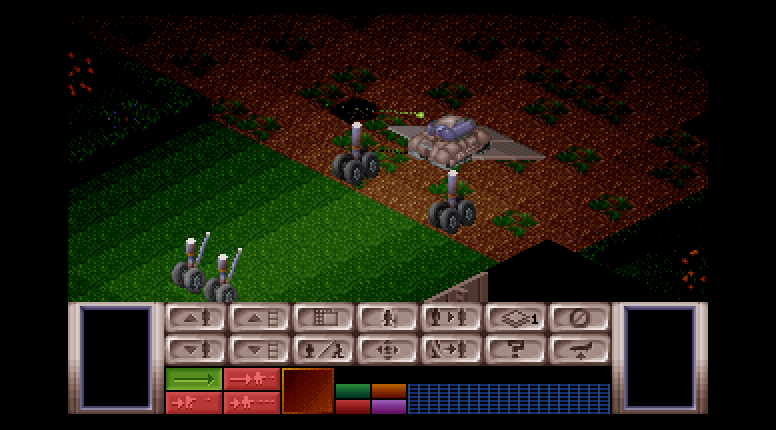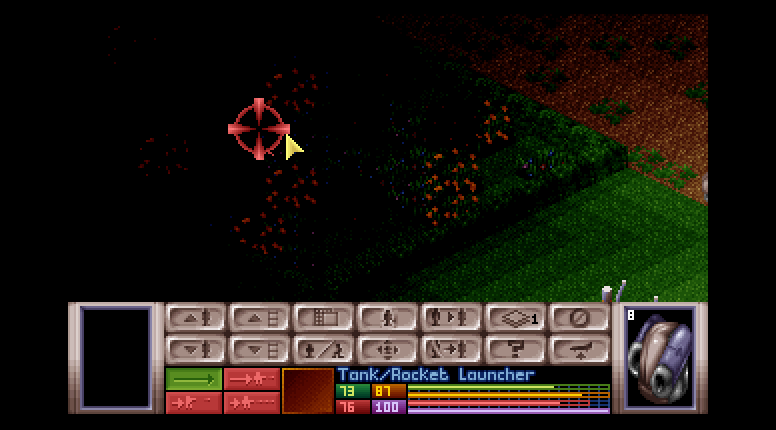 Waddle Dee: Scratch that, this thing is going to die.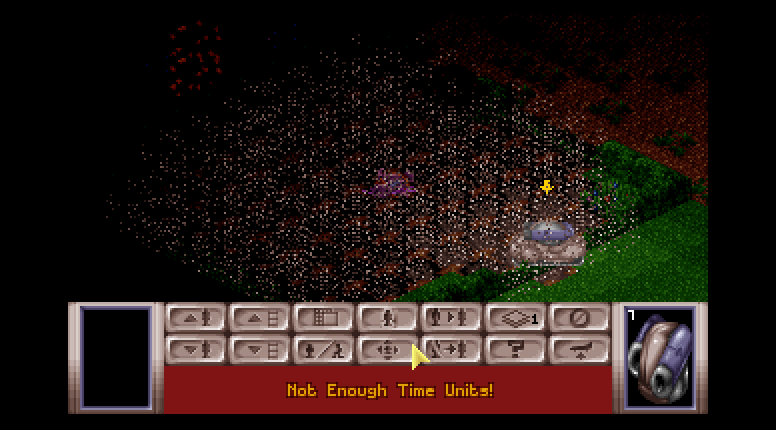 Waddle Dee: Floaters. We got Floaters!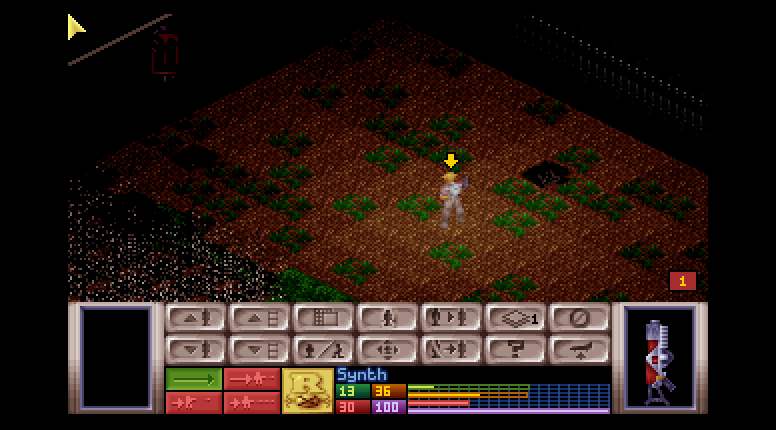 Synth: There's one over by this gas station, but it's hard to see. The power's out to most of the area!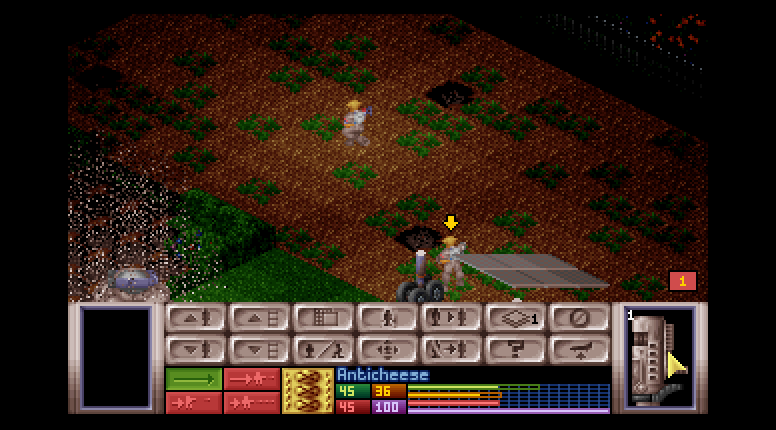 Anticheese: Then let's light it up.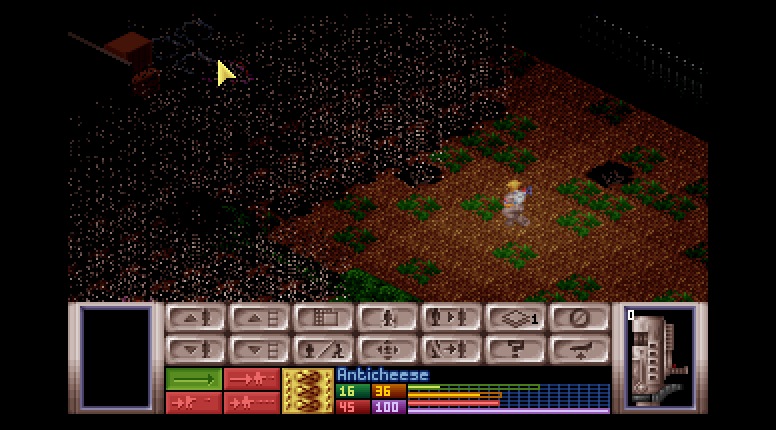 Anticheese: Clear?

Synth: Clear. I'll go check out this gas station.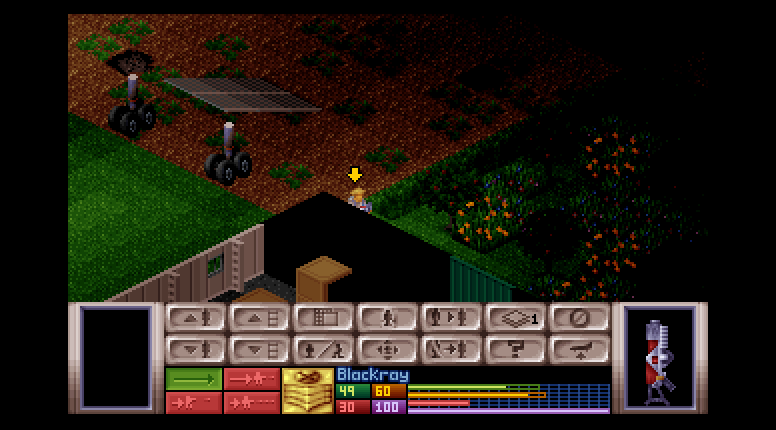 Blackray: I heard sounds coming from this warehouse.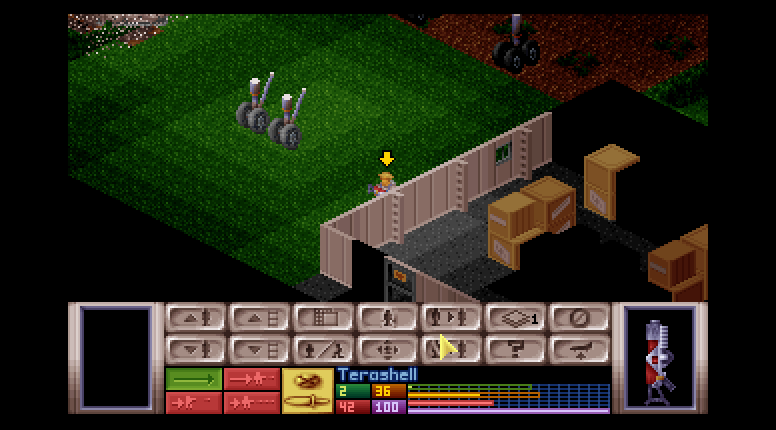 Terashell: I'll flank it with you Blackie.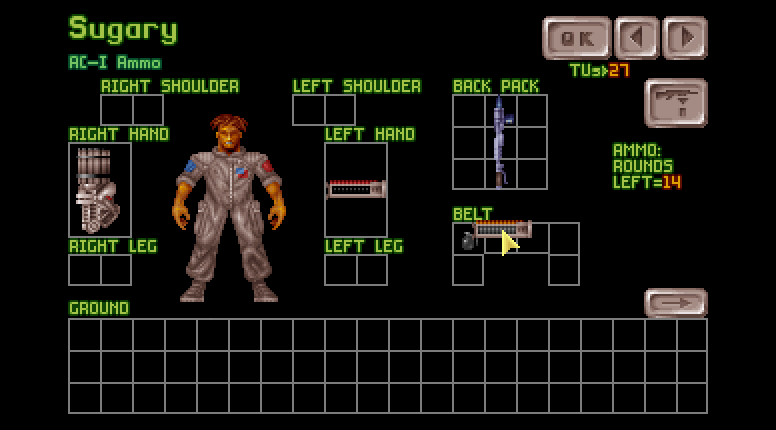 Sugary: Didn't that autopsy report say these things can see better in the dark than us? What a perfect time to bust out the incendiary ammo!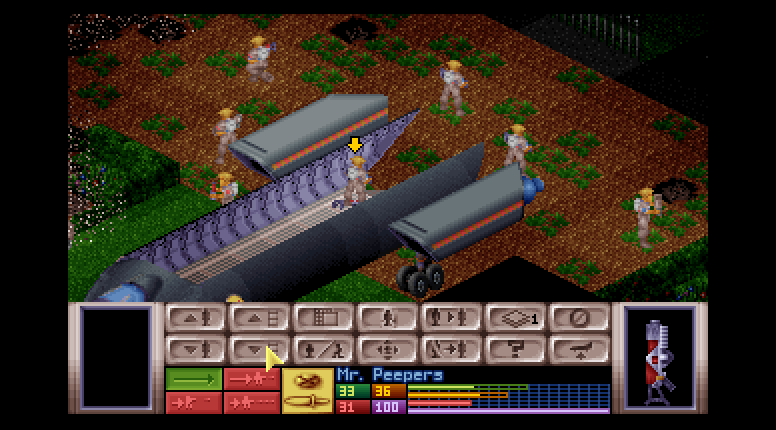 Mr. Peepers: I think there's one way out in the park...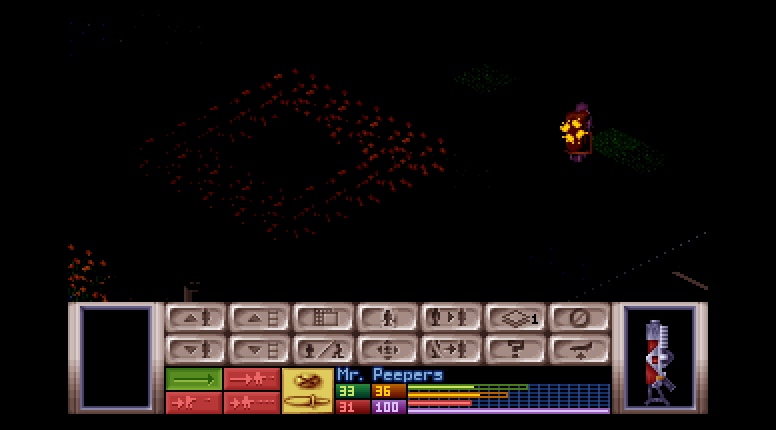 Mr. Peepers: Got it! Like fish in a barrel!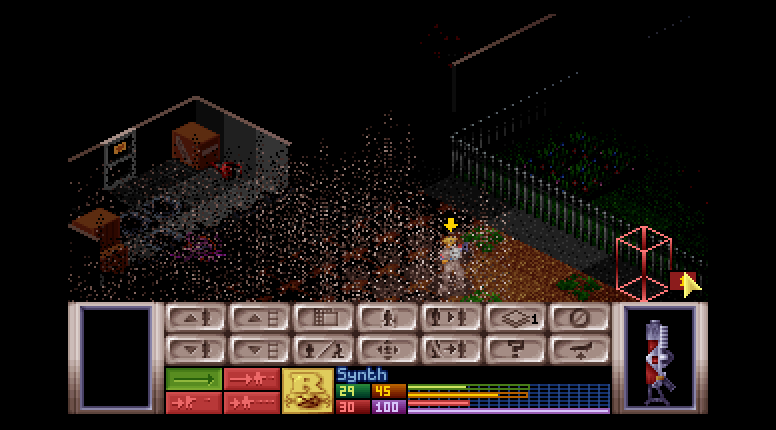 Synth: Approaching the gas station. I see lights in the distance. And I think I heard something...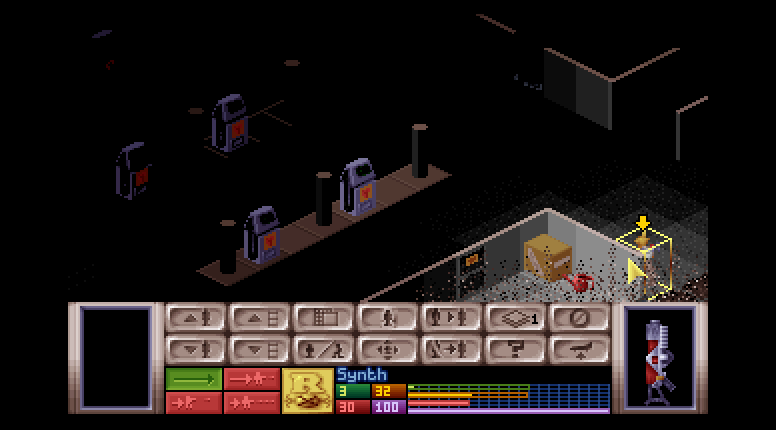 Ulysses:Synth, I'm watching through your head-mounted cam now.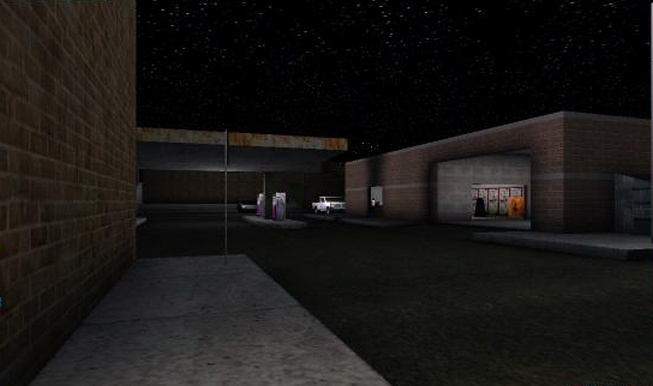 Ulysses: Can you move away from the wall a bit?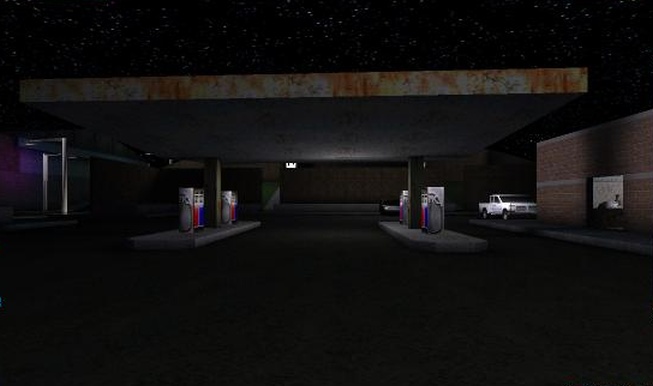 Synth: Just a gas station.

Ulysses: There's something lit in the distance though. Bring out one of your hovercams.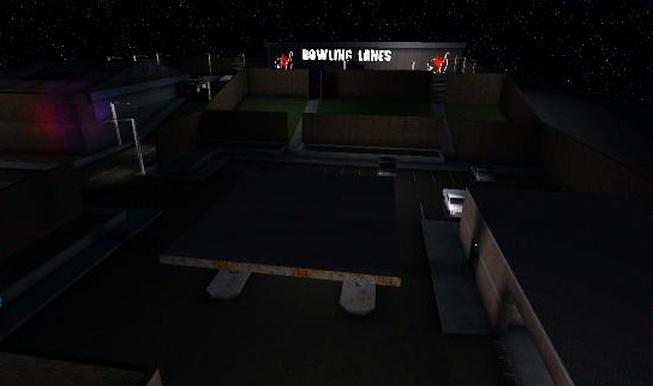 Synth: There's a bowling alley past the gas station. There are still lights on in the parking lot. I'll send in the cam to and scout it.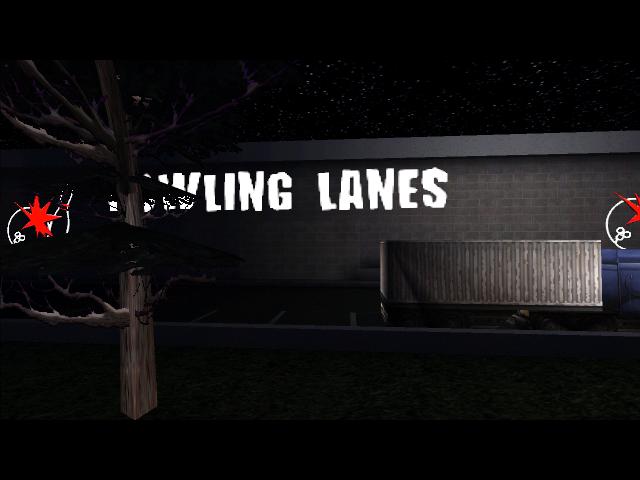 Synth: No sight of anything alive around.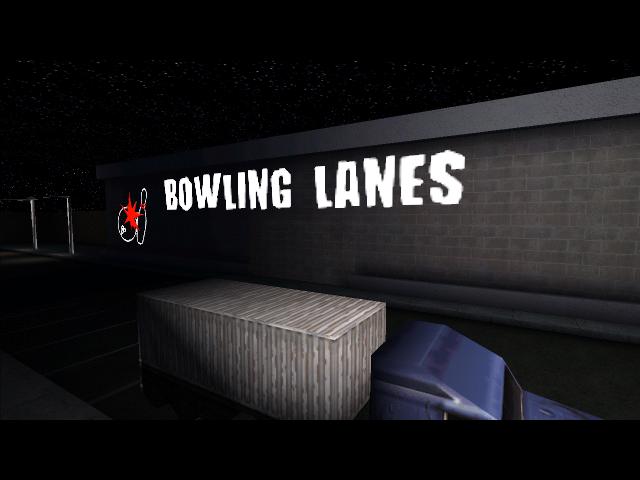 Synth: I'm still hearing that weird sound though. Sounds...big.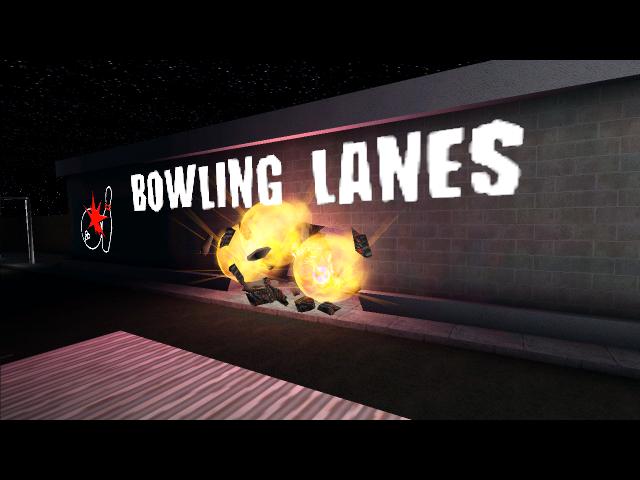 Synth: Whoa!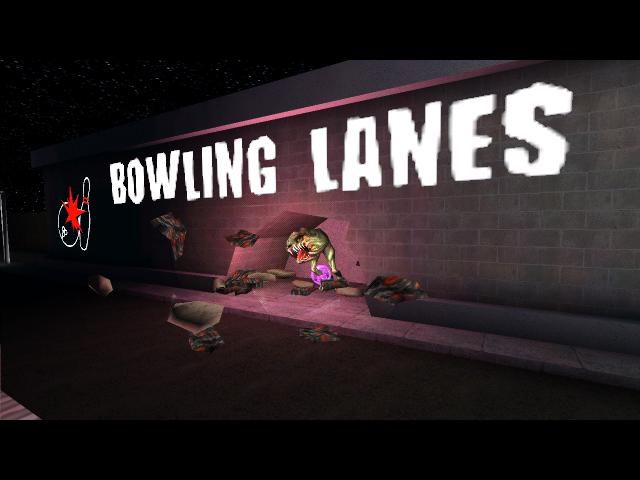 Synth: What...the...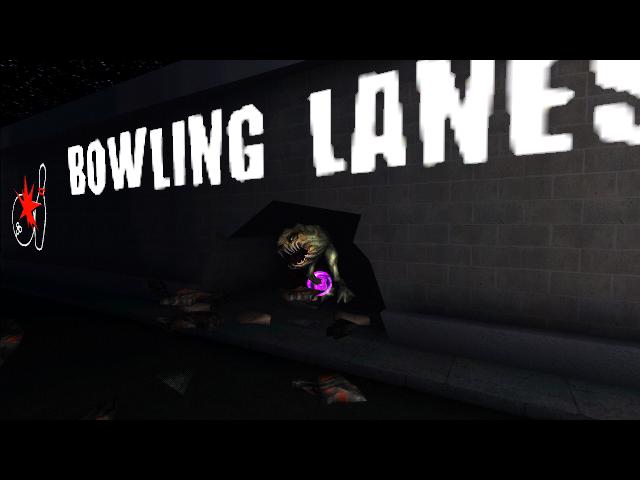 Synth: I think we have a problem...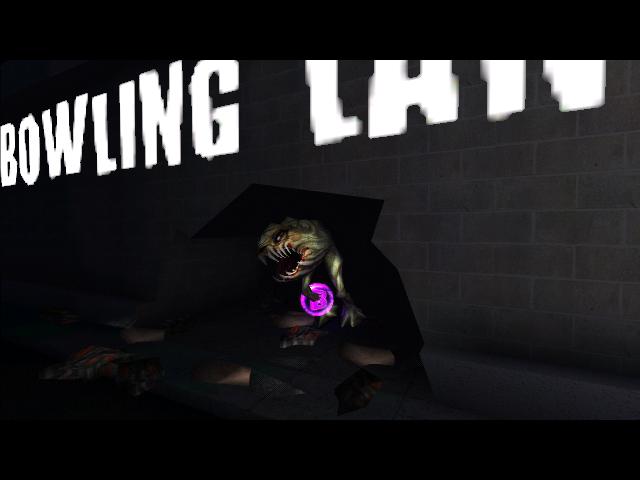 Synth: I THINK WE HAVE A PROBLEM!!!!

Ulysses: Can you describe the creature?

Synth: JESUS IT'S HUGE! AND FAST! IT'S COMING MY WAY! And it has a purple "B" for a leg.

Ulysses: Shoot the gas tanks!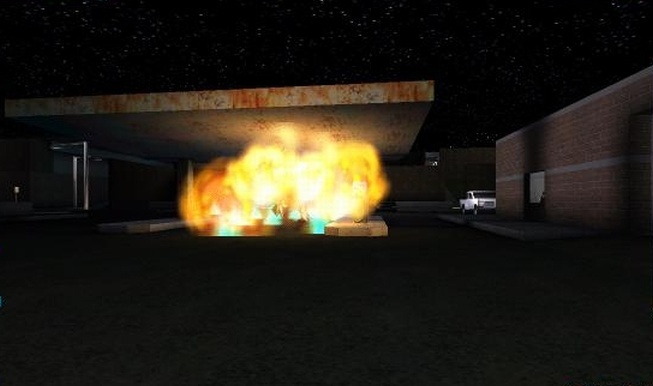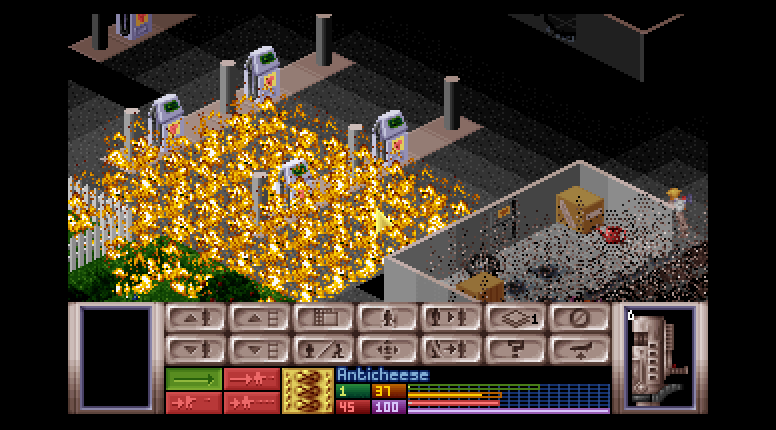 Synth: THE FIRE'S NOT SLOWING IT DOWN.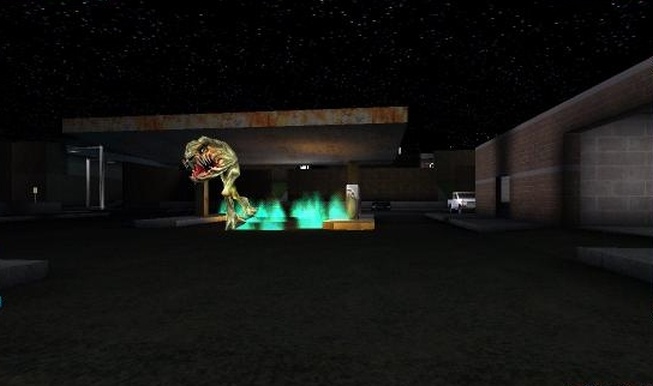 Synth: LASERS HAVE NO EFFECT.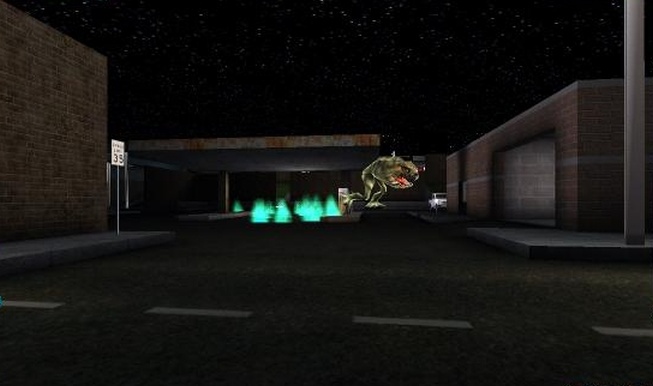 Synth: BACKUP! HELP ME!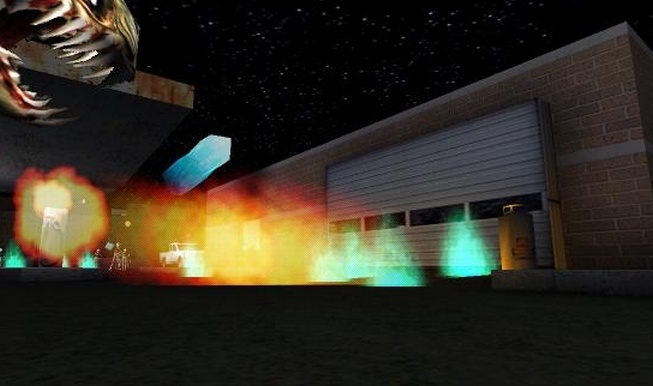 Ulysses: Synth! RUN. Get out of there ASAP!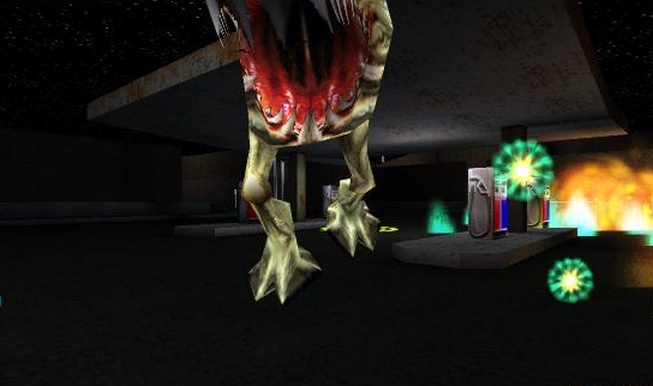 Synth: HOLY FUCKING-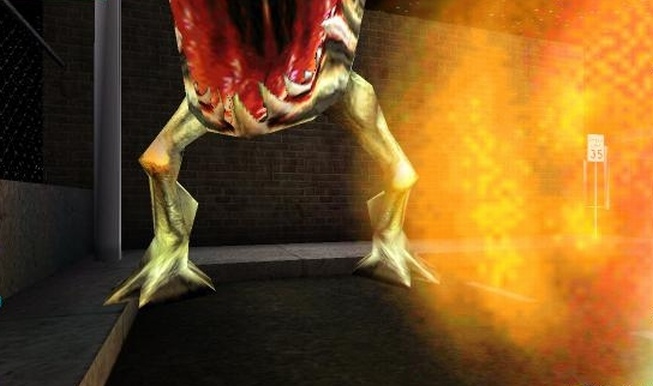 Synth: I CAN'T!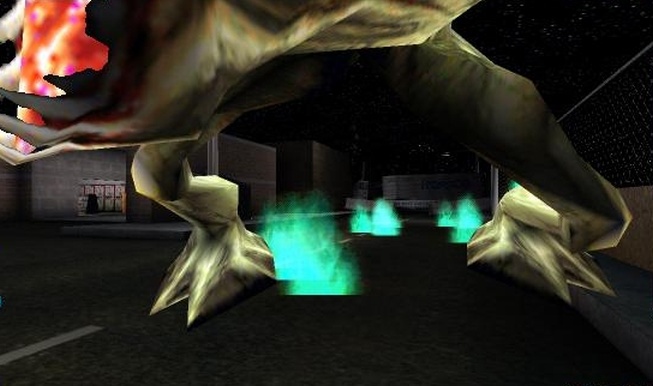 Synth: NOOOOO!!!!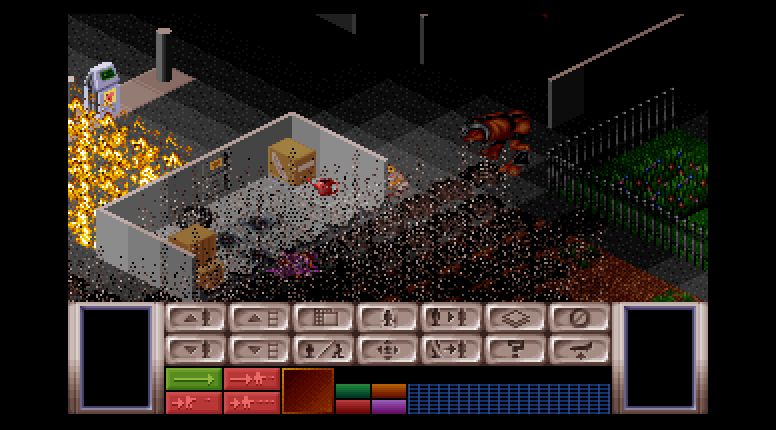 Ulysses: That thing just...ate...my God. Soldiers! Stick together everyone, watch out for that monster!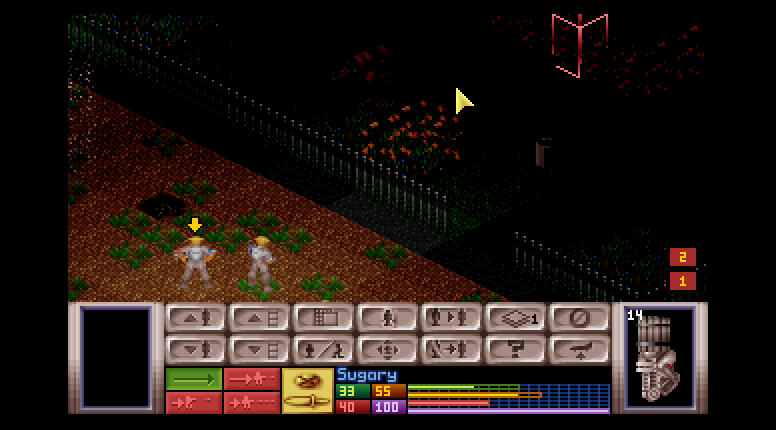 Sugary: Dammit, there's one in the park here!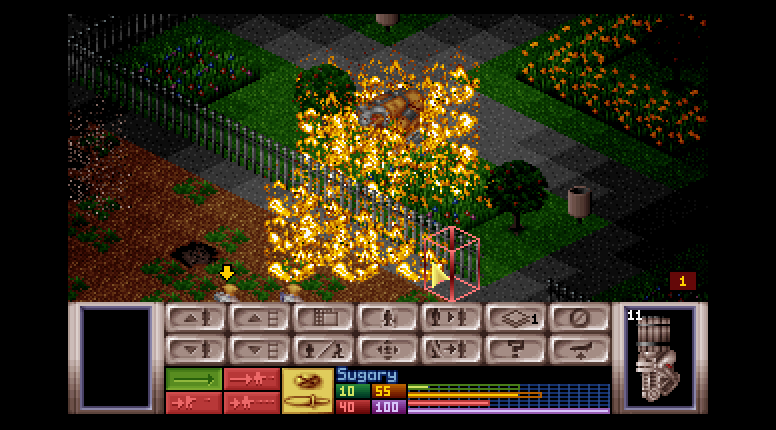 Sugary: God damn it! The thing's on fire and it's not slowing down!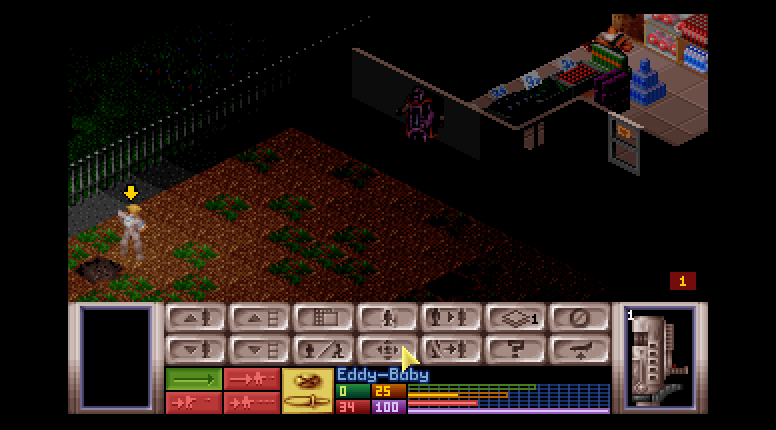 Eddy-Baby: There are still floaters around! Kill anything that moves!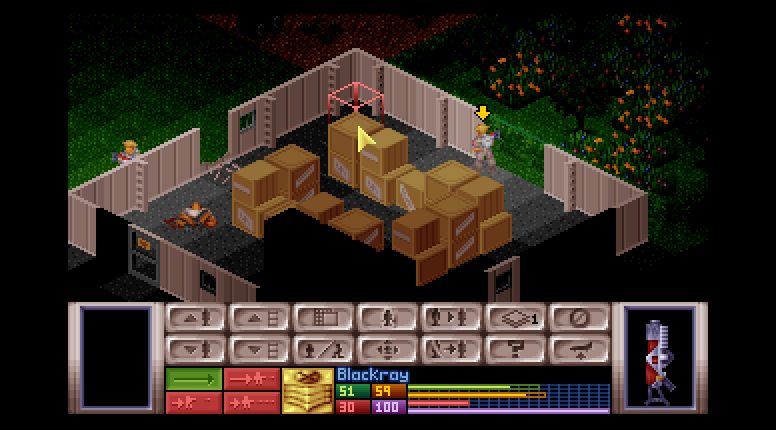 Blackray: That may not be the best idea. I heard something familiar in here.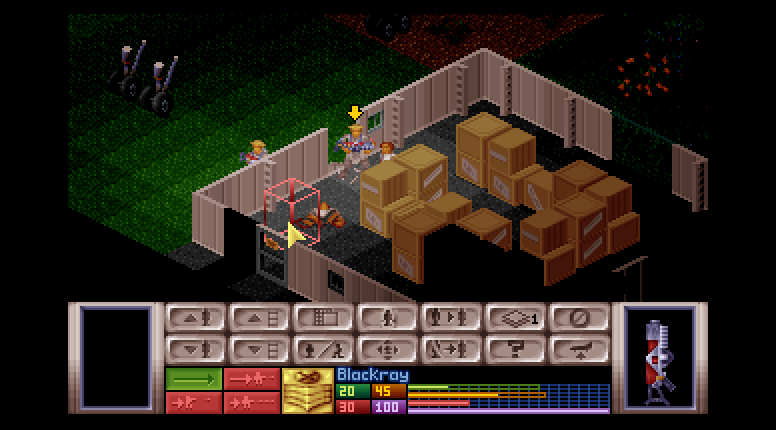 Blackray: Civilian! What happened here?

Civilian: ?????? ???? ????? ????? ?????

Blackray: You speak English?

Civilian: Me ah...no...bat man...ovar dare.

Blackray: Terashell? You want to go find this bad man?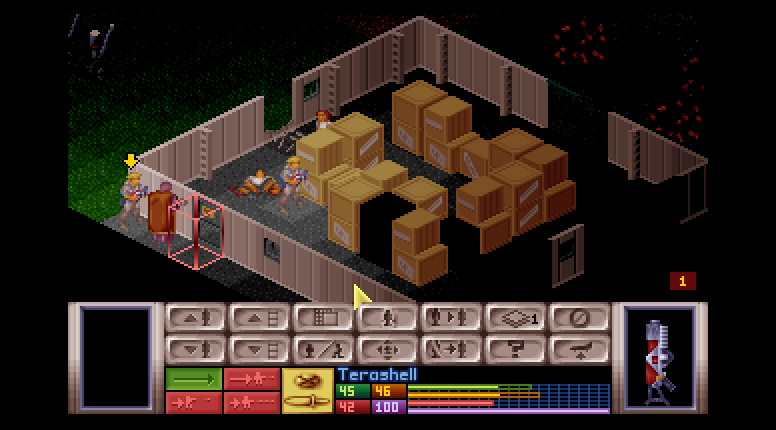 Terashell: Hey fucker, y'know alleys around here can be dangerous..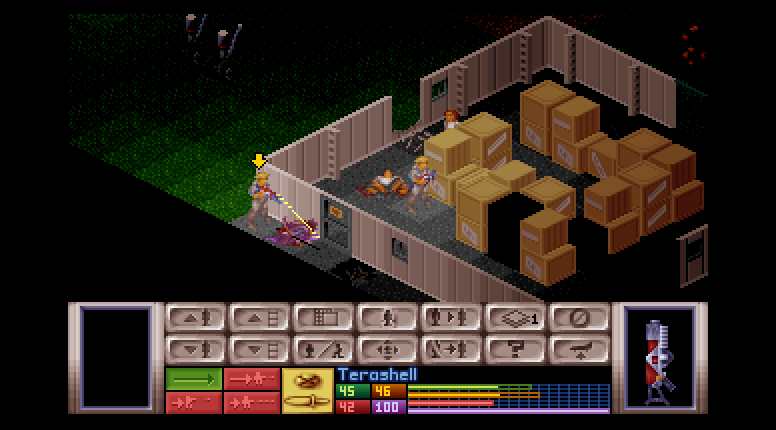 Terashell: Mostly because of me. HA!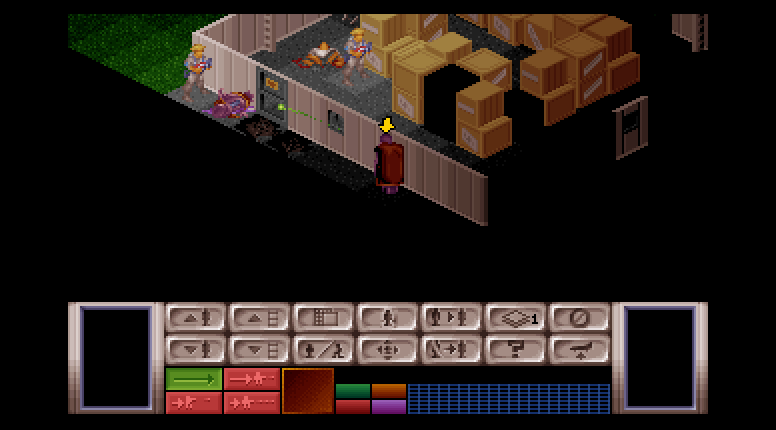 Terashell: You do NOT shoot that green shit at me, motherfucker!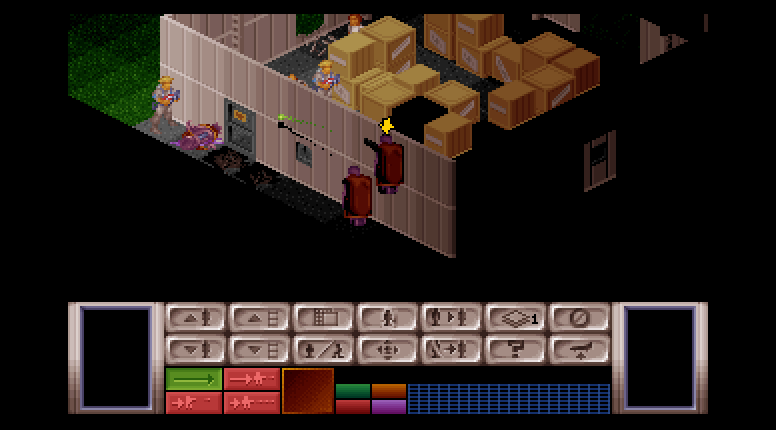 Terashell: GODDAMNIT I NEED FUCKING BACKUP OUT HERE YOU SLACKASS COCKJOCKEYS!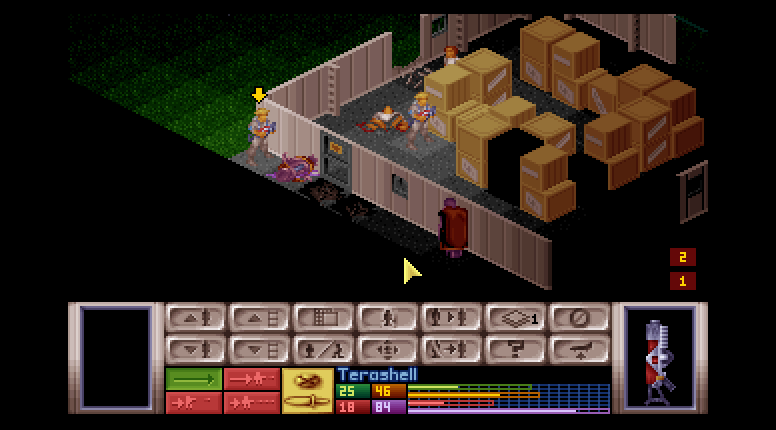 Terashell: Jesus fuck! That green shit hurts... I gotta get to some cover... Where in the 9 bowels of hell is the rest of my goddamn squad?!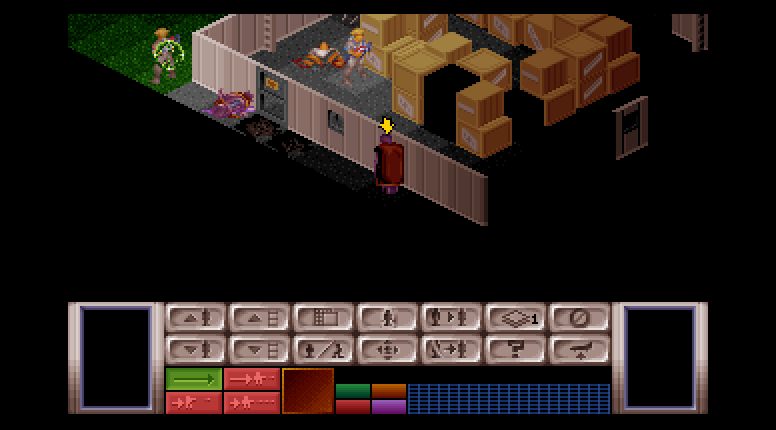 Terashell: GAFUCK!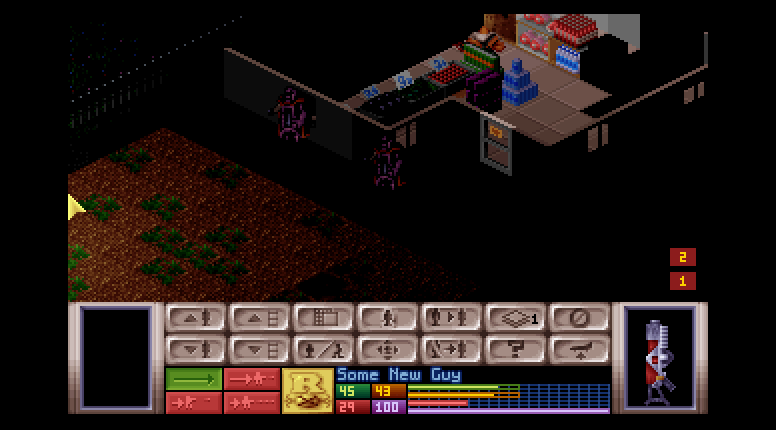 Some New Guy: WHEEE! I see two of them! I see a lot of things...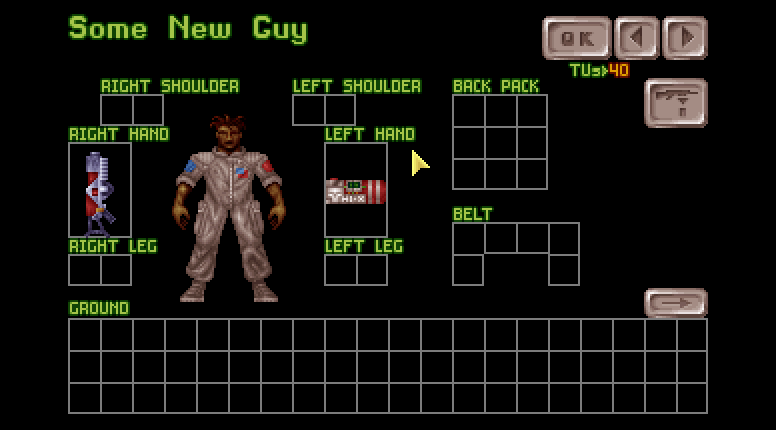 Some New Guy: This is the GREATEST idea EVER.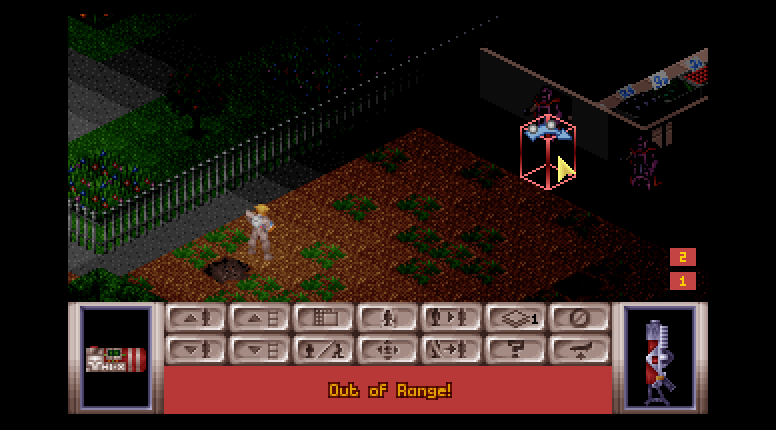 Some New Guy: Yay, I suck! AH HA HA!!!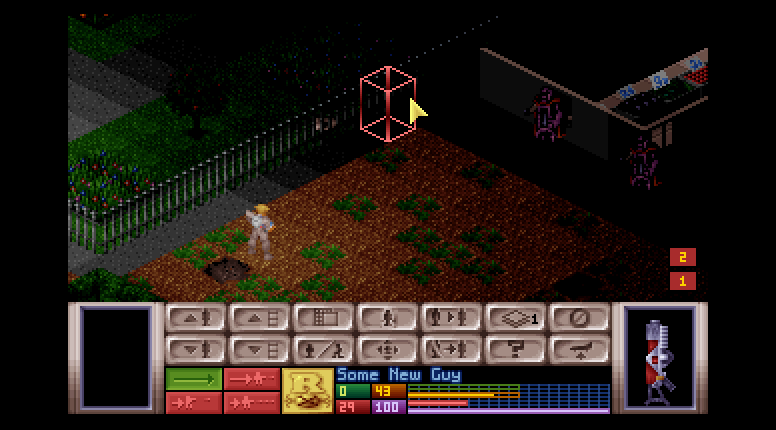 Eddy-Baby: Rookie! Did you just-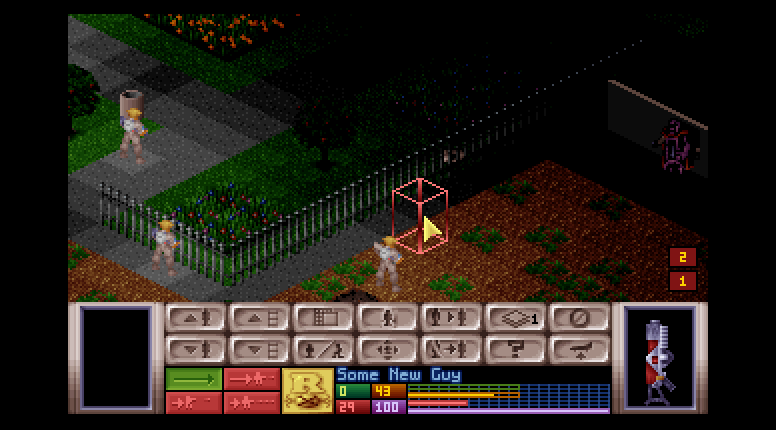 Some New Guy: Did I do something bad?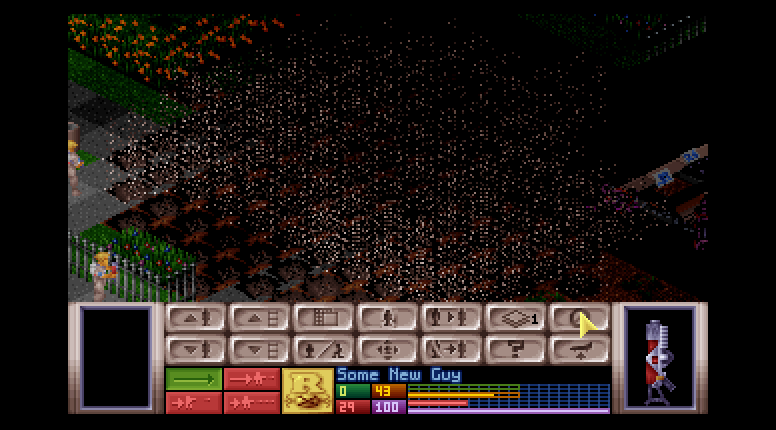 Some New Guy: AH HA HA whoops, sorry man!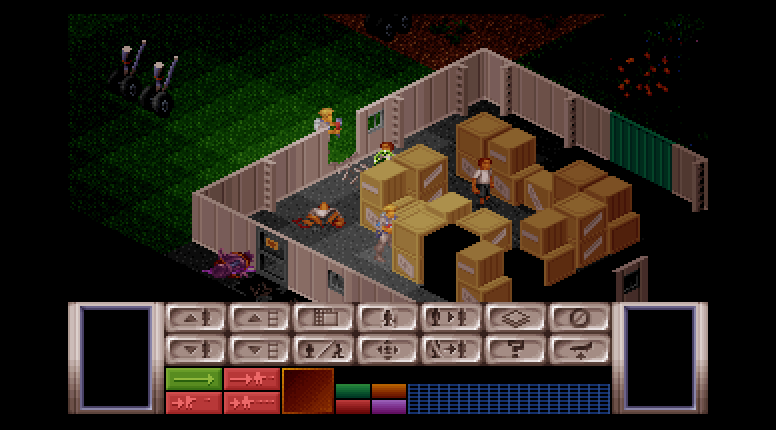 Terashell: Buddy, help! I'm bleeding out of my ass, and I-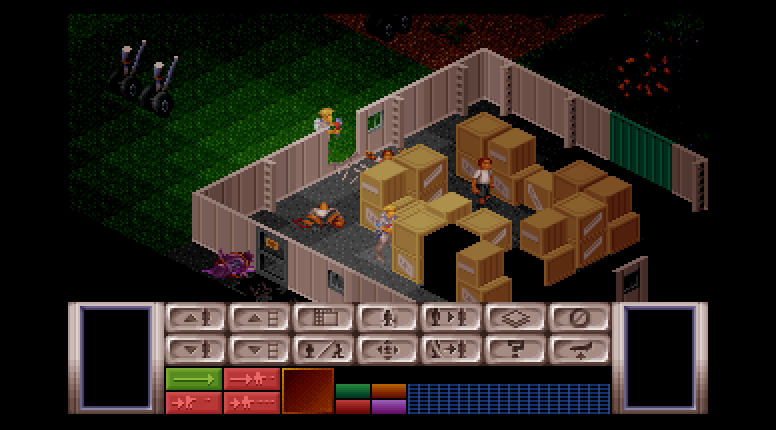 Terashell: Motherfucking come on!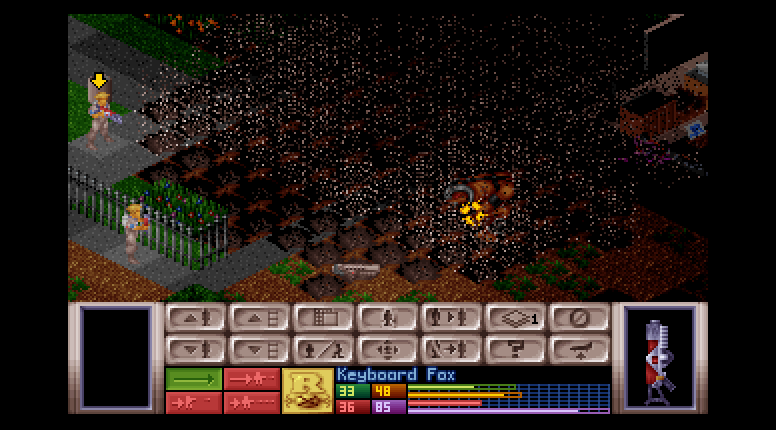 Keyboard Fox: New guy! Shoot that thing! Hurry!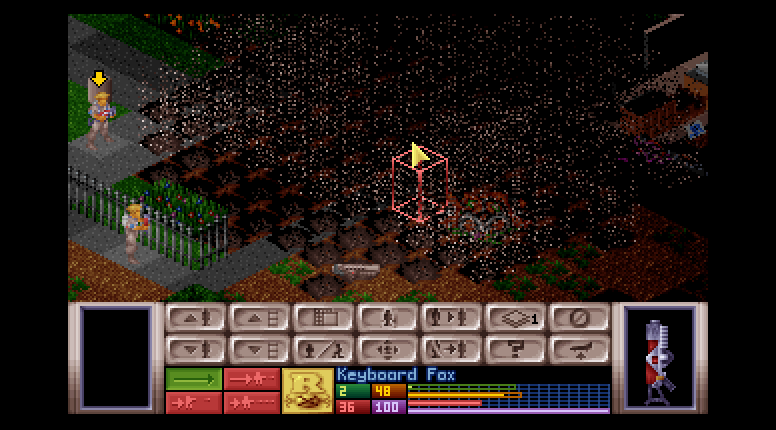 Keyboard Fox: We did it! Those monsters can die!

Some New Guy: I like to watch things die.

Keyboard Fox: That's...creepy, dude.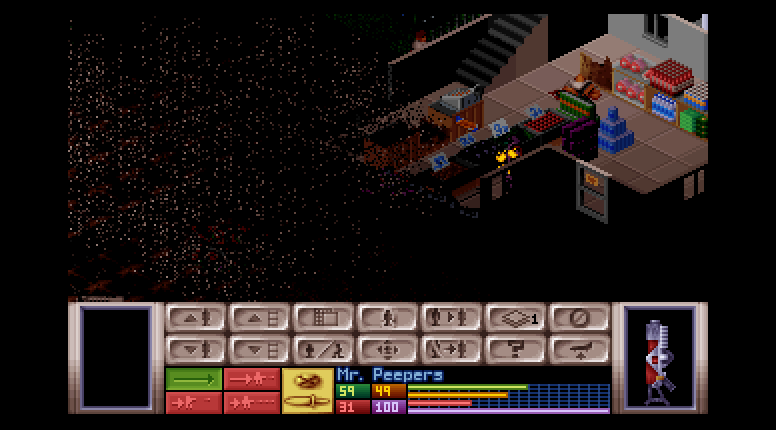 Mr. Peepers: Floater down!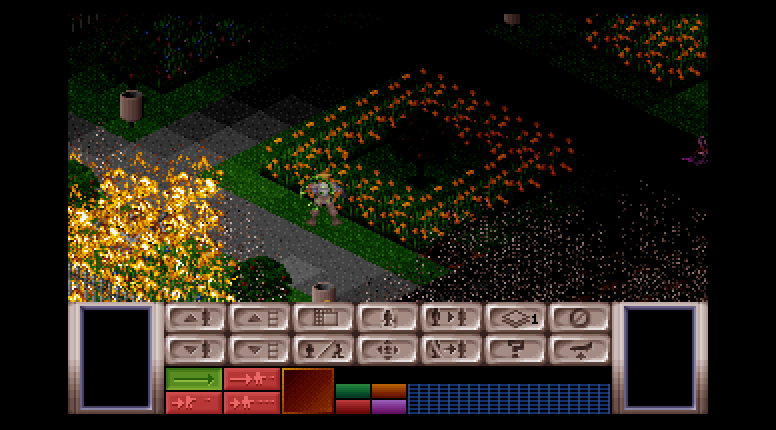 Some New Guy: AH HA HA ha ha ha ha...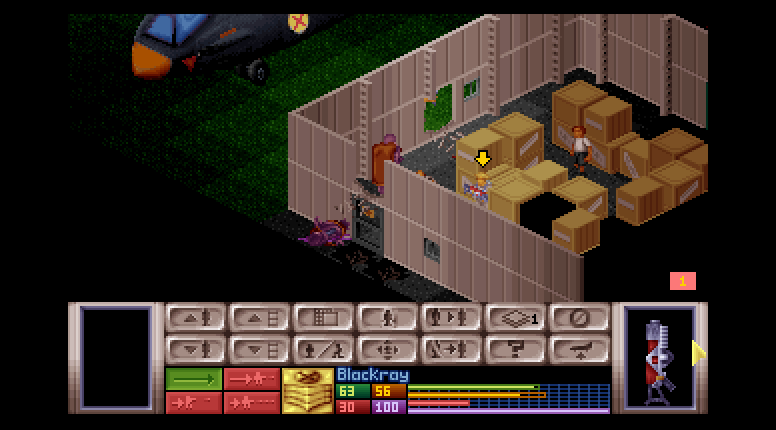 Blackray: Terashell! Get to the ship and try to stop the bleeding! I'll hold off these assholes.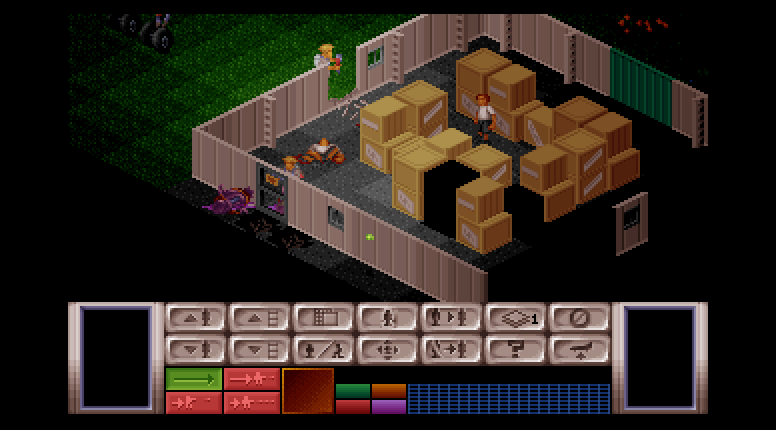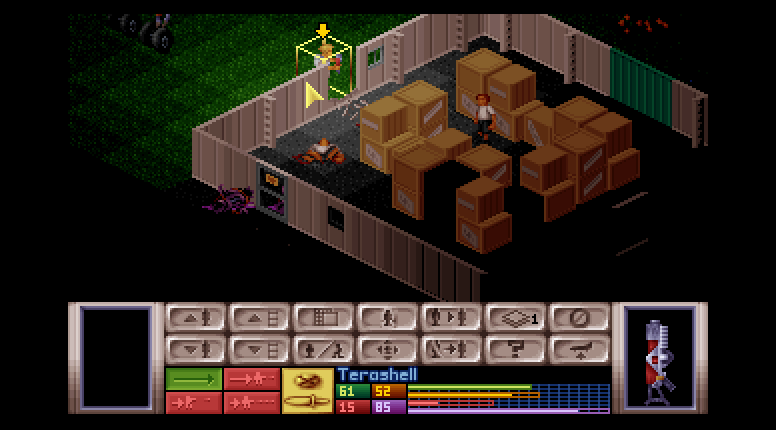 Terashell: Blackie! OH THAT IS FUCKING IT.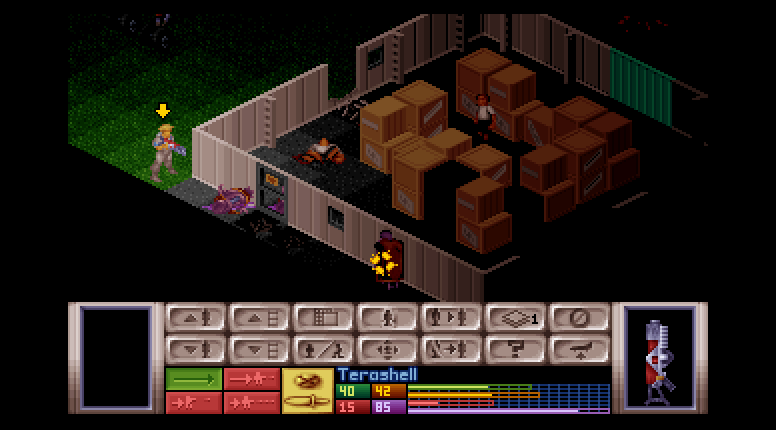 Terashell: MY ASS IS WET AND THIS MISSION IS A FUCKING COCK UP. IF I'M GOING TO DIE I'M TAKING YOU COCK GOBBLING ASS MONKEY TOILER FLOATERS WITH ME.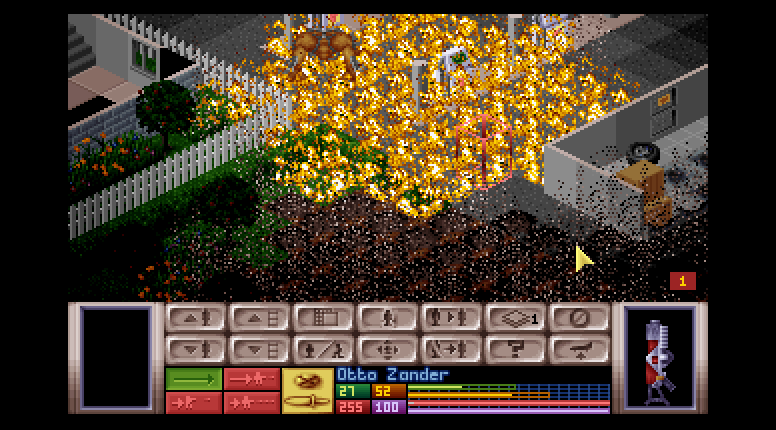 Otto Zander: The thing that ate Synth! You're going down!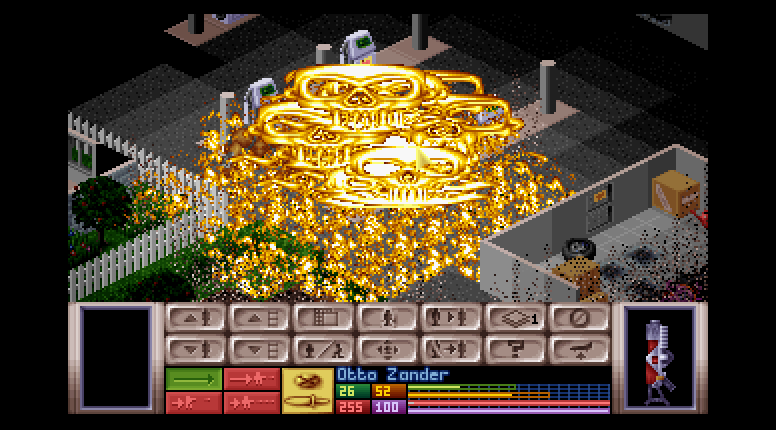 Otto Zander: What the hell does it take to kill one of these things? Fox, how many times did you shoot the one you killed?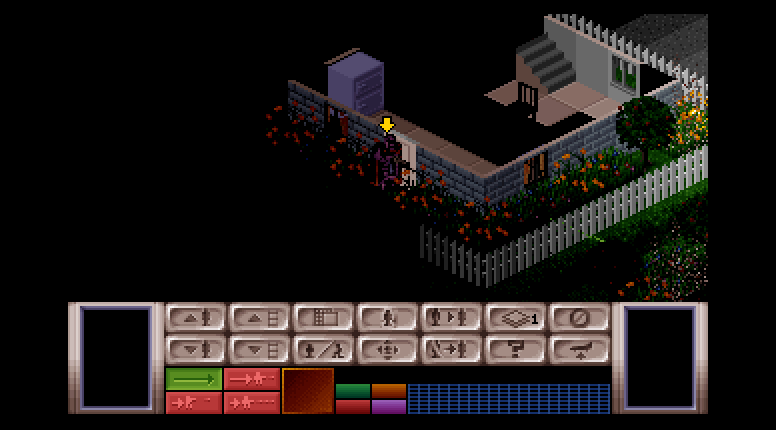 Keyboard Fox: Something like a dozen or-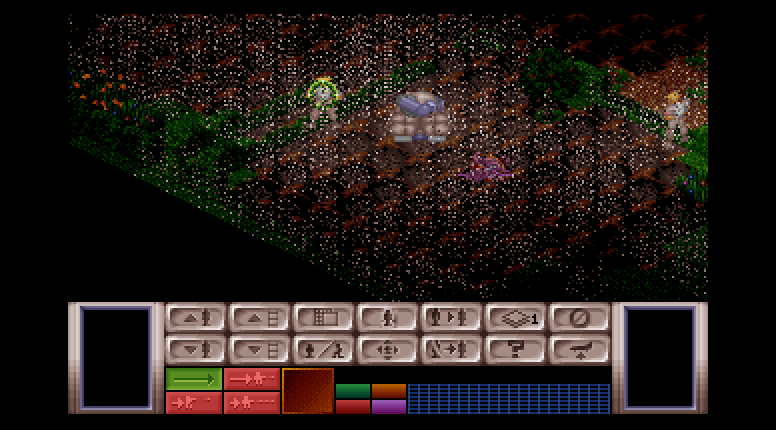 Otto Zander: AHHHH!!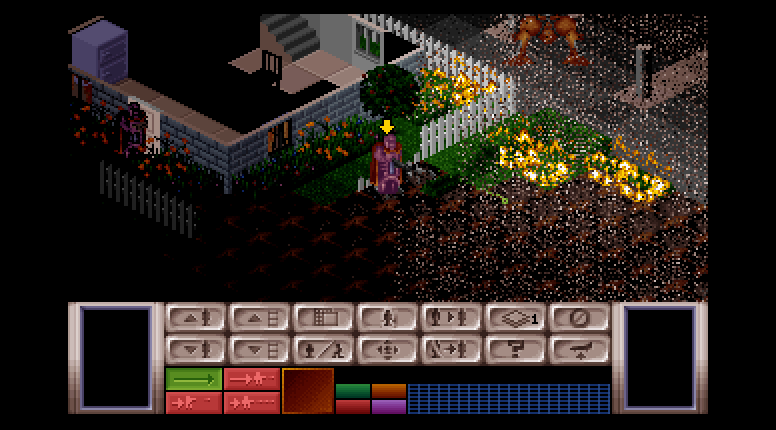 Otto Zander: I need help! I'm pinned down!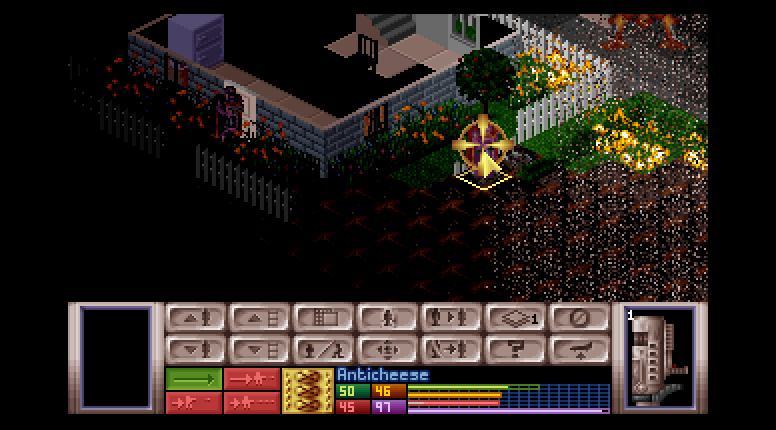 Anticheese: I got it! I'll just aim through the branches of the tree in front of me and then-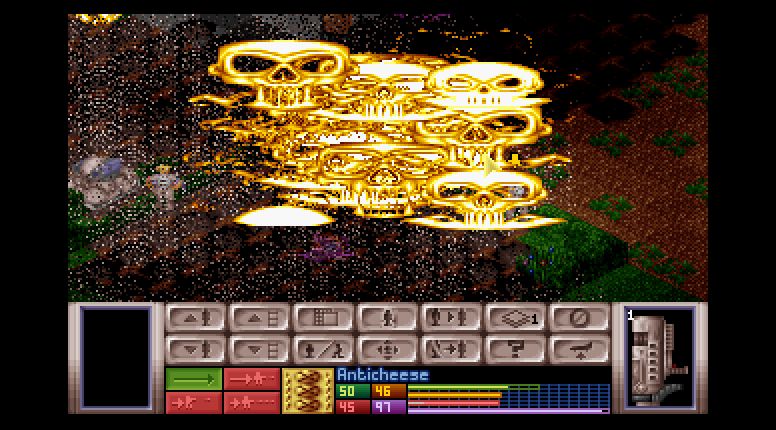 Anticheese: OH SHIT NO!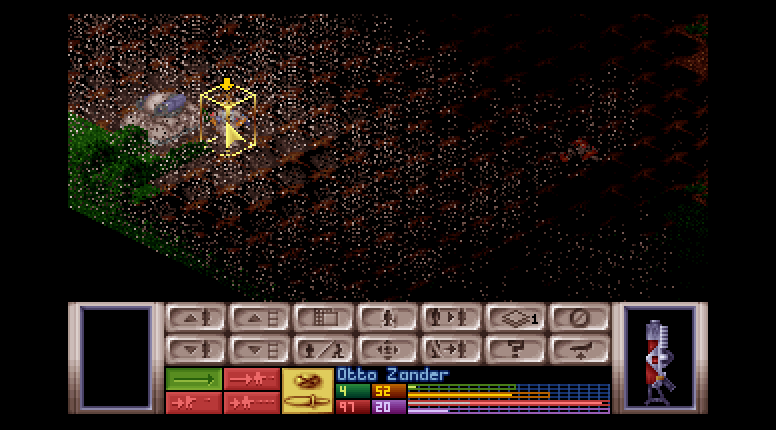 Otto Zander: Damn it! Who's left! We have a serious problem here!

Waddle Dee: Me, you and four others.

Terashell: NOT FOR LONG THERE'S A MOTHERFUCKING TRAIL OF BLOOD BEHIND ME.

Waddle Dee: Director Ulysses, get over here! I think we need to get our men out of here! Hold on, I can hear the Director talking into his phone...wait, who's the Kiryu-Kai?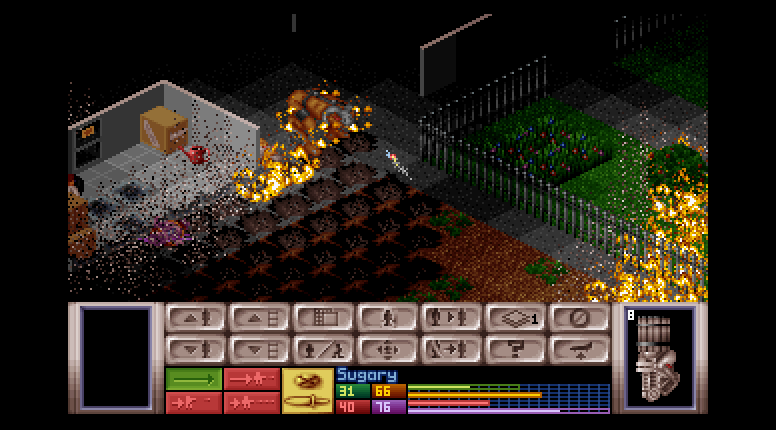 Sugary: These monsters are still coming! Fall back to the ship!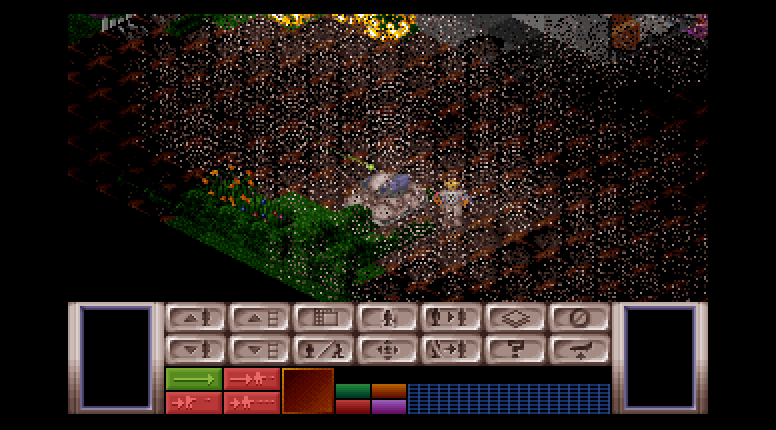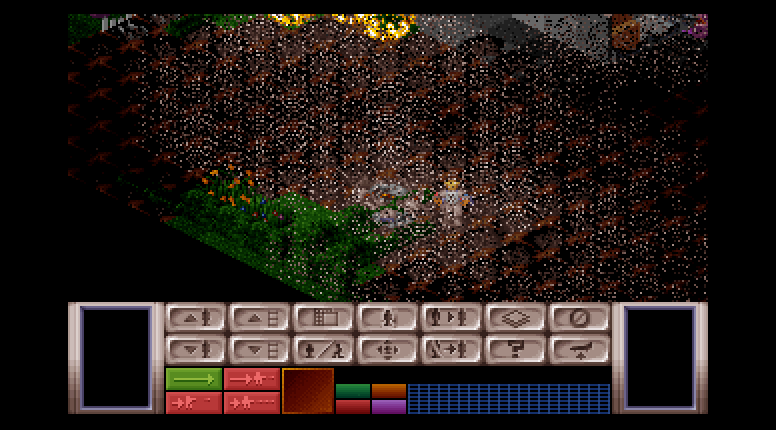 Waddle Dee: Wha- Oh God damn it!

Ulysses: I've seen enough! Everyone get back to the Skyranger and get the hell out of there. I'm calling in an air strike. The whole area's going to get flattened to contain the aliens.

Waddle Dee: Is that the Kiryu-Kai thing you-

Ulysses: Stop talking, Dee! Everyone, get out!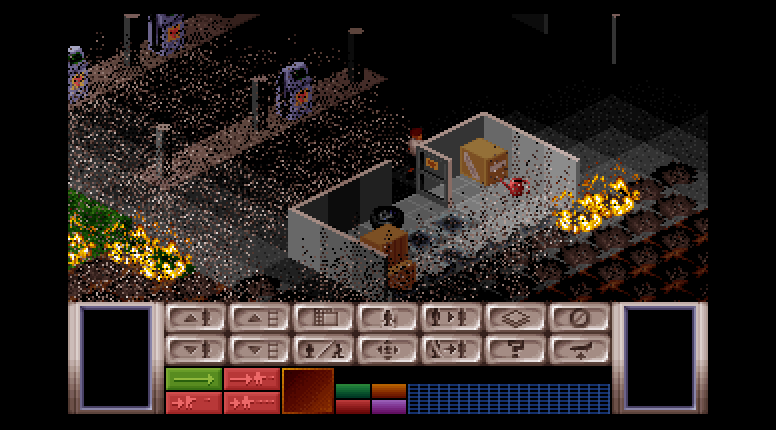 Otto Zander: We're just going to leave all these people? We can't!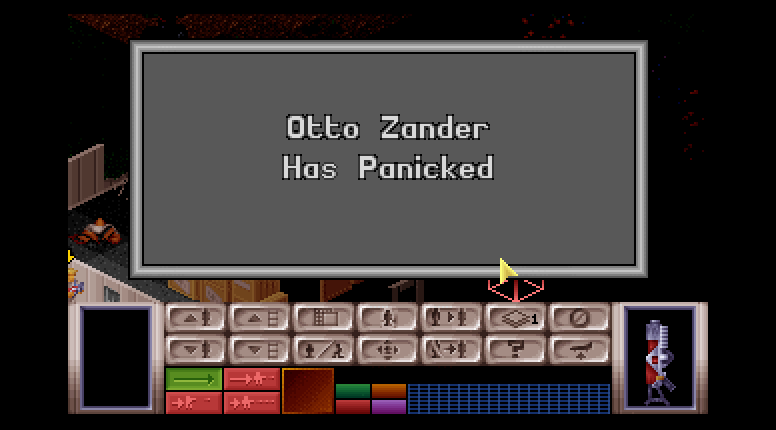 Otto Zander: THIS IS INSANE. WHERE'S THE POLICE, THE MILITARY? THE MONSTERS ARE EVERYWHERE!!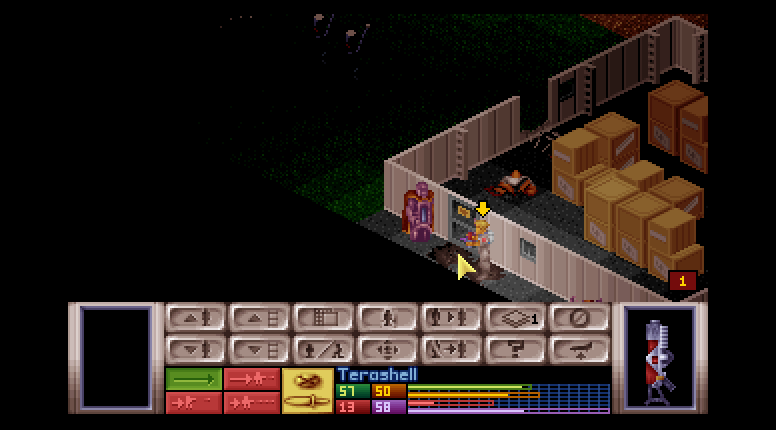 Terashell: YOU'RE NOT THE GUY WHO'S ASS IS INSIDE OUT. OUT OF MY FUCKING WAY, I WILL MURDER EVERYTHING I SWEAR.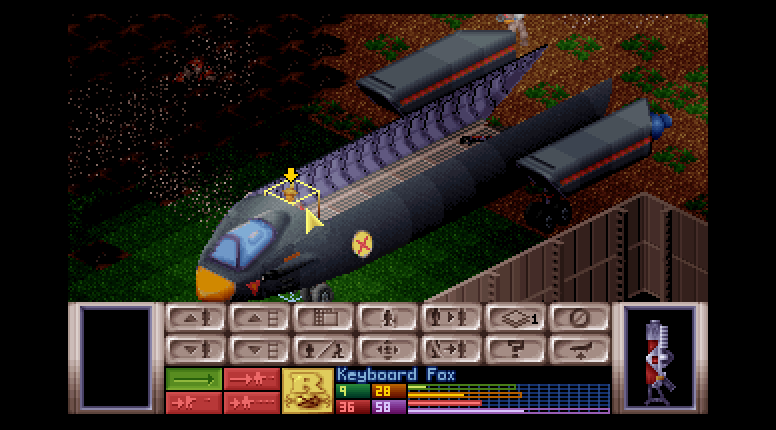 Keyboard Fox: I'm ready to lift off once we're all aboard!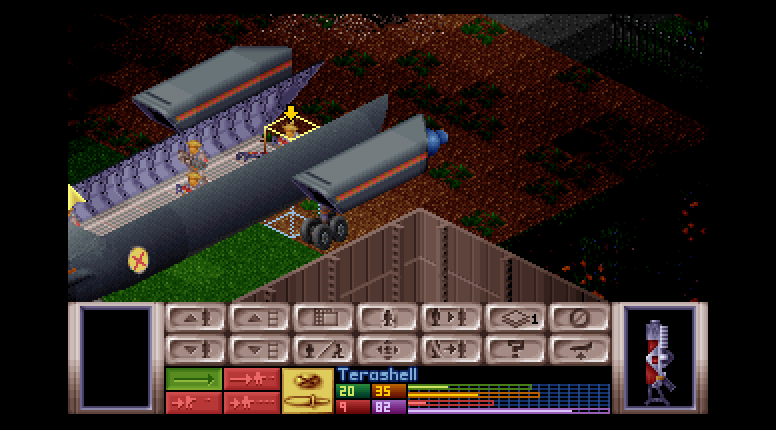 Terashell: Can you fly me to a hospital or something? I've got a bit of a problem with my butt.

Mr. Peepers: It's a rather large problem.

Sugary: Truly huge.

Otto Zander: Stop making fun, I'm bleeding too, dammit!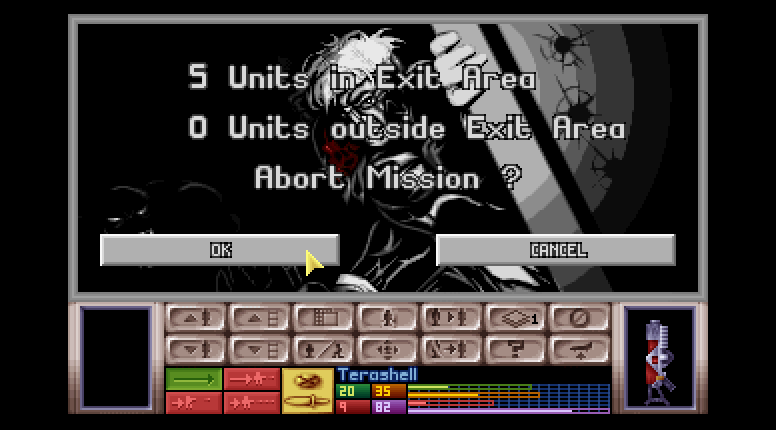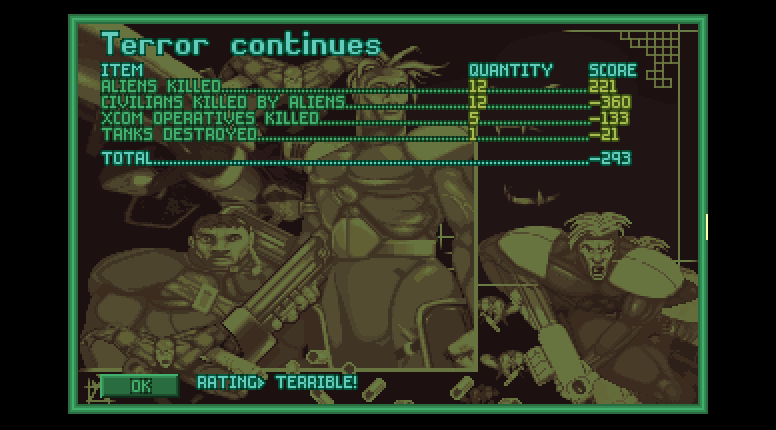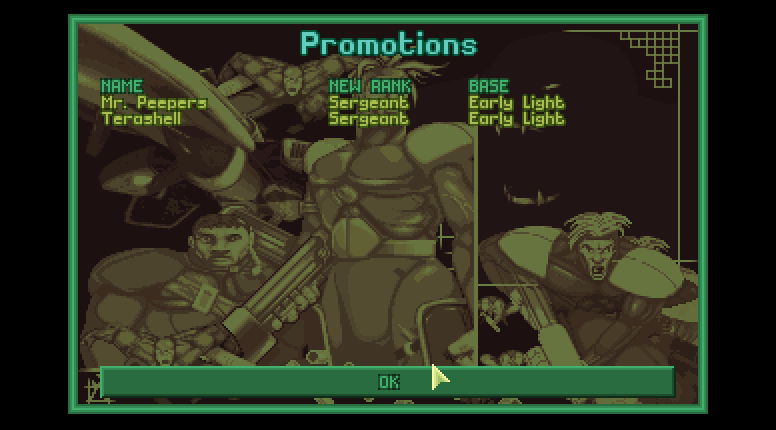 code:
Casualties: Eddy-Baby, Anticheese, Blackray, Some New Guy, Synth
Injured Reserve: Otto Zander, Terashell

SELECTED FAN ENTRIES BELOW
Terashell posted:
Playing Log - Sergeant Dominic "Terashell" Maxwell - February 2nd, 1999, XCOM Facility Early Light
Log recorded in Medical Wing. All voices other than recorders have been removed
===

Shit. I get shot in the ass like Forrest Gump, we lose Eddy, Cheese, Blackie and some rookies, and they fucking promote me? What in the fuck are the brass thinking?!

No, I do NOT want another sedative! I'm trying to fucking record here!

Disturbing patients? Fine, I'll calm the fuck down. When I'm done you can sedate me you fat fuck.

Jesus christ... No peace in here, I swear, I'll be glad to get back to my bunk, and my whiskey, and Chuck's scotch. I'll have to toast my fallen comrades something fierce. Maybe see if the other guys want to join me. I've got enough booze to go around.

If they put me in charge now, I'm going to have to make sure my squaddies know what's what. Work out tactics and shit with every goddamn newbie that graces my command. I'm not going to be responsible for the brass' fuckups. Won't help much if we don't get some goddamn armor soon, though. That green shit hurts, and I got lucky.

The docs say it'll be another few days before I'm mission-ready, and at least another day before I can get out of medical itself. Don't know how long it'll be until I can shit right again.

No, I didn't say sit, I said shit.

I GOT SHOT IN THE ASS ROOKIE, YOU WANT TO KNOW WHAT THAT'S LIKE? COME OVER HERE YOU LI-

===
Log ends

Edit: Voting for armor and medikits, whichever order is faster.
Mr. Peepers posted:
Dear Diary: I had another sex-change operation. Being a woman just wasn't doing it for me.

Signed,
Mr. Peepers
Dexanth posted:
Musings of a bored Scientist

There's talk of there being some sort of heroic theme of that one soldier being repeatedly shot in the posterior, as if it'll become a running gag for him.

They clearly do not understand how powerful the weapons they are recovering may be. More specifically, though I've only set it off once after massive amounts of high-stress testing, the largest version of typical alien weaponry was able to melt a massive hole in steel-reinforced plating.

If anyone gets tagged by that gun, they fall over and they aren't getting back up. Poor bastards.
Psion posted: