Introduction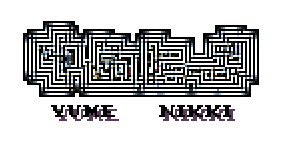 What is Yume Nikki?
Yume Nikki ("Dream Diary") is a freeware game released in 2004 by the enigmatic developer Kikiyama. Created in RPG Maker 2003, the game is graphically limited but visually amazing. It has gained a cult following that has spawned several fan sequels despite the game being "unfinished", the latest release being v0.10.

In Yume Nikki our heroine is one Madotsuki (lit. "window"), a girl cooped up in her room and spends her days exploring the world of her dreams. Are they really her dreams, or maybe the dreams of others? Nothing is explained to the player, this is one of the game's main pulls. The text itself is limited to the instructions and the menu, save for random Japanese characters hidden in some of the scenery (similar to LSD: Dream Emulator).
OBJECTIVE
The over all objective of this LP is to explore, collect all 24 effects (MacGuffins in the form of sometimes useful abilities) and experience the events that made the game famous. Although there is an obtainable ending, the main point isn't to reach it but to see the world in it's fullness.
Everything is open for interpretation, the fans of the game from all over the internet create interesting and ridiculous theories of what it's all about. On the flip side, some fans just take the game as it is at face value. It's up to you.
ETCETERA
This is a subtitled LP because the ambient music and sound are probably of the best parts of the game, so talking over it would be a sin. I genuinely love this game, so I want to show it in a way that doesn't detract from the experience.
Episode 00 will be talky for sake of explaining the game play, but following episodes will have much, much less text.
Posting fan art is welcome, anything you post should be limited to places we've already been and characters we've already met. This is obvious. Please, no extreme amounts gore or blood. The game does contain blood and horror themes, but there's only so much detail in pixelated graphics.
I may refer to some fan-given names and terms, but I'm going to try and avoid it when I can.

Real life sucks. Let's dream, man.
(Viddler)
We have twelve unique doors that lead to twelve unique worlds, all interconnecting and branching. Where should we start first?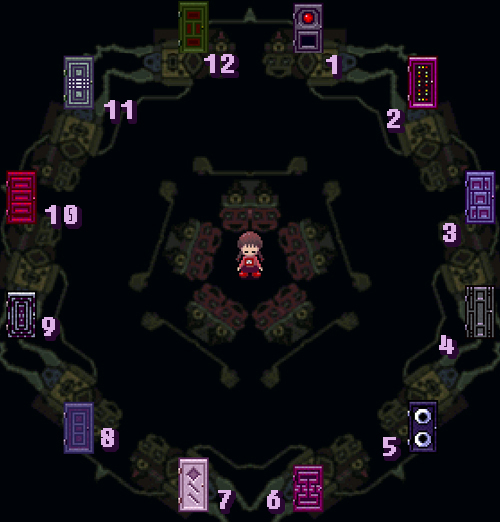 I'm taking votes on which world to start in, afterward I'll take it from there. I plan on recording sometime tomorrow evening, so I'll tally them then!




Speed Glitch Demonstrations (Viddler)
Eggplants. Eggplants everywhere. Let's Play NASU! (Viddler)
The Wrap-up (Viddler)



1.INSTRUCTIONS
View the instructions again, just in case you forgot. Here they are in image form for reference!


2. BICYCLE
Ride a bicycle that goes really fast and goes 'ting ting!' when you press the '1' key. This the first effect you should get when starting the game.
Exploitable glitch: Sit at the desk in Madotsuki's dream room, equip the bike, then get out of the chair. You now have super speed!


3. LAMP
Madotsuki's head is replaced with a lamp. Press '1' to turn the light on and off. It's used to light up dark places


4. SEVERED HEAD
Become a severed head and move more or less at the speed of one.


5. CAT
Madotsuki becomes a beckoning cat, pressing '1' will draw all NPCs on the map towards her. It also can provoke interesting reactions from certain NPCs.


6. NEON
Become some sort of person made of neon lights. Pressing '1' will tint the screen purple, blue and then red.


7. FAT
Become fat, pressing '1' will make Madotsuki's tummy rumble. Gooo.


8. MEDAMAUDE
Madotsuki's head becomes the Medamaude, a hand with an eye in it's palm. Pressing '1' will teleport her back to the Door Room without needing to wake up. This is the must-have for exploration along side the Bike effect.


9. KNIFE
Madotsuki wields a kitchen knife. Pressing '1' will change the hand she holds it in, pressing '1' or the action key near an NPC and she will stab and kill them. NPCs run from her when this effect is equipped.


10. Towel
Madotsuki becomes wrapped up in a beige bath towel. Press '1' and she will sneeze cutely.


11. TRIANGLE KERCHIEF
Wear a white bandana that symbolizes the dead. Press '1' to become a ghost, NPCs ignore Madotsuki in this state. You can still be warped by aggressive ones if you bump into them.


12. UMBRELLA
Madotsuki holds an umbrella, causing it to rain in whatever area she's in. Pressing '1' will make her twirl her umbrella. If you equip any other effect instead of unequipping Umbrella, the rain will stay active.


13. STOPLIGHT
Become a stoplight, pressing '1' will change the light from green to red. NPCs stop moving when the light is red. Causes strange things to happen with certain NPCs.


14. HAT AND SCARF
Madotsuki wears a hat and scarf. Pressing '1' turns Madotsuki into a snowman when it's snowing.


15. LONG HAIR
Madotsuki lets her hair down.


16. BLONDE HAIR
Madotsuki grows longer, blonde hair.


17. NOPPERABOU
Become the faceless ghost, Nopperabou. Pressing '1' will make Madotsuki's head fly up from her shoulders and spin 360 degrees!


18. FROG
Become a frog, press '1' to hop! While equipped Frog allows Madotsuki to walk through water at normal speeds.


19. WITCH
Madotsuki dresses up like a witch. Press '1' to get on a broom and ride it around!


20. YUKI-ONNA
Become a Yuki-onna, causing it to snow wherever you are.


21. FLUTE
A flute that Madotsuki can play! Press '1' to make some music.


22. MIDGET
Madotsuki becomes very tiny, allowing her to get into smaller places that she normally can't. Pressing '1' will make up to six clones of her. Press '3' to make them pop one by one!


23. POOP HAIR
Madotsuki's hair is styled into the shape of a poo. Press '1' to drop a fly, which can be used to mark areas. The flies will stay wherever they are until you wake up.


25. BUYO BUYO
Madotsuki becomes squishy and bouncy like she's made of jelly. Press '1' to wiggle and jiggle!


25. DEMON
Become a Japanese demon (oni), if equipped while raining press '1' to summon lightning and thunder.

UNUSED EFFECTS

BLINDFOLD


MONOCHROME



Hell Maze

Teleporting Maze

Static Maze

'Over-World' map for the 8-bit areas.

Flow-chart map of the game.

Flow-chart for ver. 0.09