Part 13
Frankomatic posted:
Casually dive through the window to enter the room. Just to see how 'casual' and 'entrance through window' line up even though I'm fairly certain he'll just use the door anyway.

Not a bad idea! What
is
a bad idea? Let's find out.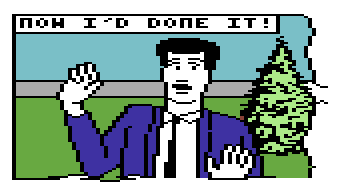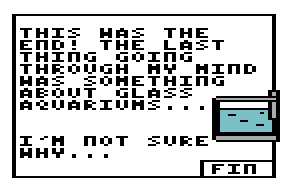 Apparently people who live in ink houses shouldn't... shoot... bullets? Not entirely sure where I was going with that one.
Anyway, turns out the other two options have exactly the same result...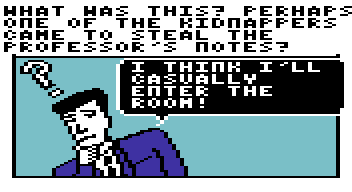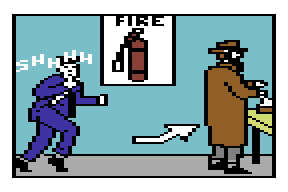 ...which, unfortunately, we don't get to see. I like to imagine Keene hauled himself through the window, fell on the floor, got up, dusted himself off, and kept going like nothing happened.
Still, we have another important decision to make! Next update will be longer, I promise!
Current Scores:
07 (08 votes) = 05 + 02: senrath
06 (06 votes) = 05 + 01: Lord Hypnostache
05 (06 votes) = 04 + 01: Starblind
04 (07 votes) = 04 + 00: Bruceski
04 (06 votes) = 04 + 00: Green Intern
03 (06 votes) = 02 + 01: ProfessorClumsy
03 (05 votes) = 03 + 00: BiggerJ
03 (05 votes) = 03 + 00: Frankomatic
03 (05 votes) = 03 + 00: Nemo2342
03 (05 votes) = 02 + 01: Bobbin Threadbare
02 (07 votes) = 01 + 01: CaptainCaveman
02 (02 votes) = 02 + 00: Glazius
02 (02 votes) = 02 + 00: LLSix
02 (01 votes) = 01 + 01: Exercu
01 (06 votes) = 01 + 00: 100 HOGS AGREE
01 (04 votes) = 01 + 00: randomcommoner
01 (02 votes) = 01 + 00: PantsBandit
01 (02 votes) = 01 + 00: Sighence
01 (01 votes) = 01 + 00: Golden Bee
01 (01 votes) = 01 + 00: Grilox
01 (01 votes) = 01 + 00: Sick_Hacker
01 (01 votes) = 01 + 00: Tiny Turtle
01 (01 votes) = 00 + 01: Azzur