Part 27: Together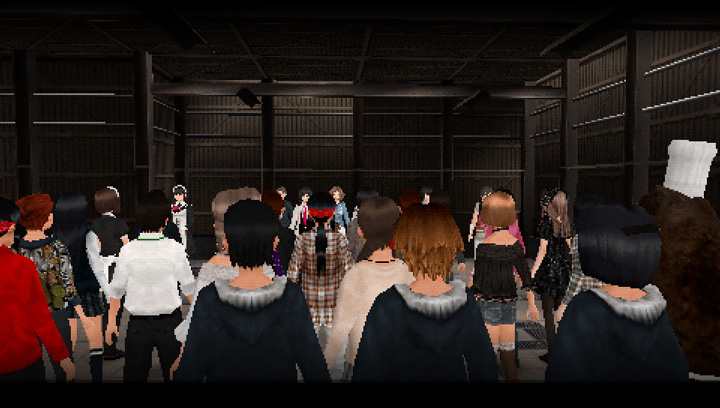 Isn't Yuri too young to stay this late?


It's fiiiiine. This is a big incident for Akiba! Who would want to stay home over this!


Sakai is also underaged, right? Ah? Junior? So you're already eighteen.


Huhu… That girl over triggered my radar…


… ?


Although we all know each other online, but this is a first meeting for many of us.


Yeah. We know each other for a long time, but this is the second time we met.


Yabe not coming?


He's speeding on the highway now.


That's just like him. He don't really need to rush.


But we all understand his feeling. I would rush here too!


Yeah, I would escape a deadly battle to get here.


Strange? Isn't that maid, Ms. Sara ?


Wow, it is!


Ah, I see. All these maids here are related to her.


Isn't that glasses guy the tool store owner…?


He have a neighborhood watch group or something, and I thought it was a hobby group.


… This is exciting somehow. Like a feeling of a holiday event…


Even though the last train has left, there are so many people who managed to get here.


It's a proof of how much people love Akiba. I figure the worst case scenario would be only my students and Yatabe's friend shows up.


…Very admirable.


Kanta's suggestion is awesome.


Instead of separation, we unite as one… huh.



Yatabe, it's about time to begin.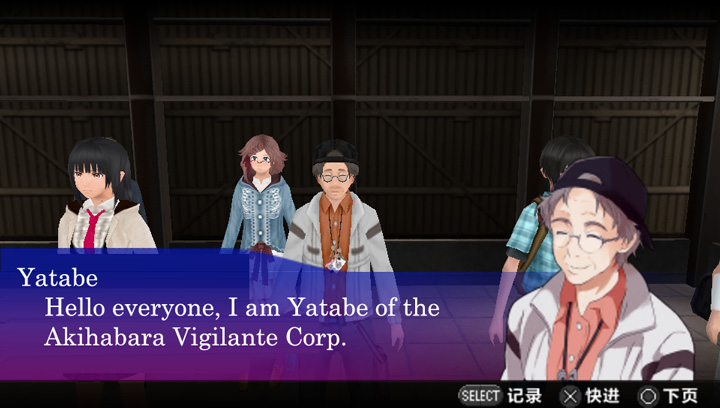 Uhh~ Where should I begin… Let's start with what happened recently.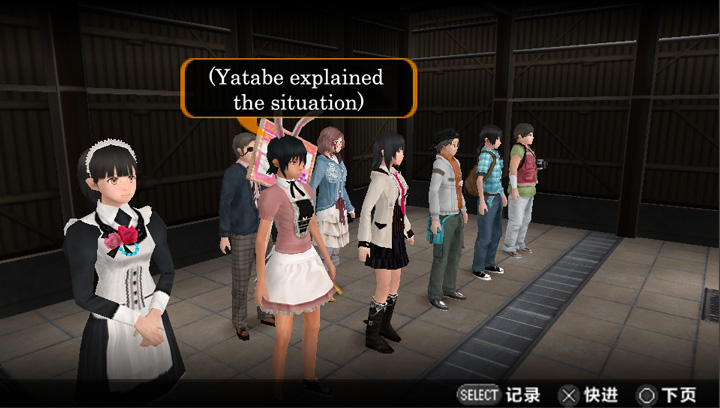 Many of you would surely not believe me, but this is the truth.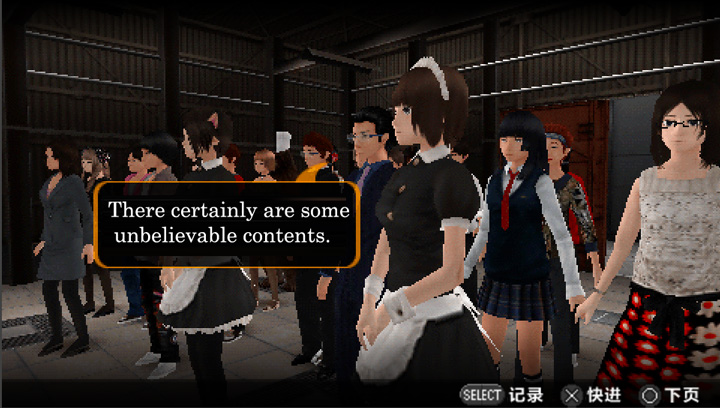 But everything happened lately would make sense if this is the truth. Lots of what he said matches with the details of various rumors in the city.


… After all, this is Akiba. A place where dream and reality stands in parallel, and nothing is strange

*Whispers* *Maybe…* *Whispers*

*Whispers* *Whispers* *…More likely*

*Whispers* *I hope it's so…* *Whispers*

*Whispers* *Whispers* *… Battle between inhuman begin and mysterious organization…*

*Not bad…* *Whispers* *Whispers*



Honestly, this might be the greatest crisis of Akiba. Two powerful forces are ready to face off. The fallout from their battle could turn Akiba into something different… Obviously, in a bad way.

*Whispers* * Whispers* *Whispers*



Uhh, let's hear a speech from Rui of the Moderate Faction!



… So cute.


… Wahh.


… That's a vampire…


… She looks normal…



… I am Fumidzuki Rui. As mentioned, I am… I am… The person who brought disaster to this place.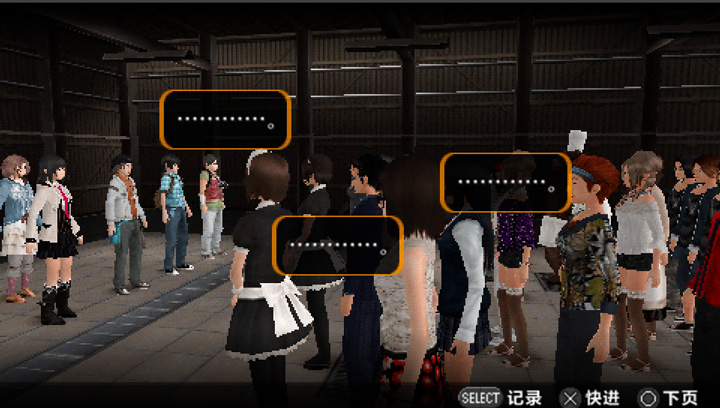 I am a monster. This might be the only place that I could continue to live as a normal person… Like everyone… To be another person who love this street… But the cost for all that is to endanger it… I caused lots of problem for everyone… No, I caused them to come in harm's way… With casualties… I don't know what I to say anymore or what to do… It's just… I feel that I should apologize…





I like this street… I like everyone here… Sorry… For liking you all, I am very sorry.







After this is over…. I will-


!
1) Have fun with everyone!
2) Don't worry!
3) Probably not able to go out?



Have fun with everyone!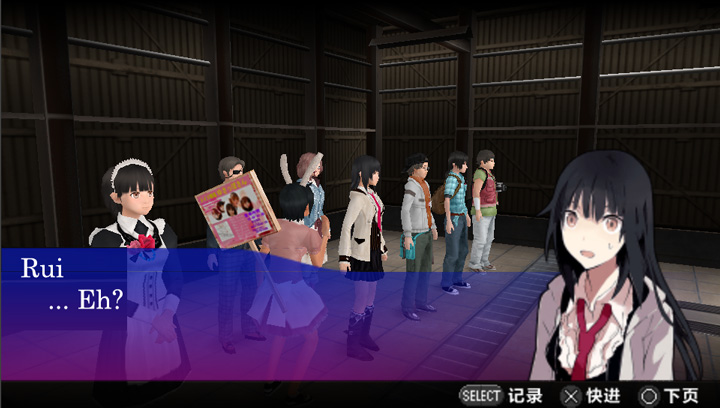 Hm, an excellence idea!


From shopping to partying, and eating fast food together…


Can I take photos then?


Please visit our store and let me serve you. Of course, I welcome every master and mistress here to visit too.


Ehhhh!


Ohhhh!


Ahhh!


If that's the case, let get this done quick!


Oh no, I haven't play with girls since elementary! And it's with such cute girls!


I have no regret to risk my life for this cause!


… Everyone has sunk into their dark desires…


… E-everyone… ?


Don't worry!


Yeh, don't worry about it.


I am totally down with monster.


Ahh, my fantasy have descend upon this world… So wonderful.


Lots of strange folks here.


Aren't there a lot of foreigner here too? An extra won't matter.


B-but… I am not human… ?


The truth is, I am the son of the demon king, within me contain absolute power…!


Child's play, the sealed dark power in my right hand however…!


I am one of the hacker of darkness…


I am actually a somewhat famous voice actor of a certain anime protagonist…


… Actually, this world is a manifestation of my dream…


… ?


We are getting off topic.


Mostly about how powerful they are…


This is turning into a fantasy chat.


(… Was it my imagination? I thought I heard Maria's voice... C-could it be…?)


B-but, th-that…


WHO CARES!


You aren't the one who done this.


The Reclusivelization Plan isn't that bad, right?


Meh, everything is fine if it's cute.


… Despicable, but I can understand.


Don't worry!


Let's focus on a plan to protect this street.


The battle begin in the morning?


We need to be swift.


Alright, let us begin the Akihabara Defense Conference!




Ohhhh!


… Um…


Anyone here with military experience?


Someone with a degree in war history could be our planner!


Oh, I do!


This feel like a cultural festival now...


This is a real battle, we mustn't be careless.


YEAH!


( I heard Maria's voice again. Why did I keep hearing Shintani Mitsuko's voice!?)


… I-is that really fine? Just like that… So easily…


… How should I say this…



1) It doesn't matter.
2) Too easy?
3) It's fine.



It doesn't matter.


Is that so?


I thought I would get scolded. I really thought I would get stoned… The people in the Vigilante Corp are special, but I didn't except the same for everyone… So easily…


So easily accepted us, isn't it strange?


… Hm.


However, isn't that the reason you like them?


That does seem to be the case from Rui's perspective.


… Hm.


Hm!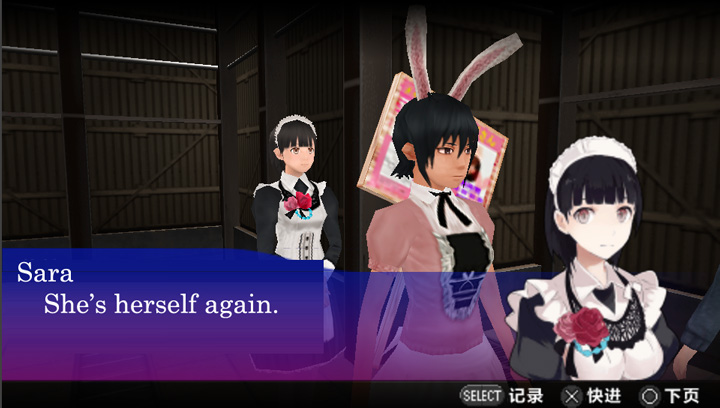 1) (Nod)
2) What about it?



(Nod)


…Akiba is a street that can acknowledge anything, even something inhuman. It is enough if you can love this street, have fun, and have the will to live in it… It's exactly that kind of place.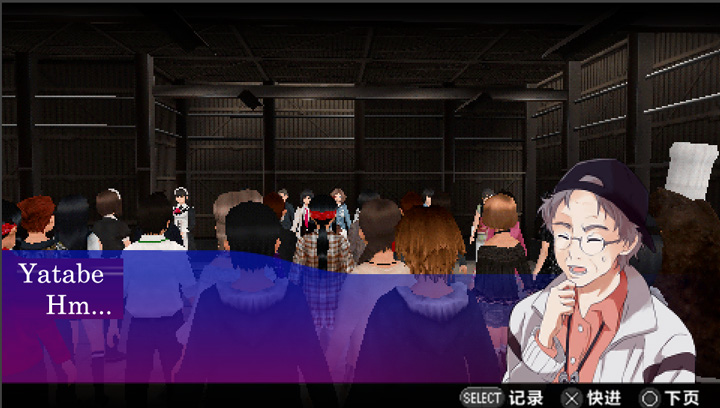 In the end, we don't have any idea beside letting Rui persuade her mother.


Do we know where she is location?


It would be rude to settle the queen at a inexpensive place even if it is a sudden visit… According to Rui's sisters, they are elsewhere. Base on yesterday's situation, she might appear personally again. We might even find her easily with luck.


Hm, I see. This is the only way.


Let's split everyone here into a few party to survey the area. The main objective is to find the queen while avoiding battle and escort Rui into their lair…


To persuade…


… Will it work?


It's the only way.


Our only gamble. But there's a big problem. We are lacking on people with combat capabilities. NIRO and Vampires' forces could squash us with ease.


Even with our local field advantage, it's not enough to change the tide of battle.


Hmm… We need more combatants?


No, we have enough.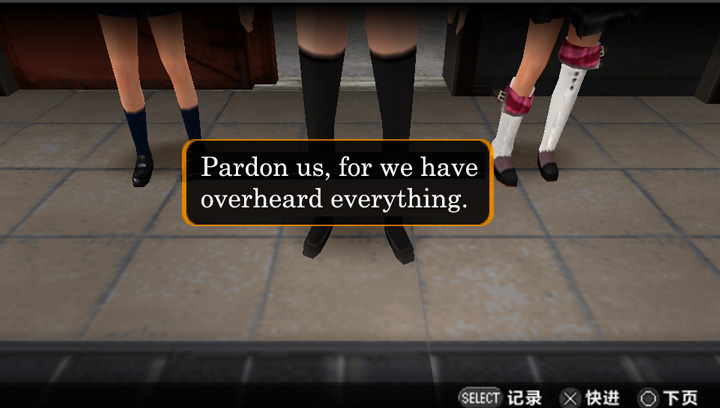 We shall gladly become your shield!


Wh-who are you people!?


People who trained with Kanta, people who brought a message from Master: "I also like this street. These delicious peaches just keep coming in abundance. You can't find a better hunting ground elsewhere. That's why, if you all wishes to maintain the peacefulness of this street, then I shall let you have command of our cute servants. I would had come personally, but it might be a bad idea since I have a working relationship with NIRO after all. So, they are here in my place… Now, strip with all your heart, expose the perversion of each others!"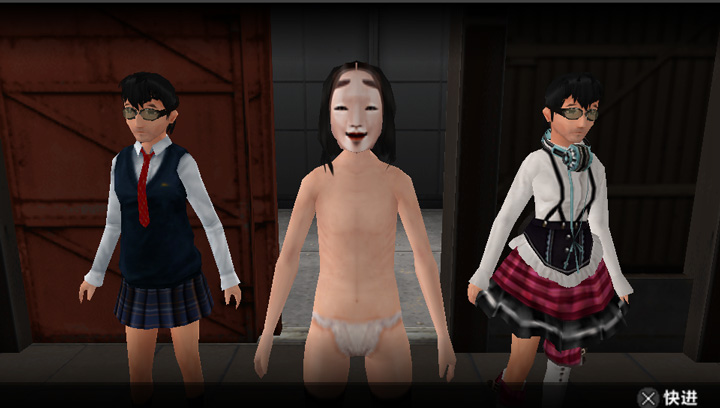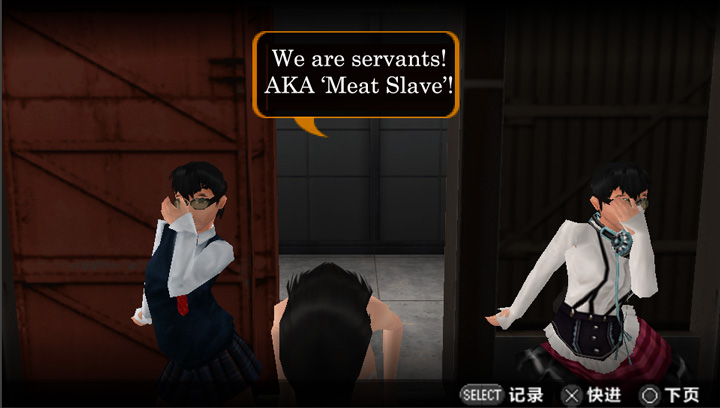 To strip and be strip for master, bath in supreme struggle of mind and body, the Warriors of Urges!


Fulfilling master's order, we should fight for your sake!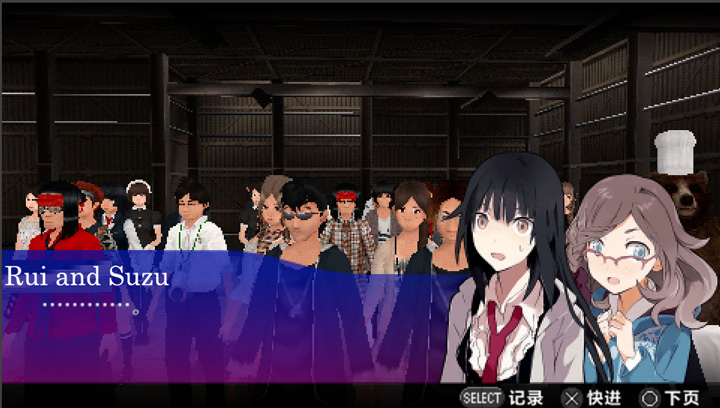 ...




… So strong…


Yah, so powerful, these guys…


Indescribable level of... Hentai.


Hentai!


Hentai!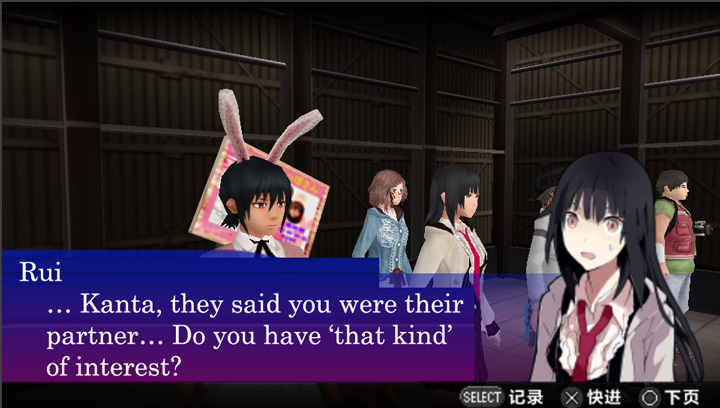 1) HOW DID YOU FIND US!? (Change topic)
2) … It's true.
3) Not at all.



HOW DID YOU FIND US!? (Change topic)


Our master's Peach Radar sensed a huge reaction in this place.


Peach…?


Radar…?


The detail are confidential, but we can tell it's very unusual for such a large signal at night. Something might had happened to Kanta, so master sent us here. So, let's protect this street together!

----------------------


… It's true.


I… See. Um… This street really is… Unique…


I will try my best to understand it, Kanta.

----------------------


Not at all.


Ah, that's wonderful.


It might be strange for me to say it… But I am not… Proficient… With… That.

----------------------


Ahahaha, don't worry about it, we got ourselves some strong helper.


R-right.


Then let's split up into groups and begin our operation in the morning.


Good luck, everyone.


Let's rile things up, everyone!


Although we are just human, but I feel that we can do anything if we are united… Probably.


Well said, Gon! Utilizing everyone's infinite knowledge, useless sense of camaraderie, and pointlessly high mobility… They shall become our greatest weapon! There is nothing for us to fear!



1) We can do it.
2) Protect this street together!
3) This is our land!



This is our land!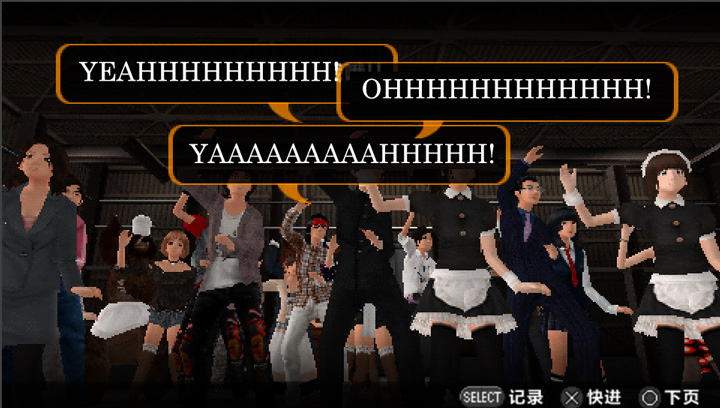 WE LOVE THIS STREET!


OUTSIDER CAN'T DO WHAT THEY WANT!


ANYONE WHO WISE TO DESTROY OUR PEACE WILL HAVE TO FIGHT US!


THIS PLACE IS-




OUR STREET!





… Really, amazing.


Yes.


This feeling of excitement… I was so worried, but now I have this feeling of finding the… Answer… What do you think, Rui?


… Hm.


I also have this feeling.

Mission: Akihabara Resistance BEGIN!

------------------------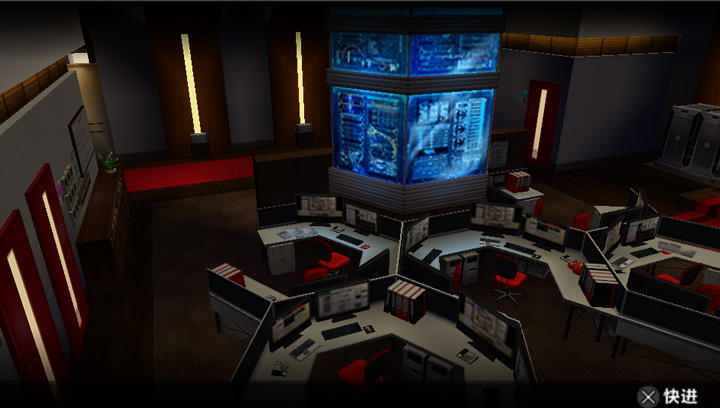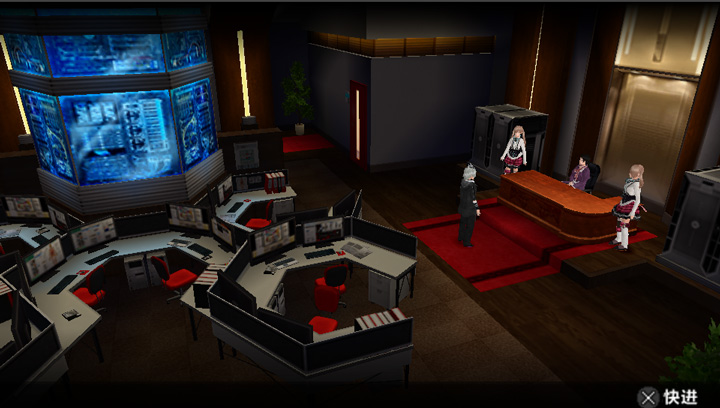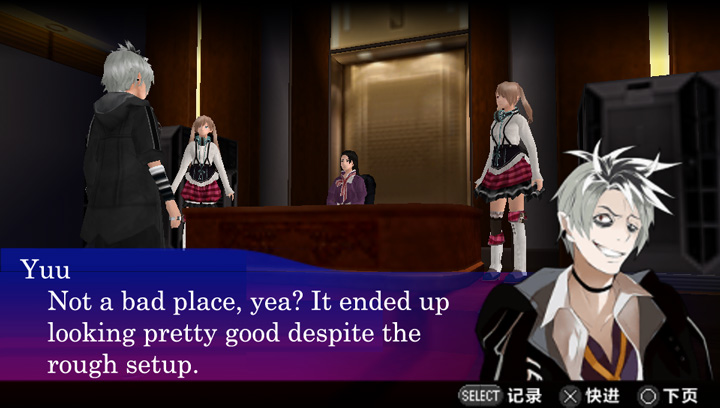 Hm, it is adequate.


What are you saying! We are the one who picked this place!


Mom, please don't be mistaken. It was I and sister who selected this place.


… I understand. Well done, Sera, Mana.


Hehe~


Come on… I am the one who did all the work.


None of this is important now, Yuu. What business do you have with me?


… Hm. NIRO's agents haven't fully surrounded Akiba, but areas around the train station are lock-tight… Won't this give that idiot Rui a chance to escape?


That won't be a problem. We aren't the only one who wants that child. NIRO will be keeping their eyes on her too.


Then...


As long as their main force remain here, that means Rui is still here.


Is that how it is, mother?


Correct. They… No, Sejima wants me and Rui.



Forget the unimportant thing. I have no interest for my ill-mannered sister.


Ah… But you all will have to listen to her when I am dead.


Mom won't die! We will protect mommy forever!


Yes. Mother will live a long time.


We… Won't listen to Rui.


Me too! Me too! Well said, sis!


… *Sigh*. You all still a carefree bunch.


At least wait for me to leave before acting like a spoiled child. Anyway, my only concern is that guy who was vampirized by Rui.


Oh, the guy who beaten Yuu a few times.


…! You two ladies also ran home crying!


What!?


Th-that was is a small slip up!


You want to say you were ambushed? Only loser would make that kind of excuse. Think about your age.


It's rude to say something like that to ladies!


Enough.


Wah!


We will inform you when we see him… You can go.


… Hmph. *Leave*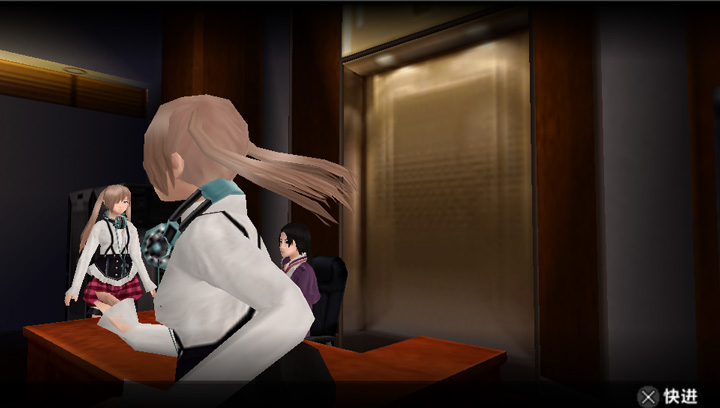 Hold it, Yuu! Sis is still lecturing you!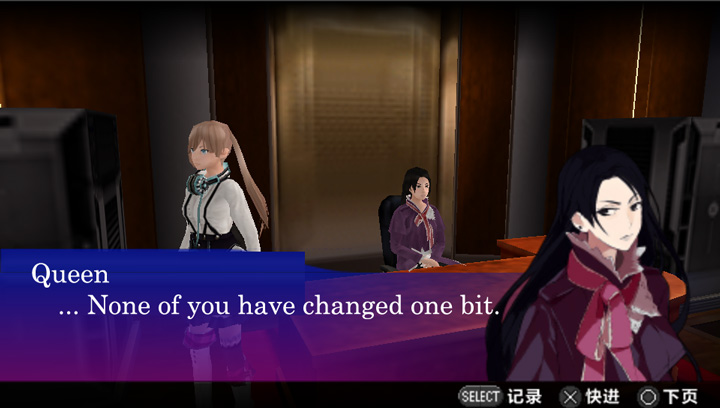 … I have a question, mother.


What is it?


It's about the Reclusilization plan.


You are questioning that now ?


Turning the future of Japan's next generation into recluse and sneaking our comrade into their talent gap to eventually take control of human society.


… You understand it well.


But just as that man from NIRO said, this plan is strange. It takes so much time and foreign talent can still compete with us.


… Yeah.


… I can't imagine mother would execute such a grand plan without considering these factors. There are other motives, right?


Who knows… Maybe I forgot about it, would that be acceptable to you?


I will obey any orders from mother… But I don't get the point of it… It bothers me.


…It's best you do not know. It's not something big anyway, and you might not like the reason.


… It's all for Rui. All of it… isn't it?


Who knows.


Mother Send Yuu to spy on Rui was to protect her. The reason you rush back to Akiba…



… Why didn't mother choose me or Mana as the successor? We can become a great queen like mother wishes… So why?


… Hmm… No idea.


Mother.



… Please, mother. Tell me.


… Fine. I want you all to be by my side, but the successor has to become independent and break away from me, so…


*Shake head* But mother didn't love us like Rui. We loved mother so much, but mother only sees Rui as the most important…


This might be the destiny of the creature known as Vampire… It's how it is. Maybe part of the reason was become I spent a long time with you all, but very little time with that child.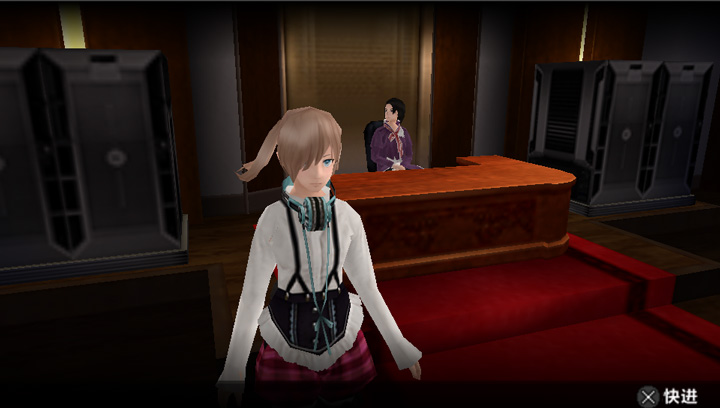 Back on topic. It's almost dawn, and everyone is ready for battle.


That's good... For the future of Vampire, we must achieve victory today.


… Hm… But it's probably all for her…


...Rui.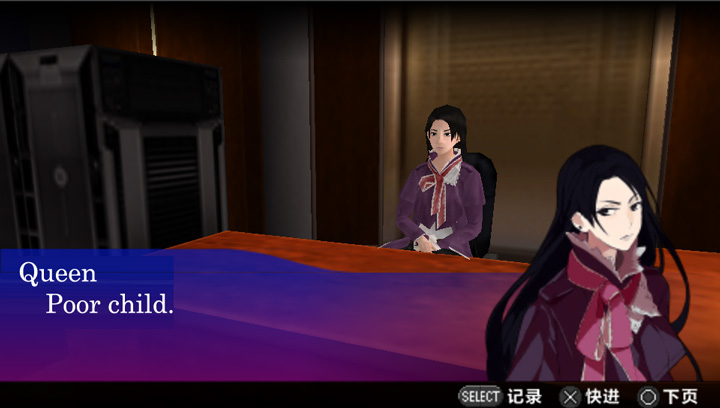 Capable worker with absolute loyalty, but such scary jealousy… Just like his father. I wanted to let them meet while he was alive too… What kind of expression would he have made? Fufu… That person… The first to gave me love… The deepest one too… Fufu. How nostalgic.

------------------------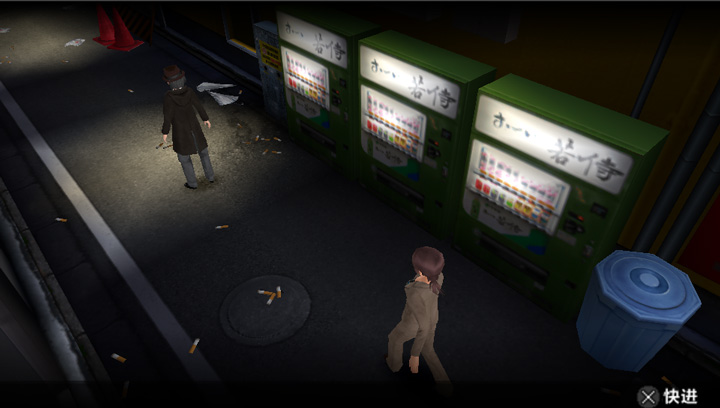 Akihabara is almost secured. Surveillance camera verified the Queen and Rui are still in this street.


… Looks like the enemy want to settle this tomorrow.


Finally…


Um ?


… We almost missed it. No one is giving up until the very end.


Ah, m-my apology! We tried to get it done ASAP, but still taken so long.


… I didn't mean your work. It's me that I was saying… It's been 20 years since I succeed the previous leader. The cat and mouse game can finally be ended today.


This promise from so long ago can finally be fulfilled. Right here, to realize my dream…


… What do you mean?


… Hmph, ignore it. It's a dream of two men. Nothing to brag about.


… ?


Has everyone been vampirized?


Yes, everyone except me.


How long has you been with me?


About two years.


… So young, but capable, and full of battle experience. Yet you still choose not to use 'that'? If they realize you are just a normal person, they would revert to deadly attacks instead of stripping… You will die.


… I have come to terms with it. I want to fight monster as a human till the end. In fact, I do have special skills from my master and trained more than any other…. That um, I am not criticizing your decision… But it doesn't feel right to become monster in order to defeat monster… I believe we should protect the people and the nation as human… Sorry.


… Monster, eh?


Haha, monster. Yes, indeed, it is monster.


… Then… ?


Near agelessness, complete healing beside fatal wound, such unimaginable ability… All the pros of a monster. But… Get everyone ready. We will hunt monster at dawn.


Except the Queen and Rui have to be captured alive…


… Exactly. Capture alive even if they try to suicide.


… Understood… But why only those two have this special treatment? I understand they are the leader of the monster, and as long as one of them is alive to mate with another man, another pile of monster would be created. Isn't it too risky? I can't find a reason for them to be alive…


… Just do your job, Midoh Satoko. Let this be your last mission in NIRO.


… Understood.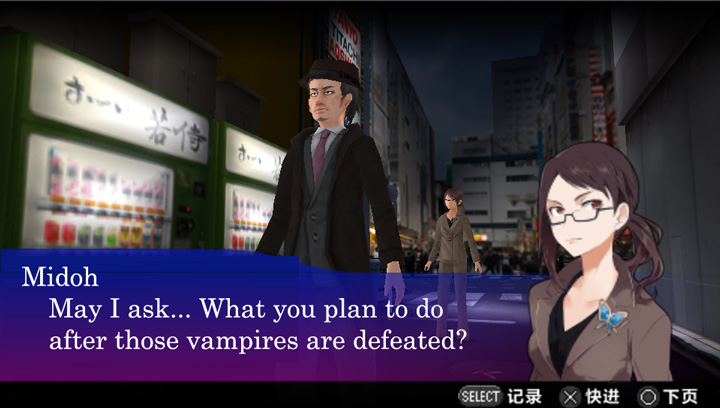 … Fulfill my dream. Realizing a dream from long time ago…


… I don't know the detail, but could I assist you in achieving it? I want to work closer to you.


… It's too much for you.


… Can't be done… ?


Forget everything after this mission. I will send you to a new place to work.


… Thank you… Very much.