Part 17: Sortie 17 - 'Regrets'

Sortie 17 - 'Regrets'
Hey, I said things were gonna be quicker, and I meant it. With me tonight are
CJacobs
and
motoh
, two people who are totally into cool things like giant robots and blowing things up and definitely not into personifying AIs. Feel free to join them in torturing me with some terrible ideas and regrets.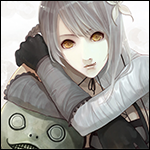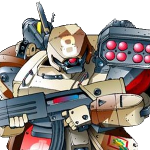 And on the reference front, we have another double winner, with
Ashsaber
and
Feldherren
both getting the identity of our last robot correct, the futuristic police enforcer, the
AV-98 Ingram
from Patlabor!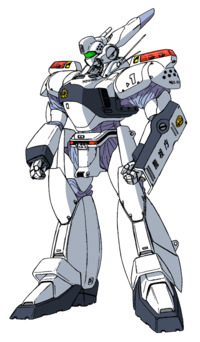 Oh shit, Garage segments are back! Well, since I've got more time to kill, I figure why not round out our general parts categories before we wrap up AC2?
So, legs then. It would not be hyperbole to say that leg choice is probably the most important decision you'll make in any Armored Core game. Sure, they don't provide the bulk of your armor, you can't shoot out of them, and they don't have fun functions like radar or mapping, but what legs you pick can have a profound impact on how you play the game. So let's break down the unique stats for legs first.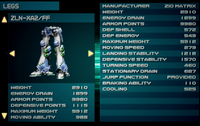 Maximum Weight:
Kind of obvious, but this is the maximum load capacity of any given leg unit. The bigger the number, the more shit you can cram onto yourself, and the bigger difference between how much weight you have and the maximum capacity, the faster you can move.
Moving Speed:
Base walk/run speed of the legs. Note that it doesn't necessarily correspond to speed in KMPH as displayed on the hud, just more of a general numerical representation, since your weight ratio affects speed.
Landing Stability:
I covered this in the movement general video waaaaaaaay back when I started out, but long story short, it's how far/fast you can fall before you suffer a small stun period where you can't move. Less stability means you have to be much more careful when landing unless you want to risk giving the opponent a chance at some easy shots.
Defensive Stability:
How well the legs keep you from buckling under fire. Every weapon has a hidden 'knockback' stat to it that affects how much stability damage it does, and if you take too many hits in succession or get hit by a weapon with high knockback like bazookas or grenade launchers, you'll be stunned for a split second. Not quite as long as a landing stun, but enough that you could take an otherwise avoidable heavy hit. Take note that there are multiple levels of knockback, so for example taking a grenade hit while on lightweight legs can send you sliding out of control, where the same on heavyweight legs might just leave you with a long stun.
Turning Speed:
Just like Moving Speed, but for how fast you turn, with the same caveat that it's affected by weight ratio.
Stationary Drain:
The 'effective energy drain', so to speak, of the legs when not walking. What this means is that even if the energy drain for the legs is 3000, if the stationary drain is 500, then by not moving you clear up 2500 energy usage, which means you'll recover your energy faster. Take note though that some legs (mainly hover legs) have a higher stationary drain than normal energy drain, so you actually regen energy noticeably slower if standing still.
Jump Function:
Whether or not the legs can jump by quickly tapping the boost button. On all legs by default except for tank and hover legs.
Braking Ability:
How good the legs are at braking and changing direction on the fly.
So then, in depth, what makes this all so important? Well legs are the main factor in how the game determines your weight class. Sure, you can have the rest of your core AC be heavy body parts, but so long as you're not over the weight limit, you can move like a lightweight, albeit one with a terrible weight ratio. And you'll look kind of like a doofus.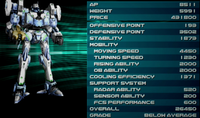 So then, why not go with the lightest possible legs for any possible build? Well, you certainly
can
, but whether you
should
, that's a very personal decision. If you're happy having only a light blade and pistol, then go nuts, but really, sometimes going up a weight class from lightweight to medium legs can make a big difference when you have bring along some slightly bigger guns and still have a relatively low mobility hit thanks to the higher maximum weight leaving you with a better weight ratio. And, depending on the legs, a maxed out pair of lightweights can even be less mobile than the same build on a middleweight pair. I can't tell you what kind of build to prefer, I can only explain how things work.
So then, since the parts are laid out, what kind of legs are there?
Biped:
Your 'standard' humanoid legs. Middle of the road performance in all fields and a wide variety to go with any build.
Reverse Joint:
Chickenwalkers, operate the same as bipeds. Low energy drain and high stability, but at the expense of maximum weight and defense. Good for mobility builds, but low variety.
Quadrupeds:
High energy drain and moving speed, but low-middling other stats. Can use weapons that require you to be stationary while moving, but not while flying, and cannot boost along the ground.
Tank:
Ultra high defense and AP with low energy drain, but very slow. Uses their own boosters and cannot boost along the ground or jump, but can use stationary weapons at any time, even while flying.
Hover:
Huge energy drain, but fast base movement and they don't have to worry about landing stability. Can move over water without sinking and are capable of boosting along the ground, but cannot jump or boost hop. Use their own boosters, which are usually huge energy hogs.
Obviously, how you choose to play is up to you, and of course each of these categories has a light, medium, and heavy variety within them, but picking the right pair of legs can make or break a build. So remember, here's your TL;DR what to look for in picking legs:
-
Energy Drain:
Are you using a mainly energy or flight centric build? Go for a low energy drain part, since legs are big energy hogs. But if you've got the energy to spare or are going for a tankier build, don't be afraid to go for some of the fancier high drain parts.
-
Weight:
Don't get stuck with a pair of legs you can't stick all your fancy weapons onto. Know how much your build weighs, and pick legs that are right for it.
-
Mobility:
Are you a heavily armored monster machine who can afford to be slow, or a quick bee who shouldn't have to take a hit? Plan your loadouts accordingly, so you're not stuck having to kneel for a grenade launcher on an ultra-lightweight.
-
Stability:
Can you take a hit or a short fall without collapsing into a pile? Do you keep getting knocked back by pistol-wielding enemies? Try out some new legs with better stability, and you can make a huge difference.