Part 68: Episode LXII: Zoah and the Riddle of the Criosphinx
Episode LXII: Zoah and the Riddle of the Criosphinx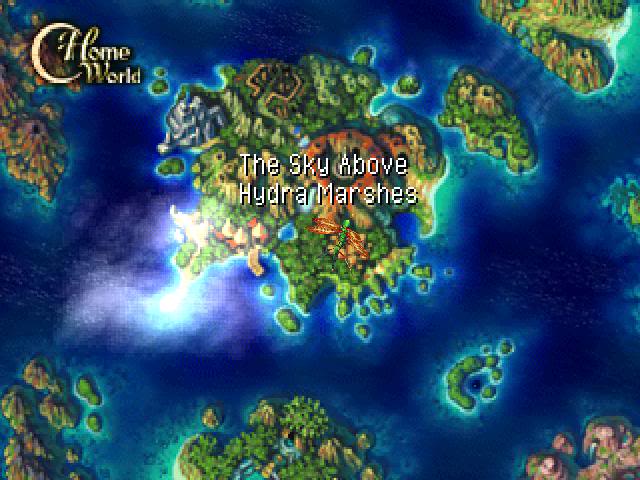 Well, that was a silly little adventure with an extraordinarily high body count. But, Lynx and his crew are down to their very last dragon.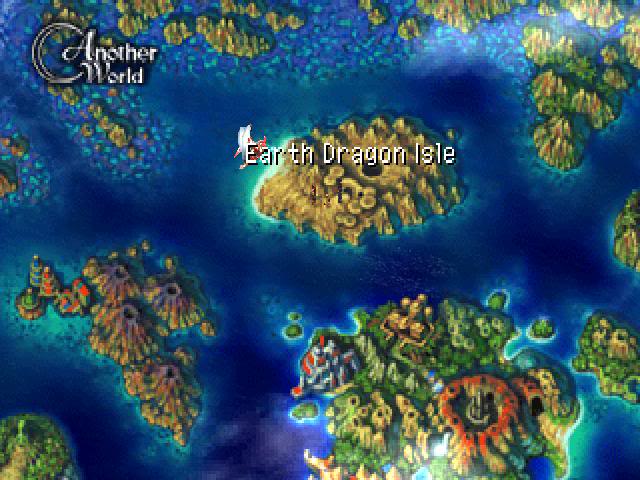 But, before we tackle the final challenge of the fiesta bowl of dragon domination, let us take on final pit stop for the last side quest of this leg of the game. We've yet to explore Earth Dragon Isle of Another World. It is...slightly different than its Home counterpart.
Music: Earth Dragon's Island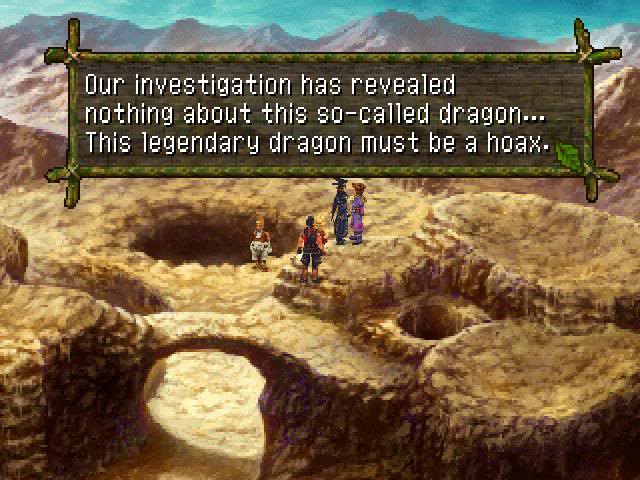 Visually, it is identical. Well, other than the lack of gravity defying quicksand obscuring the sink hole into the caverns below.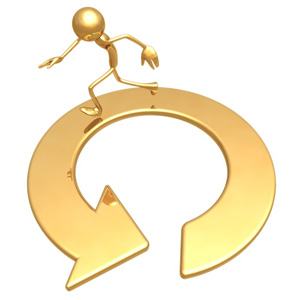 The dungeon and enemy stock is identical to before. But, there is no need to abuse Rockroaches as the central chamber's puzzle is already solved. Spiffy.
Proceeding into the dragon's chamber...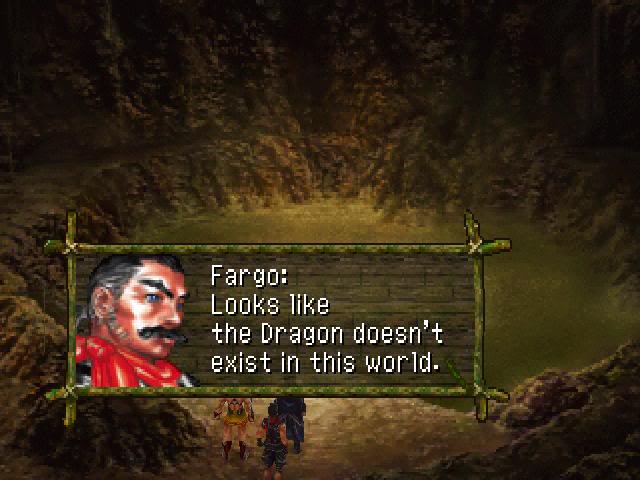 "Maybe we just kicked its ass so hard it felt it in BOTH dimensions? That thing was a total putz."

"BUT FARGO... WHAT IS THAT THING ON THE LEDGE UP THERE? I DO NOT THINK WE HAVE EVER SEEN A MONSTER LIKE THAT BEFORE..."

"Zoah, we see some freaky monster we've never seen before like EVERY day. Sometimes multiple times a day. Yesterday alone, I saw some giant green Muppet dragon thing, man eating mantises, and friggin' DINOSAURS! Dinosaurs, Zoah!"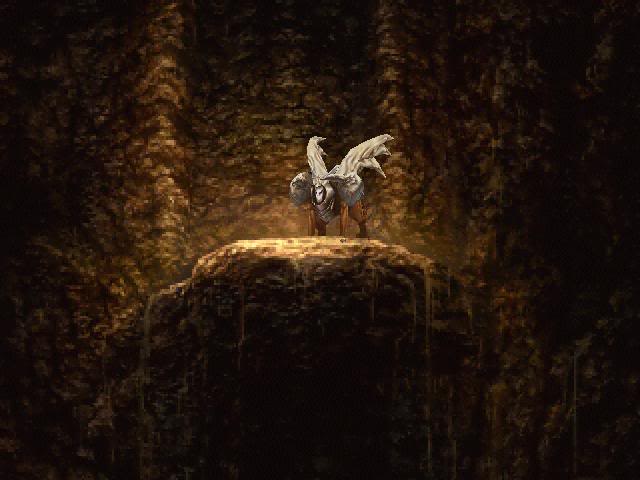 "Besides, I can't even see anything from down here and I don't know how you can either. In fact, I *especially* do not know how the hell you see up there. Can you even look upward in that helmet...?"


"I HAVE TO ARCH MY BACK A BIT. IT IS NOT TOO MUCH TROUBLE."


"Since, just taking the thing off for a moment would be too much effort, right?"


". . ."


"I DO NOT FOLLOW."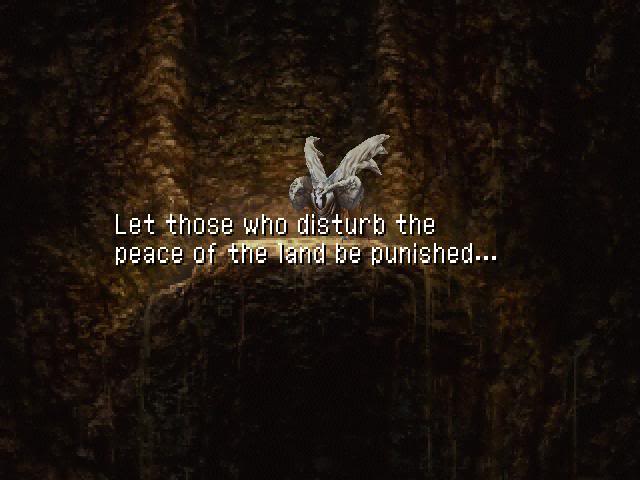 "IT IS COMING DOWN!"

"You don't say? I thought it was just going to toss turnips down for making a ruckus."


"STAND BACK!"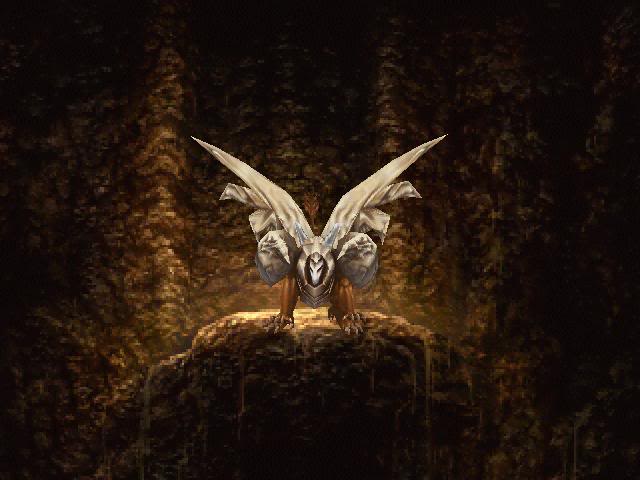 "What...you mean to say you literally see it coming down? I still can't see a thing. Also...how the hell is there even any light in here in the first place? Where is that even *coming* fro-"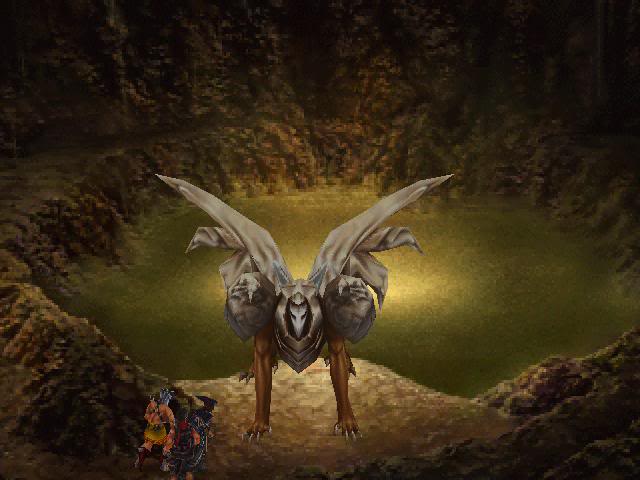 "-ooowwah! Geez... A little warning next time!"


"BUT I JUST INFORMED YOU IT WAS..."


"We don't have time to chat, Zoah. We've got to fight this monster. Man...never seen one of these ugly things before..."


". . ."
Music: Hurricane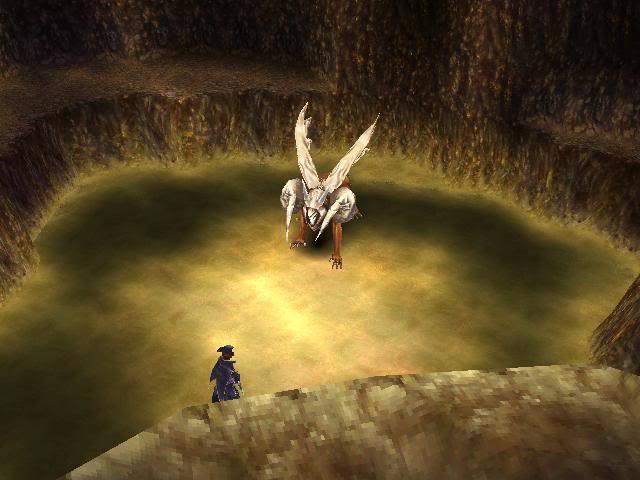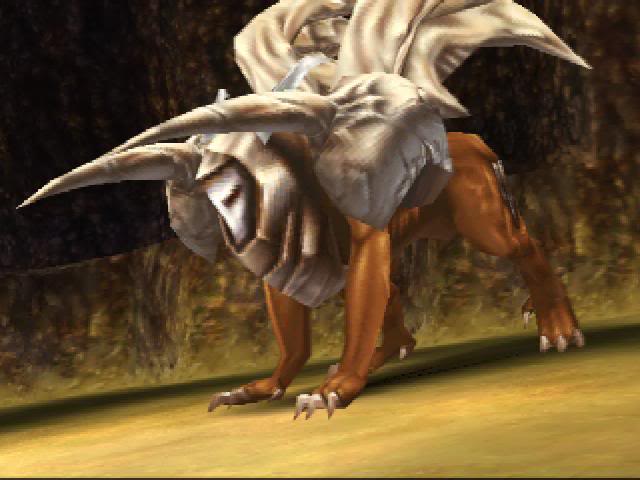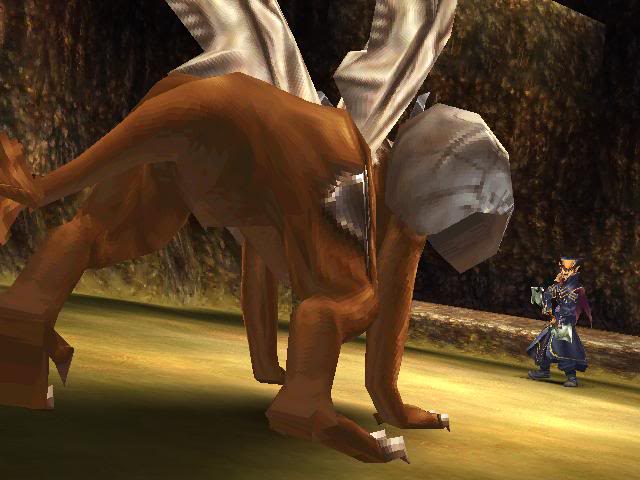 Meet the Criosphinx. He is an...odd little boss... To say the least.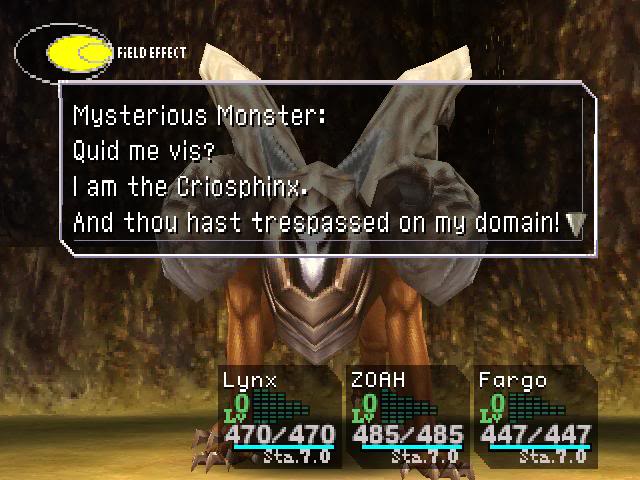 "Why must thou turmoil to this land bring? Now turmoil onto thee, I give... Depending on how thou meet this trial Thou may be allowed to alive leave here! However, this be an island to which no man has visited for aeons and the Criosphinx is grown quite bored..."

"Uhh...you know there's an entire team of explorers like two rooms over, right? Like...twenty guys milling about. Probably been here for a few weeks."


"Silence!"


"THERE IS NO NEED TO YELL. WE WILL LISTEN."

"If though possesseth the courage to match thy wits to mine, thy sins may be forgiven when thou answer correctly my questions six!"

"Man, you really *are* bored..."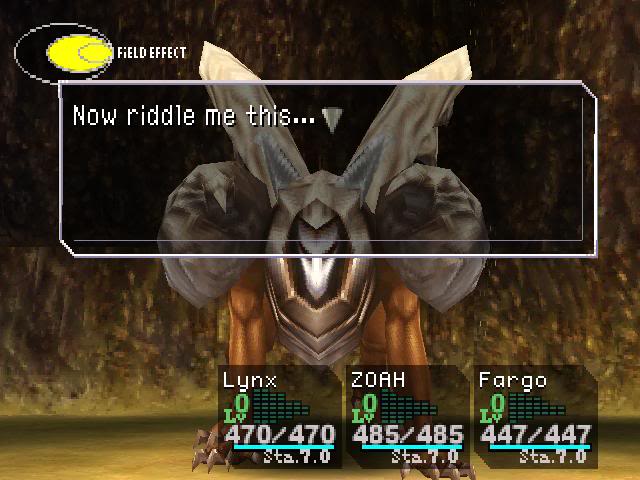 "Okay, shoot."


"..."


"..."


"Uhh...hello...?"


"..."


"..."


"Hello?!"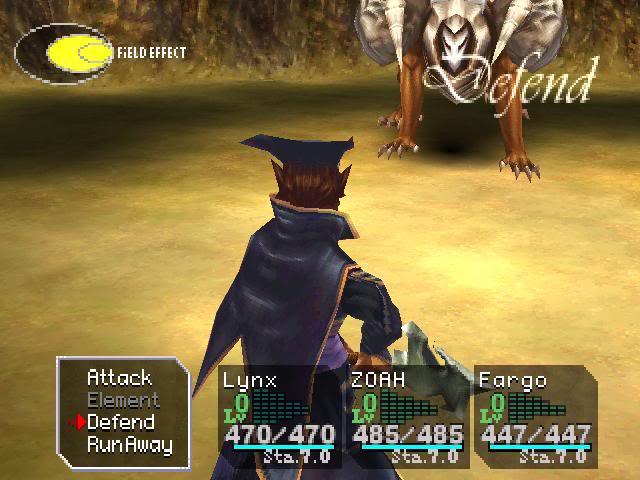 The Criosphinx is apparently bored enough to host a quiz show but not bored enough to have thought up questions beforehand. Instead, the party must defend for several turns before It finally thinks up a good one.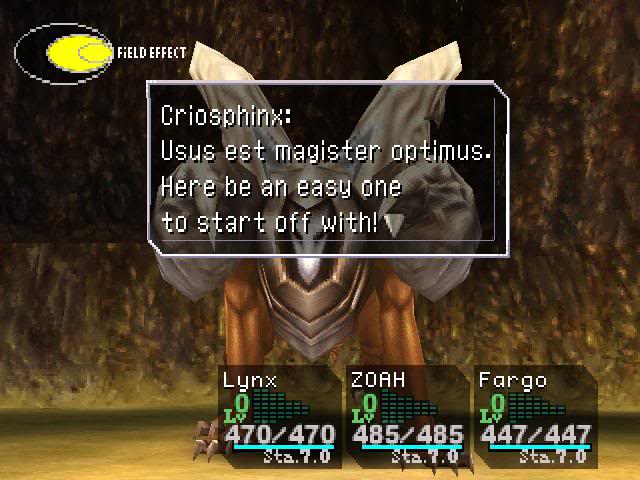 "Finally!"

"Auburn nay the burn, Iron pyrite nay the fool, All that glitters is nay... But silence be... Answer my question! What is it I be?"

"The hell was that...? You didn't say deciphering gibberish was party of the challenge."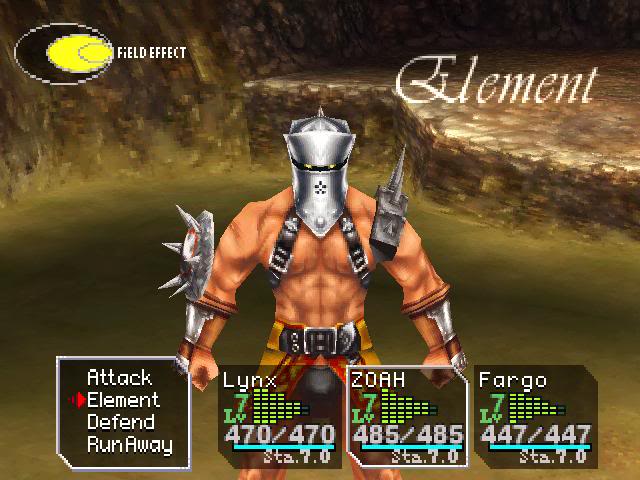 "OOOH! OOOH! I KNOW THIS ONE! CAN I ANSWER?! CAN I?!"


"Tch... Fine."


"MY ANSWER IS:"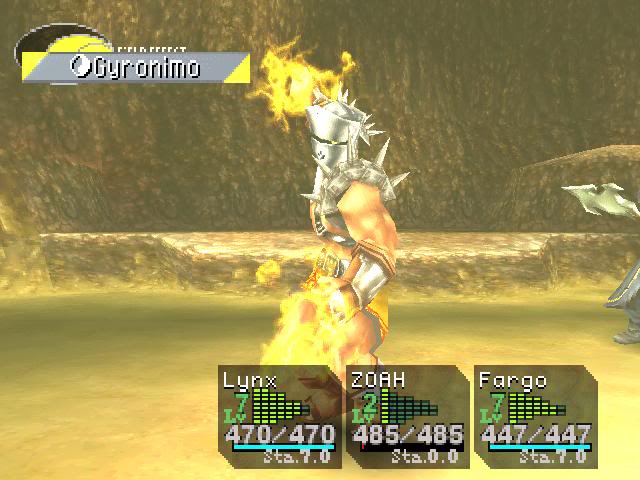 "YEEEEEELLLLLLLOOOOOOOWWWWW!!!"

"Verus... Thou art correct."

"HURRAY! THIS PLEASES ME!"

"..."

"Dimidium facti qui bene coepit habet. Well begun is half done. Now, here my second riddle be..."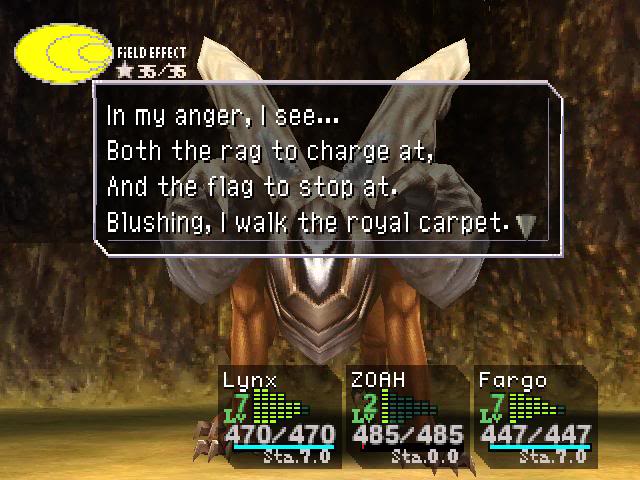 "Answer my question! What is it I be?"

"OOOH! OOOH! PICK ME! PICK ME!"


"I'm pretty sure I know this one. The carpet part kinda gives it away. But, fine... You take it Bob BARKER."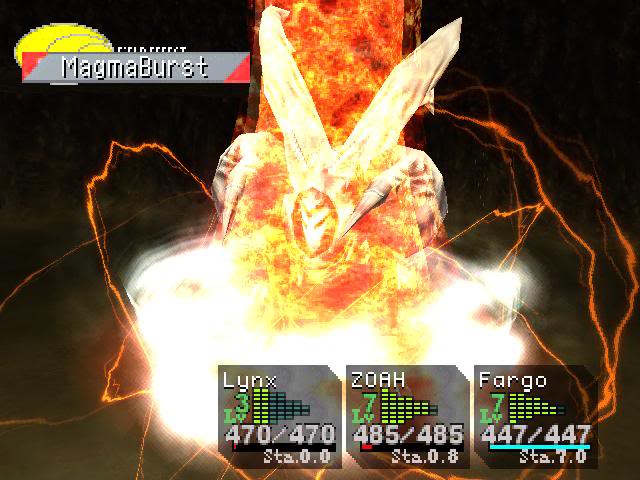 "WHAT IS RRRRRREEEEEEEEEEEEEEDDDDDD?!"

"Verus... Thou art correct. "

"MY KNOWLEDGE IS POWER!"


"..."


"What's with all the color answers...? Did you steal these questions from a Dr. Seuss book?"

"Now riddle number three! Bene rem gere!"

"Answer my question! What is it I be?"

"HEY! HEY, I KNOW THIS ONE TOO! HEY!"


"No, Zoah! You've had enough turns. You have to share with the other children!"


"AWW! B-BUT NOBODY ELSE WANTS TO GO."


"That's because you're not giving 'em a chance. It's Fargo's turn."


"Wha...? Me? What was the question? Was there a question? I kinda zoned out and hoped some fightin' or lootin' would start up."


<sigh> "Just say 'green'."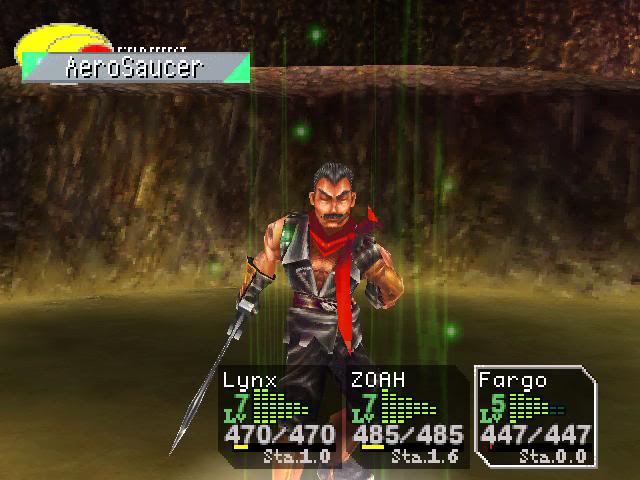 "Err...just say green?"

"Verus... Thou art correct."

"Okay...? Can I go back to smokin' me cigar in peace?"


"I will ask of this chamber there is smoking none."


<snorts>

"Thou catch on quick! Question four... Accipe!"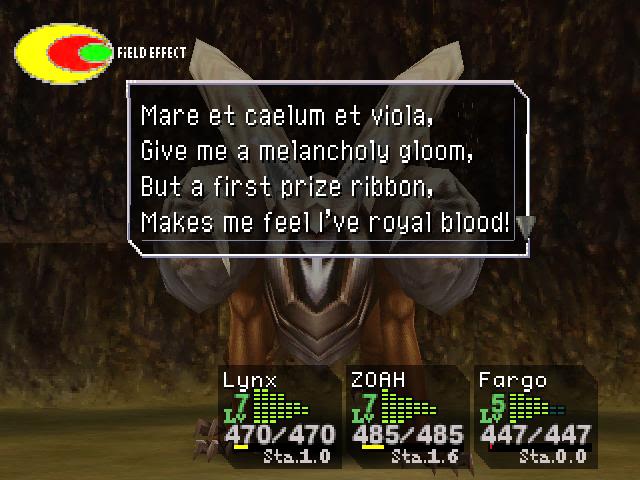 "Answer my question! What is it I be?"

"I HAVE THE ANSWER, SERGE! CAN I BUZZ IN?!"


"Buzz in...? What does that even *mean*?"


"Hold yer horses, big boy. This one is mine."


"I AM FEELING UNDERUTILIZED BUT RESPECT YOUR RIGHT TO PARTICIPATE IN THE CHALLENGE."


<blows smoke> "I got yer answer right here."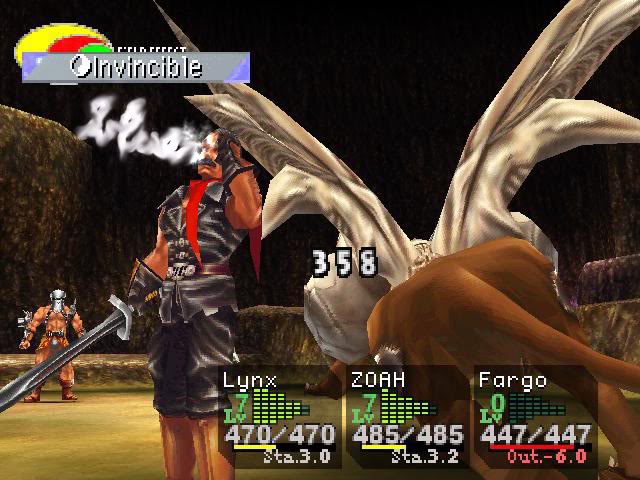 "Verus... Thou art correct."

"Damn straight! Now if ya need me I'll be back by the entrance. Wouldn't want yer precious rock hole to get all smokey..."

"Velim tibi ita persuadeas... Just two more to go!"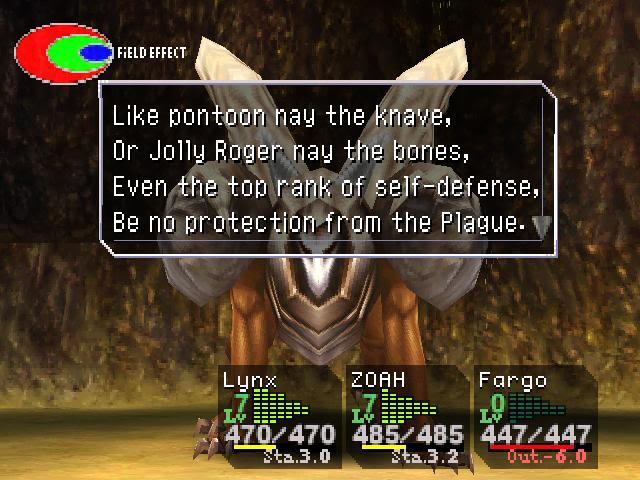 "Answer my question! What is it I be?"

"FARGO IS NO LONGER WILLING TO PARTICIPATE! MAY I ANSWER? I BELIEVE I HAVE THE ANSWER."


"No, this stupid color is mine. You can have the next one. Spoiler: It's gonna be 'white'."


"I WILL WAIT PATIENTLY."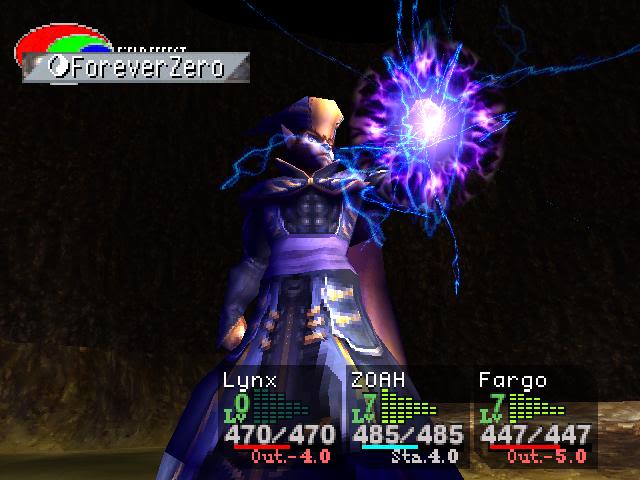 "The answer is black, dickweed. "

"Verus... Thou art correct."

"No duh."

"Nigra in candida vertete. By deduction alone ye should my answer already know..."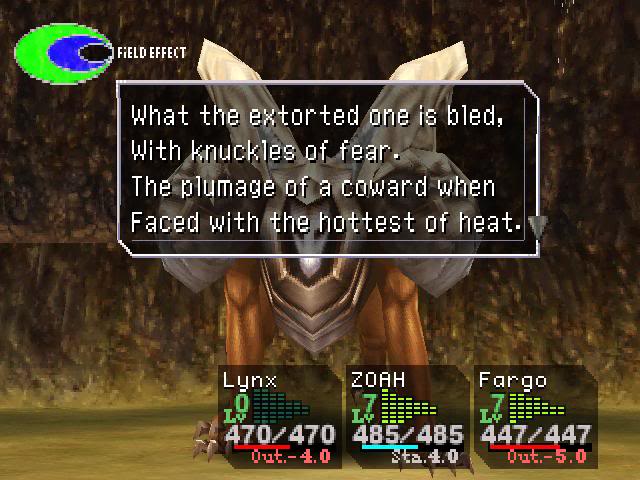 "Answer my question! What is it I be?"

"ME! ME! ME! ME! LET ME DO IT! I KNOW IT! ME!"


"Zoah, my shut-in mom in another dimension knows that answer to this one. But fine, you take it."


"I WILL NOT LET YOU DOWN."


"You're getting your bucket painted black if you piss this one down your leg."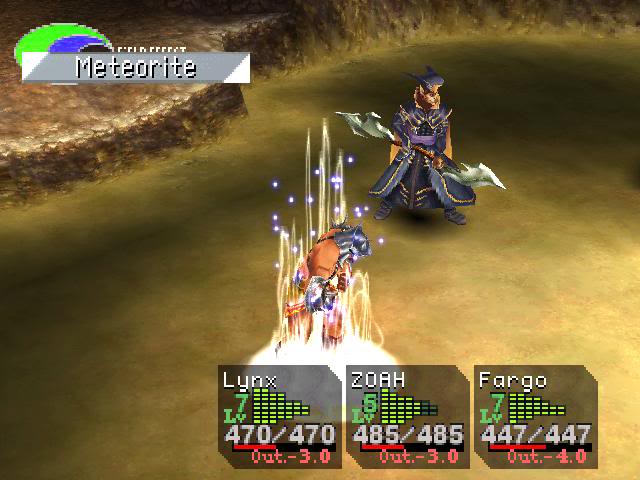 "WHITE SQUARE FOR THE WIN."

"Verus... Thou art correct."

"HUZZAH!"


"Zoah, do not EVER say 'huzzah' again in my presence. I will ditch you in the Bend of Time and not look back."


"BUT I FIND THAT PLACE DARK AND UNPLEASANT."


"Exactly..."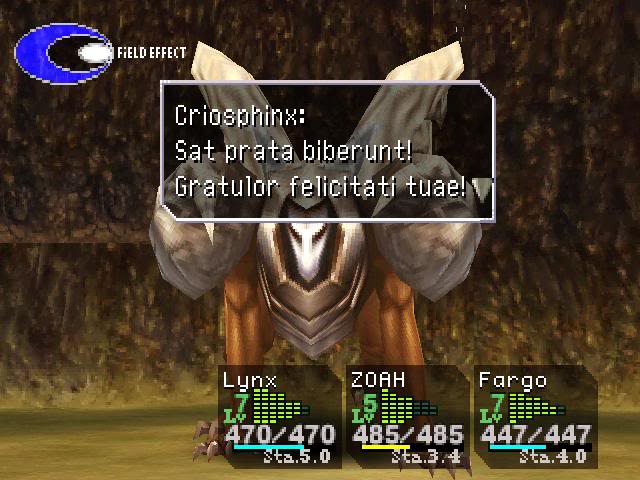 "Well done! Thou hast solved all of my riddles! Thy brains are as strong as thy brawn! Bene vale! Bene valeto! Always be diligent in they practice! Me tibi commendo! Vale! I take my leave of you! Farewell!"

"Wait, what...? Don't we like get a prize for doing all that crap...?"


"Indeed."


"Well, what is it...?"


"I will not take thy lives..."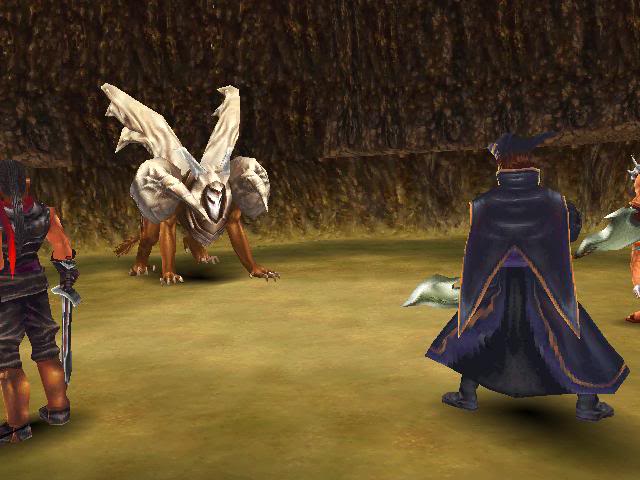 "..."


". . ."


"...Well that fucking sucked."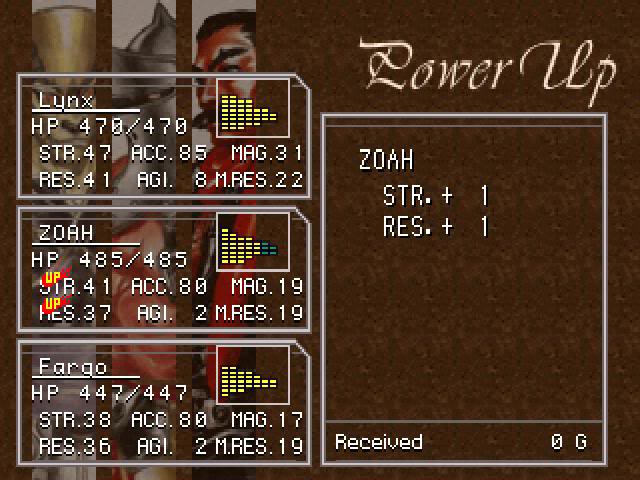 So, yeah. For doing the Criosphinx's riddle challenge you get jack and shit. Not even a single dime. The only reward is that sequence of elements:
Yellow-Red-Green-Blue-Black-White
Jot this sequence somewhere down. It is
VERY FUCKING RIDICULOUSLY IMPORTANT
much later in the game.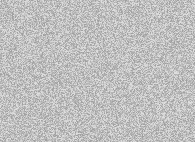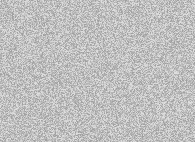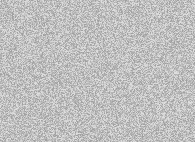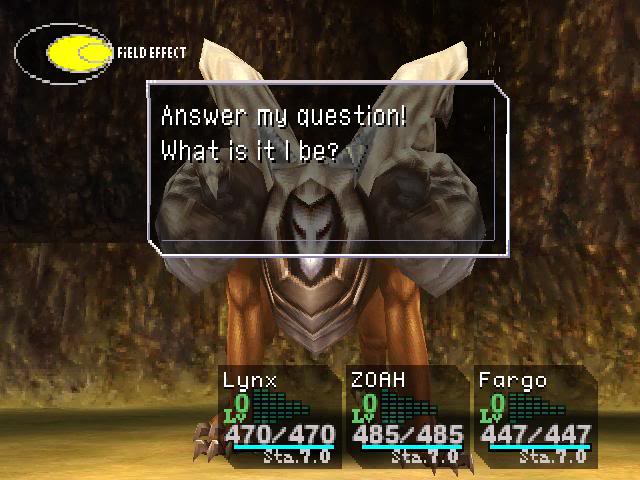 "OOOH! OOOH! I KNOW THIS ONE! CAN I ANSWER?! CAN I?!"


"Nah... I got this one, Plinko."


"AWWW..."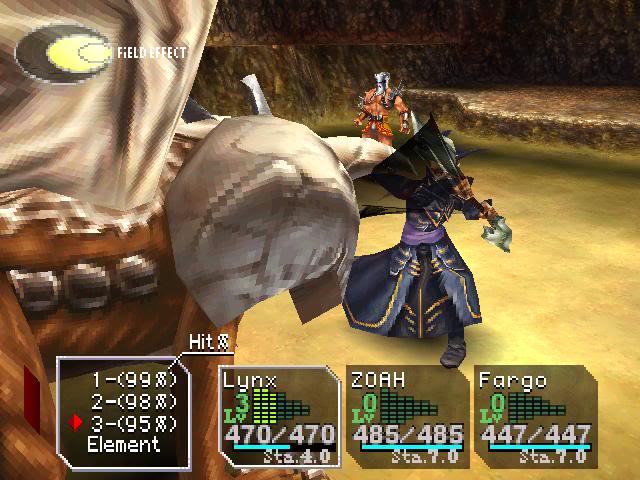 "What is Mastermune to the teeth for $500?"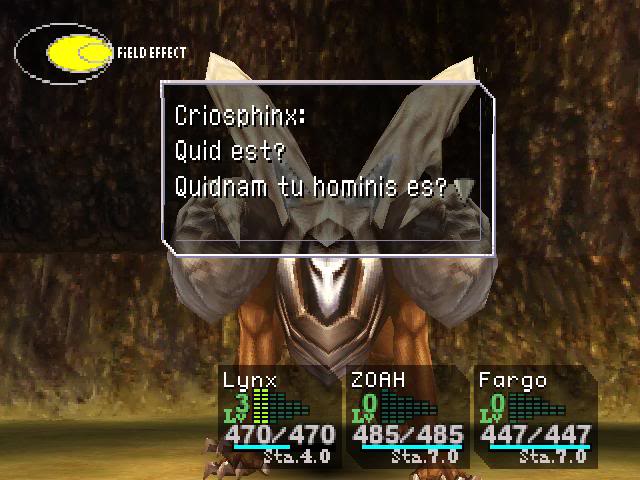 "What? Thou sayest thou canst not answer my question? Male factum! Then what have I to do with thee? Be gone from my sight! Abi in malem rem!"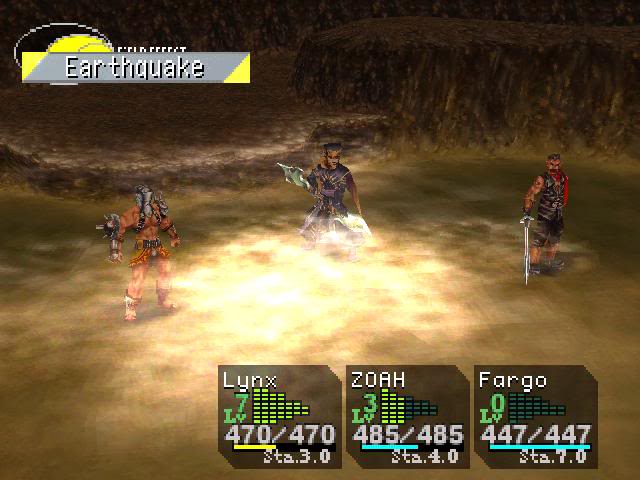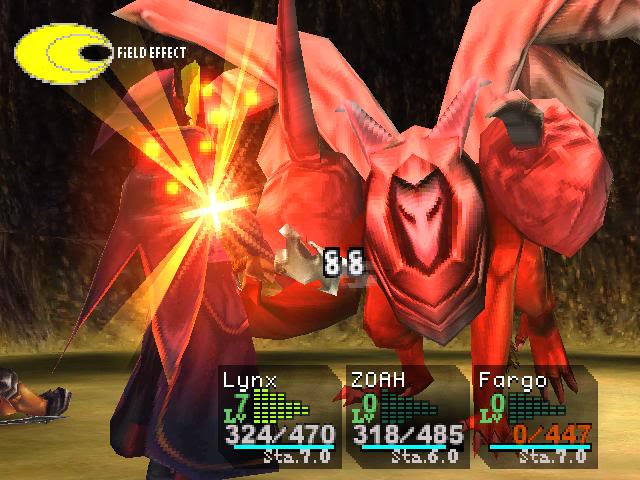 At this point, Criosphinx gets pissed and just becomes a straight boss fight. It is actually pretty damn tough, packing high level Yellow innate elements it'll spam 2-3 times in a row, plus physical attacks that hit three times in a row for 75+ damage a hit. It also has the second most HP of any enemy in the game with a whopping 13000 hit points.
But...this fight can be made very easy assuming Serge has the Yellow Plate and Mastermune.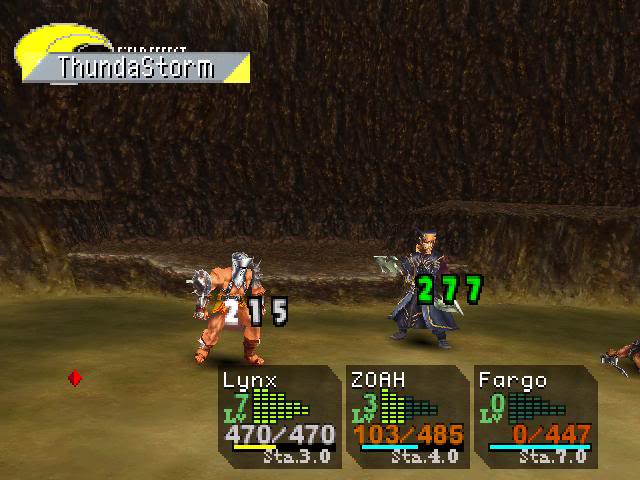 The Criosphinx has a very simple attack pattern of doing 6-8 physical attacks (i.e. beating the shit out of two separate characters for 2-4 hits) and then spamming a trio of ThundaStorm and Earthquake spells.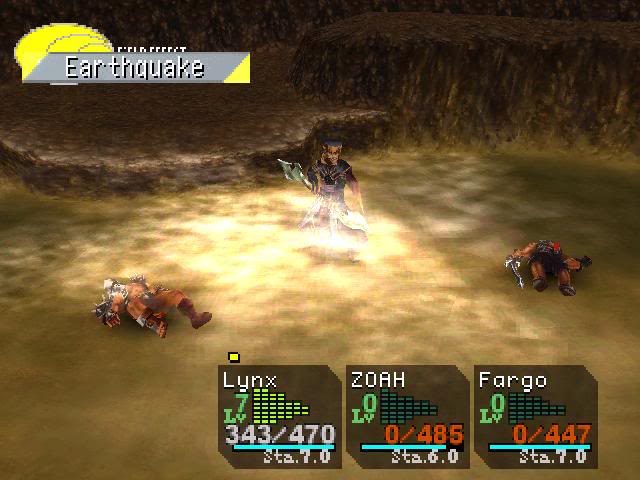 If Lynx has the Yellow Plate, then the Yellow innate magic fest will just fully heal our hero after whatever beating he gets from physical strikes. This battle doesn't earn a Star Level, so if the other two fall they can be ignored. Lynx does around 400-600 HP of damage with every heavy strike from the Mastermune. After a few rounds of attacking, all attacks by Lynx got up to a 99% chance of hitting for whatever reason.
So, it's just a matter of grabbing a sandwich and mashing X for ten minutes while the thing pounds on our furry hero then heals him to full over and over.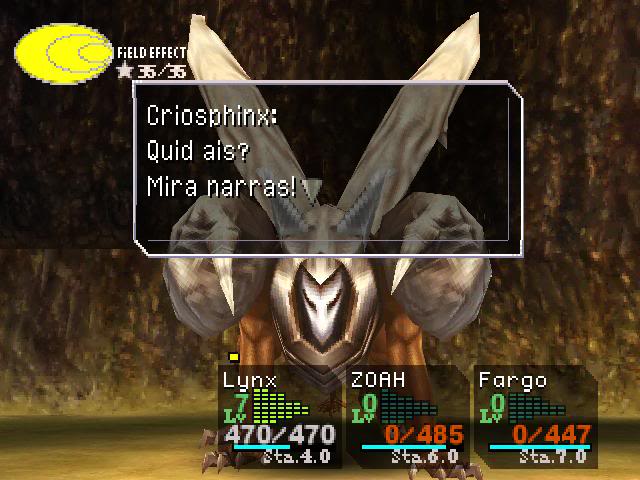 "Impressive! Ne'er thought I there'd be humans who could defeat the Criosphinx by force alone! Thy way of life intrigues me! To conquer all obstacles with brawn rather than by brains!?"

"Yeah, cuz *that* has never ever happened before."

"But I warn ye, woes shall surely befall ones such as thee!"

"VALE!"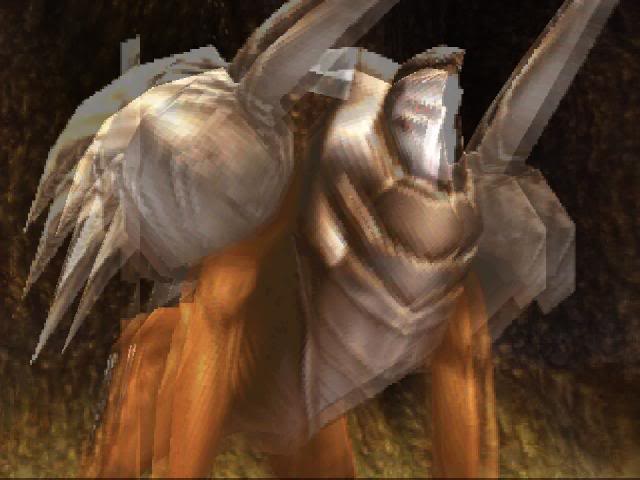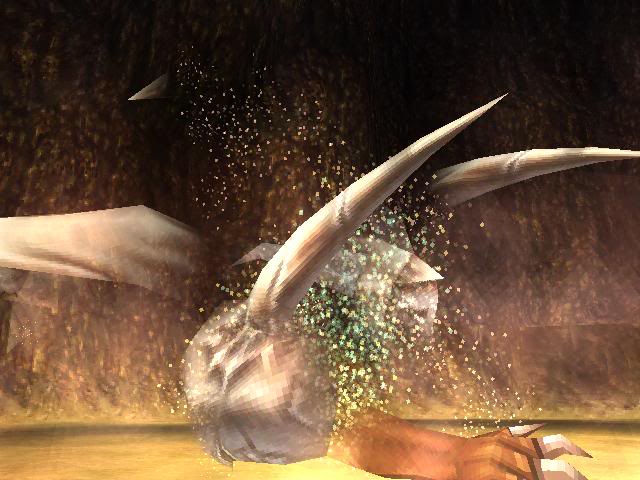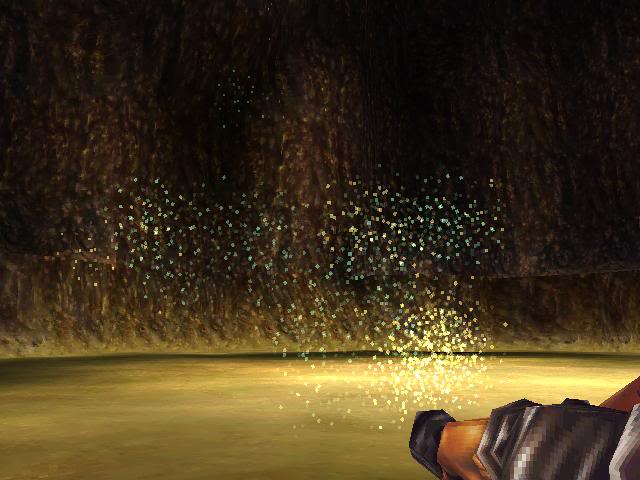 And so the ancient quiz master wastes away into dust and sand. Shame, that.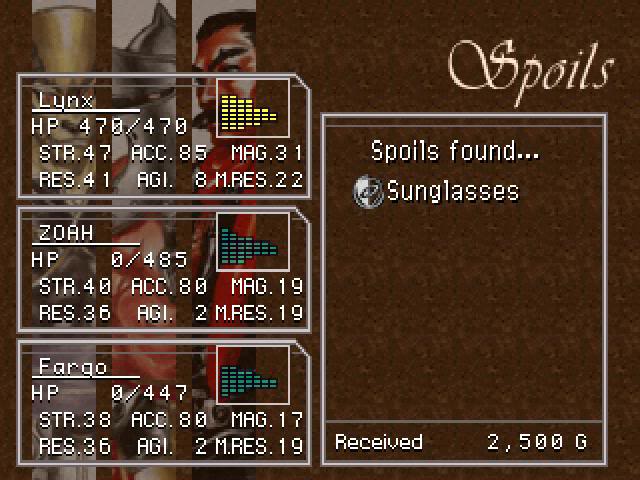 For our far more traditional efforts, the party receives a much better reward: a pair of Sunglasses. While not only allowing Lynx and friends to do their best Albert Wesker impression, the new accessory also makes characters' attacks (read: Lynx's) fucking ridiculously powerful. To the tune of 20-50% more damage output with every attack. Combine that with the Mastermune and Lynx can basically solo the rest of the game if he wanted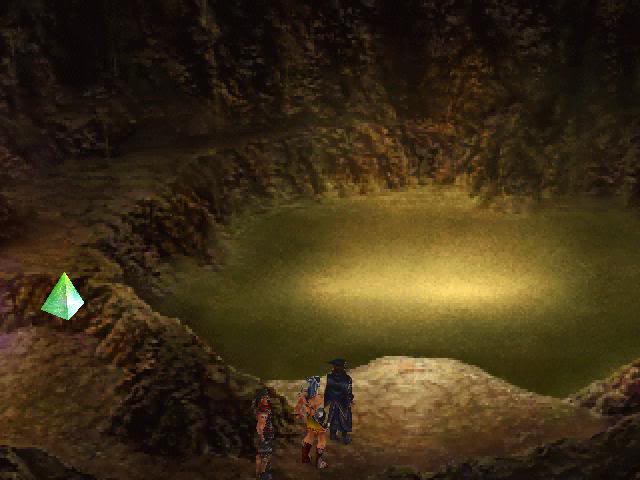 "Welp...at least we got today's stupidest thing I've ever seen out of the way early. You guys wanna go grab some lunch?"


"I COULD GO FOR A SALAD AND A LATTE."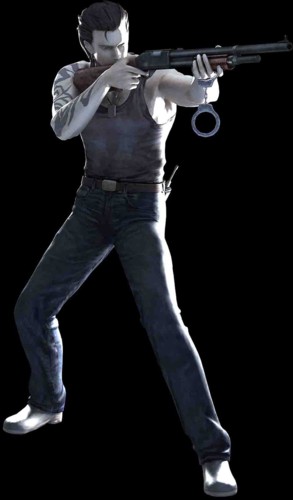 Lynx's Forever Zero

Criosphinx's Japanese title is the rather baffling "Ginger X". I...don't even know what to say about that.