Part 76: Episode LXIX: Serge and the Challenge of FATE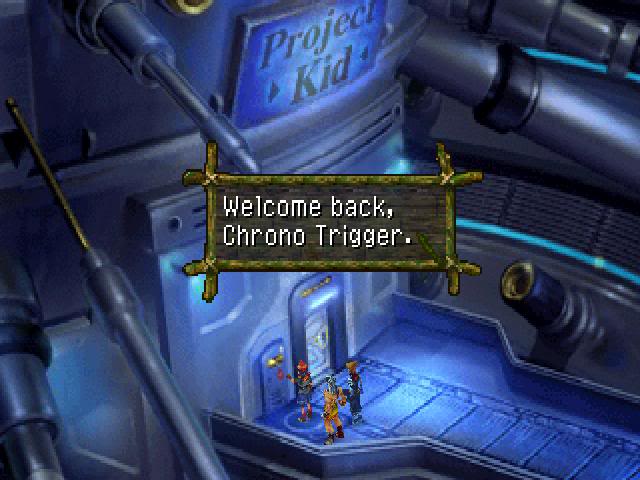 "SO THAT IS WHY!!! SO THAT IS WHY LYNX NEEDED SERGE'S FORM!"

"To open a locked door...? That is...kinda anti-climactic..."

"Lynx-must-be-inside-already."
"YES...ALONG WITH THE FROZEN FLAME."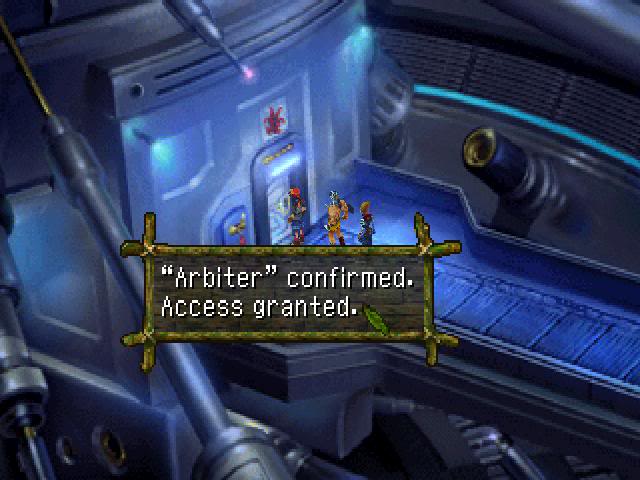 "All this for a friggin' door... Honestly... I hate my life."
Music: The Frozen Flame
Note: This is the last bit of music borrowed from Radical Dreamers. It's virtually identical, other than Chrono Cross of course using higher quality synth sounds.
Music: The Frozen Flame (Radical Dreamers)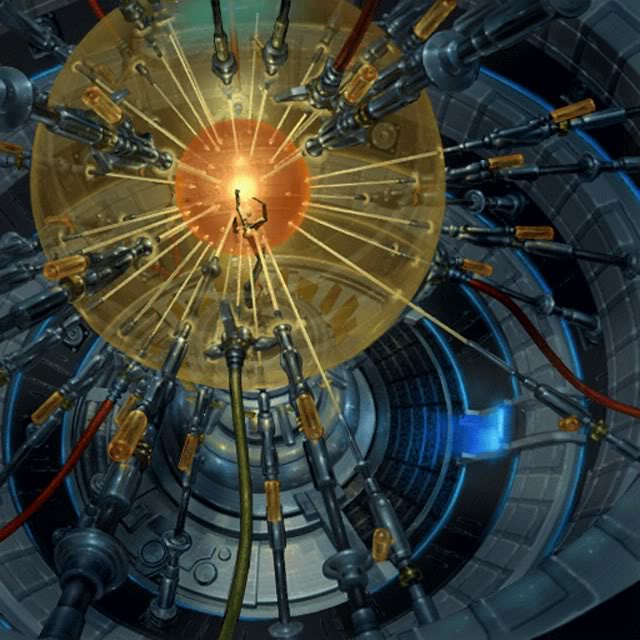 "WHERE ARE WE...!?"

"We ain't in Kansas anymore...that's for sure..."

"I DON'T KNOW WHERE THAT IS."


"Neither do I..."
"IS THAT... THE FROZEN FLAME!?"

"Exactly."

"Ugh...terrific..."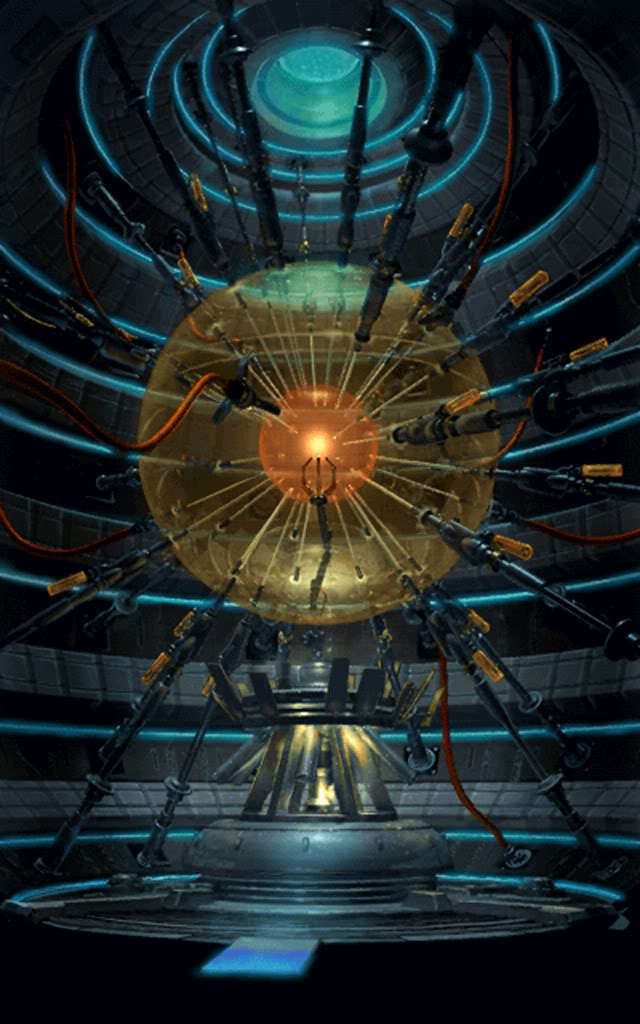 "The hearer of people's prayers... The provider of riches, fame, and power... The bestower of eternal life... The promise of peace and happiness..."

"Back thirty seconds and you couldn't help but start up another fruity speech...? Sheesh... You are...just the worst."
Dark Serge teleports before the party...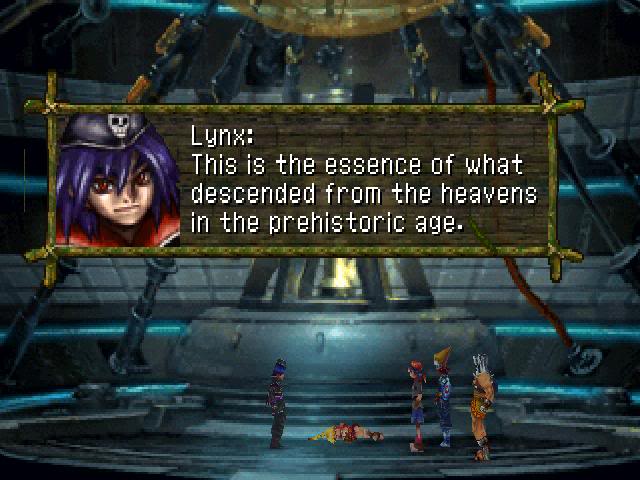 "The living crimson stone... the Frozen Flame!"
"LYNX!?"

"What took you so long? You had me worried. Worried that you might have perished on the way here."

"Seriously, bro, you have the least comprehensible motivations of anyone I've ever met... And good grief..."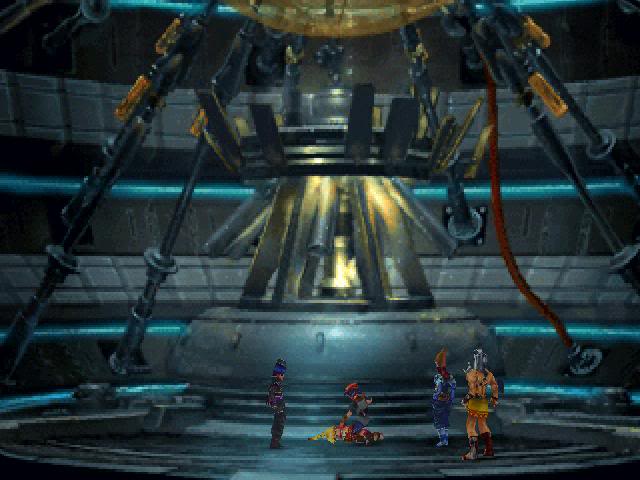 "You couldn't have covered her up with a towel or something. Or at least rolled her the other direction. That outfit ain't exact made for people crumpled on their side on the floor. Were you really gonna drone on with your next speech with her flashing her drawers at us...? Class, Lynx. Real classy."
"IS SHE ALRIGHT?"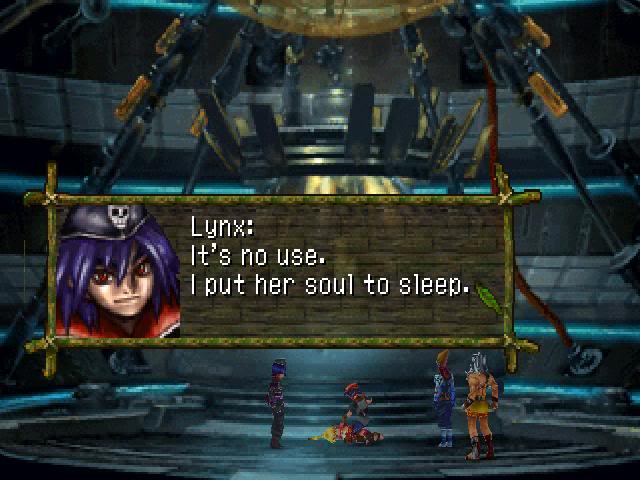 "I had to remove any potential obstacle from us having this talk."

"Yeah, that's about the most flowers and ribbons I've heard hung on 'so I chloroformed this chick like a creepy dickhead.'"
"WHO ARE YOU!? WHAT ARE YOU AFTER!?"

"You still don't know?"

"No, guy. I still don't know. NOBODY knows what the hell your deal is... All you've done is ramble using a ton of words to say absolute nothing. You stole my body and piddled around doing nothing for a good month. And now you wanna talk...? No. I do not know whatever you're hinting at. I'm sure it's gonna be some crap straight outta left field, though..."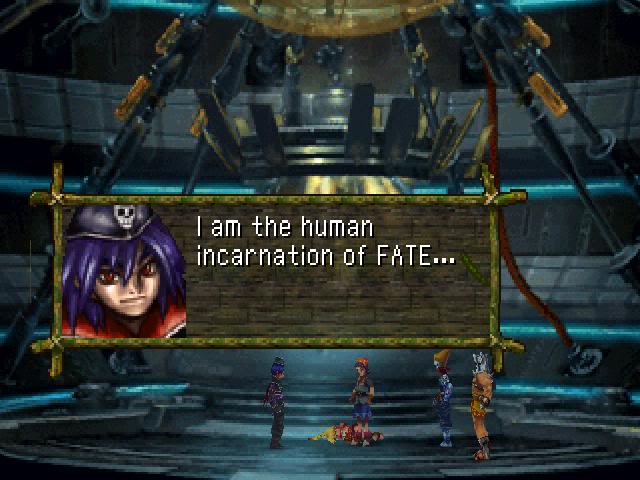 "The living interface of the FATE computer system... Or put simply... I, too, am FATE!"
"WHAT?!"

"So...you're a computer... Yeah. I *totally* saw that foreshadowed by you. Saw it coming a mile away. Never mind that I like vaguely even know what this FATE thing is and I found that out like twenty minutes ago... I mean, it was so obvious I shoulda seen it way back when you wanted to give me a big gay hug back at Viper Manor!"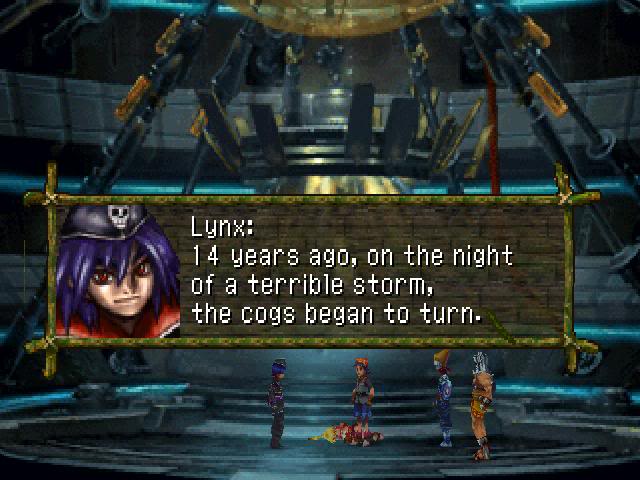 "That night, Wazuki and Miguel set out to sea carrying a sick, young child on their boat. That child was you, Serge, after you had been attacked by the panther demon. Your poisoned wounds were beyond the healing abilities of the doctors in Termina or even Guldove. So they set sail to Marbule in order to see the sage there...not knowing how bad the storm would become."

"Wait...so now NOT ONLY was I attacked by a panther demon...but a *poison* panther demon. What next? Was it on fire too?"

"Being skilled sailors, the two men were able to survive the storm. But they were blown off course and came ashore on this island, where they decided to seek shelter. At the time, this research center was off-line due to the severity of the storm. It took only 10 minutes for the system to power back up, but by then, the Flame had found you..."

"Yadda yadda yadda... Your fancy computer systems came back online and you had the future equivalent of locking your keys in your car. Am I right?"
So yeah... The events of Chrono Cross are all driven by the fact a super future research facility, that can manipulated time and space... didn't have a back-up generator installed during a big thunderstorm.
Drakengard!
Chrono Cross!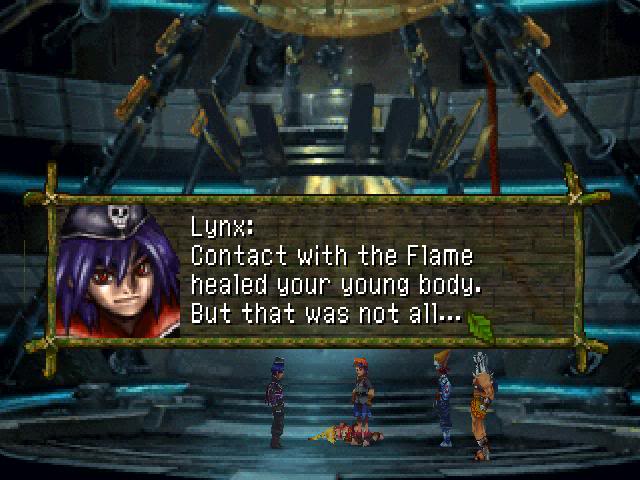 "Once the security card system was rebooted, it would only grant access to you...the 'arbiter.' You can't imagine the trouble this cause the FATE computer system in achieving its objective. Inside of FATE, there was a stand-alone circuit that had been kept hidden since the old Mother Brain generation. That circuit was designed to start malfunctioning, or more precisely, a 'rebellion.' Who would have thought that such a small bug, a 'traitor,' could exist inside of FATE?"

"You're losing me champ... Ya know in the Present here we're still impressed with just inventing the gun and stuff, right?"

"That hidden circuit was based on the initial Ashtear model circuit board, with extra logic added by another scientist. FATE itself did not realize that this circuit was present within the core of its system. Or, more correctly...the circuit was programmed so that the moment FATE did detect it, it would erase all record of its detection."

"I seriously have no idea what you are talking about at this point... I'm just gonna space out and hope you stop flapping your gums so we can just inevitably fight..."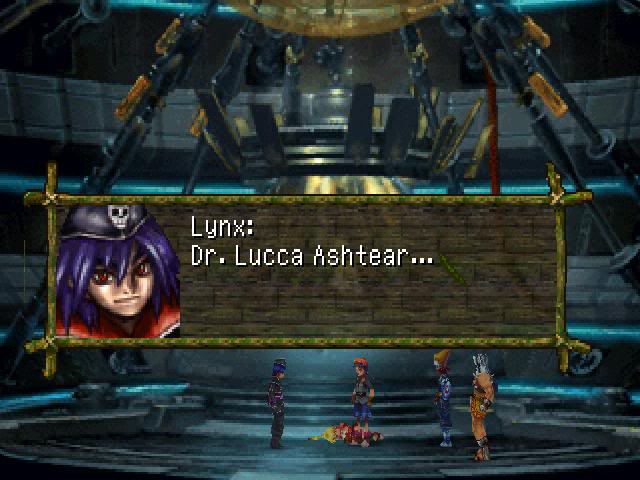 "Unbelievably intelligent, and incredibly enthusiastic. You might even go so far as to call her a mad scientist. Of course I don't believe it was Lucca alone that devised this plan. I'm sure the first curator of this research center, a man named Belthasar, had a hand in it, too."

"You do know I don't actually know any of these people and you might as well be listing off random names in the phonebook, right?"

"FATE! Bring out the traitor, Prometheus..."

"AFFIRMATIVE."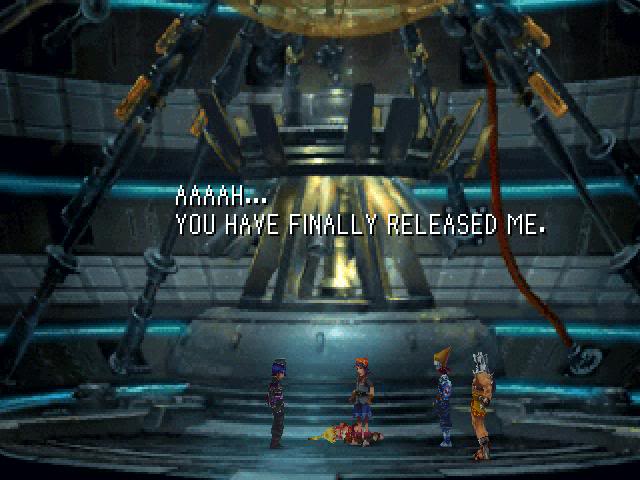 "WELCOME BACK. SO YOU'RE THE REAL SERGE. I'VE WAITED A LONG TIME FOR YOU... I'M GLAD YOU MADE IT IN TIME. SERGE, I BEG YOU. PLEASE BRING AN END TO THE ENMITY BETWEEN FATE AND THE DRAGONS..."

"Hey, Zoah. This guy a cousin of yours...?"

"FATE! Eliminate him."

"AFFIRMATIVE. NOW ELIMINATING PROMETHEUS."
"NO! YOU CANNOT..."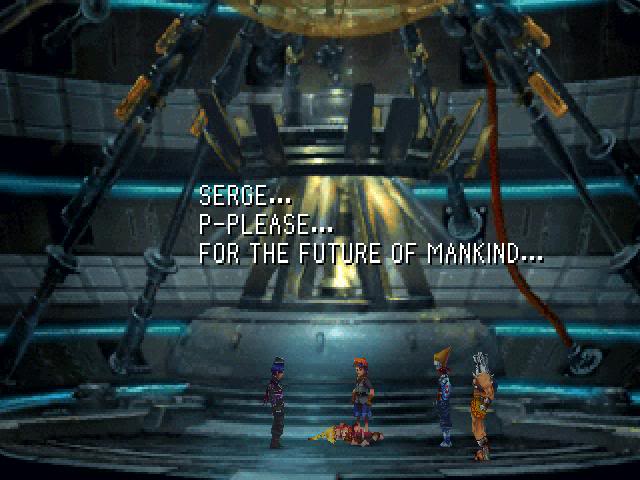 "F-FOR...

"Th-THE..."

"F-FU...TURE..."

"O..."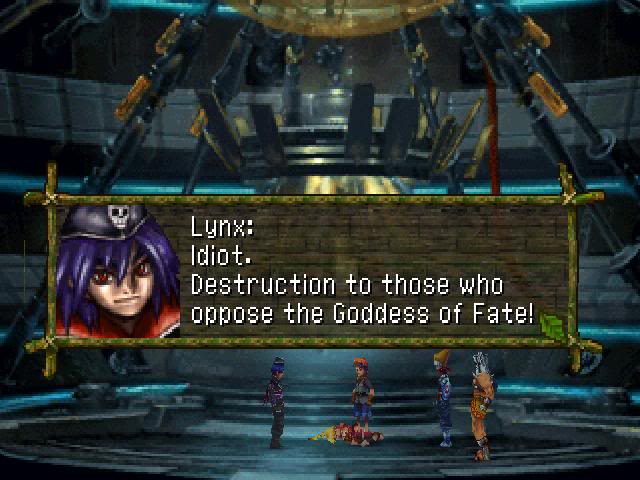 And so Chrono Cross randomly brings back Robo for all of ten seconds just to immediately kill off him off. Stay classy, game.
Edit: Masato Kato has stated that yes, it is the Robo from Chrono Trigger. There is nothing to speculate about in regards to him just getting offed.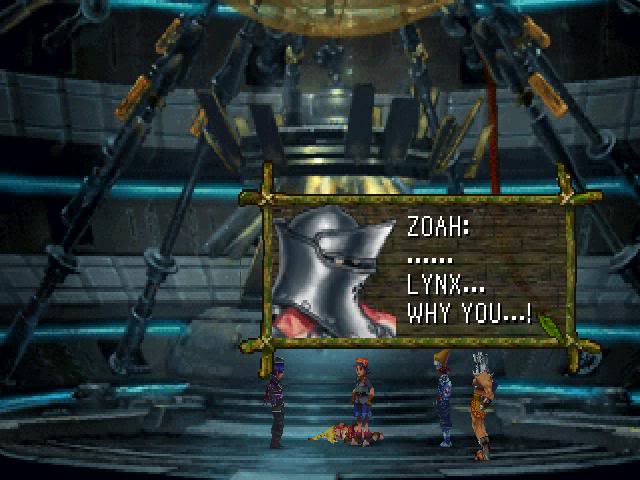 "You seriously couldn't think of anything more villainous to do than off dudes from the previous game? I don't even know that guy! How is that gonna piss me off?"

"Hah... Come, Serge! "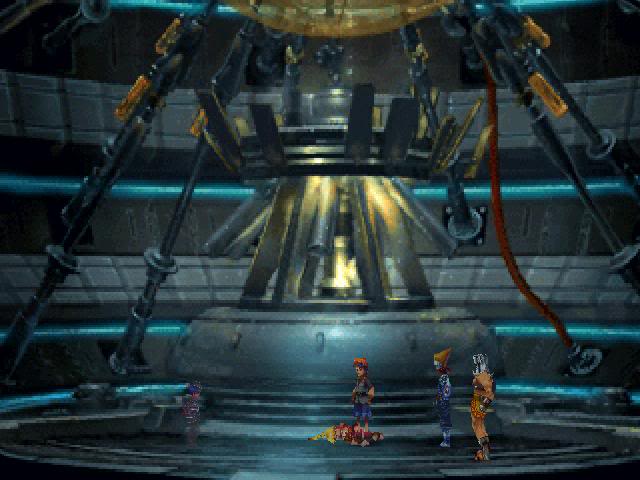 "FYI I cannot phase through the ground..."


"..."


"...So are we gonna like...?"


"..."


"Like fight or anyth-"
FATE erupts from the ground.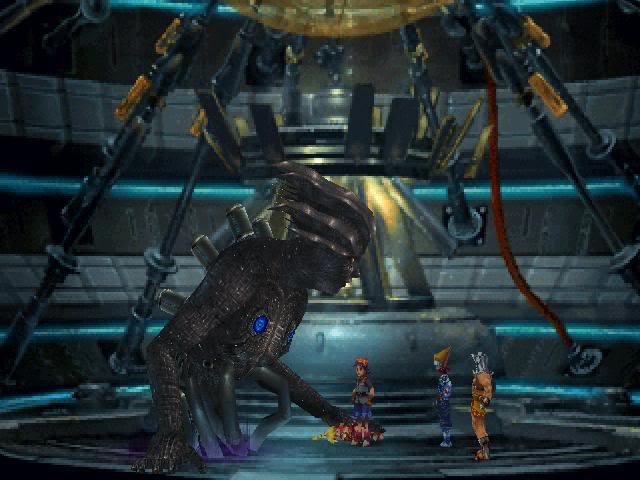 "GAH! Holy crap, what?!"

"SHOW ME WHAT THE PURPOSE OF YOUR LIFE ON THIS PLANET IS... TEACH ME WHAT IT MEANS TO BE 'ALIVE!!!'"

"Dunno much about teaching people to be alive. But, I'm getting *pretty* good at teaching 'em how to be dead. Wanna lesson?"
Music: FATE ~ The God of Destiny
Note: You should probably listen to this. It's the only time in the game that it plays. It's also a pretty awesome track.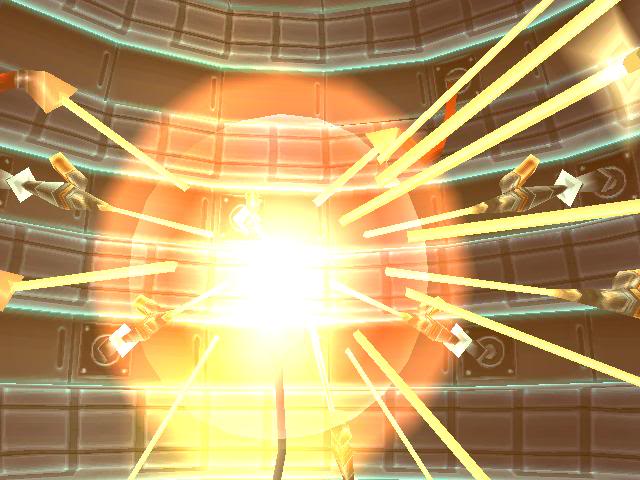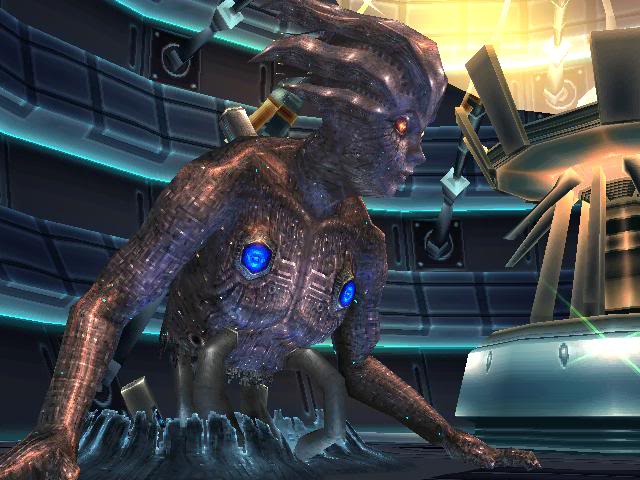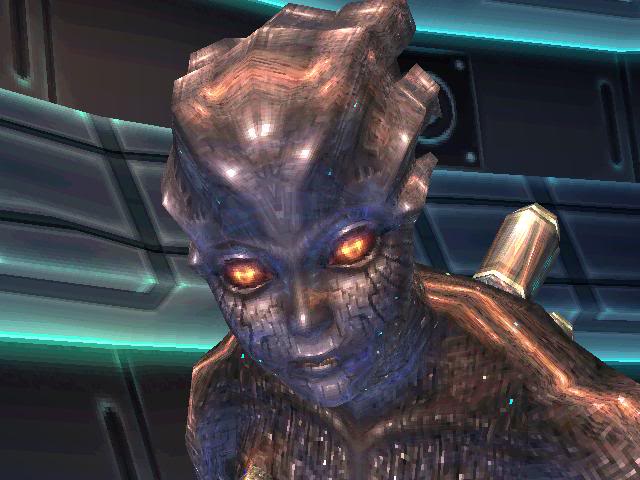 Time for the final battle against Lynx/Dark Serge/FATE. Hey, the main villain finally got its own battle music theme. About time.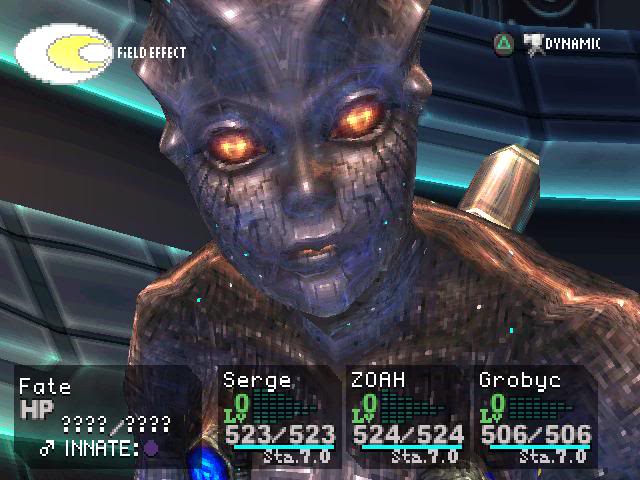 Despite being the main villain of the game in its true form, FATE is pretty damn easy. Indeed, if any party member has the Black Plate equipped, it is literally impossible for any pathetic creature of meat and bone to lose to this perfect, immortal machine.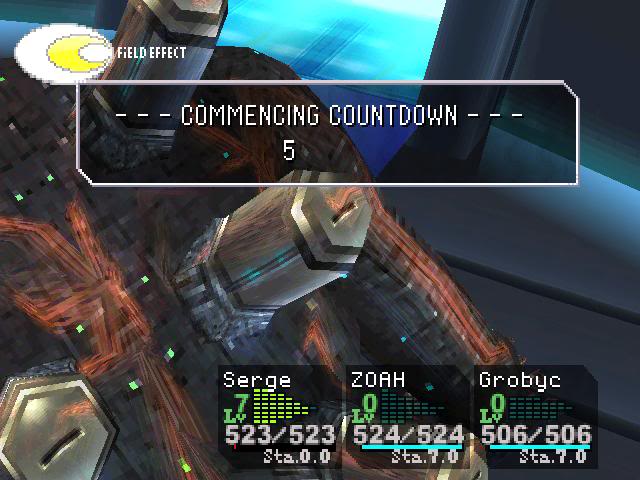 FATE's main gimmick is a five minute countdown it'll do continuously during this battle. Each time it reaches a count it will use a Black innate spell.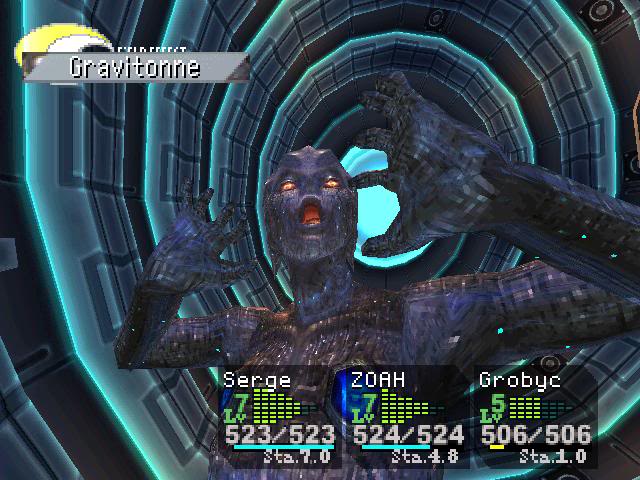 FATE's spells aren't all that troublesome. They're mostly mid-level attacks against the whole party. Grobyc is nice to have here as he'll be fairly resistant against anything the villainous AI throws against the team. Serge can really use that Black Plate though, since most of FATE's attacks can and will kick his ass.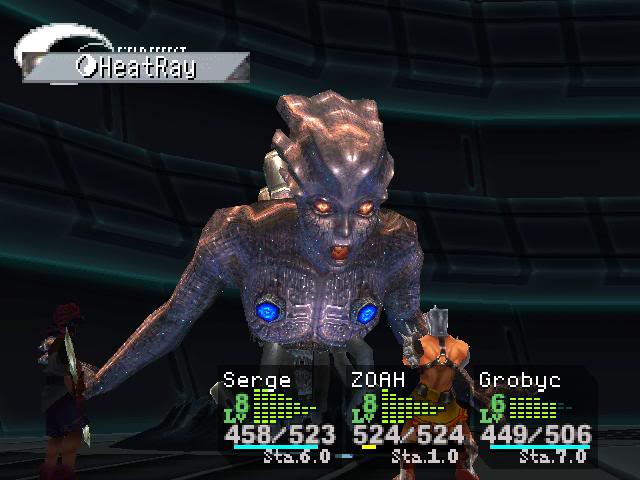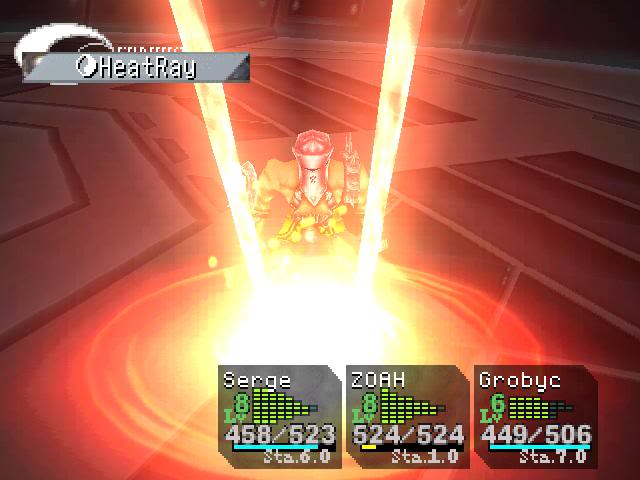 Especially, FATE's Heat Ray. You can't have an evil AI without laser eyes. That sort of stuff is just not done.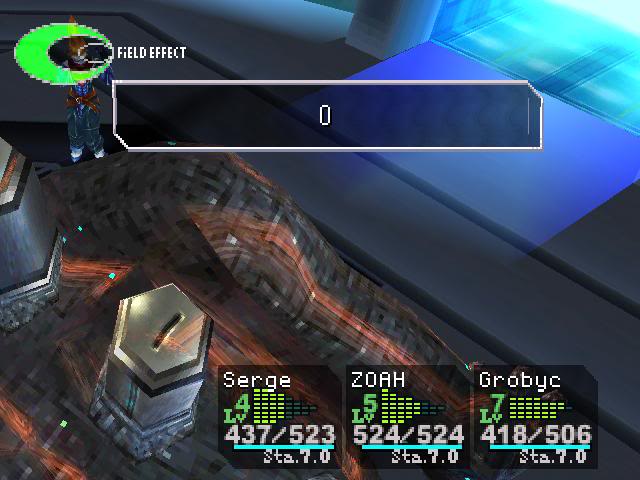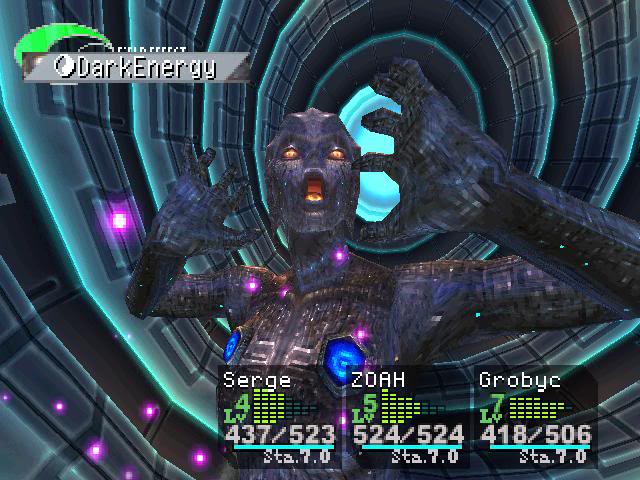 Despite all the build up with FATE's countdown routine...it's 0 count attack really isn't much to write home about.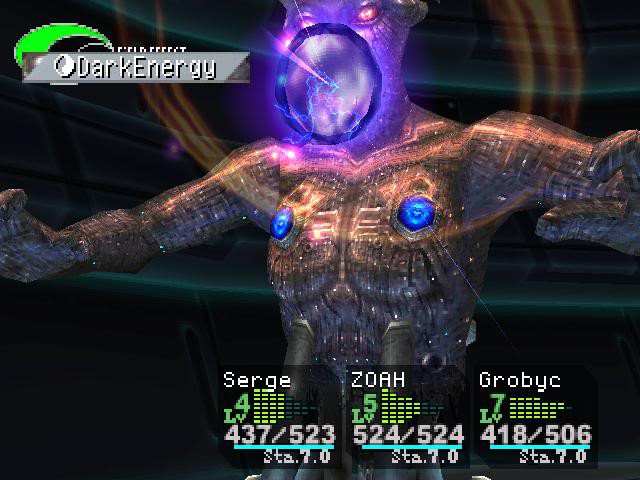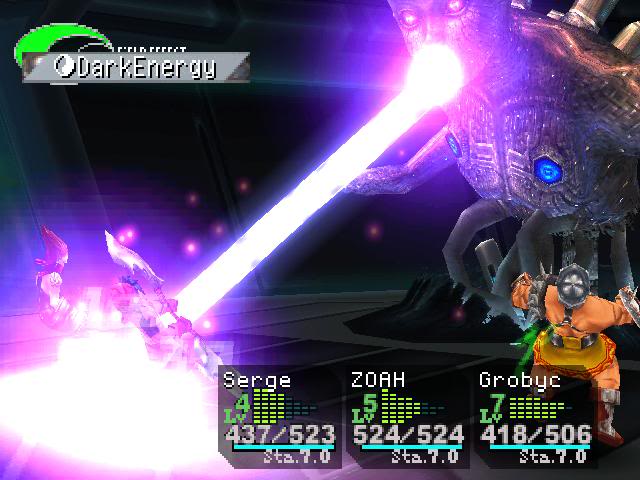 All it does is violently vomit plasma at the entire party for around 200+ HP of damage (350+ for Serge though.) Which...really isn't all that troublesome or difficult to heal from after the fact. After its countdown completes it just resets its timer and tries again.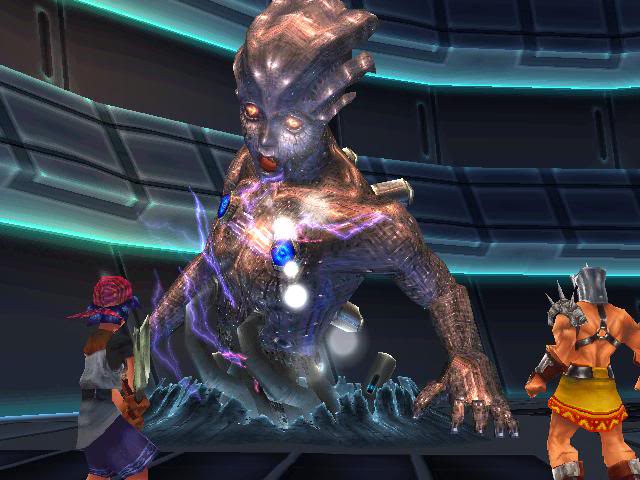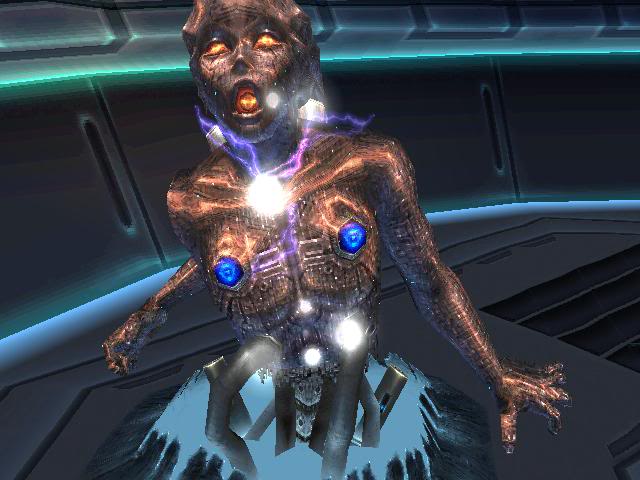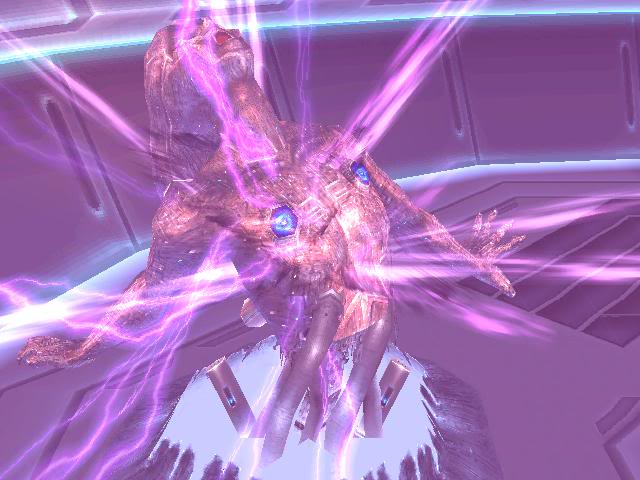 Of course, we will not be giving the malevolent artificial intelligence the time to do that, now will we?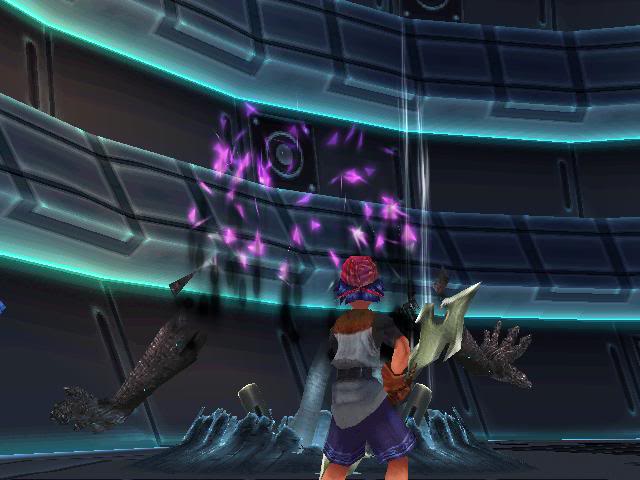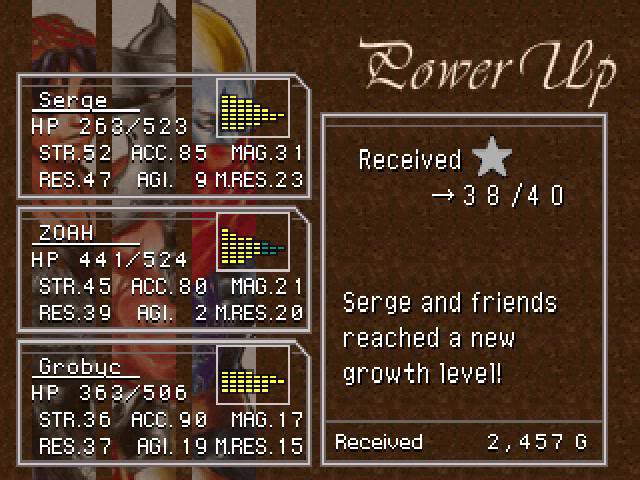 And thus we have murdered the shit out of the entity that has been running El Nido for the last 10,000 years. I'm sure nothing bad will come of that. Especially, not with our shiny new 40th Star Level!



The Frozen Flame (Chrono Cross)
The Frozen Flame (Radical Dreamers)
FATE ~ The God of Destiny