Part 97: Alternate Ending #2: General Kid Conquers the World
Alternate Ending #2: General Kid Conquers the World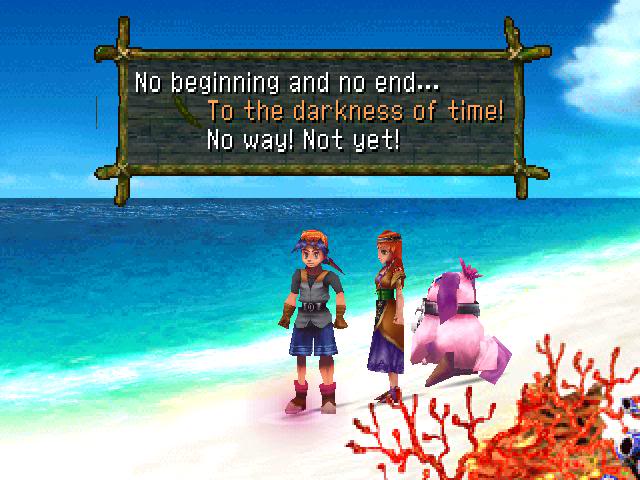 Keeping up the pace...for this second ending we'll have to have crossed the dimensional gap and recruited one or two characters but NOT have done the Guile/Pierre/Nikki choice to break into Viper Manor. The battle against the Time Devourer is a cake walk with additional characters. Especially Leena, since she is a wrecking machine that can self-restore her elements with her Level 5 Tech.
Music: Another Arni Village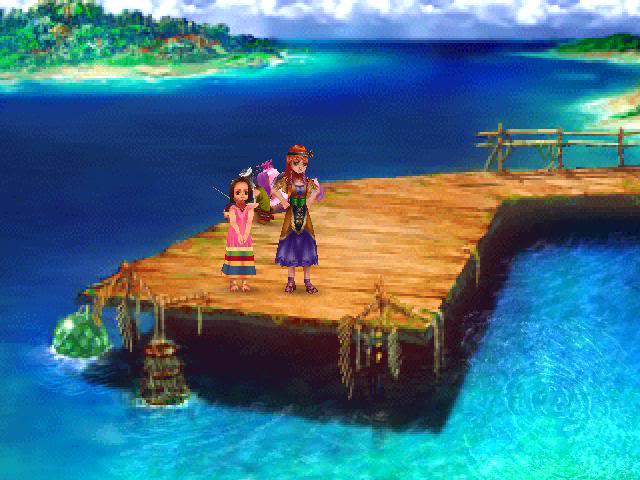 We rejoin Leena (the significantly less bitchy Another World version) standing on the dock of Arni Village a few weeks later.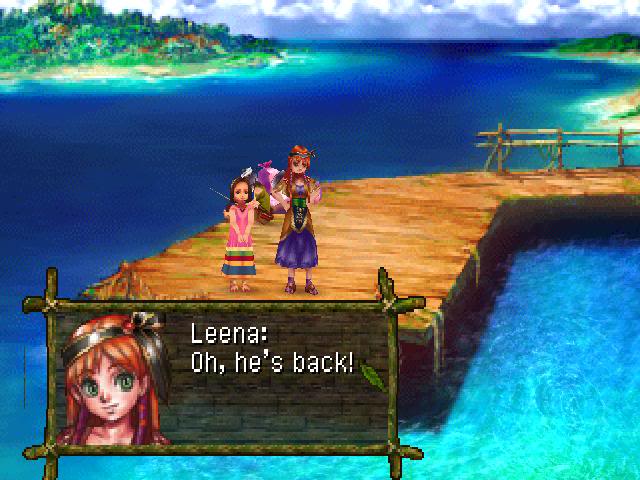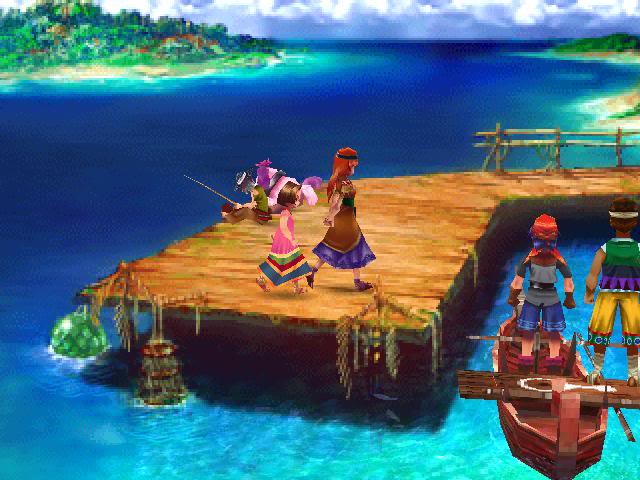 "Sup, bitches?!"

"Hi, honey! How'd it go?"

"I rocked that shit like always. Fish got their asses pounded in. Err...in the skilled fishing way... Not the mustachioed pirate producing rock stars and creepy psychotic children kinda way... I can't believe I've got to actually specify that 'round these parts..."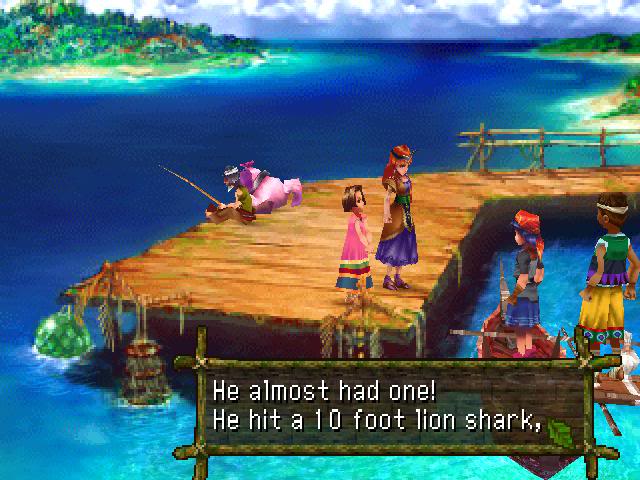 "...but it got away, just as he was about to hoist it up."

"Ooooh... That's too bad."

"Tch. Don't worry about it. All it did was piss me off. I'm going back there tomorrow and killing its entire dumb species for that... Mark my words."

"I still can't believe you used to be a housekeeper, Serge."

"Well...more of a 'clean up after my boozer mom' than quote/unquote housekeeper. But meh...what else was I gonna be...? Some dragon fighting super hero? Pfft..."

"You really are something!"

"You said it. I've been fishing all my life, and I've yet to come across someone so talented. I sure got myself a great apprentice. I give him a perfect 10!"

"Naturally."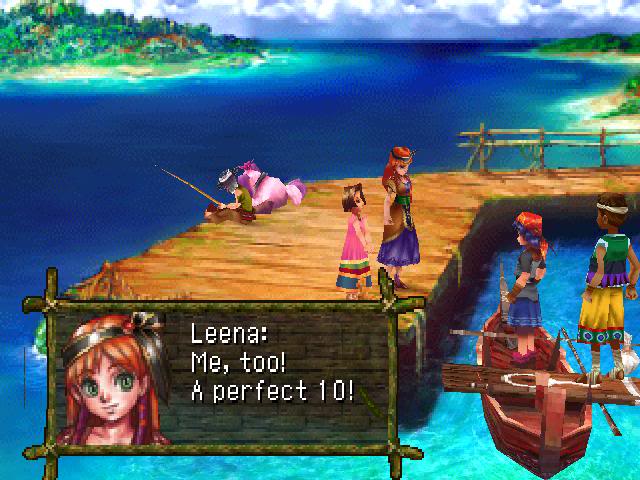 "There's no doubt, this guy's going to make it big!"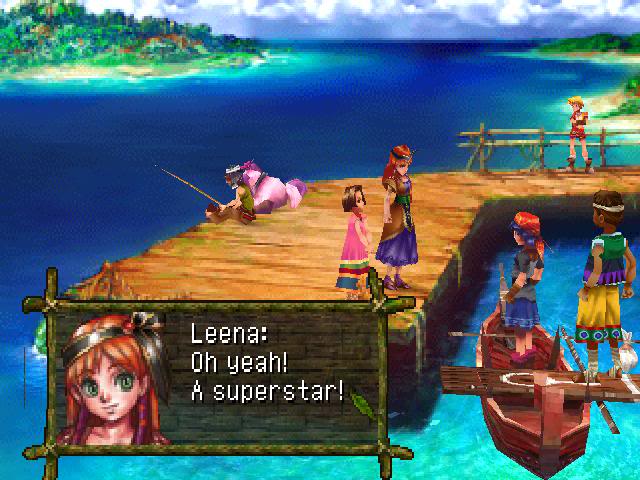 Kid walks unto the dock and watches impatiently from a distance.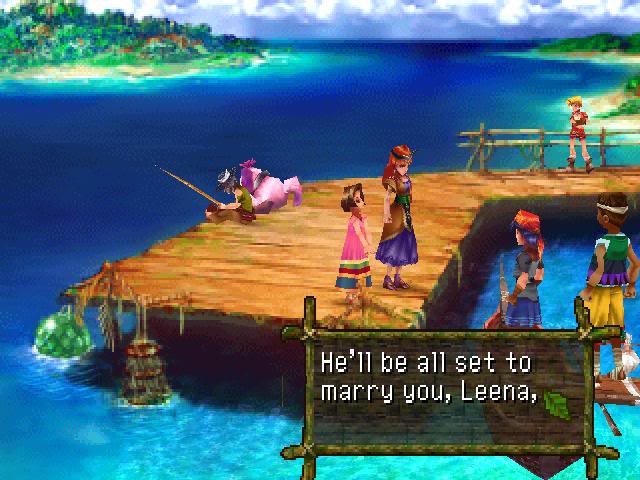 "...and settle down to a sweet, loving family! You go girl!"

"Oh yeah! Go, go!!!"

"!!!"

"...I mean..."

"Sheesh, gramps. We *just* got to third base. Dial it back a notch..."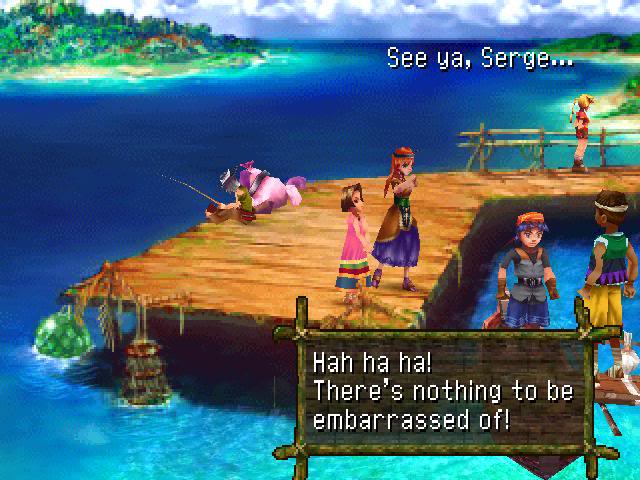 Kid whispers a farewell to Serge and slinks off, never to see him again...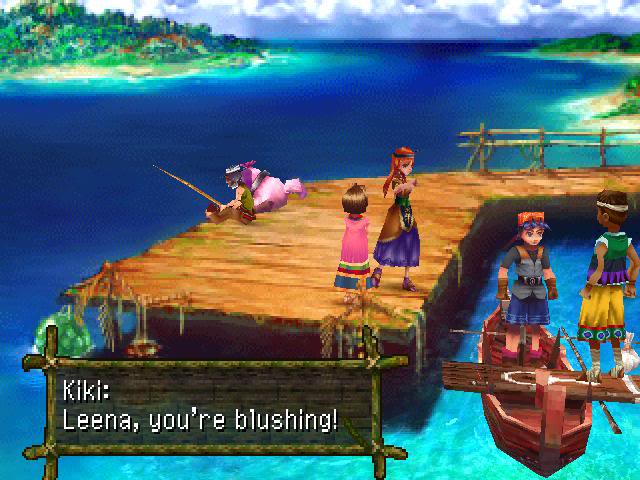 "Oh! Pu-lease!"

"Eh...? What was that...?"

"Hm? What is it, Serge?"

"You didn't hear anyone just now?"


"You mean Kiki and Leena?"


"No. Another voice... And no offense, Leena, but I couldn't tell if you were blushing if I tried, Leena. You *really* need to stay out of the sun for a bit. You're getting pinker than a flamingo from all that sunburn. I'll buy you an umbrella to sit under next time we're at Opassa."

"Huh? No, I didn't hear nothin'. You're probably just tired. We had it tough out there."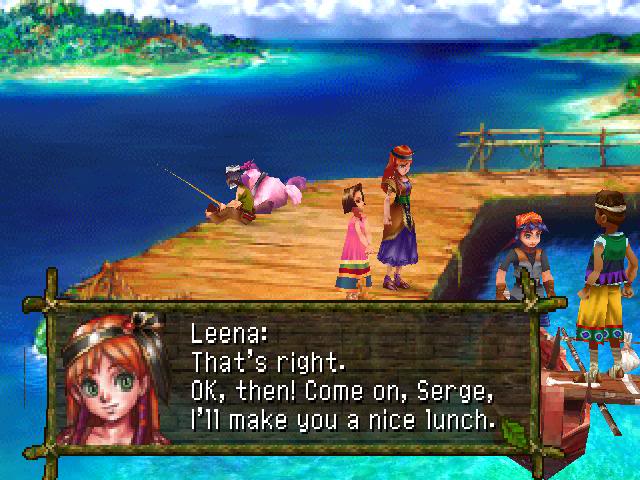 "You have to eat a lot of protein and build up those muscles!"

"Oh, I bet ya got a tough work-out regiment for me." <finger snaps to pointing>


"Ho-wa!"

"Oh man... You lovebirds...!"

"Come on! Stop teasing me!"

"Hah ha ha!"

"Leena, you're blushing again!"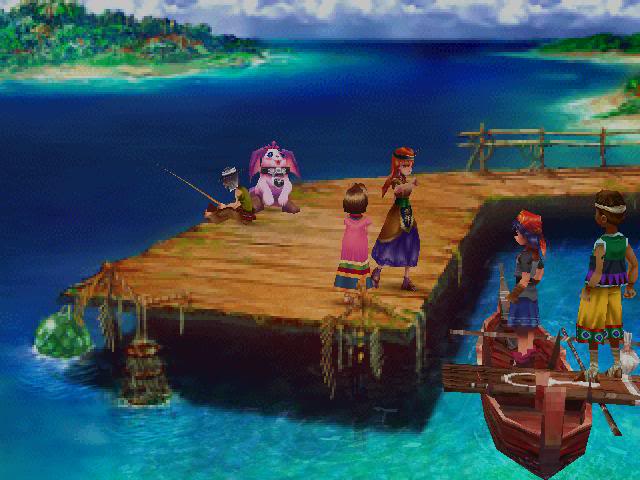 And we fade to black. Serge never goes on a really retarded adventure and never returns to his home dimension. Instead, he becomes a fisherman and bangs the shit out of his bizarro girlfriend with the much less shitty personality. Good for him.
Some time later in Viper Manor...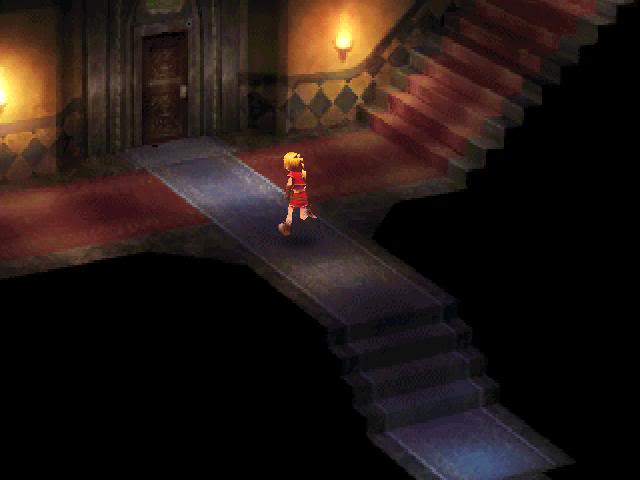 With no Silent Protagonist with his cult of personality to recruit an alternate means of sneaking into Viper Manor, Kid decides to go it alone. Things turn out a
wee
bit different this time...
Kid busts into General Viper's office...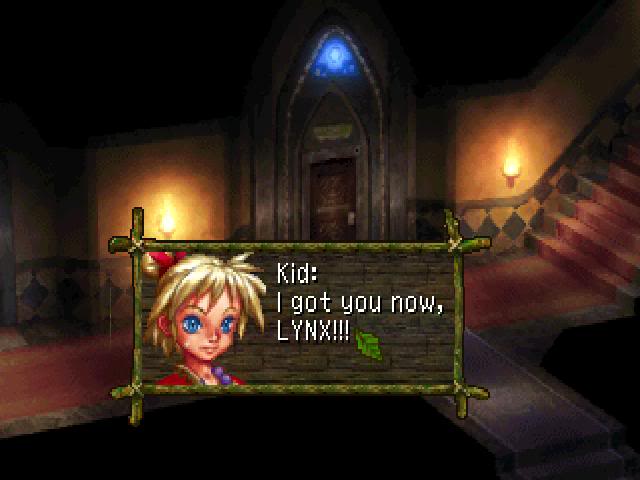 "Oi! That's the Frozen Flame, ain't it!?"

"No...it is the Drag-wait...? Who are you...?"


"Ya can't fool me ya flea bitten furball!"

"Are you one of the Radical Dreamers!?"

"Shut up! In the name of Lucca!!!"

"Hah....! What are you talking abou..."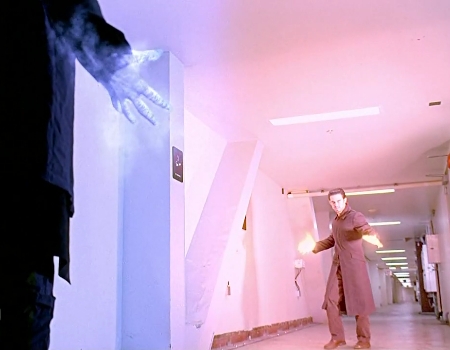 What sounds like a pretty awesome fight ensues...behind a closed door. So we do not get to see it. It ends with a rather meaty sound of someone getting run through with a blade and a body hitting the floor.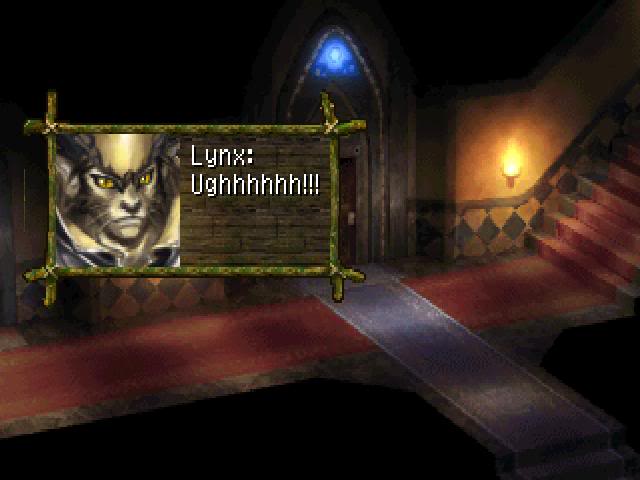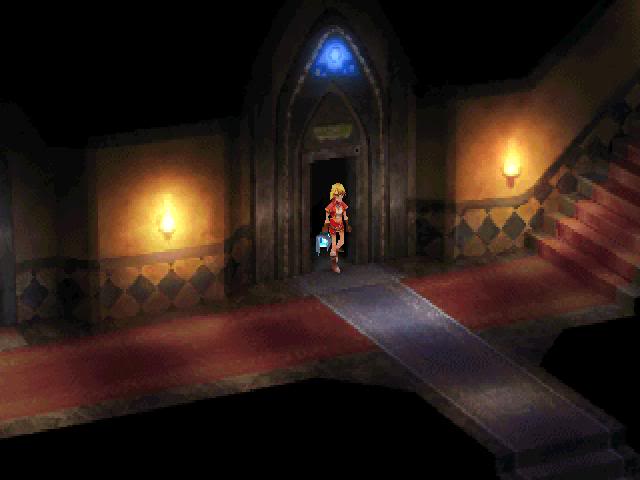 Yup... If we just pissed off and ignored Kid she would have just murdered the shit out of Lynx the first time we met him and saved everyone ten tons of headache. Fancy that...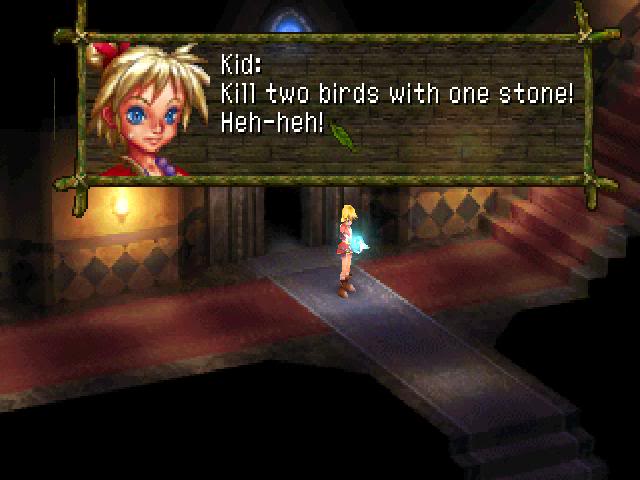 "Heh-heh-heh... HA-HA-HA-HA-HAAA!"
Some time later...
Music: Dragoon Knight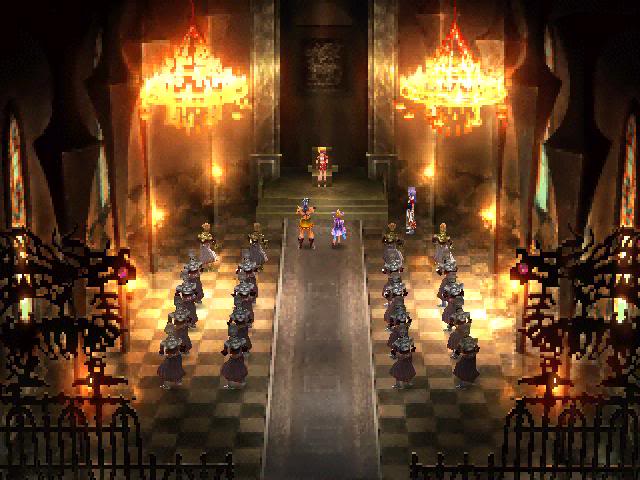 Welp, apparently Kid murders the shit out of General Viper too and maybe even Riddel, depending on how the hell the order of succession works in the El Nido Archipelago. In any case, she has pulled a full coup over the Acacia Dragoons.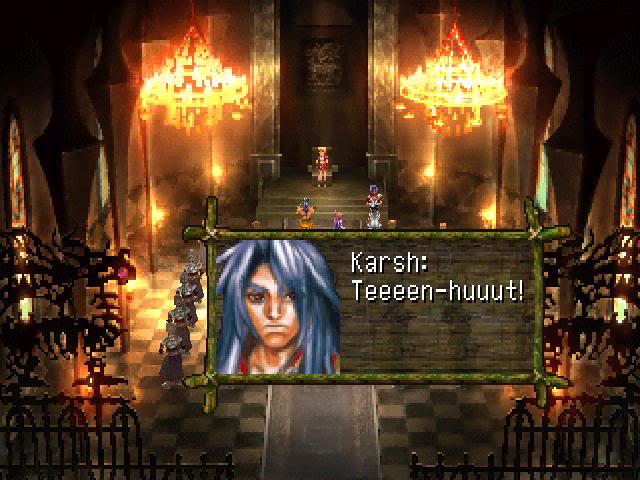 "I introduce to you, the new lord of El Nido... General Kid!"

<salute>

"General..."

"Oi...!"

"Uh...you should like, make a speech.... Rally the troops, ya know?"


"Ah... Right! 'course. I was just about to do that."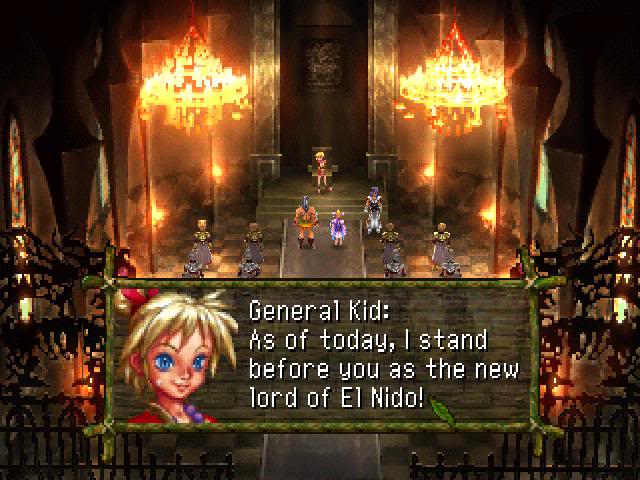 "Ahahahahahahaha!"
A dragoon messenger bursts into the assembly hall...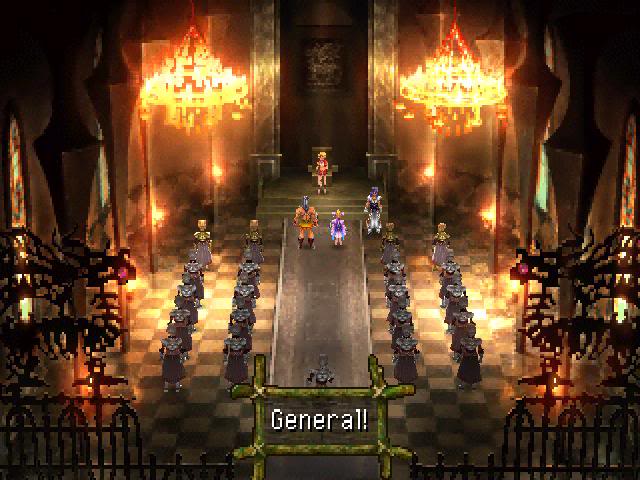 "I have important news! The Porre army... The Porre army is heading this way!!!"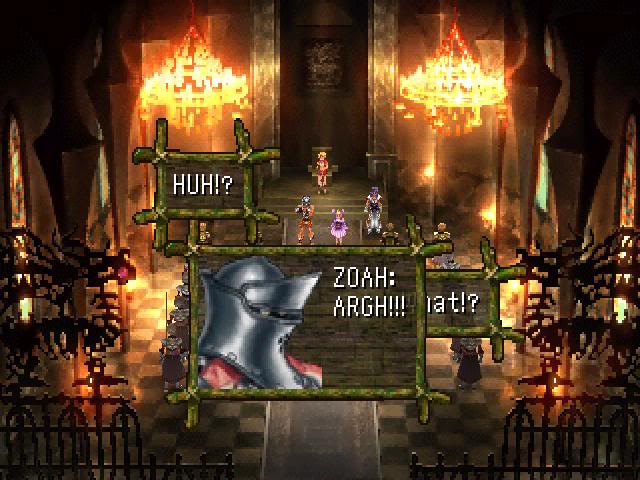 "I FIND THIS TURN OF EVENTS UNPLEASANT!!!"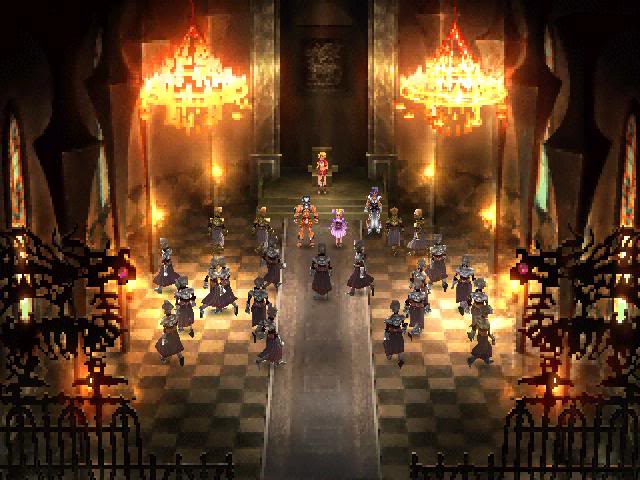 The dragoons immediately break rank and begin chatting amongst themselves like gossiping schoolgirls. This pisses General Kid off.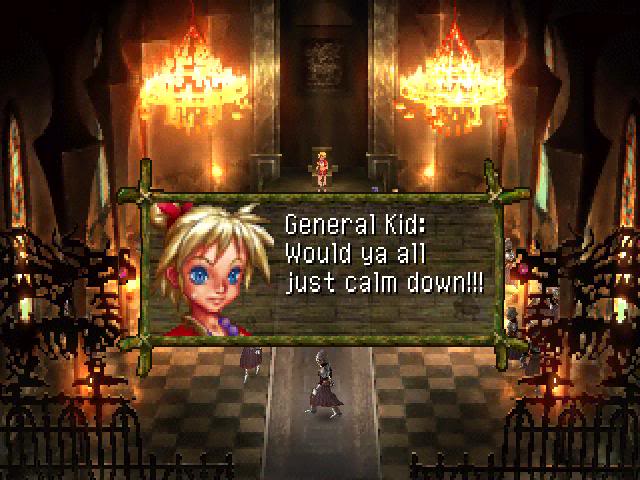 "Remember, we have the Frozen Flame!"

"I BELIEVE YOU ARE MISTAKEN. THAT IS NOT THE FROZEN FLAME. IT IS THE DRAG-"


"Just...let it go, Zoah."


"BUT INACCURATE TERMINOLOGY GREATLY IRRITATES ME."

"Plus, there's nothin' to worry about, with Kid in charge!"
Music: Time of the Dreamwatch
Note: I think this is the only time in-game this track actually plays. Not counting the attract movie. You should really listen to it if you haven't yet.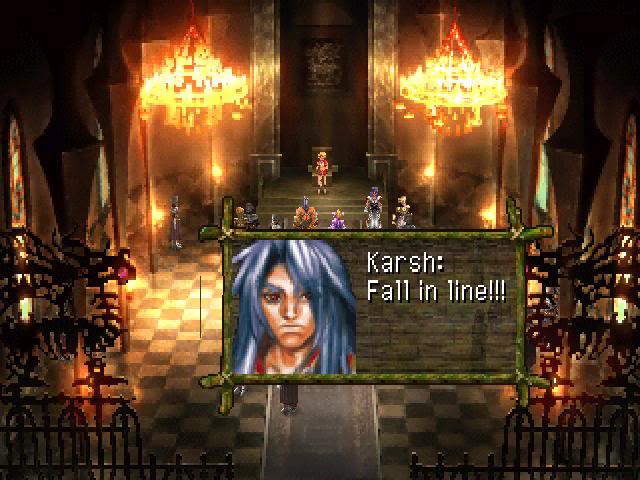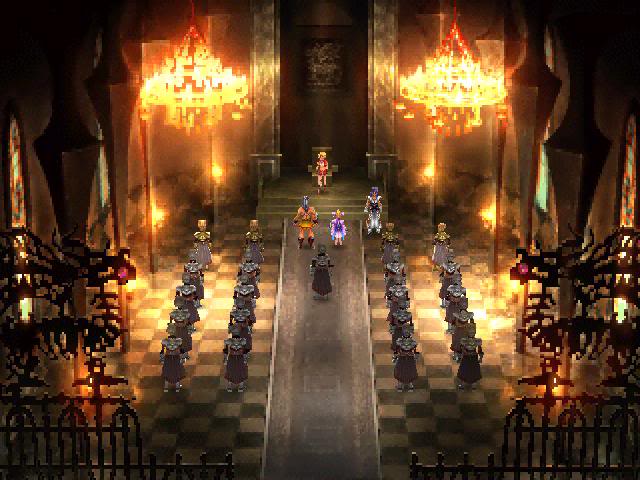 Everyone complies immediately. And why wouldn't they when someone starts playing that music? There is
so
going to be some awesome adventuring going on.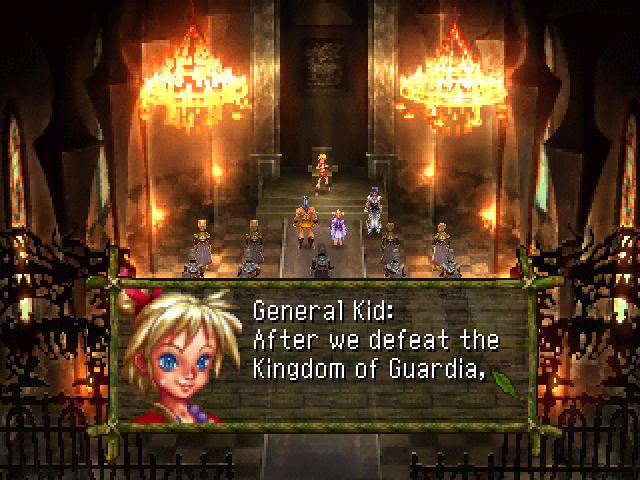 "MS. GENERAL KID, GUARDIA FELL OVER FIFTEEN YEARS AGO."


"Well we're gonna roll in there and it's gonna fall again!!"


"I FIND THAT STATEMENT HARSH BUT ACCEPTABLY BATTLE WORTHY."


"Good to hear it, mate."

"After them, it's time to put these Porre blokes in their place!"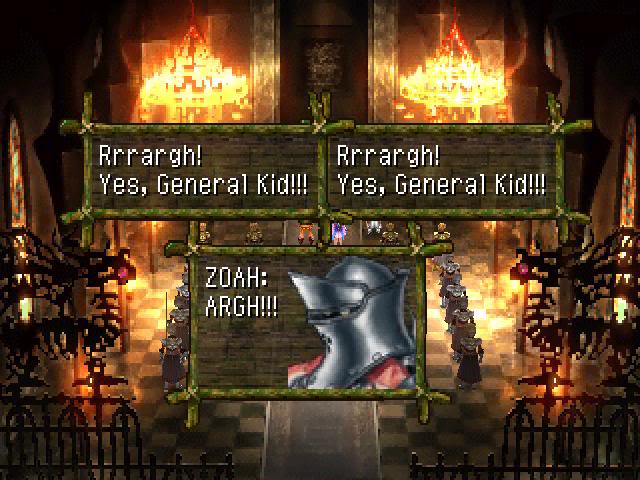 "RIP AND TEAR!! RIP AND TEAR UNTIL SUITABLE TERMS OF SURRENDER ARE PROPERLY NEGOTIATED AND BROKERED FOR OUR ENEMIES!! ARGH!!!"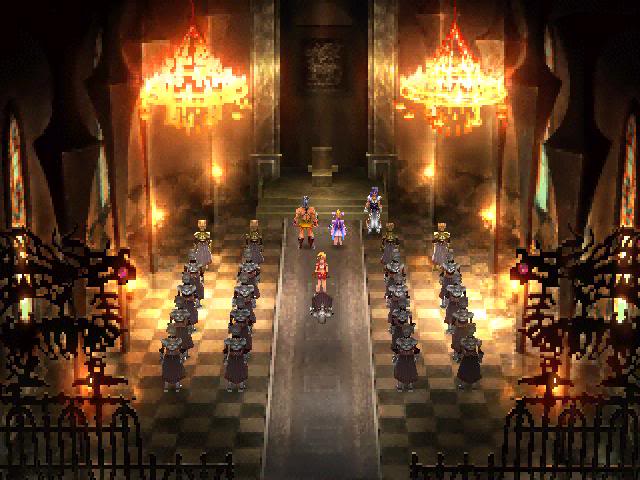 Kid does a Mario-esque Goomba stomp on the messenger since why the hell not?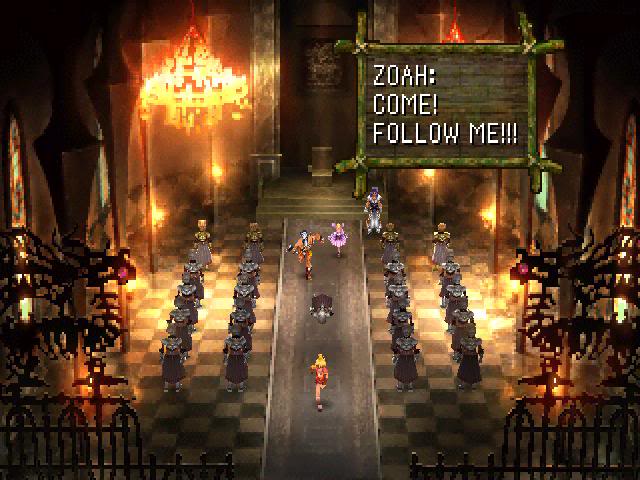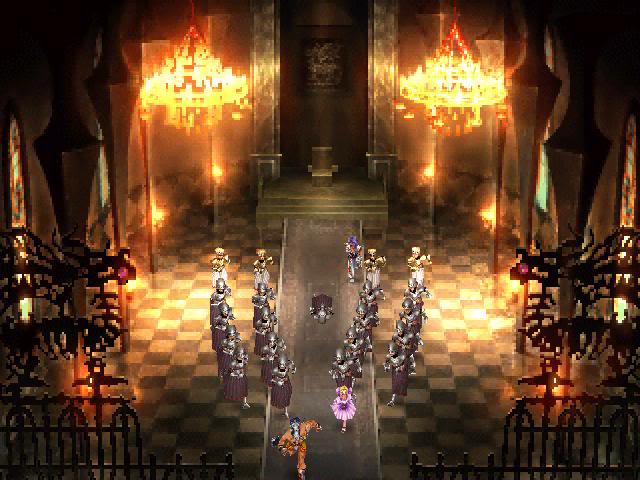 And so General Kid and the Acacia Dragoons set out for WAR!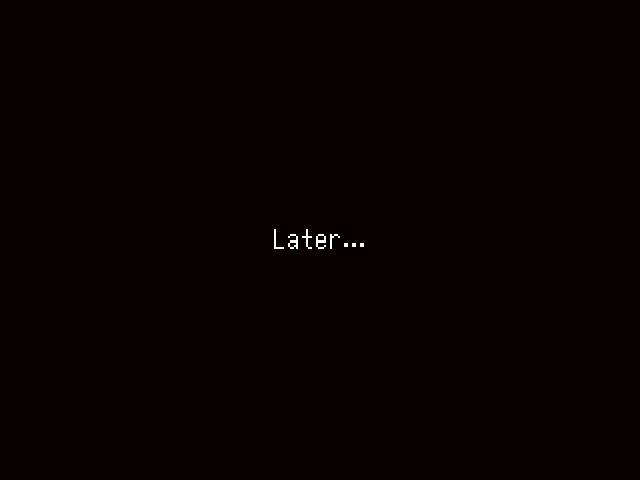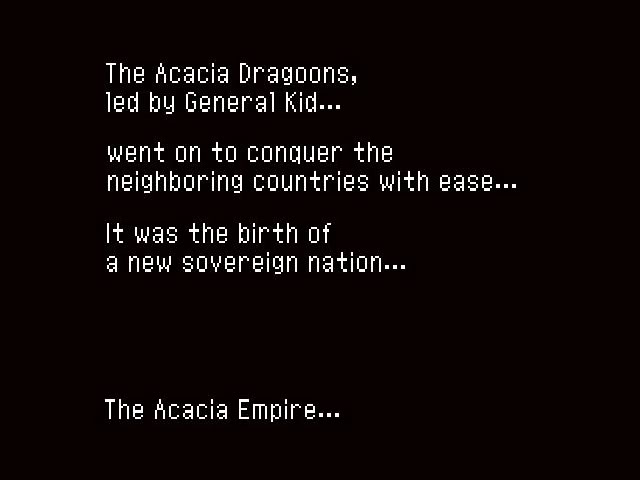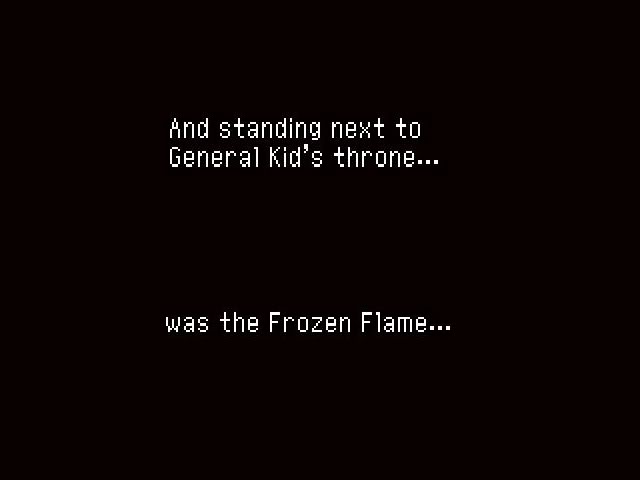 "Look, I soddin' know it ain't the real Frozen Flame! I ain't retarded. I renamed the thing to that to shut that Zoah wanker up tryin' to correct me all the time."


"IT WAS AN ACCEPTABLE COMPROMISE. THOUGH I STILL BELIEVE WE SHOULD RENAME THE ZENAN MAINLAND TO THE 'ZOAH MAINLAND'."


"For the last time Zoah, we ain't renamin' the mainland after ya. GAWD!!"
Music: Fragments of a Dream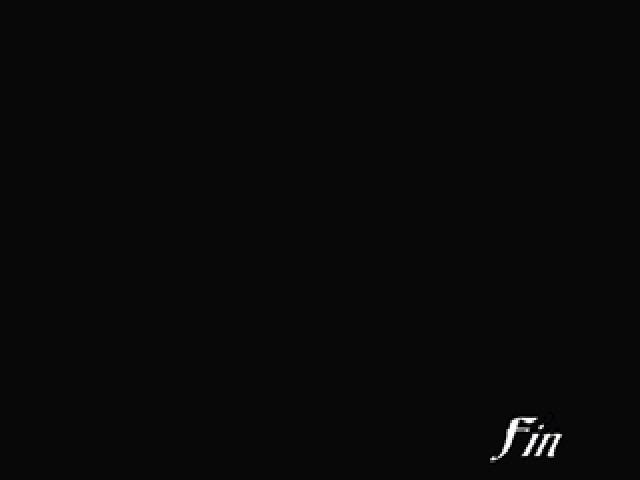 And that is two out of ten (and the first "real" alternate ending.)