Part 32: Dr. Khan Task Force - S.D.
I'm back! And I brought a friend!

BEEP.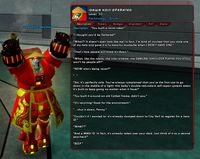 KOINBOT HAS BEEN REQUESTED TO TALK ABOUT A TIME KOINBOT WAS AWESOME. AFTER GOING THROUGH KOINBOT'S MEMORY BANKS, KOINBOT HAS DECIDED ON THE TIME HE BURNED RAUL JULIA TO DEATH.
KOINBOT REMEMBERS IT LIKE IT WAS YESTERDAY...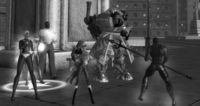 I SAY, LADIES AND GENTLEMEN, SHALL WE BE OFF TO GRAND ADVENTURES AGAINST THOSE MOST NEFARIOUS SCOUNDRELS THE 5TH COLUMN?

My word, an excellent idea!

Indubitably! Tip tip, tally ho and whatnot!

Koinbot is sooooo awesome!

And handsome and brave and so much better than regular fire wizards who are not robots!

LOOK AT ME WAVE MY STAFF AROUND!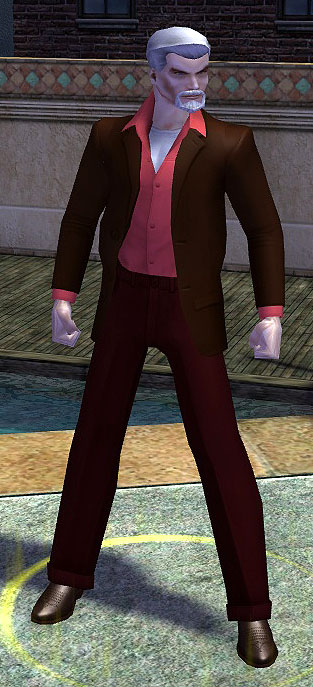 What the... wait, that's not how it happened at all! And I should know, I was the one who told you about the whole thing! My name is Dr. Scott Khan, and let me tell you how it ACTUALLY started.
-----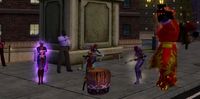 WOOOOOOOOO

DRUM ALL THE THINGS

TIME FOR A STREET PARTY THAT IS IN NO WAY A COVER FOR MASSIVE PROPERTY DAMAGE AS KOINBOT JUMPS AROUND

LOOK AT ME WAVE MY STAFF AROUND!

You're ALL ridiculous. And that's clearly a trident, not a staff.

Oh, lighten up a little.

Oh god. I mean-- *ahem*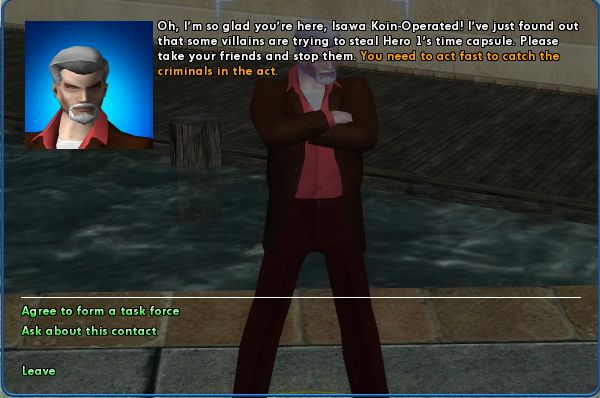 TIME FOR MASSIVE VIGILANTE JUSTICE THAT IS IN NO WAY A COVER FOR MASSIVE PROPERTY DAMAGE.

To the tram!








ONWARD TO VICTORY!

... what have I released?
-----

A penny saved is me.
Ah, a fine day for a heist! Thankfully, Arachnos provided the means and the troops to directly strike at the heart of WHAT THE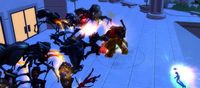 One of the difficulties of trying to screenshot a Task Force is is getting a clear shot of things with all the effects going off. One of the OTHER difficulties is getting shots of things before they're mercilessly crushed, as shown above.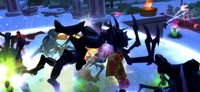 PUNCH ALL THE THINGS.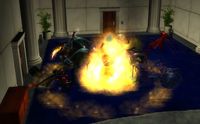 BURN ALL THE THINGS.

He can't possibly be built for peaceful co-existance between man and machine.

Is that what he told you? He told ME he took on the form of a robot after a Koinbot shot both of his parents in Crime Alley.

He told ME that he was the composite of five separate, smaller Koinbots brought together to form Blazing Fist.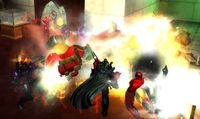 HOSTAGE FOUND.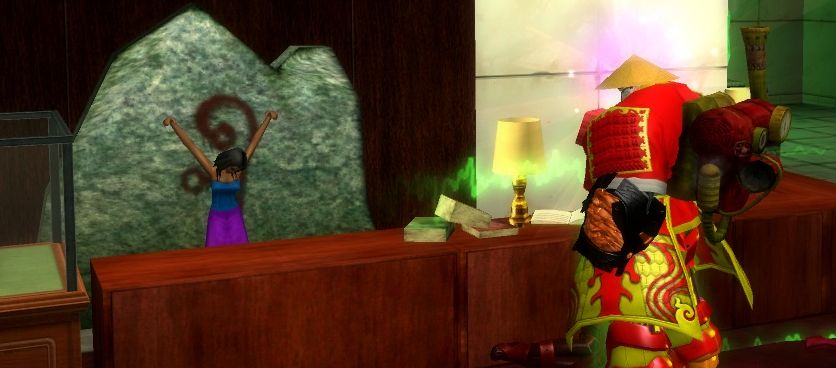 HOSTAGE RESCUED. KOINBOT THINKS YOU SHOULD LEAVE YOUR FETISHES AT HOME, IN PRIVATE.

They tied me up like this!

KOINBOT IS NOT JUDGING.

Can't you at least unchain me? Hey, where are you going?!

PUNCHING TIMES.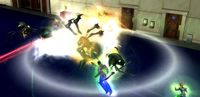 Hurry up! I want to get out of here before things turn bad.
After this, I'll finally have enough money to turn my life around! I can finally escape that wretched JESUS WHAT IS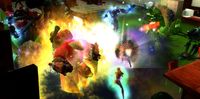 Poor, poor villains/speedbumps.

Well, this was sure fun.
Trapped in a narrow hallway between two locked doors, and that crashing sound is getting HOLY SHIT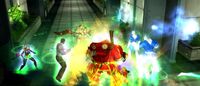 The workers supply the means of production.
Steady yourselves, my men! The American wave will be stopped by the iron wall of--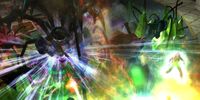 ALL NAZIS MUST DIE.

Isn't he Russian? Communists aren't Nazis.

Shh! Don't correct the murderbot! You saw what he did to all those guys.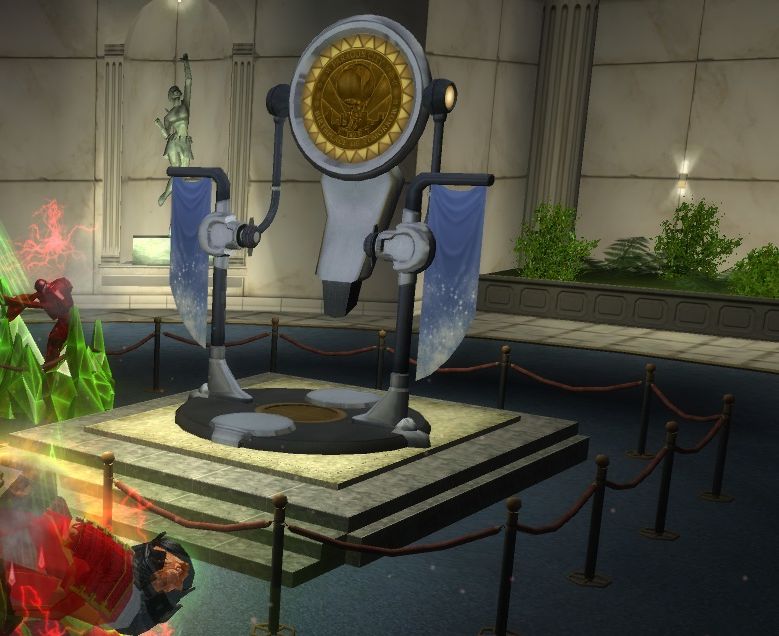 We're too late! They already took the-- what did they take?

The Omega Team time capsule. It's full of old letters and stuff from Omega Team that they put in there before they went on their suicide run at the end of the first Rikti War.

We can still catch up with them, though!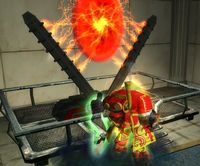 A localized teleportaion device. They probably dragged the capsule through.

Power it back up, then! We can follow them to whereever they came from!

Wait, isn't that emblem on the bottom there--

CHARRRRRRRRGE!!!!11one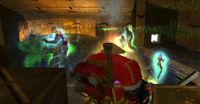 --the symbol for the 5th Column?

Why did we follow it? Him? Whatever it is?

You want to explain to City Hall why the capsule was half-melted if he brought it back on his own?

Everyone stay alert! There's no way they didn't hear us arrive.

Visitors!
Keep those troops moving! The Great Leader will be with us soon, and I want these men in position and ready for orders!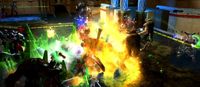 Oh my god, she's hidious!

'She'? How can you tell?

I thought vampires were supposed to be beautiful and sparkly.

Not when they spell vampire with a 'y'.


TARGET DESTROYED. SCANNING.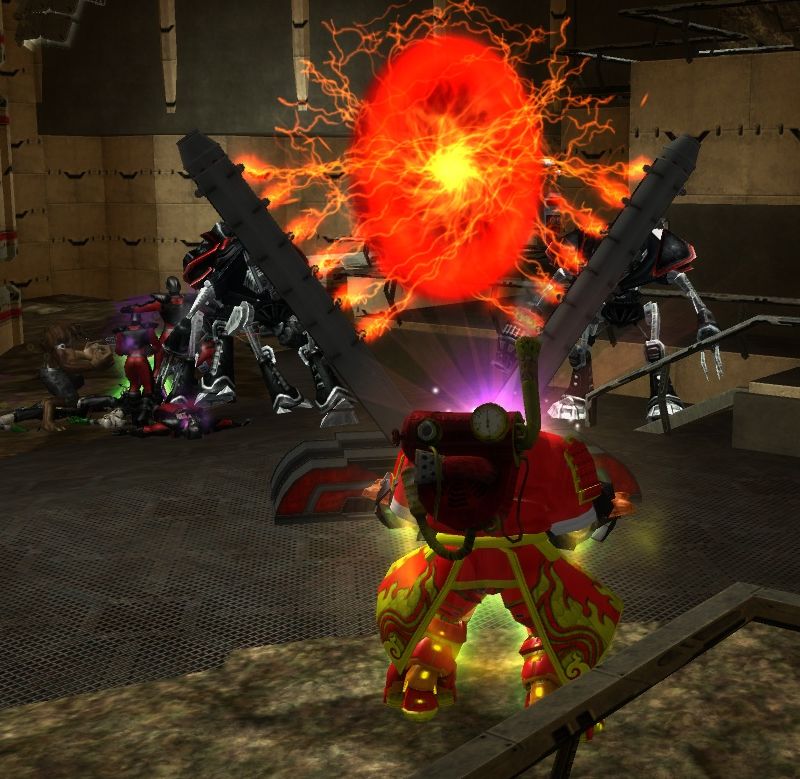 REINFORCEMENT TELEPORTER LOCATED. INCREASING TEMPERATURE TO 2000 DEGREES.

Celcius or fahrenheit?

Wait, stop him before he--

Too late.

... destroys our only lead.
-----

Oh god, you're back. I mean--

HUSH, BEARDED OLD MAN. YOUR FOLKSY HOMEGROWN WISDOM AND EXPERIENCE DOES KOINBOT NO GOOD IN THIS FANTASTIC FUTURE TIME OF ALIENS, ROBOTS, AND CATGIRLS WITH TAILS ON THEIR FRONTS.

... got a Ph.D in History and Dimension Theory, I don't need to take this kind of shabby...

ALERT. ALERT. NAZI SENSES... TINGLING.

That's a power?

You missed 'Frolic Mode' earlier.

LARGE CONCENTRATIONS OF NAZIS FORMING IN 'BOOMTOWN'.

Just what, uh, I was about to tell you about!
Yes, that will stick.
You and your task force had best deal with it!
And be far away from me.

NAZI PUNCHING AWAITS. TO VICTORY.








VICTORY!

He's a crazy son of a bitch, but I can't help but feel a little inspired when we all yell in unison like that.

Yes, it gets the heart racing - abject fear and terror can do that to a person.
-----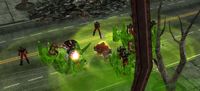 Uh, wow. That's a lot of Nazis.

And even more coming in - I can see more of those teleport devices.

PROCESSING REACTION.

Uh, guys? The robot locked up.

REACTION FOUND.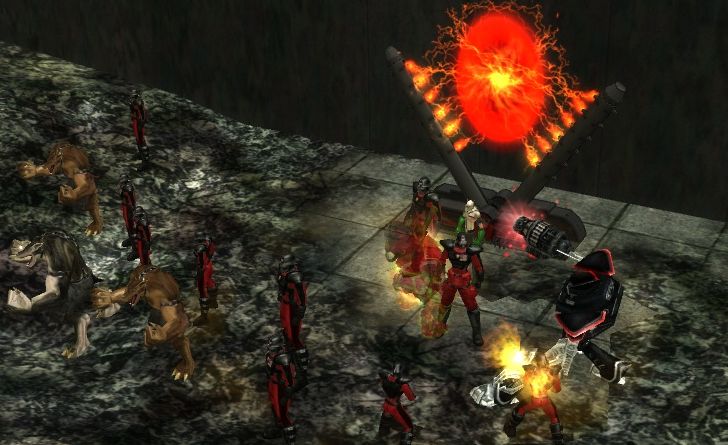 HAPPINESS.

... whatever you say, man. Who ARE these guys, anyway? They look kind of like Council troopers.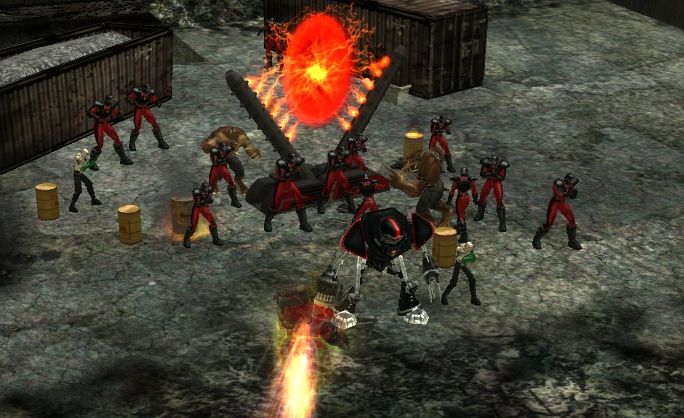 The Council used to be the 5th Column, actually. Then the Nictus came to Earth and allied with the Center - he's the leader of the Council - and there was a schism or something.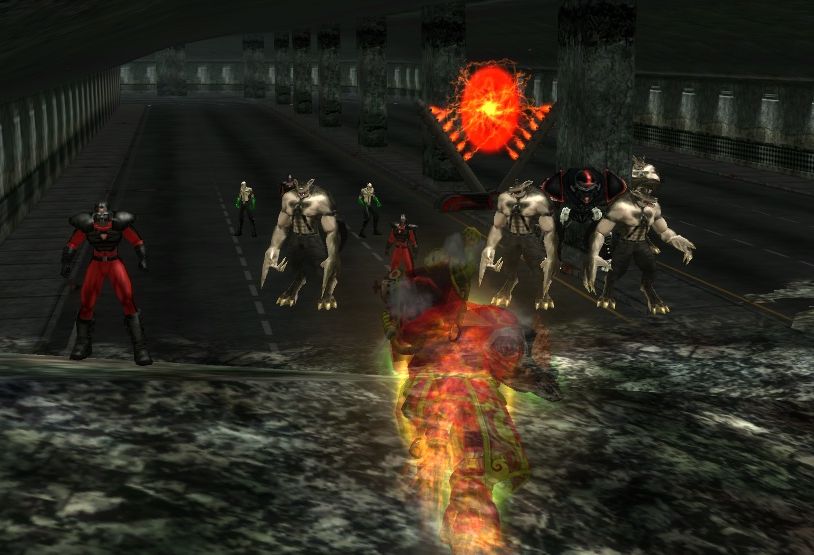 The 5th Column and the Council pretty much split down the middle. There was fighting in the streets and everything. Then the 5th Column just... disappeared. Everyone just sort of figured the Council had won and took them over.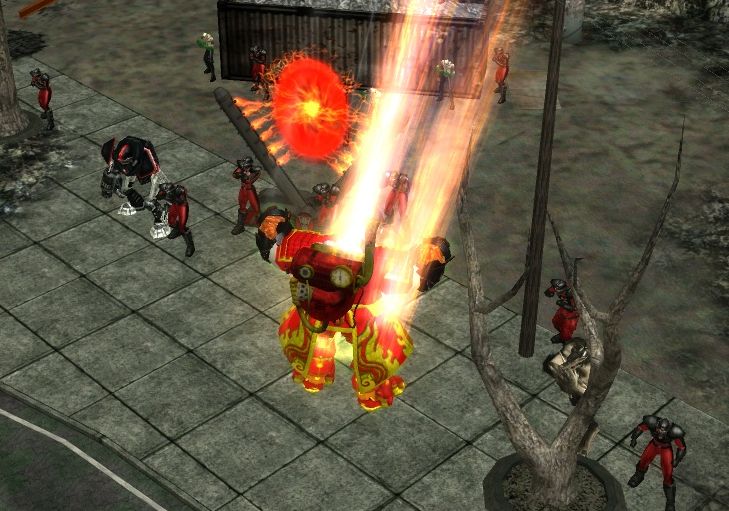 So wait, what's the difference between the Council and the 5th Column? Hell, they both use War Wolves, Vampyres, and similar robot designs.

Ideology, mostly. They both want to take over the world, except one group is literal Nazis, and the other are Facists with space aliens.

That's it?

It's lacking most of the subtleties, but yeah.

TARGETS DESTROYED. SCANNING FOR NEW TARGETS.

Look no further!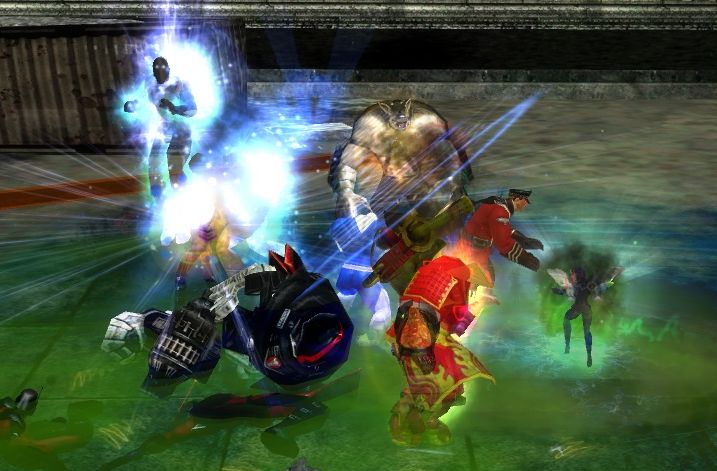 Wait, is that...

... M. Bison?

KOINBOT LOVED HIM IN THE ADDAMS FAMILY MOVIE.

Less chatting, more hitting! TAKE HIM!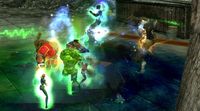 He's not going down!

He's taking longer than 30 seconds for us to beat up - how can anyone be this powerful!?

You can pit your puny powers against me, but it will do you no good.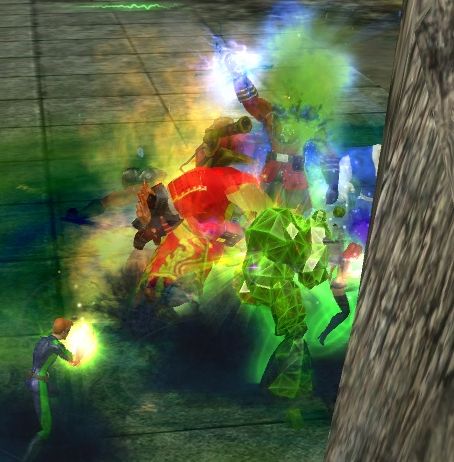 I was better than anyone before, and now I've been enhanced... supercharged.

Heads up! Lightning!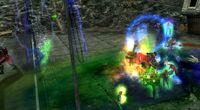 Do what you will; you can't touch me. No one can. I'm unstoppable!

This is going SPECTACULARLY badly. We're getting hammered.

DAMAGE TO FRAME EXCEEDING 60%. FORMULATING NEW STRATEGY.

I think we're all thinking the same thing - let's do it!








RUN AWAY!!!!11one
Yes, Reichman is completely invincible at this point. You can't deal any damage to him, while he'll happily spam his Corrupted Lightning attack on the entire group. Running to the nearby exit point (which you're forced to do, as the standard 'exit mission' button isn't present) is the only thing thing you can do, although it'd be a pretty short task force if you could just beat up the main Archvillain after one mission.
-----

Okay, we've got an invincible Nazi superman--

I think the word we want is 'Übermensch'.

Whatever. The 5th Column are suddenly back on the scene, and in MAJOR force. Where's the Freedom Phalanx? For that matter, where's Statesman?

(Isn't he dead?)

(This task force is set before his death, but could easily be put in after it.)

The Phalanx is busy trying to keep the chaos from spreading outside the city. As for Statesman, no one knows.

KOINBOT THINKS NOW IS A GOOD TIME FOR UPLIFTING ENCOURAGEMENT AND OLD-FOLKSY WISDOM FROM OUR RESIDENT OLD MAN.

... what, you're listening to me NOW? Honestly, from the way things are going, I think we're all fucked.







...

KOINBOT DID NOT THINK THAT WAS ENCOURAGING ENOUGH. TRY HARDER.
-----

LESS ENCOURAGEMENT WAS FOUND, EVEN AFTER KOINBOT APPLIED HIS ENCOURAGEMENT HEADLOCK. MORALE WAS AT AN ALL TIME LOW - IF LEFT UNCHECKED, THE TEAM WOULD BE FORCED TO WATCH IN TERROR AS KOINBOT WOULD EVENTUALLY BREAK THEM ALL DOWN INTO THEIR COMPONENT PARTS.
What, for energy?

THAT TOO. KOINBOT ALSO KNOWS A GUY WHO NEEDS KIDNEYS. LOTS OF KIDNEYS.
... right. Well, tune in next time for the exciting(?) conclusion to "The Return of the Reichman"!

JOIN US NEXT TIME WHEN KOINBOT VISITS THE PLANET OF THE NAZIS, AND WITNESSES A TERRIBLE WHITE-WASHING. RETURN AND CHEER KOINBOT ON, OR ELSE KOINBOT WILL DESTROY YOUR HOUSE AND ALL OF YOUR BELONGINGS.
ALSO CHEER ON KOINBOT'S EXPENDABLE ALLIES. MAYBE.