Part 33: Dr. Khan Task Force - Part Two

Okay, we've firmly established that we're pretty much screwed. The 5th Column are moving into Paragon City as we speak, and their Nazi superman is even MORE superman-ish than he's ever been.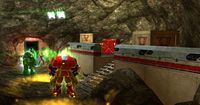 What are we doing in a 5th Column base? It's not to sign up, right? My healthcare doesn't cover being a Nazi.

We're looking for information. Reichman is powerful, but he was never THIS powerful, even factoring in that he's been on ice since the 80s and might have stored up all his energy or something. This is the closest 5th Column base inside Boomtown - he might have left something behind.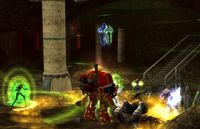 It looks a lot like your standard underground Council base, except with more skull banners.

Same designer.

I'm not sure who's ripping off who, anymore.

Where'd the robot go?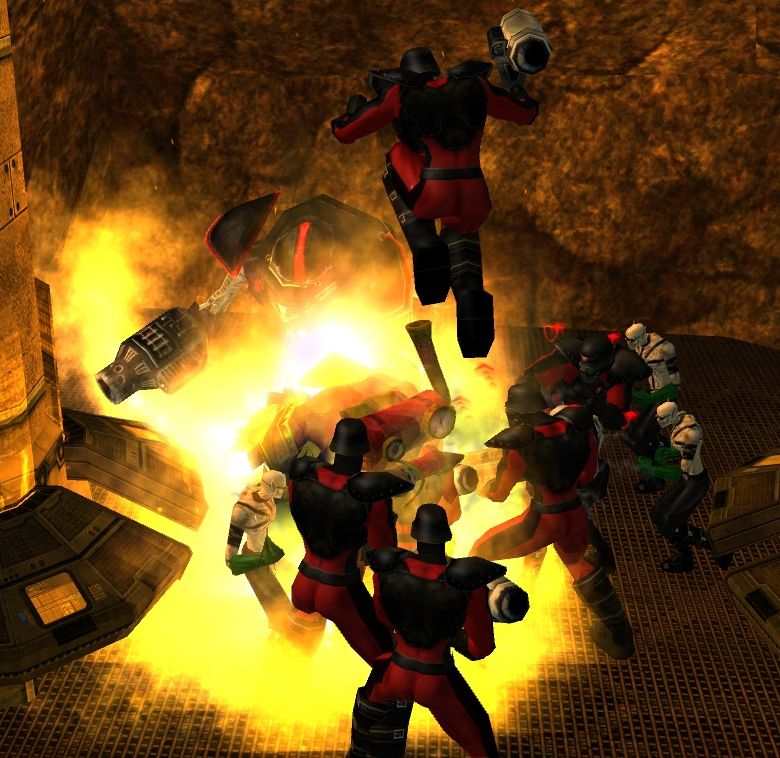 He went ahead - he wanted to deal with the base commander.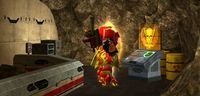 In the meanwhile, start looking around for anything that might be useful - memos, emails, troop schedules...

BASE COMMANDER DEFEATED. ALSO, KOINBOT HAS A NEW HELMET TO ADD TO HIS COLLECTION.

Why is the helmet, uh, bleeding?

... ugh, you need to clean the head out of it first before you can collect it!

KOINBOT IS TOO BUSY A ROBOT TO DEAL WITH TRIVALITIES.

I bet it adds some authenticity too. 'Genuine Nazi helmet, complete with brainpan!'

Don't encourage him.

Y'know, this was kind of a... dull job, after trying to fight an invincible flying Nazi.

Heroism isn't all about glamor and fame. Although it does seem rather... mood whiplash-y in comparison.
-----


Excuse me, are you Tina MacIntyre? Dr. Khan told us to talk to you.

Yes, I received those files you found in that 5th Column base. I tried explaining things to your robot--

He's not ours, or anyone's, I think. But why do I have the feeling we're going to have to apologize for him now?

Oh...
quote:


BEEP.

Okay, okay, I'll set the portal coordinates! Just PUT ME DOWN!

KOINBOT THANKS YOU FOR HELPING MAKE NAZIS AN ENDANGERED SPECIES.

Nazis aren't a species! Why am I even bothering to say that?


He's just... surprising, that's all.

KOINBOT LIKED YOU BETTER WHEN YOU WERE BLACK, TOO.

So what's the verdict?

Long story short, Reichman has captured or kidnapped several of his counterparts from other dimensions - including Statesman--

(wait, he's alive?)

(just presume he is and roll with it.)

--and is draining their powers to add to his own.

So how can we stop him?

Well, he's enhancing himself using cross-dimensional energy. If you can reinforce his connection to his home dimension, you'll be able to 'ground' him and, in effect, short out much of his added power. He'll still be very powerful, but the eight of you should be able to defeat him.

Sounds like a plan! What do we do?

I've already had a portal set to his home dimension, thanks to your robot friend--

He's not our friend. Sort of. Long story.

Er, right. Anyway, just find some power sources and tap into them using this scanner. We'll set up something on our end when you return.

Where's Reichman from, anyway?

One of the first dimensions that Portal Corp discovered, actually. The official designation is Delta Zeta 24-10, but most of us here...
-----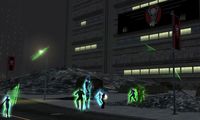 ... just call it Axis Amerika.

KOINBOT HAS... NEVER FELT THIS WAY BEFORE.


NO HEROES.


ALL FACELESS, HEAVILY ARMED NAZIS.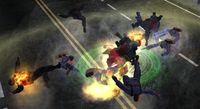 ALL PUNCHING.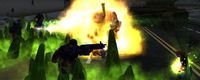 FOREVER.

The robot's creeping me out again.

'Again'?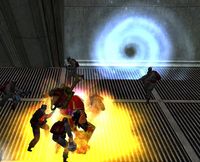 POWER SOURCE FOUND.

That's the last one! Link it up and we can get out of here.

KOINBOT IS STAYING.

What?

Leave him behind!

We can't just - God help us, we might actually need his help.

KOINBOT IS CONTENT HERE. NO ONE MINDS IF NAZIS ARE BEING PUNCHED, AND THERE ARE SO MANY NAZIS HERE. A WHOLE PLANET OF NAZIS. NAZI PLANET.

But what about Reichman? He's, like, the HEAD Nazi.

... TEMPTING.

And, uh, they're forming a club! A club to shun you, specifically.

WHAT?

Are you two crazy?!

I don't think it's safe for ANYONE if we leave him unsupervised.
Yeah, the 'We Hate Koinbot' club. VERY exclusive. All the villains will join up and make fun of you while you hide here.

NO ONE MAKES FUN OF KOINBOT.

And they flipped off a baby!

NO ONE STEALS KOINBOT'S SCHTICK!! RAAAAAAAAAAAAAAAA!!!!!!!11one

I hope we don't regret this.
-----

Welcome back! We've created these dimensional grounding rays for all of you - these should help sever Reichman's power source.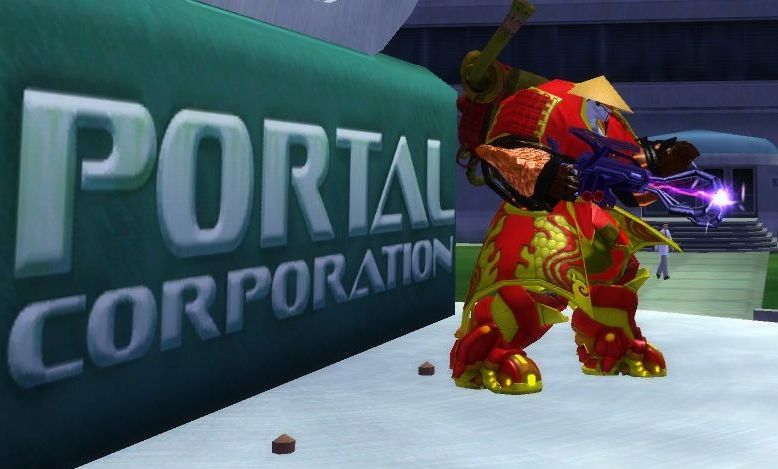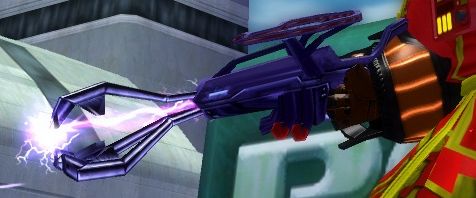 ANAL PROBE ACQUIRED.

It's not a... okay, I guess it IS a little unfortunately-shaped.

So long as our penis-shaped gun doesn't fire a penis-shaped laser, I think we can all deal. Where to next?

A base under Boomtown again. We might be facing more than just Nazis, though - look at this.

Is this a...?

Yeah. An invitation from Reichman to join his 'Council of Villains'. It was part of those files we found earlier. It doesn't say who RRSP'd, though...
-----

We're here! And they brought out a welcoming committee!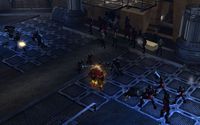 Punch through them! We're close - I can feel it!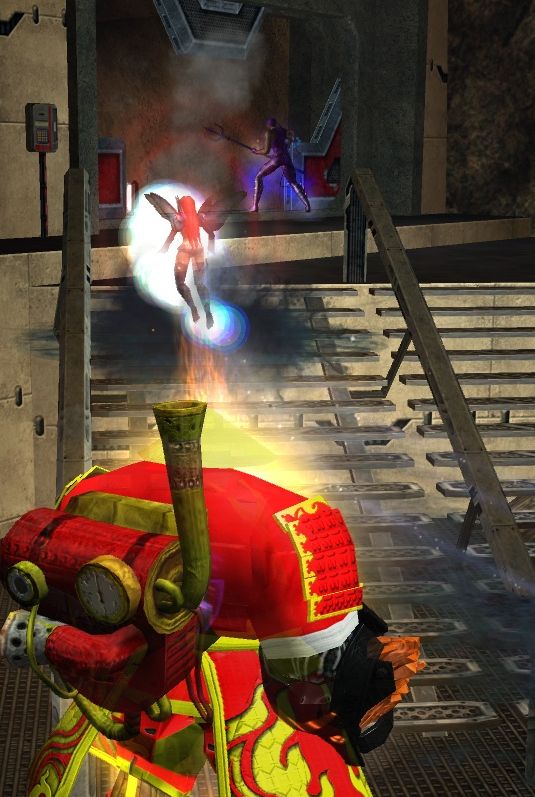 I think I can hear him talking....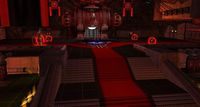 ... nice looking place, for a Nazi throneroom.

And there's the man of the hour himself. Who's his captive audience?

Looks like... Countess Crey of Crey Corporation, Vanessa DeVore of the Carnival of Shadows, Nemesis - or just a Nemesis-shaped robot, it's hard to tell with him - and some Malta Gunslinger guy.
That would be Gyrfalcon, a Malta AV pretty much made specifically for the Task Force. Apparently in beta it used to be Akarist of the Circle of Thorns, but people pointed out that Akarist had specifically defected to Paragon City after the events of one of the old heroside storyarcs.
Gyrfalcon also appears in the Dark Astoria Incarnate arcs as an NPC you can rescue.

Let's get to it! FIRE LASERS!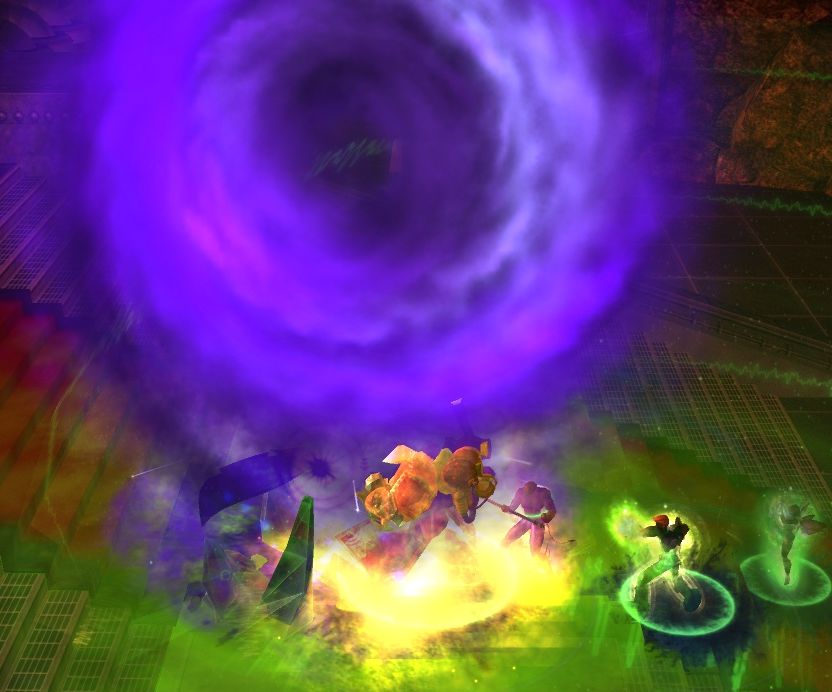 FIRING LASERS.

Did it work?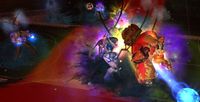 Vas? What is happening? How did you get so powerful?

I think it is! Pour it on!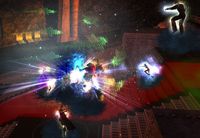 He's weakening!

Lightning again!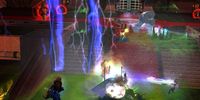 Also seen here - a Snow beast pet summon from the Winter Event.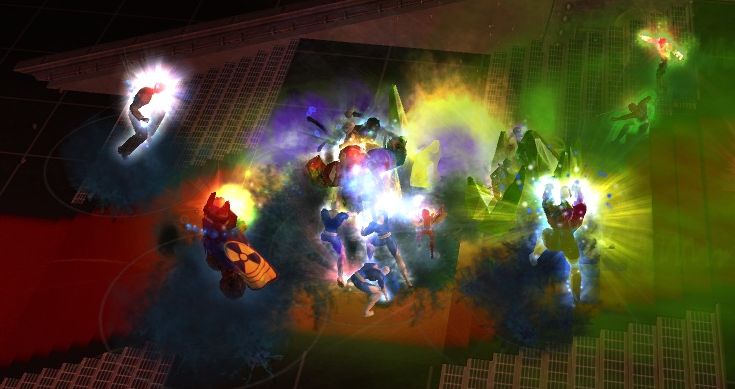 While the dimensional grounding rays don't make him a complete pushover - they just remove his scripted invincibility - the fight can be a slog due to his 200,000+ hitpoint count - easily the highest in the game. The main reason teams fail the task force at this point is more due either not enough buffs or debuffs to counter his damage resistance, and/or a heavy reliance on smash/lethal damage (the two damage types he has the highest resist numbers for).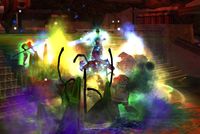 His hitpoint regeneration isn't actually that great for the size of his HP pool, but once taken to a certain health threshold he'll activate Unstoppable - a 'godmode' power that cranks his resistances through the roof, to where he might be taking zero damage from most attacks. This is enough to cause him to ever so slowly regenerate health before it wears off, in which case you have to hammer down his HP again - and if you don't do it fast enough, his Unstoppable might recharge and he'll activate it again, turning the fight into a terrible cycle.
But finally...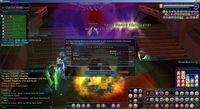 VICTORY!

We... we did it!

We got the tools, we got the TALENT!

Hey, what happened to those other villains that he was monologuing to?

THEY GOT IN KOINBOT'S WAY.
This can happen. Draw the other Archvillains close enough and you can wear them down just through the incidental area-of-effect powers as you're beating down M. Bison.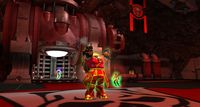 This is his Reichman's Power-Up machine, huh? Shouldn't we destroy it or something?

NOT NOW, KOINBOT IS TOO BUSY POSING FOR THE MASSES IN FRONT OF IT.

Why are YOU posing in front of it?

Just hush and let me have my moment.
The Empowerment Machine, like Gryfalcon, makes a brief cameo appearance in one of Dark Astoria Incarnate arcs.

Sooo... what happens now?








...








PARTYTIME!
EVERYBODY DANCE!
-----

AND THAT WAS THE DAY KOINBOT WAS GREAT AND TEMPORARILY DESTROYED ALL THE NAZIS FOREVER. THE END.

... close enough, I guess.
quote:
Souvenir: Reichman's Plans

These plans for conquest remind you of the time when you saved Paragon City from the 5th Column in an adventure you call

The Return of the Reichsman

When a break in at City Hall lead you to a base that was rife with 5th Column activity, you knew something big was up. Your hunch was proved right when the 5th Column invaded Boomtown, so you headed there to shut them down. Though you defeated their generals and shut down the troop portals, a super-charged Reichsman arrived forcing you to retreat and find some way to defeat him.

Your investigations lead you to a 5th Column base where you recovered information that revealed Reichsman was an alternate version of Statesman, and was collecting other alternate versions of himself from which he could steal power, making him practically invincible. Working on the theory you could somehow "ground" this power out with the proper energy source, you went to Axis Earth where you tapped 5 energy sources.

You returned to your home and traveled to the 5th Column Base in Boomtown to confront Reichsman, only to find him in conference with four of the most powerful arch-villains around! You shattered his plans of an alliance of evil and captured the arch-villains, but Reichsman managed to slip away in the end. Somehow, you don't think you've seen the last of him.


KOINBOT WILL CHERISH ALL OF THOSE WONDERFUL MEMORIES AND FRIENDS FOREVER.

AS WELL AS THE DELIGHTFUL ADDITIONS TO KOINBOT'S HELMET AND BODY PART COLLECTIONS.
Extra special thanks to everyone on the task force that wasn't Koinbot - Nydia Caito, Sleight of Thought, Vei, Earth-Boy, Robin of Nassau, Qi Dong, and Yahoorah!