Part 6: Montezuma Boss Fight
6. Montezuma Boss Fight

Chico, you're our eyes down there. What's going on?

Snake's approaching the big sacrificial altar area…Cecile's in a cage, there's some guys strapped down…Montezuma's waiting with a dagger in his hand.

Snake. Do you think I do this out of spite? Do you know the purpose of this sacrifice?

No, but I'm sure you're going to tell me.

It's to preserve our world, our existence. Even the gods themselves sacrificed their lives to create this world. Without fuel, the fire cannot burn, and the sun's light will be quenched. Our world would vanish. War, hate, anger, these are what make men stir their bones and find new reasons to live, are they not? Tell me you disagree!

Hmph. Fighting's all I'm good for, I'll give you that. But…sacrifice means giving up something precious, and these people's lives mean nothing to you. If you want to give your gods a real sacrifice, kill
yourself.

HOW DARE YOU! RARRGH!

Oh, man! He just…Montezuma just killed the guy on the altar! And the blood is flowing like snakes over the ground…crawling onto Montezuma! His eyes are glowing yellow!

SNAAAKE! DIE!!!

WAUGH!

Montezuma just shot
laser sunbeams
out of his eyes at Snake! He's floating a foot off the ground, chasing Snake around!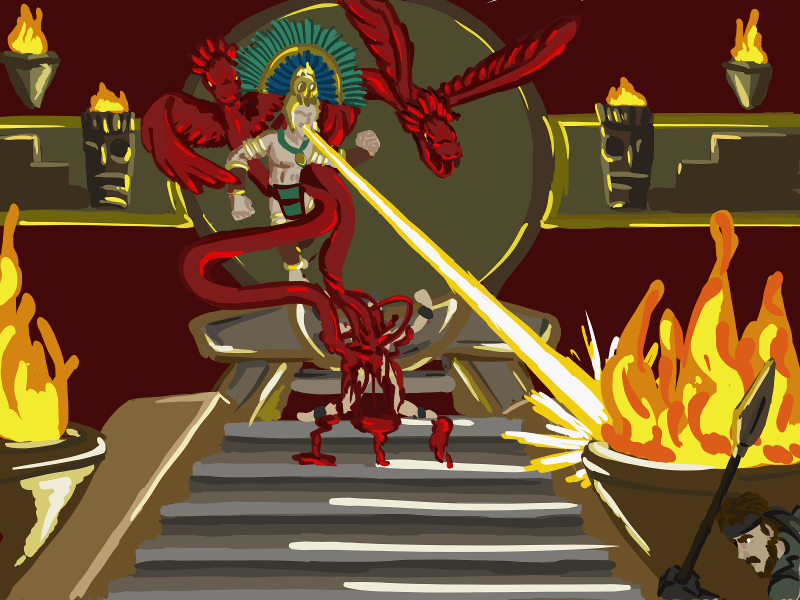 This is crazy! What the hell is this guy!?

I don't know, but if just one sacrifice let him do this, don't let him kill any more prisoners!

Got it. I'll kite him around this place and keep him distracted.

I CAN
SEE
YOU, SNAKE! YOU CANNOT HIDE FROM THE SKY!

Oi, he's blowing up Snake's hiding places and calling down beams of light from the sky! Snake's shooting back with his bow, though…

HAH! YOU ARE A FEARSOME WARRIOR INDEED, SNAKE, BUT I KNOW YOUR WEAKNESS. THESE WORTHLESS PEONS--DIE!

NO! YOU WON'T TOUCH THEM!

Snake's shot Montezuma with a fire arrow--the blood on him is lighting up like it's lighter fluid!

I guess the blood sacrifice really is fuel for the sun. Snake! Keep it up!

WAUUUUGGGGHHHHH!!!!!

He's burning out…falling down…his power is fading!

Snake, I think you did it!

Guuuggh…grrrggh…Snaaaaake…you monster! Who are you to destroy my greatness?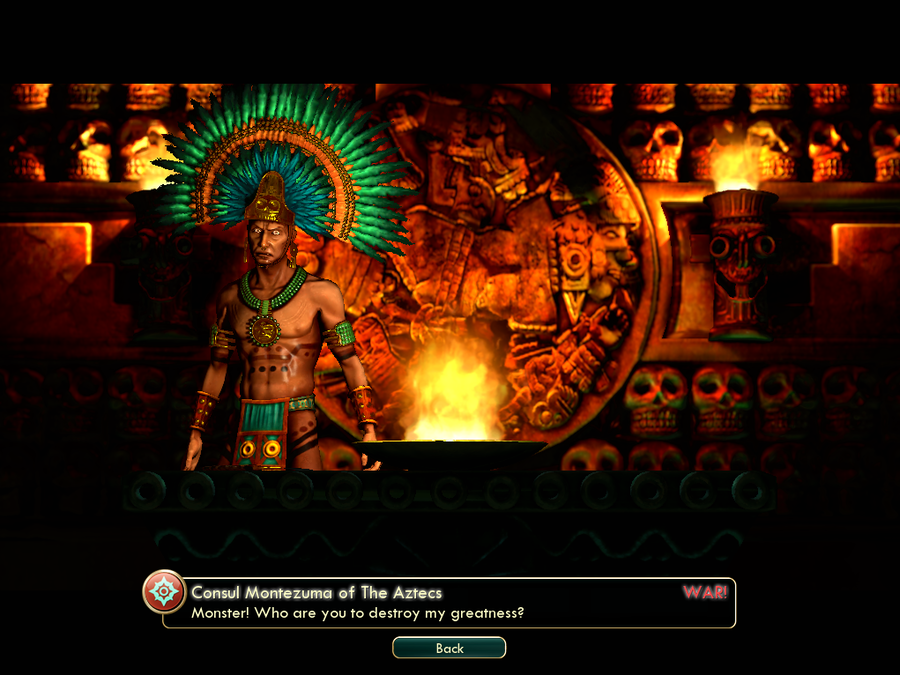 Snake's walking over to him…

If I could destroy you, then you're not so great.

You hate me, don't you, Ssssnake? Well… this was necessary. If we didn't compete…
they
wouldn't keep us around.

What are you talking about?

Guggg…nothing you would understand. A man like you lives too far from divinity to comprehend it. Snake! What remains of my people will dedicate their lives to your destruction, unless you yourself destroy them utterly. An emperor is not secure if he lives by half measures. Of course, the other rulers will come to see you as a monster for this…heh…heh…just as you thought me a monster…

He's not moving any more.

Snake!

Cecile! You're alive! I thought for sure he'd have sacrificed you by now.

He kept me around when he found out I was from your group…he thought I could help him understand all the junked technology. This was horrible…

Sorry you had to see that. We'll get you out of here.

Montezuma's body…it's turned to ash…
Next Time: Repercussions!