Part 20: Super High-school Level Update #18


We now just have a couple of loose ends to tie up, and they're both back at the gymnasium.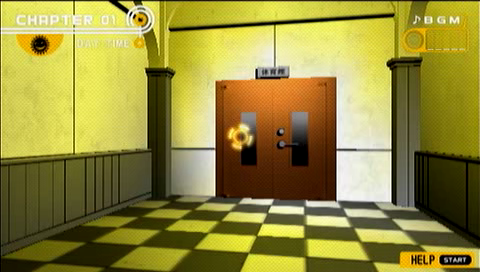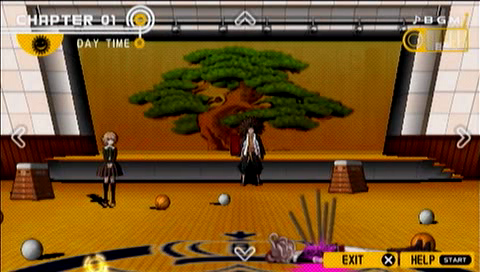 We found the remains of a glass ball that looked like something a fortune teller might use. Fortunately, we have one right here.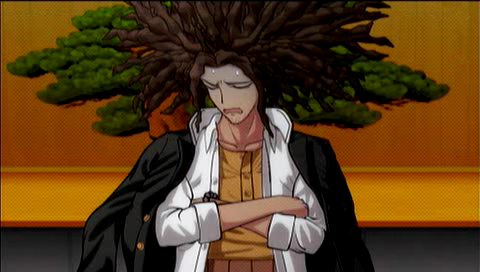 Hagakure-kun... There's something I want to ask you.

No no no no... I want to get out let me get out right now get out...

Hagakure-kun!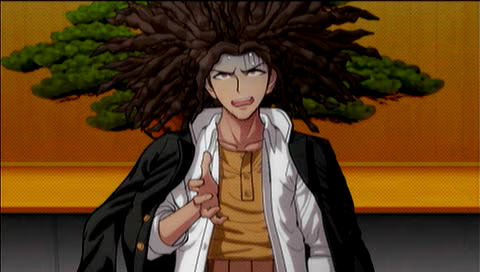 W.... what...?

Oh, Naegi-chi... how long have you been there? What...?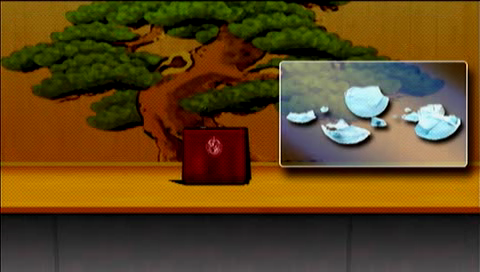 Do you recognize this glass ball, by any chance?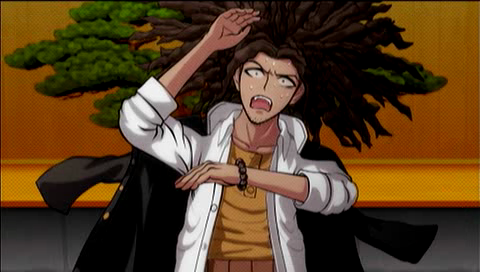 Haaa!?

This is my crystal ball!!

Eh? It's... broken? Eh? Eh?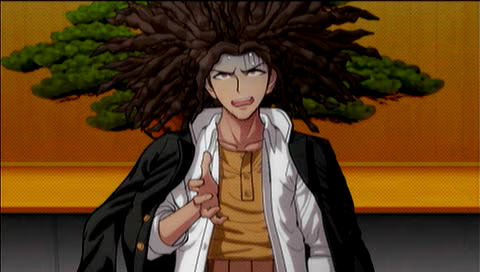 I was told it was miraculous crystal ball that can't break when I bought it, 'right?

Eh? How come it's broken?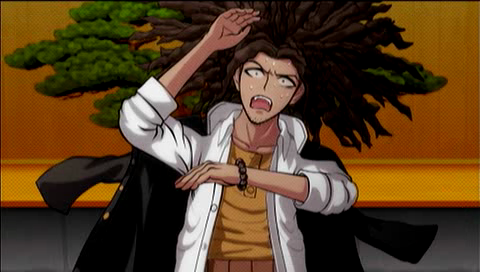 And on top of that, you said it's glass!? Are you sure it's not crystal? I think someone swindled me!

I was told it was a crystal ball personally used by all kinds of historical heroes like Napoleon and Genghis Khan and George Washington...

...and that whoever has this crystal ball gets the power to unite the world... Eh? I was tricked? Really!?

U...um, listen, Hagakure-kun. Let's leave that aside for now...

...are you absolutely sure this ball is yours?

I'm as sure as I can be...

I think I forgot it in the laundry room yesterday evening. It must have been stolen, 'right?
He forgot it... at the laundry room?
If he's telling the truth... anyone could have picked it up.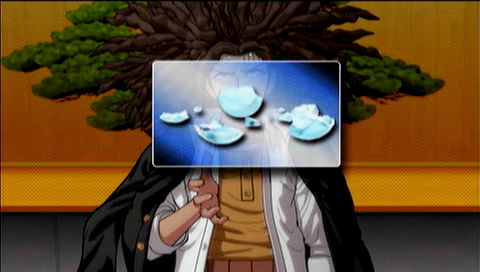 System message posted:
"Broken glass ball" was updated in your notes.


Thanks, Hagakure-kun. That's all I wanted to ask.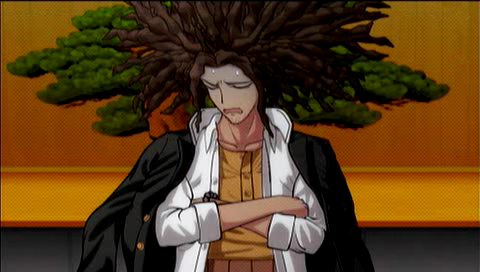 Sigh...

............

Hey, I'm just a little curious. How much did you pay for this glass ball?

...it was about 2 years of income from fortune telling...

If I have to estimate... about one hundred million yen.

O...one hundred million!?

It's not much to pay... for the power to unite the world...
He can't be that stupid... I don't think I even have it in me to sympathize...

At the current exchange rate, one hundered million yen is just below 1.3 million dollars.

And with that out of the way, we should be done.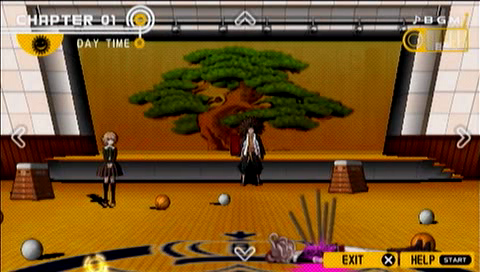 .........okay, okay. I didn't want to, but I guess I have to go on with Naegi's plan to question Fujisaki about the dying message.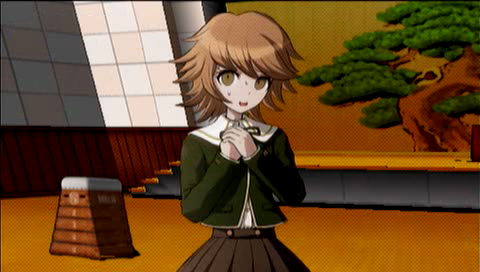 Hey, Fujisaki-san... I have something I want to ask you.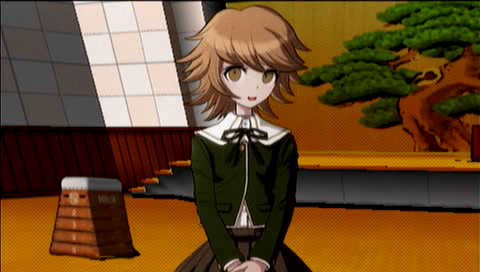 Something to ask me? What is it?

Maizono-san left a message before she died.

It was the numbers "11037"...

Do these numbers ring any bells? Maybe it's a code or something...?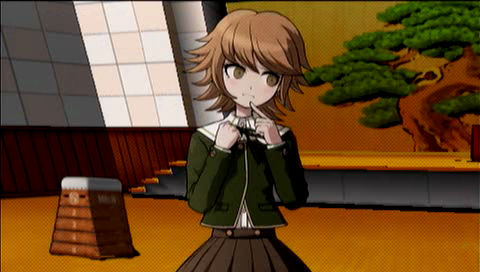 Hmmm....

Hmmmmmm.....
Fujisaki-san tilted her neck several times.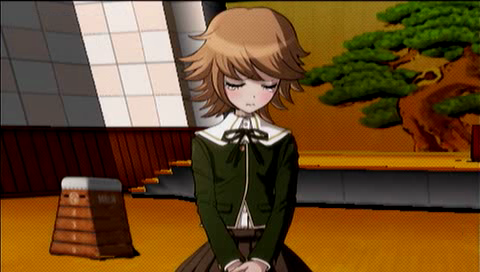 I... I'm sorry... I have no idea...

Oh... never mind, then. Thanks anyway...
Even she... doesn't know what it is...
Or maybe... she's hiding it from me?

........
No, it can't be...
*Ding-dong-ding-dong*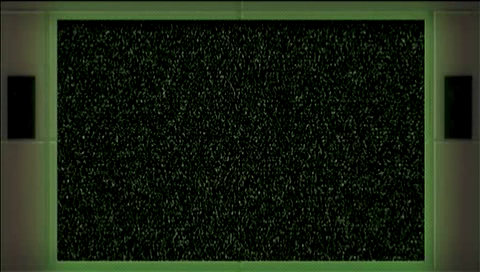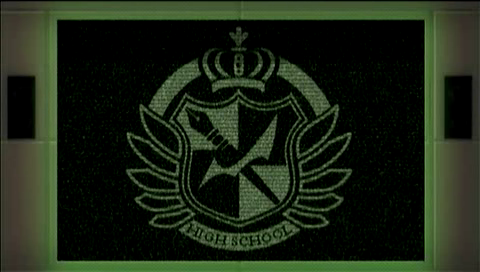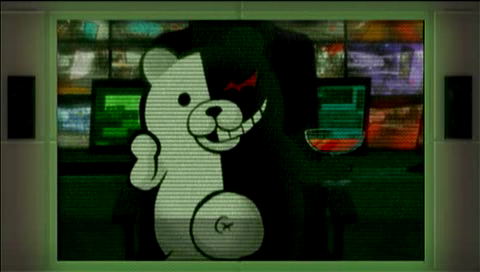 Ehhh... I am getting bored... We should start the show, don't you think?

The school trial... everyone is waiting for!!

Well then, let me announce the gathering place!

Please go in the red door in the first floor of the school area.

Upupu... I'll see you soon!!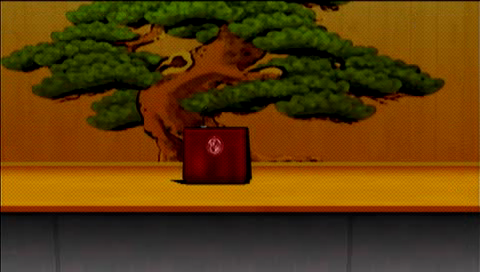 The red door... in the school area.
So that's where it happens.
I guess I must go.

The red door is in the top left corner of the school area's map, and the room beyond it is marked with a Monobear icon. It was locked until this point.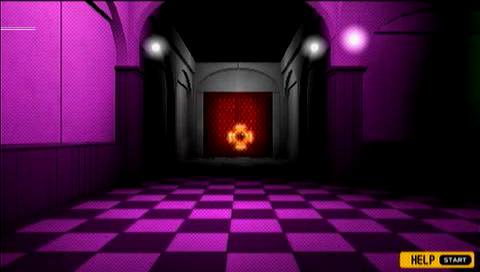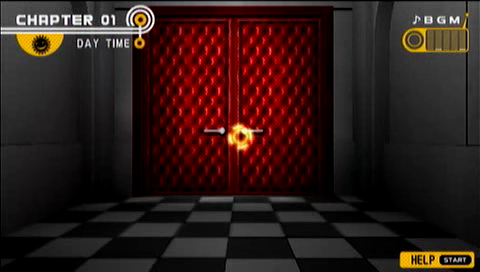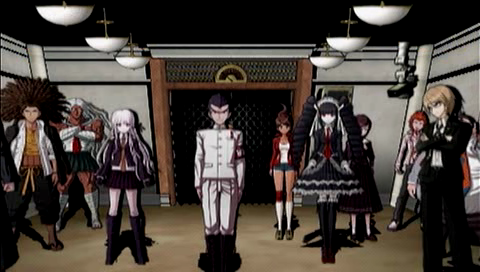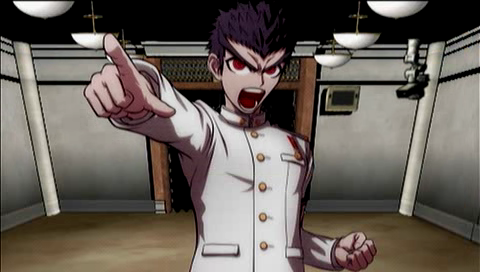 Naegi-kun! You're late! Everyone is waiting just for you!!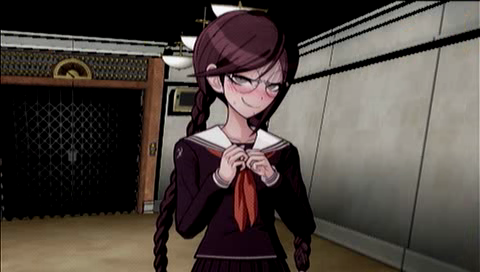 Huh... you must be shaking... now that we uncovered your crimes...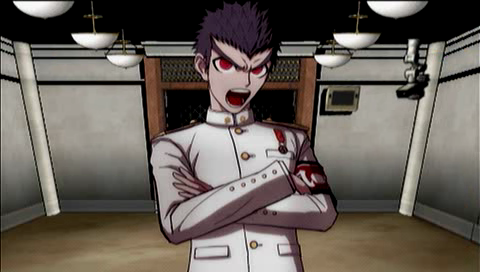 Please don't make any decisions now! We should wait for the proper time at the trial!

Once we're there, we will make it very clear how Naegi-kun is the culprit!
So... they think I'm the culprit after all... But...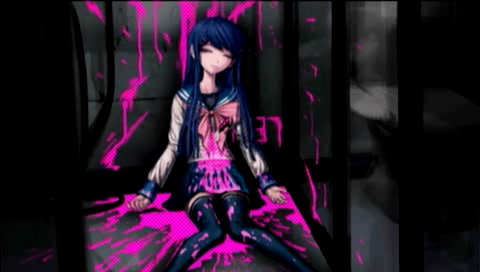 ...but... both me and Maizono-san know very well that it wasn't me who did it.

...so who is the culprit?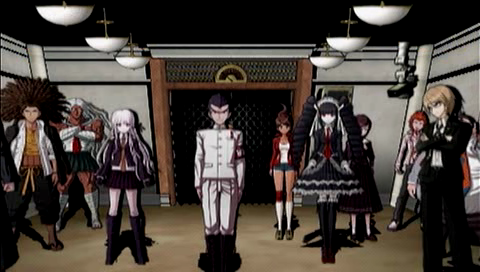 The culprit who... killed Maizono-san...
Are they here among us...?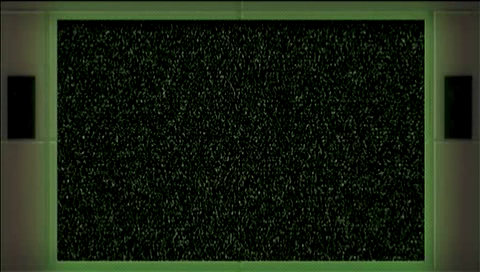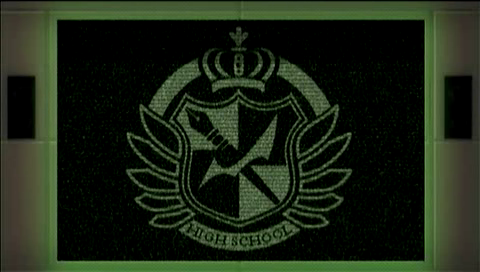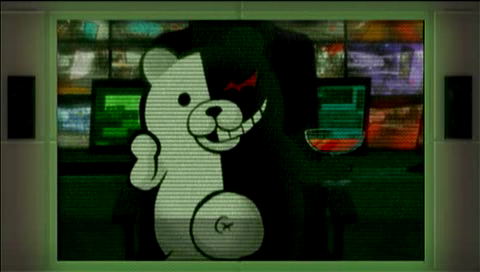 Upupu... Is everyone here? If that's the case...

Please enter the elevator you see in front of you. It will carry you bastards directly to the school courtroom.

The court... that will decide you bastards' fate...

Upupu... I allowed myself to go down there ahead of you. I'm waiting...!!

We could go straight into the elevator, but let's hear everyone's final thoughts first.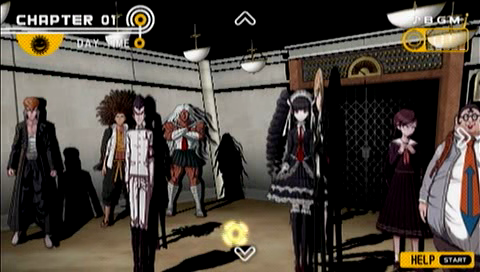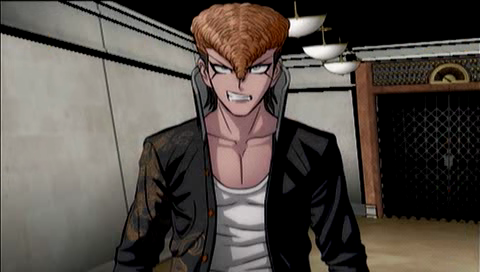 ...a courtroom? The fucker even prepared a special room for this thing...?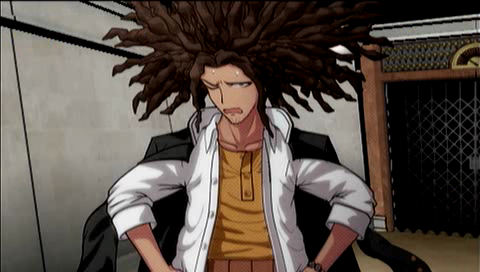 It's such a bother, 'right? Having to go through this school trial business...

Naegi-chi, don't you want to do something special with your last few moments of freedom?
I told you, it wasn't me...!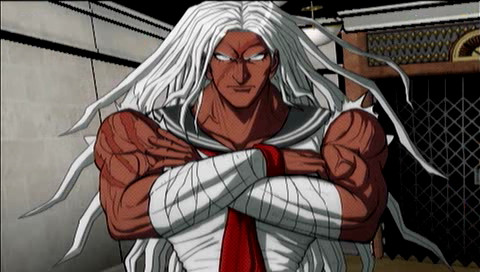 We must not hesitate in that place. We must proceed while being prepared for anything...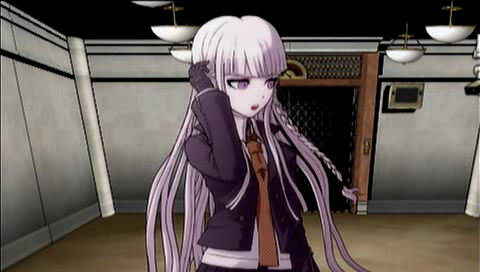 ............

...let's go.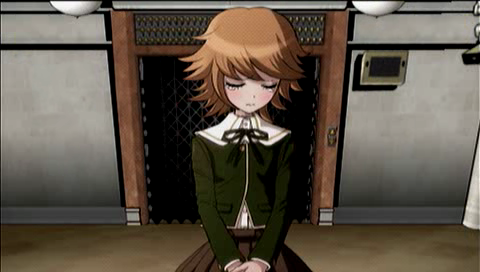 I'm sorry... I wasn't able to help with the investigation after all...

I wonder if Maizono-san wanted us to find out who the killer is this way...?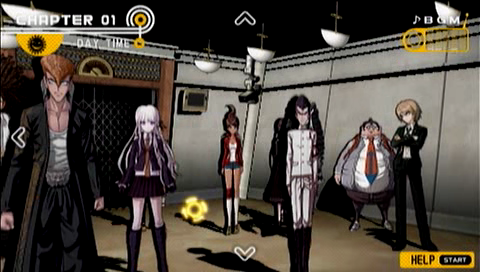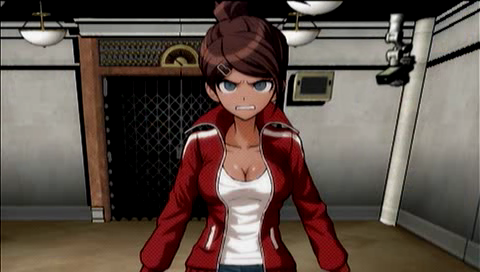 The bastard who killed Mazono-chan... I wonder how they feel right now...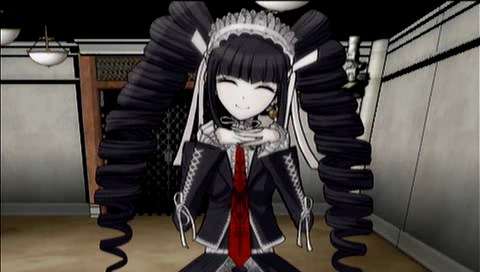 So how did you do? Did you find evidence that clears you from guilt?

.........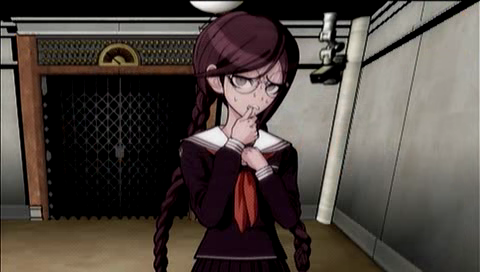 Killing someone... it just didn't faze you at al, did it.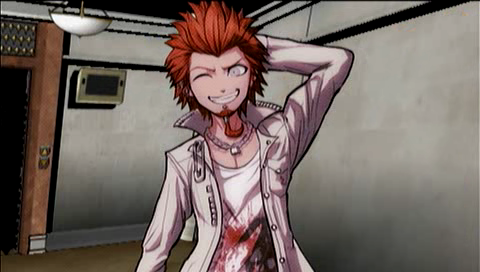 Well, I did all that I could. I'll leave the rest to you!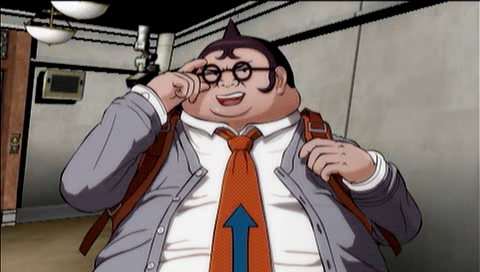 Heh heh heh... As expected, the arena of darkness lies underground...

Naegi Makoto-dono's final battle begins now...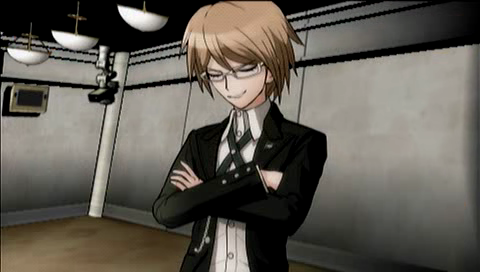 It will soon be time. Are you prepared?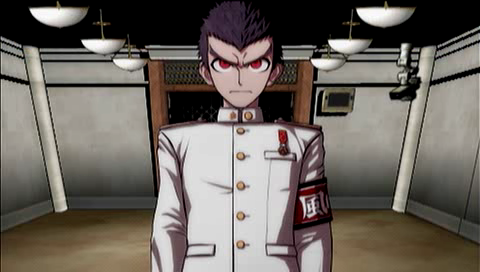 Rest assured, I have not yet decided whether you are the culprit!
But you sure seem to think I am...

That's everyone. Let's do this thing.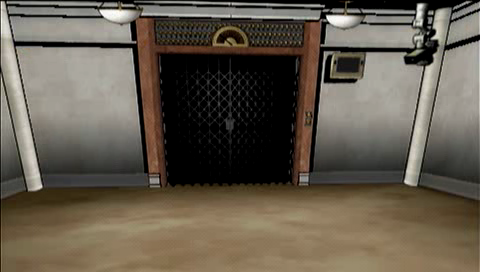 So we should just... just ride this elevator down...

Well then. We should go.

So it seems.

.........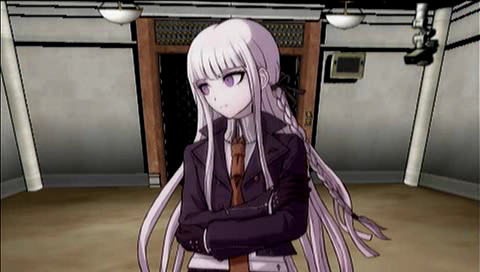 Are you scared?

...I'm not sure scared is the right word.

I told you before. This murder's mysteries are yours to unravel.

If you can't, this case can't be concluded satisfactorily.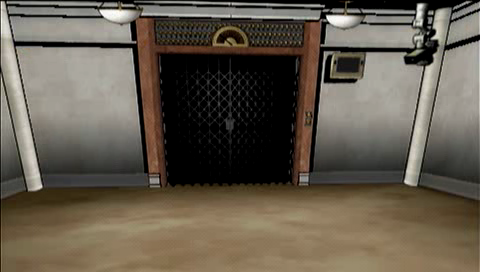 This murder's mysteries... are mine to unravel...

Even if she didn't say so... that's what I plan to do...

For Maizono-san's sake...

I will definitely reveal the culprit behind this murder!!
I raised my voice, as if to reassure myself.
My legs, shaking with nervousness, stepped towards the elevator.
With each step, my heartbeat grew steadily faster.
Everyone else was already inside. I was the last to enter.
The doors closed behind us... and the elevator began to move.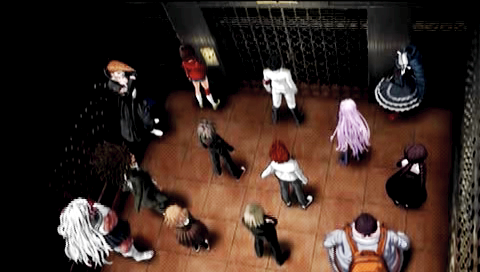 The rough metallic sound of the elevator reverberated as we travelled downward.

I wonder if this is how an inmate waiting for his execution feels...

In your case, it's more like a defendant waiting for judgement, isn't it?
As if to compliment our mood, the elevator kept tumbling on down and down.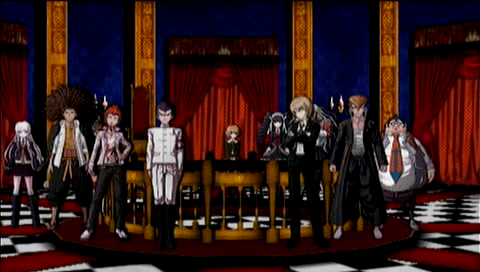 Nyohoho! You're finally here!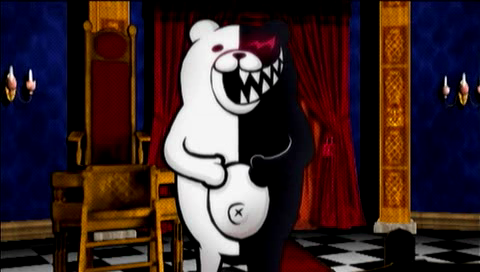 Well, what do you think? Isn't this just like a courtroom?

The scenery is on par with a Hollywood movie, isn't it?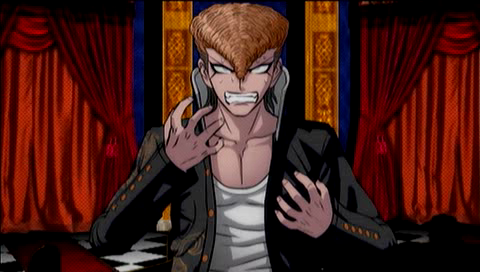 I think it's just creepy...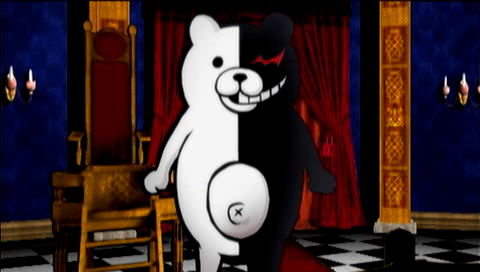 Yeah, yeah. Well then, everyone - please take the seat with your name written on it.

Hurry up! Hurry up!
We did as Monobear said and went to our designated seats...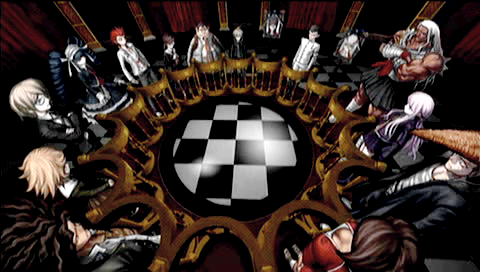 ...which were placed in the form of a circle, as if arranged for a war council.
Just by looking around, you could see everyone's faces clearly.
We could feel each other's nervousness...
And the atmosphere within the circle soon grew oppressive.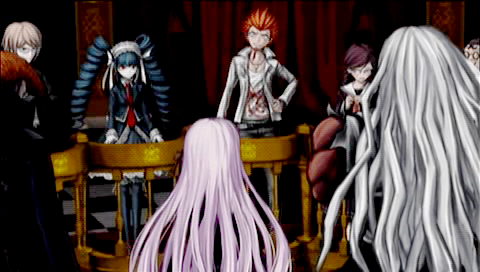 And then... the curtain opened.

On a courtroom of life and death...
Mutual deception of life and death...
Betrayals of life and death...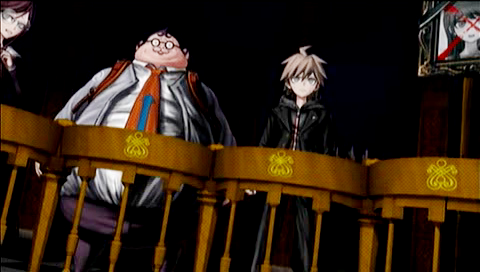 Puzzle solving of life and death... Vindications of life and death.. Trust of life and death...

A School Trial... of life and death.

Next: metaphorical shooting.