Part 129: Personal Traits Run-down
Personal Traits Run-down
Schwartzcough requested this, so I compiled it.
Levels
Level 1 - 4
You are still wet of ear-back and green of foot. You're not sure which bit of a sword to stick into an enemy, and you think crossing your fingers is a form of magic protection spell. You've got a lot to learn, kid.
Level 5 - 7
You're learning, youngster. Keep it up and you might make a name for yourself one day - but for now, avoid getting out of your depth. You're still pretty green.
Level 8 - 15
Not bad. Not bad. You can trust yourself in tricky situations and your enemies should take care around you. But you'll probably end up as just another corpse if you over-estimate your abilities.
Level 16 - 29
Your skills are heroic and your collected experience is highly impressive for one so young. Your exploits are beginning to be sung by the bards, and you know your father would have been proud of you.
Level 30 - 49
Your skills and adventures are positively legendary! Even if you were to die tomorrow, you can be sure that folk will be telling tales of you for generations to come.
Level 50+
You have attained God-like attributes and skills. Yet, for all your power, you have come to realize that the key to a happy life is to have simple goals.
Attributes
The description of the attribute changes every 25 points, stopping once you hit 100.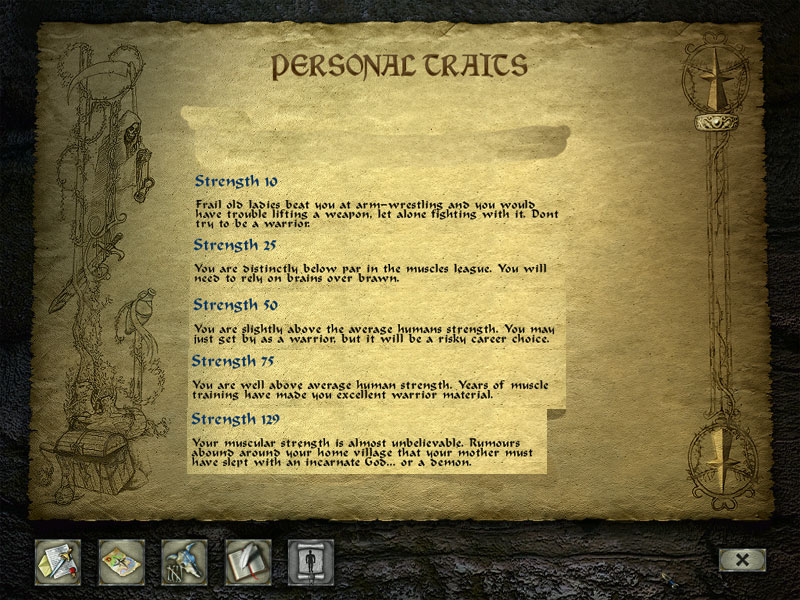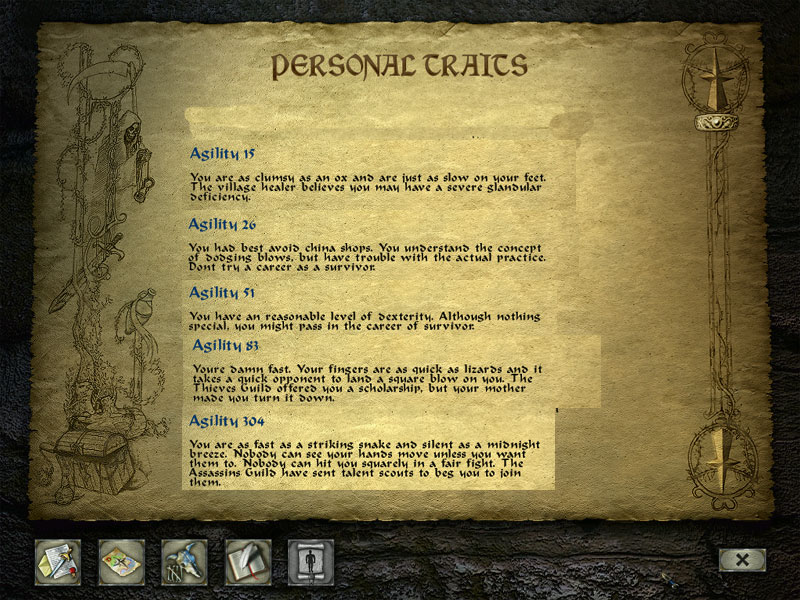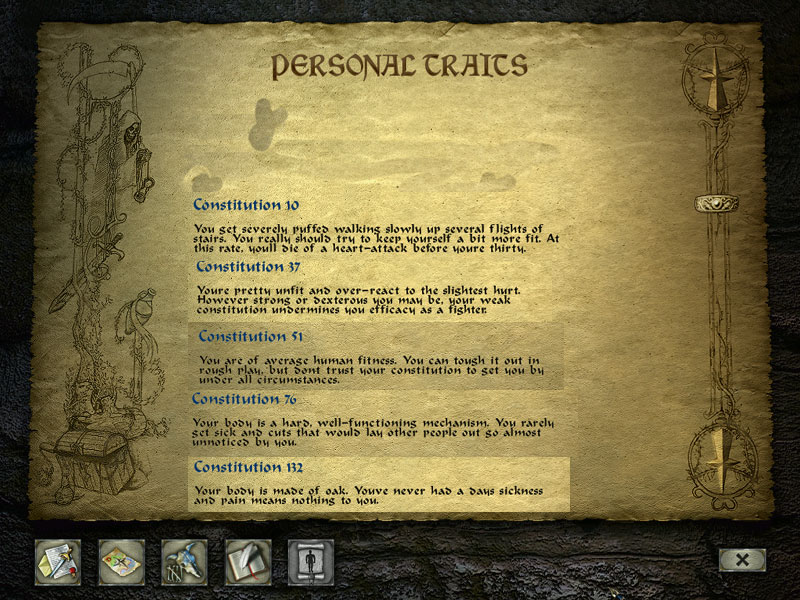 Offense and Defence
The description changes every 100. I'm not sure it's possible to get as high as 300, though.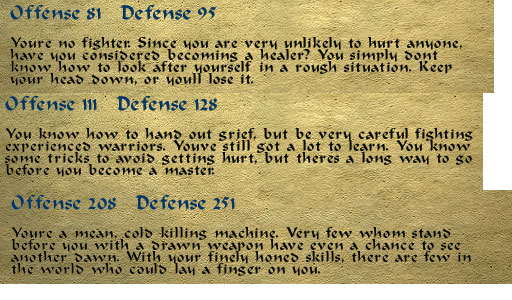 Vitality
1-124 - You are nigh unto death. Call a priest!
125-249 - You're in a very bad way. Try not to move about too much and conserve your strength, and [you] might just make it.
250-374 - You've been in the wars, but it's nothing to be too concerned about. Avoid getting into any more trouble before you've had a few days to rest and heal a little.
375-499 - You're a bit battered, but you're still up for some action. Bring 'em on!
500+ - You're as healthy and as full of beans as wolf cubs in springtime. Time for an adventure, I think!
Magic
1-99 - Your mystic reservoirs are drained. The smallest magic is beyond you and you often get splitting headaches.
100-199 - Your magical aura is low - about the level of an average human on the street.
200-299 - You clearly have had magical training at some point, but don't underestimate yourself - you're no Zandalor.
300-399 - Impressive! With a mystic aura like that, you should seriously consider studying new, higher forms of magic.
400-499 - Great Gods! Your mystic aura is fizzling with power! It's a wonder your hair isn't standing on end!
500+ - Oh Most Holy! You are the Divine One. Nothing short of a God could wield such a shining mystic aura!
Resistances
I think these are bugged. I think they're meant to range from 0-24, 25-49, 50-74 and 75+.