Part 7: History Recap
I was torn about whether or not to record the Giza boss fight, but since you asked, I'll go and do that later.
EDIT:
Geeeeeeezaaaa!~
______________________
Chapter 7: History Recap
The plot so far, in Dragon View:
Alex, the mostly massless fencer and eager rookie of the Isle of Keire's ivy league of warriors mouthed off something fierce to the ravishing wizard Argos
after that homme fatale snookered Katarina, ordinary girl of Rysis, to decorate his couch. Sporting a metal chestguard and armed with a warrior's soul and an awesome boomerax, Alex finally made it to Temple Keire, only to confront another obstacle in Giza, the before unheard of big boss of Argos and architect of Katarina, ordinary girl of Rysis,'s kidnapping.

Alex lies in the heap on the temple floor that Giza's asskicking left him in.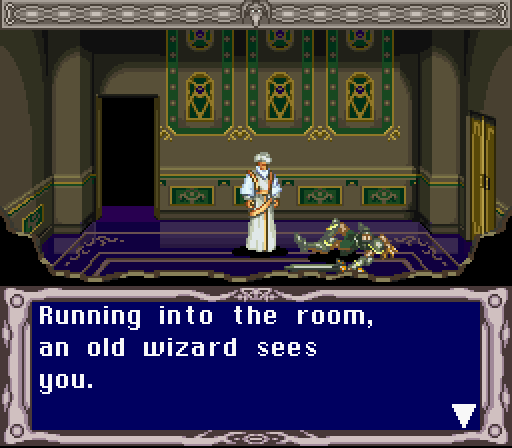 "Wow!" he gapes as he spies your broken form, "Giza sure worked him over!"
Wouldn't have happened if he hadn't used his wizardly powers to invoke a cutscene.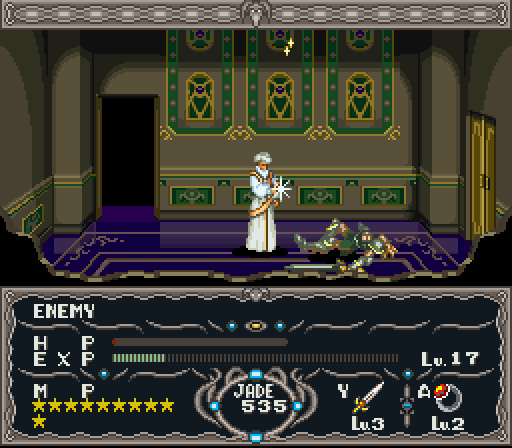 "So! You've awakened." the old wizard says, "You took quite a beating from Giza! I am the High Wizard of this temple. Giza caught me by surprise, using magic normally forbidden on this world."
"What do you mean by 'Forbidden'?" you ask.
The wizard explains,
"Magic is neither Good nor Evil in itself. But the mystic waves that carry magic powers can be bent to good and evil purposes. The Prime Orb was created to interfere with bending those waves to evil purposes. Giza has shown the ability to warp the mystic waves toward Darkness. So the power of the Prime Orb must be weakening. Prof. Methraton has studied the workings of the Underworld for his entire life. He may know the secret to sealing away those evil powers again. But he is locked away in his lab. You must visit him."
So, magic doesn't kill people, wizards kill people?
Check. Also, hey, wizard pope! I only just heard you existed, then I heard you were dead, and now you're all alive and giving us advice about magic!
Oh, and a quest too, I guess. Right, off to the next dungeon to rescue the professor.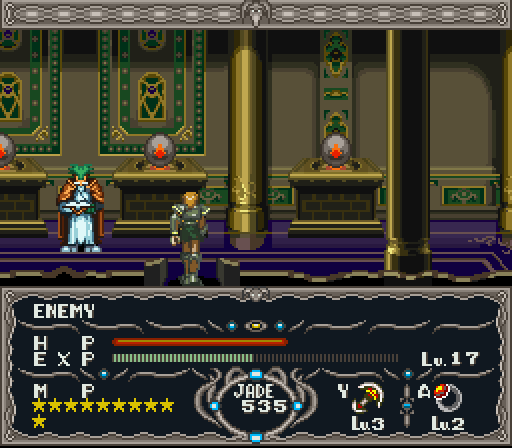 Wait...there was like, one room and one monster between me and this. Okay. Dungeon over I guess.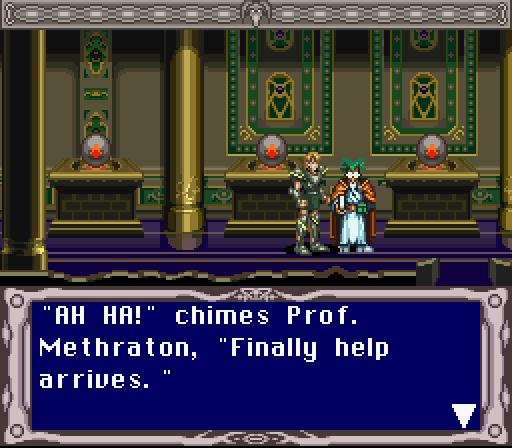 "So...
You are Alex, Aren't you?" he asks, "Katarina told me about you."
"She was HERE!?" you exclaim.
"Yes, yes, she was here. But Argos made off with her a while ago! She held utmost faith that you would rescue us."
The Professor notices the despair on your face, "Don't give up! There is still hope! Look at your 'Pendant'. That is the Guardrak, a powerful artifact. Long ago, a legendary warrior brought peace to the realm of the Dragon Lords. This pendant was given to him for his deeds among the Dragons.
You are of his blood... A direct descendant of that great man. The Dragons will surely help you if asked. Can I count on you?"
Well... no.
"You must go on!" the Professor begs, "Only you can do it! Can I count on you?"
Of course!
"That's the spirit!" Methraton encourages, "Go out and fight! Four spirits of the Dragons Lords sleep in the Crystal Altar of Ortah Temple. The temple's entrance is secret, though. Journey to Miraj Village, in the Southeast desert. The Sorceress there guards the temple, and may permit you to enter."
That was a Gwaelin moment up there. At the very least we get to see dragon statues in some other temple and possibly have some hallucinogens? After all, if you can't trust a professor of the underworld, who can you trust?
Wait. Did he say "desert"? As in sand?
In a videogame?
Why must there always be sand? I hate sand
in video games
.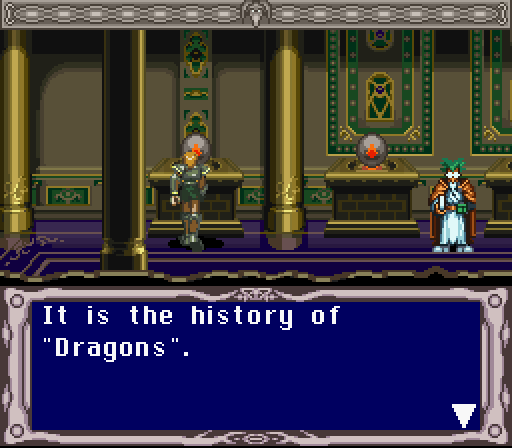 IN ANCIENT TIMES, THE GODS CREATED DRAGONS TO CORRECT THE DISORDER OF THE HUMAN WORLD. DRAGONS WERE THE HANDS OF THE GODS.
LONG AGO, WAR BROKE OUT AMONG THE DRAGON LORDS. APPOINTED BY DESTINY, A HERO CAME FROM THE HUMAN WORLD ON A MISSION OF PEACE. HE BROUGHT WITH HIM THREE OTHERS. HE SUCCEEDED IN AVERTING WAR, EARNING THE PRAISE AND GRATITUDE OF THE DRAGONS.
THE DRAGON LORDS BESTOWED UPON HIM THE PENDANT CALLED..."GUARDRAK" EVER SINCE, THE PENDANT HAS BEEN PASSED FROM WARRIOR TO WARRIOR IN HIS FAMILY.
These knowledge crystals will, if asked, tell you some little excerpt of island history in all caps. The screen essentially looks the same, just with Alex talking to a different orb, so I'll just transcribe the rest here.
History of Prime Orb
THIS GEM WAS CREATED BY THE GODS' DESIRE FOR PEACE. ITS PURPOSE IS TO STEM THE EVIL TIDE. THE PRIME ORB RESTS IN THIS SACRED PLACE. EVEN AMONG WIZARDS, ONLY THE MOST POWERFUL MAY GAIN THE PRIVILEGE OF STUDYING AT KEIRE.
GO THROUGH THE QUICKSAND CAVE TO REACH THE SORCERESSES' VILLAGE CALLED 'MIRAJ'.
THE UNDERWORLD, ROOT OF ALL EVIL, HAS BUT ONE ENTRANCE. AT THE HEIGHT OF A GREAT BATTLE, A LONE WIZARD WAS ABLE TO SEAL THE GATE. HE RETURNED TO NEIL VILLAGE AND HIS BLOODLINE LIVES THERE STILL.
Uh, okay. Thanks, knowledge crystals.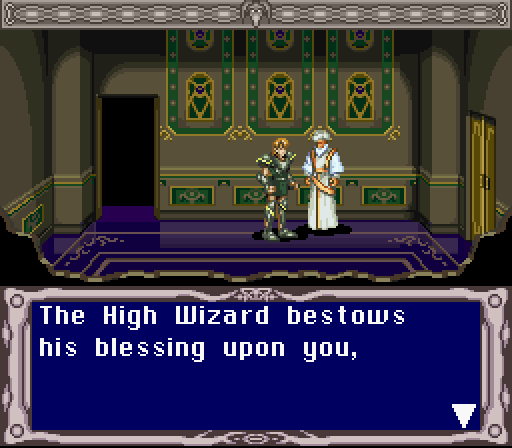 "Go forth warrior, and may the Dragons watch over you."
You too, wizard pope. I love the wizard pope.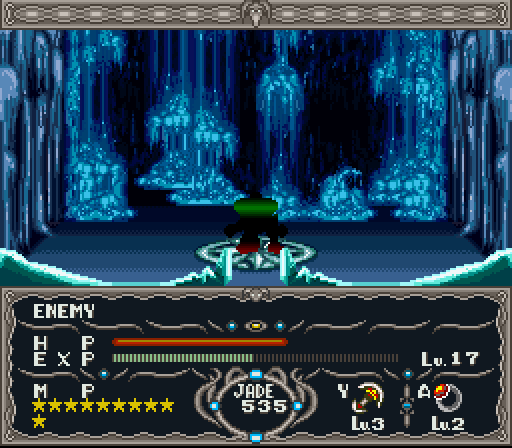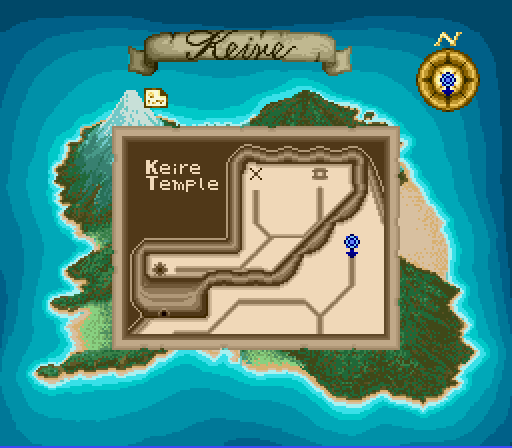 Then we woosh back down the mountain, but what's this? A cave I left untouched? What could it be?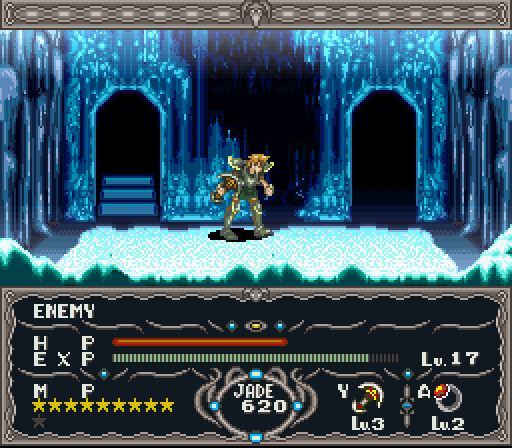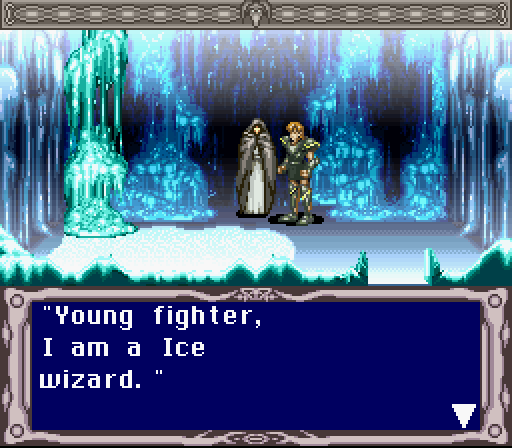 "I will bestow power upon your Ice ring, so it will become far more powerful."
"Azig taefed!!!"
You know, this time when he tells me to defeat Giza in backwards talk, I at least know who he's talking about. That other wizard had no excuse.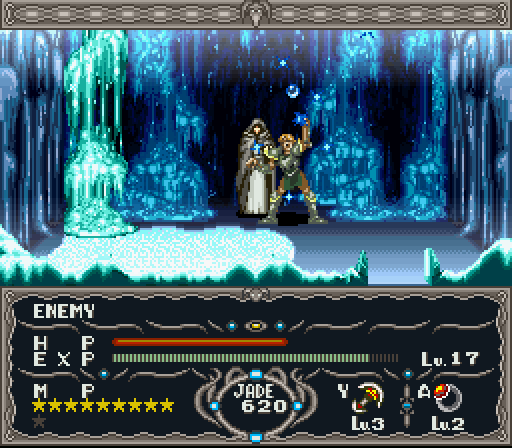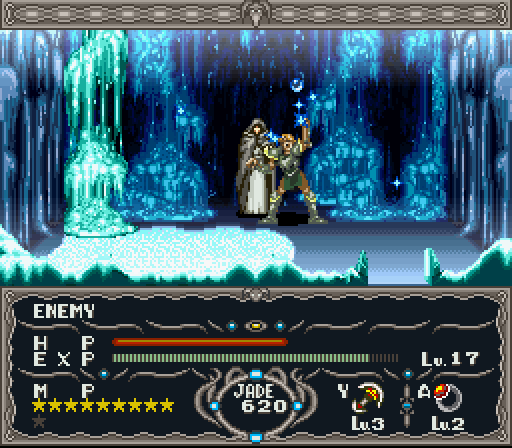 "Well... goodbye now, and good luck!"
To top it all off he signs off with the Edward R. Murrow. Total class act.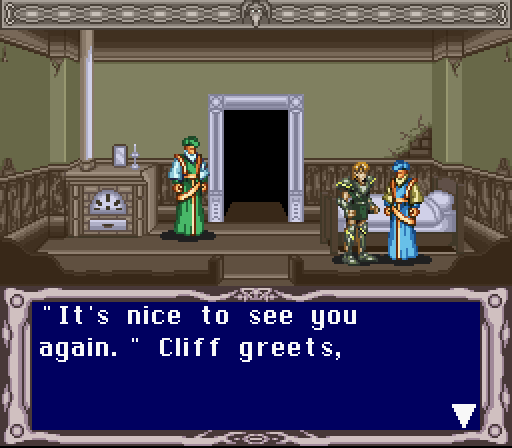 "We met in the ice fortress. Do you remember? Is it safe to return to Keire Temple?"
Huh? Oh yeah, yeah. Go tell the wizard pope I said hello, that is if you're not tripping over that tail you still have between your legs, Cliff.
What does everyone else have to say about our harrowing deeds? Did they actually hear Alex got his ass kicked by a wizard?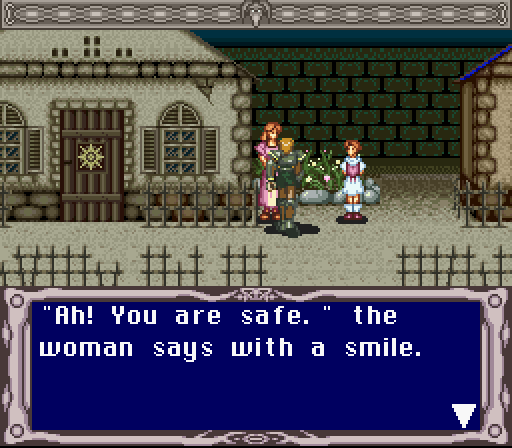 Too bad you're gormless, Alex, this young woman seems to genuinely care about you. Or you owe her five Jade and she wants to make sure you're alive to pay (no banks on Keire).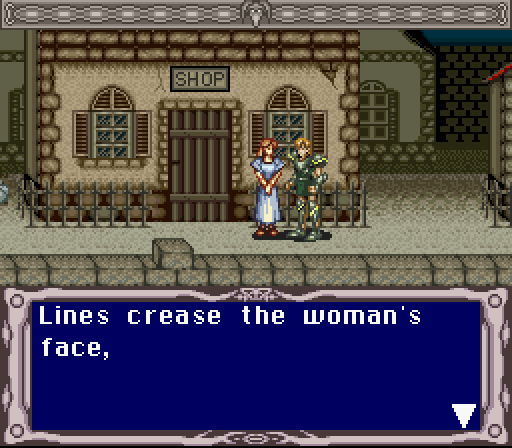 "An ill wind bodes of things dark and evil. I live in fear of what is to come."
I may have been a little too hard on the melodramatic writing earlier. That's just how people talk around here. She used "ill," "dark," and "evil" in the same sentence. Come on.
I haven't done that since the illest imps I ever met set my toaster to dark out of deference to team evil.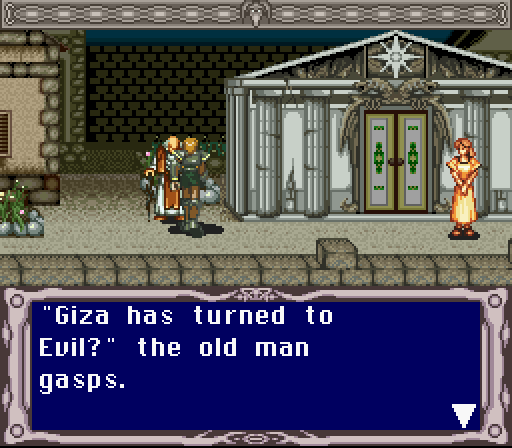 "What could have driven him to that?"
This is more a reading comprehension question to the audience than a hint from a friendly NPC.
In case you'd like a refresher, the ghostly wail has stepped up her game since last time.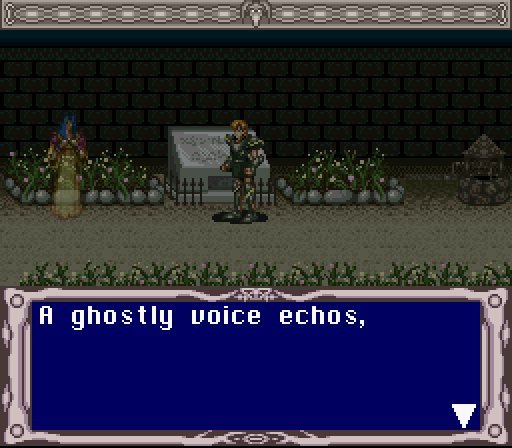 "Ahhh! Someone stop my brother! Someone...!"
Oh. I was expecting more than that, but I guess we all already know the story, so we just needed to see the ghost of princess Prinprin or whoever. From here, no one else has anything terribly interesting to say, so we're off to find...oh yeah, the village of Miraj out there in the goddamn desert.
We head east.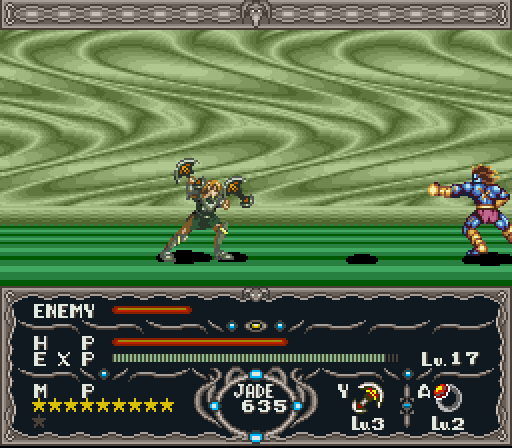 We have an
up
downgraded version of the cave patriot from before. The blue brawler has a hadoken in addition to his cousin's moves, but it takes so long to come out that you can have him beat up down and sideways before he ever lands one. An upgrade in numbers only, sad to say.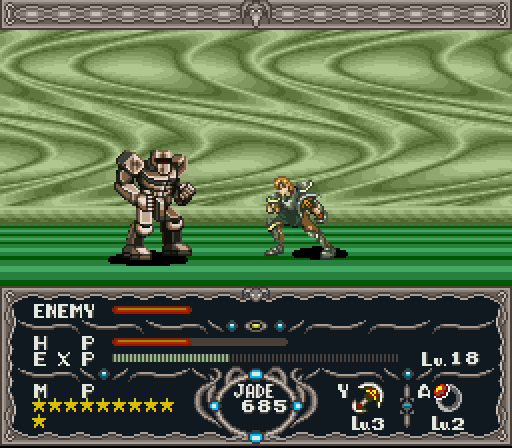 And then there's the Golems as well. I'm frankly a little relieved to see that Kazdra region has gotten a sprinkling of new baddies. If you understood the ice golems, you understand the rock kind.
Oh, except you can't one-shot these guys with magic. Making them way harder. You may still spend some stars to make them hurt, just don't expect it to result in the automatic success of before. Definitely want the boomerax for this.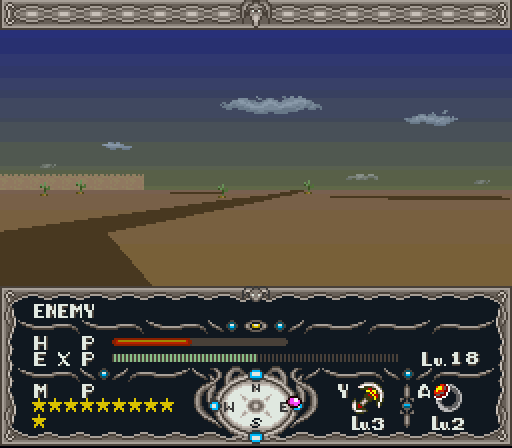 We keep heading east, and the horizon fades to brown colors, indicating I'm finally in the desert region, and can expect the vanilla yogurt on the map to have new monsters hiding behind it.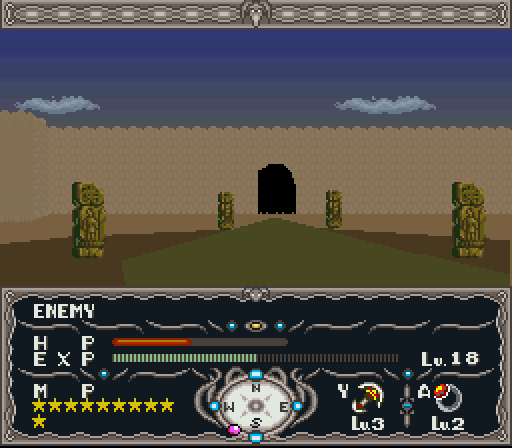 Ah, but first, a cave.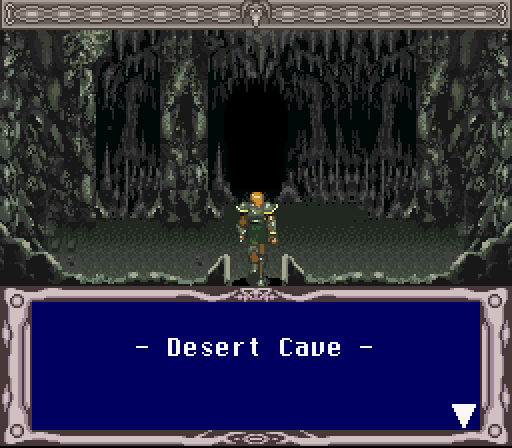 Real imaginative guys. Wouldn't want to get this confused with another cave in, perhaps, another desert. Man I hope there's only one desert in this game.
There is. It's this one. I'm in it.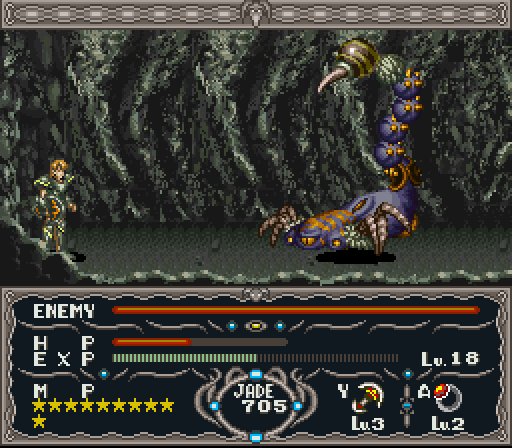 What the shit I killed you already! Anyway, yes, this cave has a clone of Piercia, named Stabya. She has the same attack pattern and the same stats, so I defeat her in two or three strokes and move on.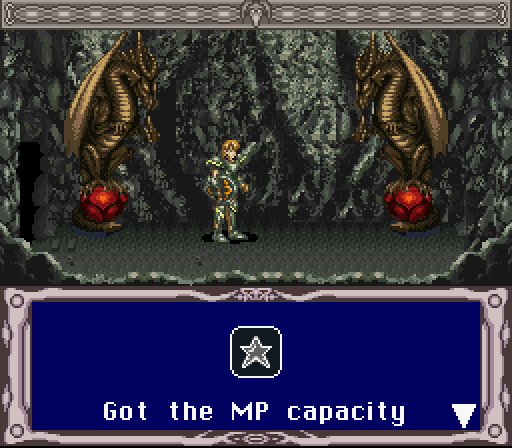 Sweet. I don't expect that my magic rings will be as useful in this area as in the last, but I'll certainly have enough stars to blow on the upgraded shots I've been collecting. The magic rings are generically pretty good, so apply them liberally. Who knows, you may be able to fake enough hours of experience to get into actual wizard college.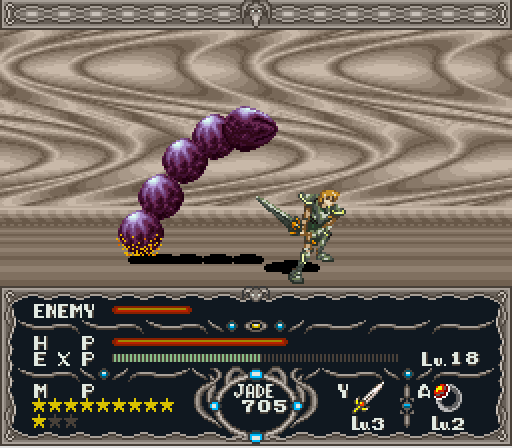 Once back in the sand, we examine a blob of yogurt close up to find oneathese.
It just wouldn't be sand without sand worms, huh? These creatures make a small rumbling bit of dirt appear somewhere and then leap in an arc out of it
and back down somewhere else.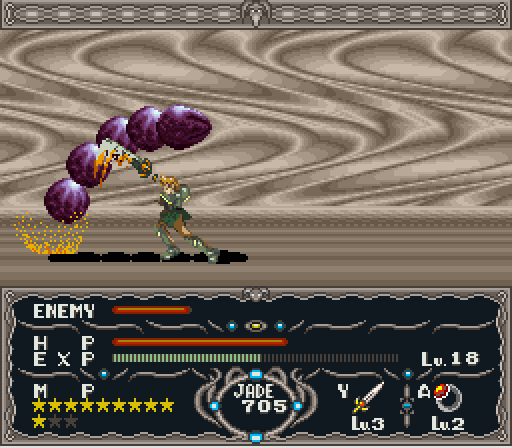 You can catch them right as they first pop up if you stand by the exit point. You can even use a quick sword swing and fadeaway jump as you do to get yourself away from wherever they appear. The first fight against one is the hardest, but you'll probably get what they're about after that and have no further problems. Use the sword for this one.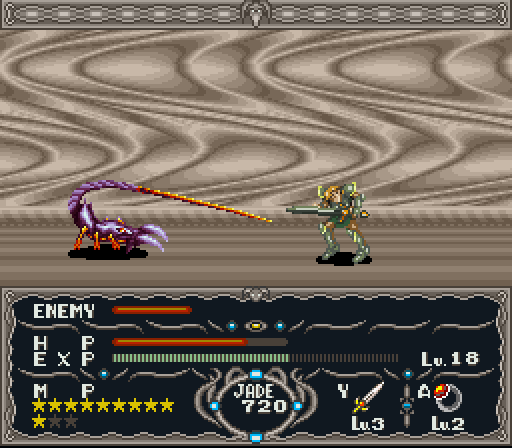 "It begins in the desert, where we are both hungry, and scorpions roam the Earth."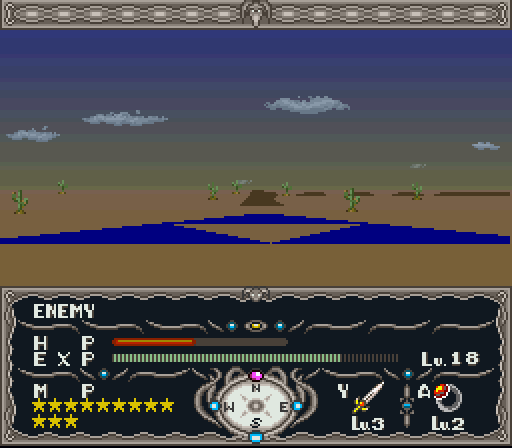 Art students first coming across extreme perspective in renaissance art may want to take note of this. So too should fans of a more popular adventure game franchise that
Dragon View is definitely not copying
.
Seriously a triforce? I should've named the Alex "LINK" and been done with it.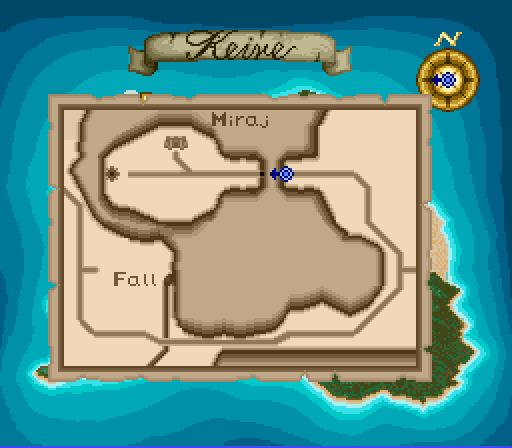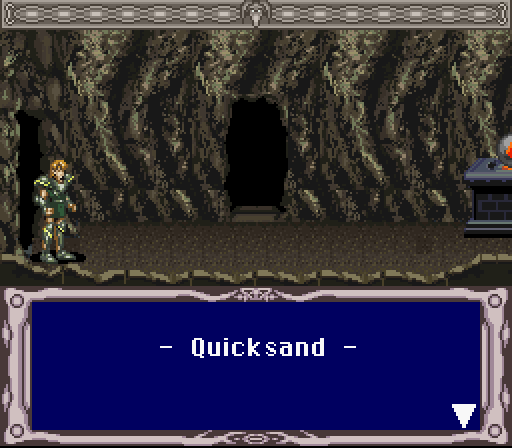 The history of "Boar Rage"
THE RAGE OF THE BOAR IS THE RAGE OF THE SAND.
SUBDUE THE RAGE WITH THE SOUND OF THE HORN.
Elsewhere in the desert, we get to the Quicksand Cave, our portal to the town of Miraj. It has a history orb that gives us a piece of info that they just couldn't let us leave without. It sounds like metal lyrics, honestly. Well, who needs horns?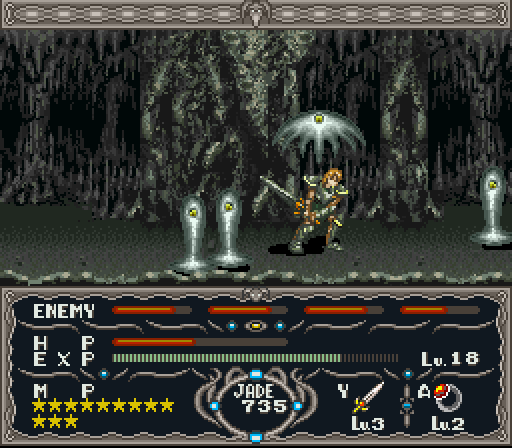 What is this? Gah, I should have thrown up the horns!
The way out of Quicksand Cave is down through pits of quicksand...into this cave. You find living mercury blobs down there, who slide toward you and then leap at you, forming sharp bits to stab you with from above. They aren't to hard to kill, and you can even stand on them while they aren't attacking. Since there's so many of them it's pretty easy to stay here a minute and gain some levels.
Still. It seems we have to find a way to calm the rage of the sand, or else we'll never get to Miraj. So I have to find a horn. Easy, right?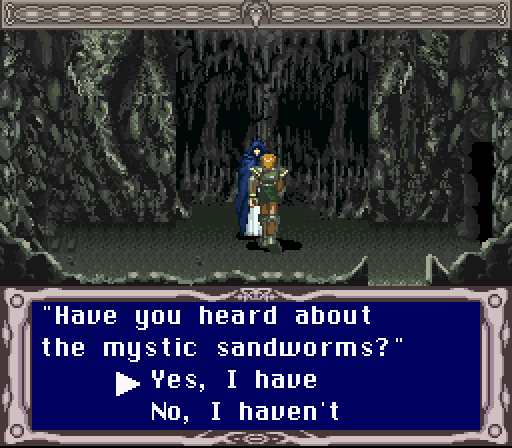 No, I haven't
The strange woman tells you of sandworms, "The sandworm slithers beneath the deep sand searching for prey. Stories speak of a powerful sorceress who offered herself to the Golden Sandworm. You should journey from here and go to the north. You can see the Golden Sandworm.
The sorceress allowed herself to be swallowed to safeguard a magic Horn! Supposedly this happened North of this cave near the mountains."
Oh, so a magical swallowing sorceress has my horn, but lost it to the worm beneath the deep? Wait maybe I'm misreading that.
Anyway it's the only clue I have to go on, so I'd better follow up by doing exactly as she says.
And if you thought the same, in almost every case you'd be right.
This time, though, the hint offers nothing, and even actively harms your understanding of what you're supposed to do next, like so many hints in Castlevania 2. What you
actually
have to do is talk to this woman once, which turns on the quest worm.
The quest worm is red, and takes the place of a random encounter somewhere in the desert. It doesn't matter where, though. As long as you're fighting in the desert, eventually one of the blobs will be this.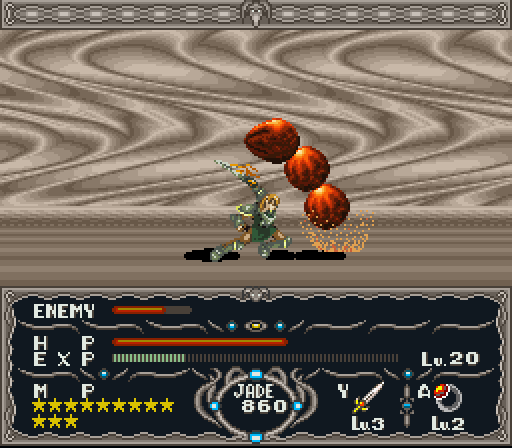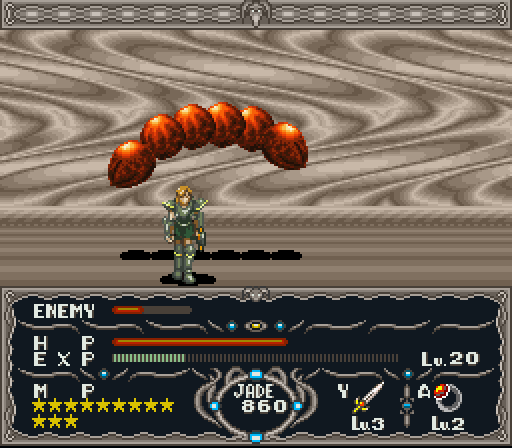 Same power as a regular purple one of these. Same tactics defeat it. However...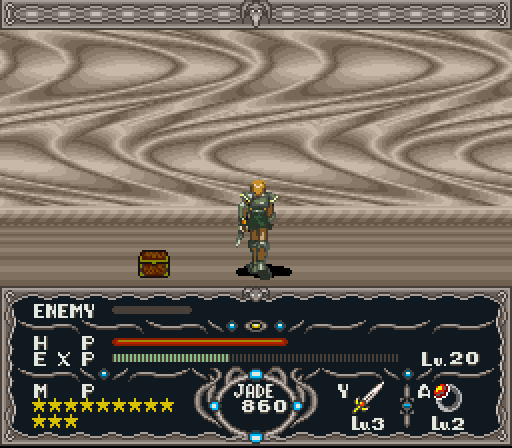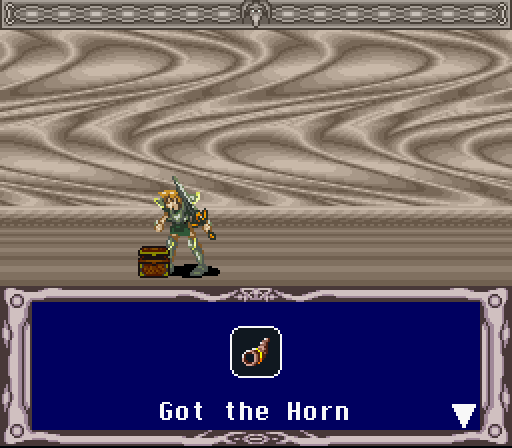 I could rant for awhile about how cruel this one quest is. If you're going to get stumped anywhere in Dragon View, this is the place. This is the only time an enemy leaves a treasure box behind. It is the only quest that tells you to go somewhere that isn't a cave or landmark. It even makes you expect that it works the same as everything else you've done, but it does not so work.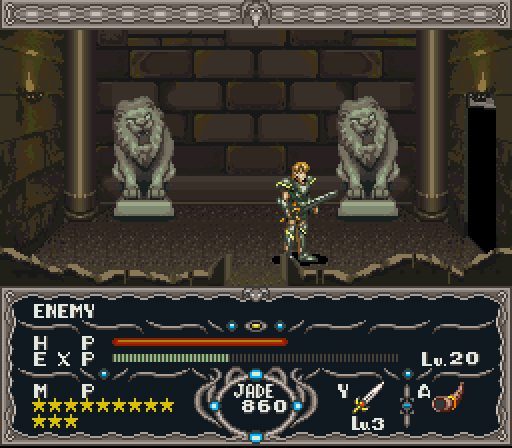 Back in quicksand cave, the lions respond to Alex's inept tooting.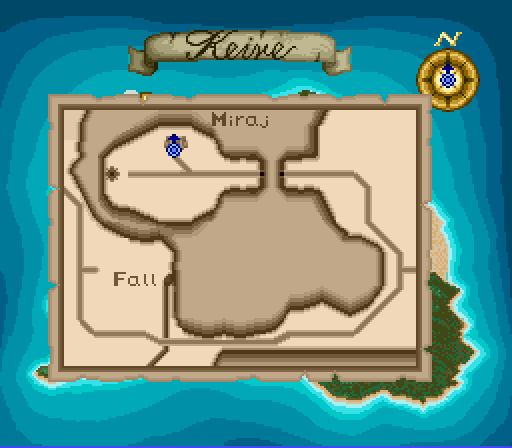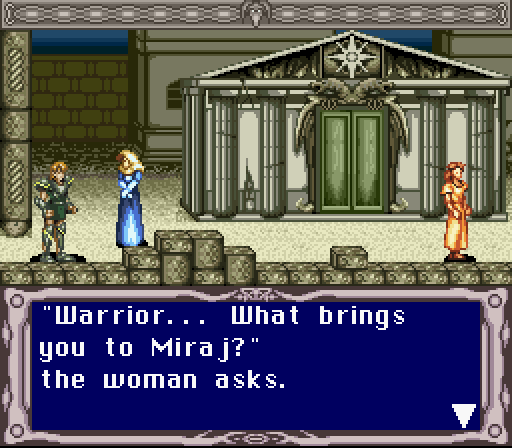 Then she spies your pendant. "The Guardrak!" she exclaims, "I must inform Lord Yuna! Sorry... Excuse me."
Goodbye nurse.
Finally through the desert, Alex and I need to take a breather.
Join us next time, when we learn who Lord Yuna is, why putting your lips to a thousand-year-old instrument you pulled from the belly of a sand worm is a
bad
good idea, and how mercantile systems survive in Miraj when everyone has to go through what I did just to get there.