Part 2
Thank you very much for the kind words about my translation so far! I'm hoping to do this professionally one day, so it's great to hear that people approve of it. Of course, I'm still open to criticisms if you have any.
Brackhar posted:
I. Have. Never. Heard. Of. This Game.

And I thought I knew of every JRPG for the SNES.

I'm looking forward to seeing how this game develops. Overall is there anything particularly unique about the battle system?

Aside from being able to carry three weapons into battle at once and use their various special skills, it's very similiar to Final Fantasy games' traditional battle system.
Slight derail, but there's another game that I've been working on called
Energy Breaker
which you might be interested in. It's been fully translated and is undergoing testing at the the moment. Might be out by Christmas if we're lucky.
Juggacooey posted:
This looks very strange, But i suggest she wanders and talks!.

Your wish is my command. If anyone has strong feelings otherwise, rest assured that I'll be asking regularly in case people don't like the pace the thread is going.
Now, let's see what these two guys at the bottom of the screen are doing.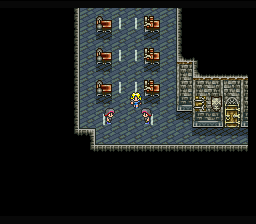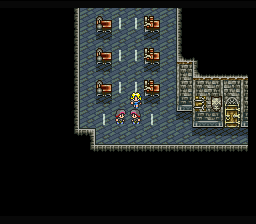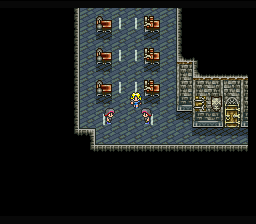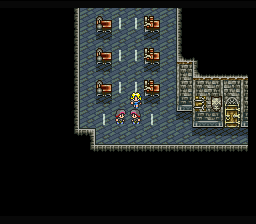 Hee hee. I bet if this were made by Square a couple years later for the PSX, there'd be a flashy FMV of these two nameless sods sparring instead of their sprites backing up and ramming into each other constantly. Of course, they still ram into you when you try and talk to them. Let's see what pearls of wisdom they have in store for us.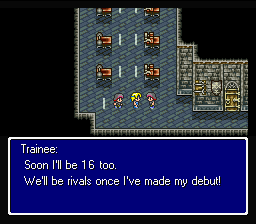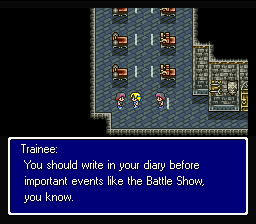 If Filena doesn't write about her current progress in her LiveJournal, no one will know her current mood or music -- so save often.
The guards on this floor are pretty shouty.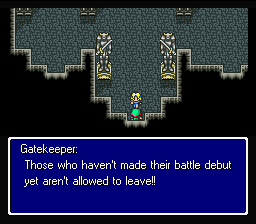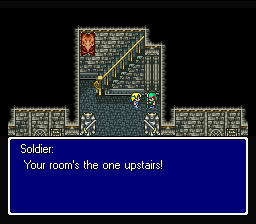 There's also a room where the instructors hang out.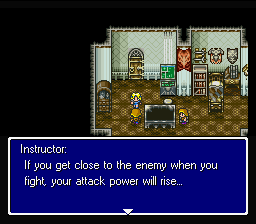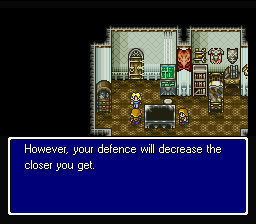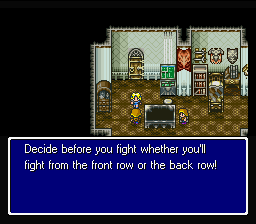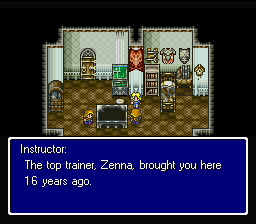 You'd think someone would have noticed the miniskirt by now.
There's a chest in the room opposite, but...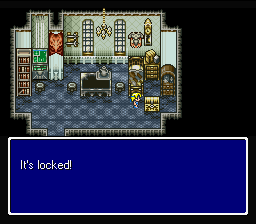 Trust me, you don't want what's in it anyway.
Downstairs is a prison. Why they have a prison in a training school for gladiators, I have no idea. Maybe the prisoners are used for target practise.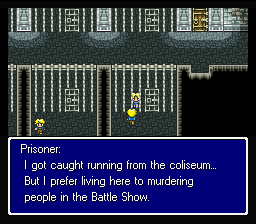 Well, see ya. I'm off to brutally claw my way to glory in animalistic slaughter. I'll send you a postcard from the top.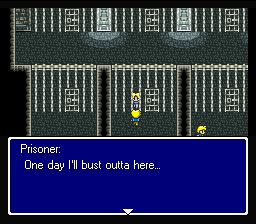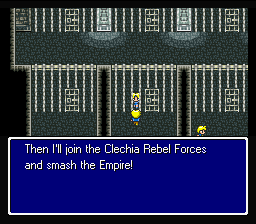 Good luck with that.
Also, there's a small room to the side with items. I'll skip unimportant item pickups from now on, but I thought I'd just do these ones because they use the first "dialogue" text string I translated. ("Got %item!")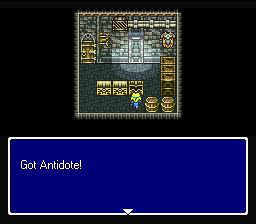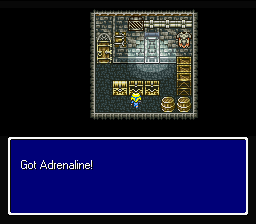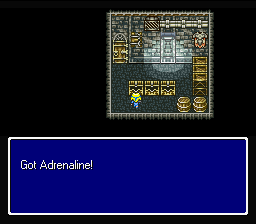 Heading back upstairs and up the next flight of stairs, we find ourselves in a dormitory area. Let's barge into people's rooms and mess their shit up!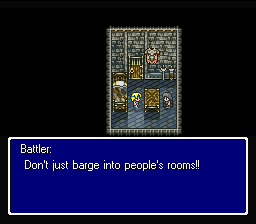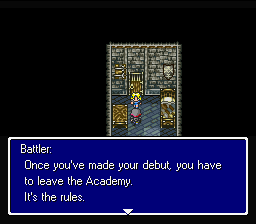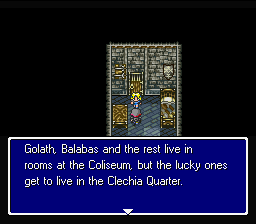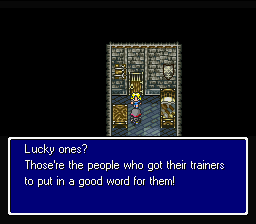 In other words, even if you're lucky enough to live outside of the Coliseum, you still have to live in the ghetto. Sucks to be blonde.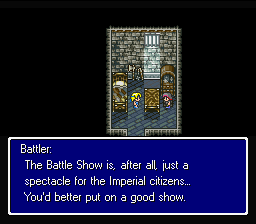 I hope you die in a spectacular explosion of gore too. I hear one of the current crop of contestants uses a CHAINSAW.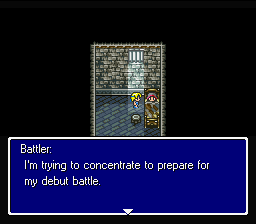 ...In bed?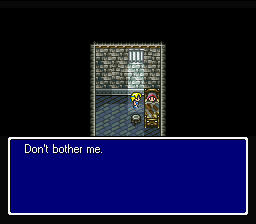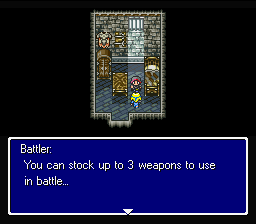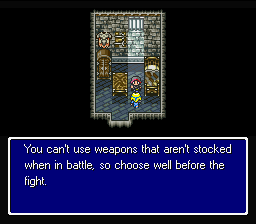 DO YOU GET IT YET GUYS? YOU CAN STOCK THREE WEAPONS. WEAPONS. THREE OF THEM. IN BATTLES. DO YOU NEED TO MAKE A NOTE OF THAT?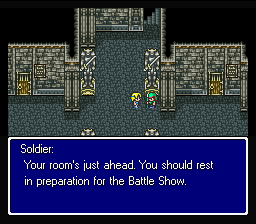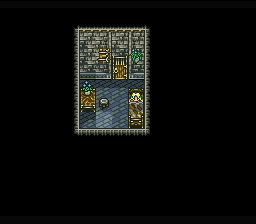 Bed time!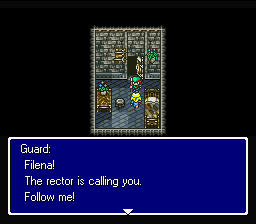 Damn it.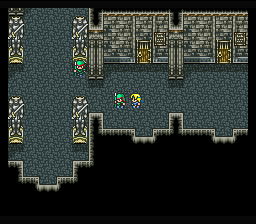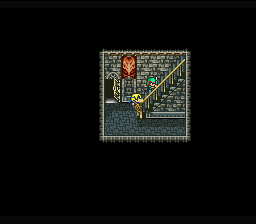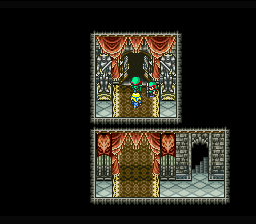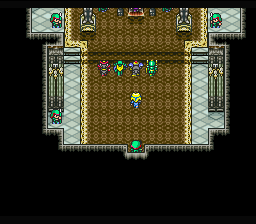 Well, this can't be good.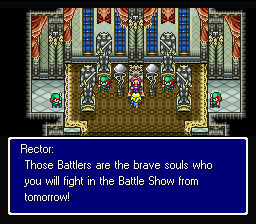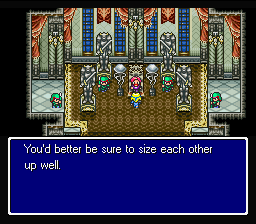 Fuck. They don't have standard sprites. Better see what we're up against here.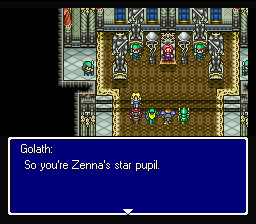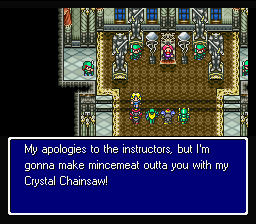 OH GOD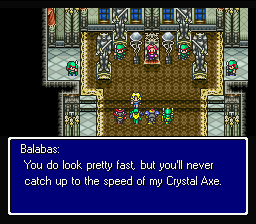 FUCK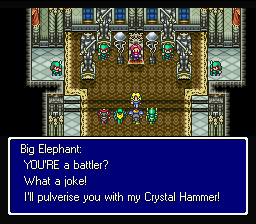 ZENNA WHY DID YOU JUST GIVE ME A
KNIFE
?!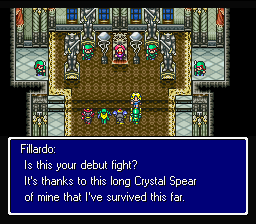 Wanna trade?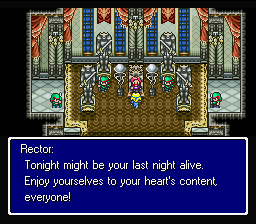 No kidding.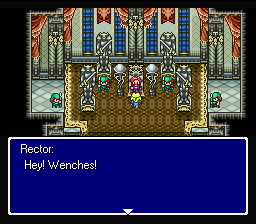 A small group of brightly-coloured women enter the room and line up.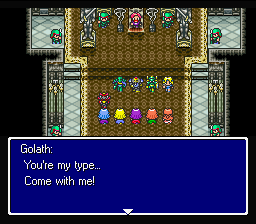 Romance isn't dead in Dorah.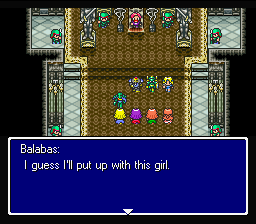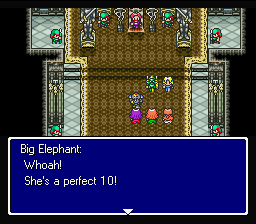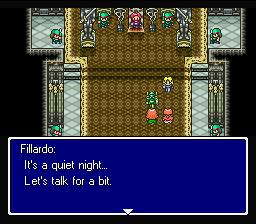 After the other four Battlers' chivalric display, Filena is left alone with the last filthy slattern in the room. She probably feels the same way I did when I was always chosen last for sports in school, except with less ensuing forced copulation.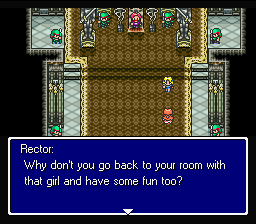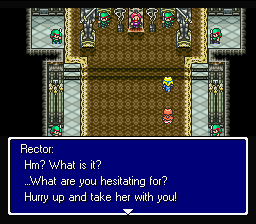 Filena pulls a Squall and silently storms off.
Current Mood:
pensive

Music:
Eye of the Tiger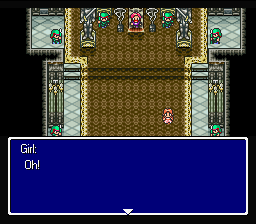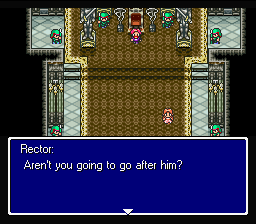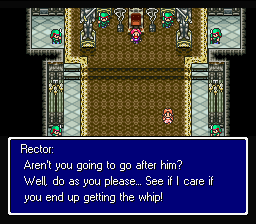 School. School never changes.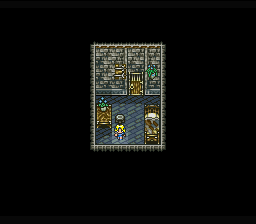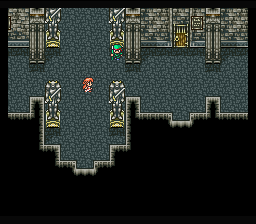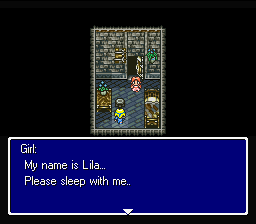 LESBIAN SEX IN A SUPER NINTENDO GAME IMMINENT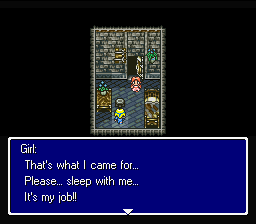 Okay, not the best of chat-up lines.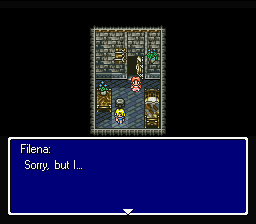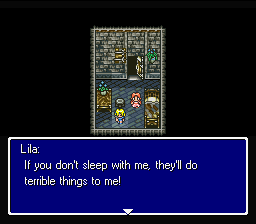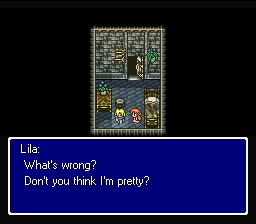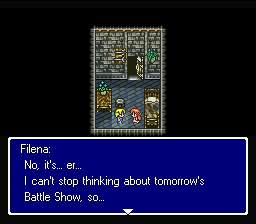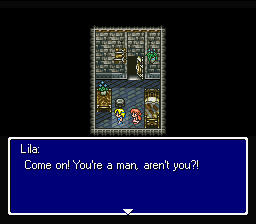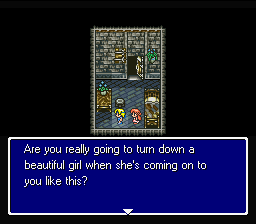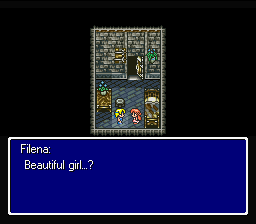 Oh Filena, you smooth talker you.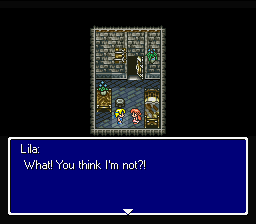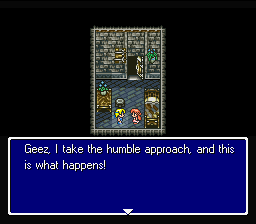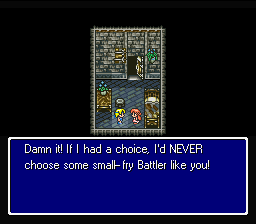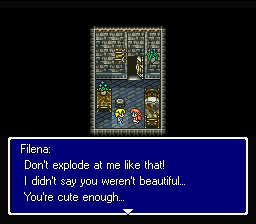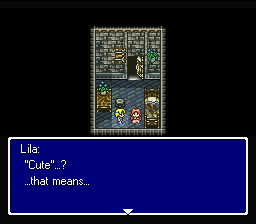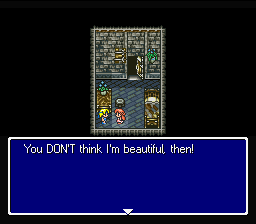 Christ Filena, be nice to your bloody personal sex slave.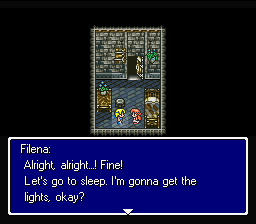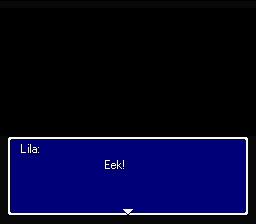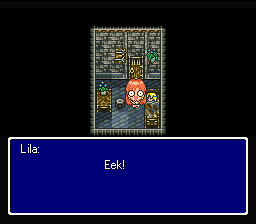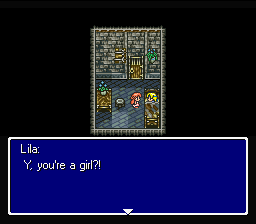 Shit! She noticed the miniskirt!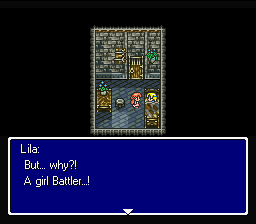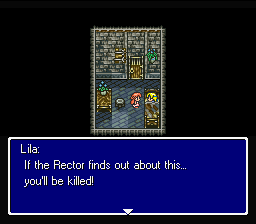 Considering I have to fight a guy with a chainsaw using a knife made out of crystal, I don't think that's much a threat.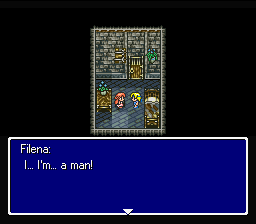 OBJECTION!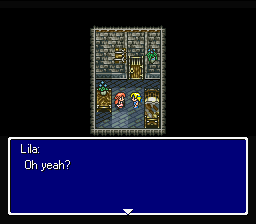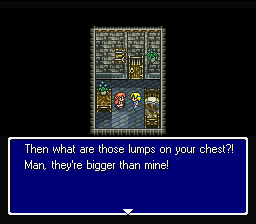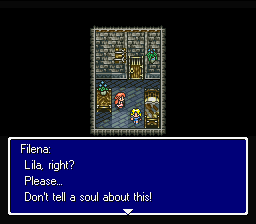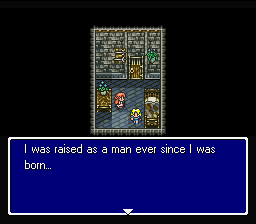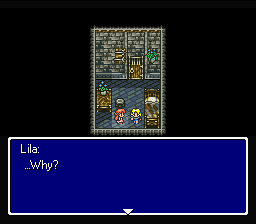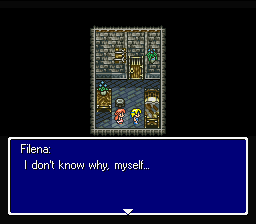 I think it had something to do with "you'll get killed otherwise".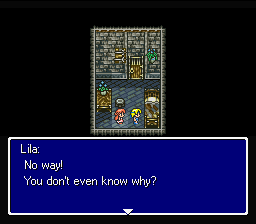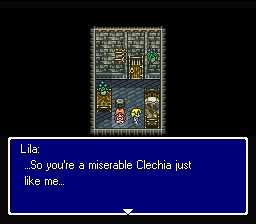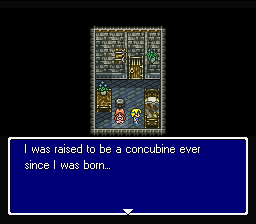 Okay, getting a bit creepy now.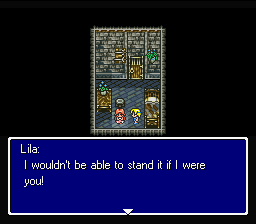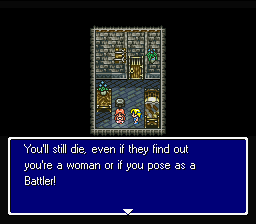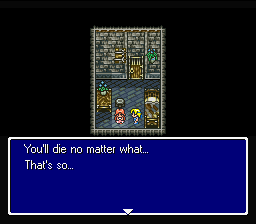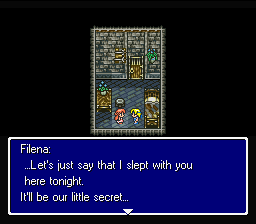 I don't want the guys back at the coliseum to think I'm a pussy.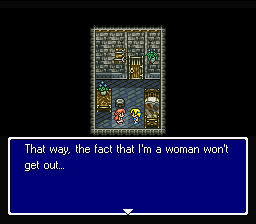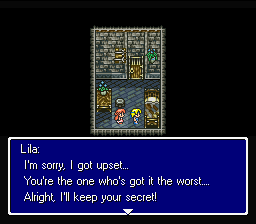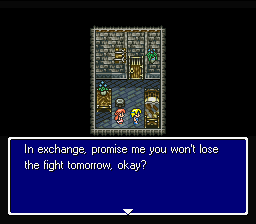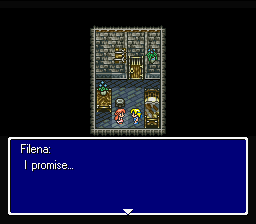 It's okay to make promises you can't keep if you're about to get killed, because no one will be able to do anything about it when you're dead. First thing they teach you in the Academy.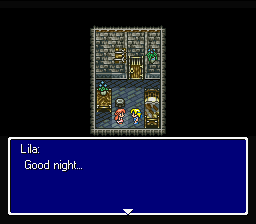 Lights out, and sleep. Lesbian sex crisis safely averted thanks to Filena's tactlessness. The next day: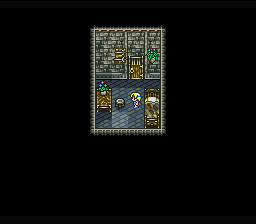 Well, I feel cheap and used.